NFL Nation Says: QB bang for the buck
October, 10, 2013
10/10/13
9:00
AM ET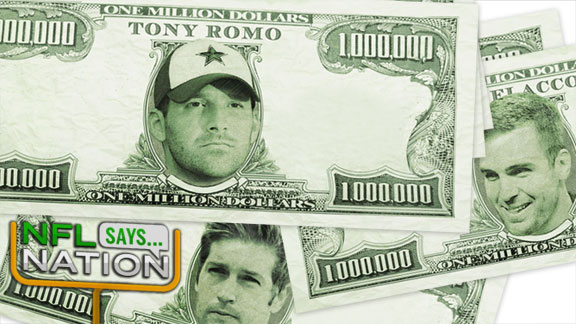 ESPN IllustrationWhich quarterbacks are providing the best value to their teams based on their contracts?
The dichotomy of NFL quarterback compensation was on full display Sunday.
First, we saw two of the league's better quarterbacks battle at Lucas Oil Stadium. The
Indianapolis Colts
'
Andrew Luck
plays under a contract that averages $5.527 million per season, while the
Seattle Seahawks
'
Russell Wilson
averages $749,000.
Later that afternoon, another pair of top quarterbacks squared off: The
Denver Broncos
'
Peyton Manning
($19.2 million) and the
Dallas Cowboys
'
Tony Romo
($18 million).
At the moment, at least, we can agree that the highest-paid player among the four -- Manning -- would be the preferred starter for all 32 NFL teams. As with any industry, however, the highest-paid employees are not always the most effective. So after five weeks of NFL games, ESPN's NFL Nation sought to determine which quarterbacks are providing the best value -- the proverbial bang for the buck.
This task proved to be a highly subjective analysis, but it did include a few objective facts for parameters. I considered the average per year (APY) compensation for each starter, provided by ESPN's Roster Management System, and compared it to his
Total QBR
as well as his team's win total.
We also took into account the natural advantage a team has with a young starter drafted in 2011 or later, on his first contract under the new collective bargaining agreement. Those contracts are lower by NFL rule and have helped spur a spike in the second and third contracts of established starters. But in some cases, cheap contracts are not of much value if they come with sub-par performance.
What follows is one rendering of the football's best value at the position, based on those parameters. NFL Nation team reporters provided their take and I offered a comment to explain my ranking and any discrepancies that might have arisen.
---
Kevin Seifert's QB Rankings
1. Andrew Luck, Indianapolis | '13 Cap: $5,024,545 | APY Salary: $5,527,000
Luck proved his value when he led the Colts to an 11-5 record and the playoffs as a rookie last season. He has all the tools: arm strength, athleticism, leadership and will to win. He's doing it again this season, as the Colts are off to a 4-1 start and in first place in the AFC South. -- Mike Wells
Worth it? Wells: Yes
Seifert's take: Luck is having a top-five season (QBR ranks No. 4) and is 4-1 while 17 starters earn more than him.
---
2. Peyton Manning, Denver | '13 Cap: $13.5 million | APY Salary: $19.2 million
Manning finished with 4,649 passing yards and 37 touchdown passes in 2012, and this season he is on pace to make those lofty numbers look pedestrian. Manning, whose cap figure accounts for 25 percent of Broncos' total team salary, has 1,884 yards to with 20 touchdowns in five games as he seems to put another line in the league's record book each week. -- Jeff Legwold
Worth it? Legwold: Yes
Seifert's take: Manning is earning every penny of his top-five salary. He is the NFL's best quarterback on its best team.
---
3. Russell Wilson, Seattle | '13 Cap: $681,085 | APY Salary: $749,194
Wilson probably is the best bang for the buck in the entire NFL. He is a gifted athlete who can throw it with the best of them and run the ball better than most. The one knock on Wilson is his 5-foot-11 height, but he makes up for it by being so savvy as a player and so knowledgeable about what he needs to do at any given moment. -- Terry Blount
Worth it? Blount: Yes
Seifert's take: Wilson's QBR reflects some passing inconsistencies, but he is central to the Seahawks' record with the league's second-lowest quarterback salary.
---
4. Colin Kaepernick, San Francisco | '13 Cap: $1,397,535 | APY Salary: $1,281,074
Kaepernick is one of the biggest bargains at the position in the NFL. The 2011 second-round pick took over last year and has outplayed his salary, culminating in a Super Bowl appearance. That's right: $1.3 million for a QB with a Super Bowl under his belt. Are you kidding me? He will likely cash in next year. -- Bill Williamson
Worth it? Williamson: Yes
Seifert's take: Kaepernick's performance has dipped but it is difficult to overlook the value of his second-round salary.
---
5. Drew Brees, New Orleans | '13 Cap: $17.4 million | APY Salary: $20 million
Heck, $17.4 million feels like a discount the way Brees is playing for the 5-0 Saints. There might be some debate when that number escalates to $26.4 million in 2015 and $27.4 million in 2016. But quarterbacks have never been more important, and Brees is one of the greatest of all time. So it's hard to imagine a price tag that wouldn't be worth it. -- Mike Triplett
Worth it? Triplett: Yes
Seifert's take: Brees is having the best season of anyone other than Manning, but it comes at a steep price.
---
6. Jake Locker, Tennessee | '13 Cap: $3,432,546 | APY Salary: $3,146,501
Locker was drafted in 2011, after a new collective bargaining agreement was in place that tamped down first-round deals. Any starting quarterback playing under such a deal is worth it. If he's on an upward arc, like the injured Locker was before he was sidelined, he's absolutely worth it. He counts for less than 5 percent of the 2013 cap. His salary now allows expenditures elsewhere. -- Paul Kuharsky
Worth it? Kuharsky: Yes
Seifert's take: Close observers find no coincidence in the Titans' 3-1 start and Locker's career-best performance in the third year of his rookie contract.
---
7. Michael Vick, Philadelphia | '13 Cap: $12.2 million | APY Salary: $7.5 million
Vick's cap number is 10th among quarterbacks, thanks to a restructured contract, and the Eagles have no commitment to him beyond this season. That makes Vick a very good value for Chip Kelly's first year. Vick has kept the turnovers down, posted a 90.6 passer rating and rushed for 307 yards. Vick may not be a top-tier quarterback, but he isn't being paid like one, either. -- Phil Sheridan
Worth it? Sheridan: Yes
Seifert's take: A veteran starter with a below-average contract, Vick is having a top-10 season in an offense he is suited well to play in.
---
8. Geno Smith, N.Y. Jets | '13 Cap: $912,655 | APY Salary: $1,254,901
The Jets are paying for on-the-job training. So far, it has been worth it. They'd be paying Smith a lot more if they had drafted him in the first round instead of the top of the second. If Smith finishes the season entrenched as the starter, the Jets will have three seasons of low-cost at the quarterback position. Maybe that makes up for years of overpaying Mark Sanchez. -- Rich Cimini
Worth it? Cimini: Yes
Seifert's take: Smith has 11 turnovers but has also led three game-winning drives on a rookie salary.
---
9. Philip Rivers, San Diego | '13 Cap: $13,782,266 | APY Salary: $15.3 million
A year ago, you could make the argument that a turnover-prone Rivers wasn't worth $13 million. But he experienced a rebirth in Mike McCoy's up-tempo offense. Rivers is fourth in the NFL in passing yards (1,610), second in touchdown passes (13) and completion percentage (73.8 percent) -- proving at 31 years old there's still some tread left on the tires. -- Eric D. Williams
Worth it? Williams: Yes
Seifert's take: Rivers has mostly limited his turnovers, produced exceptional accuracy, and has the league's second-highest QBR with a contract that averages less than 10 other starters.
---
10. Jay Cutler, Chicago | '13 Cap: $10.37 million | APY Salary: $14.6 million
The cap figure seems high, given his 37-24 record with the Bears and one trip to the playoffs. But that's the going rate for a QB of Cutler's pedigree. Besides that, he has lacked weapons and adequate protection. In the final year of his deal, Cutler is trying to prove he's worth the salary of the top QBs. -- Michael C. Wright
Worth it? Wright: Yes
Seifert's take: Cutler led two game-winning drives and has three victories overall, with effective play and a second-tier contract.
---
11. Alex Smith, Kansas City | '13 Cap: $8.5 million | APY Salary: $8 million
You can't argue with a quarterback who's 5-0, no matter how much or how little he's being paid. Smith hasn't messed up a good thing. He's not putting the Chiefs in spots that are difficult for them to overcome. That said, he has to give the Chiefs more. He's completing only 58 percent of his passes. -- Adam Teicher
Worth it? Teicher: Yes
Seifert's take: Smith's passing numbers are not great, but he has been good as a runner, his team is 5-0 and his contract sits at the midpoint of starter deals.
---
12. Tony Romo, Dallas | '13 Cap: $11,818,000 | APY Salary: $18 million
The Cowboys gave Romo a six-year extension worth $108 million in the offseason and guaranteed him $55 million. The late interception against Denver did him no favors, but Romo is off to his best start with 13 touchdown passes and two interceptions in the first five games. He has more say in the offense than he has ever had. -- Todd Archer
Worth it? Archer: Yes
Seifert's take: Romo's late-game interception aside, he is having a top-10 season in terms of performance. But the Cowboys are 2-3 and his new contract is a burden.
---
13. Ryan Tannehill, Miami | '13 Cap: $2,879,205 | APY Salary: $3,167,126
Miami benefits greatly from the recent rookie wage scale. The Dolphins drafted Tannehill No. 8 overall in 2012 and are paying their starting quarterback less than $3 million in his second season. That's only 2.9 percent of their cap. Tannehill has the potential to be a franchise quarterback, but Miami won't have to pay up until he proves it. -- James Walker
Worth it? Walker: Yes
Seifert's take: This was a tough one. Tannehill's QBR is low (44.9), but much of that is based on sacks that are not all his fault. The Dolphins are 3-2 and Tannehill's contract is cheap.
---
14. Aaron Rodgers, Green Bay | '13 Cap: $12 million | APY Salary: $22 million
The Packers did well to keep Rodgers' cap number that low, considering they gave him a $35 million signing bonus as part of his five-year, $110 million extension. That's the cost of doing business with a top-tier quarterback, and Rodgers certainly qualifies as such. He's a high-touchdown, low-turnover, efficient passer -- the kind of quarterback who can sustain success for a long time. -- Rob Demovsky
Worth it? Demovsky: Yes
Seifert's take: Rodgers' deal averages $17 million if you consider it is a full seven years rather than new money. But the Packers are 2-2 and Rodgers' play has dipped in some games.
---
15. Matt Ryan, Atlanta | '13 Cap: $9.6 million | APY Salary: $20.75 million
Once a team finds a franchise quarterback, it has to stick with him -- unless it's a Broncos-Cutler situation. The non-volatile Ryan has set 11 franchise passing records, and his 56 wins between 2008-12 were the most for a quarterback over a five-year stint in NFL history. Rallying the Falcons without their top wideouts would go a long way toward justifying Ryan's $20 million annual tag. -- Vaughn McClure
Worth it? McClure: Yes
Seifert's take: The numbers tell us Ryan is among the league's best quarterbacks, but some fourth-quarter issues have spurred a 1-4 record. Only Rodgers has a higher annual salary average.
---
16. Terrelle Pryor, Oakland | '13 Cap: $741,517 | APY Salary: $686,517
Terrelle Pryor went from a project who was going to be moved to a different position to a front-line starter who has completed 72.7 percent of his passes inside the pocket. He has become the heart of the team and the Raiders can't put a price tag on that, even with a ridiculously cheap cap number. -- Paul Gutierrez
Worth it? Gutierrez: Yes
Seifert's take: The NFL's cheapest starter has also been its biggest surprise. Pryor's play has ranked slightly above average via QBR.
---
17. Tom Brady, New England | '13 Cap: $13.8 million | APY Salary: $18 million
While Brady hasn't consistently played up to the high standard he has set, which is due in part to some of the volatility around him, he's still a big-time bargain. He restructured his contract this offseason to give the Patriots the best chance to put the most competitive team around him, and the question lingers if the team has lived up to its end of the bargain. -- Mike Reiss
Worth it? Reiss: Yes
Seifert's take: Brady's recent extension makes his annual average difficult to compare, but the best analysis puts its at $18 million. Though the Patriots are 4-1, Brady's play has not been up to his standards.
---
18. Matthew Stafford, Detroit | '13 Cap: $17.82 million | APY Salary: $17,666,667
Stafford is a good locker-room presence and can make all the throws. The reason he isn't worth his number is this: His cap value this season is second-highest in the NFL, more than that of Peyton Manning, Aaron Rodgers and Drew Brees. Stafford is headed toward his potential prime but his salary is tough to take, knowing what you could get for less. -- Michael Rothstein
Worth it? Rothstein: No
Seifert's take: Stafford is earning an above-average salary and his play ranks a bit above average via QBR for a 3-2 team.
---
19. Andy Dalton, Cincinnati | '13 Cap: $1,422,054 | APY Salary: $1.3 million
Dalton is one of eight starting quarterbacks whose cap value is less than $2 million. Among that group, the third-year player has the highest career QBR. What he doesn't have, though, are postseason wins. Colin Kaepernick and Russell Wilson also have low cap values, but even with less experience, both have more postseason wins than Dalton. -- Coley Harvey
Worth it? Harvey: Yes
Seifert's take: A second-round contract limits the Bengals' commitment, and the team is 3-2. Dalton? Middling performance at best.
---
20. EJ Manuel, Buffalo | '13 Cap: $1,615,000 | APY Salary: $2,221,325
This is a no-brainer, thanks to a CBA that limits a first-round pick's salary. If Manuel works out, he will be one of the most underpaid quarterbacks in the NFL. If he doesn't, the loss of investment lies in the draft pick -- 16th overall in 2013 -- not the salary. -- Mike Rodak
Worth it? Rodak: Yes
Seifert's take: The Buffalo Bills have played it safe with the rookie, who is averaging 6.59 yards per attempt, but Manuel has done his part in two wins.
---
21. Carson Palmer, Arizona | '13 Cap: $4 million | APY Salary: $8 million
Even though Palmer isn't the solution to all of the Cardinals' issues, he's better than what they had last season. And for what was on the market, without a blockbuster trade, he's worth the $4 million cap hit. Come next year, however, that might be a different story. -- Josh Weinfuss
Worth it? Weinfuss: Yes
Seifert's take: It cost the Cardinals $8 million annually to upgrade from the league's worst passing game to No. 25 overall via QBR.
---
22. Cam Newton, Carolina | '13 Cap: $6,006,954 | APY Salary: $5,506,375
Sure, the talent around him is a factor, but Carolina is 1-3 this season and 14-22 overall under Newton with no trips to the playoffs and none in sight. In terms of exposure to the team, the No. 1 overall pick in 2011 has been a bonanza. But not $6 million worth. -- David Newton
Worth it? Newton: No
Seifert's take: The Panthers do not have a heavy financial commitment, but Newton's play has regressed and the team is 1-3.
---
23. Robert Griffin III, Washington | '13 Cap: $4,799,795 | APY Salary: $5,279,775
Griffin remains on a rookie contract and, though he's still finding his game in 2013 after offseason knee surgery, he remains one of the NFL's more exciting players. Griffin's play elevated those around him in 2012. He also raised the franchise's profile. The question one day will be: Was he worth what the Redskins surrendered to draft him? -- John Keim
Worth it? Keim: Yes
Seifert's take: Griffin has played quite poorly in the competitive portion of games, and second-half comebacks have not helped a 1-3 record.
---
24. Christian Ponder, Minnesota | '13 Cap: $2,770,554 | APY Salary: $2,539,675
Ponder hasn't developed in his third season as the Vikings' starting quarterback like the team had hoped, and now Minnesota might be getting ready to move on. The Vikings signed Josh Freeman to a one-year, $2 million deal this week, and all indications are he will soon take over as the starter. -- Ben Goessling
Worth it? Goessling: No
Seifert's take: The Vikings are 0-3 in Ponder's starts and he appears to have been quasi-benched.
---
25. Brandon Weeden, Cleveland | '13 Cap: $1,873,000 | APY Salary: $2,020,899
It's tough to say that the guy ranked 29th in the league in quarterback rating is worth the money, but Weeden is paid properly given where he is in his career. He doesn't cost a fortune, but has the chance to earn his way to a bigger payday. Consider that Weeden's cap figure is less than Kyle Orton's, Kevin Kolb's, Christian Ponder's and Blaine Gabbert's. -- Pat McManamon
Worth it? McManamon: Yes
Seifert's take: Weeden is starting only because of the Brian Hoyer injury. One of the league's worst quarterbacks this season.
---
26. Mike Glennon, Tampa Bay | '13 Cap: $564,375 | APY Salary: $776,016
Glennon has made one start since replacing Josh Freeman and the results were mixed, but Glennon has the support of the coaching staff. He is not mobile, but he has a big arm and can throw the deep ball. Greg Schiano's job security depends on whether Glennon can show progress over the rest of the season. -- Pat Yasinskas
Worth it? Yasinskas: Yes
Seifert's take: Glennon has made only one start.
---
27. Joe Flacco, Baltimore | '13 Cap: $6.8 million | APY Salary: $20.1 million
The bottom line is Flacco wins. He has 57 wins since his 2008 rookie season, tied with Matt Ryan and Drew Brees for the most over that span. He's also the only quarterback who has won a playoff game in each of the past five seasons. So he's earning his 2013 paycheck. And that $20 million annual tag? That's another story for another time. -- Jamison Hensley
Worth it? Hensley: Yes
Seifert's take: The Ravens are 3-2 and atop their division, but Flacco's deal requires top-10 play to be a good value. Hasn't been the case so far.
---
28. Ben Roethlisberger, Pittsburgh | '13 Cap: $13,595,000 | APY Salary: $14,664,417
Roethlisberger is on pace to smash his previous career high for passing yards in a season (4,328) despite a slow start for the winless Steelers. The two-time Super Bowl champion gives the Steelers a chance to win every week, which is why they have to live with some of the sacks Roethlisberger takes and fumbles he loses while trying to extend plays. -- Scott Brown
Worth it? Brown: Yes
Seifert's take: The Steelers are 0-4 and Roethlisberger is partially to blame, having taken 15 sacks. He hasn't provided value for nearly $15 million annually.
---
29. Sam Bradford, St. Louis | '13 Cap: $12,595,000 | APY Salary: $13 million
Bradford is not a top-10 quarterback, even though he is paid like one. He was the last of the No. 1 overall picks under the old CBA and hasn't developed into the player worthy of that compensation. The Rams say they'd do an extension with Bradford if he wanted to, but perhaps that's because they believe they could lower this number if they did it now. -- Nick Wagoner
Worth it? Wagoner: No
Seifert's take: The last No. 1 overall pick of the previous rookie contract structure is struggling relative to his annual $13 million average.
---
30. Eli Manning, N.Y. Giants | '13 Cap: $20.85 million | APY Salary: $16,250,000
Manning's contract has certainly been worth it in the big picture. But this year, Manning and his league-leading 12 interceptions share significantly in the responsibility for the team's 0-5 start. They don't mind using 18 percent of their cap space on their quarterback when he's a reliable rock. But when he's not, the resulting holes elsewhere on the roster become more glaring. -- Dan Graziano
Worth it? Graziano: No
Seifert's take: Manning is off to the worst start of his career, and he has the NFL's ninth-most expensive quarterback contract.
---
31. Matt Schaub, Houston | '13 Cap: $10.75 million | APY Salary: $15.5 million
Provided Schaub recovers from this slump, yes he is worth the $10.75 million cap hit; among NFL quarterbacks, that number is low. Ten quarterbacks have higher cap hits than Schaub this year, including Michael Vick, Mark Sanchez and Tony Romo. Schaub's salary goes up significantly next season ($14.5 million) and the year after ($17 million). -- Tania Ganguli
Worth it? Ganguli: Yes
Seifert's take: Four consecutive games with a pick-six despite a contract that averages $15.5 million for three more years.
---
32. Blaine Gabbert, Jacksonville | '13 Cap: $3,273,176 | APY Salary: $3,000,412
Gabbert has shown flashes of elite ability in his three seasons, but he ruins that with inconsistency. He has completed just 53.3 percent of his career passes and has thrown for 22 touchdowns and 24 interceptions. An even worse number is his 5-22 record as a starter. This year he has thrown seven interceptions, three of which have been returned for touchdowns. -- Michael DiRocco
Worth it? DiRocco: No
Seifert's take: The Jaguars are getting about the same from Gabbert as what they're giving him: not much.
.
.