Final
Baltimore leads 1-0 (as of 10/5)
8:37 PM ET, October 5, 2012
Globe Life Park in Arlington, Arlington, Texas
ARLINGTON, Texas -- Buck Showalter and the Baltimore Orioles will get another chance to overtake the New York Yankees.
The surprising O's have already beaten some big odds, getting past the two-time defending American League champion
Texas Rangers
and their ace,
Yu Darvish
, in the win-or-go-home wild-card playoff.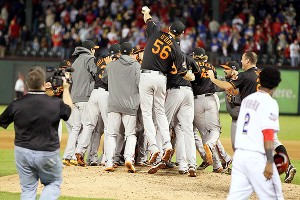 Tim Heitman/US Presswire
The Orioles celebrate their wild-card win against two-time defending AL champion Texas on Friday night. Up next? A division series matchup with the Yankees.
Joe Saunders
pitched effectively into the sixth inning at a place where he had never won,
Adam Jones
delivered the tiebreaking sacrifice fly and the Orioles, in the playoffs for the first time in 15 years, eliminated the Rangers 5-1 on Friday night."With our team, it's just a bunch of guys that raised the bar and wouldn't give in and still haven't. Now they get a chance to win to roll the dice, and there's a lot of good card players in there," said Showalter, their manager.The Orioles advanced to play the East champion Yankees, the AL's top seed -- the teams split 18 games this season. The best-of-five division series starts Sunday at Camden Yards.The upstart Orioles spent the whole second half of the regular season chasing New York, never passing the Yankees and falling just short in a neck-and-neck race for the division title.Turns out, the Yankees haven't brushed off these Birds just yet."Real proud of everybody. Tacking on runs were big, knew they were going to run at you," Showalter said. "But just a real proud moment for us."Our guys approached it and we talked about it being sudden life instead of sudden death, and we played that way. You've got to seize the opportunity. We don't get many."After twice coming within a strike of winning last year's World Series, this season is over that quickly for the Rangers, who were in first place for a majors-high 178 days this season. Texas loaded the bases with two outs in the ninth before
David Murphy
flied out to end it."We just didn't get it done," manager Ron Washington said.
More Orioles-Rangers Coverage

Joe Saunders was among the unlikely heroes who propelled the Orioles over the defending AL champion Rangers in the wild-card game, Molly Knight writes. Story
---

Rangers fans, frustrated with their superstar's continued indifference, finally booed the man Friday night. It was long overdue, Jean-Jacques Taylor writes. Story
• Rapid Reaction
• Rangers Blog | ESPN Dallas
• Olney: Most intriguing matchups

The Rangers lost the AL West crown on the final day of the regular season, after being swept in three games at Oakland for a stretch of nine losses in their last 13 games."I'm not stunned; I was right there watching it," Washington said.Their worst slump of the season came at the wrong time for Texas, which a week ago had a four-game division lead with six games to play. After losing the lead, the Rangers couldn't avoid the majors' new winner-take-all postseason openers and then couldn't get past the Orioles with their top pitcher on the mound."To be honest with you, I never thought anything like this would happen," Washington said.Wiped out by San Francisco in the 2010 World Series, the Rangers twice came within a strike of their first World Series championship last October against St. Louis.When the Rangers committed more than $107 million last winter to acquire Japanese pitcher Darvish, they did so with the anticipation he'd be on the mound for many big games."Me and my teammates and the Rangers' fans, I don't think we all thought that it would end this early," Darvish said through a translator. "I mean, right now, no. I don't even know what I'm supposed to do tomorrow."The Rangers never would have expected him being outdueled in a playoff game by Saunders, a late-season addition by the Orioles who had lost all six of his previous starts with a 9.38 ERA at Rangers Ballpark."Our main job tonight was be as calm as we could and not try to do too much," Saunders said. "I think we did that to the best. We just clawed and scratched our way to a couple runs, and played great defense."
Rangers' Offense Fizzles Again

The potent bats that have carried the Rangers in recent seasons have disappeared in the team's final postseason game each of the past three years. Not surprisingly, each resulted in a loss. Here's a look:
Game
Runs
H-AB
2012 Wild Card
1
9-34
2011 WS Game 7
2
6-30
2010 WS Game 5
1
3-30
-- Josh Hamilton: 1-for-12, 4 K
-- ESPN Stats & Information
• Stats & Info: The Rise of Matusz

Saunders quickly gave up the Orioles' 1-0 lead in the first, but that was the only run he allowed in 5 2/3 innings. The left-hander struck out four and walked one."I love being the underdog. To knock off the defending two-time champs from the past couple of years is pretty amazing, I think," he said.Even though it was the postseason, the Orioles stuck to the regular Friday night uniforms -- including black tops and caps with script O's instead of the traditional smiling cartoon bird.Four pitches into the game, they led against Darvish, who struck out seven in 6 2/3 innings.
Nate McLouth
grounded Darvish's first pitch toward first baseman
Michael Young
. The longest-tenured Rangers player got charged with an error when he tried to backhand the ball, which ricocheted off the heel of his glove and away from him.McLouth stole second base on the third pitch.
J.J. Hardy
then drove him in by grounding a hard single up the middle -- the Orioles had only one more hit until a sequence in the sixth.The O's had consecutive singles to start the sixth before Jones' sacrifice fly made it 2-1.After backing up the plate when Jones hit the ball in the air, Darvish started stretching his shoulder and rolling his neck. Washington and pitching coach Mike Maddux went out to the mound to try to figure out what was wrong when their pitcher still looked uncomfortable.Darvish's translator, Joe Furukawa, was also on his way out before initially being waved back by umpires. The six umpires then conferred before allowing the translator to come out while Darvish kept stretching and then threw a couple of pitches. Darvish said he had a cramp in the muscle on the top of his shoulder.Darvish finished the sixth with a strikeout and started the seventh with another, before
Ryan Flaherty
's single and a sac bunt by
Manny Machado
.
Derek Holland
took over and gave up an RBI single by McLouth for a 3-1 O's lead.Even though he was a rookie in the majors, the 26-year-old Darvish was 8-2 with a 1.38 ERA and five complete games in 11 postseason starts for the Hokkaido Nippon-Ham Fighters from 2006 to '11.McLouth added a sacrifice fly in the ninth, when the Orioles scored twice against Rangers closer
Joe Nathan
.
Jim Johnson
, who set an Orioles record with 51 saves, allowed a walk and two hits, including a two-out pinch single by 19-year-old
Jurickson Profar
, before Murphy's game-ending flyball to left.Saunders, who was with Arizona until the end of August, benefited from three double-play grounders and some bad swings by slugger
Josh Hamilton
, the former AL MVP and free-agent-to-be who might have played his last home game in a Texas uniform.Hamilton was 0-for-4 with two strikeouts, both on three pitches, including with a runner at second base to end the eighth. He swung at the first pitch his other at-bats, grounding into a double play in the first that did send home Texas' only run, and hit a comebacker to start the sixth.Even if a second wild card hadn't been added this year, the Orioles and Rangers would have been playing a winner-take-all game since each had 93 wins in the regular season.Under the old playoff rules, they would have met in a 163rd regular-season game the next day to determine the only wild card, with the winner hitting the road to open the division series.With the new format, it was a postseason game after an extra day -- which Washington gave his team off after being swept in Oakland and losing the AL West crown on the regular season's final day.The new rules also eliminated the prohibition against teams from the same division meeting in the ALDS, setting up the Orioles and Yankees.For the Rangers, they're headed into their longest offseason in three years.NOTES: Orioles 1B
Mark Reynolds
got hit on his right hand by a pitch in the second. He then stole second, matching his stolen base total from the regular season before getting stranded there. ... The ceremonial first pitch was thrown by 86-year-old Sister Frances Evans, a longtime Rangers fan who was escorted by Nolan Ryan to a spot a few feet in front of the plate. She wound up and threw to former Rangers catcher Jim Sundberg.
Copyright by STATS LLC and The Associated Press
Photo Wire
ARLINGTON, TX - OCTOBER 5: Manager Buck Showalter of the Baltimore Orioles sits in the dugout before the American...
(Photo by Cooper Neill/Getty Images)
Scoring Summary
BAL
TEX
1st
J Hardy singled to center, N McLouth scored.
1
0
1st
J Hamilton grounded into double play, second to shortstop to first, I Kinsler scored, E Andrus out at second.
1
1
6th
A Jones hit sacrifice fly to right, J Hardy scored.
2
1
7th
N McLouth singled to shallow left, R Andino scored.
3
1
9th
M Machado singled to left, L Ford scored, R Andino to third.
4
1
9th
N McLouth hit sacrifice fly to center, R Andino scored.
5
1
View complete Play-By-Play
Game Information
| | |
| --- | --- |
| Stadium | Globe Life Park in Arlington, Arlington, TX |
| Attendance | 46,931 (97.4% full) - % is based on regular season capacity |
| Game Time | 3:19 |
| Weather | 75 degrees, partly cloudy |
| Wind | 14 mph |
| Umpires | Home Plate - Gary Darling, First Base - Jerry Layne, Second Base - Ted Barrett, Third Base - Bill Miller |
Research Notes
This is the 3rd straight season the Rangers have scored 2 runs or fewer in their final postseason game.
[+]
Manny Machado
is the 5th player 20 or younger to have an RBI in a postseason winner-take-all game.
[+]
20-year-old
Manny Machado
is the youngest player in Orioles franchise history with a postseason hit. The previous youngest was 22-year-old Paul Blair in the 1966 World Series Game 3.
ESPN Stats & Information