Final
St. Louis leads 1-0 (as of 10/5)
5:07 PM ET, October 5, 2012
Turner Field, Atlanta, Georgia
Cards advance to NLDS after disputed call; Braves' protest denied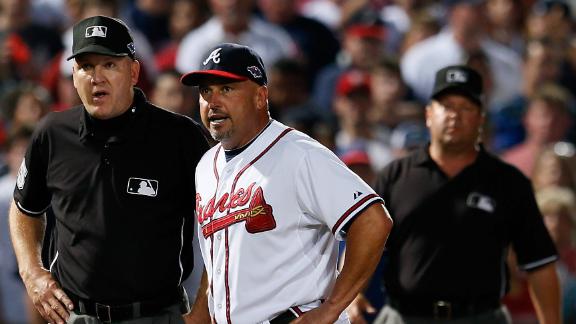 Umpire Chimes In
Former MLB umpire Jim McKean talks to SportsCenter about infield fly call in Braves' loss.
Umpire Chimes In
VIDEO PLAYLIST
ATLANTA -- Talk about a wild card.
This one was just plain wild.
Chipper Jones
played his final game. The Atlanta fans turned Turner Field into a trash heap after a disputed infield fly call. And the
St. Louis Cardinals
did what they always seem to do in October.They celebrated another postseason triumph.
More Cardinals-Braves Coverage

All we'll remember from what should have been a magical, historic night is the interpretation of the infield fly rule. Pretty sure that's not what was intended, Jayson Stark writes. Story
---

The first wild-card matchup in major league history lived up to its name, with the Braves and the umpires fumbling their way to a loss in a truly insane game, writes David Schoenfield. Blog
• Olney: Most intriguing matchups


• Stats & Info: How St. Louis won

Matt Holliday
homered and the Cardinals rallied from an early deficit, taking advantage of three Atlanta throwing errors -- the most crucial of them by the retiring Jones -- to beat the Braves 6-3 in a winner-take-all wild-card playoff Friday.In the eighth inning, there was more crazy throwing, this time by an irate crowd that littered the field to protest an umpiring decision that went against the Braves. The Cardinals fled for cover, the Braves protested, and the game was halted for 19 minutes while workers cleared up all the beer cups, popcorn holders and other debris.St. Louis manager
Mike Matheny
was asked if he'd ever seen anything like it."Not in the United States," he said.Shortly after the game, Major League Baseball executive Joe Torre said the protest was denied, citing it was an umpire's judgment call on the play. "I talked to Fredi (Gonzalez, Braves manager) after the game and it's unusual circumstances based on a one-game playoff, 24 hours and waiting for a written report, didn't make sense, spoke to them, asked them what they were basing their protest on and I ruled basically to disallow the protest based on the fact that it was an umpire's judgment call," Torre said. "We made it clear to them that because of the situation with the one-game playoff, it makes no sense to wait the 24 hours."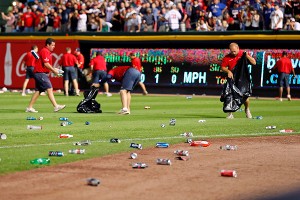 Kevin C. Cox/Getty Images
Members of the Braves' grounds crew pick up bottles and cans thrown on the field by upset fans after a controversial infield fly call in the eighth inning went in favor of the Cardinals during the NL wild-card game Friday.
St. Louis advanced to face Washington in the best-of-five division round, beginning Sunday at Busch Stadium.The Braves are done for this season, recipients of another heartbreaking loss in the playoffs.The 40-year-old Jones is all done, period. He managed an infield hit in his final at-bat but threw away a double-play ball in the fourth, which led to a three-run inning that wiped out Atlanta's early 2-0 lead behind
Kris Medlen
."Ultimately, I feel I'm the one to blame," Jones said. "That should have been a tailor-made double play."But this one-and-done game will be remembered for the eighth inning, when a disputed call on a fly ball that dropped in short left field cost the Braves a chance at extending Jones' career.The Braves thought they had the bases loaded with one out after the ball dropped between two fielders, who appeared to get mixed up over who had called for it. But left-field umpire Sam Holbrook, who has 11 1/2 years of major league service and previously had worked four playoff series, called
Andrelton Simmons
out under the infield fly rule -- even though the ball landed at least 50 feet beyond the dirt. When the sellout crowd of 52,631 realized what had happened, and a second out went up on the scoreboard, they littered the field with whatever they could get their hands on."It was scary at first," St. Louis catcher
Yadier Molina
said. "I've never seen that before."Holbrook defended the call, even after he looked at the replay."Once that fielder established himself, he got ordinary effort," he said, referring to shortstop
Pete Kozma
calling for the ball, then veering away at the last moment as left fielder Holliday drifted in. "That's when the call was made."Asked if he thought he made the proper ruling after seeing the replay, Holbrook replied, "Absolutely."
The Infield Fly Rule

The Infield Fly Rule, as stated in Major League Baseball's rule book, under Rule 2.00 -- Definitions:
An INFIELD FLY is a fair fly ball (not including a line drive nor an attempted bunt) which can be caught by an infielder with ordinary effort, when first and second, or first, second and third bases are occupied, before two are out. The pitcher, catcher and any outfielder who stations himself in the infield on the play shall be considered infielders for the purpose of this rule.
When it seems apparent that a batted ball will be an Infield Fly, the umpire shall immediately declare "Infield Fly" for the benefit of the runners. If the ball is near the baselines, the umpire shall declare "Infield Fly, if Fair."
The ball is alive and runners may advance at the risk of the ball being caught, or retouch and advance after the ball is touched, the same as on any fly ball. If the hit becomes a foul ball, it is treated the same as any foul.
If a declared Infield Fly is allowed to fall untouched to the ground, and bounces foul before passing first or third base, it is a foul ball. If a declared Infield Fly falls untouched to the ground outside the baseline, and bounces fair before passing first or third base, it is an Infield Fly.
---
Rule 2.00 (Infield Fly) Comment: On the infield fly rule the umpire is to rule whether the ball could ordinarily have been handled by an infielder -- not by some arbitrary limitation such as the grass, or the base lines. The umpire must rule also that a ball is an infield fly, even if handled by an outfielder, if, in the umpire's judgment, the ball could have been as easily handled by an infielder. The infield fly is in no sense to be considered an appeal play. The umpire's judgment must govern, and the decision should be made immediately.
When an infield fly rule is called, runners may advance at their own risk. If on an infield fly rule, the infielder intentionally drops a fair ball, the ball remains in play despite the provisions of Rule 6.05(l). The infield fly rule takes precedence.
The infield fly is a complicated rule, designed to prevent infielders from intentionally dropping a popup with more than one runner on base and perhaps get an extra out.No one ever could remember it being applied like this.To put Friday's controversial play into context, in the past three seasons, there were six infield flies that were not caught in the majors, according to Baseball Info Solutions, the longest measured at 178 feet.Friday's infield fly was measured at 225 feet from home plate, according to Baseball Info Solutions. Kozma took the blame for not making the play. "I was under it," he said. "I should have made the play. I took my eyes off it. I was camped under it."Jones refused to pin this loss on the umps."That one play didn't cost us the game. Three errors cost us the game," he said. "We just dug ourselves too big a hole."Braves president John Schuerholz apologized for the actions of the crowd, saying a "small group of those fans acted in a manner that was uncharacteristic and unacceptable." The barrage left Holbrook fearing for his safety."When cans are flying past your head, yeah, a little bit," he said.It's not the first time Holbrook was at the center of a controversial call involving the Cardinals and Braves. In 1998, Holbrook threw Cardinals slugger Mark McGwire out of a game in front of 47,627 fans in St. Louis during the first inning for arguing a called third strike. McGwire had 54 home runs entering the game as he attempted to break Roger Maris' single-season home run record. McGwire currently is the Cardinals' hitting coach. The stoppage Friday only delayed the inevitable. When play finally resumed,
Brian McCann
walked but
Michael Bourn
struck out to end the threat.
Dan Uggla
grounded out with two aboard in the ninth to end it, leading to one more wave of trash throwing as the umps scurried off the field -- probably feeling a lot like those replacement NFL refs who caught so much grief.Holliday homered in the sixth off Medlen, who had been baseball's most dominant starter over the final two months. The Braves had not lost a start by the diminutive right-hander since 2010 -- a streak of 23 games, the longest in modern baseball history.But this is the postseason.This is when the Cardinals shine. St. Louis stunningly made the playoffs a year ago at the Braves' expense, ralllying from 10½ games back in the wild-card race in late August to pass Atlanta on the final day of the season. The Cardinals went on to capture the championship, winning four straight elimination games while upsetting Philadelphia, Milwaukee and, finally, Texas, with the most improbable victory over all in the World Series. They rallied from two runs down in both the ninth and 10th before
David Freese
's homer in the 11th to set up a Game 7 victory that almost seemed anticlimactic.This time, Freese had the sacrifice fly that put the Cardinals ahead for good."We put heat on them," Matheny said. "Our guys were aggressive."St. Louis was expected to fade after slugger
Albert Pujols
signed with the Angels and longtime manager Tony La Russa retired. And, indeed, the Cardinals wouldn't have made the playoffs without a change in the format, adding a second wild-card team in the each league. They finished six games behind the Braves during the regular season, only to hand them more misery in the postseason.The Braves haven't won a playoff round since 2001. Since then, they've gone 0 for 7 -- including six decisive losses at Turner Field.
Braves At Loss For Words

The Braves allowed four unearned runs in Friday's wild-card loss to the Cardinals, the second-most ever yielded in a winner-take-all postseason game. Here's a look at where they rank:
Team
Runs
Opponent
1986
Angels
7
Red Sox (ALCS)
2012
Braves
4
Cardinals
(Wild Card)
1925 Senators
4
Pirates
(World Series)
-- All three teams lost
-- ESPN Stats & Information
The atmosphere was electric at the start of the game, the crowd battling its way through Atlanta's notorious rush-hour traffic to fill the place before the first pitch. Among those in attendance: former President Jimmy Carter and former Braves owner Ted Turner.The stadium got even louder when
David Ross
, starting at catcher in place of McCann, sent a two-run homer into the left-field seats in the second.McCann struggled through an injury-plagued season, prompting Gonzalez to give Ross the nod. It looked like a brilliant move when the Braves struck for an early lead. Uggla walked with two out against 16-game winner
Kyle Lohse
, then Ross appeared to strike out to end the inning. But the hitter yelled for time just before Lohse delivered the pitch, and umpire Jeff Kellogg hopped out from behind the plate waving his arms while Ross swung and missed.That call worked out for the Braves.Molina dropped his head when he realized the pitch didn't count. He was really kicking himself when Lohse hung a breaking pitch right over the plate -- and Ross knocked it out of the park. In the dugout, McCann clapped and pumped his fist for his backup.But the Cardinals had been in this position before.
Carlos Beltran
led off the fourth with the first hit of the game off Medlen, a bloop single to right. Holliday followed with a hard shot to third base, and Jones made a nice backhanded scoop. The crowd cheered, expecting a double play. That turned to gasps when Jones' throw to second base sailed over the head of Uggla, winding up in right field. Instead of having no one on with two outs, Medlen and the Braves faced second and third and no outs.The Cardinals made Atlanta pay, as they always seem to do in October.
Allen Craig
, the replacement at first base for Pujols, lined a double off the left-field wall, cutting Atlanta's lead to 2-1. Molina followed with a groundout that brought home another run and moved Craig over to third. He trotted home on Freese's sacrifice fly to center field.
SportsNation: Controversial infield fly call

A controversial 8th-inning infield fly call led to a 19-minute delay and a protest in Atlanta. What did you think of the call?
Comment and vote!
The Braves totally fell apart in the seventh, and Freese was right in the middle of things again. He led off with a routine grounder to Uggla, who bobbled it briefly, then unnecessarily rushed his throw to first. It wasn't close, the ball ricocheting sailing behind home plate while Freese kept right on going to second.
Daniel Descalso
bunted him over to third, then
Chad Durbin
replaced Medlen.Durbin got what he wanted from Kozma -- a grounder to the drawn-in infield. But Simmons bobbled the ball and hurriedly threw it all the way to the backstop as Freese slid across head first to make it 5-2. Kozma took second on the miscue, and he came all the way around to score on another ball that didn't get out of the infield.
Matt Carpenter
's bunt down the first-base line was fielded by another new pitcher,
Jonny Venters
, who missed a swipe tag and, with his back turned, failed to notice that Kozma kept right on running to make it 6-2."We played to win the game," Molina said. "They played to lose the game."Lohse got the win, allowing six hits and two runs in 5 2-3 innings. Medlen, who went 10-1 during the regular season, surrendered just three hits and two earned runs in 6 1-3 innings. But he gave up five runs in all, most of it none of his doing.
Jason Motte
earned a save by getting the final four outs, taking over after the delay.
Game notes
The Braves outhit the Cardinals 12-6 but left 10 runners on base. St. Louis left only two runners aboard. ... For the first time, the teams wore special patches on their caps commemorating the playoffs. In the past, those were only worn during the World Series. ... Lohse (16-3) and Medlen had a combined record of 26-4 during the regular season. The cumulative win percentage of .867 was the highest ever for opposing postseason starters, edging the .850 mark of California's John Candelaria (10-2) and Boston's
Roger Clemens
(24-4) in the 1986 AL Championship Series.
Information from The Associated Press was used in this report.
Copyright by STATS LLC and The Associated Press
Photo Wire
ATLANTA, GA - OCTOBER 5: Chipper Jones #10 of the Atlanta Braves breaks his bat hitting for a single in his last...
(Photo by Scott Cunningham/Getty Images)
Scoring Summary
STL
ATL
2nd
D Ross homered to left center (416 feet), D Uggla scored.
0
2
4th
A Craig doubled to deep left, C Beltran scored, M Holliday to third.
1
2
4th
Y Molina grounded out to second, M Holliday scored, A Craig to third.
2
2
4th
D Freese hit sacrifice fly to center, A Craig scored.
3
2
6th
M Holliday homered to left (394 feet).
4
2
7th
P Kozma grounded into fielder's choice to shortstop, A Chambers scored, P Kozma to second on throwing error by shortstop A Simmons.
5
2
7th
M Carpenter reached on infield single to pitcher, P Kozma scored.
6
2
7th
M Bourn grounded out to second, J Constanza scored.
6
3
View complete Play-By-Play
Game Information
| | |
| --- | --- |
| Stadium | Turner Field, Atlanta, GA |
| Attendance | 52,631 (106.6% full) - % is based on regular season capacity |
| Game Time | 3:09 |
| Weather | 81 degrees, clear |
| Wind | 5 mph |
| Umpires | Home Plate - Jeff Kellogg, First Base - Mike Winters, Second Base - Gary Cederstrom, Third Base - Jeff Nelson |
Research Notes
The Braves have now lost 6 winner-take-all games. Only the Yankees have lost more.
[+]
Braves had 4 unearned runs allowed vs the Cardinals. They are the 3rd team to allowed 4+ unearned runs in a winner-take-all postseason game and the first since the Angels allowed 7 unearned runs vs the Red Sox in the 1986 ALCS.
[+]
The Braves are the 2nd NL team to lose a winner-take-all postseason game despite getting 12+ hits. The other was the
Houston Astros
in their NLCS Game 5 loss to the Phillies.
Kyle Lohse
was 0-4 in 9 postseason appearances before getting the win on Friday. In MLB history, only 2 pitchers started their postseason career with more consecutive decisions lost: Doyle Alexander lost his first 5 career postseason decisions (1973-87), and
Aaron Sele
lost his first 6 career postseason decisions (1998-01).
From April-August, the Braves had one game in which they made 3 or more errors -- 4 against the Astros on April 9. They've had three 3-error games since September 1-- September 4 against Rockies, September 15 against Nationals being the other two.
The 5 runs allowed by
Kris Medlen
tie a career high for runs allowed for him. He had previously allowed 5 runs in a game twice in his career, most recently on July 24, 2010 against the Marlins.
Allen Craig
RBI double. He hit MLB-best .403 with RISP during regular season. He had a good regular-season history vs Braves-- 7-14 with 2 HR and 5 RBI for his career
Chipper Jones
error: he had 11 errors in 103 regular-season games. Jones rated exactly average this season as a 3rd baseman-- 0 Defensive Runs Saved. This was his first error in a postseason game since he made one in the 2001 NLCS Game 3.
Braves C
David Ross
HR-- He has 7 career regular-season HR vs the Cardinals too, tied for his most against any team (also has 7 vs Cubs and Giants).
Jose Constanza
: 2nd pinch-hit triple in postseason game in Braves history. Other was by Lonnie Smith in 1992 NLCS Game 5 at Pirates. Last player on any team was
Aaron Rowand
for Giants in 2010 World Series Game 2
ESPN Stats & Information