Final
Chi White Sox leads 1-0 (as of 8/5)
8:10 PM ET, August 5, 2013
U.S. Cellular Field, Chicago, Illinois
CHICAGO -- It was one strange day, even for Alex Rodriguez.
First, he was hit with a long suspension. Then he made his season debut. He got booed, blooped a single and, all things considered, said he felt pretty good out there.
More Yankees-White Sox Coverage

ESPNNewYork.com
Alex Rodriguez said after Monday's debut that he's hoping for "a happy ending somewhere." Good luck with that, Ian O'Connor writes. Story
• A-Rod: The fans were great
• Clubhouses react to decision
• Rapid Reaction
• Yankees Blog | ESPN New York
---

ESPNChicago.com
As circuses go, the Alex Rodriguez show Monday wasn't exactly the big top. And now it's over; time to move on, Jon Greenberg writes. Story
• Dunn: A-Rod didn't need PEDs
• Rapid Reaction
• White Sox Blog | ESPN Chicago
Rodriguez went 1-for-4 in his first game for New York, but the Chicago White Sox beat the struggling Yankees 8-1 on Monday night to snap a 10-game losing streak.
"I just hope that there's a happy ending there somewhere," he said.
Rodriguez returned to the big leagues hours after he was suspended through 2014 by Major League Baseball in the Biogenesis case, a punishment he plans to appeal. The three-time MVP had been out following hip surgery.
His punishment overshadowed everything else, whether it was teammate Derek Jeter going back on the disabled list because of a strained right calf or Andy Pettitte (7-9) getting knocked out of the game early.
Alex Rios drove in four runs, Alexei Ramirez added four hits and Jose Quintana (6-3) pitched into the seventh for the White Sox.
Was it a good day for baseball?
"A little bit of both," Jeter said. "I don't know if you can say it's a good day any time you're talking about a negative, negativity. I understand what baseball is trying to do. They're cracking down on players."
Rodriguez, meanwhile, is digging in, ready to go toe to toe with MLB.
"We're just getting started in this process," he said. "But for me, personally, I just want to get back to baseball, playing hard and playing with a lot of intensity. I just want to see what our team has to offer."
At 38 and coming back from the hip injury, he said he's fighting for his life. He was welcomed back with the same sort of greeting he got on the road in the past, a series of boos and jeers amplified by the penalty announced earlier in the day.
SportsNation: Alex Rodriguez's debut

Alex Rodriguez went 1-4 in his season debut on Monday night. Are you OK with him playing? Cast your votes!

The crowd at U.S. Cellular Field booed Rodriguez during pregame warm-ups and introductions. When he stepped to the plate in the second inning, the fans could have drowned out a jet.
They weren't feeling any better after Rodriguez dropped a leadoff single into shallow left on the third pitch. He moved to third with no outs on Vernon Wells' double but was stranded.
Rodriguez flied out in his second and third at-bats, and handled a few grounders at third, getting booed every time he stepped to the plate or touched the ball.
He also struck out in the eighth as fans chanted, "Steroids! Steroids!"
Rodriguez shrugged off the reaction. "I love Chicago," he said. "I love the fans here. It's just a great town, great people. I'm just so humbled being on the field, being able to play the game I love."
Rodriguez did not deny using performance-enhancing drugs in a news conference after the punishment came down. Instead he said he will talk about whether he used PEDs at another time when he is more free to speak.
He did say he has to defend himself because no one else will.
A-Rod's Good, Bad & Ugly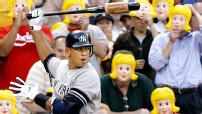 ESPNNewYork.com takes a look back at A-Rod's best -- but mostly worst -- moments as a Bronx Bummer Bomber.
Photo Gallery

Top 50 Yanks

"I want nothing but the best for Al and his family," Pettitte said. "Glad to see him back. He's going to help this club. He's a great ballplayer. He's into the game. He'll definitely help us."
The Yankees are hoping Rodriguez can provide some sort of spark even though they're fading from the playoff picture. They need more power for their lineup, something that's been a particular problem for their third basemen.
Pettitte, however, did them no favors. He lasted 2 2/3 innings in his shortest outing since July 18, 2010, while matching season highs for runs (seven) and hits (11). He fell to 0-3 in his past four starts.
Rios delivered an RBI single and scored during a three-run first. He added a two-run single in the second that made it 5-0.
Rios then capped a two-run third with a bases-loaded walk after Preston Claiborne replaced Pettitte, making it 7-0.
That was more than enough for Quintana, who gave up one run and eight hits in 6 2/3 innings.
"It was just a good night offensively," White Sox manager Robin Ventura said. "Guys were swinging it."
Game notes
Pettitte is the first Yankees pitcher since at least 1920 to allow runs in the first inning in seven straight starts within a single season, according to STATS LLC. ... Besides Rodriguez, Yankees C
Francisco Cervelli
and minor league OF
Fernando Martinez
were suspended 50 games. "I think he had made strides this year as a player, and I want him to come into spring training ready to go, try to learn from what has happened," manager Joe Girardi said when asked about Cervelli. ... With Jeter going on the DL, the Yankees recalled infielder Dave Adams from Triple-A Scranton/Wilkes-Barre. They also designated infielder
Brent Lillibridge
for assignment, and Rodriguez was activated from the disabled list. Outfielder
Thomas Neal
was claimed off waivers by the Cubs. ... White Sox LF
Dayan Viciedo
jammed his left thumb diving for
Robinson Cano
's single in the first inning and left the game. The team said X-rays were negative and he's day to day. ... RHP
Hiroki Kuroda
(10-6, 2.38 ERA) starts for the Yankees with LHP
Chris Sale
(6-11, 2.92) pitching for Chicago on Tuesday.
Copyright by STATS LLC and The Associated Press
Photo Wire
CHICAGO, IL - AUGUST 05: Alex Rodriguez #13 of the New York Yankees speaks to the media before the Yankees take...
(Photo by Jonathan Daniel/Getty Images)
Scoring Summary
NYY
CHW
1st
A Rios singled to right, A Ramirez scored, J Keppinger to second.
0
1
1st
A Dunn hit sacrifice fly to right, J Keppinger scored, A Rios to third.
0
2
1st
G Beckham singled to left, A Rios scored, P Konerko to second.
0
3
2nd
A Rios singled to center, J Phegley and J Keppinger scored.
0
5
3rd
A Ramirez singled to left, G Beckham scored, C Wells to second.
0
6
3rd
A Rios walked, C Wells scored, A Ramirez to third, J Keppinger to second.
0
7
6th
A Ramirez doubled to deep center, A De Aza scored.
0
8
7th
B Gardner hit sacrifice fly to center, E Nunez scored.
1
8
View complete Play-By-Play
Game Information
| | |
| --- | --- |
| Stadium | U.S. Cellular Field, Chicago, IL |
| Attendance | 27,948 (68.8% full) - % is based on regular season capacity |
| Game Time | 3:13 |
| Weather | 68 degrees, overcast |
| Wind | 8 mph |
| Umpires | Home Plate - Hunter Wendelstedt, First Base - Alan Porter, Second Base - Greg Gibson, Third Base - Jerry Layne |
Research Notes
Yankees have scored 3 runs or fewer in 8 straight road games, tied for their 3rd-longest single season streak in Live Ball era.
[+]
Andy Pettitte
: allowed 7 runs in 2 2/3 IP vs White Sox This is the 2nd time in the last 10 MLB seasons that Pettitte has allowed 7 runs in a regular-season start in which he got 8 outs or fewer. Other was July 1, 2007 against Athletics (8 runs in 1 2/3 IP)
Vernon Wells
is starting at first base for the Yankees today. He has never played an inning at first base in his professional career (majors and minors.)
With his single in the 2nd inning Monday,
Alex Rodriguez
now has at least one hit in each of his 10 season debuts with the Yankees since joining the team prior to the 2004 season.
Andy Pettitte
lasted just 2 2/3 innings Monday, his shortest start since July 18, 2010, and the second straight game in which the Yankees starter did not get out of the 3rd inning (
Phil Hughes
on Sunday). The last time Yankees' starters pitched fewer than 3 innings in consecutive games was July 17-18, 2010, when
A.J. Burnett
and Pettitte were each unable to get out of the 3rd inning.
The Yankees should NOT be excited to have
Alex Rodriguez
back tonight, especially against the White Sox. A-Rod's batting average (.269), on-base (.341) and slugging percentages (.461) against the White Sox are the worst against any American League team in his career
ESPN Stats & Information