Final
Series tied 2-2 (as of 9/19)
3:40 PM ET, September 19, 2013
Chase Field, Phoenix, Arizona
Hanley Ramirez's 2 HRs help give Dodgers first West title since 2009
PHOENIX -- The Los Angeles Dodgers soaked everyone in sight with champagne in the clubhouse. Many players raced back out for a celebratory dip in Arizona's Chase Field swimming pool.
From last place to an NL West title in less than three months, they sure let loose.
More from ESPN.com

The Dodgers continued their turnaround by clinching the NL West title on Thursday. A playoff run is the next step for the team, writes Mark Saxon. Story
• Stats & Info: Closer Look At Title

Burdened by high expectations and a horrible start, the Dodgers relieved their pent-up pressure with a joyful celebration after becoming the first team this year to clinch a playoff spot. Hanley Ramirez homered twice as they rallied to beat the Arizona Diamondbacks 7-6 on Thursday.
"I want to keep going," Ramirez said. "I think that we've got a couple of more steps to do. We've got to keep working and stay together all the way through to the end."
Ramirez was back in the lineup after being sidelined five of six games with an irritated nerve in his lower back. He's played 1,090 regular-season games but will be making his first trip to the postseason. Only three active players have played more games without making the playoffs.
Despite an NL-high payroll of $214 million-plus on opening day, the Dodgers got off to an 30-42 start and were last in the division, 9 1/2 games behind the first-place Diamondbacks, before play on June 22. Los Angeles has gone 58-23 since, including an unreal 42-8 run that coincided mostly with dynamic Cuban defector Yasiel Puig's callup to the major leagues.
"I'm a guy that doesn't show a lot of emotion," manager Don Mattingly said. "I really try to keep it kind of even. But this is a great accomplishment for these guys. We put a great team together and a big payroll with huge expectations. A lot of time that falls apart and it had a chance to fall apart during the season, I thought.
"But the coaching staff stuck together. These guys were loyal to me. There was no backbiting or somebody trying to leap over me. They stuck together. ... The players came together, we got healthy, and then we just rolled."
The Dodgers trailed 6-3 in the sixth and A.J. Ellis hit a tiebreaking homer off Josh Collmenter (4-4) leading off the eighth.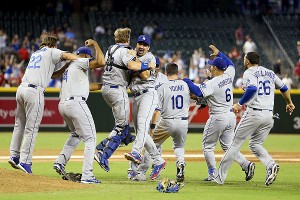 Christian Petersen/Getty Images
Dodgers players jump for joy after clinching the team's first NL West title since 2009.
J.P. Howell (2-1) got two outs for the victory. Kenley Jansen struck two in the ninth for his 26th save.
Clinching on the home field of their nearest, but not very near, rival, the Dodgers charged the mound after Aaron Hill flew out to left field for the final out. They mobbed Jansen and the throng bounced out toward second base in continued celebration. A few Diamondbacks watched from the dugout. Most made their way to the clubhouse.
"That was pretty awesome, man," Jansen said. "It showed that we never quit. We kept playing hard. Even today, they scored six runs, we never quit. That's pretty awesome."
Ramirez hit a three-run homer in the third inning and a tying solo shot in the seventh. It was his 14th career multihomer game and first since Aug. 18 of last year.
It was fitting he was the star of the clinching win.
"We're a veteran ballclub," Adrian Gonzalez said. "We understand it's not how you start, it's how you finish."
In the ninth, with a sizeable contingent of Dodger fans roaring its approval, Jansen fanned Paul Goldschmidt and Martin Prado before Hill's fly all ended it.
Arizona manager Kirk Gibson, whose team won the division two years ago, appreciated what the Dodgers had accomplished, even if it was difficult to watch them celebrate on the Diamondbacks' turf.
SportsNation: Dodgers win NL West

The Dodgers became the first team to clinch its division Thursday. How far will they go in the playoffs? Vote!
"You just take it in and reflect on some things," Gibson said. "We still have to play hard the rest of the way out. It is disappointing. We fought hard and the guys played good today. We were unable to secure the lead."
With a new ownership taking over from Frank McCourt on May 1 last year, the Dodgers stumbled this spring and Mattingly's job appeared to be in jeopardy.
But Los Angeles won 17 of 20 leading into the All-Star break and was 22 games above .500 after a three-game sweep of the Mets on Aug. 17.
Lately, the banged-up team had struggled, losing nine of 12 and five of six entering Thursday's games.
Los Angeles started strong in this one, though.
Arizona starter Wade Miley's troubles in the third began when he walked Dodgers starter Ricky Nolasco to lead off the inning. Puig was forced out at second on a throw from right fielder Gerardo Parra after the base runner held up on Jerry Hairston Jr.'s blooper. That brought up Ramirez and he homered to left to make it 3-0.
Nolasco couldn't hold it.
Arizona started the third with four consecutive hits, including an RBI double from Goldschmidt and two-run triple by Prado to tie it at 3. Miguel Montero singled Prado home with the go-ahead run. After Parra's two-out single, Miley's double to deep left-center brought the runners in to make it 6-3.
More From ESPNLosAngeles.com

For more news, notes and analysis of the Dodgers, check out ESPN LA's Dodgers Report. Blog
Los Angeles came back.
Consecutive doubles by Juan Uribe and Scott Van Slyke, followed by Ellis' RBI single cut the lead to 6-5 in the sixth, then Ramirez led off the seventh with his 20th home run of the season, on an 0-2 pitch from Chaz Roe, and it was tied 6-all.
Collmenter came on to get Arizona out of trouble in the seventh, but Ellis, the No. 9 hitter in the Dodgers batting order, sent the first pitch of the eighth just over the fence in left and Los Angeles led 7-6.
Miley went five innings, allowing three runs on five hits with four walks and three strikeouts. Nolasco went five innings, giving up six runs on nine hits.
Game notes
Dodgers 1B Gonzalez was out of the starting lineup with a sore quadriceps. ... Los Angeles moves on to San Diego, where RHP
Edinson Volquez
(9-11, 5.94 ERA) takes the mound for the Dodgers in Friday night's series opener against Padres LHP
Robbie Erlin
(2-3, 5.18). ... Arizona embarks on its final road trip of the season, with
Randall Delgado
(5-6, 3.98) going for the Diamondbacks against Colorado's
Jhoulys Chacin
(13-9. 3.22). ... The Diamondbacks have three home games left, against Washington Sept. 27-29.
Copyright by STATS LLC and The Associated Press
Photo Wire
PHOENIX, AZ - SEPTEMBER 19: Starting pitcher Ricky Nolasco #47 of the Los Angeles Dodgers pitches against the...
(Photo by Christian Petersen/Getty Images)
Regular Season Series
Arizona leads 10-9 (as of Thu 9/19)
Fri 4/12
@ARI 3, LAD 0
Recap
Sat 4/13
LAD 7, @ARI 5
Recap
Sun 4/14
@ARI 1, LAD 0
Recap
Mon 5/6
ARI 9, @LAD 2
Recap
Tue 5/7
ARI 5, @LAD 3
Recap
Wed 5/8
ARI 3, @LAD 2
Recap
Mon 6/10
ARI 5, @LAD 4
Recap
Tue 6/11
@LAD 5, ARI 3
Recap
Wed 6/12
ARI 8, @LAD 6
Recap
Mon 7/8
LAD 6, @ARI 1
Recap
Tue 7/9
LAD 6, @ARI 1
Recap
Wed 7/10
LAD 7, @ARI 5
Recap
Mon 9/9
@LAD 8, ARI 1
Recap
Tue 9/10
@LAD 5, ARI 3
Recap
Wed 9/11
ARI 4, @LAD 1
Recap
Mon 9/16
@ARI 2, LAD 1
Recap
Tue 9/17
LAD 9, @ARI 3
Recap
Wed 9/18
@ARI 9, LAD 4
Recap
» Thu 9/19
LAD 7, @ARI 6
Box Score
Complete Schedule: Dodgers | Diamondbacks
Scoring Summary
LAD
ARI
3rd
H Ramirez homered to left (394 feet), R Nolasco and J Hairston Jr. scored.
3
0
3rd
P Goldschmidt hit a ground rule double to deep right, A Eaton scored, A Pollock to third.
3
1
3rd
M Prado tripled to deep right, A Pollock and P Goldschmidt scored.
3
3
3rd
M Montero singled to left center, M Prado scored.
3
4
3rd
W Miley doubled to deep left, D Gregorius and G Parra scored.
3
6
6th
S Van Slyke doubled to left, J Uribe scored.
4
6
6th
M Young hit sacrifice fly to right, S Van Slyke scored, A Ellis to second on throwing error by right fielder G Parra.
5
6
7th
H Ramirez homered to left center (409 feet).
6
6
8th
A Ellis homered to left (370 feet).
7
6
View complete Play-By-Play
Game Information
| | |
| --- | --- |
| Stadium | Chase Field, Phoenix, AZ |
| Attendance | 22,763 (46.8% full) - % is based on regular season capacity |
| Game Time | 3:10 |
| Weather | indoors |
| Umpires | Home Plate - Jim Joyce, First Base - Andy Fletcher, Second Base - Rob Drake, Third Base - Joe West |
Research Notes
From Elias: Dodgers are 5th team to be at least 12 games under .500 at any point in the season and win the division in the Divisional Era (since 1969).
From Elias: The Dodgers were 47-47 at the All-Star Break, becoming just the sixth team in the Wild Card Era to win a division title after entering the break with a non-winning record. None of the previous 5 teams went on to make the World Series.
[+]
From Elias: This is the earliest the Dodgers have clinched a postseason berth since the Brooklyn Dodgers clinched the National League title on September 8, 1955. Dodgers went on to defeat the Yankees 4-3 in the World Series.
ESPN Stats & Information