5:37 PM ET, October 5, 2013
Fenway Park, Boston, Massachusetts
BOSTON -- John Lackey has watched David Ortiz wreak destruction on playoff opponents before.
He finally got a chance to see it from the same dugout.
"I like it a lot better on this side, that's for sure," Lackey said after Ortiz hit two homers to lead the Red Sox to a 7-4 victory over the Tampa Bay Rays on Saturday and give Boston a 2-0 lead in the AL Division Series.
More From ESPN.com

David Ortiz took Rays ace David Price deep twice to bookend Boston's big win in Game 2 of the ALDS, Gordon Edes writes. Story
---

The Red Sox kept sending relentless waves of offense at Tampa Bay to take a formidable 2-0 lead in the ALDS, writes Jerry Crasnick. Story
• Lee: Breslow, Tazawa a strong bridge
• Lee: Red Sox ride 2-0 lead to Tampa
• Brasseur: Price isn't right for Rays
It was the first two-homer postseason game for Ortiz, who is the only player remaining from the 2004 Red Sox team that won the franchise's first World Series title in 86 years. He was also a star of the 2007 team that won it all; both times, they opened the playoffs by eliminating Lackey's Los Angeles Angels.
"He's tough this time of year -- any time of year," Lackey said. "He's a guy that likes bright lights, for sure."
Jacoby Ellsbury had three hits and scored three runs for the AL East champions. Dustin Pedroia drove in three runs, and Lackey earned the win in his first postseason start since joining the Red Sox as a free agent in 2010.
Ortiz hit his first homer in the first inning, then his second in the eighth to chase Rays starter David Price.
"As long as we win, it means a lot," Ortiz said. "It's not over. We've got to keep on fighting."
Tampa Bay will need a victory in Game 3 on Monday in St. Petersburg, Fla., to avoid a sweep in the best-of-five series. The Rays won three win-or-go-home games this week just to reach this round, including Price's complete game in the tiebreaker against Texas to determine the second AL wild-card team.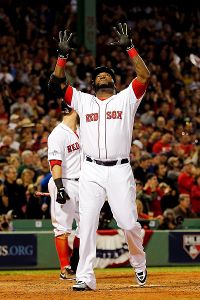 Jim Rogash/Getty Images
Ortiz is integral to the Red Sox's offense, but he'll be on the bench in Busch Stadium?
"I'm really looking forward to Game 5 here," said Tampa Bay manager Joe Maddon, knowing the Rays would have to win the next two to force the series to the limit. "We just went through a week of (our) backs against the wall, so it's not new to us. It's going to be difficult. ... But I don't think it's impossible by any means."
"Boston this time of the year is kind of lovely, and I'm looking forward to coming back in a few days."
With the situation not yet desperate, Price allowed seven runs on nine hits and two walks, striking out five. He took the mound for the eighth inning, but Ortiz hit his second pitch high over the Pesky Pole, and right-field umpire Chris Guccione signaled it fair.
"When he hits two home runs, things are going to revolve around him," Red Sox manager John Farrell said. "He's the main cog in our lineup."
There was no such suspense for Ortiz's first homer, which went into Boston bullpen to make it 2-0. Not even right fielder Wil Myers, who misplayed a Big Papi popup into a double in right field in Boston's 12-2 win on Friday, could be blamed for that one.
Every Red Sox starter had a hit and scored a run in Game 1. In the sequel, everyone in the starting lineup got a hit except Mike Napoli, who drew two walks.
Lackey lasted 5 1-3 innings for Boston, allowing four runs on seven hits and three walks. He struck out six and also hit a batter while getting the win. Koji Uehara struck out the first two batters in the ninth before retiring Myers on a grounder.
The most visible -- but hardly the only defensive goat in Game 1 -- Myers was razzed by the Fenway Park crowd during every at-bat. The Rays rookie drew a sarcastic cheer after catching an easy fly ball in the fifth, but he had no real problems in the field.
ALDS: Red Sox-Rays


Complete coverage of the Red Sox-Rays matchup. More »
Not so for the rest of the Rays. They committed two errors -- a throwing error by second baseman Ben Zobrist and one by catcher Jose Molina in the first, when Ellsbury stole second and took third on the throw.
It was that kind of night for Ellsbury, who missed most of September with a broken right foot. After hitting a single and scoring in the first, he reached on a bloop double behind the third baseman in the third to drive in a run, moved up on Shane Victorino's single and scored on Pedroia's grounder.
He also singled to lead off the fifth and scored on Pedroia's double.
Tampa Bay made it 6-4 on Yunel Escobar's single, but Ortiz gave Boston back its cushion with a high fly ball that sailed over the right field foul pole that sits just 302 feet from home plate. Escobar, James Loney and Desmond Jennings each had two hits for Tampa Bay.
NOTES: The Red Sox also beat the Rays in Game 1 of their last playoff matchup, the 2008 AL Championship Series. Tampa Bay won Game 2 and won the series in seven games. ... Victorino broke up a double play in the third by upending Zobrist at second base. ... Stephen Drew had an RBI triple in the Boston fourth.
Copyright by STATS LLC and The Associated Press
Photo Wire
BOSTON, MA - OCTOBER 05: Manager Joe Maddon #70 of the Tampa Bay Rays looks on before Game Two of the American...
(Photo by Jared Wickerham/Getty Images)
Scoring Summary
TB
BOS
1st
D Pedroia hit sacrifice fly to center, J Ellsbury scored.
0
1
1st
D Ortiz homered to right (399 feet).
0
2
2nd
D Young hit sacrifice fly to right, B Zobrist scored.
1
2
3rd
J Ellsbury doubled to shallow left, D Ross scored.
1
3
3rd
D Pedroia grounded into fielder's choice to third, J Ellsbury scored, S Victorino out at second.
1
4
4th
S Drew tripled to left, J Gomes scored.
1
5
5th
J Loney doubled to deep center, Y Escobar and D DeJesus scored.
3
5
5th
D Pedroia doubled to left, J Ellsbury scored.
3
6
6th
Y Escobar singled to right, D Jennings scored.
4
6
8th
D Ortiz homered to right (387 feet).
4
7
View complete Play-By-Play
Game Information
| | |
| --- | --- |
| Stadium | Fenway Park, Boston, MA |
| Attendance | 38,705 (104.4% full) - % is based on regular season capacity |
| Game Time | 3:14 |
| Weather | 65 degrees, partly cloudy |
| Wind | 7 mph |
| Umpires | Home Plate - Eric Cooper, First Base - Dana DeMuth, Second Base - Paul Emmel, Third Base - Mike Winters |
Research Notes
Saturday was just the 2nd time in
David Ortiz
's career (postseason and regular season) that he hit 2 HR off left-handed pitchers in a single game. He also did it against
Tommy Milone
last year.
ESPN Stats & Information