8:00 PM ET, October 12, 2013
Fenway Park, Boston, Massachusetts
Tigers lose no-no with one out in 9th, edge Red Sox in ALCS Game 1
BOSTON -- Lose the no-hitter, win the game.
That's a trade Anibal Sanchez and the Detroit Tigers were happy to make to take the lead over the Boston Red Sox in the AL Championship Series.
Sanchez and four relievers came within two outs of the first combined no-hitter in postseason history, striking out 17 to beat Boston 1-0 in the series opener on Saturday night.
More On Game 1

Anibal Sanchez isn't your garden-variety No. 3 starter and now the Tigers hope their studs can follow his lead, Jerry Crasnick writes. Story
---

The frustrated Red Sox didn't foresee the latest chapter of their storybook season opening quite like this, Jackie MacMullan writes. Story
---

After 17 K's and a shutout, things get more daunting for Boston as Detroit aces Max Scherzer and Justin Verlander loom, Jim Caple writes. Story
• Olney: Sox's ump focus misguided


• Edes: Expect Boston to bounce back
• Stats & Info: Strikeouts steady Tigers
• Red Sox blog | ESPN Boston
• SportsNation: Predict Game 2
"At this point, especially in this series, it's not about throwing a no-hitter," said Sanchez, who was pulled after 116 pitches in six innings. "As soon as you get some zeroes ... it's more important. It's more important than the no-hitter at this point."
Sanchez struck out 12 -- including a record-tying four in the first inning -- but also walked a season-high six. Al Alburquerque, Jose Veras, Drew Smyly and Benoit stretched the no-hitter through eight innings.
With one out in the ninth, Daniel Nava lined a single to center field off Joaquin Benoit to end Detroit's bid for the third postseason no-hitter ever.
"I'm not going to lie to you. I wanted it," Tigers catcher Alex Avila said. "But had to think about the next hitter with a 1-0 game."
Stephen Drew flied out to right and, with the potential tying run on second, Xander Bogaerts hit a game-ending popout to shortstop that put the Tigers ahead in the best-of-seven series. Boston's Clay Buchholz will face major league wins leader Max Scherzer in Game 2 on Sunday night.
Jhonny Peralta had an RBI single off Jon Lester in the sixth for the game's only run. Peralta, who missed most of August and September while serving a 50-game suspension for violating baseball's drug rules, was taunted with chants of "Steroids!" and "User!" as he looped a single to center to bring home Miguel Cabrera.
It was a day for pitching in the playoffs -- St. Louis beat the Dodgers 1-0 in the second game of the NLCS, marking the first time in postseason history two games ended by that score on one day.
"That tells you the quality of pitching in the postseason," Tigers manager Jim Leyland said. "We've got to do a lot better with our opportunities, but in this one we were able to hold on."
Detroit's Pitching Rocks
Anibal Sanchez was the first pitcher in postseason history to go at least six innings and be pulled with a no-hitter. Two others were removed after at least four no-hit innings. Here's a look:
Series
Pitchers
IP
2013 ALCS
Anibal Sanchez
6
2001 ALCS
Paul Abbott
5
1974 ALCS
Mike Cuellar
4 2/3
-- ESPN Stats & Information
---
The Tigers tied the record for most K's in a nine-inning postseason game.
Series
Team
K's
Opp.
2013 ALCS
Tigers
17
Red Sox
1998 NLDS
Padres
17
Astros
1968 WS
Cardinals
17
Tigers
2013 ALDS
Tigers
16
Athletics
-- ESPN Stats & Information
The majors' highest-scoring team during the regular season, the Red Sox were shut out at Fenway Park in the postseason for the first time in 95 years.
"You give up one run and you like your chances," said Lester, who allowed six hits and a walk, striking out four in 6 1/3 innings. "It was a great game. That was playoff baseball."
The AL's regular-season ERA champion, Sanchez loaded the bases in the sixth on three walks. But he struck out Drew to end the inning, coming off the mound with a celebratory arm pump and high leg kick.
Alburquerque pitched a perfect seventh, Veras got two outs and Smyly retired David Ortiz on a harmless fly ball to center to end the eighth. Drew kept the score close for Boston in the bottom of the eighth, racing into shallow center field to make a juggling, over-the-shoulder catch on Prince Fielder's looper with runners on second and third.
Benoit struck out Mike Napoli to start the ninth before Nava singled to end the no-hit bid.
"Whether it was Sanchez or every guy they brought out of the bullpen, it was power stuff," Red Sox manager John Farrell said. "To chase a very good starter after six innings, I thought we succeeded in that right. We're down a run. That game is still very much in the balance with every time we come to the plate. ... We achieved what we set out to do and that was to get in the bullpen in the middle innings. And, unfortunately, it didn't work out."
Two nights after Justin Verlander took a no-hit bid into the seventh to finish off Oakland in the AL Division Series, Sanchez had a similar effort against the Red Sox. His four strikeouts in the first inning -- thanks to a third-strike wild pitch to Shane Victorino -- tied the major league record for a postseason game set by the Cubs' Orval Overall in the 1908 World Series.
It's the first time in baseball postseason history a team has had back-to-back games in which its starting pitcher had a no-hitter through five innings.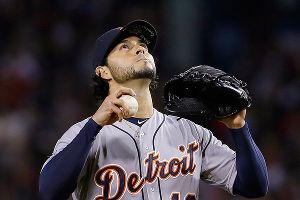 AP Photo/Matt Slocum
Anibal Sanchez loaded the bases on three walks in the sixth inning but got out of the jam.
On a brisk night with the wind blowing in from center, the Tigers got the only run they needed in the sixth after Cabrera drew a one-out walk and moved to second when Fielder was hit by a pitch. Victor Martinez hit a sharp grounder to short for the force at second, but he beat the relay throw to first by inches to keep the inning alive.
Peralta then knocked a 2-2 pitch to center to score Cabrera from third.
Detroit threatened when Martinez doubled to lead off the fifth, but he was caught off second base on Omar Infante's sharp grounder to first. Avila singled, and Infante took third when Victorino bobbled the ball in right.
On Jose Iglesias' grounder, third baseman Will Middlebrooks threw the ball home to retire the lead runner. Austin Jackson flied out to right, ending the inning.
Game notes
Don Larsen threw a perfect game for the New York Yankees against Brooklyn in the 1956 World Series, and Roy Halladay pitched a no-hitter for Philadelphia in the 2010 NL Division Series. ... The Red Sox were shut out for only the second time in 78 postseason games at Fenway Park, the first since losing to the Chicago Cubs 3-0 in Game 5 of the 1918 World Series. ... No Tigers pitcher had ever struck out four batters in an inning before, regular season or postseason. ... Victorino's stolen base in the first gave the Red Sox seven in the postseason, tying a franchise record set in 2004. ... The Red Sox sent Sanchez to the Florida Marlins in the deal that brought Mike Lowell and Josh Beckett to Boston after the 2005 season. He was traded to Detroit last season. ... It was Lester's fourth Game 1 start, surpassing Roger Clemens, Pedro Martinez and Beckett for most in franchise history. ... The 17 strikeouts by Tigers pitchers tied the record for a nine-inning postseason game. It happened twice before. ... It was only Boston's second shutout in 78 postseason home games, according to STATS. The other was in the 1918 World Series, when the Cubs beat them 3-0 in Game 5.
Copyright by STATS LLC and The Associated Press
Photo Wire
BOSTON, MA - OCTOBER 12: Fans walk outside Fenway Park before Game One of the American League Championship Series...
(Photo by Jared Wickerham/Getty Images)
Game Information
| | |
| --- | --- |
| Stadium | Fenway Park, Boston, MA |
| Attendance | 38,210 (103.1% full) - % is based on regular season capacity |
| Game Time | 3:56 |
| Weather | 55 degrees, cloudy |
| Wind | 12 mph |
| Umpires | Home Plate - Joe West, First Base - Rob Drake, Second Base - Ron Kulpa, Third Base - Alfonso Marquez |
Research Notes
Anibal Sanchez
is the first starter in postseason history to go at least 6 innings and be pulled with a no-hitter intact. Two others have been removed after at least two no-hit innings.
[+]
Anibal Sanchez
is the 2nd pitcher in MLB postseason history with 4 strikeouts in an inning. The other? Orval Overall for the Cubs in Game 5 of the 1908 World Series (Oct. 14, 1908 - 1st inning).
ESPN Stats & Information