8:00 PM ET, October 16, 2013
Comerica Park, Detroit, Michigan
Austin Jackson breaks out as Tigers smack Red Sox, tie series at 2
DETROIT -- Jim Leyland dropped Austin Jackson to eighth in the batting order, hoping to relax the slumping Detroit outfielder.
So naturally, Jackson's first plate appearance came with the bases loaded. After drawing a four-pitch walk to force in a run, he finally felt a little more at ease.
A revitalized Jackson delivered in Leyland's revamped lineup as the Tigers built a big lead and held on this time, beating the Boston Red Sox 7-3 on Wednesday night to even the American League Championship Series at 2-all. Detroit scored five runs in the second inning, the first coming home on Jackson's walk.
More On Game 4

Detroit manager Jim Leyland reshuffled his regulars to punch things up, and the Tigers responded with a win, Jim Caple writes. Story
---

Boston's offense is in a funk. The Red Sox might need to follow Detroit's lead and shake up their lineup, too, Jerry Crasnick writes. Story
---

Uncharacteristic lapses by Boston's Dustin Pedroia and Jake Peavy allowed Game 4 to get away from the Red Sox, Gordon Edes writes. Story
---

If Boston's hurlers are going to be mere mortals, their teammates need to provide some run support in this ALCS, Jackie MacMullan writes. Story
• Stats & Info: Tigers maneuver
• Red Sox Blog | ESPN Boston
"It was a big situation right there to try to get something done," Jackson said. "I think after I'd seen a couple of pitches I was able to kind of just take some deep breaths and relax a little bit -- and not worry so much about the result, just try to get a good pitch."
Jackson finished with two singles and two walks. He was 3-for-33 with 18 strikeouts in this postseason before Wednesday.
Torii Hunter had a two-run double and Miguel Cabrera drove in two runs after Leyland moved the slumping Jackson out of the leadoff spot and bumped almost everyone else up a place following the Tigers' 1-0 loss in Game 3. The Detroit manager was quick to deflect credit afterward.
"This has nothing to do with Jim Leyland; this is about the players," Leyland said. "They executed, they came out, they played well."
Jackson's bases-loaded walk off Jake Peavy in the second seemed to be a relief for most of Comerica Park. Another strikeout could have derailed the rally, but instead the Tigers broke the game open.
Doug Fister, meanwhile, provided another fine outing for Detroit. He allowed a run in six innings, and the Tigers' starting pitchers have yielded only three runs in 27 ALCS innings -- and struck out 42.
After blowing a 5-0 lead in Game 2, Detroit kept the Red Sox at bay Wednesday.
Game 5 is Thursday night in Detroit. The Tigers' Anibal Sanchez faces Boston's Jon Lester in a rematch of Game 1, which Detroit won 1-0.
Jacoby Ellsbury had four hits for the Red Sox on Wednesday, finishing a homer shy of the cycle, but now it's Boston manager John Farrell fielding questions about whether a lineup shakeup is in order after another tough night against Detroit's pitching.
"The one thing that we've maintained is a constant approach with the lineup and not creating further uncertainty," Farrell said. "I think our guys have responded well to that."
The Tigers lost Games 2 and 3, wasting gems by Max Scherzer and Justin Verlander. Leyland left Jackson in the lineup but changed the batting order. Jackson hit eighth, and with others moving up a spot, it made for an odd-looking lineup. Hunter hit leadoff for the first time since 1999, and Cabrera was second for only the third time in his career -- first since 2004.
"That was pretty good. He switched things up, kind of shake it up a little bit," Hunter said. "It gave us a different mindset. Miggy hitting second, me leading off. It gave us a different mindset to make things happen."
Leyland indicated his batting order would remain the same in Game 5 -- but will he be doing anything special with the lineup card from Wednesday's game?
"I'll throw it away, unless I can sell it to some bar on the way home," he said.
Jackson found himself batting in a crucial situation right away in the second. Peavy walked him to force home the game's first run.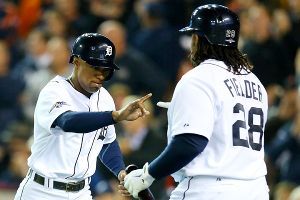 Ronald Martinez/Getty Images
Austin Jackson is greeted by teammate Prince Fielder after scoring in the fourth inning.
The Red Sox had a chance to halt that rally when Jose Iglesias hit a potential double-play grounder to second, but Dustin Pedroia couldn't field it cleanly and Boston had to settle for a forceout at second that brought home another run.
"That was my fault. We've got to turn that double play," Pedroia said. "That ball was smoked. If I catch it, we're getting two."
Hunter followed with a double down the line in left to make it 4-0, and Cabrera added an RBI single.
After walking three batters in the second inning, Peavy was in trouble again in the fourth. After a leadoff double by Omar Infante, Jackson slapped a single past a diving Pedroia to bring home a run.
"It felt good to contribute to a win," Jackson said. "Just get a chance to go out there and not put so much pressure on yourself, just have fun."
Cabrera's single made it 7-0, and the Detroit third baseman -- who has been running even slower than usual over the past month or so because of groin problems -- caught reliever Brandon Workman and the Boston defense napping when he stole second without a throw.
In the fifth, Cabrera looked healthy enough when he charged Pedroia's slow grounder, barehanded it and threw to first for the out.
Austin's Powers
The Tigers had their way with the Red Sox on Wednesday night, and Austin Jackson was largely to thank. Dropped from the leadoff spot to No. 8 in the order, Jackson answered with a breakout game in the postseason. Here's a look:
1st 8 Games
Wednesday
H-AB
3-for-33
2-for-2
RBI
1
2
BB
2
2
SB
0
1
-- ESPN Stats & Information
Peavy allowed seven runs and five hits in three-plus innings.
Detroit blew a 5-0 lead in Game 2 -- with the bullpen responsible for most of the damage -- and Cabrera and Prince Fielder both struck out with runners at the corners in the eighth inning of Game 3. The tension was building in Motown, but the defending AL champions jumped out to an early lead Wednesday.
David Ortiz's tying grand slam in Game 2 off Detroit closer Joaquin Benoit kept the Tigers from sweeping the first two games at Fenway Park.
Detroit went to Benoit in the ninth Wednesday with a 7-2 lead, and Ellsbury hit an RBI triple with none out. But Benoit struck out Shane Victorino, ensuring that Ortiz wouldn't be able to bat as the tying run later in the inning.
When Ortiz did come up for his rematch with Benoit, there was only one man on. The Boston designated hitter took another mighty swing, but his high fly to right was caught easily.
Detroit had taken a no-hitter into the fifth inning of its previous four games. Pedroia's single in the first put an end to that streak, but the Red Sox didn't do much against Fister.
Boston had a chance to score first in the second. Mike Napoli, whose homer accounted for the only run of Game 3, led off with a double off the tip of Cabrera's glove and went to third on a groundout. Cabrera caught Jarrod Saltalamacchia's foul popup against the railing of the Detroit dugout, and Fister struck out Stephen Drew.
SportsNation: Tigers top Sox in Game 4

The shaken-up Tigers lineup erupted in Game 4 to tie the ALCS. Who wins Game 5? What about the series? Vote!
After the Tigers scored five in the second, Boston put two on for Ortiz in the third. He pulled a grounder into Detroit's shifted defense for the third out.
Saltalamacchia hit an RBI single in the sixth, but Fister got out of a two-on, one-out situation after that. The right-hander allowed eight hits and a walk, striking out seven.
Victorino hit an RBI double in the seventh to make it 7-2.
Game notes
The Boston bullpen, which has been outstanding in this postseason, worked five scoreless innings. ...
Drew Smyly
got five outs in relief for Detroit, helping the Tigers get the game to Benoit.
Copyright by STATS LLC and The Associated Press
Photo Wire
DETROIT, MI - OCTOBER 16: Mike Napoli #12 of the Boston Red Sox is interviewed by Fox Sports reporter Erin...
(Photo by Ronald Martinez/Getty Images)
Scoring Summary
BOS
DET
2nd
A Jackson walked, V Martinez scored, J Peralta to third, A Avila to second.
0
1
2nd
J Iglesias grounded into fielder's choice to second, J Peralta scored, A Jackson out at second, A Avila to third.
0
2
2nd
T Hunter doubled to left, A Avila and J Iglesias scored.
0
4
2nd
M Cabrera singled to center, T Hunter scored.
0
5
4th
A Jackson reached on infield single to second, O Infante scored.
0
6
4th
M Cabrera singled to center, A Jackson scored.
0
7
6th
J Saltalamacchia singled to center, M Napoli scored, D Nava to second.
1
7
7th
S Victorino doubled to deep left, J Ellsbury scored.
2
7
9th
J Ellsbury tripled to right, X Bogaerts scored.
3
7
View complete Play-By-Play
Game Information
| | |
| --- | --- |
| Stadium | Comerica Park, Detroit, MI |
| Attendance | 42,765 (103.7% full) - % is based on regular season capacity |
| Game Time | 3:27 |
| Weather | 56 degrees, cloudy |
| Wind | 15 mph |
| Umpires | Home Plate - Alfonso Marquez, First Base - Dale Scott, Second Base - Dan Iassogna, Third Base - Joe West |
Research Notes
Jake Peavy
had all sorts of trouble throwing strikes in Game 4. His 54 percent strike rate was his third-worst in any game of his career, his worst since a 33-pitch start while pitching on an injured ankle against the Phillies in 2009.
Jake Peavy
had all sorts of trouble throwing strikes in Game 4. His 54 percent strike rate was his third-worst in any game of his career, his worst since a 33-pitch start while pitching on an injured ankle against the Phillies in 2009.
Jake Peavy
is the 4th pitcher in postseason history to allow 7 ER on five or fewer hits. The others were the Red Sox
Tim Wakefield
(in 1995 ALDS vs the Indians), the Reds Gene Thompson (in 1939 World Series vs the Yankees), and the Cubs Guy Bush (in 1932 World Series vs the Yankees).
This is the 2nd time that
Jake Peavy
has allowed at least 7 ER in fewer than 5 IP in the postseason. He is the 3rd pitcher with at least 2 career postseason games of 7+ ER and fewer than 5 IP. The others are the Braves'
Tom Glavine
(3) and the Phillies' Tommy Greene (2).
Torii Hunter
: 2-RBI double Hunter's last RBI as a leadoff hitter came May 14, 1999 against the Athletics. He'd never had 2 RBI in a game as a leadoff hitter before today.
ESPN Stats & Information