8:00 PM ET, October 19, 2013
Fenway Park, Boston, Massachusetts
BOSTON -- When Shane Victorino signed with the Boston Red Sox as a free agent in the offseason, they were coming off a last-place finish that was their worst in almost half a century. They had fired their manager for the second year in a row.
He believed they could turn it around.
And quickly.
Victorino brought the Red Sox one big step closer to completing their comeback, sending them to the World Series with a seventh-inning grand slam that gave Boston a 5-2 victory over the Detroit Tigers in Game 6 of the AL Championship Series on Saturday night.
More Game 6 Coverage

It's pretty simple. Shane Victorino's grand slam summed up this series and season for the Red Sox, Jim Caple writes. Story
---

Detroit expected to go the distance in 2013, but too many miscues led to an exit in the ALCS, writes Jerry Crasnick. Story
---

Boston's worst-to-first bunch shines in the biggest moments while trumping the Tigers in the ALCS, Gordon Edes writes. Story

---

He was running out of time. But Shane Victorino went from potential goat to hero in one fateful swing, writes Jackie MacMullan. Story

---

Reminiscent of Jacoby Ellsbury in 2007, Red Sox rookie Xander Bogaerts is taking his coming-out party to the World Series, writes Joe McDonald. Blog
• Kurkjian: Five key questions
• McDonald: Uehara deserving of MVP
• Bowden: Tigers' Next Steps


• Stats & Info: Red Sox Handle Curve
• 10 World Series Nuggets
• Photos: Victorino GS | 2013 Red Sox
The Red Sox will open the World Series on Wednesday night against the St. Louis Cardinals, the team they swept in 2004 to end their 86-year title drought. The Cardinals won the NL pennant on Friday night by eliminating the Los Angeles Dodgers in six games.
"It's one of those moments you live for," Victorino said as he wandered around the Fenway Park infield while Red Sox fans serenaded him with his theme song, Bob Marley's "Three Little Birds," and its chorus, "Don't worry about a thing, 'Cause every little thing is gonna be all right."
"Just listen to the crowd," Victorino said, referring then to the Boston Marathon bombings that left the city reeling during the first month of his first season in town. "The one thing I came here to do is to be a part of this city. With all we went through as a city, there's definitely a bond."
Detroit took a 2-1 lead in the sixth and 21-game winner Max Scherzer protected it until the seventh, when Boston loaded the bases on a double, a walk and an error by rookie shortstop Jose Iglesias. Victorino fell behind Jose Veras 0-2 but lofted a hanging curveball over the Green Monster to set off a celebration in the Red Sox dugout and in the Fenway Park stands.
"It's been a special ride," second baseman Dustin Pedroia said, "and we're still going."
Junichi Tazawa got one out for the win, Craig Breslow pitched a scoreless eighth and series MVP Koji Uehara got the last three outs before the Red Sox poured out of the dugout to begin their now-familiar celebration on the mound.
"The way I would sum it up is that I thought their starters were good," Tigers manager Jim Leyland said. "I thought their bullpen was great."
Uehara, who inherited the closer job after the team's first two choices were injured, posted three saves and a win in the series. Then he joked about pitching so well under pressure.
"To tell you the truth, I almost threw up," Uehara kidded through a translator.
It's the 13th AL pennant for the Red Sox and their first since 2007, when they swept the Colorado Rockies to win it all for the second time in four seasons. Boston swept the Cardinals in '04, winning Game 4 in St. Louis to clinch the title that put an end to generations of disappointment.
The latest trip comes one year after a 69-win season that prompted the team to jettison its high-priced stars, rebuild the roster and bring in manager John Farrell. Victorino was one of the biggest additions, and he delivered on Saturday as he did for much of the season.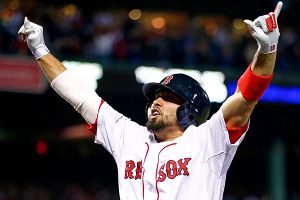 Jared Wickerham/Getty Images
Shane Victorino celebrates after hitting a seventh-inning grand slam in Game 6 of the AL Championship Series at Fenway Park.
"Since the first day of spring training there wasn't one person more important than the next," said outfielder Jonny Gomes, also a newcomer this season. "We're all pulling in the same direction."
Scherzer got one out in the seventh but left after walking rookie Xander Bogaerts to put runners on first and second. Drew Smyly got Jacoby Ellsbury to hit a grounder up the middle, but it popped out of Iglesias' glove behind second base and everyone was safe.
Veras came in and quickly got ahead of Victorino. But he hung a curveball and Victorino sent it toward the 37-foot left-field wall, which had already knocked down two Red Sox line drives.
This one left no doubt.
It was the second career postseason grand slam for Victorino, who also had a record-setting hit-by-pitch in the sixth.
Scherzer and Clay Buchholz also matched up in Game 2, when the Tigers right-hander took a no-hitter and a 5-0 lead into the sixth. The Red Sox rallied against the Detroit bullpen, tying it on David Ortiz's eighth-inning grand slam and winning it in the ninth on Jarrod Saltalamacchia's walk-off single through a drawn-in infield.
Both starters gave up hits in the first inning in the rematch, but it remained scoreless until Bogaerts doubled off the Green Monster with two outs in the fifth and scored on Ellsbury's single.
But the Tigers took the lead on the bottom half, chasing Buchholz with a walk and Miguel Cabrera's single before Franklin Morales walked Prince Fielder on four pitches to load the bases with nobody out.
Victor Martinez lined one high off the Green Monster to make it 2-1, holding at first with a two-run single.
SportsNation: 2013 World Series

Which team will win the World Series? Who is the best player in this year's Fall Classic? Vote »
Rank the players »
Brandon Workman came in and got Jhonny Peralta to hit a hard grounder to Pedroia, who chased down Martinez in the basepath for one out and then threw home to get Fielder in a rundown. Saltalamacchia ran him back to third and dove, somersaulting over him while making the tag.
Workman struck Alex Avila out looking to end the inning.
"We kind of lucked out and got out of that inning," Pedroia said. "Salty can run."
Scherzer worked out of a jam in the bottom half after putting runners on second and third with one out. He allowed three runs on four hits and five walks, striking out seven in 6 1-3 innings.
Buchholz allowed two runs on four hits and two walks, striking out four in five-plus innings.
Scherzer walked the first two batters in the third, but Victorino popped up a bunt and Scherzer made a sliding catch for the first out.
Pedroia hit a high fly ball that was just foul of the Carlton Fisk pole above the Green Monster. After it was confirmed by replay, he hit a hard grounder down the line that Cabrera fielded, easily stepping on third base before throwing to first for the double play.
NOTES: It will be the first World Series between the teams with the best record in each league since 1999. ... Detroit C Alex Avila, who absorbed a body shot and a foul ball off the mask in Game 5, took another ball off the mask in the fourth but remained in the game. ... The Dropkick Murphys sang the national anthem before the game, followed by "Shipping up to Boston," wearing Red Sox jerseys that said "Boston Strong" and the number 617. ... The Red Sox were 5-0 all time in playoff Game 6s with a 3-2 edge. ... Ellsbury had successfully stolen 18 bases in a row in the regular season and playoffs before being thrown out in the fifth. ... Victorino was hit by a pitch to lead off the sixth, his sixth of the playoffs, extending his record and setting a major league record with the 10th postseason HBP of his career. Alex Rodriguez had the old record.
Copyright by STATS LLC and The Associated Press
Photo Wire
BOSTON, MA - OCTOBER 19: Former Red Sox Bill Mueller throws the first pitch prior to Game Six of the American...
(Photo by Al Bello/Getty Images)
Scoring Summary
DET
BOS
5th
J Ellsbury singled to right, X Bogaerts scored.
0
1
6th
V Martinez singled to deep left center, T Hunter and M Cabrera scored, P Fielder to third.
2
1
7th
S Victorino homered to left (343 feet), J Gomes, X Bogaerts and J Ellsbury scored.
2
5
View complete Play-By-Play
Game Information
| | |
| --- | --- |
| Stadium | Fenway Park, Boston, MA |
| Attendance | 38,823 (104.7% full) - % is based on regular season capacity |
| Game Time | 3:52 |
| Weather | 59 degrees, partly cloudy |
| Wind | 8 mph |
| Umpires | Home Plate - Dan Iassogna, First Base - Joe West, Second Base - Rob Drake, Third Base - Ron Kulpa |
Research Notes
The Red Sox became the 7th team since 1990 to reach the World Series following a season in which they finished in last place.
[+]
Shane Victorino
is the 1st player in MLB history with multiple GO-AHEAD grand slams in the postseason.
Koji Uehara
is the 1st reliever to be named an LCS MVP since
Mariano Rivera
in 2003. He had 6 IP, 3 saves, 1 win and 0 runs allowed in the series
Red Sox are the 2nd team to hit 2 grand slams in a single LCS (and the first to do it in ALCS). Dodgers did it in 1977 NLCS
Red Sox are the first team in MLB history to hit two game-tying/go-ahead grand slams in the 7th inning or later in a single postseason (
David Ortiz
in Game 2 ALCS)
Victor Martinez
's single in the top of the sixth inning was calculated at 393 feet. It would have been a home run in 17 major league parks, including Comerica Park.
ESPN Stats & Information