Final
NY Yankees leads 1-0 (as of 4/10)
7:05 PM ET, April 10, 2014
Yankee Stadium, New York, New York
NEW YORK -- This much is clear: Michael Pineda had a dark substance smudged on his pitching hand during his first win for the New York Yankees.
Pine tar or dirt? We might never know.
Pineda took a two-hit shutout into the seventh inning, and Jacoby Ellsbury hit an RBI single off old roommate Clay Buchholz in his first game against the Boston Red Sox. The Yankees' 4-1 victory Thursday night left a bit of a mystery: Were Pineda's pitches plain old nasty, or was something more sinister involved?
More From ESPN.com

ESPNNewYork.com
If a pitcher is throwing tar balls and no one complains, did it really happen? This will go down as just another amusing chapter in Yanks-Sox history, Wallace Matthews writes. Blog
• Marchand: Anna from heaven?
• Stats: Newcomers spark win
• Rapid Reaction
• Yankees Blog | ESPN New York
---

ESPNBoston.com
The black-and-white verdict on Clay Buchholz is he was tagged with his first loss of the season. A.J. Pierzynski advises you to consider the bigger picture, Gordon Edes writes. Blog
• Olney: Red Sox had reasons


• Rapid Reaction
• Red Sox Blog | ESPN Boston
"It's dirt," Pineda said. "Between the innings, I'm sweating too much, my hand. I'm putting dirt -- I'm grasping the dirt. ... I'm not using pine tar."
Ellsbury drew all the pregame attention after switching sides in the rivalry during the offseason. But it was the dark brown, seemingly tacky substance on the lower palm of Pineda's right hand that became the focus.
Close-up camera shots showed Pineda (1-1) pitching during the early innings with something on his hand, and there was speculation it was pine tar to help him get a better grip on a chilly night. The game was never stopped for an umpire to examine him, and it whatever it was, it was gone by the fifth.
"I became aware of it in the fourth inning through the video that someone had seen," Red Sox manager John Farrell said. "And then, when he came back out for the fifth inning, it looked, based on where it was told to me it was located, it looked like the palm of his right hand was clean."
Buchholz and fellow Red Sox ace Jon Lester both attracted questions last year about substances they had on the mound, but nothing came of them.
"The Red Sox didn't bring it to our attention, so there's nothing we can do about it," umpire crew chief Brian O'Nora said. "If they bring it to our attention, then you've got to do something."
Yankees manager Joe Girardi essentially repeated the same answer five times during his postgame news conference.
"I never saw it. There's nothing really for me to talk about," he said.
Making his first Yankee Stadium start 27 months after he was acquired from Seattle, Pineda appeared completely recovered from the shoulder surgery that sidelined him for two years. Throwing at up to 95 mph, he allowed four hits, struck out seven and walked two.
Brian McCann ended an 0-for-14 slide with a run-scoring single that put the Yankees ahead during a two-run fourth that also included a run-scoring double-play grounder by Alfonso Soriano.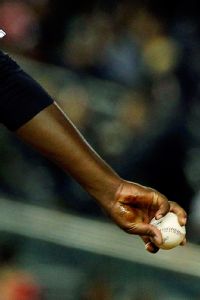 William Perlman/THE STAR-LEDGER/USA TODAY Sports
Michael Pineda pitched four innings with a dark substance on the lower palm of his pitching hand.
Making just his third big league start after 554 games in the minor leagues, 27-year-old infielder Dean Anna homered as New York made it 4-0 in the fifth.
Anna opened spring training wearing No. 93 after six minor league seasons with San Diego, which traded him to New York in November. Now wearing a more respectable No. 45, he was greeted after the homer by Yankees captain Derek Jeter, who gave him a high-five. Anna had received more than 100 emails and texts by the time the game ended, and he even got the ball back.
"Words can't explain it. Honestly, they really can't. All the history with these two teams," Anna said.
This was slightly different than the way he dreamed it would happen.
"In Wrigley Field, actually," he said. "But Yankee Stadium against the Red Sox I think is pretty good, too."
After spending nine years in the Red Sox organization and winning World Series titles in 2007 and last year, Ellsbury left for a $153 million, seven-year contract with the Yankees. And his first game put him at the plate against Buchholz (0-1), his roommate at Lowell of the New York-Penn League in their first summer of professional ball.
On a 1-for-4 night, Ellsbury reached on third baseman Jonathan Herrera's fielding error and scored the game's first run in the fourth. He singled sharply to left to drive in a run in the fifth.
Daniel Nava led off the seventh with a home run into the second deck in right, and Xander Bogaerts' single chased Pineda.
With David Robertson on the disabled list and Shawn Kelley and Adam Warren unavailable after pitching Wednesday, the Yankees scrambled their bullpen. Cesar Cabral and David Phelps retired Boston's last nine batters -- striking out five -- and Phelps got seven outs for his first career save.
"I just figured as long as I was keeping guys off base, they were going to let me go," Phelps said. "Any time you can get a first, as long as it's a good first, is always exciting."
Game notes
Jeter went 2-for-4 with a double, raising his average to .290. ... The Yankees employed an unusual shift with
Grady Sizemore
up: Jeter remained at shortstop and rookie
Yangervis Solarte
moved from third to the first-base side of second. Sizemore grounded out to Solarte in the third. ...
CC Sabathia
(1-1) is slated to face Lester (0-2) in Friday's second game of the four-game series.
Copyright by STATS LLC and The Associated Press
Photo Wire
NEW YORK, NY - APRIL 10: Jacoby Ellsbury #22 of the New York Yankees talks to David Ortiz #34 and Jonny Gomes #5...
(Photo by Al Bello/Getty Images)
Regular Season Series
New York leads 12-7 (as of Thu 4/10)
» Thu 4/10
@NYY 4, BOS 1
Box Score
Fri 4/11
BOS 4, @NYY 2
Recap
Sat 4/12
@NYY 7, BOS 4
Recap
Sun 4/13
@NYY 3, BOS 2
Recap
Tue 4/22
NYY 9, @BOS 3
Recap
Wed 4/23
@BOS 5, NYY 1
Recap
Thu 4/24
NYY 14, @BOS 5
Recap
Fri 6/27
@NYY 6, BOS 0
Recap
Sat 6/28
BOS 2, @NYY 1
Recap
Sun 6/29
BOS 8, @NYY 5
Recap
Fri 8/1
@BOS 4, NYY 3
Recap
Sat 8/2
NYY 6, @BOS 4
Recap
Sun 8/3
NYY 8, @BOS 7
Recap
Tue 9/2
BOS 9, @NYY 4
Recap
Wed 9/3
@NYY 5, BOS 1
Recap
Thu 9/4
@NYY 5, BOS 4
Recap
Fri 9/26
NYY 3, @BOS 2
Recap
Sat 9/27
@BOS 10, NYY 4
Recap
Sun 9/28
NYY 9, @BOS 5
Recap
Complete Schedule: Red Sox | Yankees
Scoring Summary
BOS
NYY
4th
B McCann singled to right, J Ellsbury scored, C Beltran to third.
0
1
4th
A Soriano grounded into double play, shortstop to second to first, C Beltran scored, B McCann out at second.
0
2
5th
D Anna homered to right (363 feet).
0
3
5th
J Ellsbury singled to left, D Jeter scored, J Ellsbury out stretching at second.
0
4
7th
D Nava homered to right (372 feet).
1
4
View complete Play-By-Play
Game Information
| | |
| --- | --- |
| Stadium | Yankee Stadium, New York, NY |
| Attendance | 42,821 (87% full) - % is based on regular season capacity |
| Game Time | 2:55 |
| Weather | 54 degrees, clear |
| Wind | 16 mph |
| Umpires | Home Plate - Bob Davidson, First Base - James Hoye, Second Base - John Tumpane, Third Base - Brian O'Nora |
Research Notes
Michael Pineda
is first pitcher to go at least 6 innings and allow 1 run or fewer in each of his first 2 appearances as a Yankee since
Kevin Brown
in 2004.
From Elias:
Dean Anna
is the 1st Yankee to hit his 1st career HR against the Red Sox since
Andy Phillips
on Sept. 26, 2004... He's the 34th player in Yankees history to hit his 1st career HR against the Red Sox.
Since the start of the 2012 season,
David Ortiz
leads all qualified hitters with a .353 batting average against outer-third pitches from righties. In his only full season in 2011,
Michael Pineda
ranked 20th out of 70 qualified right-handers in percentage of pitches thrown to the outer third of the plate at just over 53 percent.
ESPN Stats & Information