Final
LA Angels leads 2-0 (as of 7/4)
9:05 PM ET, July 4, 2014
Angel Stadium of Anaheim, Anaheim, California
ANAHEIM, Calif. -- Mike Trout keeps padding his stats with 1½ weeks to go until the All-Star break.
He homered leading off the ninth inning after the Los Angeles Angels twice rallied to tie the game, giving them a 7-6 victory over the Houston Astros on Friday night.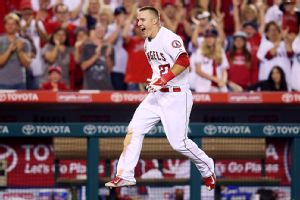 Stephen Dunn/Getty Images
Mike Trout's 20th home run of the season was his second of the walk-off variety.
Trout sent an 0-2 pitch from
Tony Sipp
over the wall in left-center field and charged into a celebratory mob at home plate. Teammate
Erick Aybar
doused Trout with a blue sports drink, staining his white uniform, and fans chanted "MVP! MVP!"
"The adrenaline rush you get when it goes out, it's something special. It's always good to come up big," Trout said. "What a comeback. We were up three, they came back and scored five, and we just kept fighting."
It was Trout's second career walk-off hit, both of them homers. The American League player of the month for June hit his team-leading 20th homer and has eight homers in his past 18 games. Trout became the eighth Angels player with 20 or more homers and at least 60 RBIs before the All-Star break and the first since Vladimir Guerrero in 2004.
"It's one of those things where you see the pitch and see the swing, and you say to yourself, 'There's not many players in our game that can do what he did with that pitch,'" Astros manager Bo Porter said.
Trout figures to start in center field in the All-Star game on July 15 in Minneapolis.
Joe Smith (3-0) got the victory for the Angels, who have won eight in a row at home for the first time since Sept. 16-24, 2005, and have the majors' best record at home. Los Angeles has won 11 of 14 overall.
Sipp (1-1) took the loss for the Astros, who dropped their fifth in a row.
"I went at him with my best stuff," Sipp said about Trout. "But even when you make a good pitch sometimes, a guy of that caliber will put a good swing on it."
Houston's Jose Altuve, who came in leading the AL in hits, stolen bases and batting average, went 0-for-5 with a strikeout.
The Angels blew a 3-1 lead in the third and then trailed 6-5 on Albert Pujols' 510th career homer -- a two-run shot -- in the fourth. They tied it 6-all in the seventh on Howie Kendrick's RBI double off the right field wall that scored Pujols, who singled leading off. Pujols was 3-for-4, and Kendrick went 4-for-4.
"You never know who's going to step up," Trout said. "Howie came up with a big double, I put a good swing on it in the ninth and it went out. I'm going to swing if it's close."
The Astros led 1-0 in the second on Chris Carter's homer. They took a 6-3 lead in the fourth on George Springer's two-run homer and a three-run shot by Jon Singleton.
Angels starter C.J. Wilson continued to struggle. The left-hander has failed to pitch more than five innings in four of his last seven starts. He gave up six runs and seven hits in 4⅓ innings, struck out six and walked one. Wilson was watching game video in another room afterward.
Houston starter Dallas Keuchel allowed five runs and 13 hits in five innings, struck out one and walked one. The left-hander was scratched last Saturday against Detroit because of left wrist inflammation. He was making his first appearance since June 22, when he allowed five runs -- four earned -- in a 5-2 loss to Tampa Bay.
"That was very disappointing on my part," Keuchel said. "The offense did more than enough to come out with a win, and I just didn't do my part. I haven't been too good as of late, so I guess I have to go back to the drawing board and figure some stuff out."
Game notes
Trout became the 13th major league player aged 22 or younger with 20 or more homers before the All-Star break. ... Houston activated RHP
Josh Fields
from the 15-day DL after he went on it because of soreness in his right forearm. ... The Astros traded RHP Andrew Robinson to Atlanta for a player to be named or cash considerations. ... The Angels improved to 28-29 on the Fourth of July, including 14-14 at home. ... Los Angeles won on a walk-off single by Aybar on July 4, 2013. ... The announced crowd of 43,557 was the Angels' fourth sellout of the season.
Copyright by STATS LLC and The Associated Press
Photo Wire
ANAHEIM, CA - JULY 03: George Springer #4 of the Houston Astros steals second base in front of Erick Aybar #2 of...
(Photo by Harry How/Getty Images)
Regular Season Series
Los Angeles leads 12-7 (as of Fri 7/4)
Fri 4/4
LAA 11, @HOU 1
Recap
Sat 4/5
LAA 5, @HOU 1
Recap
Sun 4/6
@HOU 7, LAA 4
Recap
Mon 4/7
LAA 9, @HOU 1
Recap
Mon 5/19
HOU 5, @LAA 2
Recap
Tue 5/20
@LAA 9, HOU 3
Recap
Wed 5/21
@LAA 2, HOU 1
Recap
Tue 6/3
@HOU 7, LAA 2
Recap
Wed 6/4
LAA 4, @HOU 0
Recap
Thu 6/5
@HOU 8, LAA 5
Recap
Thu 7/3
@LAA 5, HOU 2
Recap
» Fri 7/4
@LAA 7, HOU 6
Box Score
Sat 7/5
@LAA 11, HOU 5
Recap
Sun 7/6
@LAA 6, HOU 1
Recap
Tue 9/2
@HOU 8, LAA 3
Recap
Wed 9/3
@HOU 4, LAA 1
Recap
Fri 9/12
@LAA 11, HOU 3
Recap
Sat 9/13
@LAA 5, HOU 2
Recap
Sun 9/14
HOU 6, @LAA 1
Recap
Complete Schedule: Astros | Angels
Scoring Summary
HOU
LAA
2nd
C Carter homered to left (432 feet).
1
0
2nd
C Cowgill grounded out to second, C Cron scored, C Iannetta to third.
1
1
3rd
E Aybar grounded into double play, shortstop to second to first, A Pujols scored, H Kendrick out at second, J Hamilton to third.
1
2
3rd
D Freese doubled to center, J Hamilton scored.
1
3
4th
G Springer homered to center (403 feet), E Hernandez scored.
3
3
4th
J Singleton homered to right (377 feet), M Dominguez and C Carter scored.
6
3
4th
A Pujols homered to left (411 feet), C Cowgill scored.
6
5
7th
H Kendrick doubled to deep right, A Pujols scored.
6
6
9th
M Trout homered to left center (406 feet).
6
7
View complete Play-By-Play
Game Information
| | |
| --- | --- |
| Stadium | Angel Stadium of Anaheim, Anaheim, CA |
| Attendance | 43,557 (95.8% full) - % is based on regular season capacity |
| Game Time | 3:02 |
| Weather | 81 degrees, clear |
| Wind | 8 mph |
| Umpires | Home Plate - Angel Hernandez, First Base - Adrian Johnson, Second Base - Larry Vanover, Third Base - Paul Nauert |
Research Notes
Mike Trout
is 1 of 4 players with multiple walkoff homers in their age-22 season or younger over the last 30 years.
Ryan Zimmerman
was the last player to do that in 2006. Trout is hitting .371 with 12 home runs in his last 38 games
[+]
Mike Trout
's walk-off home run Friday was his MLB-high 14th home run on a lower-third pitch this season. He does not yet have a
hit
on an upper-third pitch.
This is
Albert Pujols
' 3rd career game with 3 hits, a HR and a SB. He also did it with the Angels in 2012, and with the Cardinals in 2009.
Albert Pujols
has hit .167 this season in at-bats ending with a pitch in the lower third of the zone or below from a lefty. His numbers in such at-bats have gotten worse every season since 2011 (.300 in 2011, .208 in '12, and .200 in '13).
Dallas Keuchel
leads qualified pitchers in percentage of pitches thrown in that zone (58.6 percent)
ESPN Stats & Information