8:10 PM ET, September 25, 2013
Target Field, Minneapolis, Minnesota
Max Scherzer (21-3) quiets Twins as Tigers clinch AL Central again
MINNEAPOLIS -- The Detroit Tigers were soaked in the joy of another division title, jumping around in their matching, drenched T-shirts when Torii Hunter darted from the room.
He came back a few seconds later, bear-hugging an important piece of the party: manager Jim Leyland. "I got Skip! I got Skip! I got Skip!" Hunter yelled.
More from ESPN.com

The Tigers have now won three straight AL Central titles, but this team is much stronger than those in past years, writes David Schoenfield. SweetSpot
• More Schoenfield: 10 Best Decisions
---

Torii Hunter has found a way not only to shine but be a key voice in the leadership choir of the Tigers' success, writes Doug Glanville. Story
The gruff old skipper was smiling wide, and he even did a little dance before retreating to his office. The Tigers were sure having fun, and they want to throw a bigger celebration next month.
Max Scherzer earned his 21st win and the Tigers became AL Central champions for the third straight year by beating the Minnesota Twins 1-0 on Wednesday night.
"I just don't think people realize how hard it is to win," Leyland said before Hunter nabbed him. The 68-year-old manager's voice cracked several times as he fought off tears during his postgame interview.
Hunter's single followed a leadoff triple by Austin Jackson in the first inning, and that was all Scherzer (21-3) and the Tigers needed.
"For us to be able to do it three straight years now is really special and a testament to the talent in our clubhouse," Scherzer said.
Scherzer gave up two singles in seven innings. Jose Veras and Drew Smyly teamed up for the eighth, and Joaquin Benoit worked the ninth for his 24th save in 25 tries.
A few dozen Tigers fans in attendance at Target Field cheered from their seats while Miguel Cabrera and his teammates mobbed Benoit in front of the mound after he struck out Josh Willingham to end the game.
The celebration picked up even more in the clubhouse, where the Tigers sprayed sparkling wine all over each other and started smoking cigars once the bottles were empty.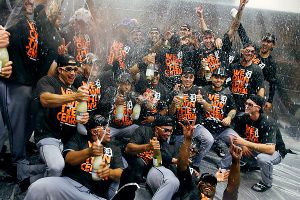 AP Photo/Jim Mone
A third straight AL Central title sparked another celebration from the Detroit Tigers on Wednesday night.
Scherzer spun one more solid start for the AL Cy Young Award voters to consider, except for the season-high six walks and 123 pitches. He struck out 10 and lowered his ERA to 2.90, ensuring he'll finish the season with the most wins in the major leagues. Jordan Zimmermann, the next closest, has 19 for Washington.
"Twenty-one wins. We call him 'Black Jack,'" Hunter said, ski goggles resting on the top of his head.
Second-place Cleveland beat the Chicago White Sox, but the Tigers maintained their 4 1/2-game lead. The Indians control the second AL wild-card spot.
Kevin Correia (9-13) did his best to give the Twins a chance, giving up seven hits and one run over seven innings to finish his first season with the Twins with a 4.18 ERA.
"They earned it. They did a great job this year," Correia said of the Tigers.
The clear favorites to win the Central again after getting swept by San Francisco in last year's World Series, the Tigers haven't had a losing month this season. They tightened their grip on the division with a 12-game winning streak shortly after the All-Star break.
Cabrera has followed his Triple Crown season with another spectacular year despite persistent midsection injuries. The supporting cast of Prince Fielder, Omar Infante, Jackson and Hunter has helped Detroit remain one of baseball's best-hitting teams.
The rotation has been even better. Anibal Sanchez and Scherzer have turned star right-hander Justin Verlander into an afterthought at times, and Doug Fister and Rick Porcello are two of the best fourth and fifth starters around. The bullpen, shaky at the start, has been more stable with Benoit as the closer.
Maxing Out For Tigers
Max Scherzer improved to 21-3 by leading the Tigers past the Twins on Wednesday night and to a third straight AL Central title. The right-hander has the fourth-best W-L record on a division-winning team in MLB history. Here's a look:
Year, Pitcher
Record
1995 Greg Maddux
19-2
1995 Randy Johnson
18-2
1978 Ron Guidry
25-3
2013 Max Scherzer
21-3
2001 Roger Clemens
20-3
1988 David Cone
20-3
-- Minimum 20 decisions
-- ESPN Stats & Information
Now it's on to the postseason, where the Tigers have had some success under Leyland but still fell short of the ultimate goal, the team's first World Series title since 1984. They were American League champions in 2006 and runners-up in 2011.
It's still too early to tell which team the Tigers will play in the division series, but they weren't worried about that Wednesday.
"When we started in spring training, it was almost like the only thing we could do was fail. People had such high expectations," Leyland said. "I talked about that and said, 'Don't get caught up in the expectations. Get caught up in how you're going to live up to the expectations."
Scherzer struck out four straight in one stretch. The first hit, by Chris Parmelee in the fourth inning, was a slow roller that didn't reach third base. Scherzer snagged it but had no play, grimacing about the blemish on the scoreboard. He retired the next batter on an infield popup.
Then, in the fifth, after a single and a walk with one out, Scherzer went to a 3-1 count on Brian Dozier, who has quietly become perhaps this depleted Twins team's best hitter with Justin Morneau now in Pittsburgh and Joe Mauer recovering from a concussion.
Scherzer struck out Dozier on a slider in the mid-80 mph range and watched catcher Alex Avila fire a perfect throw to third base that caught Alex Presley stealing. Scherzer pumped his arm as he walked off the mound.
Game notes
Leyland said he hopes SS
Jose Iglesias
(left hand) will play Friday in Miami, where Porcello (13-8, 4.38 ERA) will pitch against RHP
Tom Koehler
(4-10, 4.45 ERA). ... With the Tigers losing their designated hitter for the weekend,
Victor Martinez
could catch some and give Fielder a few innings off at first base, Leyland said.
Copyright by STATS LLC and The Associated Press
Photo Wire
MINNEAPOLIS, MN - SEPTEMBER 25: Max Scherzer #37 of the Detroit Tigers delivers a pitch against the Minnesota...
(Photo by Hannah Foslien/Getty Images)
Regular Season Series
Detroit leads 11-8 (as of Wed 9/25)
Mon 4/1
DET 4, @MIN 2
Recap
Wed 4/3
@MIN 3, DET 2
Recap
Thu 4/4
@MIN 8, DET 2
Recap
Mon 4/29
@DET 4, MIN 3
Recap
Tue 4/30
@DET 6, MIN 1
Recap
Wed 5/1
MIN 6, @DET 2
Recap
Thu 5/23
@DET 7, MIN 6
Recap
Fri 5/24
@DET 6, MIN 0
Recap
Sat 5/25
MIN 3, @DET 2
Recap
Sun 5/26
@DET 6, MIN 1
Recap
Fri 6/14
DET 4, @MIN 0
Recap
Sat 6/15
@MIN 6, DET 3
Recap
Sun 6/16
DET 5, @MIN 2
Recap
Tue 8/20
MIN 6, @DET 3
Recap
Wed 8/21
@DET 7, MIN 1
Recap
Thu 8/22
MIN 7, @DET 6
Recap
Mon 9/23
@MIN 4, DET 3
Recap
Tue 9/24
DET 4, @MIN 2
Recap
» Wed 9/25
DET 1, @MIN 0
Box Score
Complete Schedule: Tigers | Twins
Game Information
| | |
| --- | --- |
| Stadium | Target Field, Minneapolis, MN |
| Attendance | 26,517 (67.1% full) - % is based on regular season capacity |
| Game Time | 3:08 |
| Weather | 70 degrees, clear |
| Wind | 16 mph |
| Umpires | Home Plate - Fieldin Culbreth, First Base - Adrian Johnson, Second Base - Bill Welke, Third Base - Brian O'Nora |
Research Notes
From Elias: Jim Leyland notches his 3rd consecutive division title with the Tigers, joining Tony LaRussa and Whitey Herzog as the only managers to win at least 3 division titles with 2 different teams since the Divisional Era began in 1969.
[+]
Max Scherzer
is 21-3 this season. He will likely become the 2nd pitcher to finish with exactly 21 wins and exactly 3 losses, joining Fred Goldsmith of the 1880 Chicago White Stockings (who are now known as the
Chicago Cubs
)
ESPN Stats & Information