12:35 PM ET, April 16, 2014
Great American Ball Park, Cincinnati, Ohio
CINCINNATI -- That playoff loss in Pittsburgh last year? Johnny Cueto never thought about it much. So getting a chance to shut out the Pirates in a rematch wasn't any more special.
Not to him, anyway.
Cueto pitched his third career shutout against the team that beat him in the NL wild card game, and Joey Votto hit a two-run homer that led the Cincinnati Reds over the Pittsburgh Pirates 4-0 Wednesday for their first winning series this season.
Cueto (1-2) had his way with the lineup that beat him 6-2 at PNC Park in the playoffs. He limited the Pirates to three hits, didn't walk a batter and struck out a career-high 12 during his first shutout since 2011.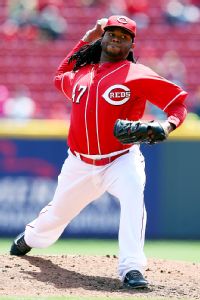 Andy Lyons/Getty Images
Johnny Cueto had a career-high 12 strikeouts Wednesday in his first shutout since 2011.
Any extra satisfaction given what happened the last time he faced them?
"I never think too much about those things," Cueto said, with assistant trainer Tomas Vera interpreting. "That was 2013."
And Cueto is starting to look more like a vintage ace.
He started only 11 games last season because of strained muscles by his pitching shoulder. The right-hander has been solid this season but hasn't gotten much help from an offense that scored only one run while he was on the mound during his first three starts.
Cueto didn't need much help on Wednesday, putting the Pirates away with 107 pitches.
He became the first Reds pitcher with a shutout, allowing three baserunners or fewer, and with at least 12 strikeouts since Johnny Vander Meer in 1941 vs. the Phillies.
"Welcome back, Johnny Cueto," manager Bryan Price said. "He's been great his first three starts, and he was dominant today. It was nice to win our first series. Pittsburgh is a handful."
Several Pirates questioned called third strikes by Quinn Wolcott, a Triple-A umpire called up to the majors. Eight of Cueto's strikeouts were called.
Maybe it didn't mean anything extra to Cueto, but his teammates got some satisfaction from beating the Pirates.
"For us to come together the way we have, especially against the team that beat us in the playoffs, it's a lot of fun," third baseman Todd Frazier said.
After the NL Central rivals combined for 13 homers while splitting the first two games, Votto supplied the one that broke open the deciding game.
Left-hander Francisco Liriano (0-3) opened the game by walking Billy Hamilton, who stole second base and came around on two wild pitches. That was it for scoring until the seventh inning, when Cueto singled and Votto hit his fourth homer in six games. Brayan Pena doubled home a run in the eighth.
Liriano and Cueto also were matched in the wild card game last season. Liriano got the better of that one, going seven innings for the victory while Cueto failed to make it through the fourth.
Liriano had trouble at the outset on Wednesday. Ten of his first 13 pitches were balls. He walked Hamilton and Votto opening the inning, then threw the two wild pitches that let in the run.
The Ohio River rivals had a bruising series last season, with 28 batters hit overall -- the most for any series in the majors. It's been mostly pain-free so far, with only two batters hit during the series.
Pirates left fielder Jose Tabata left the game in the fifth inning with what appeared to be a mild concussion after he slammed into the outfield wall while catching Pena's fly ball. Tabata fell, held up his glove to show he'd caught the ball and sat on the warning track for several minutes.
A trainer examined Tabata's neck, jaw and head, and he was helped off the field.
"You talk about laying out and making a catch and hitting the wall hard," Pirates manager Clint Hurdle said. "I was just glad he was able to walk off. We'll see how it feels tomorrow."
Game notes
The Pirates completed their first trip of the season at 3-6. They open a four-game series against Milwaukee on Thursday, with
Edinson Volquez
starting against
Yovani Gallardo
. ... The Reds concluded a 3-3 homestand. They're off on Thursday before opening a 10-game trip at Wrigley Field.
Alfredo Simon
starts against the Cubs'
Jeff Samardzija
. ... Reds closer
Aroldis Chapman
is to throw in the bullpen for the second time on Thursday. The Reds are hoping to have him back from a head injury next month. ... Cueto was called for interference twice while trying to bunt. The first time, he ran out of the box to bunt the ball. The second time, he stood in the box and blocked catcher
Tony Sanchez
from fielding the bunt.
Copyright by STATS LLC and The Associated Press
Photo Wire
CINCINNATI, OH - APRIL 16: Johnny Cueto #47 of the Cincinnati Reds throws a pitch during the game against the...
(Photo by Andy Lyons/Getty Images)
Regular Season Series
Cincinnati leads 12-7 (as of Wed 4/16)
Mon 4/14
PIT 8, @CIN 7
Recap
Tue 4/15
@CIN 7, PIT 5
Recap
» Wed 4/16
@CIN 4, PIT 0
Box Score
Mon 4/21
@PIT 6, CIN 5
Recap
Tue 4/22
CIN 4, @PIT 1
Recap
Wed 4/23
CIN 5, @PIT 2
Recap
Thu 4/24
CIN 2, @PIT 1
Recap
Tue 6/17
CIN 6, @PIT 5
Recap
Wed 6/18
CIN 11, @PIT 4
Recap
Thu 6/19
@PIT 4, CIN 3
Recap
Fri 7/11
@CIN 6, PIT 5
Recap
Sat 7/12
PIT 6, @CIN 5
Recap
Sun 7/13
@CIN 6, PIT 3
Recap
Fri 8/29
@PIT 2, CIN 1
Recap
Sat 8/30
@PIT 3, CIN 2
Recap
Sun 8/31
CIN 3, @PIT 2
Recap
Fri 9/26
PIT 3, @CIN 1
Recap
Sat 9/27
@CIN 10, PIT 6
Recap
Sun 9/28
@CIN 4, PIT 1
Recap
Complete Schedule: Pirates | Reds
Scoring Summary
PIT
CIN
1st
B Hamilton scored, J Votto to second on wild pitch by F Liriano.
0
1
7th
J Votto homered to right center (399 feet), B Hamilton scored.
0
3
8th
B Pena doubled to deep right, C Heisey scored, R Bernadina to third.
0
4
View complete Play-By-Play
Game Information
| | |
| --- | --- |
| Stadium | Great American Ball Park, Cincinnati, OH |
| Attendance | 16,825 (39.8% full) - % is based on regular season capacity |
| Game Time | 2:22 |
| Weather | 44 degrees, partly cloudy |
| Wind | 12 mph |
| Umpires | Home Plate - Quinn Wolcott, First Base - Gerry Davis, Second Base - Phil Cuzzi, Third Base - Brian Knight |
Research Notes
Johnny Cueto
is the first Reds pitcher with a shutout, allowing 3 baserunners or fewer, and with at least 12 strikeouts since Johnny Vander Meer in 1941 vs Phillies.
ESPN Stats & Information