7:10 PM ET, May 22, 2014
Citi Field, New York, New York
NEW YORK -- Mets rookie Eric Campbell earned a start in left field because of his bat. He should be getting even more playing time because of his glove.
In his first career major league game in the outfield, Campbell doubled Yasiel Puig off second base after making a spectacular diving catch in the eighth that helped preserve New York's 5-3 victory over the Los Angeles Dodgers on Thursday night.
"As it always goes, put a guy in for his offense and his defense saves the game," manager Terry Collins said.
More from ESPN.com

Love him, hate him, love and hate him, you can't stop watching Yasiel Puig, the man who can do anything on the field -- and will, David Schoenfield writes. Story
---
Matt Kemp, a two-time Gold Glove winner, isn't supposed to be average or below average, but he's having a rough time, Danny Knobler writes. Story
---
Campbell had a sacrifice fly in the first inning and is hitting .368 in his first eight big league games. Collins said he is going to use the versatile 27-year-old, who plays mostly at the corner infield spots, at second base and shortstop, too.
Campbell, who even worked out a bit behind the plate to be the Mets' emergency catcher with Travis d'Arnaud on the seven-day concussion list, is ready.
"I can handle it," Campbell said of playing second and short. "Just fielding a ground ball and throwing to first."
Jonathon Niese (3-3) hit an RBI double to provide himself some much-needed run support and pitched seven sharp innings for New York, which won for just the sixth time in 20 games this month and avoided a three-game sweep. Juan Lagares had a go-ahead RBI single in the seventh.
The dynamic yet at times frustrating Puig made a sensational catch of his own on a sinking liner to right-center that was so good it elicited a warm ovation from the 23,416 in attendance. But he made two baserunning mistakes that could have cost the Dodgers runs.
"That's one of the best catches I've ever seen," Campbell said. "That was crazy."
Zack Greinke's stretch of 21 straight starts allowing two or fewer runs ended. A mark that hadn't been matched since at least 1914 was done in by some sloppy play.
"Just in my experience, we've played incredible defense when I'm pitching throughout the years," Greinke said, "so, if someone makes one mistake in one game, you can't really say too much."
Dodgers center fielder Matt Kemp bobbled Curtis Granderson's drive in the first inning to right-center, allowing Granderson to take third base on a double in a 12-pitch at-bat. Granderson then scored on Campbell's sacrifice fly.
In the fifth, third baseman Justin Turner failed to glove Daniel Murphy's slow grounder, which allowed Niese to score for a 3-1 lead.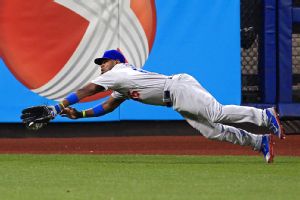 Adam Hunger/USA TODAY Sports
Yasiel Puig made a spectacular catch Thursday night but also made two costly baserunning mistakes.
Niese reached on a well-struck RBI double to right-center following Anthony Recker's double to a similar spot.
Greinke was lifted after five, yielding four hits, three runs -- one earned -- two walks and four K's. He has allowed two earned runs or fewer in 22 games.
Niese then walked Chone Figgins, playing in place of Dee Gordon, to start the sixth. Figgins advanced to second on Puig's grounder to third when Murphy, the second baseman, dropped Wright's force attempt. The call was upheld by replay. But Niese escaped unscathed when Puig ran into an out on an infield fly gone awry.
Hanley Ramirez hit a high popup to second base. Murphy backed up under the ball but appeared to lose it in the lights. When the ball fell, Murphy hesitated and Puig jogged into second. Apparently thinking he was forced out, Puig wandered off second and was tagged out for the double play.
"I didn't actually see the umpire give the signal," Puig said through a translator. "I felt it was a little bit too late and, by that time, I was already off the base. I thought it was going to be a double play and I was already off in that situation."
The Dodgers tied it in the seventh, though, when Turner hit his first homer with the Dodgers after spending parts of four seasons with the Mets.
"He's welcome for that one," Niese said, joking. "For that one, just a mistake that he punched."
Lagares' RBI single off Chris Perez (0-2) gave the Mets back the lead in the seventh. Granderson tripled in a run in the eighth for a 5-3 lead.
Niese had received just five runs of support total in his previous four home starts. The left-hander has not allowed more than three earned runs in 12 starts.
Jenrry Mejia pitched the ninth for his second save. He pitched a scoreless ninth Wednesday night, making this his first back-to-back appearances since moving to the bullpen this month.
Game notes
D'Arnaud (7-day concussion DL) was scheduled to do some on-field work before the game. If all goes well, he should take batting practice on the field Friday. ... Up next: The Dodgers head to Philadelphia on Friday, and the Mets play host to the
Arizona Diamondbacks
.
Copyright by STATS LLC and The Associated Press
Photo Wire
NEW YORK, NY - MAY 22: The tarp covers the infield before the scheduled start of the New York Mets game against...
(Photo by Ron Antonelli/Getty Images)
Scoring Summary
LAD
NYM
1st
A Gonzalez hit sacrifice fly to left, C Figgins scored.
1
0
2nd
E Campbell hit sacrifice fly to right, C Granderson scored.
1
1
5th
J Niese doubled to deep right, A Recker scored.
1
2
5th
D Murphy safe at first on error by third baseman J Turner, J Niese scored.
1
3
7th
J Turner homered to left (396 feet), S Van Slyke scored.
3
3
7th
J Lagares singled to right, W Flores scored.
3
4
8th
C Granderson tripled to deep right, D Wright scored.
3
5
View complete Play-By-Play
Game Information
| | |
| --- | --- |
| Stadium | Citi Field, New York, NY |
| Attendance | 23,416 (55.9% full) - % is based on regular season capacity |
| Game Time | 2:59 |
| Weather | 61 degrees, cloudy |
| Wind | 10 mph |
| Umpires | Home Plate - Adrian Johnson, First Base - Stu Scheurwater, Second Base - Larry Vanover, Third Base - Angel Hernandez |
Research Notes
Only 1 of the 3 runs
Zack Greinke
allowed Thursday was earned, meaning he broke a tie with
Roger Clemens
for the longest streak of starts allowing 2 ER or fewer since earned runs became an official stat in 1913.
[+]
Zack Greinke
gave up 3 runs tonight at Mets. That ends a streak of 21 straight starts in which he allowed 2 or fewer. The last time prior to tonight he gave up more than 2 runs was on July 25, 2013 when he gave up 4 runs to the Reds. Only 1 of Greinke's runs were earned, so he still has a streak of 22 straight starts with 2 or fewer ER that is active
ESPN Stats & Information