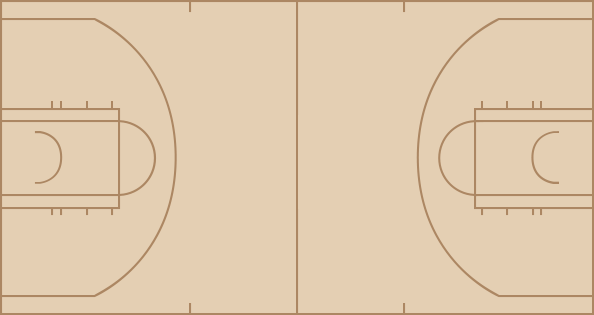 Celtics
time
TEAM
PLAY
SCORE
12:00
Start of the 1st Quarter
0 - 0
12:00
Jumpball: Kendrick Perkins vs. Andrew Bynum (Derek Fisher gains possession)
0 - 0
11:41
Andrew Bynum misses 10-foot two point shot
0 - 0
11:40
Rajon Rondo defensive rebound
0 - 0
11:34
Ray Allen makes 26-foot three point jumper (Rajon Rondo assists)
3 - 0
11:12
Kobe Bryant misses 23-foot three point jumper
3 - 0
11:11
Kevin Garnett defensive rebound
3 - 0
11:02
Paul Pierce lost ball (Luke Walton steals)
3 - 0
10:56
Luke Walton makes driving layup
3 - 2
10:37
Paul Pierce misses 16-foot jumper
3 - 2
10:37
Andrew Bynum defensive rebound
3 - 2
10:23
Derek Fisher makes 26-foot three point jumper (Luke Walton assists)
3 - 5
10:07
Paul Pierce makes two point shot (Rajon Rondo assists)
5 - 5
9:53
Rajon Rondo shooting foul (Andrew Bynum draws the foul)
5 - 5
9:53
Andrew Bynum misses free throw 1 of 2
5 - 5
9:53
Los Angeles offensive rebound
5 - 5
9:53
Andrew Bynum makes free throw 2 of 2
5 - 6
9:44
Derek Fisher personal foul (Ray Allen draws the foul)
5 - 6
9:36
Rajon Rondo misses layup
5 - 6
9:34
Andrew Bynum defensive rebound
5 - 6
9:26
Pau Gasol misses 16-foot jumper
5 - 6
9:26
Kendrick Perkins defensive rebound
5 - 6
9:21
Ray Allen bad pass (Kobe Bryant steals)
5 - 6
9:21
Rajon Rondo personal foul (Kobe Bryant draws the foul)
5 - 6
8:57
Derek Fisher misses 27-foot three point jumper
5 - 6
8:56
Los Angeles defensive rebound
5 - 6
8:56
Kobe Bryant loose ball foul (Ray Allen draws the foul)
5 - 6
8:33
Rajon Rondo makes driving layup
7 - 6
8:22
Kobe Bryant makes two point shot (Pau Gasol assists)
7 - 8
8:07
Paul Pierce misses 25-foot three point jumper
7 - 8
8:06
Andrew Bynum defensive rebound
7 - 8
8:00
Andrew Bynum makes driving dunk (Luke Walton assists)
7 - 10
7:41
Andrew Bynum personal foul (Rajon Rondo draws the foul)
7 - 10
7:31
Rajon Rondo makes driving layup
9 - 10
7:22
Kobe Bryant misses 17-foot jumper
9 - 10
7:20
Kevin Garnett defensive rebound
9 - 10
7:05
Kendrick Perkins makes 8-foot two point shot (Rajon Rondo assists)
11 - 10
6:43
Pau Gasol misses 17-foot jumper
11 - 10
6:43
Rajon Rondo defensive rebound
11 - 10
6:37
Ray Allen makes layup (Paul Pierce assists)
13 - 10
6:20
Luke Walton misses 24-foot three point jumper
13 - 10
6:18
Kevin Garnett defensive rebound
13 - 10
6:15
Kendrick Perkins offensive foul (Pau Gasol draws the foul)
13 - 10
6:15
Kendrick Perkins turnover
13 - 10
6:15
Los Angeles full timeout
13 - 10
6:15
Lamar Odom enters the game for Andrew Bynum
13 - 10
5:56
Kobe Bryant makes 16-foot two point shot
13 - 12
5:31
Rajon Rondo misses two point shot
13 - 12
5:30
Lamar Odom defensive rebound
13 - 12
5:18
Ray Allen personal foul (Kobe Bryant draws the foul)
13 - 12
5:07
Kobe Bryant makes 14-foot jumper (Pau Gasol assists)
13 - 14
4:45
Luke Walton blocks Kendrick Perkins's layup
13 - 14
4:41
Pau Gasol defensive rebound
13 - 14
4:35
Lamar Odom bad pass (Ray Allen steals)
13 - 14
4:28
Rajon Rondo bad pass (Lamar Odom steals)
13 - 14
4:16
Pau Gasol misses 16-foot jumper
13 - 14
4:15
Paul Pierce defensive rebound
13 - 14
4:15
Eddie House enters the game for Rajon Rondo
13 - 14
4:03
Paul Pierce makes 20-foot jumper
15 - 14
3:46
Kobe Bryant makes 19-foot jumper (Derek Fisher assists)
15 - 16
3:27
Eddie House misses 25-foot three point jumper
15 - 16
3:26
Lamar Odom defensive rebound
15 - 16
3:23
Lamar Odom lost ball (Eddie House steals)
15 - 16
3:15
Paul Pierce makes 19-foot jumper
17 - 16
3:01
Pau Gasol misses layup
17 - 16
3:00
Paul Pierce defensive rebound
17 - 16
2:44
Kevin Garnett makes 11-foot jumper (Eddie House assists)
19 - 16
2:18
Kobe Bryant misses 16-foot jumper
19 - 16
2:17
Paul Pierce defensive rebound
19 - 16
1:55
Kendrick Perkins bad pass (Pau Gasol steals)
19 - 16
1:46
Luke Walton makes 23-foot three point jumper (Derek Fisher assists)
19 - 19
1:25
Kevin Garnett makes two point shot
21 - 19
1:08
Kobe Bryant makes driving layup
21 - 21
0:48
Ray Allen makes 23-foot three point jumper (Kevin Garnett assists)
24 - 21
0:35
Pau Gasol makes jumper (Lamar Odom assists)
24 - 23
0:27
Eddie House bad pass (Lamar Odom steals)
24 - 23
0:27
Paul Pierce personal foul (Luke Walton draws the foul)
24 - 23
0:27
Boston full timeout
24 - 23
0:27
Glen Davis enters the game for Kevin Garnett
24 - 23
0:27
Tony Allen enters the game for Ray Allen
24 - 23
0:27
Sasha Vujacic enters the game for Luke Walton
24 - 23
0:27
Vladimir Radmanovic enters the game for Lamar Odom
24 - 23
0:14
Derek Fisher misses 20-foot jumper
24 - 23
0:12
Tony Allen defensive rebound
24 - 23
0:09
Derek Fisher personal foul (Tony Allen draws the foul)
24 - 23
0:09
Trevor Ariza enters the game for Derek Fisher
24 - 23
0:02
Eddie House misses 24-foot three point jumper
24 - 23
0:00
Sasha Vujacic defensive rebound
24 - 23
0:00
End of the 1st Quarter
24 - 23

time
TEAM
PLAY
SCORE
12:00
Start of the 2nd Quarter
24 - 23
11:45
Lamar Odom blocks Tony Allen's layup
24 - 23
11:45
Boston defensive rebound
24 - 23
11:29
Kobe Bryant makes 23-foot jumper
24 - 25
11:07
Glen Davis misses jumper
24 - 25
11:04
Andrew Bynum defensive rebound
24 - 25
10:57
Kobe Bryant makes driving layup
24 - 27
10:40
Lamar Odom loose ball foul (Glen Davis draws the foul)
24 - 27
10:33
Glen Davis misses layup
24 - 27
10:30
Tony Allen offensive rebound
24 - 27
10:21
Eddie House misses 18-foot jumper
24 - 27
10:18
Glen Davis offensive rebound
24 - 27
10:18
Glen Davis makes layup
26 - 27
10:00
Tony Allen personal foul (Kobe Bryant draws the foul)
26 - 27
9:51
Glen Davis shooting foul (Lamar Odom draws the foul)
26 - 27
9:51
Lamar Odom makes free throw 1 of 2
26 - 28
9:51
Lamar Odom makes free throw 2 of 2
26 - 29
9:26
Glen Davis misses layup
26 - 29
9:22
Kobe Bryant defensive rebound
26 - 29
9:18
Sasha Vujacic makes layup (Trevor Ariza assists)
26 - 31
9:18
Glen Davis shooting foul (Sasha Vujacic draws the foul)
26 - 31
9:18
Sasha Vujacic makes free throw 1 of 1
26 - 32
9:03
Trevor Ariza personal foul (Paul Pierce draws the foul)
26 - 32
8:49
Tony Allen misses layup
26 - 32
8:48
Boston defensive rebound
26 - 32
8:48
Tony Allen loose ball foul (Kobe Bryant draws the foul)
26 - 32
8:48
Official timeout
26 - 32
8:48
Ray Allen enters the game for Paul Pierce
26 - 32
8:48
Rajon Rondo enters the game for Eddie House
26 - 32
8:48
Derek Fisher enters the game for Trevor Ariza
26 - 32
8:40
Leon Powe shooting foul (Derek Fisher draws the foul)
26 - 32
8:40
Derek Fisher misses free throw 1 of 2
26 - 32
8:40
Los Angeles offensive rebound
26 - 32
8:40
Derek Fisher misses free throw 2 of 2
26 - 32
8:38
Leon Powe defensive rebound
26 - 32
8:26
Ray Allen makes 25-foot three point jumper (Rajon Rondo assists)
29 - 32
8:14
Kobe Bryant makes 17-foot jumper (Lamar Odom assists)
29 - 34
7:54
Ray Allen misses 25-foot three point jumper
29 - 34
7:52
Kobe Bryant defensive rebound
29 - 34
7:31
Sasha Vujacic makes 25-foot three point jumper (Derek Fisher assists)
29 - 37
7:22
Boston full timeout
29 - 37
7:22
Kevin Garnett enters the game for Leon Powe
29 - 37
7:22
Trevor Ariza enters the game for Derek Fisher
29 - 37
7:07
Lamar Odom blocks Rajon Rondo's layup
29 - 37
7:03
Lamar Odom defensive rebound
29 - 37
7:01
Trevor Ariza misses dunk
29 - 37
6:58
Glen Davis defensive rebound
29 - 37
6:52
Tony Allen misses 24-foot three point jumper
29 - 37
6:50
Lamar Odom defensive rebound
29 - 37
6:35
Kobe Bryant misses 20-foot jumper
29 - 37
6:33
Los Angeles defensive rebound
29 - 37
6:33
Paul Pierce enters the game for Tony Allen
29 - 37
6:18
Ray Allen misses two point shot
29 - 37
6:15
Lamar Odom defensive rebound
29 - 37
6:05
Sasha Vujacic misses 25-foot three point jumper
29 - 37
6:03
Kevin Garnett defensive rebound
29 - 37
5:54
Rajon Rondo misses 6-foot two point shot
29 - 37
5:52
Sasha Vujacic defensive rebound
29 - 37
5:50
Rajon Rondo personal foul (Sasha Vujacic draws the foul)
29 - 37
5:50
Kendrick Perkins enters the game for Glen Davis
29 - 37
5:50
Sasha Vujacic makes free throw 1 of 2
29 - 38
5:50
Pau Gasol enters the game for Lamar Odom
29 - 38
5:50
Sasha Vujacic makes free throw 2 of 2
29 - 39
5:41
Kevin Garnett makes two point shot (Rajon Rondo assists)
31 - 39
5:22
Kendrick Perkins blocks Pau Gasol's layup
31 - 39
5:20
Kendrick Perkins defensive rebound
31 - 39
5:13
Rajon Rondo makes layup (Kevin Garnett assists)
33 - 39
5:05
Los Angeles full timeout
33 - 39
5:05
Derek Fisher enters the game for Kobe Bryant
33 - 39
5:05
Luke Walton enters the game for Trevor Ariza
33 - 39
5:00
Sasha Vujacic misses 25-foot three point jumper
33 - 39
4:58
Luke Walton offensive rebound
33 - 39
4:54
Derek Fisher makes 26-foot three point jumper (Luke Walton assists)
33 - 42
4:35
Paul Pierce misses layup
33 - 42
4:35
Paul Pierce offensive rebound
33 - 42
4:26
Kevin Garnett makes 16-foot two point shot
35 - 42
4:13
Sasha Vujacic misses 16-foot jumper
35 - 42
4:11
Pau Gasol offensive rebound
35 - 44
4:11
Pau Gasol makes tip shot
35 - 44
3:58
Kevin Garnett makes two point shot (Rajon Rondo assists)
37 - 44
3:40
Andrew Bynum makes 14-foot jumper (Luke Walton assists)
37 - 46
3:26
Kendrick Perkins makes layup (Rajon Rondo assists)
39 - 46
3:05
Derek Fisher misses 17-foot jumper
39 - 46
3:04
Luke Walton offensive rebound
39 - 46
3:01
Luke Walton misses layup
39 - 46
3:00
Kendrick Perkins defensive rebound
39 - 46
2:58
Sasha Vujacic personal foul (Rajon Rondo draws the foul)
39 - 46
2:58
Kobe Bryant enters the game for Sasha Vujacic
39 - 46
2:49
Pau Gasol blocks Ray Allen's 22-foot three point jumper
39 - 46
2:47
Kobe Bryant defensive rebound
39 - 46
2:40
Kendrick Perkins blocks Pau Gasol's layup
39 - 46
2:38
Paul Pierce defensive rebound
39 - 46
2:32
Ray Allen misses three point jumper
39 - 46
2:30
Boston defensive rebound
39 - 46
2:12
Pau Gasol makes slam dunk (Derek Fisher assists)
39 - 48
1:54
Luke Walton personal foul (Paul Pierce draws the foul)
39 - 48
1:46
Kevin Garnett makes 11-foot jumper (Paul Pierce assists)
41 - 48
1:30
Pau Gasol turnover
41 - 48
1:17
Kendrick Perkins makes slam dunk (Paul Pierce assists)
43 - 48
0:58
Pau Gasol bad pass
43 - 48
0:58
Tony Allen enters the game for Rajon Rondo
43 - 48
0:58
Boston 20 Sec. timeout
43 - 48
0:47
Paul Pierce offensive foul (Luke Walton draws the foul)
43 - 48
0:47
Paul Pierce turnover
43 - 48
0:42
Kobe Bryant misses 26-foot three point jumper
43 - 48
0:40
Paul Pierce defensive rebound
43 - 48
0:35
Tony Allen offensive foul (Derek Fisher draws the foul)
43 - 48
0:35
Tony Allen turnover
43 - 48
0:24
Luke Walton makes three point jumper (Pau Gasol assists)
43 - 51
0:13
Luke Walton personal foul (Paul Pierce draws the foul)
43 - 51
0:13
Paul Pierce makes free throw 1 of 2
44 - 51
0:13
Vladimir Radmanovic enters the game for Luke Walton
44 - 51
0:13
Lamar Odom enters the game for Andrew Bynum
44 - 51
0:13
Brian Scalabrine enters the game for Kendrick Perkins
44 - 51
0:13
Paul Pierce makes free throw 2 of 2
45 - 51
0:02
Kobe Bryant bad pass (Brian Scalabrine steals)
45 - 51
0:00
Ray Allen misses 30-foot three point jumper
45 - 51
0:00
Boston offensive rebound
45 - 51
0:00
End of the 2nd Quarter
45 - 51

time
TEAM
PLAY
SCORE
12:00
Start of the 3rd Quarter
45 - 51
11:37
Kevin Garnett makes 12-foot jumper (Rajon Rondo assists)
47 - 51
11:17
Kobe Bryant misses 19-foot jumper
47 - 51
11:15
Kevin Garnett defensive rebound
47 - 51
10:48
Luke Walton blocks Rajon Rondo's 26-foot three point jumper
47 - 51
10:48
Boston offensive rebound
47 - 51
10:48
shot clock violation
47 - 51
10:41
Kobe Bryant makes driving dunk (Luke Walton assists)
47 - 53
10:14
Paul Pierce misses 15-foot jumper
47 - 53
10:12
Luke Walton defensive rebound
47 - 53
9:53
Ray Allen shooting foul (Pau Gasol draws the foul)
47 - 53
9:53
Pau Gasol makes free throw 1 of 2
47 - 54
9:53
Pau Gasol makes free throw 2 of 2
47 - 55
9:41
Paul Pierce bad pass
47 - 55
9:26
Andrew Bynum bad pass (Paul Pierce steals)
47 - 55
9:21
Paul Pierce makes driving layup (Ray Allen assists)
49 - 55
9:07
Andrew Bynum makes slam dunk (Pau Gasol assists)
49 - 57
8:48
Paul Pierce misses layup
49 - 57
8:47
Paul Pierce offensive rebound
49 - 57
8:47
Andrew Bynum shooting foul (Paul Pierce draws the foul)
49 - 57
8:47
Paul Pierce makes free throw 1 of 2
50 - 57
8:47
Paul Pierce makes free throw 2 of 2
51 - 57
8:27
Derek Fisher misses 23-foot three point jumper
51 - 57
8:26
Kendrick Perkins defensive rebound
51 - 57
8:21
Paul Pierce makes 24-foot three point jumper (Rajon Rondo assists)
54 - 57
7:56
Derek Fisher misses 11-foot two point shot
54 - 57
7:52
Ray Allen defensive rebound
54 - 57
7:47
Ray Allen bad pass
54 - 57
7:33
Kobe Bryant misses 13-foot jumper
54 - 57
7:31
Luke Walton offensive rebound
54 - 57
7:26
Luke Walton misses 8-foot jumper
54 - 57
7:22
Paul Pierce defensive rebound
54 - 57
7:20
Paul Pierce bad pass
54 - 57
7:09
Kobe Bryant makes 25-foot three point jumper (Derek Fisher assists)
54 - 60
6:52
Ray Allen misses three point jumper
54 - 60
6:50
Kendrick Perkins offensive rebound
56 - 60
6:50
Kendrick Perkins makes slam dunk
56 - 60
6:28
Pau Gasol makes slam dunk (Kobe Bryant assists)
56 - 62
6:16
Ray Allen offensive foul (Derek Fisher draws the foul)
56 - 62
6:16
Ray Allen turnover
56 - 62
6:16
Los Angeles full timeout
56 - 62
6:01
Kobe Bryant misses 14-foot jumper
56 - 62
5:58
Andrew Bynum offensive rebound
56 - 62
5:54
Derek Fisher misses 25-foot three point jumper
56 - 62
5:52
Kevin Garnett defensive rebound
56 - 62
5:35
Kevin Garnett misses 9-foot jumper
56 - 62
5:35
Boston defensive rebound
56 - 62
5:35
Kendrick Perkins loose ball foul (Derek Fisher draws the foul)
56 - 62
5:16
Kobe Bryant lost ball (Rajon Rondo steals)
56 - 62
5:13
Derek Fisher shooting foul (Ray Allen draws the foul)
56 - 62
5:13
Ray Allen makes free throw 1 of 2
57 - 62
5:13
Ray Allen misses free throw 2 of 2
57 - 62
5:11
Pau Gasol defensive rebound
57 - 62
4:50
Kevin Garnett blocks Pau Gasol's two point shot
57 - 62
4:47
Kobe Bryant offensive rebound
57 - 62
4:46
Kobe Bryant misses layup
57 - 62
4:45
Kevin Garnett defensive rebound
57 - 62
4:31
Rajon Rondo misses 10-foot jumper
57 - 62
4:28
Rajon Rondo offensive rebound
57 - 62
4:26
Paul Pierce makes 25-foot three point jumper (Ray Allen assists)
60 - 62
4:11
Derek Fisher misses 17-foot jumper
60 - 62
4:11
Kevin Garnett defensive rebound
60 - 62
4:03
Ray Allen makes driving layup
62 - 62
3:53
Kevin Garnett personal foul (Pau Gasol draws the foul)
62 - 62
3:53
Lamar Odom enters the game for Andrew Bynum
62 - 62
3:53
Sasha Vujacic enters the game for Derek Fisher
62 - 62
3:53
Trevor Ariza enters the game for Luke Walton
62 - 62
3:43
Lamar Odom misses 21-foot jumper
62 - 62
3:42
Paul Pierce defensive rebound
62 - 62
3:31
Paul Pierce makes 12-foot two point shot
64 - 62
3:12
Kobe Bryant misses 6-foot two point shot
64 - 62
3:10
Kendrick Perkins defensive rebound
64 - 62
3:04
Lamar Odom personal foul (Kevin Garnett draws the foul)
64 - 62
2:47
Rajon Rondo offensive foul (Lamar Odom draws the foul)
64 - 62
2:47
Rajon Rondo turnover
64 - 62
2:47
Boston full timeout
64 - 62
2:47
Derek Fisher enters the game for Kobe Bryant
64 - 62
2:31
Sasha Vujacic makes 22-foot jumper (Pau Gasol assists)
64 - 64
2:31
Kendrick Perkins away from ball foul (Pau Gasol draws the foul)
64 - 64
2:31
Tony Allen enters the game for Paul Pierce
64 - 64
2:31
Pau Gasol makes free throw 1 of 1
64 - 65
2:14
Kevin Garnett misses 9-foot jumper
64 - 65
2:13
Lamar Odom defensive rebound
64 - 65
1:53
Lamar Odom makes 26-foot three point jumper (Derek Fisher assists)
64 - 68
1:31
Kevin Garnett makes 19-foot jumper (Rajon Rondo assists)
66 - 68
1:06
Lamar Odom makes 25-foot three point jumper (Derek Fisher assists)
66 - 71
0:42
Sasha Vujacic personal foul (Ray Allen draws the foul)
66 - 71
0:42
Leon Powe enters the game for Kendrick Perkins
66 - 71
0:42
Glen Davis enters the game for Kevin Garnett
66 - 71
0:42
Andrew Bynum enters the game for Pau Gasol
66 - 71
0:34
Lamar Odom shooting foul (Leon Powe draws the foul)
66 - 71
0:34
Leon Powe makes free throw 1 of 2
67 - 71
0:34
Leon Powe misses free throw 2 of 2
67 - 71
0:33
Andrew Bynum defensive rebound
67 - 71
0:15
Andrew Bynum misses 10-foot two point shot
67 - 71
0:14
Glen Davis defensive rebound
67 - 71
0:02
Rajon Rondo misses 19-foot jumper
67 - 71
0:00
Derek Fisher defensive rebound
67 - 71
0:00
End of the 3rd Quarter
67 - 71

time
TEAM
PLAY
SCORE
12:00
Start of the 4th Quarter
67 - 71
11:48
Kobe Bryant bad pass (Glen Davis steals)
67 - 71
11:11
Sasha Vujacic misses 20-foot jumper
67 - 71
11:10
Glen Davis defensive rebound
67 - 71
10:55
Andrew Bynum blocks Tony Allen's layup
67 - 71
10:55
Boston offensive rebound
67 - 71
10:55
Eddie House offensive foul (Sasha Vujacic draws the foul)
67 - 71
10:55
Eddie House turnover
67 - 71
10:41
Lamar Odom makes driving layup
67 - 73
10:26
Glen Davis makes two point shot (Ray Allen assists)
69 - 73
9:59
Lamar Odom misses 27-foot three point jumper
69 - 73
9:57
Leon Powe defensive rebound
69 - 73
9:44
Tony Allen makes 18-foot jumper (Glen Davis assists)
71 - 73
9:26
Kobe Bryant makes 17-foot jumper (Trevor Ariza assists)
71 - 75
9:10
Tony Allen makes driving layup
73 - 75
8:53
Sasha Vujacic misses 25-foot three point jumper
73 - 75
8:52
Kobe Bryant offensive rebound
73 - 75
8:48
Kobe Bryant turnover
73 - 75
8:48
Official timeout
73 - 75
8:41
Sasha Vujacic personal foul (Glen Davis draws the foul)
73 - 75
8:34
Tony Allen misses layup
73 - 75
8:33
Andrew Bynum defensive rebound
73 - 75
8:18
Lamar Odom misses 8-foot two point shot
73 - 75
8:15
Eddie House defensive rebound
73 - 75
8:07
Eddie House makes 22-foot jumper
75 - 75
7:45
Andrew Bynum makes slam dunk (Trevor Ariza assists)
75 - 77
7:20
Glen Davis misses 14-foot jumper
75 - 77
7:18
Kobe Bryant defensive rebound
75 - 77
7:07
Andrew Bynum misses layup
75 - 77
7:05
Leon Powe defensive rebound
75 - 77
7:03
Tony Allen turnover
75 - 77
7:03
Kevin Garnett enters the game for Ray Allen
75 - 77
7:03
Paul Pierce enters the game for Leon Powe
75 - 77
6:46
Kevin Garnett personal foul (Trevor Ariza draws the foul)
75 - 77
6:46
Rajon Rondo enters the game for Eddie House
75 - 77
6:46
Pau Gasol enters the game for Andrew Bynum
75 - 77
6:35
Trevor Ariza bad pass (Tony Allen steals)
75 - 77
6:30
Tony Allen makes driving layup
77 - 77
6:11
Sasha Vujacic misses 24-foot three point jumper
77 - 77
6:07
Los Angeles offensive rebound
77 - 77
6:07
Kendrick Perkins enters the game for Glen Davis
77 - 77
6:07
Derek Fisher enters the game for Sasha Vujacic
77 - 77
6:07
Jumpball: Tony Allen vs. Kobe Bryant (Los Angeles gains possession)
77 - 77
5:54
Trevor Ariza misses 23-foot jumper
77 - 77
5:52
Kevin Garnett defensive rebound
77 - 77
5:35
Tony Allen misses 25-foot three point jumper
77 - 77
5:35
Lamar Odom defensive rebound
77 - 77
5:11
Derek Fisher misses 26-foot three point jumper
77 - 77
5:09
Paul Pierce defensive rebound
77 - 77
5:03
Paul Pierce bad pass (Trevor Ariza steals)
77 - 77
4:58
Paul Pierce shooting foul (Pau Gasol draws the foul)
77 - 77
4:58
Los Angeles full timeout
77 - 77
4:58
Ray Allen enters the game for Tony Allen
77 - 77
4:58
Andrew Bynum enters the game for Lamar Odom
77 - 77
4:58
Luke Walton enters the game for Trevor Ariza
77 - 77
4:58
Pau Gasol makes free throw 1 of 2
77 - 78
4:58
Pau Gasol makes free throw 2 of 2
77 - 79
4:45
Andrew Bynum blocks Rajon Rondo's layup
77 - 79
4:45
Boston offensive rebound
77 - 79
4:39
Luke Walton personal foul (Paul Pierce draws the foul)
77 - 79
4:26
Kevin Garnett makes 21-foot jumper
79 - 79
4:01
Pau Gasol lost ball (Kevin Garnett steals)
79 - 79
3:56
Kevin Garnett makes two point shot (Rajon Rondo assists)
81 - 79
3:36
Kobe Bryant makes 18-foot jumper
81 - 81
3:11
Ray Allen misses 23-foot three point jumper
81 - 81
3:09
Derek Fisher defensive rebound
81 - 81
2:57
Rajon Rondo personal foul (Pau Gasol draws the foul)
81 - 81
2:57
Boston full timeout
81 - 81
2:47
Pau Gasol makes 15-foot jumper (Kobe Bryant assists)
81 - 83
2:23
Ray Allen misses 25-foot three point jumper
81 - 83
2:20
Kobe Bryant defensive rebound
81 - 83
2:00
Pau Gasol makes 7-foot two point shot (Kobe Bryant assists)
81 - 85
2:00
Boston full timeout
81 - 85
2:00
Trevor Ariza enters the game for Luke Walton
81 - 85
1:44
Kevin Garnett makes 23-foot jumper (Rajon Rondo assists)
83 - 85
1:44
Derek Fisher double personal foul
83 - 85
1:44
Luke Walton enters the game for Trevor Ariza
83 - 85
1:28
Pau Gasol makes layup (Kobe Bryant assists)
83 - 87
1:28
Paul Pierce shooting foul (Pau Gasol draws the foul)
83 - 87
1:28
Trevor Ariza enters the game for Luke Walton
83 - 87
1:28
Pau Gasol makes free throw 1 of 1
83 - 88
1:28
Boston 20 Sec. timeout
83 - 88
1:28
Eddie House enters the game for Rajon Rondo
83 - 88
1:16
Pau Gasol blocks Ray Allen's 26-foot three point jumper
83 - 88
1:15
Kobe Bryant defensive rebound
83 - 88
1:12
Trevor Ariza makes two point shot (Kobe Bryant assists)
83 - 90
0:57
Pau Gasol blocks Paul Pierce's 23-foot three point jumper
83 - 90
0:57
Kendrick Perkins offensive rebound
83 - 90
0:57
Kobe Bryant personal foul (Kendrick Perkins draws the foul)
83 - 90
0:57
Rajon Rondo enters the game for Kendrick Perkins
83 - 90
0:57
Lamar Odom enters the game for Andrew Bynum
83 - 90
0:45
Eddie House misses three point jumper
83 - 90
0:43
Kobe Bryant defensive rebound
83 - 90
0:26
Kobe Bryant makes driving layup
83 - 92
0:12
Kevin Garnett misses 26-foot three point jumper
83 - 92
0:11
Trevor Ariza defensive rebound
83 - 92
0:00
End of the 4th Quarter
83 - 92
0:00
End Game
83 - 92
With multiple teams courting Kevin Durant, what are the chances that the Rockets and James Harden can convice the Thunder forward to choose Houston?

David Blatt reportedly will return to Europe for his next coaching job. The the former Cleveland Cavaliers coach is linked to a team in Turkey.

Thunder forward Kevin Durant told ESPN's Chris Broussard that he has thought about free agency and he recognizes that this summer will be unique for him.
Regular Season Series
LAL wins series 2-0
2015-2016 Atlantic Standings
2015-2016 Pacific Standings