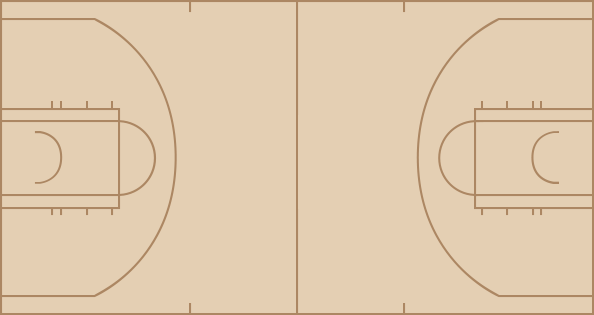 Bulls
time
TEAM
PLAY
SCORE
12:00
Start of the 1st Quarter
0 - 0
12:00
Jumpball: Brad Miller vs. Jermaine O'Neal (Quentin Richardson gains possession)
0 - 0
11:48
James Johnson shooting foul (Jermaine O'Neal draws the foul)
0 - 0
11:48
Jermaine O'Neal misses free throw 1 of 2
0 - 0
11:48
Miami offensive rebound
0 - 0
11:48
Jermaine O'Neal makes free throw 2 of 2
0 - 1
11:33
Brad Miller misses driving layup
0 - 1
11:33
Joel Anthony defensive rebound
0 - 1
11:22
Jermaine O'Neal lost ball (Kirk Hinrich steals)
0 - 1
11:18
James Johnson makes slam dunk (Kirk Hinrich assists)
2 - 1
10:53
Dwyane Wade bad pass (Brad Miller steals)
2 - 1
10:48
Jannero Pargo misses 16-foot jumper
2 - 1
10:47
Jermaine O'Neal defensive rebound
2 - 1
10:26
Quentin Richardson misses 25-foot three point jumper
2 - 1
10:23
Joel Anthony offensive rebound
2 - 1
10:15
Jermaine O'Neal makes 11-foot jumper
2 - 3
10:15
Taj Gibson shooting foul (Jermaine O'Neal draws the foul)
2 - 3
10:15
Jermaine O'Neal makes free throw 1 of 1
2 - 4
10:00
Taj Gibson makes 15-foot jumper
4 - 4
9:37
Jermaine O'Neal makes driving layup
4 - 6
9:30
Kirk Hinrich misses 19-foot jumper
4 - 6
9:29
James Johnson offensive rebound
4 - 6
9:27
James Johnson makes two point shot
6 - 6
9:04
Quentin Richardson makes 26-foot three point jumper (Carlos Arroyo assists)
6 - 9
8:52
Joel Anthony personal foul (Taj Gibson draws the foul)
6 - 9
8:40
Joel Anthony blocks Jannero Pargo's driving layup
6 - 9
8:38
Carlos Arroyo defensive rebound
6 - 9
8:33
Quentin Richardson makes three point jumper (Dwyane Wade assists)
6 - 12
8:15
Joel Anthony blocks Taj Gibson's driving layup
6 - 12
8:15
Carlos Arroyo defensive rebound
6 - 12
8:03
Dwyane Wade traveling
6 - 12
7:48
Kirk Hinrich makes 16-foot jumper (Brad Miller assists)
8 - 12
7:39
Jannero Pargo personal foul (Carlos Arroyo draws the foul)
8 - 12
7:33
Jermaine O'Neal bad pass (Kirk Hinrich steals)
8 - 12
7:30
Brad Miller bad pass
8 - 12
7:11
Quentin Richardson makes 24-foot three point jumper (Carlos Arroyo assists)
8 - 15
7:03
Chicago full timeout
8 - 15
6:56
Jermaine O'Neal jump ball
8 - 15
6:39
Jannero Pargo misses 23-foot three point jumper
8 - 15
6:39
Dwyane Wade defensive rebound
8 - 15
6:18
James Johnson blocks Joel Anthony's dunk
8 - 15
6:18
Jumpball: James Johnson vs. Joel Anthony (Taj Gibson gains possession)
8 - 15
6:18
Miami defensive rebound
8 - 15
6:03
Kirk Hinrich makes 9-foot two point shot
10 - 15
5:46
Dwyane Wade misses 24-foot three point jumper
10 - 15
5:45
Brad Miller defensive rebound
10 - 15
5:31
Brad Miller makes 12-foot two point shot
12 - 15
5:31
Jermaine O'Neal shooting foul (Brad Miller draws the foul)
12 - 15
5:31
Brad Miller makes free throw 1 of 1
13 - 15
5:16
Carlos Arroyo misses 20-foot jumper
13 - 15
5:15
Joel Anthony offensive rebound
13 - 15
5:09
Quentin Richardson misses 25-foot three point jumper
13 - 15
5:09
Joel Anthony offensive rebound
13 - 15
5:05
Quentin Richardson makes 25-foot three point jumper (Joel Anthony assists)
13 - 18
4:48
Kirk Hinrich offensive foul (Quentin Richardson draws the foul)
13 - 18
4:48
Kirk Hinrich turnover
13 - 18
4:48
Chris Richard enters the game for Taj Gibson
13 - 18
4:48
Udonis Haslem enters the game for Jermaine O'Neal
13 - 18
4:37
Dwyane Wade bad pass
13 - 18
4:24
Jannero Pargo traveling
13 - 18
4:01
Joel Anthony makes 10-foot jumper (Quentin Richardson assists)
13 - 20
3:45
Chris Richard misses 10-foot hook shot
13 - 20
3:44
Brad Miller offensive rebound
13 - 20
3:44
Quentin Richardson loose ball foul (Brad Miller draws the foul)
13 - 20
3:44
Ronald Murray enters the game for Jannero Pargo
13 - 20
3:25
Brad Miller misses 26-foot three point jumper
13 - 20
3:24
Joel Anthony defensive rebound
13 - 20
3:15
Quentin Richardson misses 25-foot three point jumper
13 - 20
3:14
Brad Miller defensive rebound
13 - 20
2:51
Kirk Hinrich misses 25-foot three point jumper
13 - 20
2:50
Chicago defensive rebound
13 - 20
2:50
Miami full timeout
13 - 20
2:50
Mario Chalmers enters the game for Carlos Arroyo
13 - 20
2:50
Hakim Warrick enters the game for Brad Miller
15 - 22
2:42
Mario Chalmers bad pass
13 - 20
2:24
Ronald Murray misses 7-foot two point shot
13 - 20
2:23
Udonis Haslem defensive rebound
13 - 20
2:17
Dwyane Wade makes two point shot (Mario Chalmers assists)
13 - 22
2:03
Ronald Murray makes 19-foot jumper (Kirk Hinrich assists)
15 - 22
1:46
Dwyane Wade misses 6-foot two point shot
15 - 22
1:45
Hakim Warrick defensive rebound
15 - 22
1:37
Mario Chalmers personal foul (Hakim Warrick draws the foul)
15 - 22
1:37
James Jones enters the game for Quentin Richardson
17 - 22
1:25
James Johnson makes 6-foot two point shot
17 - 22
1:07
Mario Chalmers makes 24-foot three point jumper (Dwyane Wade assists)
17 - 25
0:52
Joel Anthony shooting foul (Hakim Warrick draws the foul)
17 - 25
0:52
Hakim Warrick makes free throw 1 of 2
18 - 25
0:52
Hakim Warrick makes free throw 2 of 2
19 - 25
0:42
Dwyane Wade offensive foul (Hakim Warrick draws the foul)
19 - 25
0:42
Dwyane Wade turnover
22 - 28
0:29
Ronald Murray makes 25-foot three point jumper (Hakim Warrick assists)
22 - 25
0:07
Udonis Haslem makes 16-foot jumper (Dwyane Wade assists)
22 - 27
0:06
Kirk Hinrich lost ball (Dwyane Wade steals)
22 - 27
0:04
Chris Richard shooting foul (Dwyane Wade draws the foul)
22 - 27
0:04
Dwyane Wade misses free throw 1 of 2
22 - 27
0:04
Miami offensive rebound
22 - 28
0:04
Dwyane Wade makes free throw 2 of 2
22 - 28
0:00
Hakim Warrick turnover
22 - 28
0:00
End of the 1st Quarter
22 - 28

time
TEAM
PLAY
SCORE
12:00
Start of the 2nd Quarter
22 - 28
11:48
Chris Richard offensive foul (Carlos Arroyo draws the foul)
22 - 28
11:48
Chris Richard turnover
22 - 28
11:48
Jannero Pargo enters the game for Kirk Hinrich
22 - 28
11:37
Udonis Haslem misses 17-foot jumper
22 - 28
11:36
Miami offensive rebound
22 - 28
11:27
Carlos Arroyo misses 9-foot two point shot
22 - 28
11:26
Jannero Pargo defensive rebound
22 - 28
11:19
Jumpball: Jannero Pargo vs. Jermaine O'Neal (Udonis Haslem gains possession)
22 - 28
11:19
Jannero Pargo lost ball (Jermaine O'Neal steals)
22 - 28
11:03
Mario Chalmers makes dunk (Jermaine O'Neal assists)
22 - 30
10:51
James Johnson bad pass
22 - 30
10:27
Jermaine O'Neal misses 14-foot two point shot
22 - 30
10:26
Udonis Haslem offensive rebound
22 - 30
10:11
Jermaine O'Neal makes dunk (James Jones assists)
22 - 32
10:02
Chicago 20 Sec. timeout
22 - 32
10:02
Taj Gibson enters the game for Chris Richard
22 - 32
10:02
Brad Miller enters the game for Ronald Murray
22 - 32
10:02
Acie Law enters the game for Hakim Warrick
22 - 32
9:56
Brad Miller bad pass
22 - 32
9:45
James Jones misses 26-foot three point jumper
22 - 32
9:44
Acie Law defensive rebound
22 - 32
9:37
Brad Miller makes 7-foot jumper (Acie Law assists)
24 - 32
9:22
Brad Miller personal foul (Jermaine O'Neal draws the foul)
24 - 32
9:22
Carlos Arroyo offensive foul (Jannero Pargo draws the foul)
24 - 32
9:22
Carlos Arroyo turnover
24 - 32
9:10
Brad Miller makes 16-foot jumper
26 - 32
8:45
James Jones misses 18-foot jumper
26 - 32
8:44
Taj Gibson defensive rebound
26 - 32
8:40
James Jones shooting foul (Jannero Pargo draws the foul)
26 - 32
8:40
Official timeout
26 - 32
8:40
Jannero Pargo makes free throw 1 of 2
27 - 32
8:40
Ronald Murray enters the game for James Johnson
27 - 32
8:40
Jannero Pargo makes free throw 2 of 2
28 - 32
8:17
Carlos Arroyo misses 18-foot jumper
28 - 32
8:15
Ronald Murray defensive rebound
28 - 32
8:11
Acie Law misses driving layup
28 - 32
8:10
Brad Miller offensive rebound
28 - 32
8:08
Brad Miller misses tip shot
28 - 32
8:07
Brad Miller offensive rebound
28 - 32
8:07
Udonis Haslem shooting foul (Brad Miller draws the foul)
28 - 32
8:07
Quentin Richardson enters the game for James Jones
28 - 32
8:07
Brad Miller makes free throw 1 of 2
29 - 32
8:07
Brad Miller misses free throw 2 of 2
29 - 32
8:07
Quentin Richardson defensive rebound
29 - 32
8:02
Miami full timeout
29 - 32
7:43
Jermaine O'Neal makes 13-foot jumper
29 - 34
7:20
Jannero Pargo makes 18-foot two point shot
31 - 34
7:03
Jermaine O'Neal makes two point shot
31 - 36
6:43
Brad Miller misses 25-foot three point jumper
31 - 36
6:41
Udonis Haslem defensive rebound
31 - 36
6:31
Acie Law personal foul (Mario Chalmers draws the foul)
31 - 36
6:22
Brad Miller shooting foul (Jermaine O'Neal draws the foul)
31 - 36
6:22
Jermaine O'Neal makes free throw 1 of 2
31 - 37
6:22
Jermaine O'Neal misses free throw 2 of 2
31 - 37
6:22
Brad Miller defensive rebound
31 - 37
6:11
Acie Law misses 17-foot jumper
31 - 37
6:11
Udonis Haslem defensive rebound
31 - 37
6:01
Quentin Richardson makes 5-foot two point shot
31 - 39
5:45
Brad Miller misses 9-foot jumper
31 - 39
5:43
Jermaine O'Neal defensive rebound
31 - 39
5:39
Ronald Murray shooting foul (Jermaine O'Neal draws the foul)
31 - 39
5:39
Kirk Hinrich enters the game for Acie Law
31 - 39
5:39
James Johnson enters the game for Ronald Murray
31 - 39
5:39
Chris Richard enters the game for Brad Miller
31 - 39
5:39
Jermaine O'Neal makes free throw 1 of 2
31 - 40
5:39
Taj Gibson defensive goaltending
31 - 40
5:39
Jermaine O'Neal makes free throw 2 of 2
31 - 41
5:24
James Johnson makes 19-foot jumper (Kirk Hinrich assists)
33 - 41
5:09
Mario Chalmers misses 17-foot jumper
33 - 41
5:07
Kirk Hinrich defensive rebound
33 - 41
4:52
James Johnson makes 23-foot three point jumper (Jannero Pargo assists)
36 - 41
4:26
Mario Chalmers makes 25-foot three point jumper
36 - 44
4:07
Taj Gibson offensive foul (Mario Chalmers draws the foul)
36 - 44
4:07
Taj Gibson turnover
36 - 44
4:07
Dwyane Wade enters the game for Mario Chalmers
36 - 44
4:07
Joel Anthony enters the game for Jermaine O'Neal
36 - 44
3:47
Udonis Haslem makes 17-foot jumper (Dwyane Wade assists)
36 - 46
3:18
Jannero Pargo makes 22-foot jumper
38 - 46
3:09
Chris Richard personal foul (Dwyane Wade draws the foul)
38 - 46
3:09
Dwyane Wade misses free throw 1 of 2
38 - 46
3:09
Miami offensive rebound
38 - 46
3:09
Dwyane Wade makes free throw 2 of 2
38 - 47
3:03
Chicago full timeout
38 - 47
2:56
Taj Gibson makes 18-foot jumper (Kirk Hinrich assists)
40 - 47
2:31
Dwyane Wade lost ball (Kirk Hinrich steals)
40 - 47
2:27
James Johnson misses driving layup
40 - 47
2:26
Taj Gibson offensive rebound
42 - 47
2:25
Taj Gibson makes tip shot
42 - 47
2:11
Carlos Arroyo misses 18-foot jumper
42 - 47
2:10
James Johnson defensive rebound
42 - 47
1:54
Jermaine O'Neal enters the game for Joel Anthony
42 - 47
1:49
Jannero Pargo misses 24-foot three point jumper
42 - 47
1:47
James Johnson offensive rebound
42 - 47
1:35
Taj Gibson makes 14-foot jumper (Jannero Pargo assists)
44 - 47
1:29
Miami 20 Sec. timeout
44 - 47
1:14
Jermaine O'Neal makes 14-foot jumper
44 - 49
0:50
Kirk Hinrich makes 9-foot two point shot
46 - 49
0:34
Jermaine O'Neal misses 9-foot jumper
46 - 49
0:33
Taj Gibson defensive rebound
46 - 49
0:29
James Johnson makes two point shot (Jannero Pargo assists)
48 - 49
0:29
Jermaine O'Neal shooting foul (James Johnson draws the foul)
48 - 49
0:29
Hakim Warrick enters the game for Chris Richard
48 - 49
0:29
Joe Alexander enters the game for Taj Gibson
48 - 49
0:29
James Johnson makes free throw 1 of 1
49 - 49
0:12
Kirk Hinrich shooting foul (Dwyane Wade draws the foul)
49 - 49
0:12
Dwyane Wade makes free throw 1 of 2
49 - 50
0:12
Joel Anthony enters the game for Jermaine O'Neal
49 - 50
0:12
Brad Miller enters the game for Joe Alexander
49 - 50
0:12
Ronald Murray enters the game for Hakim Warrick
49 - 50
0:12
Dwyane Wade misses free throw 2 of 2
49 - 50
0:11
James Johnson defensive rebound
49 - 50
0:01
Quentin Richardson blocks Kirk Hinrich's 15-foot jumper
49 - 50
0:00
Chicago offensive rebound
49 - 50
0:00
End of the 2nd Quarter
49 - 50

time
TEAM
PLAY
SCORE
12:00
Start of the 3rd Quarter
49 - 50
11:48
Jannero Pargo misses 24-foot three point jumper
49 - 50
11:48
Jermaine O'Neal defensive rebound
49 - 50
11:27
Dwyane Wade misses 17-foot two point shot
49 - 50
11:26
Brad Miller defensive rebound
49 - 50
11:17
Brad Miller makes 20-foot jumper (Kirk Hinrich assists)
51 - 50
11:00
Quentin Richardson makes 25-foot three point jumper (Joel Anthony assists)
51 - 53
10:44
Joel Anthony blocks Kirk Hinrich's driving layup
51 - 53
10:42
Joel Anthony defensive rebound
51 - 53
10:37
Dwyane Wade misses 25-foot three point jumper
51 - 53
10:36
Taj Gibson defensive rebound
51 - 53
10:21
Kirk Hinrich makes 19-foot jumper
53 - 53
10:04
Dwyane Wade traveling
53 - 53
9:51
Taj Gibson misses 17-foot jumper
53 - 53
9:49
Quentin Richardson defensive rebound
53 - 53
9:37
Taj Gibson shooting foul (Joel Anthony draws the foul)
53 - 53
9:37
Joel Anthony makes free throw 1 of 2
53 - 54
9:37
Joel Anthony makes free throw 2 of 2
53 - 55
9:18
Brad Miller misses 24-foot three point jumper
53 - 55
9:17
Chicago defensive rebound
53 - 55
9:03
Kirk Hinrich shooting foul (Jermaine O'Neal draws the foul)
53 - 55
9:03
Jermaine O'Neal makes free throw 1 of 2
53 - 56
9:03
Jermaine O'Neal makes free throw 2 of 2
53 - 57
8:52
Brad Miller misses layup
53 - 57
8:51
Joel Anthony defensive rebound
53 - 57
8:41
Carlos Arroyo makes 12-foot two point shot
53 - 59
8:41
Chicago full timeout
53 - 59
8:25
Dwyane Wade shooting foul (James Johnson draws the foul)
53 - 59
8:25
James Johnson makes free throw 1 of 2
54 - 59
8:25
James Johnson misses free throw 2 of 2
54 - 59
8:23
Joel Anthony defensive rebound
54 - 59
8:10
Dwyane Wade misses 18-foot jumper
54 - 59
8:08
Taj Gibson defensive rebound
54 - 59
8:08
Taj Gibson traveling
54 - 59
7:52
Taj Gibson shooting foul (Jermaine O'Neal draws the foul)
54 - 59
7:52
Carlos Arroyo makes technical free throw
54 - 60
7:52
Hakim Warrick enters the game for Taj Gibson
54 - 60
7:52
Jermaine O'Neal makes free throw 1 of 2
54 - 61
7:52
Jermaine O'Neal makes free throw 2 of 2
54 - 62
7:35
Brad Miller makes 15-foot jumper
56 - 62
7:22
Dwyane Wade makes driving dunk
56 - 64
7:03
Joel Anthony shooting foul (Brad Miller draws the foul)
56 - 64
7:03
Brad Miller makes free throw 1 of 2
57 - 64
7:03
Brad Miller makes free throw 2 of 2
58 - 64
6:46
Joel Anthony makes 6-foot jumper (Carlos Arroyo assists)
58 - 66
6:33
Jannero Pargo misses three point jumper
58 - 66
6:31
Quentin Richardson defensive rebound
58 - 66
6:24
Jermaine O'Neal makes dunk (Dwyane Wade assists)
58 - 68
6:11
James Johnson misses 23-foot three point jumper
58 - 68
6:11
Carlos Arroyo defensive rebound
58 - 68
5:48
Carlos Arroyo misses jumper
58 - 68
5:48
Miami offensive rebound
58 - 68
5:48
Chris Richard enters the game for Hakim Warrick
58 - 68
5:48
Mario Chalmers enters the game for Carlos Arroyo
58 - 68
5:48
Ronald Murray enters the game for Jannero Pargo
58 - 68
5:26
James Johnson blocks Jermaine O'Neal's 11-foot two point shot
58 - 68
5:26
Chris Richard defensive rebound
58 - 68
5:18
Kirk Hinrich misses 16-foot jumper
58 - 68
5:16
Joel Anthony defensive rebound
58 - 68
5:03
Dwyane Wade makes 10-foot two point shot
58 - 70
4:45
Ronald Murray makes 21-foot jumper
60 - 70
4:26
Jermaine O'Neal makes 4-foot hook shot (Dwyane Wade assists)
60 - 72
4:11
Kirk Hinrich misses 25-foot three point jumper
60 - 72
4:09
Ronald Murray offensive rebound
60 - 72
4:00
Chris Richard offensive foul (Dwyane Wade draws the foul)
60 - 72
4:00
Chris Richard turnover
60 - 72
4:00
Udonis Haslem enters the game for Jermaine O'Neal
60 - 72
3:40
Dwyane Wade misses 16-foot jumper
60 - 72
3:39
Miami defensive rebound
60 - 72
3:39
Udonis Haslem loose ball foul (Brad Miller draws the foul)
60 - 72
3:31
Mario Chalmers personal foul (Ronald Murray draws the foul)
60 - 72
3:21
Brad Miller makes 10-foot jumper
62 - 72
3:08
Dwyane Wade makes driving layup
62 - 74
3:01
James Johnson misses 25-foot three point jumper
62 - 74
2:59
Quentin Richardson defensive rebound
62 - 74
2:53
Dwyane Wade misses driving layup
62 - 74
2:51
Brad Miller defensive rebound
62 - 74
2:41
Kirk Hinrich misses 25-foot three point jumper
62 - 74
2:40
Udonis Haslem defensive rebound
62 - 74
2:34
Miami full timeout
62 - 74
2:34
Jamaal Magloire enters the game for Joel Anthony
62 - 74
2:26
Mario Chalmers turnover
62 - 74
2:04
Ronald Murray makes 20-foot jumper
64 - 74
1:47
Mario Chalmers misses 18-foot jumper
64 - 74
1:47
Jamaal Magloire offensive rebound
64 - 74
1:46
Jamaal Magloire makes layup
64 - 76
1:24
Brad Miller misses 24-foot three point jumper
64 - 76
1:23
Quentin Richardson defensive rebound
64 - 76
1:08
Chris Richard personal foul (Dwyane Wade draws the foul)
64 - 76
1:08
James Jones enters the game for Quentin Richardson
64 - 76
1:08
Hakim Warrick enters the game for Chris Richard
64 - 76
0:57
Udonis Haslem misses 14-foot jumper
64 - 76
0:56
Hakim Warrick defensive rebound
64 - 76
0:47
Brad Miller bad pass (Mario Chalmers steals)
64 - 76
0:44
Dwyane Wade makes slam dunk (Mario Chalmers assists)
64 - 78
0:39
Jamaal Magloire shooting foul (Hakim Warrick draws the foul)
64 - 78
0:39
Hakim Warrick misses free throw 1 of 2
64 - 78
0:39
Chicago offensive rebound
64 - 78
0:39
Hakim Warrick makes free throw 2 of 2
65 - 78
0:16
Brad Miller shooting foul (Jamaal Magloire draws the foul)
65 - 78
0:16
Jamaal Magloire makes free throw 1 of 2
65 - 79
0:16
Carlos Arroyo enters the game for Dwyane Wade
65 - 79
0:16
Jannero Pargo enters the game for Hakim Warrick
65 - 79
0:16
Quentin Richardson enters the game for James Jones
65 - 79
0:16
Jamaal Magloire misses free throw 2 of 2
65 - 79
0:15
Brad Miller defensive rebound
65 - 79
0:00
Brad Miller makes 21-foot jumper (Kirk Hinrich assists)
67 - 79
0:00
End of the 3rd Quarter
67 - 79

time
TEAM
PLAY
SCORE
12:00
Start of the 4th Quarter
67 - 79
11:48
Udonis Haslem misses 18-foot jumper
67 - 79
11:47
Taj Gibson defensive rebound
67 - 79
11:36
Jannero Pargo bad pass
67 - 79
11:11
Jermaine O'Neal misses 16-foot jumper
67 - 79
11:10
Ronald Murray defensive rebound
67 - 79
11:03
Taj Gibson 3 second
67 - 79
10:51
Jermaine O'Neal traveling
67 - 79
10:41
Ronald Murray misses 25-foot three point jumper
67 - 79
10:40
Carlos Arroyo defensive rebound
67 - 79
10:21
Mario Chalmers lost ball (Jannero Pargo steals)
67 - 79
10:17
Jannero Pargo makes driving layup
69 - 79
9:53
Mario Chalmers makes 25-foot three point jumper (Carlos Arroyo assists)
69 - 82
9:32
Jannero Pargo misses 19-foot jumper
69 - 82
9:30
Jermaine O'Neal defensive rebound
69 - 82
9:15
Mario Chalmers bad pass
69 - 82
9:00
Taj Gibson misses 21-foot jumper
69 - 82
8:59
Brad Miller offensive rebound
69 - 82
8:52
Jannero Pargo misses 24-foot three point jumper
69 - 82
8:51
Udonis Haslem defensive rebound
69 - 82
8:41
Mario Chalmers misses 25-foot three point jumper
69 - 82
8:41
James Johnson defensive rebound
69 - 82
8:27
Ronald Murray misses 21-foot jumper
69 - 82
8:26
Udonis Haslem defensive rebound
69 - 82
8:12
Carlos Arroyo turnover
69 - 82
8:12
Kirk Hinrich enters the game for James Johnson
69 - 82
7:58
Ronald Murray makes 25-foot three point jumper (Jannero Pargo assists)
72 - 82
7:43
James Jones misses 19-foot jumper
72 - 82
7:43
Kirk Hinrich defensive rebound
72 - 82
7:39
James Jones blocks Ronald Murray's driving layup
72 - 82
7:39
Chicago offensive rebound
72 - 82
7:39
Dwyane Wade enters the game for James Jones
72 - 82
7:39
Chris Richard enters the game for Brad Miller
72 - 82
7:35
Jermaine O'Neal blocks Chris Richard's dunk
72 - 82
7:33
Jermaine O'Neal defensive rebound
72 - 82
7:26
Carlos Arroyo misses 17-foot jumper
72 - 82
7:26
Udonis Haslem offensive rebound
72 - 82
7:13
Jamaal Magloire enters the game for Jermaine O'Neal
72 - 82
7:13
Jumpball: Taj Gibson vs. Dwyane Wade (Carlos Arroyo gains possession)
72 - 82
7:05
Carlos Arroyo misses 19-foot jumper
72 - 82
7:03
Kirk Hinrich defensive rebound
72 - 82
6:56
Kirk Hinrich makes 20-foot jumper
74 - 82
6:28
Dwyane Wade makes 7-foot two point shot
74 - 84
6:22
Chris Richard offensive foul (Jamaal Magloire draws the foul)
74 - 84
6:22
Chris Richard turnover
74 - 84
6:22
Quentin Richardson enters the game for Carlos Arroyo
74 - 84
6:22
Brad Miller enters the game for Chris Richard
74 - 84
6:07
Dwyane Wade misses 17-foot jumper
74 - 84
6:07
Jannero Pargo defensive rebound
74 - 84
5:58
Mario Chalmers personal foul (Brad Miller draws the foul)
74 - 84
5:58
Miami full timeout
74 - 84
5:58
James Johnson enters the game for Jannero Pargo
74 - 84
5:52
James Johnson makes 23-foot three point jumper (Ronald Murray assists)
77 - 84
5:22
Quentin Richardson makes 26-foot three point jumper
77 - 87
5:07
Ronald Murray misses 19-foot jumper
77 - 87
5:05
Quentin Richardson defensive rebound
77 - 87
4:58
Brad Miller shooting foul (Dwyane Wade draws the foul)
77 - 87
4:58
Jermaine O'Neal enters the game for Jamaal Magloire
77 - 87
4:58
Dwyane Wade makes free throw 1 of 2
77 - 88
4:58
Dwyane Wade makes free throw 2 of 2
77 - 89
4:50
Kirk Hinrich misses 21-foot jumper
77 - 89
4:50
Dwyane Wade defensive rebound
77 - 89
4:43
Brad Miller flagrant foul type 1 (Dwyane Wade draws the foul)
77 - 89
4:43
Kirk Hinrich technical foul (1st technical foul)
77 - 89
4:43
Brad Miller technical foul (1st technical foul)
77 - 89
4:43
Dwyane Wade makes technical free throw
77 - 90
4:43
Dwyane Wade misses technical free throw
77 - 90
4:43
Miami offensive rebound
77 - 90
4:43
Kirk Hinrich ejected
77 - 90
4:43
Jannero Pargo enters the game for Kirk Hinrich
77 - 90
4:43
Udonis Haslem makes technical free throw
77 - 91
4:43
Dwyane Wade makes flagrant free throw 2 of 2
77 - 92
4:43
Dwyane Wade makes free throw
77 - 93
4:43
Chicago full timeout
77 - 93
4:43
Kirk Hinrich technical foul (2nd technical foul)
77 - 93
4:28
Dwyane Wade makes two point shot
77 - 95
4:16
Jannero Pargo makes 25-foot three point jumper (James Johnson assists)
80 - 95
4:00
Dwyane Wade misses 20-foot jumper
80 - 95
3:59
Jannero Pargo defensive rebound
80 - 95
3:48
Jannero Pargo makes 25-foot three point jumper
83 - 95
3:31
Mario Chalmers makes 25-foot three point jumper (Jermaine O'Neal assists)
83 - 98
3:19
Ronald Murray makes 24-foot three point jumper
86 - 98
3:01
Jannero Pargo personal foul (Quentin Richardson draws the foul)
86 - 98
2:47
Quentin Richardson misses 24-foot three point jumper
86 - 98
2:47
Brad Miller defensive rebound
86 - 98
2:41
Jannero Pargo misses 24-foot three point jumper
86 - 98
2:40
Jermaine O'Neal defensive rebound
86 - 98
2:27
Quentin Richardson makes 23-foot three point jumper (Dwyane Wade assists)
86 - 101
2:27
James Johnson shooting foul (Quentin Richardson draws the foul)
86 - 101
2:27
Hakim Warrick enters the game for Taj Gibson
86 - 101
2:27
Joe Alexander enters the game for Brad Miller
86 - 101
2:27
Quentin Richardson misses free throw 1 of 1
86 - 101
2:26
Udonis Haslem offensive rebound
86 - 101
2:26
Joe Alexander personal foul (Udonis Haslem draws the foul)
86 - 101
2:26
Udonis Haslem makes free throw 1 of 2
86 - 102
2:26
Acie Law enters the game for Ronald Murray
86 - 102
2:26
Carlos Arroyo enters the game for Dwyane Wade
86 - 102
2:26
Udonis Haslem makes free throw 2 of 2
86 - 103
2:14
Jannero Pargo makes two point shot
88 - 103
1:57
Joe Alexander blocks Jermaine O'Neal's 10-foot jumper
88 - 103
1:55
Quentin Richardson offensive rebound
88 - 103
1:52
Mario Chalmers makes 25-foot three point jumper (Quentin Richardson assists)
88 - 106
1:52
Chicago full timeout
88 - 106
1:52
Yakhouba Diawara enters the game for Quentin Richardson
88 - 106
1:52
Daequan Cook enters the game for Jermaine O'Neal
88 - 106
1:52
Joel Anthony enters the game for Udonis Haslem
88 - 106
1:47
Jannero Pargo makes driving layup
90 - 106
1:24
Carlos Arroyo makes 21-foot jumper (Daequan Cook assists)
90 - 108
1:20
Carlos Arroyo personal foul (Jannero Pargo draws the foul)
90 - 108
1:12
Jannero Pargo makes 17-foot jumper
92 - 108
0:58
Carlos Arroyo misses 19-foot jumper
92 - 108
0:57
James Johnson defensive rebound
92 - 108
0:50
James Johnson makes driving layup
94 - 108
0:50
Yakhouba Diawara shooting foul (James Johnson draws the foul)
94 - 108
0:50
James Johnson misses free throw 1 of 1
94 - 108
0:49
Joel Anthony defensive rebound
94 - 108
0:29
Yakhouba Diawara misses 23-foot three point jumper
94 - 108
0:28
Acie Law defensive rebound
94 - 108
0:23
Joel Anthony shooting foul (Acie Law draws the foul)
94 - 108
0:23
Acie Law misses free throw 1 of 2
94 - 108
0:23
Chicago offensive rebound
94 - 108
0:23
Acie Law makes free throw 2 of 2
95 - 108
0:00
End of the 4th Quarter
95 - 108
0:00
End Game
95 - 108
Jemele Hill thinks it's only natural for Knicks fans to think Kevin Durant is coming to New York because Knicks fans think all free agents want to play from them.

Michael Smith thinks Sam Presti's trade to acquire Victor Oladipo means Kevin Durant will re-sign with the Thunder.

J.R. Smith seems to be enjoying going everywhere without a shirt, but there's one man who says it's time to put it back on.
Regular Season Series
MIA wins series 3-1
2015-2016 Central Standings
2015-2016 Southeast Standings