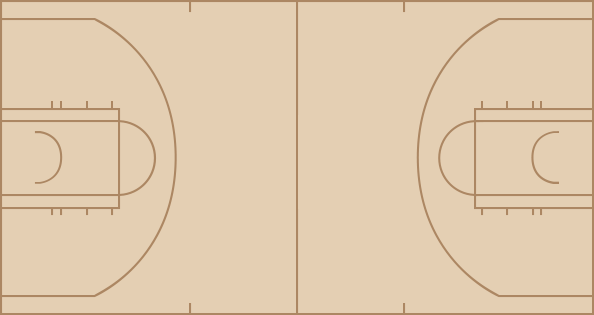 Nuggets
time
TEAM
PLAY
SCORE
12:00
Start of the 1st Quarter
0 - 0
12:00
Jumpball: Johan Petro vs. Kendrick Perkins (Rajon Rondo gains possession)
0 - 0
11:45
Kevin Garnett makes layup (Kendrick Perkins assists)
0 - 2
11:25
Ray Allen personal foul (Arron Afflalo draws the foul)
0 - 2
11:14
Nene Hilario misses layup
0 - 2
11:11
Rajon Rondo defensive rebound
0 - 2
11:07
Paul Pierce makes layup (Rajon Rondo assists)
0 - 4
10:52
Nene Hilario makes driving dunk (Carmelo Anthony assists)
2 - 4
10:30
Kendrick Perkins makes slam dunk (Kevin Garnett assists)
2 - 6
10:08
Chauncey Billups misses layup
2 - 6
10:07
Ray Allen defensive rebound
2 - 6
10:00
Rajon Rondo misses layup
2 - 6
9:59
Nene Hilario defensive rebound
2 - 6
9:55
Kendrick Perkins shooting foul (Arron Afflalo draws the foul)
2 - 6
9:55
Arron Afflalo misses free throw 1 of 2
2 - 6
9:55
Denver offensive team rebound
2 - 6
9:55
Arron Afflalo makes free throw 2 of 2
3 - 6
9:41
Paul Pierce misses 24-foot three point jumper
3 - 6
9:40
Johan Petro defensive rebound
3 - 6
9:30
Chauncey Billups makes two point shot
5 - 6
9:11
Rajon Rondo makes two point shot
5 - 8
8:57
Carmelo Anthony makes 22-foot jumper
7 - 8
8:48
Kevin Garnett makes dunk (Rajon Rondo assists)
7 - 10
8:37
Johan Petro makes dunk (Nene Hilario assists)
9 - 10
8:23
Rajon Rondo bad pass (Johan Petro steals)
9 - 10
8:22
Rajon Rondo personal foul (Nene Hilario draws the foul)
9 - 10
8:14
Kendrick Perkins blocks Nene Hilario's 3-foot jumper
9 - 10
8:14
Denver offensive team rebound
9 - 10
8:07
Nene Hilario misses 21-foot jumper
9 - 10
8:07
Paul Pierce defensive rebound
9 - 10
7:58
Ray Allen misses 24-foot three point jumper
9 - 10
7:56
Rajon Rondo offensive rebound
9 - 10
7:56
Chauncey Billups personal foul (Rajon Rondo draws the foul)
9 - 10
7:52
Kendrick Perkins bad pass
9 - 10
7:37
Arron Afflalo misses 24-foot three point jumper
9 - 10
7:37
Kendrick Perkins defensive rebound
9 - 10
7:18
Nene Hilario personal foul (Paul Pierce draws the foul)
9 - 10
7:03
Kevin Garnett misses 14-foot two point shot
9 - 10
7:03
Carmelo Anthony defensive rebound
9 - 10
6:52
Carmelo Anthony bad pass (Paul Pierce steals)
9 - 10
6:48
Kevin Garnett misses 9-foot jumper
9 - 10
6:46
Carmelo Anthony defensive rebound
9 - 10
6:41
Chauncey Billups makes jumper (Carmelo Anthony assists)
11 - 10
6:18
Paul Pierce makes 18-foot two point shot
11 - 12
5:54
Carmelo Anthony misses layup
11 - 12
5:52
Rajon Rondo defensive rebound
11 - 12
5:48
Paul Pierce makes layup (Rajon Rondo assists)
11 - 14
5:28
Johan Petro traveling
11 - 14
5:28
Boston full timeout
11 - 14
5:11
Johan Petro personal foul (Paul Pierce draws the foul)
11 - 14
5:05
Johan Petro shooting foul (Paul Pierce draws the foul)
11 - 14
5:05
Paul Pierce makes free throw 1 of 2
11 - 15
5:05
Paul Pierce makes free throw 2 of 2
11 - 16
4:50
Arron Afflalo makes 23-foot jumper (Chauncey Billups assists)
13 - 16
4:41
Nene Hilario blocks Rajon Rondo's layup
13 - 16
4:39
Johan Petro defensive rebound
13 - 16
4:28
Arron Afflalo makes 24-foot three point jumper (Nene Hilario assists)
16 - 16
4:13
Rajon Rondo makes 6-foot running jumper (Ray Allen assists)
16 - 18
4:01
Carmelo Anthony makes driving layup (Chauncey Billups assists)
18 - 18
3:47
Ray Allen makes driving layup (Kevin Garnett assists)
18 - 20
3:32
Carmelo Anthony misses 21-foot jumper
18 - 20
3:31
Johan Petro offensive rebound
18 - 20
3:28
Johan Petro misses hook shot
18 - 20
3:27
Paul Pierce defensive rebound
18 - 20
3:18
Paul Pierce misses 24-foot three point jumper
18 - 20
3:17
Johan Petro defensive rebound
18 - 20
3:14
Paul Pierce shooting foul (Carmelo Anthony draws the foul)
18 - 20
3:14
Chris Andersen enters the game for Johan Petro
18 - 20
3:14
Rasheed Wallace enters the game for Kendrick Perkins
18 - 20
3:14
Carmelo Anthony makes free throw 1 of 2
19 - 20
3:14
Marquis Daniels enters the game for Ray Allen
19 - 20
3:14
Carmelo Anthony makes free throw 2 of 2
20 - 20
2:56
Denver full timeout
20 - 20
2:51
Kevin Garnett makes jumper (Paul Pierce assists)
20 - 22
2:32
Marquis Daniels personal foul (Carmelo Anthony draws the foul)
20 - 22
2:32
J.R. Smith enters the game for Arron Afflalo
20 - 22
2:32
Glen Davis enters the game for Kevin Garnett
20 - 22
2:32
Carmelo Anthony makes free throw 1 of 2
21 - 22
2:32
Carmelo Anthony makes free throw 2 of 2
22 - 22
2:21
Paul Pierce makes 16-foot two point shot
22 - 24
2:01
Carmelo Anthony misses 20-foot jumper
22 - 24
2:01
Rasheed Wallace defensive rebound
22 - 24
1:54
Marquis Daniels misses 23-foot three point jumper
22 - 24
1:53
Chauncey Billups defensive rebound
22 - 24
1:52
Rajon Rondo personal foul (Chauncey Billups draws the foul)
22 - 24
1:52
Malik Allen enters the game for Nene Hilario
22 - 24
1:52
Chauncey Billups makes free throw 1 of 2
23 - 24
1:52
Nate Robinson enters the game for Rajon Rondo
23 - 24
1:52
Chauncey Billups makes free throw 2 of 2
24 - 24
1:34
Rasheed Wallace makes two point shot (Paul Pierce assists)
24 - 26
1:21
Rasheed Wallace blocks Chauncey Billups's 4-foot jumper
24 - 26
1:19
Glen Davis defensive rebound
24 - 26
1:10
J.R. Smith personal foul (Paul Pierce draws the foul)
24 - 26
1:10
Paul Pierce makes free throw 1 of 2
24 - 27
1:10
Anthony Carter enters the game for Chauncey Billups
24 - 27
1:10
Paul Pierce makes free throw 2 of 2
24 - 28
0:53
Carmelo Anthony makes driving layup
26 - 28
0:53
Glen Davis shooting foul (Carmelo Anthony draws the foul)
26 - 28
0:53
Carmelo Anthony makes free throw 1 of 1
27 - 28
0:37
Paul Pierce makes 6-foot jumper
27 - 30
0:12
J.R. Smith misses 22-foot jumper
27 - 30
0:12
Nate Robinson defensive rebound
27 - 30
0:04
Glen Davis offensive foul (J.R. Smith draws the foul)
27 - 30
0:04
Glen Davis turnover
27 - 30
0:00
J.R. Smith misses 31-foot three point jumper
27 - 30
0:00
Denver offensive team rebound
27 - 30
0:00
End of the 1st Quarter
27 - 30

time
TEAM
PLAY
SCORE
12:00
Start of the 2nd Quarter
27 - 30
11:37
J.R. Smith makes 16-foot jumper
29 - 30
11:10
Rasheed Wallace misses 20-foot jumper
29 - 30
11:08
Chris Andersen defensive rebound
29 - 30
10:59
Chris Andersen bad pass
29 - 30
10:44
Michael Finley makes 25-foot three point jumper (Rasheed Wallace assists)
29 - 33
10:22
Anthony Carter makes driving layup
31 - 33
10:03
Rasheed Wallace misses 25-foot three point jumper
31 - 33
10:03
Joey Graham defensive rebound
31 - 33
9:52
Marquis Daniels personal foul (Chris Andersen draws the foul)
31 - 33
9:41
Joey Graham makes 22-foot jumper (Malik Allen assists)
33 - 33
9:21
Michael Finley misses 25-foot three point jumper
33 - 33
9:19
Malik Allen defensive rebound
33 - 33
9:12
Marquis Daniels shooting foul (J.R. Smith draws the foul)
33 - 33
9:12
Tony Allen enters the game for Marquis Daniels
33 - 33
9:12
J.R. Smith misses free throw 1 of 2
33 - 33
9:12
Denver offensive team rebound
33 - 33
9:12
J.R. Smith makes free throw 2 of 2
34 - 33
9:02
Nate Robinson misses 20-foot jumper
34 - 33
9:00
Glen Davis offensive rebound
34 - 33
8:45
Tony Allen makes driving layup (Michael Finley assists)
34 - 35
8:29
Joey Graham lost ball (Rasheed Wallace steals)
34 - 35
8:19
Malik Allen personal foul (Nate Robinson draws the foul)
34 - 35
8:19
Official timeout
34 - 35
8:12
Rasheed Wallace misses 27-foot three point jumper
34 - 35
8:11
Glen Davis offensive rebound
34 - 35
8:10
Anthony Carter personal foul (Glen Davis draws the foul)
34 - 35
8:00
Michael Finley makes 19-foot jumper (Nate Robinson assists)
34 - 37
7:41
Nate Robinson personal foul (Joey Graham draws the foul)
34 - 37
7:33
Tony Allen personal foul (J.R. Smith draws the foul)
34 - 37
7:28
Joey Graham misses 12-foot jumper
34 - 37
7:28
Rasheed Wallace defensive rebound
34 - 37
7:09
Glen Davis misses jumper
34 - 37
7:09
Chris Andersen defensive rebound
34 - 37
7:01
Rasheed Wallace personal foul (J.R. Smith draws the foul)
34 - 37
7:01
Carmelo Anthony enters the game for Joey Graham
34 - 37
7:01
Ray Allen enters the game for Michael Finley
34 - 37
7:01
J.R. Smith misses free throw 1 of 2
34 - 37
7:01
Denver offensive team rebound
34 - 37
7:01
Nene Hilario enters the game for Malik Allen
34 - 37
7:01
J.R. Smith misses free throw 2 of 2
34 - 37
7:01
Rasheed Wallace defensive rebound
34 - 37
6:46
Glen Davis makes 2-foot two point shot (Ray Allen assists)
34 - 39
6:33
J.R. Smith makes 5-foot running jumper (Anthony Carter assists)
36 - 39
6:24
Nate Robinson makes 24-foot three pointer
36 - 42
6:13
J.R. Smith makes 23-foot jumper
38 - 42
6:01
Nate Robinson makes jumper
38 - 44
5:47
Nene Hilario makes layup (J.R. Smith assists)
40 - 44
5:33
Nene Hilario personal foul (Tony Allen draws the foul)
40 - 44
5:33
Boston full timeout
40 - 44
5:33
Chauncey Billups enters the game for Anthony Carter
40 - 44
5:33
Kendrick Perkins enters the game for Glen Davis
40 - 44
5:33
Paul Pierce enters the game for Nate Robinson
40 - 44
5:33
Kevin Garnett enters the game for Tony Allen
40 - 44
5:33
Rajon Rondo enters the game for Rasheed Wallace
40 - 44
5:22
Kevin Garnett makes 5-foot jumper (Rajon Rondo assists)
40 - 46
5:22
Chauncey Billups shooting foul (Kevin Garnett draws the foul)
40 - 46
5:22
Kevin Garnett makes free throw 1 of 1
40 - 47
5:05
Paul Pierce blocks Carmelo Anthony's layup
40 - 47
5:03
Paul Pierce defensive rebound
40 - 47
4:56
Paul Pierce makes driving layup (Ray Allen assists)
40 - 49
4:31
J.R. Smith makes layup (Nene Hilario assists)
42 - 49
4:31
Paul Pierce shooting foul (J.R. Smith draws the foul)
42 - 49
4:31
J.R. Smith makes free throw 1 of 1
43 - 49
4:16
Kendrick Perkins misses 5-foot jumper
43 - 49
4:16
Nene Hilario defensive rebound
43 - 49
4:05
Carmelo Anthony misses layup
43 - 49
4:05
Carmelo Anthony offensive rebound
43 - 49
4:05
Paul Pierce shooting foul (Carmelo Anthony draws the foul)
43 - 49
4:05
Tony Allen enters the game for Paul Pierce
43 - 49
4:05
Carmelo Anthony misses free throw 1 of 2
43 - 49
4:05
Denver offensive team rebound
43 - 49
4:05
Carmelo Anthony makes free throw 2 of 2
44 - 49
3:55
Ray Allen makes 14-foot jumper (Rajon Rondo assists)
44 - 51
3:31
Kevin Garnett shooting foul (Nene Hilario draws the foul)
44 - 51
3:31
Nene Hilario misses free throw 1 of 2
44 - 51
3:31
Denver offensive team rebound
44 - 51
3:31
Arron Afflalo enters the game for Chris Andersen
44 - 51
3:31
Nene Hilario misses free throw 2 of 2
44 - 51
3:31
Kevin Garnett defensive rebound
44 - 51
3:19
Rajon Rondo bad pass (Carmelo Anthony steals)
44 - 51
3:14
Carmelo Anthony traveling
44 - 51
2:57
Tony Allen makes layup (Kevin Garnett assists)
44 - 53
2:44
Denver full timeout
44 - 53
2:44
Johan Petro enters the game for J.R. Smith
44 - 53
2:44
Jumpball: Chauncey Billups vs. Tony Allen (Denver gains possession)
44 - 53
2:35
Chauncey Billups bad pass
44 - 53
2:24
Rajon Rondo misses 4-foot jumper
44 - 53
2:23
Kevin Garnett offensive rebound
44 - 53
2:20
Kevin Garnett misses layup
44 - 53
2:18
Kevin Garnett offensive rebound
44 - 53
2:17
Kevin Garnett misses layup
44 - 53
2:16
Rajon Rondo offensive rebound
44 - 53
2:15
Carmelo Anthony personal foul (Rajon Rondo draws the foul)
44 - 53
2:15
Rajon Rondo makes free throw 1 of 2
44 - 54
2:15
Rajon Rondo misses free throw 2 of 2
44 - 54
2:15
Kevin Garnett offensive rebound
44 - 54
2:11
Kevin Garnett misses 13-foot jumper
44 - 54
2:10
Boston offensive team rebound
44 - 54
2:10
Nene Hilario loose ball foul (Tony Allen draws the foul)
44 - 54
2:10
Tony Allen makes free throw 1 of 2
44 - 55
2:10
Malik Allen enters the game for Nene Hilario
44 - 55
2:10
Tony Allen makes free throw 2 of 2
44 - 56
1:49
Malik Allen makes 16-foot jumper (Chauncey Billups assists)
46 - 56
1:43
Malik Allen personal foul (Kevin Garnett draws the foul)
46 - 56
1:43
Kevin Garnett misses free throw 1 of 2
46 - 56
1:43
Boston offensive team rebound
46 - 56
1:43
Kevin Garnett makes free throw 2 of 2
46 - 57
1:27
Chauncey Billups bad pass (Rajon Rondo steals)
46 - 57
1:23
Tony Allen makes dunk (Rajon Rondo assists)
46 - 59
1:00
Tony Allen shooting foul (Carmelo Anthony draws the foul)
46 - 59
1:00
Carmelo Anthony makes free throw 1 of 2
47 - 59
1:00
Carmelo Anthony makes free throw 2 of 2
48 - 59
0:44
Kendrick Perkins misses 11-foot two point shot
48 - 59
0:42
Arron Afflalo defensive rebound
48 - 59
0:37
Chauncey Billups makes 26-foot three pointer
51 - 59
0:28
Kevin Garnett misses jumper
51 - 59
0:28
Johan Petro defensive rebound
51 - 59
0:07
Kendrick Perkins blocks Arron Afflalo's layup
51 - 59
0:05
Kevin Garnett defensive rebound
51 - 59
0:00
Tony Allen makes layup (Rajon Rondo assists)
51 - 61
0:00
End of the 2nd Quarter
51 - 61

time
TEAM
PLAY
SCORE
12:00
Start of the 3rd Quarter
51 - 61
11:41
Carmelo Anthony makes driving layup
53 - 61
11:15
Ray Allen makes driving layup (Rajon Rondo assists)
53 - 63
11:03
Nene Hilario misses 17-foot jumper
53 - 63
11:02
Kevin Garnett defensive rebound
53 - 63
10:51
Rajon Rondo misses 17-foot jumper
53 - 63
10:49
Nene Hilario defensive rebound
53 - 63
10:37
Johan Petro bad pass (Kevin Garnett steals)
53 - 63
10:32
Kendrick Perkins makes driving layup (Rajon Rondo assists)
53 - 65
10:32
Nene Hilario shooting foul (Kendrick Perkins draws the foul)
53 - 65
10:32
Chris Andersen enters the game for Nene Hilario
53 - 65
10:32
Kendrick Perkins makes free throw 1 of 1
53 - 66
10:30
Chris Andersen bad pass (Rajon Rondo steals)
53 - 66
10:26
Ray Allen misses 26-foot three point jumper
53 - 66
10:25
Carmelo Anthony defensive rebound
53 - 66
10:15
Arron Afflalo makes 26-foot three point jumper (Carmelo Anthony assists)
56 - 66
10:00
Paul Pierce makes 20-foot two point shot
56 - 68
9:41
Carmelo Anthony misses 21-foot jumper
56 - 68
9:41
Kevin Garnett defensive rebound
56 - 68
9:34
Kevin Garnett misses layup
56 - 68
9:33
Kendrick Perkins offensive rebound
56 - 68
9:32
Kendrick Perkins makes layup
56 - 70
9:23
Denver full timeout
56 - 70
9:18
Carmelo Anthony misses layup
56 - 70
9:17
Paul Pierce defensive rebound
56 - 70
9:08
Kevin Garnett misses jumper
56 - 70
9:07
Chris Andersen defensive rebound
56 - 70
9:00
Kevin Garnett shooting foul (Carmelo Anthony draws the foul)
56 - 70
9:00
Carmelo Anthony misses free throw 1 of 2
56 - 70
9:00
Denver offensive team rebound
56 - 70
9:00
Carmelo Anthony misses free throw 2 of 2
56 - 70
8:59
Kendrick Perkins defensive rebound
56 - 70
8:36
Paul Pierce misses 11-foot jumper
56 - 70
8:33
Chris Andersen defensive rebound
56 - 70
8:18
Arron Afflalo bad pass
56 - 70
8:03
Johan Petro blocks Kendrick Perkins's layup
56 - 70
8:02
Rajon Rondo offensive rebound
56 - 70
7:58
Ray Allen makes 13-foot two point shot (Kevin Garnett assists)
56 - 72
7:43
Chauncey Billups misses 15-foot jumper
56 - 72
7:41
Kendrick Perkins defensive rebound
56 - 72
7:37
Paul Pierce misses 25-foot three point jumper
56 - 72
7:35
Kevin Garnett offensive rebound
56 - 72
7:11
Kevin Garnett makes 14-foot two point shot
56 - 74
6:56
Ray Allen blocks Carmelo Anthony's layup
56 - 74
6:54
Carmelo Anthony offensive rebound
56 - 74
6:52
Carmelo Anthony misses layup
56 - 74
6:50
Paul Pierce defensive rebound
56 - 74
6:47
Arron Afflalo shooting foul (Paul Pierce draws the foul)
56 - 74
6:47
Paul Pierce makes free throw 1 of 2
56 - 75
6:47
J.R. Smith enters the game for Arron Afflalo
56 - 75
6:47
Paul Pierce makes free throw 2 of 2
56 - 76
6:33
Chris Andersen misses 21-foot jumper
56 - 76
6:33
Chauncey Billups offensive rebound
56 - 76
6:31
Rajon Rondo shooting foul (Chauncey Billups draws the foul)
56 - 76
6:31
Chauncey Billups makes free throw 1 of 2
57 - 76
6:31
Arron Afflalo enters the game for Johan Petro
57 - 76
6:31
Chauncey Billups makes free throw 2 of 2
58 - 76
6:16
Kevin Garnett makes 21-foot jumper (Rajon Rondo assists)
58 - 78
6:03
Chauncey Billups misses layup
58 - 78
6:01
Chauncey Billups offensive rebound
58 - 78
5:58
Arron Afflalo misses three point jumper
58 - 78
5:56
Rajon Rondo defensive rebound
58 - 78
5:52
J.R. Smith shooting foul (Rajon Rondo draws the foul)
58 - 78
5:52
Rajon Rondo misses free throw 1 of 2
58 - 78
5:52
Boston offensive team rebound
58 - 78
5:52
Rajon Rondo makes free throw 2 of 2
58 - 79
5:35
J.R. Smith makes 9-foot two point shot
60 - 79
5:05
Paul Pierce misses 13-foot jumper
60 - 79
5:03
Kendrick Perkins offensive rebound
60 - 79
5:00
Chris Andersen blocks Kendrick Perkins's layup
60 - 79
4:58
Paul Pierce offensive rebound
60 - 79
4:56
Paul Pierce makes jumper
60 - 81
4:39
Carmelo Anthony makes driving layup
62 - 81
4:39
Kendrick Perkins shooting foul (Carmelo Anthony draws the foul)
62 - 81
4:39
Carmelo Anthony makes free throw 1 of 1
63 - 81
4:24
Kevin Garnett misses 18-foot jumper
63 - 81
4:22
Chauncey Billups defensive rebound
63 - 81
4:16
Arron Afflalo makes 24-foot jumper (Chauncey Billups assists)
65 - 81
3:53
Kevin Garnett makes 9-foot two point shot (Rajon Rondo assists)
65 - 83
3:47
Glen Davis enters the game for Kendrick Perkins
65 - 83
3:46
Rajon Rondo personal foul (Chauncey Billups draws the foul)
65 - 83
3:46
Anthony Carter enters the game for Chauncey Billups
65 - 83
3:40
Carmelo Anthony makes 25-foot three point jumper (J.R. Smith assists)
68 - 83
3:25
Carmelo Anthony blocks Rajon Rondo's layup
68 - 83
3:24
Boston offensive team rebound
68 - 83
3:24
Nate Robinson enters the game for Rajon Rondo
68 - 83
3:16
Ray Allen misses 19-foot jumper
68 - 83
3:15
Anthony Carter defensive rebound
68 - 83
3:03
J.R. Smith misses 11-foot jumper
68 - 83
3:02
Denver offensive team rebound
68 - 83
3:02
Nate Robinson loose ball foul (Chris Andersen draws the foul)
68 - 83
3:02
Chris Andersen misses free throw 1 of 2
68 - 83
3:02
Denver offensive team rebound
68 - 83
3:02
Chris Andersen makes free throw 2 of 2
69 - 83
2:49
Ray Allen makes layup (Kevin Garnett assists)
69 - 85
2:34
Kevin Garnett shooting foul (Carmelo Anthony draws the foul)
69 - 85
2:34
Boston full timeout
69 - 85
2:34
Ty Lawson enters the game for Arron Afflalo
69 - 85
2:34
Rasheed Wallace enters the game for Kevin Garnett
69 - 85
2:34
Carmelo Anthony makes free throw 1 of 2
70 - 85
2:34
Carmelo Anthony makes free throw 2 of 2
71 - 85
2:16
Nate Robinson bad pass (J.R. Smith steals)
71 - 85
2:13
J.R. Smith makes dunk
73 - 85
1:52
Ray Allen misses 22-foot jumper
73 - 85
1:50
Chris Andersen defensive rebound
73 - 85
1:32
Carmelo Anthony makes 16-foot two point shot
75 - 85
1:15
Glen Davis offensive foul (Chris Andersen draws the foul)
75 - 85
1:15
Glen Davis turnover
75 - 85
1:15
Tony Allen enters the game for Glen Davis
75 - 85
1:15
Michael Finley enters the game for Paul Pierce
75 - 85
1:02
Carmelo Anthony misses 25-foot three point jumper
75 - 85
1:01
Chris Andersen offensive rebound
75 - 85
0:58
Rasheed Wallace shooting foul (Carmelo Anthony draws the foul)
75 - 85
0:58
Carmelo Anthony makes free throw 1 of 2
76 - 85
0:58
Carmelo Anthony makes free throw 2 of 2
77 - 85
0:38
Michael Finley makes two point shot (Nate Robinson assists)
77 - 87
0:28
J.R. Smith bad pass
77 - 87
0:04
Nate Robinson misses 25-foot three point jumper
77 - 87
0:02
Chris Andersen defensive rebound
77 - 87
0:00
J.R. Smith makes 29-foot three point jumper (Chris Andersen assists)
80 - 87
0:00
End of the 3rd Quarter
80 - 87

time
TEAM
PLAY
SCORE
12:00
Start of the 4th Quarter
80 - 87
11:42
Nate Robinson makes 26-foot three point jumper (Rajon Rondo assists)
80 - 90
11:30
Ty Lawson bad pass (Rajon Rondo steals)
80 - 90
11:26
Tony Allen makes 2-foot two point shot (Rajon Rondo assists)
80 - 92
11:22
Nate Robinson personal foul (Anthony Carter draws the foul)
80 - 92
11:08
Tony Allen personal foul (Ty Lawson draws the foul)
80 - 92
11:03
Carmelo Anthony makes 17-foot jumper (Anthony Carter assists)
82 - 92
10:45
Nate Robinson misses 24-foot three point jumper
82 - 92
10:45
Rajon Rondo offensive rebound
82 - 92
10:44
Rajon Rondo makes 2-foot two point shot
82 - 94
10:29
Tony Allen personal foul (Carmelo Anthony draws the foul)
82 - 94
10:29
Chauncey Billups enters the game for Anthony Carter
82 - 94
10:29
Nene Hilario enters the game for Chris Andersen
82 - 94
10:22
Tony Allen personal foul (J.R. Smith draws the foul)
82 - 94
10:11
Ty Lawson makes jumper (Carmelo Anthony assists)
84 - 94
10:00
Rasheed Wallace offensive foul (Nene Hilario draws the foul)
84 - 94
10:00
Rasheed Wallace turnover
84 - 94
9:45
Carmelo Anthony misses 20-foot jumper
84 - 94
9:42
Nate Robinson defensive rebound
84 - 94
9:37
Nate Robinson misses 25-foot three point jumper
84 - 94
9:34
Tony Allen offensive rebound
84 - 94
9:33
Nene Hilario blocks Tony Allen's layup
84 - 94
9:30
J.R. Smith defensive rebound
84 - 94
9:26
Rasheed Wallace shooting foul (Nene Hilario draws the foul)
84 - 94
9:26
Nene Hilario misses free throw 1 of 2
84 - 94
9:26
Denver offensive team rebound
84 - 94
9:26
Kevin Garnett enters the game for Rasheed Wallace
84 - 94
9:26
Paul Pierce enters the game for Tony Allen
84 - 94
9:26
Nene Hilario makes free throw 2 of 2
85 - 94
9:15
Rajon Rondo makes driving layup
85 - 96
8:55
Chauncey Billups lost ball (Rajon Rondo steals)
85 - 96
8:47
Paul Pierce makes driving layup
85 - 98
8:30
J.R. Smith makes 17-foot jumper (Chauncey Billups assists)
87 - 98
8:15
Rajon Rondo traveling
87 - 98
8:15
Official timeout
87 - 98
8:15
Joey Graham enters the game for Carmelo Anthony
87 - 98
8:15
Tony Allen enters the game for Michael Finley
87 - 98
8:15
Ray Allen enters the game for Nate Robinson
87 - 98
8:03
J.R. Smith misses layup
87 - 98
8:03
Denver defensive team rebound
87 - 98
7:46
Ray Allen misses 25-foot three point jumper
87 - 98
7:45
Chauncey Billups defensive rebound
87 - 98
7:31
Nene Hilario bad pass (Ray Allen steals)
87 - 98
7:24
J.R. Smith shooting foul (Ray Allen draws the foul)
87 - 98
7:24
J.R. Smith technical foul (1st technical foul)
87 - 98
7:24
Ray Allen makes technical free throw
87 - 99
7:24
Ray Allen makes free throw 1 of 2
87 - 100
7:24
Ray Allen makes free throw 2 of 2
87 - 101
7:16
Ty Lawson bad pass (Paul Pierce steals)
87 - 101
7:13
Paul Pierce offensive foul (J.R. Smith draws the foul)
87 - 101
7:13
Paul Pierce turnover
87 - 101
7:13
Carmelo Anthony enters the game for Ty Lawson
87 - 101
7:01
J.R. Smith misses layup
87 - 101
6:58
Joey Graham offensive rebound
87 - 101
6:58
Joey Graham offensive foul (Kevin Garnett draws the foul)
87 - 101
6:58
Joey Graham turnover
87 - 101
6:46
Paul Pierce makes driving layup
87 - 103
6:46
Joey Graham shooting foul (Paul Pierce draws the foul)
87 - 103
6:46
Paul Pierce makes free throw 1 of 1
87 - 104
6:31
Carmelo Anthony misses 26-foot three point jumper
87 - 104
6:31
Rajon Rondo defensive rebound
87 - 104
6:24
Ray Allen bad pass (Joey Graham steals)
87 - 104
6:18
Carmelo Anthony misses layup
87 - 104
6:18
Kevin Garnett defensive rebound
87 - 104
6:01
Carmelo Anthony personal foul (Rajon Rondo draws the foul)
87 - 104
5:50
Kevin Garnett misses layup
87 - 104
5:50
Chauncey Billups defensive rebound
87 - 104
5:37
Chauncey Billups misses 10-foot two point shot
87 - 104
5:35
Paul Pierce defensive rebound
87 - 104
5:26
Rajon Rondo bad pass (J.R. Smith steals)
87 - 104
5:18
Chauncey Billups misses 23-foot three point jumper
87 - 104
5:16
Ray Allen defensive rebound
87 - 104
4:58
Paul Pierce misses 19-foot jumper
87 - 104
4:56
Chauncey Billups defensive rebound
87 - 104
4:43
Joey Graham makes three point jumper (J.R. Smith assists)
90 - 104
4:28
Nene Hilario blocks Ray Allen's layup
90 - 104
4:28
Boston offensive team rebound
90 - 104
4:28
Boston full timeout
90 - 104
4:28
Arron Afflalo enters the game for Joey Graham
90 - 104
4:18
Ray Allen misses 23-foot three point jumper
90 - 104
4:18
Rajon Rondo offensive rebound
90 - 104
4:05
Arron Afflalo personal foul (Kevin Garnett draws the foul)
90 - 104
3:51
Carmelo Anthony shooting foul (Tony Allen draws the foul)
90 - 104
3:51
Tony Allen makes free throw 1 of 2
90 - 105
3:51
Tony Allen misses free throw 2 of 2
90 - 105
3:51
Nene Hilario defensive rebound
90 - 105
3:41
Kevin Garnett illegal defense foul (4th personal foul)
90 - 105
3:41
Chauncey Billups makes technical free throw
91 - 105
3:29
Carmelo Anthony misses 15-foot jumper
91 - 105
3:28
Nene Hilario offensive rebound
91 - 105
3:27
Nene Hilario makes layup
93 - 105
3:27
Paul Pierce shooting foul (Nene Hilario draws the foul)
93 - 105
3:27
Nene Hilario misses free throw 1 of 1
93 - 105
3:27
Rajon Rondo defensive rebound
93 - 105
3:09
Kevin Garnett misses 4-foot jumper
93 - 105
3:08
Rajon Rondo offensive rebound
93 - 105
3:04
Kevin Garnett makes two point shot (Rajon Rondo assists)
93 - 107
2:47
Carmelo Anthony makes driving layup (Chauncey Billups assists)
95 - 107
2:31
Carmelo Anthony shooting foul (Kevin Garnett draws the foul)
95 - 107
2:31
Denver full timeout
95 - 107
2:31
Kevin Garnett makes free throw 1 of 2
95 - 108
2:31
Kevin Garnett makes free throw 2 of 2
95 - 109
2:12
Arron Afflalo makes 21-foot jumper (Carmelo Anthony assists)
97 - 109
1:47
Kevin Garnett misses 12-foot two point shot
97 - 109
1:46
Tony Allen offensive rebound
97 - 109
1:24
Ray Allen makes 25-foot three point jumper (Rajon Rondo assists)
97 - 112
1:15
J.R. Smith misses 25-foot three point jumper
97 - 112
1:14
Kevin Garnett defensive rebound
97 - 112
0:54
Chauncey Billups personal foul (Rajon Rondo draws the foul)
97 - 112
0:54
Joey Graham enters the game for Carmelo Anthony
97 - 112
0:54
Ty Lawson enters the game for Chauncey Billups
97 - 112
0:54
Glen Davis enters the game for Kevin Garnett
97 - 112
0:54
Johan Petro enters the game for Nene Hilario
97 - 112
0:54
Shelden Williams enters the game for Paul Pierce
97 - 112
0:54
Nate Robinson enters the game for Ray Allen
97 - 112
0:54
Rajon Rondo misses free throw 1 of 2
97 - 112
0:54
Boston offensive team rebound
97 - 112
0:54
Rajon Rondo makes free throw 2 of 2
97 - 113
0:51
Ty Lawson bad pass
97 - 113
0:30
Shelden Williams misses 17-foot jumper
97 - 113
0:29
J.R. Smith defensive rebound
97 - 113
0:22
Glen Davis personal foul (J.R. Smith draws the foul)
97 - 113
0:22
J.R. Smith makes free throw 1 of 2
98 - 113
0:22
J.R. Smith makes free throw 2 of 2
99 - 113
0:00
End of the 4th Quarter
99 - 113
0:00
End Game
99 - 113
Good defense leads to great offense as LeBron James and Kyrie Irving run the give-and-go to perfection, and the play ends with a massive dunk by James against the Hawks in the third quarter.

LeBron James drills a fairly uncontested 3-pointer, which causes LeBron to look into the camera and shrug in surprise at the lack of defense by the Hawks.

Pacers president Larry Bird told The Indianapolis Star that he isn't sure what's going to happen with coach Frank Vogel, following the team's playoff exit, and said there is no decision timeline.
Regular Season Series
Series tied 1-1
2015-2016 Northwest Standings
2015-2016 Atlantic Standings