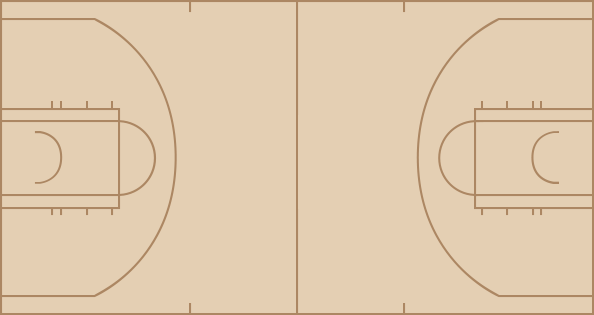 Suns
time
TEAM
PLAY
SCORE
12:00
Start of the 1st Quarter
0 - 0
12:00
Jumpball: Amare Stoudemire vs. Brad Miller (Steve Nash gains possession)
0 - 0
11:45
Jason Richardson misses 18-foot jumper
0 - 0
11:45
Brad Miller defensive rebound
0 - 0
11:40
Kirk Hinrich misses jumper
0 - 0
11:38
Grant Hill defensive rebound
0 - 0
11:29
Jason Richardson makes two point shot (Steve Nash assists)
2 - 0
11:10
Brad Miller makes 20-foot jumper (Derrick Rose assists)
2 - 2
10:53
Steve Nash misses 22-foot jumper
2 - 2
10:52
Brad Miller defensive rebound
2 - 2
10:47
James Johnson misses two point shot
2 - 2
10:45
Amare Stoudemire defensive rebound
2 - 2
10:34
Steve Nash bad pass (Brad Miller steals)
2 - 2
10:30
Kirk Hinrich bad pass (Jason Richardson steals)
2 - 2
10:23
Jarron Collins misses layup
2 - 2
10:22
Taj Gibson defensive rebound
2 - 2
10:08
Taj Gibson misses 15-foot jumper
2 - 2
10:07
Jarron Collins defensive rebound
2 - 2
10:03
Jason Richardson misses 25-foot three point jumper
2 - 2
10:02
Amare Stoudemire offensive rebound
2 - 2
9:52
Amare Stoudemire makes 7-foot jumper
4 - 2
9:34
James Johnson makes 19-foot jumper (Derrick Rose assists)
4 - 4
9:22
Amare Stoudemire makes 22-foot jumper (Steve Nash assists)
6 - 4
9:08
Derrick Rose makes 25-foot three point jumper (Kirk Hinrich assists)
6 - 7
8:49
Grant Hill makes 11-foot two point shot
8 - 7
8:41
James Johnson misses layup
8 - 7
8:41
Steve Nash defensive rebound
8 - 7
8:22
Jason Richardson offensive foul (Kirk Hinrich draws the foul)
8 - 7
8:22
Jason Richardson turnover
8 - 7
8:17
Brad Miller offensive foul (Jarron Collins draws the foul)
8 - 7
8:17
Brad Miller turnover
8 - 7
7:58
Taj Gibson shooting foul (Amare Stoudemire draws the foul)
8 - 7
7:58
Amare Stoudemire makes free throw 1 of 2
9 - 7
7:58
Amare Stoudemire makes free throw 2 of 2
10 - 7
7:43
Derrick Rose makes 19-foot two point shot (Brad Miller assists)
10 - 9
7:24
Amare Stoudemire misses 13-foot jumper
10 - 9
7:24
Taj Gibson defensive rebound
10 - 9
7:16
Jarron Collins personal foul (Brad Miller draws the foul)
10 - 9
7:07
James Johnson misses 7-foot jumper
10 - 9
7:07
Chicago defensive team rebound
10 - 9
7:07
James Johnson loose ball foul (Jarron Collins draws the foul)
10 - 9
6:56
Steve Nash lost ball (Derrick Rose steals)
10 - 9
6:47
Derrick Rose makes 9-foot two point shot (James Johnson assists)
10 - 11
6:37
Steve Nash makes jumper
12 - 11
6:24
James Johnson makes 16-foot jumper (Derrick Rose assists)
12 - 13
6:13
Taj Gibson blocks Jarron Collins's 8-foot jumper
12 - 13
6:11
Phoenix defensive team rebound
12 - 13
6:01
Brad Miller traveling
12 - 13
5:52
Brad Miller shooting foul (Jason Richardson draws the foul)
12 - 13
5:52
Chicago full timeout
12 - 13
5:52
Joakim Noah enters the game for Brad Miller
12 - 13
5:52
Jason Richardson makes free throw 1 of 2
13 - 13
5:52
Jason Richardson makes free throw 2 of 2
14 - 13
5:31
Joakim Noah misses 9-foot hook shot
14 - 13
5:30
Joakim Noah offensive rebound
14 - 13
5:30
Joakim Noah misses tip shot
14 - 13
5:28
Grant Hill defensive rebound
14 - 13
5:11
Amare Stoudemire makes 17-foot jumper (Grant Hill assists)
16 - 13
5:00
Taj Gibson makes layup (Joakim Noah assists)
16 - 15
4:48
Grant Hill makes 23-foot three point jumper (Steve Nash assists)
19 - 15
4:30
Derrick Rose misses three point jumper
19 - 15
4:28
Taj Gibson offensive rebound
19 - 15
4:28
Taj Gibson misses tip shot
19 - 15
4:28
Joakim Noah offensive rebound
19 - 17
4:28
Joakim Noah makes tip shot
19 - 17
4:09
Jason Richardson makes layup (Grant Hill assists)
21 - 17
3:44
James Johnson bad pass (Amare Stoudemire steals)
21 - 17
3:40
Amare Stoudemire makes slam dunk (Grant Hill assists)
23 - 17
3:40
James Johnson shooting foul (Amare Stoudemire draws the foul)
23 - 17
3:40
Jared Dudley enters the game for Grant Hill
23 - 17
3:40
Channing Frye enters the game for Jarron Collins
23 - 17
3:40
Ronald Murray enters the game for James Johnson
23 - 17
3:40
Amare Stoudemire makes free throw 1 of 1
24 - 17
3:31
Kirk Hinrich traveling
24 - 17
3:19
Steve Nash misses layup
24 - 17
3:18
Steve Nash offensive rebound
24 - 17
3:11
Jason Richardson makes 25-foot three point jumper (Steve Nash assists)
27 - 17
2:53
Taj Gibson misses 11-foot jumper
27 - 17
2:49
Channing Frye defensive rebound
27 - 17
2:44
Jason Richardson makes two point shot (Steve Nash assists)
29 - 17
2:33
Chicago 20 Sec. timeout
29 - 17
2:33
Phoenix full timeout
29 - 17
2:21
Joakim Noah makes dunk (Ronald Murray assists)
29 - 19
1:57
Amare Stoudemire misses 10-foot jumper
29 - 19
1:55
Kirk Hinrich defensive rebound
29 - 19
1:51
Taj Gibson makes driving layup (Kirk Hinrich assists)
29 - 21
1:35
Jason Richardson misses three point jumper
29 - 21
1:34
Amare Stoudemire offensive rebound
29 - 21
1:31
Joakim Noah shooting foul (Amare Stoudemire draws the foul)
29 - 21
1:31
Amare Stoudemire makes free throw 1 of 2
30 - 21
1:31
Goran Dragic enters the game for Steve Nash
30 - 21
1:31
Jannero Pargo enters the game for Kirk Hinrich
30 - 21
1:31
Amare Stoudemire makes free throw 2 of 2
31 - 21
1:14
Taj Gibson makes layup (Ronald Murray assists)
31 - 23
0:54
Channing Frye misses 26-foot three point jumper
31 - 23
0:53
Joakim Noah defensive rebound
31 - 23
0:49
Channing Frye shooting foul (Taj Gibson draws the foul)
31 - 23
0:49
Taj Gibson makes free throw 1 of 2
31 - 24
0:49
Taj Gibson makes free throw 2 of 2
31 - 25
0:30
Channing Frye makes 19-foot jumper (Jason Richardson assists)
33 - 25
0:09
Taj Gibson misses 19-foot jumper
33 - 25
0:08
Channing Frye defensive rebound
33 - 25
0:03
Channing Frye makes 26-foot three point jumper (Goran Dragic assists)
36 - 25
0:00
End of the 1st Quarter
36 - 25

time
TEAM
PLAY
SCORE
12:00
Start of the 2nd Quarter
36 - 25
11:42
Joakim Noah makes dunk (Taj Gibson assists)
36 - 27
11:21
Goran Dragic misses 14-foot jumper
36 - 27
11:19
Derrick Rose defensive rebound
36 - 27
11:17
Joakim Noah makes layup (Derrick Rose assists)
36 - 29
11:07
Goran Dragic lost ball (Ronald Murray steals)
36 - 29
10:52
Hakim Warrick enters the game for Taj Gibson
36 - 29
10:52
Jumpball: Channing Frye vs. Joakim Noah (Hakim Warrick gains possession)
36 - 29
10:44
Jannero Pargo misses 24-foot three point jumper
36 - 29
10:42
Leandro Barbosa defensive rebound
36 - 29
10:26
Jared Dudley misses three point jumper
36 - 29
10:25
Joakim Noah defensive rebound
36 - 29
10:15
Jannero Pargo makes 25-foot three point jumper (Ronald Murray assists)
36 - 32
10:03
Leandro Barbosa makes 21-foot jumper
38 - 32
9:56
Ronald Murray makes 26-foot three point jumper (Derrick Rose assists)
38 - 35
9:48
Channing Frye offensive foul (Derrick Rose draws the foul)
38 - 35
9:48
Channing Frye turnover
38 - 35
9:48
Brad Miller enters the game for Joakim Noah
38 - 35
9:48
Kirk Hinrich enters the game for Derrick Rose
38 - 35
9:37
Jannero Pargo makes 23-foot three point jumper (Hakim Warrick assists)
38 - 38
9:32
Leandro Barbosa turnover
38 - 38
9:18
Jannero Pargo misses jumper
38 - 38
9:18
Goran Dragic defensive rebound
38 - 38
9:11
Leandro Barbosa makes 24-foot three point jumper (Goran Dragic assists)
41 - 38
8:45
Jannero Pargo misses 8-foot jumper
41 - 38
8:44
Louis Amundson defensive rebound
41 - 38
8:36
Channing Frye makes 25-foot three point jumper (Goran Dragic assists)
44 - 38
8:22
Ronald Murray makes 18-foot jumper (Kirk Hinrich assists)
44 - 40
8:08
Goran Dragic lost ball (Jannero Pargo steals)
44 - 40
7:56
Louis Amundson shooting foul (Hakim Warrick draws the foul)
44 - 40
7:56
Hakim Warrick makes free throw 1 of 2
44 - 41
7:56
Hakim Warrick makes free throw 2 of 2
44 - 42
7:56
full timeout
49 - 44
7:43
Goran Dragic makes 25-foot three point jumper
47 - 42
7:28
Louis Amundson personal foul (Hakim Warrick draws the foul)
47 - 42
7:28
Grant Hill enters the game for Jared Dudley
47 - 42
7:18
Brad Miller misses 25-foot three point jumper
47 - 42
7:18
Grant Hill defensive rebound
47 - 42
7:07
Louis Amundson misses layup
47 - 42
7:07
Brad Miller defensive rebound
47 - 42
6:54
Hakim Warrick misses 16-foot jumper
47 - 42
6:54
Goran Dragic defensive rebound
47 - 42
6:43
Goran Dragic misses 25-foot three point jumper
47 - 42
6:43
Ronald Murray defensive rebound
47 - 42
6:31
Leandro Barbosa shooting foul (Hakim Warrick draws the foul)
47 - 42
6:31
Hakim Warrick makes free throw 1 of 2
47 - 43
6:31
Steve Nash enters the game for Goran Dragic
47 - 43
6:31
Amare Stoudemire enters the game for Channing Frye
47 - 43
6:31
Derrick Rose enters the game for Jannero Pargo
47 - 43
6:31
Hakim Warrick misses free throw 2 of 2
47 - 43
6:28
Amare Stoudemire defensive rebound
47 - 43
6:09
Leandro Barbosa misses 20-foot jumper
47 - 43
6:07
Ronald Murray defensive rebound
47 - 43
6:01
Steve Nash shooting foul (Ronald Murray draws the foul)
47 - 43
6:01
Ronald Murray makes free throw 1 of 2
47 - 44
6:01
Jason Richardson enters the game for Leandro Barbosa
47 - 44
6:01
Ronald Murray misses free throw 2 of 2
47 - 44
6:00
Grant Hill defensive rebound
47 - 44
5:37
Grant Hill misses 25-foot three point jumper
47 - 44
5:35
Louis Amundson offensive rebound
49 - 44
5:35
Louis Amundson makes two point shot
49 - 44
5:15
Ronald Murray misses 26-foot three point jumper
49 - 44
5:15
Hakim Warrick offensive rebound
49 - 44
5:15
Louis Amundson personal foul (Hakim Warrick draws the foul)
49 - 44
5:15
Chicago full timeout
49 - 44
5:15
Jarron Collins enters the game for Louis Amundson
49 - 44
5:15
Hakim Warrick makes free throw 1 of 2
49 - 45
5:15
Hakim Warrick makes free throw 2 of 2
49 - 46
5:01
Jason Richardson misses layup
49 - 46
5:01
Derrick Rose defensive rebound
49 - 46
4:54
Ronald Murray makes 23-foot three point jumper (Kirk Hinrich assists)
49 - 49
4:37
Ronald Murray shooting foul (Grant Hill draws the foul)
49 - 49
4:37
Joakim Noah enters the game for Brad Miller
49 - 49
4:37
Taj Gibson enters the game for Hakim Warrick
49 - 49
4:37
Grant Hill makes free throw 1 of 2
50 - 49
4:37
Grant Hill misses free throw 2 of 2
50 - 49
4:37
Phoenix offensive team rebound
50 - 49
4:33
Steve Nash misses 22-foot jumper
50 - 49
4:31
Joakim Noah defensive rebound
50 - 49
4:22
Ronald Murray makes 24-foot three pointer
50 - 52
3:55
Jason Richardson makes 26-foot three point jumper (Steve Nash assists)
53 - 52
3:47
Chicago full timeout
53 - 52
3:47
Jannero Pargo enters the game for Kirk Hinrich
53 - 52
3:31
Derrick Rose misses 18-foot jumper
53 - 52
3:31
Grant Hill defensive rebound
53 - 52
3:12
Amare Stoudemire misses layup
53 - 52
3:10
Amare Stoudemire offensive rebound
53 - 52
3:00
Steve Nash misses jumper
53 - 52
2:59
Derrick Rose defensive rebound
53 - 52
2:55
Ronald Murray makes 15-foot jumper (Derrick Rose assists)
53 - 54
2:40
Steve Nash makes two point shot (Amare Stoudemire assists)
55 - 54
2:21
Jannero Pargo misses 25-foot three point jumper
55 - 54
2:21
Jason Richardson defensive rebound
55 - 54
2:05
Amare Stoudemire misses 10-foot jumper
55 - 54
2:04
Ronald Murray defensive rebound
55 - 54
2:00
Joakim Noah makes dunk (Derrick Rose assists)
55 - 56
1:35
Steve Nash misses 15-foot jumper
55 - 56
1:35
Phoenix defensive team rebound
55 - 56
1:15
Jarron Collins personal foul (Derrick Rose draws the foul)
55 - 56
1:15
Derrick Rose makes free throw 1 of 2
55 - 57
1:15
Derrick Rose makes free throw 2 of 2
55 - 58
0:59
Jannero Pargo personal foul (Steve Nash draws the foul)
55 - 58
0:46
Steve Nash misses 25-foot three point jumper
55 - 58
0:46
Phoenix offensive team rebound
55 - 58
0:46
Joakim Noah loose ball foul (Jarron Collins draws the foul)
55 - 58
0:46
Jarron Collins misses free throw 1 of 2
55 - 58
0:46
Phoenix offensive team rebound
55 - 58
0:46
Chris Richard enters the game for Joakim Noah
55 - 58
0:46
Jarron Collins misses free throw 2 of 2
55 - 58
0:43
Taj Gibson defensive rebound
55 - 58
0:29
Derrick Rose misses 18-foot jumper
55 - 58
0:27
Taj Gibson offensive rebound
55 - 58
0:10
Derrick Rose makes 9-foot two point shot
55 - 60
0:01
Chris Richard flagrant foul type 1 (Jarron Collins draws the foul)
55 - 60
0:01
Jarron Collins makes flagrant free throw 2 of 2
56 - 60
0:01
Jarron Collins makes free throw
57 - 60
0:01
Phoenix 20 Sec. timeout
57 - 60
0:01
Channing Frye enters the game for Jarron Collins
57 - 60
0:01
Jason Richardson misses 25-foot three point jumper
57 - 60
0:00
Phoenix offensive team rebound
57 - 60
0:00
End of the 2nd Quarter
57 - 60

time
TEAM
PLAY
SCORE
12:00
Start of the 3rd Quarter
57 - 60
12:00
Joakim Noah technical foul (1st technical foul)
57 - 60
12:00
Steve Nash makes technical free throw
58 - 60
11:36
Brad Miller makes 6-foot two point shot
58 - 62
11:11
Amare Stoudemire misses 19-foot jumper
58 - 62
11:11
Jarron Collins offensive rebound
58 - 62
11:02
Steve Nash misses 21-foot jumper
58 - 62
11:00
Jason Richardson offensive rebound
60 - 62
11:00
Jason Richardson makes two point shot
60 - 62
10:53
James Johnson misses layup
60 - 62
10:52
James Johnson offensive rebound
60 - 62
10:52
James Johnson misses layup
60 - 62
10:52
Taj Gibson offensive rebound
60 - 62
10:52
Jason Richardson shooting foul (Taj Gibson draws the foul)
60 - 62
10:52
Taj Gibson makes free throw 1 of 2
60 - 63
10:52
Taj Gibson makes free throw 2 of 2
60 - 64
10:32
Steve Nash makes 27-foot three point jumper (Jason Richardson assists)
63 - 64
10:22
Jarron Collins shooting foul (Brad Miller draws the foul)
63 - 64
10:22
Brad Miller makes free throw 1 of 2
63 - 65
10:22
Brad Miller makes free throw 2 of 2
63 - 66
10:15
Jannero Pargo personal foul (Steve Nash draws the foul)
63 - 66
10:07
Brad Miller shooting foul (Jarron Collins draws the foul)
63 - 66
10:07
Jarron Collins makes free throw 1 of 2
64 - 66
10:07
Jarron Collins misses free throw 2 of 2
64 - 66
10:06
Brad Miller defensive rebound
64 - 66
9:47
Taj Gibson makes 8-foot jumper (James Johnson assists)
64 - 68
9:33
Jason Richardson misses 26-foot three point jumper
64 - 68
9:30
Amare Stoudemire offensive rebound
64 - 68
9:19
Jason Richardson makes driving layup
66 - 68
9:03
Jason Richardson shooting foul (James Johnson draws the foul)
66 - 68
9:03
James Johnson makes free throw 1 of 2
66 - 69
9:03
James Johnson makes free throw 2 of 2
66 - 70
8:48
Taj Gibson blocks Amare Stoudemire's layup
66 - 70
8:47
Jarron Collins offensive rebound
66 - 70
8:45
James Johnson shooting foul (Amare Stoudemire draws the foul)
66 - 70
8:45
Amare Stoudemire misses free throw 1 of 2
66 - 70
8:45
Phoenix offensive team rebound
66 - 70
8:45
Amare Stoudemire makes free throw 2 of 2
67 - 70
8:27
Derrick Rose misses 19-foot jumper
67 - 70
8:26
Grant Hill defensive rebound
67 - 70
8:17
Steve Nash makes driving layup
69 - 70
8:07
James Johnson misses 23-foot three point jumper
69 - 70
8:06
Jason Richardson defensive rebound
69 - 70
8:02
Brad Miller shooting foul (Jason Richardson draws the foul)
69 - 70
8:02
Jason Richardson makes free throw 1 of 2
70 - 70
8:02
Joakim Noah enters the game for Brad Miller
70 - 70
8:02
Ronald Murray enters the game for James Johnson
70 - 70
8:02
Channing Frye enters the game for Jarron Collins
70 - 70
8:02
Jason Richardson misses free throw 2 of 2
70 - 70
8:02
Phoenix defensive team rebound
70 - 70
8:02
Amare Stoudemire loose ball foul (Taj Gibson draws the foul)
70 - 70
7:45
Taj Gibson misses driving layup
70 - 70
7:43
Taj Gibson offensive rebound
70 - 70
7:43
Taj Gibson misses tip shot
70 - 70
7:41
Grant Hill defensive rebound
70 - 70
7:41
Grant Hill turnover
70 - 70
7:30
Jannero Pargo makes 21-foot jumper (Derrick Rose assists)
70 - 72
7:13
Grant Hill makes two point shot
72 - 72
6:54
Jannero Pargo makes 17-foot jumper
72 - 74
6:39
Steve Nash misses 19-foot two point shot
72 - 74
6:39
Amare Stoudemire offensive rebound
72 - 74
6:39
Joakim Noah personal foul (Amare Stoudemire draws the foul)
72 - 74
6:39
Amare Stoudemire makes free throw 1 of 2
73 - 74
6:39
Amare Stoudemire makes free throw 2 of 2
74 - 74
6:13
Jannero Pargo misses 26-foot three point jumper
74 - 74
6:13
Ronald Murray offensive rebound
74 - 74
5:54
Joakim Noah misses 6-foot running jumper
74 - 74
5:52
Channing Frye defensive rebound
74 - 74
5:39
Jason Richardson makes 26-foot three point jumper (Channing Frye assists)
77 - 74
5:16
Jannero Pargo misses three point jumper
77 - 74
5:15
Channing Frye defensive rebound
77 - 74
5:07
Steve Nash misses 21-foot jumper
77 - 74
5:07
Phoenix defensive team rebound
77 - 74
5:07
Chicago full timeout
77 - 74
5:07
Leandro Barbosa enters the game for Jason Richardson
77 - 74
4:50
Ronald Murray makes 9-foot two point shot
77 - 76
4:50
Channing Frye illegal defense
77 - 76
4:35
Steve Nash bad pass (Taj Gibson steals)
77 - 76
4:26
Taj Gibson makes 17-foot jumper (Derrick Rose assists)
77 - 78
4:03
Grant Hill misses jumper
77 - 78
4:01
Derrick Rose defensive rebound
77 - 78
3:45
Derrick Rose misses 26-foot three point jumper
77 - 78
3:44
Steve Nash defensive rebound
77 - 78
3:31
Taj Gibson shooting foul (Amare Stoudemire draws the foul)
77 - 78
3:31
Amare Stoudemire misses free throw 1 of 2
77 - 78
3:31
Phoenix offensive team rebound
77 - 78
3:31
Amare Stoudemire makes free throw 2 of 2
78 - 78
3:10
Taj Gibson misses layup
78 - 78
3:09
Joakim Noah offensive rebound
78 - 78
3:09
Joakim Noah misses tip shot
78 - 78
3:08
Grant Hill defensive rebound
78 - 78
3:01
Taj Gibson shooting foul (Grant Hill draws the foul)
78 - 78
3:01
Grant Hill misses free throw 1 of 2
78 - 78
3:01
Phoenix offensive team rebound
78 - 78
3:01
Grant Hill misses free throw 2 of 2
78 - 78
2:59
Taj Gibson defensive rebound
78 - 78
2:42
Jannero Pargo makes 19-foot jumper (Joakim Noah assists)
78 - 80
2:31
Phoenix full timeout
78 - 80
2:31
Jared Dudley enters the game for Grant Hill
78 - 80
2:21
Steve Nash misses 20-foot jumper
78 - 80
2:20
Joakim Noah defensive rebound
78 - 80
2:09
Jared Dudley personal foul (Joakim Noah draws the foul)
78 - 80
2:09
Joakim Noah makes free throw 1 of 2
78 - 81
2:09
Joakim Noah makes free throw 2 of 2
78 - 82
1:57
Channing Frye misses 27-foot three point jumper
78 - 82
1:55
Joakim Noah defensive rebound
78 - 82
1:52
Derrick Rose makes driving layup
78 - 84
1:52
Channing Frye shooting foul (Derrick Rose draws the foul)
78 - 84
1:52
Derrick Rose misses free throw 1 of 1
78 - 84
1:50
Channing Frye defensive rebound
78 - 84
1:31
Steve Nash makes 25-foot three point jumper
81 - 84
1:07
Derrick Rose misses 18-foot jumper
81 - 84
1:07
Amare Stoudemire defensive rebound
81 - 84
0:59
Leandro Barbosa misses 22-foot jumper
81 - 84
0:58
Taj Gibson defensive rebound
81 - 84
0:49
Jannero Pargo bad pass
81 - 84
0:37
Steve Nash misses layup
81 - 84
0:36
Taj Gibson defensive rebound
81 - 84
0:27
Derrick Rose misses layup
81 - 84
0:25
Steve Nash defensive rebound
81 - 84
0:18
Leandro Barbosa misses 24-foot three point jumper
81 - 84
0:17
Ronald Murray defensive rebound
81 - 84
0:00
End of the 3rd Quarter
81 - 84

time
TEAM
PLAY
SCORE
12:00
Start of the 4th Quarter
81 - 84
11:41
Goran Dragic misses 18-foot jumper
81 - 84
11:41
Ronald Murray defensive rebound
81 - 84
11:33
Ronald Murray misses layup
81 - 84
11:32
Derrick Rose offensive rebound
81 - 84
11:23
Ronald Murray misses 25-foot three point jumper
81 - 84
11:22
Chicago defensive team rebound
81 - 84
11:06
Jumpball: Leandro Barbosa vs. Acie Law (Chicago gains possession)
81 - 84
11:06
Leandro Barbosa lost ball (Acie Law steals)
81 - 84
10:52
Ronald Murray makes 26-foot three point jumper (Derrick Rose assists)
81 - 87
10:26
Channing Frye misses 24-foot three point jumper
81 - 87
10:26
Hakim Warrick defensive rebound
81 - 87
10:18
Ronald Murray lost ball (Leandro Barbosa steals)
81 - 87
10:08
Jared Dudley makes 24-foot three point jumper (Goran Dragic assists)
84 - 87
9:56
Channing Frye personal foul (Derrick Rose draws the foul)
84 - 87
9:56
Jason Richardson enters the game for Leandro Barbosa
84 - 87
9:56
Amare Stoudemire enters the game for Channing Frye
84 - 87
9:56
Derrick Rose makes free throw 1 of 2
84 - 88
9:56
Derrick Rose makes free throw 2 of 2
84 - 89
9:32
Jason Richardson makes 22-foot jumper
86 - 89
9:04
Taj Gibson misses layup
86 - 89
9:03
Hakim Warrick offensive rebound
86 - 89
9:03
Hakim Warrick misses tip shot
86 - 89
9:02
Jared Dudley defensive rebound
86 - 89
8:51
Jason Richardson misses 25-foot three point jumper
86 - 89
8:51
Phoenix defensive team rebound
86 - 89
8:51
full timeout
86 - 89
8:51
Brad Miller enters the game for Taj Gibson
86 - 89
8:51
James Johnson enters the game for Derrick Rose
86 - 89
8:36
Hakim Warrick bad pass (Goran Dragic steals)
86 - 89
8:23
Goran Dragic misses 21-foot jumper
86 - 89
8:22
Amare Stoudemire offensive rebound
86 - 89
8:18
Jared Dudley makes 25-foot three point jumper (Amare Stoudemire assists)
89 - 89
7:54
Ronald Murray makes driving layup
89 - 91
7:31
Jason Richardson lost ball (Brad Miller steals)
89 - 91
7:18
Louis Amundson shooting foul (Hakim Warrick draws the foul)
89 - 91
7:18
Steve Nash enters the game for Goran Dragic
89 - 91
7:18
Hakim Warrick misses free throw 1 of 2
89 - 91
7:18
Chicago offensive team rebound
89 - 91
7:18
Jannero Pargo enters the game for Acie Law
89 - 91
7:18
Hakim Warrick makes free throw 2 of 2
89 - 92
7:07
Amare Stoudemire makes layup
91 - 92
7:07
James Johnson shooting foul (Amare Stoudemire draws the foul)
91 - 92
7:07
Joakim Noah enters the game for Hakim Warrick
91 - 92
7:07
Amare Stoudemire misses free throw 1 of 1
91 - 92
7:05
Joakim Noah defensive rebound
91 - 92
6:48
James Johnson bad pass (Steve Nash steals)
91 - 92
6:41
Steve Nash misses 22-foot jumper
91 - 92
6:41
Amare Stoudemire offensive rebound
91 - 92
6:39
Joakim Noah blocks Amare Stoudemire's layup
91 - 92
6:37
Phoenix offensive team rebound
91 - 92
6:37
Derrick Rose enters the game for James Johnson
91 - 92
6:35
Jason Richardson misses 16-foot two point shot
91 - 92
6:33
Joakim Noah defensive rebound
91 - 92
6:28
Ronald Murray makes layup (Jannero Pargo assists)
91 - 94
6:28
Louis Amundson illegal defense
91 - 94
6:13
Joakim Noah blocks Amare Stoudemire's layup
91 - 94
6:13
Ronald Murray defensive rebound
91 - 94
6:11
Jason Richardson personal foul (Ronald Murray draws the foul)
91 - 94
6:03
Derrick Rose turnover
91 - 94
5:39
Amare Stoudemire misses 19-foot two point shot
91 - 94
5:39
Ronald Murray defensive rebound
91 - 94
5:37
Chicago full timeout
91 - 94
5:37
Grant Hill enters the game for Jared Dudley
91 - 94
5:37
Channing Frye enters the game for Louis Amundson
91 - 94
5:26
Jumpball: Jason Richardson vs. Jannero Pargo (Steve Nash gains possession)
91 - 94
5:26
Brad Miller lost ball (Steve Nash steals)
91 - 94
5:09
Amare Stoudemire makes driving layup (Steve Nash assists)
93 - 94
4:50
Brad Miller makes three point jumper (Ronald Murray assists)
93 - 97
4:28
Steve Nash makes driving layup
95 - 97
4:07
Jason Richardson defensive rebound
95 - 97
4:07
Brad Miller misses 24-foot three point jumper
95 - 97
3:56
Jannero Pargo personal foul (Steve Nash draws the foul)
95 - 97
3:41
Channing Frye misses 25-foot three point jumper
95 - 97
3:41
Phoenix defensive team rebound
95 - 97
3:15
Jannero Pargo misses 20-foot jumper
95 - 97
3:15
Jason Richardson defensive rebound
95 - 97
3:00
Jason Richardson makes 26-foot three point jumper (Steve Nash assists)
98 - 97
2:47
Derrick Rose makes 7-foot two point shot
98 - 99
2:41
Phoenix full timeout
98 - 99
2:23
Jason Richardson misses 14-foot two point shot
98 - 99
2:21
Ronald Murray defensive rebound
98 - 99
2:09
Derrick Rose misses 9-foot two point shot
98 - 99
2:06
Amare Stoudemire defensive rebound
98 - 99
1:54
Steve Nash makes 13-foot two point shot
100 - 99
1:39
Jannero Pargo misses 18-foot jumper
100 - 99
1:39
Brad Miller offensive rebound
100 - 99
1:39
Amare Stoudemire personal foul (Brad Miller draws the foul)
100 - 99
1:36
Grant Hill shooting foul (Derrick Rose draws the foul)
100 - 99
1:36
Derrick Rose makes free throw 1 of 2
100 - 100
1:36
Derrick Rose makes free throw 2 of 2
100 - 101
1:14
Steve Nash makes driving layup
102 - 101
1:14
Brad Miller shooting foul (Steve Nash draws the foul)
102 - 101
1:14
Steve Nash makes free throw 1 of 1
103 - 101
0:59
Amare Stoudemire shooting foul (Derrick Rose draws the foul)
103 - 101
0:59
Derrick Rose makes free throw 1 of 2
103 - 102
0:59
Taj Gibson enters the game for Brad Miller
103 - 102
0:59
Derrick Rose makes free throw 2 of 2
103 - 103
0:41
Channing Frye makes 25-foot three point jumper (Steve Nash assists)
106 - 103
0:41
Chicago full timeout
106 - 103
0:41
Brad Miller enters the game for Taj Gibson
106 - 103
0:37
Derrick Rose makes driving layup
106 - 105
0:23
Grant Hill makes dunk (Steve Nash assists)
108 - 105
0:23
Chicago 20 Sec. timeout
108 - 105
0:14
Derrick Rose misses 25-foot three point jumper
108 - 105
0:13
Chicago defensive team rebound
108 - 105
0:13
Brad Miller personal foul (Steve Nash draws the foul)
108 - 105
0:13
Jared Dudley enters the game for Amare Stoudemire
108 - 105
0:13
James Johnson enters the game for Brad Miller
108 - 105
0:13
Steve Nash makes free throw 1 of 2
109 - 105
0:13
Steve Nash makes free throw 2 of 2
110 - 105
0:03
Jannero Pargo misses 24-foot three point jumper
110 - 105
0:03
Channing Frye defensive rebound
110 - 105
0:03
Joakim Noah personal foul (Channing Frye draws the foul)
110 - 105
0:03
Goran Dragic enters the game for Steve Nash
110 - 105
0:03
Channing Frye misses free throw 1 of 2
110 - 105
0:03
Phoenix offensive team rebound
110 - 105
0:03
Channing Frye makes free throw 2 of 2
111 - 105
0:01
Jannero Pargo misses 22-foot jumper
111 - 105
0:00
Jason Richardson defensive rebound
111 - 105
0:00
End of the 4th Quarter
111 - 105
0:00
End Game
111 - 105
Evan Turner has at least six teams interested in signing him, including his hometown team, the Chicago Bulls.

Tom Penn explains how the Heat could still sign both Kevin Durant and Dwyane Wade even after the team reached a deal with Hassan Whiteside.

The Wizards and Bradley Beal have come to terms on a deal, sources told ESPN. Earlier Friday, ESPN's Marc Stein reported they were near an agreement on a maximum five-year contract.
Regular Season Series
Series tied 1-1
2015-2016 Pacific Standings