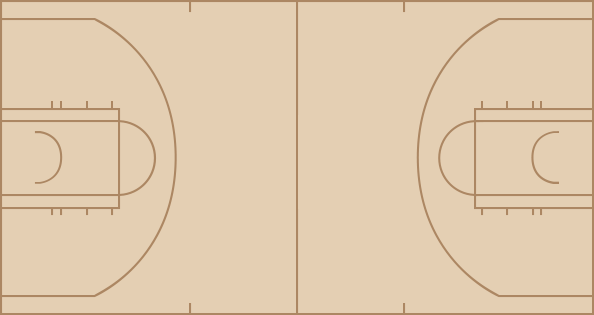 Thunder
time
TEAM
PLAY
SCORE
12:00
Start of the 1st Quarter
0 - 0
12:00
Jumpball: Jeff Green vs. Erick Dampier (Jason Kidd gains possession)
0 - 0
11:33
Dirk Nowitzki misses 16-foot jumper
0 - 0
11:33
Nenad Krstic defensive rebound
0 - 0
11:22
Jeff Green makes 6-foot two point shot (Russell Westbrook assists)
2 - 0
11:22
Erick Dampier shooting foul (Jeff Green draws the foul)
2 - 0
11:22
Jeff Green makes free throw 1 of 1
3 - 0
11:04
Nenad Krstic shooting foul (Caron Butler draws the foul)
3 - 0
11:04
Caron Butler makes free throw 1 of 2
3 - 1
11:04
Caron Butler makes free throw 2 of 2
3 - 2
10:52
Kevin Durant makes 21-foot jumper (Thabo Sefolosha assists)
5 - 2
10:33
Shawn Marion makes 6-foot two point shot
5 - 4
10:17
Kevin Durant misses 17-foot jumper
5 - 4
10:15
Thabo Sefolosha offensive rebound
5 - 4
10:04
Russell Westbrook misses 18-foot jumper
5 - 4
10:03
Erick Dampier defensive rebound
5 - 4
9:53
Dirk Nowitzki makes 17-foot jumper (Jason Kidd assists)
5 - 6
9:41
Nenad Krstic misses 18-foot jumper
5 - 6
9:41
Dirk Nowitzki defensive rebound
5 - 6
9:34
Erick Dampier makes 5-foot two point shot (Jason Kidd assists)
5 - 8
9:15
Jeff Green makes jumper (Kevin Durant assists)
7 - 8
9:02
Dirk Nowitzki makes slam dunk (Caron Butler assists)
7 - 10
8:52
Shawn Marion personal foul (Kevin Durant draws the foul)
7 - 10
8:45
Kevin Durant lost ball (Erick Dampier steals)
7 - 10
8:38
Dirk Nowitzki makes 19-foot jumper (Shawn Marion assists)
7 - 12
8:25
Russell Westbrook makes driving layup
9 - 12
8:25
Jason Kidd shooting foul (Russell Westbrook draws the foul)
9 - 12
8:25
Russell Westbrook makes free throw 1 of 1
10 - 12
8:11
Caron Butler makes 19-foot jumper
10 - 14
7:50
Jeff Green misses three point jumper
10 - 14
7:48
Oklahoma City defensive team rebound
10 - 14
7:37
Nenad Krstic personal foul (Erick Dampier draws the foul)
10 - 14
7:37
Nick Collison enters the game for Nenad Krstic
10 - 14
7:26
Caron Butler misses 20-foot jumper
10 - 14
7:26
Dallas defensive team rebound
10 - 14
7:16
Kevin Durant misses 22-foot jumper
10 - 14
7:16
Caron Butler defensive rebound
10 - 14
7:03
Caron Butler misses two point shot
10 - 14
7:01
Thabo Sefolosha defensive rebound
10 - 14
6:52
Russell Westbrook misses driving layup
10 - 14
6:52
Erick Dampier defensive rebound
10 - 14
6:43
Dirk Nowitzki makes two point shot (Jason Kidd assists)
10 - 16
6:35
Oklahoma City full timeout
10 - 16
6:31
Erick Dampier shooting foul (Kevin Durant draws the foul)
10 - 16
6:31
Kevin Durant makes free throw 1 of 2
11 - 16
6:31
Brendan Haywood enters the game for Erick Dampier
11 - 16
6:31
Kevin Durant makes free throw 2 of 2
12 - 16
6:16
Jason Kidd makes 13-foot two point shot
12 - 18
5:54
Russell Westbrook misses 6-foot two point shot
12 - 18
5:54
Brendan Haywood defensive rebound
12 - 18
5:48
Jason Kidd bad pass (Thabo Sefolosha steals)
12 - 18
5:43
Jeff Green makes driving layup (Russell Westbrook assists)
14 - 18
5:20
Jeff Green personal foul (Caron Butler draws the foul)
14 - 18
5:07
Caron Butler makes 20-foot jumper
14 - 20
4:52
Kevin Durant makes 14-foot two point shot
16 - 20
4:35
Shawn Marion makes layup (Caron Butler assists)
16 - 22
4:22
Jason Kidd blocks Russell Westbrook's driving layup
16 - 22
4:22
Oklahoma City offensive team rebound
16 - 22
4:22
James Harden enters the game for Thabo Sefolosha
16 - 22
4:22
Jason Terry enters the game for Caron Butler
16 - 22
4:20
Jeff Green makes three point jumper (James Harden assists)
19 - 22
3:59
James Harden shooting foul (Brendan Haywood draws the foul)
19 - 22
3:59
Brendan Haywood makes free throw 1 of 2
19 - 23
3:59
Brendan Haywood makes free throw 2 of 2
19 - 24
3:47
Nick Collison offensive foul (Jason Kidd draws the foul)
19 - 24
3:47
Nick Collison turnover
19 - 24
3:35
Russell Westbrook personal foul (Shawn Marion draws the foul)
19 - 24
3:35
Shawn Marion makes free throw 1 of 2
19 - 25
3:35
Shawn Marion makes free throw 2 of 2
19 - 26
3:28
Russell Westbrook bad pass (Shawn Marion steals)
19 - 26
3:24
Dirk Nowitzki bad pass
19 - 26
3:09
Jeff Green misses 20-foot jumper
19 - 26
3:06
Russell Westbrook offensive rebound
21 - 26
3:06
Russell Westbrook makes tip shot
21 - 26
2:47
Jason Kidd makes 24-foot three point jumper (Jason Terry assists)
21 - 29
2:31
Kevin Durant makes two point shot (Russell Westbrook assists)
23 - 29
2:23
Dirk Nowitzki bad pass (Kevin Durant steals)
23 - 29
2:18
James Harden makes layup (Russell Westbrook assists)
25 - 29
2:18
Jason Kidd shooting foul (James Harden draws the foul)
25 - 29
2:18
Dallas full timeout
25 - 29
2:18
Rodrigue Beaubois enters the game for Jason Kidd
25 - 29
2:18
Eric Maynor enters the game for Jeff Green
25 - 29
2:18
Serge Ibaka enters the game for Russell Westbrook
25 - 29
2:18
James Harden makes free throw 1 of 1
26 - 29
2:06
Shawn Marion makes layup (Rodrigue Beaubois assists)
26 - 31
1:51
James Harden makes 19-foot two point shot
28 - 31
1:39
Brendan Haywood makes slam dunk (Jason Terry assists)
28 - 33
1:25
Nick Collison makes two point shot (Kevin Durant assists)
30 - 33
1:10
Jason Terry makes two point shot
30 - 35
0:58
Brendan Haywood blocks Eric Maynor's 5-foot jumper
30 - 35
0:56
Shawn Marion defensive rebound
30 - 35
0:45
Dirk Nowitzki misses layup
30 - 35
0:44
Dirk Nowitzki offensive rebound
30 - 37
0:44
Dirk Nowitzki makes tip shot
30 - 37
0:31
Kevin Durant makes 19-foot jumper (Eric Maynor assists)
32 - 37
0:21
Rodrigue Beaubois misses 25-foot three point jumper
32 - 37
0:20
Kevin Durant defensive rebound
32 - 37
0:01
Eric Maynor makes three point jumper (Kevin Durant assists)
35 - 37
0:00
End of the 1st Quarter
35 - 37

time
TEAM
PLAY
SCORE
12:00
Start of the 2nd Quarter
35 - 37
11:44
Jeff Green traveling
35 - 37
11:32
Brendan Haywood offensive foul (Eric Maynor draws the foul)
35 - 37
11:32
Brendan Haywood turnover
35 - 37
11:17
Nick Collison makes layup (James Harden assists)
37 - 37
11:03
Jason Terry misses 18-foot jumper
37 - 37
11:02
Jeff Green defensive rebound
37 - 37
10:51
Eduardo Najera enters the game for Dirk Nowitzki
37 - 37
10:42
Nick Collison makes 20-foot jumper
39 - 37
10:41
Eduardo Najera technical foul (1st technical foul)
39 - 37
10:41
James Harden makes technical free throw
40 - 37
10:27
Jason Terry makes jumper (Jose Juan Barea assists)
40 - 39
10:27
James Harden away from ball foul (Jason Terry draws the foul)
40 - 39
10:27
Eduardo Najera makes free throw 1 of 1
40 - 40
10:15
Serge Ibaka misses 9-foot jumper
44 - 40
10:12
Nick Collison offensive rebound
40 - 40
10:11
Nick Collison makes tip shot
42 - 40
9:52
Caron Butler misses layup
42 - 40
9:52
Serge Ibaka defensive rebound
42 - 40
9:48
Jeff Green makes two point shot (James Harden assists)
44 - 40
9:22
Jason Terry misses 25-foot three point jumper
44 - 40
9:21
Serge Ibaka defensive rebound
44 - 40
9:12
Nick Collison makes layup (Eric Maynor assists)
46 - 40
9:11
Dallas full timeout
46 - 40
8:52
Jose Juan Barea misses 24-foot three point jumper
46 - 40
8:52
Brendan Haywood offensive rebound
46 - 40
8:52
Nick Collison loose ball foul (Brendan Haywood draws the foul)
46 - 40
8:41
Caron Butler misses 17-foot jumper
46 - 40
8:38
Serge Ibaka defensive rebound
46 - 40
8:19
James Harden misses 25-foot three point jumper
46 - 40
8:18
Jason Terry defensive rebound
46 - 40
8:14
Jose Juan Barea makes two point shot (Jason Terry assists)
46 - 42
7:43
Eric Maynor makes 7-foot two point shot
48 - 42
7:24
Eduardo Najera misses 25-foot three point jumper
48 - 42
7:24
Caron Butler offensive rebound
48 - 42
7:13
Caron Butler misses driving layup
48 - 42
7:13
Caron Butler offensive rebound
48 - 42
7:11
Caron Butler misses two point shot
48 - 42
7:09
Dallas offensive team rebound
48 - 42
6:54
Caron Butler traveling
48 - 42
6:41
Jose Juan Barea personal foul (Eric Maynor draws the foul)
48 - 42
6:41
Russell Westbrook enters the game for Eric Maynor
48 - 42
6:41
Kevin Durant enters the game for Jeff Green
48 - 42
6:41
Jason Kidd enters the game for Jason Terry
48 - 42
6:41
Dirk Nowitzki enters the game for Eduardo Najera
48 - 42
6:31
Jose Juan Barea shooting foul (Nick Collison draws the foul)
48 - 42
6:31
Nick Collison makes free throw 1 of 2
49 - 42
6:31
Shawn Marion enters the game for Caron Butler
49 - 42
6:31
Nick Collison makes free throw 2 of 2
50 - 42
6:16
Serge Ibaka shooting foul (Brendan Haywood draws the foul)
50 - 42
6:16
Nenad Krstic enters the game for Nick Collison
50 - 42
6:16
Brendan Haywood misses free throw 1 of 2
50 - 42
6:16
Dallas offensive team rebound
50 - 42
6:16
Brendan Haywood makes free throw 2 of 2
50 - 43
6:07
Kevin Durant misses 25-foot three point jumper
50 - 43
6:05
Dirk Nowitzki defensive rebound
50 - 43
5:58
Dirk Nowitzki lost ball (James Harden steals)
50 - 43
5:54
Jason Kidd shooting foul (James Harden draws the foul)
50 - 43
5:54
Dallas full timeout
50 - 43
5:54
Erick Dampier enters the game for Jason Kidd
50 - 43
5:54
Jason Terry enters the game for Brendan Haywood
50 - 43
5:54
James Harden makes free throw 1 of 2
51 - 43
5:54
James Harden makes free throw 2 of 2
52 - 43
5:46
James Harden personal foul (Dirk Nowitzki draws the foul)
52 - 43
5:46
Thabo Sefolosha enters the game for James Harden
52 - 43
5:31
Dirk Nowitzki misses driving layup
52 - 43
5:31
Erick Dampier offensive rebound
52 - 45
5:31
Erick Dampier makes two point shot
52 - 45
5:11
Serge Ibaka misses 15-foot jumper
52 - 45
5:11
Dirk Nowitzki defensive rebound
52 - 45
4:58
Jason Terry misses 22-foot three point jumper
52 - 45
4:58
Russell Westbrook defensive rebound
52 - 45
4:48
Jason Terry shooting foul (Thabo Sefolosha draws the foul)
52 - 45
4:48
Thabo Sefolosha makes free throw 1 of 2
53 - 45
4:48
DeShawn Stevenson enters the game for Jason Terry
53 - 45
4:48
Thabo Sefolosha makes free throw 2 of 2
54 - 45
4:31
Dirk Nowitzki makes 21-foot jumper
54 - 47
4:11
Kevin Durant misses 14-foot jumper
54 - 47
4:09
Erick Dampier defensive rebound
54 - 47
4:00
Jose Juan Barea misses 25-foot three point jumper
54 - 47
3:59
Erick Dampier offensive rebound
54 - 47
3:42
Serge Ibaka shooting foul (DeShawn Stevenson draws the foul)
54 - 47
3:42
Jeff Green enters the game for Serge Ibaka
54 - 47
3:42
DeShawn Stevenson misses free throw 1 of 2
54 - 47
3:42
Dallas offensive team rebound
54 - 47
3:42
DeShawn Stevenson makes free throw 2 of 2
54 - 48
3:31
Erick Dampier blocks Russell Westbrook's 7-foot jumper
54 - 48
3:31
Oklahoma City offensive team rebound
54 - 48
3:28
Kevin Durant misses 17-foot jumper
54 - 48
3:27
Dirk Nowitzki defensive rebound
54 - 48
3:23
Shawn Marion misses two point shot
54 - 48
3:21
Thabo Sefolosha defensive rebound
54 - 48
3:15
Russell Westbrook misses 15-foot jumper
54 - 48
3:14
Kevin Durant offensive rebound
54 - 48
3:14
DeShawn Stevenson blocks Kevin Durant's layup
54 - 48
3:13
Kevin Durant offensive rebound
54 - 48
3:13
Erick Dampier shooting foul (Kevin Durant draws the foul)
54 - 48
3:13
Kevin Durant makes free throw 1 of 2
55 - 48
3:13
Brendan Haywood enters the game for Erick Dampier
55 - 48
3:13
Jason Terry enters the game for DeShawn Stevenson
55 - 48
3:13
Kevin Durant makes free throw 2 of 2
56 - 48
3:01
Jose Juan Barea makes driving layup
56 - 50
3:01
Kevin Durant shooting foul (Jose Juan Barea draws the foul)
56 - 50
3:01
Jose Juan Barea makes free throw 1 of 1
56 - 51
2:58
Oklahoma City full timeout
56 - 51
2:58
Caron Butler enters the game for Shawn Marion
56 - 51
2:54
Kevin Durant lost ball (Caron Butler steals)
56 - 51
2:38
Russell Westbrook personal foul (Jose Juan Barea draws the foul)
56 - 51
2:38
Jose Juan Barea makes free throw 1 of 2
56 - 52
2:38
Jose Juan Barea makes free throw 2 of 2
56 - 53
2:28
Jeff Green misses two point shot
56 - 53
2:27
Nenad Krstic offensive rebound
56 - 53
2:26
Nenad Krstic makes two point shot
58 - 53
2:06
Jose Juan Barea misses 6-foot two point shot
58 - 53
2:05
Brendan Haywood offensive rebound
58 - 53
2:02
Kevin Durant personal foul (Dirk Nowitzki draws the foul)
58 - 53
2:02
Dirk Nowitzki makes free throw 1 of 2
58 - 54
2:02
Dirk Nowitzki makes free throw 2 of 2
58 - 55
1:54
Russell Westbrook makes two point shot
60 - 55
1:29
Jason Terry misses 23-foot three point jumper
60 - 55
1:27
Nenad Krstic defensive rebound
60 - 55
1:22
Kevin Durant lost ball (Jason Terry steals)
60 - 55
1:12
Dirk Nowitzki bad pass (Kevin Durant steals)
60 - 55
1:07
Kevin Durant makes 10-foot two point shot
62 - 55
1:07
Jose Juan Barea shooting foul (Kevin Durant draws the foul)
62 - 55
1:07
Kevin Durant makes free throw 1 of 1
63 - 55
0:50
Brendan Haywood makes layup (Jason Terry assists)
63 - 57
0:35
Russell Westbrook makes driving layup
65 - 57
0:16
Brendan Haywood makes layup (Jason Terry assists)
65 - 59
0:02
Brendan Haywood shooting foul (Russell Westbrook draws the foul)
65 - 59
0:02
Russell Westbrook makes free throw 1 of 2
66 - 59
0:02
Serge Ibaka enters the game for Kevin Durant
66 - 59
0:02
Dallas 20 Sec. timeout
66 - 59
0:02
Eduardo Najera enters the game for Brendan Haywood
66 - 59
0:02
Eric Maynor enters the game for Nenad Krstic
66 - 59
0:02
Russell Westbrook makes free throw 2 of 2
67 - 59
0:00
Jason Terry misses 25-foot three point jumper
67 - 59
0:00
Dallas offensive team rebound
67 - 59
0:00
End of the 2nd Quarter
67 - 59

time
TEAM
PLAY
SCORE
12:00
Start of the 3rd Quarter
67 - 59
11:49
Russell Westbrook lost ball (Jason Kidd steals)
67 - 59
11:37
Dirk Nowitzki bad pass (Kevin Durant steals)
67 - 59
11:22
Erick Dampier blocks Nenad Krstic's layup
67 - 59
11:21
Erick Dampier defensive rebound
67 - 59
11:02
Rodrigue Beaubois misses 20-foot jumper
67 - 59
11:00
Thabo Sefolosha defensive rebound
67 - 59
10:52
Jeff Green misses 10-foot hook shot
67 - 59
10:51
Rodrigue Beaubois defensive rebound
67 - 59
10:38
Caron Butler misses 13-foot two point shot
67 - 59
10:37
Jeff Green defensive rebound
67 - 59
10:22
Russell Westbrook makes 5-foot two point shot
69 - 59
9:55
Jason Kidd makes 10-foot two point shot
69 - 61
9:27
Russell Westbrook misses 19-foot jumper
69 - 61
9:26
Dirk Nowitzki defensive rebound
69 - 61
9:22
Jason Kidd makes driving layup
69 - 63
9:00
Jeff Green makes driving layup
71 - 63
8:48
Dirk Nowitzki makes two point shot (Jason Kidd assists)
71 - 65
8:36
Rodrigue Beaubois shooting foul (Russell Westbrook draws the foul)
71 - 65
8:36
Russell Westbrook makes free throw 1 of 2
72 - 65
8:36
Russell Westbrook makes free throw 2 of 2
73 - 65
8:21
Jason Kidd makes jumper
73 - 67
8:04
Thabo Sefolosha makes 24-foot three point jumper (Russell Westbrook assists)
76 - 67
7:47
Rodrigue Beaubois misses three point jumper
76 - 67
7:45
Dirk Nowitzki offensive rebound
76 - 67
7:45
Dirk Nowitzki misses tip shot
76 - 67
7:43
Dirk Nowitzki offensive rebound
76 - 67
7:43
Kevin Durant blocks Dirk Nowitzki's tip shot
76 - 67
7:41
Nenad Krstic defensive rebound
76 - 67
7:35
Thabo Sefolosha misses 22-foot three point jumper
76 - 67
7:33
Caron Butler defensive rebound
76 - 67
7:31
Rodrigue Beaubois makes driving layup (Jason Kidd assists)
76 - 69
7:15
Caron Butler jump ball
76 - 69
7:07
Kevin Durant misses 25-foot three point jumper
76 - 69
7:07
Thabo Sefolosha offensive rebound
76 - 69
7:01
Thabo Sefolosha makes 14-foot jumper
78 - 69
6:43
Jason Kidd bad pass
78 - 69
6:31
Jeff Green makes layup (Nenad Krstic assists)
80 - 69
6:24
Rodrigue Beaubois makes driving layup
80 - 71
6:24
Thabo Sefolosha shooting foul (Rodrigue Beaubois draws the foul)
80 - 71
6:24
Rodrigue Beaubois makes free throw 1 of 1
80 - 72
6:13
Nenad Krstic makes 21-foot jumper (Kevin Durant assists)
82 - 72
6:01
Rodrigue Beaubois lost ball (Thabo Sefolosha steals)
82 - 72
6:01
Rodrigue Beaubois personal foul (Thabo Sefolosha draws the foul)
82 - 72
5:50
Kevin Durant misses two point shot
82 - 72
5:50
Oklahoma City defensive team rebound
82 - 72
5:50
Dallas full timeout
82 - 72
5:33
Dirk Nowitzki misses slam dunk
82 - 72
5:33
Jeff Green defensive rebound
82 - 72
5:26
Jeff Green misses layup
82 - 72
5:26
Nenad Krstic offensive rebound
82 - 72
5:22
Kevin Durant makes 6-foot jumper
84 - 72
5:05
Jason Kidd misses 25-foot three point jumper
84 - 72
5:05
Kevin Durant defensive rebound
84 - 72
4:54
Russell Westbrook misses layup
84 - 72
4:52
Nenad Krstic offensive rebound
86 - 72
4:52
Nenad Krstic makes two point shot
86 - 72
4:52
Rodrigue Beaubois shooting foul (Nenad Krstic draws the foul)
86 - 72
4:52
Jason Terry enters the game for Rodrigue Beaubois
86 - 72
4:52
Nenad Krstic makes free throw 1 of 1
87 - 72
4:30
Jason Kidd makes 24-foot three point jumper (Dirk Nowitzki assists)
87 - 75
4:15
Nenad Krstic makes 17-foot jumper (Jeff Green assists)
89 - 75
4:01
Jason Terry bad pass (Kevin Durant steals)
89 - 75
3:54
Russell Westbrook makes 17-foot jumper (Kevin Durant assists)
91 - 75
3:27
Jason Kidd makes 25-foot three point jumper (Jason Terry assists)
91 - 78
3:15
Oklahoma City full timeout
91 - 78
3:08
Kevin Durant misses two point shot
91 - 78
3:06
Caron Butler defensive rebound
91 - 78
2:54
Kevin Durant shooting foul (Jason Kidd draws the foul)
91 - 78
2:54
Jason Kidd makes free throw 1 of 2
91 - 79
2:54
James Harden enters the game for Jeff Green
91 - 79
2:54
Serge Ibaka enters the game for Thabo Sefolosha
91 - 79
2:54
Jason Kidd misses free throw 2 of 2
91 - 79
2:53
Serge Ibaka defensive rebound
91 - 79
2:41
Jason Terry personal foul (James Harden draws the foul)
91 - 79
2:33
Serge Ibaka misses 16-foot jumper
91 - 79
2:32
Caron Butler defensive rebound
91 - 79
2:24
Serge Ibaka shooting foul (Dirk Nowitzki draws the foul)
91 - 79
2:24
Dirk Nowitzki makes free throw 1 of 2
91 - 80
2:24
Nick Collison enters the game for Nenad Krstic
91 - 80
2:24
Dirk Nowitzki makes free throw 2 of 2
91 - 81
2:11
Kevin Durant bad pass
91 - 81
2:06
Serge Ibaka shooting foul (Dirk Nowitzki draws the foul)
91 - 81
2:06
Dirk Nowitzki makes free throw 1 of 2
91 - 82
2:06
Dirk Nowitzki makes free throw 2 of 2
91 - 83
2:00
Caron Butler personal foul (Kevin Durant draws the foul)
91 - 83
2:00
Eric Maynor enters the game for Russell Westbrook
91 - 83
2:00
Kevin Durant makes free throw 1 of 2
92 - 83
2:00
Kevin Durant makes free throw 2 of 2
93 - 83
1:45
Dirk Nowitzki misses 14-foot jumper
93 - 83
1:44
James Harden defensive rebound
93 - 83
1:39
James Harden bad pass
93 - 83
1:21
Dirk Nowitzki misses 7-foot jumper
93 - 83
1:17
Caron Butler offensive rebound
93 - 83
1:15
Caron Butler lost ball (Serge Ibaka steals)
93 - 83
1:02
Caron Butler shooting foul (Eric Maynor draws the foul)
93 - 83
1:02
Eric Maynor makes free throw 1 of 2
94 - 83
1:02
Eric Maynor misses free throw 2 of 2
94 - 83
1:01
Dirk Nowitzki defensive rebound
94 - 83
0:44
Jason Kidd misses 25-foot three point jumper
94 - 83
0:43
Eric Maynor defensive rebound
94 - 83
0:32
Kevin Durant bad pass (Caron Butler steals)
94 - 83
0:27
Jason Kidd misses driving layup
94 - 83
0:26
Caron Butler offensive rebound
94 - 83
0:25
Caron Butler makes two point shot
94 - 85
0:00
Eric Maynor misses 19-foot jumper
94 - 85
0:00
Oklahoma City offensive team rebound
94 - 85
0:00
End of the 3rd Quarter
94 - 85

time
TEAM
PLAY
SCORE
12:00
Start of the 4th Quarter
94 - 85
11:40
Brendan Haywood lost ball (Eric Maynor steals)
94 - 85
11:15
Jeff Green makes 11-foot jumper
96 - 85
10:51
Jason Terry misses 24-foot three point jumper
96 - 85
10:48
James Harden defensive rebound
96 - 85
10:30
Eric Maynor makes 19-foot two point shot
98 - 85
10:11
Jason Terry misses three point jumper
98 - 85
10:10
Serge Ibaka defensive rebound
98 - 85
9:53
James Harden misses 24-foot three point jumper
98 - 85
9:52
Caron Butler defensive rebound
98 - 85
9:42
Brendan Haywood turnover
98 - 85
9:23
Eric Maynor makes jumper
100 - 85
9:22
Dallas full timeout
100 - 85
9:22
Eduardo Najera enters the game for Brendan Haywood
100 - 85
9:11
Dirk Nowitzki makes 10-foot two point shot
100 - 87
8:41
shot clock violation
100 - 87
8:34
Serge Ibaka personal foul (Dirk Nowitzki draws the foul)
100 - 87
8:34
Kevin Durant enters the game for Serge Ibaka
100 - 87
8:19
Jason Kidd misses two point shot
100 - 87
8:18
Jason Kidd offensive rebound
100 - 87
8:17
Jason Kidd makes two point shot
100 - 89
7:58
James Harden makes 23-foot three point jumper (Jeff Green assists)
103 - 89
7:41
Jason Terry misses jumper
103 - 89
7:39
Kevin Durant defensive rebound
103 - 89
7:26
Nick Collison makes two point shot
105 - 89
7:09
Caron Butler bad pass (Nick Collison steals)
105 - 89
7:05
Kevin Durant makes two point shot (Eric Maynor assists)
107 - 89
7:03
Dallas full timeout
107 - 89
7:03
Jose Juan Barea enters the game for Jason Terry
107 - 89
6:54
Eduardo Najera offensive foul (Nick Collison draws the foul)
107 - 89
6:54
Eduardo Najera turnover
107 - 89
6:41
Eduardo Najera shooting foul (Eric Maynor draws the foul)
107 - 89
6:41
Eric Maynor makes free throw 1 of 2
108 - 89
6:41
Eric Maynor misses free throw 2 of 2
108 - 89
6:41
Dirk Nowitzki defensive rebound
108 - 89
6:26
Dirk Nowitzki makes 13-foot two point shot
108 - 91
6:22
James Harden lost ball (Jason Kidd steals)
108 - 91
6:22
Eduardo Najera makes layup
108 - 93
6:16
James Harden lost ball (Jason Kidd steals)
108 - 93
6:16
Jason Kidd makes layup
108 - 95
6:16
Oklahoma City full timeout
108 - 95
6:16
Russell Westbrook enters the game for James Harden
108 - 95
6:01
Kevin Durant misses jumper
108 - 95
6:00
Jason Kidd defensive rebound
108 - 95
5:50
Jeff Green shooting foul (Dirk Nowitzki draws the foul)
108 - 95
5:50
Dirk Nowitzki makes free throw 1 of 2
108 - 96
5:50
Dirk Nowitzki makes free throw 2 of 2
108 - 97
5:31
Jeff Green makes 18-foot jumper (Eric Maynor assists)
110 - 97
5:07
Jose Juan Barea makes 20-foot jumper (Dirk Nowitzki assists)
110 - 99
4:47
Kevin Durant misses 24-foot three point jumper
110 - 99
4:46
Jason Kidd defensive rebound
110 - 99
4:39
Eduardo Najera makes 24-foot three point jumper (Jason Kidd assists)
110 - 102
4:20
Jose Juan Barea personal foul (Kevin Durant draws the foul)
110 - 102
4:09
Eric Maynor misses 25-foot three point jumper
110 - 102
4:09
Jason Kidd defensive rebound
110 - 102
3:48
Dirk Nowitzki makes 8-foot two point shot
110 - 104
3:47
Oklahoma City full timeout
110 - 104
3:31
Eduardo Najera blocks Nick Collison's layup
110 - 104
3:29
Dirk Nowitzki defensive rebound
110 - 104
3:14
Caron Butler misses 16-foot jumper
110 - 104
3:12
Eric Maynor defensive rebound
110 - 104
2:51
Russell Westbrook misses two point shot
110 - 104
2:49
Dirk Nowitzki defensive rebound
110 - 104
2:40
Nick Collison shooting foul (Dirk Nowitzki draws the foul)
110 - 104
2:40
Dirk Nowitzki makes free throw 1 of 2
110 - 105
2:40
Dirk Nowitzki makes free throw 2 of 2
110 - 106
2:32
Caron Butler shooting foul (Jeff Green draws the foul)
110 - 106
2:32
Jeff Green makes free throw 1 of 2
111 - 106
2:32
Jeff Green makes free throw 2 of 2
112 - 106
2:20
Eduardo Najera bad pass
112 - 106
2:01
Jeff Green misses 24-foot three point jumper
112 - 106
2:00
Russell Westbrook offensive rebound
112 - 106
1:59
Jason Kidd shooting foul (Nick Collison draws the foul)
112 - 106
1:59
Nick Collison misses free throw 1 of 2
112 - 106
1:59
Oklahoma City offensive team rebound
112 - 106
1:59
Nick Collison makes free throw 2 of 2
113 - 106
1:47
Eduardo Najera makes two point shot (Dirk Nowitzki assists)
113 - 108
1:23
Russell Westbrook misses 17-foot jumper
113 - 108
1:22
Caron Butler defensive rebound
113 - 108
1:07
Dirk Nowitzki misses 14-foot two point shot
113 - 108
1:07
Jumpball: Jeff Green vs. Eduardo Najera (Eric Maynor gains possession)
113 - 108
1:07
Dallas defensive team rebound
113 - 108
1:00
Russell Westbrook offensive foul (Jose Juan Barea draws the foul)
113 - 108
1:00
Russell Westbrook turnover
113 - 108
0:52
Nick Collison shooting foul (Jose Juan Barea draws the foul)
113 - 108
0:52
Jose Juan Barea makes free throw 1 of 2
113 - 109
0:52
Jose Juan Barea misses free throw 2 of 2
113 - 109
0:51
Jeff Green defensive rebound
113 - 109
0:28
Eric Maynor makes 24-foot three point jumper (Russell Westbrook assists)
116 - 109
0:28
Rodrigue Beaubois enters the game for Caron Butler
116 - 109
0:28
Jason Terry enters the game for Jose Juan Barea
116 - 109
0:28
Thabo Sefolosha enters the game for Eric Maynor
116 - 109
0:24
Rodrigue Beaubois makes two point shot
116 - 111
0:24
Dirk Nowitzki personal foul (Kevin Durant draws the foul)
116 - 111
0:24
Kevin Durant misses free throw 1 of 2
116 - 111
0:24
Oklahoma City offensive team rebound
116 - 111
0:24
Kevin Durant misses free throw 2 of 2
116 - 111
0:23
Dirk Nowitzki defensive rebound
116 - 111
0:18
Rodrigue Beaubois lost ball (Kevin Durant steals)
116 - 111
0:15
Dirk Nowitzki personal foul (Kevin Durant draws the foul)
116 - 111
0:15
Kevin Durant makes free throw 1 of 2
117 - 111
0:15
Kevin Durant makes free throw 2 of 2
118 - 111
0:12
Jason Kidd makes 23-foot two point shot
118 - 113
0:12
Oklahoma City 20 Sec. timeout
118 - 113
0:11
Dirk Nowitzki personal foul (Nick Collison draws the foul)
118 - 113
0:11
Nick Collison makes free throw 1 of 2
119 - 113
0:11
Nick Collison makes free throw 2 of 2
120 - 113
0:08
Eduardo Najera makes 25-foot three point running jumper
120 - 116
0:07
Jason Terry personal foul (Thabo Sefolosha draws the foul)
120 - 116
0:07
Thabo Sefolosha misses free throw 1 of 2
120 - 116
0:07
Oklahoma City offensive team rebound
120 - 116
0:07
Thabo Sefolosha makes free throw 2 of 2
121 - 116
0:07
Dallas 20 Sec. timeout
121 - 116
0:03
Jason Kidd misses 25-foot three point jumper
121 - 116
0:02
Jeff Green defensive rebound
121 - 116
0:00
End of the 4th Quarter
121 - 116
0:00
End Game
121 - 116
Chris Broussard analyzes Rajon Rondo's options entering free agency and if there is a chance he re-signs with the Kings.

ESPN NewYork.com reporter Ohm Youngmisuk talks about potential landing spots for Jeremy Lin if he doesn't re-sign in Charlotte.

James Jones didn't get much playing time in the NBA Finals, but Cavaliers teammate Kevin Love says Jones played a big role nonetheless.
Regular Season Series
Series tied 2-2
2015-2016 Northwest Standings
2015-2016 Southwest Standings