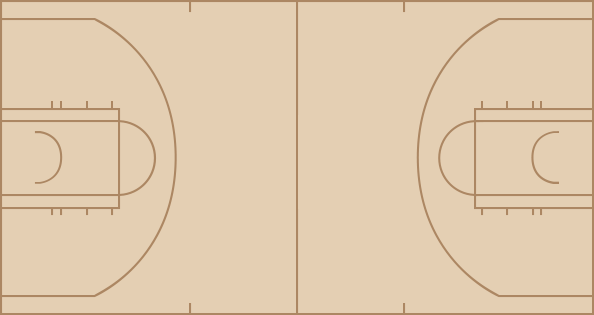 Thunder
time
TEAM
PLAY
SCORE
12:00
Start of the 1st Quarter
0 - 0
12:00
Jumpball: Serge Ibaka vs. Brendan Haywood (Russell Westbrook gains possession)
0 - 0
11:47
Russell Westbrook makes driving layup
2 - 0
11:22
Shawn Marion misses 12-foot jumper
2 - 0
11:18
Brendan Haywood offensive rebound
2 - 0
11:18
Brendan Haywood misses 2-foot two point shot
2 - 0
11:17
Brendan Haywood offensive rebound
2 - 0
11:11
Delonte West misses three point jumper
2 - 0
11:11
Dallas defensive team rebound
2 - 0
10:53
Thabo Sefolosha misses 24-foot three point jumper
2 - 0
10:52
Delonte West defensive rebound
2 - 0
10:41
Delonte West makes driving layup
2 - 2
10:15
Serge Ibaka misses layup
2 - 2
10:15
Jason Kidd defensive rebound
2 - 2
9:56
Delonte West misses layup
2 - 2
9:56
Shawn Marion offensive rebound
2 - 2
9:55
Shawn Marion misses two point shot
2 - 2
9:51
Thabo Sefolosha defensive rebound
2 - 2
9:47
Kevin Durant post lost ball turnover
2 - 2
9:23
Jason Kidd misses 24-foot jumper
2 - 2
9:22
Russell Westbrook defensive rebound
2 - 2
9:15
Russell Westbrook misses 18-foot two point shot
2 - 2
9:15
Brendan Haywood defensive rebound
2 - 2
8:59
Dirk Nowitzki makes 14-foot jumper (Jason Kidd assists)
2 - 4
8:45
Dirk Nowitzki shooting foul (Kendrick Perkins draws the foul)
2 - 4
8:45
Kendrick Perkins makes free throw 1 of 2
3 - 4
8:45
Kendrick Perkins makes free throw 2 of 2
4 - 4
8:33
Brendan Haywood misses 8-foot two point shot
4 - 4
8:30
Kendrick Perkins defensive rebound
4 - 4
8:26
Russell Westbrook lost ball (Dirk Nowitzki steals)
4 - 4
8:12
Serge Ibaka shooting foul (Dirk Nowitzki draws the foul)
4 - 4
8:12
Dirk Nowitzki makes free throw 1 of 2
4 - 5
8:12
Dirk Nowitzki makes free throw 2 of 2
4 - 6
7:56
Kendrick Perkins lost ball (Delonte West steals)
4 - 6
7:46
Shawn Marion misses 25-foot three point jumper
4 - 6
7:45
Serge Ibaka defensive rebound
4 - 6
7:33
Kevin Durant misses 16-foot jumper
4 - 6
7:31
Brendan Haywood defensive rebound
4 - 6
7:28
Shawn Marion misses 1-foot two point shot
4 - 6
7:26
Russell Westbrook defensive rebound
4 - 6
7:18
Russell Westbrook makes driving layup
6 - 6
6:58
Shawn Marion makes two point shot (Jason Kidd assists)
6 - 8
6:39
Shawn Marion shooting foul (Kevin Durant draws the foul)
6 - 8
6:39
Kevin Durant misses free throw 1 of 2
6 - 8
6:39
Oklahoma City offensive team rebound
6 - 8
6:39
Kevin Durant makes free throw 2 of 2
7 - 8
6:26
Dirk Nowitzki bad pass (Russell Westbrook steals)
7 - 8
6:18
Kevin Durant makes two point shot (Russell Westbrook assists)
9 - 8
6:16
Dallas full timeout
9 - 8
6:03
Kendrick Perkins personal foul (Delonte West draws the foul)
9 - 8
5:58
Delonte West out of bounds lost ball turnover
9 - 8
5:43
Kevin Durant misses 21-foot two point shot
9 - 8
5:41
Brendan Haywood defensive rebound
9 - 8
5:24
Dirk Nowitzki makes driving layup
9 - 10
5:03
Russell Westbrook misses 4-foot jumper
9 - 10
5:03
Jason Kidd defensive rebound
9 - 10
4:48
Shawn Marion misses jumper
9 - 10
4:47
Kevin Durant defensive rebound
9 - 10
4:47
Shawn Marion personal foul (Kevin Durant draws the foul)
9 - 10
4:47
Vince Carter enters the game for Shawn Marion
9 - 10
4:47
Lamar Odom enters the game for Dirk Nowitzki
9 - 10
4:30
Russell Westbrook misses 17-foot two point shot
9 - 10
4:26
Jason Kidd defensive rebound
9 - 10
4:20
Delonte West lost ball (Russell Westbrook steals)
9 - 10
4:15
Serge Ibaka makes driving layup (Thabo Sefolosha assists)
11 - 10
3:56
Brendan Haywood misses jumper
11 - 10
3:55
Kendrick Perkins defensive rebound
11 - 10
3:43
Vince Carter shooting foul (Kevin Durant draws the foul)
11 - 10
3:43
Kevin Durant misses free throw 1 of 2
11 - 10
3:43
Oklahoma City offensive team rebound
11 - 10
3:43
Jason Terry enters the game for Delonte West
11 - 10
3:43
Nick Collison enters the game for Kendrick Perkins
11 - 10
3:43
James Harden enters the game for Thabo Sefolosha
11 - 10
3:43
Kevin Durant makes free throw 2 of 2
12 - 10
3:31
Nick Collison shooting foul (Lamar Odom draws the foul)
12 - 10
3:31
Lamar Odom makes free throw 1 of 2
12 - 11
3:31
Ian Mahinmi enters the game for Brendan Haywood
12 - 11
3:31
Lamar Odom makes free throw 2 of 2
12 - 12
3:18
Russell Westbrook misses driving layup
12 - 12
3:16
Ian Mahinmi defensive rebound
12 - 12
3:09
Lamar Odom misses 18-foot jumper
12 - 12
3:08
Ian Mahinmi offensive rebound
12 - 12
2:58
James Harden personal foul (Jason Terry draws the foul)
12 - 12
2:58
Oklahoma City full timeout
12 - 12
2:58
Eric Maynor enters the game for Russell Westbrook
12 - 12
2:49
Vince Carter makes 20-foot two point shot (Jason Kidd assists)
12 - 14
2:32
Vince Carter blocks Kevin Durant's 15-foot jumper
12 - 14
2:30
Vince Carter defensive rebound
12 - 14
2:23
Vince Carter makes driving layup
12 - 16
2:08
Kevin Durant misses 13-foot jumper
12 - 16
2:06
Ian Mahinmi defensive rebound
12 - 16
1:53
Jason Terry misses 17-foot two point shot
12 - 16
1:50
Nick Collison defensive rebound
12 - 16
1:45
Lamar Odom shooting foul (James Harden draws the foul)
12 - 16
1:45
James Harden makes free throw 1 of 2
13 - 16
1:45
Dirk Nowitzki enters the game for Jason Kidd
13 - 16
1:45
James Harden makes free throw 2 of 2
14 - 16
1:31
Lamar Odom makes 6-foot two point shot
14 - 18
1:15
Serge Ibaka makes slam dunk (Nick Collison assists)
16 - 18
0:59
Serge Ibaka blocks Ian Mahinmi's layup
16 - 18
0:57
James Harden defensive rebound
16 - 18
0:52
James Harden makes driving layup
18 - 18
0:39
Jason Terry makes 6-foot two point shot
18 - 20
0:24
Ian Mahinmi shooting foul (Serge Ibaka draws the foul)
18 - 20
0:24
Serge Ibaka makes free throw 1 of 2
19 - 20
0:24
Lazar Hayward enters the game for Kevin Durant
19 - 20
0:24
Rodrigue Beaubois enters the game for Ian Mahinmi
19 - 20
0:24
Serge Ibaka makes free throw 2 of 2
20 - 20
0:01
Dirk Nowitzki misses 31-foot three point jumper
20 - 20
0:00
Lazar Hayward defensive rebound
20 - 20
0:00
Lazar Hayward misses 4-foot jumper
20 - 20
0:00
Oklahoma City offensive team rebound
20 - 20
0:00
End of the 1st Quarter
20 - 20

time
TEAM
PLAY
SCORE
12:00
Start of the 2nd Quarter
20 - 20
11:41
Nazr Mohammed blocks Vince Carter's 4-foot jumper
20 - 20
11:34
Ian Mahinmi offensive rebound
20 - 22
11:34
Ian Mahinmi makes slam dunk
20 - 22
11:18
James Harden misses 27-foot three point jumper
20 - 22
11:18
Nick Collison offensive rebound
20 - 22
11:00
Jason Terry shooting foul (Eric Maynor draws the foul)
20 - 22
11:00
Eric Maynor makes free throw 1 of 2
21 - 22
11:00
Eric Maynor makes free throw 2 of 2
22 - 22
10:48
Nick Collison personal foul (Dirk Nowitzki draws the foul)
22 - 22
10:44
James Harden shooting foul (Vince Carter draws the foul)
22 - 22
10:44
Vince Carter makes free throw 1 of 2
22 - 23
10:44
Vince Carter makes free throw 2 of 2
22 - 24
10:32
James Harden misses 25-foot three point jumper
22 - 24
10:30
Lamar Odom defensive rebound
22 - 24
10:21
Nick Collison shooting foul (Vince Carter draws the foul)
22 - 24
10:21
Vince Carter makes free throw 1 of 2
22 - 25
10:21
Serge Ibaka enters the game for Nick Collison
22 - 25
10:21
Vince Carter makes free throw 2 of 2
22 - 26
9:59
Lazar Hayward misses 9-foot two point shot
22 - 26
9:56
Dirk Nowitzki defensive rebound
22 - 26
9:45
Jason Terry makes 23-foot three point jumper (Lamar Odom assists)
22 - 29
9:37
Oklahoma City full timeout
22 - 29
9:30
James Harden bad pass (Jason Terry steals)
22 - 29
9:18
Kevin Durant enters the game for Lazar Hayward
22 - 29
9:08
Vince Carter misses driving layup
22 - 29
9:07
Ian Mahinmi offensive rebound
22 - 29
9:02
Vince Carter misses 5-foot running jumper
22 - 29
9:00
Serge Ibaka defensive rebound
22 - 29
8:56
Eric Maynor makes 11-foot jumper
24 - 29
8:37
Ian Mahinmi makes layup (Dirk Nowitzki assists)
24 - 31
8:15
Eric Maynor misses 25-foot three point jumper
24 - 31
8:14
Serge Ibaka offensive rebound
24 - 31
8:11
Serge Ibaka makes 3-foot two point shot
26 - 31
7:54
Jason Terry misses 16-foot two point shot
26 - 31
7:54
Dirk Nowitzki offensive rebound
26 - 31
7:54
Dirk Nowitzki makes layup
26 - 33
7:54
Nazr Mohammed shooting foul (Dirk Nowitzki draws the foul)
26 - 33
7:54
Russell Westbrook enters the game for Eric Maynor
26 - 33
7:54
Dirk Nowitzki misses free throw 1 of 1
26 - 33
7:52
Lamar Odom offensive rebound
26 - 33
7:39
Dirk Nowitzki makes 10-foot two point shot
26 - 35
7:31
Lamar Odom personal foul (Serge Ibaka draws the foul)
26 - 35
7:31
Shawn Marion enters the game for Dirk Nowitzki
26 - 35
7:13
James Harden makes 19-foot two point shot
28 - 35
6:52
Nazr Mohammed shooting foul (Vince Carter draws the foul)
28 - 37
6:52
Vince Carter makes driving layup
28 - 37
6:52
Kendrick Perkins enters the game for Nazr Mohammed
28 - 37
6:52
Vince Carter makes free throw 1 of 1
28 - 38
6:41
Lamar Odom shooting foul (Russell Westbrook draws the foul)
28 - 38
6:41
Russell Westbrook misses free throw 1 of 2
28 - 38
6:41
Oklahoma City offensive team rebound
28 - 38
6:41
Jason Kidd enters the game for Lamar Odom
28 - 38
6:41
Russell Westbrook makes free throw 2 of 2
29 - 38
6:31
Vince Carter misses 15-foot two point shot
29 - 38
6:28
Serge Ibaka defensive rebound
29 - 38
6:22
James Harden misses 24-foot three point jumper
29 - 38
6:22
Ian Mahinmi defensive rebound
29 - 38
6:05
Shawn Marion makes 9-foot two point shot (Jason Kidd assists)
29 - 40
5:41
Kevin Durant makes 10-foot jumper
31 - 40
5:41
Vince Carter shooting foul (Kevin Durant draws the foul)
31 - 40
5:41
Official timeout
31 - 40
5:41
Kevin Durant makes free throw 1 of 1
32 - 40
5:28
Kendrick Perkins shooting foul (Vince Carter draws the foul)
32 - 40
5:28
Vince Carter misses free throw 1 of 2
32 - 40
5:28
Dallas offensive team rebound
32 - 40
5:28
Vince Carter makes free throw 2 of 2
32 - 41
5:11
Kendrick Perkins makes two point shot
34 - 41
4:54
Shawn Marion misses 8-foot two point shot
34 - 41
4:50
Russell Westbrook defensive rebound
34 - 41
4:46
Kevin Durant makes 25-foot three point jumper (James Harden assists)
37 - 41
4:45
Dallas full timeout
37 - 41
4:45
Brendan Haywood enters the game for Vince Carter
37 - 41
4:45
Dirk Nowitzki enters the game for Ian Mahinmi
37 - 41
4:22
Jason Terry makes 8-foot two point shot
37 - 43
4:01
Russell Westbrook makes two point shot (Kendrick Perkins assists)
39 - 43
3:48
Jason Terry out of bounds lost ball turnover
39 - 43
3:29
Kevin Durant misses driving layup
39 - 43
3:27
Kendrick Perkins offensive rebound
39 - 43
3:25
Kevin Durant misses tip shot
39 - 43
3:24
Dirk Nowitzki defensive rebound
39 - 43
3:16
Brendan Haywood makes two point shot (Jason Kidd assists)
39 - 45
2:59
Serge Ibaka misses 17-foot jumper
39 - 45
2:58
Shawn Marion defensive rebound
39 - 45
2:53
Jason Terry makes 24-foot three point jumper (Jason Kidd assists)
39 - 48
2:46
Oklahoma City 20 Sec. timeout
39 - 48
2:34
Kevin Durant makes 10-foot two point shot
41 - 48
2:13
Shawn Marion misses 10-foot two point shot
41 - 48
2:10
Russell Westbrook defensive rebound
41 - 48
2:05
Russell Westbrook makes two point shot
43 - 48
1:58
Dallas 20 Sec. timeout
43 - 48
1:45
Brendan Haywood makes layup (Jason Kidd assists)
43 - 50
1:27
Russell Westbrook misses 14-foot jumper
43 - 50
1:27
Serge Ibaka offensive rebound
43 - 50
1:23
Brendan Haywood blocks Serge Ibaka's layup
43 - 50
1:23
James Harden offensive rebound
43 - 50
1:13
Brendan Haywood shooting foul (Kendrick Perkins draws the foul)
43 - 50
1:13
Kendrick Perkins misses free throw 1 of 2
43 - 50
1:13
Oklahoma City offensive team rebound
43 - 50
1:13
Kendrick Perkins makes free throw 2 of 2
44 - 50
0:54
Jason Terry misses 13-foot jumper
44 - 50
0:52
Brendan Haywood offensive rebound
44 - 50
0:52
Brendan Haywood makes slam dunk
44 - 52
0:33
Serge Ibaka misses 11-foot jumper
44 - 52
0:31
Kendrick Perkins offensive rebound
44 - 52
0:31
Kendrick Perkins misses layup
44 - 52
0:31
Kendrick Perkins offensive rebound
44 - 52
0:31
Kendrick Perkins out of bounds lost ball turnover
44 - 52
0:09
Jason Terry makes 18-foot two point shot (Dirk Nowitzki assists)
44 - 54
0:00
James Harden makes 25-foot three point jumper (Russell Westbrook assists)
47 - 54
0:00
End of the 2nd Quarter
47 - 54

time
TEAM
PLAY
SCORE
12:00
Start of the 3rd Quarter
47 - 54
11:36
Dirk Nowitzki makes 13-foot two point shot
47 - 56
11:22
Russell Westbrook makes 9-foot jumper
49 - 56
10:56
Kevin Durant blocks Shawn Marion's 19-foot jumper
49 - 56
10:53
James Harden defensive rebound
49 - 56
10:33
Kevin Durant makes 18-foot two point shot
51 - 56
10:15
Delonte West misses 9-foot two point shot
51 - 56
10:12
James Harden defensive rebound
51 - 56
10:03
Russell Westbrook misses 22-foot jumper
51 - 56
10:03
Jason Kidd defensive rebound
51 - 56
9:51
Dirk Nowitzki misses 13-foot two point shot
51 - 56
9:48
Russell Westbrook defensive rebound
51 - 56
9:26
Kevin Durant misses 27-foot three point jumper
51 - 56
9:26
Dirk Nowitzki defensive rebound
51 - 56
9:15
Shawn Marion misses 10-foot two point shot
51 - 56
9:12
James Harden defensive rebound
51 - 56
9:12
Dirk Nowitzki personal foul (James Harden draws the foul)
51 - 56
8:56
Kevin Durant bad pass (Dirk Nowitzki steals)
51 - 56
8:45
Dirk Nowitzki makes 14-foot two point shot (Jason Kidd assists)
51 - 58
8:26
James Harden misses 19-foot jumper
51 - 58
8:25
Shawn Marion defensive rebound
51 - 58
8:08
Dirk Nowitzki misses 25-foot three point jumper
51 - 58
8:07
Russell Westbrook defensive rebound
51 - 58
8:06
Jason Kidd personal foul (Russell Westbrook draws the foul)
51 - 58
7:50
Kevin Durant misses 26-foot three point jumper
51 - 58
7:48
Brendan Haywood defensive rebound
51 - 58
7:35
Delonte West makes two point shot
51 - 60
7:11
James Harden misses driving layup
51 - 60
7:09
Dirk Nowitzki defensive rebound
51 - 60
7:00
Shawn Marion makes 10-foot two point shot
51 - 62
6:58
Oklahoma City full timeout
51 - 62
6:41
Kevin Durant makes 11-foot two point shot
53 - 62
6:22
Shawn Marion makes 2-foot two point shot
53 - 64
6:01
Kevin Durant palming turnover
53 - 64
5:56
Shawn Marion makes 8-foot two point shot
53 - 66
5:48
James Harden bad pass
53 - 66
5:31
Dirk Nowitzki makes driving layup (Jason Kidd assists)
53 - 68
5:18
Jason Kidd personal foul (James Harden draws the foul)
53 - 68
5:11
Russell Westbrook misses 14-foot jumper
53 - 68
5:09
Dirk Nowitzki defensive rebound
53 - 68
4:58
Dirk Nowitzki lost ball (Serge Ibaka steals)
53 - 68
4:54
Russell Westbrook makes two point shot (Serge Ibaka assists)
55 - 68
4:43
Lamar Odom enters the game for Dirk Nowitzki
55 - 68
4:43
Jason Terry enters the game for Delonte West
55 - 68
4:37
Lamar Odom misses 25-foot three point jumper
55 - 68
4:37
Kevin Durant defensive rebound
55 - 68
4:18
Brendan Haywood personal block (Kendrick Perkins draws the foul)
55 - 68
4:18
Eric Maynor enters the game for Serge Ibaka
55 - 68
4:13
Brendan Haywood personal foul (Russell Westbrook draws the foul)
55 - 68
4:13
Russell Westbrook misses free throw 1 of 2
55 - 68
4:13
Oklahoma City offensive team rebound
55 - 68
4:13
Ian Mahinmi enters the game for Brendan Haywood
55 - 68
4:13
Russell Westbrook makes free throw 2 of 2
56 - 68
3:54
Jason Kidd bad pass (James Harden steals)
56 - 68
3:50
James Harden makes driving layup
58 - 68
3:50
Lamar Odom shooting foul (James Harden draws the foul)
58 - 68
3:50
Dallas full timeout
58 - 68
3:50
Vince Carter enters the game for Shawn Marion
58 - 68
3:50
James Harden makes free throw 1 of 1
59 - 68
3:31
Ian Mahinmi offensive charge (James Harden draws the foul)
59 - 68
3:31
Ian Mahinmi turnover
59 - 68
3:18
Russell Westbrook makes driving layup
61 - 68
3:04
Ian Mahinmi makes two point shot (Vince Carter assists)
61 - 70
2:49
Eric Maynor out of bounds lost ball turnover
61 - 70
2:31
Ian Mahinmi makes 13-foot jumper (Lamar Odom assists)
61 - 72
2:09
Ian Mahinmi shooting foul (Kendrick Perkins draws the foul)
61 - 72
2:09
Kendrick Perkins makes free throw 1 of 2
62 - 72
2:09
Lazar Hayward enters the game for James Harden
62 - 72
2:09
Dirk Nowitzki enters the game for Jason Kidd
62 - 72
2:09
Kendrick Perkins makes free throw 2 of 2
63 - 72
1:47
Kendrick Perkins blocks Ian Mahinmi's layup
63 - 72
1:47
Dallas offensive team rebound
63 - 72
1:47
Nick Collison enters the game for Kendrick Perkins
63 - 72
1:44
Jason Terry misses 25-foot three point jumper
63 - 72
1:43
Nick Collison defensive rebound
63 - 72
1:32
Russell Westbrook misses 23-foot three point jumper
63 - 72
1:31
Ian Mahinmi defensive rebound
63 - 72
1:15
Dirk Nowitzki makes 23-foot three point jumper (Vince Carter assists)
63 - 75
0:52
Kevin Durant misses driving layup
63 - 75
0:51
Ian Mahinmi defensive rebound
63 - 75
0:38
Lazar Hayward shooting foul (Vince Carter draws the foul)
63 - 75
0:38
Vince Carter makes free throw 1 of 2
63 - 76
0:38
Serge Ibaka enters the game for Kevin Durant
63 - 76
0:38
Brian Cardinal enters the game for Lamar Odom
63 - 76
0:38
Vince Carter makes free throw 2 of 2
63 - 77
0:33
Russell Westbrook misses layup
63 - 77
0:33
Serge Ibaka offensive rebound
65 - 77
0:33
Serge Ibaka makes slam dunk
65 - 77
0:33
Russell Westbrook technical foul (1st technical foul)
65 - 77
0:33
Dirk Nowitzki makes technical free throw
65 - 78
0:33
Reggie Jackson enters the game for Russell Westbrook
65 - 78
0:11
Vince Carter misses 3-foot two point shot
65 - 78
0:10
Ian Mahinmi offensive rebound
65 - 78
0:00
Brian Cardinal misses 23-foot three point jumper
65 - 78
0:00
Nick Collison defensive rebound
65 - 78
0:00
End of the 3rd Quarter
65 - 78

time
TEAM
PLAY
SCORE
12:00
Start of the 4th Quarter
65 - 78
11:45
Reggie Jackson misses 27-foot three point jumper
65 - 78
11:44
Lamar Odom defensive rebound
65 - 78
11:29
Eric Maynor personal foul (Vince Carter draws the foul)
65 - 78
11:15
Dirk Nowitzki misses 14-foot two point shot
65 - 78
11:14
Reggie Jackson defensive rebound
65 - 78
11:00
Reggie Jackson misses 25-foot three point jumper
65 - 78
10:57
Lamar Odom defensive rebound
65 - 78
10:45
Ian Mahinmi misses 17-foot jumper
65 - 78
10:45
Lazar Hayward defensive rebound
65 - 78
10:37
Lazar Hayward misses two point shot
65 - 78
10:37
Vince Carter defensive rebound
65 - 78
10:22
Ian Mahinmi makes slam dunk (Jason Terry assists)
65 - 80
9:55
Reggie Jackson misses 27-foot three point jumper
65 - 80
9:55
Oklahoma City offensive team rebound
65 - 80
9:55
shot clock turnover
65 - 80
9:38
Jason Terry misses 24-foot three point jumper
65 - 80
9:37
Lamar Odom offensive rebound
65 - 80
9:34
Serge Ibaka shooting foul (Lamar Odom draws the foul)
65 - 80
9:34
Lamar Odom misses free throw 1 of 2
65 - 80
9:34
Dallas offensive team rebound
65 - 80
9:34
Lamar Odom makes free throw 2 of 2
65 - 81
9:27
Eric Maynor makes 26-foot three point jumper (Reggie Jackson assists)
68 - 81
9:00
Dirk Nowitzki makes 14-foot two point shot
68 - 83
8:34
Eric Maynor makes two point shot
70 - 83
8:18
Nick Collison personal foul (Jason Terry draws the foul)
70 - 83
8:18
Official timeout
70 - 83
8:18
Jason Kidd enters the game for Lamar Odom
70 - 83
8:18
Kevin Durant enters the game for Lazar Hayward
70 - 83
8:18
Russell Westbrook enters the game for Reggie Jackson
70 - 83
8:03
Dirk Nowitzki misses 23-foot three point jumper
70 - 83
8:02
Russell Westbrook defensive rebound
70 - 83
7:50
Kevin Durant makes 26-foot three point jumper (Eric Maynor assists)
73 - 83
7:26
Jason Terry makes 23-foot three point jumper (Dirk Nowitzki assists)
73 - 86
7:11
Russell Westbrook lost ball (Jason Terry steals)
73 - 86
7:03
Dirk Nowitzki misses 25-foot three point jumper
73 - 86
7:03
Nick Collison defensive rebound
73 - 86
6:48
Kevin Durant misses 5-foot jumper
73 - 86
6:48
Oklahoma City defensive team rebound
73 - 86
6:48
Serge Ibaka personal foul (Ian Mahinmi draws the foul)
73 - 86
6:48
Lamar Odom enters the game for Dirk Nowitzki
73 - 86
6:48
James Harden enters the game for Nick Collison
73 - 86
6:48
Kendrick Perkins enters the game for Eric Maynor
73 - 86
6:31
Serge Ibaka blocks Jason Terry's layup
73 - 86
6:30
James Harden defensive rebound
73 - 86
6:26
Kevin Durant makes two point shot (James Harden assists)
75 - 86
6:05
Serge Ibaka kicked ball
75 - 86
6:05
Dallas full timeout
75 - 86
5:58
Vince Carter misses 18-foot two point shot
75 - 86
5:56
James Harden defensive rebound
75 - 86
5:48
Ian Mahinmi personal block (James Harden draws the foul)
75 - 86
5:39
James Harden bad pass (Ian Mahinmi steals)
75 - 86
5:35
Lamar Odom makes two point shot (Vince Carter assists)
75 - 88
5:35
Serge Ibaka shooting foul (Lamar Odom draws the foul)
75 - 88
5:35
Lamar Odom makes free throw 1 of 1
75 - 89
5:26
Serge Ibaka misses 19-foot jumper
75 - 89
5:26
Russell Westbrook offensive rebound
75 - 89
5:26
Ian Mahinmi loose ball foul (Russell Westbrook draws the foul)
75 - 89
5:26
Brendan Haywood enters the game for Ian Mahinmi
75 - 89
5:11
Kevin Durant misses 26-foot three point jumper
75 - 89
5:11
Oklahoma City offensive team rebound
75 - 89
5:03
Russell Westbrook misses 25-foot three point jumper
75 - 89
5:03
Jason Kidd defensive rebound
75 - 89
4:47
Lamar Odom bad pass
75 - 89
4:37
Kevin Durant makes two point shot (James Harden assists)
77 - 89
4:18
Vince Carter bad pass (James Harden steals)
77 - 89
4:13
James Harden makes two point shot
79 - 89
4:13
Dallas 20 Sec. timeout
79 - 89
4:13
Shawn Marion enters the game for Vince Carter
79 - 89
4:13
Dirk Nowitzki enters the game for Lamar Odom
79 - 89
4:01
Jason Kidd lost ball (Russell Westbrook steals)
79 - 89
3:58
Russell Westbrook makes two point shot
81 - 89
3:47
Jason Kidd backcourt
81 - 89
3:36
Serge Ibaka misses 21-foot jumper
81 - 89
3:35
Serge Ibaka offensive rebound
81 - 89
3:23
Jason Terry blocks Russell Westbrook's layup
81 - 89
3:20
Jason Terry defensive rebound
81 - 89
3:14
Dirk Nowitzki makes 15-foot jumper (Shawn Marion assists)
81 - 91
2:55
Brendan Haywood shooting foul (Kevin Durant draws the foul)
81 - 91
2:55
Oklahoma City full timeout
81 - 91
2:55
Kevin Durant misses free throw 1 of 2
81 - 91
2:55
Oklahoma City offensive team rebound
81 - 91
2:55
Kevin Durant makes free throw 2 of 2
82 - 91
2:34
Shawn Marion makes 5-foot hook shot (Jason Terry assists)
82 - 93
2:13
Russell Westbrook misses 14-foot two point shot
82 - 93
2:12
Shawn Marion defensive rebound
82 - 93
1:54
Shawn Marion makes 22-foot three point jumper (Jason Terry assists)
82 - 96
1:54
Oklahoma City full timeout
82 - 96
1:49
Kevin Durant makes 25-foot three point jumper (Russell Westbrook assists)
85 - 96
1:37
Kendrick Perkins personal foul (Dirk Nowitzki draws the foul)
85 - 96
1:37
Dirk Nowitzki makes free throw 1 of 2
85 - 97
1:37
Dirk Nowitzki makes free throw 2 of 2
85 - 98
1:37
Oklahoma City 20 Sec. timeout
85 - 98
1:32
James Harden misses 26-foot three point jumper
85 - 98
1:31
Kendrick Perkins offensive rebound
85 - 98
1:24
Brendan Haywood blocks Kendrick Perkins's 4-foot two point shot
85 - 98
1:23
Serge Ibaka offensive rebound
85 - 98
1:16
Brendan Haywood shooting foul (James Harden draws the foul)
85 - 98
1:16
James Harden makes free throw 1 of 2
86 - 98
1:16
Nazr Mohammed enters the game for Kevin Durant
86 - 98
1:16
Lazar Hayward enters the game for Serge Ibaka
86 - 98
1:16
Reggie Jackson enters the game for Kendrick Perkins
86 - 98
1:16
Eric Maynor enters the game for Russell Westbrook
86 - 98
1:16
James Harden makes free throw 2 of 2
87 - 98
1:00
Shawn Marion makes 9-foot two point shot
87 - 100
1:00
Oklahoma City 20 Sec. timeout
87 - 100
1:00
Rodrigue Beaubois enters the game for Shawn Marion
87 - 100
1:00
Delonte West enters the game for Dirk Nowitzki
87 - 100
1:00
Dominique Jones enters the game for Jason Kidd
87 - 100
1:00
Brian Cardinal enters the game for Jason Terry
87 - 100
1:00
Cole Aldrich enters the game for James Harden
87 - 100
0:49
Cole Aldrich lost ball (Brian Cardinal steals)
87 - 100
0:33
Brian Cardinal misses 26-foot three point jumper
87 - 100
0:31
Lazar Hayward defensive rebound
87 - 100
0:28
Lazar Hayward lost ball (Rodrigue Beaubois steals)
87 - 100
0:27
Rodrigue Beaubois out of bounds lost ball turnover
87 - 100
0:13
Lazar Hayward misses 14-foot two point shot
87 - 100
0:12
Brendan Haywood defensive rebound
87 - 100
0:00
End of the 4th Quarter
87 - 100
0:00
End Game
87 - 100
Dave McMenamin joins SVP to break down the mindset of the Cavaliers after their Game 4 loss to the Raptors.

After defeating the Cavaliers in Game 4, DeMarre Carroll checks in with Bismack Biyombo and Cory Joseph from the cold tub to break down the victory and prepare for Game 5 in Cleveland.

NBA Executive VP of Basketball Operations Kiki Vandeweghe joins SVP to explain why the league ultimately decided not to suspend Draymond Green for kicking Steven Adams in the groin.
Western Conference Quarter Finals
OKC wins series 4-0
2015-2016 Northwest Standings
2015-2016 Southwest Standings