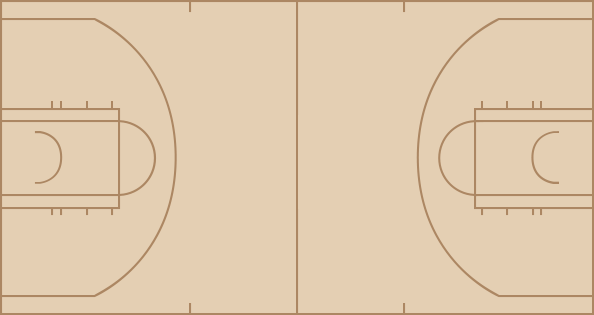 Jazz
time
TEAM
PLAY
SCORE
12:00
Start of the 1st Quarter
0 - 0
12:00
Jumpball: Al Jefferson vs. Brendan Haywood (Devin Harris gains possession)
0 - 0
11:45
Paul Millsap makes 8-foot two point shot (Gordon Hayward assists)
2 - 0
11:30
Lamar Odom misses 17-foot jumper
2 - 0
11:29
Raja Bell defensive rebound
2 - 0
11:23
Devin Harris makes 1-foot two point shot
4 - 0
10:56
Lamar Odom makes 24-foot three point jumper (Brendan Haywood assists)
4 - 3
10:42
Gordon Hayward misses 21-foot jumper
4 - 3
10:41
Lamar Odom defensive rebound
4 - 3
10:38
Lamar Odom bad pass (Gordon Hayward steals)
4 - 3
10:22
Brendan Haywood blocks Al Jefferson's 11-foot jumper
4 - 3
10:19
Jason Kidd defensive rebound
4 - 3
10:06
Shawn Marion misses 13-foot running jumper
4 - 3
10:04
Paul Millsap defensive rebound
4 - 3
9:47
Raja Bell bad pass
4 - 3
9:47
Dallas 20 Sec. timeout
4 - 3
9:47
Vince Carter enters the game for Jason Kidd
4 - 3
9:30
Vince Carter makes two point shot
4 - 5
9:14
Devin Harris misses 24-foot three point jumper
4 - 5
9:14
Al Jefferson offensive rebound
4 - 5
9:11
Al Jefferson makes jumper
6 - 5
8:59
Vince Carter makes 23-foot jumper (Brendan Haywood assists)
6 - 7
8:41
Al Jefferson misses 9-foot jumper
6 - 7
8:40
Brendan Haywood defensive rebound
6 - 7
8:33
Rodrigue Beaubois makes two point shot
6 - 9
8:14
Rodrigue Beaubois blocks Devin Harris's 6-foot two point shot
6 - 9
8:11
Vince Carter defensive rebound
6 - 9
8:06
Vince Carter misses 26-foot three point jumper
6 - 9
8:04
Paul Millsap defensive rebound
6 - 9
7:52
Paul Millsap misses 13-foot two point shot
6 - 9
7:52
Rodrigue Beaubois defensive rebound
6 - 9
7:43
Brendan Haywood 3 second
6 - 9
7:28
Al Jefferson makes layup (Gordon Hayward assists)
8 - 9
7:01
Rodrigue Beaubois makes 25-foot three point jumper (Shawn Marion assists)
8 - 12
6:41
Al Jefferson misses 14-foot jumper
8 - 12
6:41
Lamar Odom defensive rebound
8 - 12
6:41
Paul Millsap loose ball foul (Lamar Odom draws the foul)
8 - 12
6:22
Shawn Marion misses 9-foot two point shot
8 - 12
6:22
Al Jefferson defensive rebound
8 - 12
6:01
Shawn Marion personal foul (Gordon Hayward draws the foul)
8 - 12
5:56
Raja Bell makes 18-foot jumper (Devin Harris assists)
10 - 12
5:46
Al Jefferson blocks Rodrigue Beaubois's layup
10 - 12
5:46
Dallas offensive team rebound
10 - 12
5:46
Dallas full timeout
10 - 12
5:41
Rodrigue Beaubois bad pass (Paul Millsap steals)
10 - 12
5:37
Devin Harris makes driving layup (Raja Bell assists)
12 - 12
5:37
Lamar Odom defensive goaltending
12 - 12
5:20
Al Jefferson blocks Brendan Haywood's 2-foot jumper
12 - 12
5:18
Raja Bell defensive rebound
12 - 12
5:13
Paul Millsap makes 5-foot two point shot
14 - 12
4:48
Brendan Haywood makes 3-foot two point shot
14 - 14
4:39
Raja Bell makes 23-foot three point jumper (Devin Harris assists)
17 - 14
4:16
Shawn Marion misses 22-foot three point jumper
17 - 14
4:16
Brendan Haywood offensive rebound
17 - 14
4:07
Vince Carter makes 22-foot jumper (Rodrigue Beaubois assists)
17 - 16
3:48
Al Jefferson makes 17-foot jumper
19 - 16
3:33
Brendan Haywood traveling
19 - 16
3:33
Jason Terry enters the game for Lamar Odom
19 - 16
3:15
Al Jefferson misses 20-foot jumper
19 - 16
3:13
Rodrigue Beaubois defensive rebound
19 - 16
3:03
Rodrigue Beaubois makes 9-foot two point shot
19 - 18
2:47
Gordon Hayward makes two point shot (Al Jefferson assists)
21 - 18
2:31
Vince Carter makes 2-foot two point shot
21 - 20
2:27
Vince Carter technical foul (1st technical foul)
21 - 20
2:27
Utah full timeout
21 - 20
2:27
Dominique Jones enters the game for Brendan Haywood
21 - 20
2:27
Ian Mahinmi enters the game for Rodrigue Beaubois
21 - 20
2:27
C.J. Miles enters the game for Gordon Hayward
21 - 20
2:27
Earl Watson enters the game for Devin Harris
21 - 20
2:27
Raja Bell misses technical free throw
21 - 20
2:27
Utah offensive team rebound
21 - 20
2:14
Paul Millsap makes 4-foot two point shot (Al Jefferson assists)
23 - 20
2:14
Vince Carter shooting foul (Paul Millsap draws the foul)
23 - 20
2:14
Paul Millsap makes free throw 1 of 1
24 - 20
1:58
Shawn Marion makes driving layup
24 - 22
1:53
Jason Terry shooting foul (C.J. Miles draws the foul)
24 - 22
1:53
C.J. Miles makes free throw 1 of 2
25 - 22
1:53
Derrick Favors enters the game for Raja Bell
25 - 22
1:53
Josh Howard enters the game for Al Jefferson
25 - 22
1:53
C.J. Miles makes free throw 2 of 2
26 - 22
1:39
Jason Terry makes two point shot
26 - 24
1:14
Paul Millsap misses 16-foot two point shot
26 - 24
1:13
Vince Carter defensive rebound
26 - 24
1:04
Shawn Marion makes 7-foot two point shot
26 - 26
1:04
Derrick Favors defensive goaltending
26 - 26
0:51
Derrick Favors makes 7-foot two point shot
28 - 26
0:36
Jason Terry makes 25-foot three point jumper (Dominique Jones assists)
28 - 29
0:18
Yi Jianlian enters the game for Vince Carter
28 - 29
0:18
Jeremy Evans enters the game for Paul Millsap
28 - 29
0:11
C.J. Miles misses 34-foot three point jumper
28 - 29
0:10
Josh Howard offensive rebound
28 - 29
0:08
Josh Howard misses 1-foot two point shot
28 - 29
0:06
Josh Howard offensive rebound
30 - 29
0:06
Josh Howard makes tip shot
30 - 29
0:00
Derrick Favors shooting foul (Jason Terry draws the foul)
30 - 29
0:00
Jason Terry misses free throw 1 of 2
30 - 29
0:00
Dallas offensive team rebound
30 - 29
0:00
Jason Terry makes free throw 2 of 2
30 - 30
0:00
End of the 1st Quarter
30 - 30

time
TEAM
PLAY
SCORE
12:00
Start of the 2nd Quarter
30 - 30
11:36
Dominique Jones misses 13-foot two point shot
30 - 30
11:34
Earl Watson defensive rebound
30 - 30
11:17
Josh Howard misses 14-foot two point shot
30 - 30
11:15
Ian Mahinmi defensive rebound
30 - 30
11:10
Jeremy Evans blocks Dominique Jones's 4-foot two point shot
30 - 30
11:07
Yi Jianlian offensive rebound
30 - 30
10:51
shot clock turnover
30 - 30
10:34
Josh Howard makes 22-foot jumper
32 - 30
10:22
Yi Jianlian makes 22-foot jumper (Dominique Jones assists)
32 - 32
10:11
Josh Howard out of bounds lost ball turnover
32 - 32
9:55
Yi Jianlian makes 19-foot jumper (Jason Terry assists)
32 - 34
9:36
Josh Howard misses jumper
32 - 34
9:34
Utah offensive team rebound
32 - 34
9:33
Rodrigue Beaubois enters the game for Dominique Jones
32 - 34
9:26
C.J. Miles makes 14-foot two point shot
34 - 34
9:15
Ian Mahinmi out of bounds lost ball turnover
34 - 34
9:00
C.J. Miles misses 10-foot two point shot
34 - 34
9:00
Yi Jianlian defensive rebound
34 - 34
8:52
Lamar Odom makes 5-foot two point shot
34 - 36
8:41
Josh Howard misses 8-foot jumper
34 - 36
8:41
Ian Mahinmi defensive rebound
34 - 36
8:23
C.J. Miles personal foul (Yi Jianlian draws the foul)
34 - 36
8:23
Official timeout
34 - 36
8:08
Jason Terry misses 26-foot three point jumper
34 - 36
8:08
Dallas offensive team rebound
34 - 36
8:08
shot clock turnover
34 - 36
7:56
Earl Watson misses 23-foot three point jumper
34 - 36
7:54
Yi Jianlian defensive rebound
34 - 36
7:54
Derrick Favors personal foul (Yi Jianlian draws the foul)
34 - 36
7:54
Al Jefferson enters the game for Jeremy Evans
34 - 36
7:39
Rodrigue Beaubois makes 19-foot jumper
34 - 38
7:20
Al Jefferson bad pass (Yi Jianlian steals)
34 - 38
7:11
Derrick Favors blocks Yi Jianlian's layup
34 - 38
7:09
Al Jefferson defensive rebound
34 - 38
7:03
C.J. Miles misses 25-foot three point jumper
34 - 38
7:03
Derrick Favors offensive rebound
34 - 38
7:00
Josh Howard misses 11-foot jumper
34 - 38
7:00
Derrick Favors offensive rebound
36 - 38
7:00
Derrick Favors makes tip shot
36 - 38
7:00
Lamar Odom shooting foul (Derrick Favors draws the foul)
36 - 38
7:00
Derrick Favors makes free throw 1 of 1
37 - 38
6:45
Al Jefferson blocks Yi Jianlian's layup
37 - 38
6:41
Ian Mahinmi offensive rebound
37 - 38
6:41
Ian Mahinmi makes two point shot
37 - 40
6:16
Rodrigue Beaubois blocks Earl Watson's 14-foot jumper
37 - 40
6:15
Rodrigue Beaubois defensive rebound
37 - 40
6:13
Jason Terry makes driving layup
37 - 42
5:52
Al Jefferson misses 9-foot two point shot
37 - 42
5:52
Lamar Odom defensive rebound
37 - 42
5:45
Rodrigue Beaubois misses 18-foot jumper
37 - 42
5:43
Earl Watson defensive rebound
37 - 42
5:39
Ian Mahinmi shooting foul (Earl Watson draws the foul)
37 - 42
5:39
Dallas full timeout
37 - 42
5:39
Shawn Marion enters the game for Jason Terry
37 - 42
5:39
Vince Carter enters the game for Ian Mahinmi
37 - 42
5:39
Brendan Haywood enters the game for Yi Jianlian
37 - 42
5:39
Paul Millsap enters the game for Derrick Favors
37 - 42
5:39
Gordon Hayward enters the game for Josh Howard
37 - 42
5:39
Earl Watson misses free throw 1 of 2
37 - 42
5:39
Utah offensive team rebound
37 - 42
5:39
Earl Watson makes free throw 2 of 2
38 - 42
5:20
Lamar Odom makes two point shot (Shawn Marion assists)
38 - 44
5:00
Paul Millsap misses 12-foot jumper
38 - 44
4:58
Shawn Marion defensive rebound
38 - 44
4:43
Vince Carter misses 25-foot three point jumper
38 - 44
4:41
Paul Millsap defensive rebound
38 - 44
4:22
C.J. Miles misses 8-foot two point shot
38 - 44
4:22
Utah defensive team rebound
38 - 44
4:22
Al Jefferson loose ball foul (Brendan Haywood draws the foul)
38 - 44
4:22
Devin Harris enters the game for C.J. Miles
38 - 44
4:22
Raja Bell enters the game for Earl Watson
38 - 44
4:05
Rodrigue Beaubois makes three point jumper (Lamar Odom assists)
38 - 47
3:46
Paul Millsap misses 5-foot two point shot
38 - 47
3:45
Al Jefferson offensive rebound
40 - 47
3:45
Al Jefferson makes two point shot
40 - 47
3:28
Paul Millsap personal foul (Rodrigue Beaubois draws the foul)
40 - 47
3:14
Vince Carter makes three point jumper (Rodrigue Beaubois assists)
40 - 50
2:56
Devin Harris makes 25-foot three point jumper (Gordon Hayward assists)
43 - 50
2:39
Devin Harris personal foul (Shawn Marion draws the foul)
43 - 50
2:39
Utah full timeout
43 - 50
2:39
Jason Terry enters the game for Lamar Odom
43 - 50
2:39
Shawn Marion makes free throw 1 of 2
43 - 51
2:39
Shawn Marion makes free throw 2 of 2
43 - 52
2:25
Al Jefferson misses 10-foot jumper
43 - 52
2:24
Brendan Haywood defensive rebound
43 - 52
2:10
Rodrigue Beaubois makes two point shot (Shawn Marion assists)
43 - 54
1:42
Devin Harris makes 26-foot three pointer (Gordon Hayward assists)
46 - 54
1:20
Jason Terry misses 17-foot jumper
46 - 54
1:19
Dallas offensive team rebound
46 - 54
1:06
Shawn Marion misses 9-foot two point shot
46 - 54
1:05
Brendan Haywood offensive rebound
46 - 56
1:05
Brendan Haywood makes tip shot
46 - 56
0:47
Al Jefferson makes slam dunk (Paul Millsap assists)
48 - 56
0:32
Rodrigue Beaubois makes two point shot
48 - 58
0:17
Al Jefferson makes 16-foot jumper (Devin Harris assists)
50 - 58
0:01
Jason Terry misses 21-foot jumper
50 - 58
0:00
Dallas offensive team rebound
50 - 58
0:00
End of the 2nd Quarter
50 - 58

time
TEAM
PLAY
SCORE
12:00
Start of the 3rd Quarter
50 - 58
11:41
Lamar Odom misses 23-foot three point jumper
50 - 58
11:41
Brendan Haywood offensive rebound
50 - 58
11:22
Vince Carter misses driving layup
50 - 58
11:21
Al Jefferson defensive rebound
50 - 58
11:17
Devin Harris lost ball (Rodrigue Beaubois steals)
50 - 58
11:11
Brendan Haywood makes slam dunk (Vince Carter assists)
50 - 60
10:41
Rodrigue Beaubois blocks Devin Harris's 10-foot two point shot
50 - 60
10:40
Paul Millsap offensive rebound
52 - 60
10:40
Paul Millsap makes 1-foot two point shot
52 - 60
10:37
Devin Harris technical foul (1st technical foul)
52 - 60
10:37
Shawn Marion makes technical free throw
52 - 61
10:29
Paul Millsap blocks Lamar Odom's two point shot
52 - 61
10:27
Brendan Haywood offensive rebound
52 - 61
10:22
Lamar Odom makes layup (Rodrigue Beaubois assists)
52 - 63
10:22
Devin Harris shooting foul (Lamar Odom draws the foul)
52 - 63
10:22
Lamar Odom makes free throw 1 of 1
52 - 64
10:10
Gordon Hayward makes 1-foot two point shot (Paul Millsap assists)
54 - 64
9:52
Lamar Odom misses 8-foot two point shot
54 - 64
9:52
Al Jefferson defensive rebound
54 - 64
9:38
Al Jefferson makes 10-foot jumper (Gordon Hayward assists)
56 - 64
9:17
Gordon Hayward blocks Shawn Marion's 11-foot two point shot
56 - 64
9:15
Shawn Marion offensive rebound
56 - 64
9:11
Lamar Odom misses 21-foot jumper
56 - 64
9:11
Brendan Haywood offensive rebound
56 - 64
9:03
Paul Millsap shooting foul (Brendan Haywood draws the foul)
56 - 64
9:03
Brendan Haywood misses free throw 1 of 2
56 - 64
9:03
Dallas offensive team rebound
56 - 64
9:03
Brendan Haywood makes free throw 2 of 2
56 - 65
8:42
Raja Bell makes 26-foot three point jumper (Devin Harris assists)
59 - 65
8:19
Al Jefferson shooting foul (Brendan Haywood draws the foul)
59 - 65
8:19
Brendan Haywood makes free throw 1 of 2
59 - 66
8:19
Brendan Haywood makes free throw 2 of 2
59 - 67
8:17
Shawn Marion foul (Gordon Hayward draws the foul)
59 - 67
8:17
Gordon Hayward makes free throw 1 of 2
60 - 67
8:17
Gordon Hayward makes free throw 2 of 2
61 - 67
8:03
Shawn Marion makes 12-foot running jumper (Rodrigue Beaubois assists)
61 - 69
7:48
Al Jefferson lost ball (Brendan Haywood steals)
61 - 69
7:43
Rodrigue Beaubois misses 5-foot two point shot
61 - 69
7:41
Dallas defensive team rebound
61 - 69
7:31
Al Jefferson makes driving dunk (Gordon Hayward assists)
63 - 69
7:31
Lamar Odom shooting foul (Al Jefferson draws the foul)
63 - 69
7:31
Jason Terry enters the game for Rodrigue Beaubois
63 - 69
7:31
Al Jefferson misses free throw 1 of 1
63 - 69
7:31
Brendan Haywood defensive rebound
63 - 69
7:18
Lamar Odom makes two point shot (Vince Carter assists)
63 - 71
7:00
Brendan Haywood blocks Al Jefferson's layup
63 - 71
6:58
Vince Carter defensive rebound
63 - 71
6:48
Devin Harris personal foul (Brendan Haywood draws the foul)
63 - 71
6:37
Jason Terry makes 16-foot two point shot
63 - 73
6:13
Al Jefferson misses 15-foot jumper
63 - 73
6:11
Lamar Odom defensive rebound
63 - 73
6:05
Devin Harris personal foul (Vince Carter draws the foul)
63 - 73
6:05
Earl Watson enters the game for Devin Harris
63 - 73
6:05
Vince Carter makes free throw 1 of 2
63 - 74
6:05
Vince Carter misses free throw 2 of 2
63 - 74
6:03
Paul Millsap defensive rebound
63 - 74
5:50
Gordon Hayward misses 11-foot two point shot
63 - 74
5:48
Paul Millsap offensive rebound
63 - 74
5:43
Raja Bell misses 25-foot three point jumper
63 - 74
5:41
Brendan Haywood defensive rebound
63 - 74
5:26
Jason Terry makes 24-foot three point jumper (Shawn Marion assists)
63 - 77
5:09
Jason Terry foul (Paul Millsap draws the foul)
63 - 77
5:09
Dallas full timeout
63 - 77
5:09
Rodrigue Beaubois enters the game for Vince Carter
63 - 77
5:09
Enes Kanter enters the game for Al Jefferson
63 - 77
5:09
Paul Millsap makes free throw 1 of 2
64 - 77
5:09
Paul Millsap makes free throw 2 of 2
65 - 77
4:46
Jason Terry lost ball (Paul Millsap steals)
65 - 77
4:41
Paul Millsap makes 1-foot two point shot
67 - 77
4:41
Rodrigue Beaubois shooting foul (Paul Millsap draws the foul)
67 - 77
4:41
Paul Millsap makes free throw 1 of 1
68 - 77
4:26
Shawn Marion misses 13-foot two point shot
68 - 77
4:26
Gordon Hayward defensive rebound
68 - 77
4:18
Shawn Marion shooting foul (Enes Kanter draws the foul)
68 - 77
4:18
Enes Kanter makes free throw 1 of 2
69 - 77
4:18
Ian Mahinmi enters the game for Brendan Haywood
69 - 77
4:18
Enes Kanter makes free throw 2 of 2
70 - 77
3:55
Jason Terry makes 19-foot two point shot
70 - 79
3:34
Paul Millsap makes 9-foot two point shot
72 - 79
3:12
Shawn Marion makes jumper (Rodrigue Beaubois assists)
72 - 81
2:53
Paul Millsap makes 9-foot two point shot
74 - 81
2:35
Rodrigue Beaubois misses 23-foot three point jumper
74 - 81
2:34
Paul Millsap defensive rebound
74 - 81
2:28
Gordon Hayward makes 20-foot two point shot (Earl Watson assists)
76 - 81
2:26
Dallas 20 Sec. timeout
76 - 81
2:26
Utah full timeout
76 - 81
2:26
Yi Jianlian enters the game for Shawn Marion
76 - 81
2:26
Vince Carter enters the game for Lamar Odom
76 - 81
2:11
Yi Jianlian misses 21-foot jumper
76 - 81
2:10
Enes Kanter defensive rebound
76 - 81
1:58
Rodrigue Beaubois shooting foul (Paul Millsap draws the foul)
76 - 81
1:58
Paul Millsap makes free throw 1 of 2
77 - 81
1:58
Paul Millsap makes free throw 2 of 2
78 - 81
1:45
Vince Carter misses layup
78 - 81
1:44
Earl Watson defensive rebound
78 - 81
1:42
Earl Watson bad pass (Jason Terry steals)
78 - 81
1:37
Rodrigue Beaubois misses jumper
78 - 81
1:36
Ian Mahinmi offensive rebound
78 - 81
1:35
Gordon Hayward shooting foul (Ian Mahinmi draws the foul)
78 - 81
1:35
Ian Mahinmi makes free throw 1 of 2
78 - 82
1:35
C.J. Miles enters the game for Raja Bell
78 - 82
1:35
Ian Mahinmi misses free throw 2 of 2
78 - 82
1:34
Enes Kanter defensive rebound
78 - 82
1:15
Enes Kanter makes two point shot
80 - 82
0:51
Vince Carter misses 15-foot jumper
80 - 82
0:50
Enes Kanter defensive rebound
80 - 82
0:44
Gordon Hayward misses two point shot
80 - 82
0:42
Ian Mahinmi defensive rebound
80 - 82
0:36
Jason Terry makes 25-foot three pointer
80 - 85
0:28
Paul Millsap misses 25-foot three point jumper
80 - 85
0:27
Rodrigue Beaubois defensive rebound
80 - 85
0:05
Rodrigue Beaubois makes 5-foot two point shot
80 - 87
0:05
Earl Watson shooting foul (Rodrigue Beaubois draws the foul)
80 - 87
0:05
Rodrigue Beaubois makes free throw 1 of 1
80 - 88
0:01
Earl Watson misses 9-foot two point shot
80 - 88
0:00
Enes Kanter offensive rebound
82 - 88
0:00
Enes Kanter makes two point shot
82 - 88
0:00
End of the 3rd Quarter
82 - 88

time
TEAM
PLAY
SCORE
12:00
Start of the 4th Quarter
82 - 88
11:41
Josh Howard traveling
82 - 88
11:18
Yi Jianlian misses 9-foot two point shot
82 - 88
11:18
Enes Kanter defensive rebound
82 - 88
11:18
Yi Jianlian personal foul (Enes Kanter draws the foul)
82 - 88
11:04
Derrick Favors misses two point shot
82 - 88
11:03
Ian Mahinmi defensive rebound
82 - 88
10:49
Enes Kanter blocks Ian Mahinmi's jumper
82 - 88
10:47
Derrick Favors defensive rebound
82 - 88
10:41
C.J. Miles misses 9-foot running jumper
82 - 88
10:40
Yi Jianlian defensive rebound
82 - 88
10:32
Jason Terry misses 16-foot two point shot
82 - 88
10:30
Earl Watson defensive rebound
82 - 88
10:17
Enes Kanter misses 9-foot hook shot
82 - 88
10:15
Utah offensive team rebound
82 - 88
10:15
Yi Jianlian kicked ball
82 - 88
10:10
Enes Kanter makes 7-foot jumper (Earl Watson assists)
84 - 88
9:47
Ian Mahinmi makes two point shot (Rodrigue Beaubois assists)
84 - 90
9:26
C.J. Miles misses 18-foot two point shot
84 - 90
9:26
Vince Carter defensive rebound
84 - 90
9:11
Earl Watson personal foul (Rodrigue Beaubois draws the foul)
84 - 90
9:00
Rodrigue Beaubois makes 25-foot three point jumper (Vince Carter assists)
84 - 93
8:41
Josh Howard misses 23-foot three point jumper
84 - 93
8:40
Enes Kanter offensive rebound
84 - 93
8:36
Enes Kanter misses 9-foot jumper
84 - 93
8:34
Josh Howard offensive rebound
84 - 93
8:22
Enes Kanter misses 7-foot two point shot
84 - 93
8:19
Ian Mahinmi defensive rebound
84 - 93
8:08
C.J. Miles personal foul (Jason Terry draws the foul)
84 - 93
8:08
Official timeout
84 - 93
8:08
Shawn Marion enters the game for Rodrigue Beaubois
84 - 93
8:08
Lamar Odom enters the game for Vince Carter
84 - 93
8:08
Dominique Jones enters the game for Yi Jianlian
84 - 93
8:08
Al Jefferson enters the game for Enes Kanter
84 - 93
7:54
Lamar Odom makes 24-foot three point jumper (Jason Terry assists)
84 - 96
7:35
C.J. Miles makes layup (Derrick Favors assists)
86 - 96
7:07
Lamar Odom makes 23-foot three point jumper (Jason Terry assists)
86 - 99
6:48
Al Jefferson makes layup (Derrick Favors assists)
88 - 99
6:48
Ian Mahinmi shooting foul (Al Jefferson draws the foul)
88 - 99
6:48
Raja Bell enters the game for C.J. Miles
88 - 99
6:48
Paul Millsap enters the game for Derrick Favors
88 - 99
6:48
Al Jefferson makes free throw 1 of 1
89 - 99
6:28
Paul Millsap shooting foul (Lamar Odom draws the foul)
89 - 99
6:28
Lamar Odom makes free throw 1 of 3
89 - 100
6:28
Lamar Odom misses free throw 2 of 3
89 - 100
6:28
Dallas offensive team rebound
89 - 100
6:28
Brendan Haywood enters the game for Ian Mahinmi
89 - 100
6:28
Lamar Odom misses free throw 3 of 3
89 - 100
6:28
Brendan Haywood offensive rebound
89 - 100
6:11
Jason Terry misses 25-foot three point jumper
89 - 100
6:11
Brendan Haywood offensive rebound
89 - 100
6:09
Al Jefferson loose ball foul (Brendan Haywood draws the foul)
89 - 100
5:56
Shawn Marion makes three point jumper (Dominique Jones assists)
89 - 103
5:41
Paul Millsap misses 6-foot jumper
89 - 103
5:41
Brendan Haywood defensive rebound
89 - 103
5:24
Dominique Jones lost ball (Earl Watson steals)
89 - 103
5:22
Earl Watson lost ball (Dominique Jones steals)
89 - 103
5:16
Shawn Marion makes 13-foot running jumper (Dominique Jones assists)
89 - 105
5:09
Utah full timeout
89 - 105
5:09
Devin Harris enters the game for Earl Watson
89 - 105
5:09
Gordon Hayward enters the game for Josh Howard
89 - 105
4:56
Al Jefferson misses jumper
89 - 105
4:56
Dominique Jones defensive rebound
89 - 105
4:50
Brendan Haywood makes two point shot (Dominique Jones assists)
89 - 107
4:28
Lamar Odom personal foul (Paul Millsap draws the foul)
89 - 107
4:18
Paul Millsap bad pass (Dominique Jones steals)
89 - 107
4:15
Gordon Hayward foul (Dominique Jones draws the foul)
89 - 107
4:15
Dominique Jones makes free throw 1 of 2
89 - 108
4:15
C.J. Miles enters the game for Raja Bell
89 - 108
4:15
Dominique Jones makes free throw 2 of 2
89 - 109
3:58
Al Jefferson misses 10-foot hook shot
89 - 109
3:57
Shawn Marion defensive rebound
89 - 109
3:41
Jason Terry misses 22-foot jumper
89 - 109
3:40
Lamar Odom offensive rebound
89 - 109
3:39
C.J. Miles shooting foul (Brendan Haywood draws the foul)
89 - 109
3:39
Brendan Haywood makes free throw 1 of 2
89 - 110
3:39
Enes Kanter enters the game for Gordon Hayward
89 - 110
3:39
Alec Burks enters the game for Paul Millsap
89 - 110
3:39
Derrick Favors enters the game for Al Jefferson
89 - 110
3:39
Yi Jianlian enters the game for Lamar Odom
89 - 110
3:39
Brendan Haywood misses free throw 2 of 2
89 - 110
3:38
Yi Jianlian offensive rebound
89 - 110
3:33
Brendan Haywood bad pass (Enes Kanter steals)
89 - 110
3:15
Alec Burks makes 7-foot running jumper
91 - 110
3:00
Yi Jianlian misses 22-foot jumper
91 - 110
2:59
Dallas defensive team rebound
91 - 110
2:59
Dallas full timeout
91 - 110
2:59
Rodrigue Beaubois enters the game for Shawn Marion
91 - 110
2:59
Brandan Wright enters the game for Brendan Haywood
91 - 110
2:59
Brian Cardinal enters the game for Jason Terry
91 - 110
2:59
Jamaal Tinsley enters the game for Devin Harris
91 - 110
2:39
C.J. Miles makes 23-foot three pointer (Alec Burks assists)
94 - 110
2:18
Yi Jianlian makes driving dunk
94 - 112
2:06
Rodrigue Beaubois shooting foul (Jamaal Tinsley draws the foul)
94 - 112
2:06
Jamaal Tinsley makes free throw 1 of 2
95 - 112
2:06
Jeremy Evans enters the game for C.J. Miles
95 - 112
2:06
Jamaal Tinsley misses free throw 2 of 2
95 - 112
2:05
Enes Kanter offensive rebound
95 - 112
2:04
Enes Kanter makes two point shot
97 - 112
1:45
Yi Jianlian makes 15-foot jumper (Brandan Wright assists)
97 - 114
1:35
Brandan Wright shooting foul (Derrick Favors draws the foul)
97 - 114
1:35
Derrick Favors makes free throw 1 of 2
98 - 114
1:35
Derrick Favors makes free throw 2 of 2
99 - 114
1:15
Rodrigue Beaubois misses 23-foot three point jumper
99 - 114
1:15
Dallas defensive team rebound
99 - 114
1:04
Alec Burks misses 21-foot jumper
99 - 114
1:04
Rodrigue Beaubois defensive rebound
99 - 114
0:46
Rodrigue Beaubois bad pass (Jamaal Tinsley steals)
99 - 114
0:43
Rodrigue Beaubois blocks Alec Burks's driving layup
99 - 114
0:43
Utah offensive team rebound
99 - 114
0:33
Alec Burks misses 9-foot two point shot
99 - 114
0:33
Rodrigue Beaubois defensive rebound
99 - 114
0:30
Dominique Jones makes slam dunk (Rodrigue Beaubois assists)
99 - 116
0:18
Enes Kanter makes two point shot
101 - 116
0:00
End of the 4th Quarter
101 - 116
0:00
End Game
101 - 116
The latest notes, updates and analysis on the Hornets from around the web.

Jalen Rose and David Jacoby go step-by-step through the Cavaliers' pit stop party in Vegas and all of the shirtless champagne spraying that went along with it.

Warriors players admitted that Monday morning wasn't any fun -- and not just for the usual Monday reasons -- after their Game 7 loss in the NBA Finals.
Regular Season Series
DAL wins series 3-1
2015-2016 Northwest Standings
2015-2016 Southwest Standings