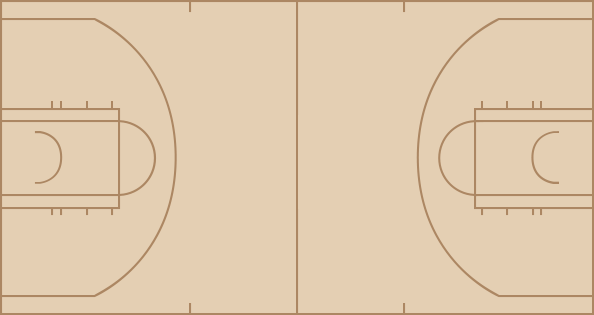 Bobcats
time
TEAM
PLAY
SCORE
12:00
Start of the 1st Quarter
0 - 0
12:00
Jumpball: Bismack Biyombo vs. Brendan Haywood (D.J. Augustin gains possession)
0 - 0
11:45
Tyrus Thomas makes 17-foot jumper
2 - 0
11:32
Jason Kidd misses 25-foot three point jumper
2 - 0
11:30
Bismack Biyombo defensive rebound
2 - 0
11:22
D.J. Augustin makes 25-foot three point jumper
5 - 0
11:07
Bismack Biyombo blocks Vince Carter's 6-foot two point shot
5 - 0
11:07
Dallas offensive team rebound
5 - 0
11:07
Tyrus Thomas personal foul (Dirk Nowitzki draws the foul)
5 - 0
11:00
Dirk Nowitzki misses 20-foot jumper
5 - 0
11:00
Corey Maggette defensive rebound
5 - 0
10:41
Corey Maggette misses 21-foot jumper
5 - 0
10:41
Brendan Haywood defensive rebound
5 - 0
10:26
Dirk Nowitzki makes two point shot (Shawn Marion assists)
5 - 2
10:15
Gerald Henderson makes 16-foot two point shot
7 - 2
10:00
Shawn Marion misses 12-foot running jumper
7 - 2
10:00
Tyrus Thomas defensive rebound
7 - 2
9:49
Corey Maggette misses 17-foot jumper
7 - 2
9:48
Shawn Marion defensive rebound
7 - 2
9:37
Shawn Marion misses 9-foot two point shot
7 - 2
9:36
Brendan Haywood offensive rebound
7 - 4
9:36
Brendan Haywood makes two point shot
7 - 4
9:15
Bismack Biyombo misses 12-foot jumper
7 - 4
9:14
Brendan Haywood defensive rebound
7 - 4
9:07
Dirk Nowitzki misses 15-foot jumper
7 - 4
9:07
Tyrus Thomas defensive rebound
7 - 4
8:52
D.J. Augustin misses 18-foot two point shot
7 - 4
8:52
Brendan Haywood defensive rebound
7 - 4
8:42
Dirk Nowitzki makes 19-foot jumper
7 - 6
8:30
Gerald Henderson misses 20-foot jumper
7 - 6
8:29
Brendan Haywood defensive rebound
7 - 6
8:11
Vince Carter misses 23-foot three point jumper
7 - 6
8:10
Bismack Biyombo defensive rebound
7 - 6
8:02
Corey Maggette offensive charge (Vince Carter draws the foul)
7 - 6
8:02
Corey Maggette turnover
7 - 6
8:00
Shawn Marion out of bounds lost ball turnover
7 - 6
7:43
Tyrus Thomas makes 15-foot jumper
9 - 6
7:20
Vince Carter misses 25-foot three point jumper
9 - 6
7:20
Bismack Biyombo defensive rebound
9 - 6
7:07
Gerald Henderson bad pass
9 - 6
6:52
Dirk Nowitzki makes 8-foot two point shot
9 - 8
6:26
Tyrus Thomas misses jumper
9 - 8
6:26
Shawn Marion defensive rebound
9 - 8
6:18
Vince Carter misses two point shot
9 - 8
6:16
Brendan Haywood offensive rebound
9 - 8
6:15
Brendan Haywood misses two point shot
9 - 8
6:13
Brendan Haywood offensive rebound
9 - 8
6:11
Brendan Haywood makes 12-foot jumper
9 - 10
5:47
Bismack Biyombo misses 16-foot jumper
9 - 10
5:46
Jason Kidd defensive rebound
9 - 10
5:33
Brendan Haywood misses 7-foot two point shot
9 - 10
5:33
D.J. Augustin defensive rebound
9 - 10
5:26
D.J. Augustin makes two point shot
11 - 10
5:24
Dallas full timeout
11 - 10
5:24
Lamar Odom enters the game for Dirk Nowitzki
11 - 10
5:24
Ian Mahinmi enters the game for Brendan Haywood
11 - 10
5:13
Gerald Henderson personal foul (Vince Carter draws the foul)
11 - 10
5:05
Shawn Marion misses 23-foot three point jumper
11 - 10
5:03
Bismack Biyombo defensive rebound
11 - 10
5:01
Lamar Odom personal foul (Corey Maggette draws the foul)
11 - 10
4:48
Corey Maggette makes 23-foot three point jumper (D.J. Augustin assists)
14 - 10
4:28
Lamar Odom misses 1-foot two point shot
14 - 10
4:26
Bismack Biyombo defensive rebound
14 - 10
4:05
Tyrus Thomas makes 19-foot jumper (D.J. Augustin assists)
16 - 10
3:53
D.J. Augustin shooting foul (Jason Kidd draws the foul)
16 - 10
3:53
Jason Kidd makes free throw 1 of 2
16 - 11
3:53
Jason Terry enters the game for Vince Carter
16 - 11
3:53
Jason Kidd makes free throw 2 of 2
16 - 12
3:30
Corey Maggette misses 24-foot three point jumper
16 - 12
3:29
Shawn Marion defensive rebound
16 - 12
3:23
Jason Kidd makes 23-foot two point shot
16 - 14
3:02
Bismack Biyombo misses 8-foot two point shot
16 - 14
3:01
Shawn Marion defensive rebound
16 - 14
2:49
Jason Terry misses 15-foot jumper
16 - 14
2:48
Tyrus Thomas defensive rebound
16 - 14
2:40
Gerald Henderson lost ball (Jason Kidd steals)
16 - 14
2:32
Lamar Odom makes 2-foot two point shot (Jason Kidd assists)
16 - 16
2:23
Charlotte full timeout
16 - 16
2:23
Rodrigue Beaubois enters the game for Shawn Marion
16 - 16
2:23
Dirk Nowitzki enters the game for Jason Kidd
16 - 16
2:23
D.J. White enters the game for Tyrus Thomas
16 - 16
2:23
Reggie Williams enters the game for Gerald Henderson
16 - 16
2:23
Byron Mullens enters the game for Bismack Biyombo
16 - 16
2:08
Byron Mullens makes 14-foot jumper (D.J. White assists)
18 - 16
1:51
Jason Terry makes 25-foot three point jumper (Lamar Odom assists)
18 - 19
1:35
Corey Maggette offensive charge (Ian Mahinmi draws the foul)
18 - 19
1:35
Corey Maggette turnover
18 - 19
1:35
Derrick Brown enters the game for Corey Maggette
18 - 19
1:23
Ian Mahinmi makes slam dunk (Dirk Nowitzki assists)
18 - 21
1:00
Byron Mullens makes 19-foot jumper (Derrick Brown assists)
20 - 21
0:47
Dirk Nowitzki misses 14-foot jumper
20 - 21
0:46
Dallas defensive team rebound
20 - 21
0:31
Ian Mahinmi personal foul (D.J. Augustin draws the foul)
20 - 21
0:21
D.J. Augustin misses 24-foot three point jumper
20 - 21
0:21
Lamar Odom defensive rebound
20 - 21
0:03
Rodrigue Beaubois misses driving layup
20 - 21
0:03
Ian Mahinmi offensive rebound
20 - 23
0:03
Ian Mahinmi makes two point shot
20 - 23
0:00
D.J. Augustin makes 26-foot three pointer
23 - 23
0:00
End of the 1st Quarter
23 - 23

time
TEAM
PLAY
SCORE
12:00
Start of the 2nd Quarter
23 - 23
11:45
Rodrigue Beaubois makes two point shot
23 - 25
11:29
D.J. White misses 19-foot jumper
23 - 25
11:27
Reggie Williams offensive rebound
23 - 25
11:22
Byron Mullens misses 23-foot jumper
23 - 25
11:21
Charlotte defensive team rebound
23 - 25
11:07
Jason Terry makes 23-foot three point jumper (Rodrigue Beaubois assists)
23 - 28
10:45
Reggie Williams makes 26-foot three point jumper (Kemba Walker assists)
26 - 28
10:27
Dirk Nowitzki misses 17-foot jumper
26 - 28
10:27
Kemba Walker defensive rebound
26 - 28
10:21
Reggie Williams misses 28-foot three pointer
26 - 28
10:19
Charlotte offensive team rebound
26 - 28
10:18
Brandan Wright enters the game for Ian Mahinmi
26 - 28
10:03
D.J. White makes 19-foot jumper (Kemba Walker assists)
28 - 28
9:42
Rodrigue Beaubois makes two point shot (Dirk Nowitzki assists)
28 - 30
9:22
Kemba Walker misses 18-foot two point shot
28 - 30
9:22
Lamar Odom defensive rebound
28 - 30
9:07
Dirk Nowitzki misses 17-foot jumper
28 - 30
9:07
Brandan Wright offensive rebound
28 - 30
9:00
Rodrigue Beaubois step out of bounds turnover
28 - 30
8:56
Charlotte full timeout
28 - 30
8:36
Kemba Walker makes 25-foot three point jumper (D.J. White assists)
31 - 30
8:22
Lamar Odom bad pass (Byron Mullens steals)
31 - 30
8:18
Jason Terry shooting foul (Kemba Walker draws the foul)
31 - 30
8:18
Kemba Walker makes free throw 1 of 2
32 - 30
8:18
Vince Carter enters the game for Dirk Nowitzki
32 - 30
8:18
Kemba Walker misses free throw 2 of 2
32 - 30
8:17
Derrick Brown offensive rebound
32 - 30
8:15
Eduardo Najera enters the game for Byron Mullens
32 - 30
8:07
Reggie Williams makes 22-foot jumper (Derrick Brown assists)
34 - 30
8:03
Dallas full timeout
34 - 30
7:48
Vince Carter misses 13-foot two point shot
34 - 30
7:47
Kemba Walker defensive rebound
34 - 30
7:33
Kemba Walker makes 25-foot three point jumper (Reggie Williams assists)
37 - 30
7:18
Rodrigue Beaubois makes jumper (Vince Carter assists)
37 - 32
6:56
Vince Carter illegal defense foul
37 - 32
6:56
Kemba Walker makes technical free throw
38 - 32
6:56
Shawn Marion enters the game for Lamar Odom
38 - 32
6:48
Kemba Walker misses 22-foot jumper
38 - 32
6:48
Brandan Wright defensive rebound
38 - 32
6:35
Jason Terry bad pass (D.J. White steals)
38 - 32
6:30
Derrick Brown makes two point shot (Kemba Walker assists)
40 - 32
6:16
Shawn Marion traveling
40 - 32
6:01
Reggie Williams makes 8-foot two point shot
42 - 32
5:54
Dallas 20 Sec. timeout
42 - 32
5:54
Jason Kidd enters the game for Vince Carter
42 - 32
5:54
Brendan Haywood enters the game for Jason Terry
42 - 32
5:54
Dirk Nowitzki enters the game for Brandan Wright
42 - 32
5:41
Dirk Nowitzki makes 15-foot two point shot
42 - 34
5:22
Eduardo Najera makes 19-foot jumper (Reggie Williams assists)
44 - 34
5:11
D.J. White personal foul (Dirk Nowitzki draws the foul)
44 - 34
5:11
Bismack Biyombo enters the game for D.J. White
44 - 34
5:07
Eduardo Najera personal foul (Rodrigue Beaubois draws the foul)
44 - 34
5:00
Dirk Nowitzki lost ball (Eduardo Najera steals)
44 - 34
4:54
Derrick Brown makes dunk (Reggie Williams assists)
46 - 34
4:41
Eduardo Najera shooting foul (Brendan Haywood draws the foul)
46 - 34
4:41
Brendan Haywood misses free throw 1 of 2
46 - 34
4:41
Dallas offensive team rebound
46 - 34
4:41
Jason Terry enters the game for Rodrigue Beaubois
46 - 34
4:41
Brendan Haywood misses free throw 2 of 2
46 - 34
4:41
Bismack Biyombo defensive rebound
46 - 34
4:28
Kemba Walker makes 13-foot two point shot
48 - 34
4:13
Jason Terry makes 23-foot three point jumper (Shawn Marion assists)
48 - 37
3:51
Shawn Marion blocks Bismack Biyombo's 3-foot two point shot
48 - 37
3:49
Dirk Nowitzki defensive rebound
48 - 37
3:47
Shawn Marion makes driving layup (Jason Terry assists)
48 - 39
3:47
Bismack Biyombo defensive goaltending
48 - 39
3:39
double personal foul: Brendan Haywood (2) and Bismack Biyombo (2) are each charged with a personal foul
48 - 39
3:39
Tyrus Thomas enters the game for Reggie Williams
48 - 39
3:39
Corey Maggette enters the game for Derrick Brown
48 - 39
3:39
D.J. Augustin enters the game for Kemba Walker
48 - 39
3:39
Gerald Henderson enters the game for Eduardo Najera
48 - 39
3:24
Bismack Biyombo makes 14-foot two point shot
50 - 39
3:16
Bismack Biyombo personal foul (Brendan Haywood draws the foul)
50 - 39
3:16
Byron Mullens enters the game for Bismack Biyombo
50 - 39
3:08
Jason Kidd misses 25-foot three point jumper
50 - 39
3:05
Byron Mullens defensive rebound
50 - 39
2:47
Corey Maggette misses 21-foot jumper
50 - 39
2:47
Jason Terry defensive rebound
50 - 39
2:44
Jason Terry bad pass (Corey Maggette steals)
50 - 39
2:26
Gerald Henderson misses two point shot
50 - 39
2:25
Byron Mullens offensive rebound
50 - 39
2:18
Corey Maggette makes 14-foot jumper (Byron Mullens assists)
52 - 39
1:57
Dirk Nowitzki makes 13-foot two point shot
52 - 41
1:39
Brendan Haywood shooting foul (Tyrus Thomas draws the foul)
52 - 41
1:39
Official timeout
52 - 41
1:39
Ian Mahinmi enters the game for Brendan Haywood
52 - 41
1:39
Tyrus Thomas makes free throw 1 of 2
53 - 41
1:39
Tyrus Thomas makes free throw 2 of 2
54 - 41
1:23
Jason Terry makes 13-foot two point shot (Jason Kidd assists)
54 - 43
0:59
Corey Maggette misses 17-foot jumper
54 - 43
0:58
Tyrus Thomas offensive rebound
54 - 43
0:40
Tyrus Thomas lost ball (Jason Kidd steals)
54 - 43
0:34
Byron Mullens shooting foul (Dirk Nowitzki draws the foul)
54 - 43
0:34
Dirk Nowitzki makes free throw 1 of 3
54 - 44
0:34
Dirk Nowitzki makes free throw 2 of 3
54 - 45
0:34
Dirk Nowitzki makes free throw 3 of 3
54 - 46
0:27
Corey Maggette misses 8-foot jumper
54 - 46
0:26
Jason Kidd defensive rebound
54 - 46
0:02
Dirk Nowitzki misses 16-foot jumper
54 - 46
0:02
Ian Mahinmi offensive rebound
54 - 46
0:02
Tyrus Thomas shooting foul (Ian Mahinmi draws the foul)
54 - 46
0:02
Ian Mahinmi makes free throw 1 of 2
54 - 47
0:02
Ian Mahinmi makes free throw 2 of 2
54 - 48
0:00
Jason Terry blocks D.J. Augustin's 55-foot three point jumper
54 - 48
0:00
Charlotte offensive team rebound
54 - 48
0:00
End of the 2nd Quarter
54 - 48

time
TEAM
PLAY
SCORE
12:00
Start of the 3rd Quarter
54 - 48
11:45
Vince Carter makes two point shot (Dirk Nowitzki assists)
54 - 50
11:27
Gerald Henderson makes jumper (Tyrus Thomas assists)
56 - 50
11:14
Vince Carter misses 4-foot jumper
56 - 50
11:11
Brendan Haywood offensive rebound
56 - 50
11:07
Dirk Nowitzki misses 24-foot three point jumper
56 - 50
11:07
Corey Maggette defensive rebound
56 - 50
10:55
Gerald Henderson offensive foul (Vince Carter draws the foul)
56 - 50
10:55
Gerald Henderson turnover
56 - 50
10:41
Tyrus Thomas shooting foul (Dirk Nowitzki draws the foul)
56 - 50
10:41
Dirk Nowitzki makes free throw 1 of 2
56 - 51
10:41
Dirk Nowitzki misses free throw 2 of 2
56 - 51
10:40
Tyrus Thomas defensive rebound
56 - 51
10:22
Tyrus Thomas makes 20-foot jumper (D.J. Augustin assists)
58 - 51
10:03
Jason Kidd misses 25-foot three point jumper
58 - 51
10:03
Bismack Biyombo defensive rebound
58 - 51
9:52
Vince Carter personal foul (Gerald Henderson draws the foul)
58 - 51
9:38
D.J. Augustin misses 25-foot three point jumper
58 - 51
9:37
Dirk Nowitzki defensive rebound
58 - 51
9:30
Dirk Nowitzki misses 24-foot three point jumper
58 - 51
9:29
Bismack Biyombo defensive rebound
58 - 51
9:18
Bismack Biyombo misses 1-foot two point shot
58 - 51
9:18
Charlotte defensive team rebound
58 - 51
8:57
Jason Kidd makes 25-foot three point jumper (Dirk Nowitzki assists)
58 - 54
8:38
Gerald Henderson misses 20-foot jumper
58 - 54
8:37
Charlotte offensive team rebound
58 - 54
8:26
Brendan Haywood blocks D.J. Augustin's driving layup
58 - 54
8:26
Charlotte offensive team rebound
58 - 54
8:19
Brendan Haywood blocks Corey Maggette's 5-foot two point shot
58 - 54
8:18
Jason Kidd defensive rebound
58 - 54
8:07
Brendan Haywood makes slam dunk (Shawn Marion assists)
58 - 56
7:56
Charlotte full timeout
58 - 56
7:41
Vince Carter shooting foul (Corey Maggette draws the foul)
58 - 56
7:41
Corey Maggette makes free throw 1 of 2
59 - 56
7:41
Ian Mahinmi enters the game for Brendan Haywood
59 - 56
7:41
Corey Maggette makes free throw 2 of 2
60 - 56
7:26
Bismack Biyombo shooting foul (Vince Carter draws the foul)
60 - 56
7:26
Vince Carter makes free throw 1 of 3
60 - 57
7:26
Vince Carter makes free throw 2 of 3
60 - 58
7:26
Vince Carter makes free throw 3 of 3
60 - 59
7:11
Corey Maggette misses 12-foot two point shot
60 - 59
7:11
Dirk Nowitzki defensive rebound
60 - 59
7:01
Shawn Marion misses 7-foot jumper
60 - 59
7:01
Gerald Henderson defensive rebound
60 - 59
6:48
Tyrus Thomas makes 18-foot jumper (Corey Maggette assists)
62 - 59
6:28
Dirk Nowitzki makes 25-foot three point jumper (Shawn Marion assists)
62 - 62
6:01
D.J. Augustin misses 7-foot two point shot
62 - 62
6:01
Ian Mahinmi defensive rebound
62 - 62
5:54
Dirk Nowitzki makes 25-foot three point jumper (Jason Kidd assists)
62 - 65
5:31
Bismack Biyombo misses 5-foot two point shot
62 - 65
5:30
Shawn Marion defensive rebound
62 - 65
5:22
Dirk Nowitzki misses 26-foot three point jumper
62 - 65
5:20
Dallas defensive team rebound
62 - 65
5:20
Eduardo Najera enters the game for Bismack Biyombo
62 - 65
4:56
Corey Maggette makes 18-foot jumper
64 - 65
4:45
Dirk Nowitzki makes 15-foot jumper
64 - 67
4:35
Dirk Nowitzki personal foul (Corey Maggette draws the foul)
64 - 67
4:35
Lamar Odom enters the game for Dirk Nowitzki
64 - 67
4:35
Jason Terry enters the game for Vince Carter
64 - 67
4:22
Gerald Henderson misses 9-foot two point shot
64 - 67
4:20
Ian Mahinmi defensive rebound
64 - 67
4:07
Shawn Marion misses 9-foot two point shot
64 - 67
4:05
Lamar Odom offensive rebound
64 - 67
4:03
Lamar Odom bad pass (Eduardo Najera steals)
64 - 67
3:58
Gerald Henderson misses 17-foot two point shot
64 - 67
3:57
Lamar Odom defensive rebound
64 - 67
3:47
Lamar Odom misses 24-foot three point jumper
64 - 67
3:47
Tyrus Thomas defensive rebound
64 - 67
3:31
Ian Mahinmi shooting foul (Corey Maggette draws the foul)
64 - 67
3:31
Corey Maggette makes free throw 1 of 2
65 - 67
3:31
D.J. White enters the game for Tyrus Thomas
65 - 67
3:31
Reggie Williams enters the game for Gerald Henderson
65 - 67
3:31
Dallas full timeout
65 - 67
3:31
Rodrigue Beaubois enters the game for Jason Kidd
65 - 67
3:31
Corey Maggette makes free throw 2 of 2
66 - 67
3:17
Jason Terry makes 20-foot jumper
66 - 69
2:59
D.J. White misses 18-foot jumper
66 - 69
2:58
Eduardo Najera offensive rebound
68 - 69
2:58
Eduardo Najera makes tip shot
68 - 69
2:44
Kemba Walker enters the game for D.J. Augustin
68 - 69
2:36
Rodrigue Beaubois misses 9-foot running jumper
68 - 69
2:35
Ian Mahinmi offensive rebound
68 - 69
2:35
Ian Mahinmi misses tip shot
68 - 69
2:34
Shawn Marion offensive rebound
68 - 69
2:21
Shawn Marion misses 8-foot two point shot
68 - 69
2:20
D.J. White defensive rebound
68 - 69
1:59
Corey Maggette misses 22-foot three point jumper
68 - 69
1:58
Jason Terry defensive rebound
68 - 69
1:54
Shawn Marion makes 1-foot two point shot (Jason Terry assists)
68 - 71
1:31
Eduardo Najera misses 25-foot three point jumper
68 - 71
1:30
Charlotte defensive team rebound
68 - 71
1:30
Vince Carter enters the game for Shawn Marion
68 - 71
1:30
Derrick Brown enters the game for Corey Maggette
68 - 71
1:10
Vince Carter makes 24-foot three point jumper (Lamar Odom assists)
68 - 74
0:54
Reggie Williams misses 25-foot three point jumper
68 - 74
0:52
D.J. White offensive rebound
68 - 74
0:51
Lamar Odom blocks D.J. White's layup
68 - 74
0:49
Lamar Odom defensive rebound
68 - 74
0:44
Jason Terry misses 24-foot three point jumper
68 - 74
0:43
Eduardo Najera defensive rebound
68 - 74
0:35
D.J. White out of bounds lost ball turnover
68 - 74
0:21
Jason Terry lost ball (Kemba Walker steals)
68 - 74
0:02
Kemba Walker misses 8-foot two point shot
68 - 74
0:00
D.J. White offensive rebound
68 - 74
0:00
End of the 3rd Quarter
68 - 74

time
TEAM
PLAY
SCORE
12:00
Start of the 4th Quarter
68 - 74
11:41
D.J. White backcourt
68 - 74
11:41
Byron Mullens enters the game for D.J. White
68 - 74
11:33
Jason Terry misses 17-foot jumper
68 - 74
11:32
Eduardo Najera defensive rebound
68 - 74
11:17
Eduardo Najera misses 25-foot three point jumper
68 - 74
11:15
Kemba Walker offensive rebound
68 - 74
11:11
Derrick Brown makes 21-foot jumper (Kemba Walker assists)
70 - 74
10:55
Ian Mahinmi makes layup
70 - 76
10:55
Eduardo Najera shooting foul (Ian Mahinmi draws the foul)
70 - 76
10:55
Ian Mahinmi misses free throw 1 of 1
70 - 76
10:53
Byron Mullens defensive rebound
70 - 76
10:45
Derrick Brown misses 15-foot jumper
70 - 76
10:45
Rodrigue Beaubois defensive rebound
70 - 76
10:30
Vince Carter makes 27-foot three point jumper (Rodrigue Beaubois assists)
70 - 79
10:22
Charlotte full timeout
70 - 79
10:22
D.J. Augustin enters the game for Byron Mullens
70 - 79
10:04
Reggie Williams misses 25-foot three point jumper
70 - 79
10:03
Jason Terry defensive rebound
70 - 79
9:48
Ian Mahinmi offensive charge (Eduardo Najera draws the foul)
70 - 79
9:48
Ian Mahinmi turnover
70 - 79
9:33
Kemba Walker makes 19-foot jumper
72 - 79
9:15
Lamar Odom misses 25-foot three point jumper
72 - 79
9:14
Kemba Walker defensive rebound
72 - 79
9:08
Kemba Walker lost ball (Vince Carter steals)
72 - 79
9:04
Rodrigue Beaubois makes two point shot
72 - 81
8:52
Derrick Brown misses 15-foot jumper
72 - 81
8:49
Rodrigue Beaubois defensive rebound
72 - 81
8:45
Rodrigue Beaubois makes two point shot
72 - 83
8:25
Ian Mahinmi shooting foul (D.J. Augustin draws the foul)
72 - 83
8:25
D.J. Augustin makes free throw 1 of 2
73 - 83
8:25
Brandan Wright enters the game for Ian Mahinmi
73 - 83
8:25
Dirk Nowitzki enters the game for Lamar Odom
73 - 83
8:25
D.J. Augustin makes free throw 2 of 2
74 - 83
8:11
Reggie Williams personal foul (Dirk Nowitzki draws the foul)
74 - 83
8:03
Dirk Nowitzki misses 14-foot two point shot
74 - 83
8:03
Kemba Walker defensive rebound
74 - 83
7:58
Kemba Walker lost ball (Rodrigue Beaubois steals)
74 - 83
7:52
Jason Terry misses 16-foot two point shot
74 - 83
7:52
Derrick Brown defensive rebound
74 - 83
7:33
Kemba Walker misses 26-foot three point jumper
74 - 83
7:31
Rodrigue Beaubois defensive rebound
74 - 83
7:24
Brandan Wright makes 2-foot two point shot (Dirk Nowitzki assists)
74 - 85
6:56
Brandan Wright blocks Reggie Williams's driving dunk
74 - 85
6:52
Dirk Nowitzki defensive rebound
74 - 85
6:46
Dirk Nowitzki makes 24-foot three point jumper (Rodrigue Beaubois assists)
74 - 88
6:41
Charlotte full timeout
74 - 88
6:41
Gerald Henderson enters the game for Reggie Williams
74 - 88
6:41
Bismack Biyombo enters the game for Derrick Brown
74 - 88
6:41
Tyrus Thomas enters the game for Kemba Walker
74 - 88
6:41
Corey Maggette enters the game for Eduardo Najera
74 - 88
6:22
Vince Carter shooting foul (Corey Maggette draws the foul)
74 - 88
6:22
Corey Maggette misses free throw 1 of 2
74 - 88
6:22
Charlotte offensive team rebound
74 - 88
6:22
Corey Maggette makes free throw 2 of 2
75 - 88
6:05
Jason Terry misses 13-foot two point shot
75 - 88
6:03
Bismack Biyombo defensive rebound
75 - 88
5:48
Gerald Henderson makes 17-foot two point shot
77 - 88
5:28
Rodrigue Beaubois makes 9-foot running jumper
77 - 90
5:16
D.J. Augustin misses 25-foot three point jumper
77 - 90
5:16
Jason Terry defensive rebound
77 - 90
5:07
Vince Carter misses 25-foot three point jumper
77 - 90
5:05
Jason Terry offensive rebound
77 - 90
4:58
Jason Terry makes two point shot
77 - 92
4:39
Gerald Henderson misses 5-foot two point shot
77 - 92
4:39
Rodrigue Beaubois defensive rebound
77 - 92
4:30
Vince Carter misses 24-foot three point jumper
77 - 92
4:28
Bismack Biyombo defensive rebound
77 - 92
4:22
Brandan Wright blocks D.J. Augustin's driving layup
77 - 92
4:20
Dirk Nowitzki defensive rebound
77 - 92
4:20
Gerald Henderson personal foul (Jason Terry draws the foul)
77 - 92
4:11
Rodrigue Beaubois makes 10-foot running jumper
77 - 94
3:58
Corey Maggette misses 17-foot jumper
77 - 94
3:57
Dirk Nowitzki defensive rebound
77 - 94
3:47
Dirk Nowitzki misses 26-foot three point jumper
77 - 94
3:47
Tyrus Thomas defensive rebound
77 - 94
3:35
Gerald Henderson makes 25-foot three point jumper (D.J. Augustin assists)
80 - 94
3:34
Dallas full timeout
80 - 94
3:15
Jason Terry misses 25-foot three point jumper
80 - 94
3:13
D.J. Augustin defensive rebound
80 - 94
3:08
Corey Maggette makes two point shot (Gerald Henderson assists)
82 - 94
2:45
Bismack Biyombo blocks Jason Terry's driving layup
82 - 94
2:44
Brandan Wright offensive rebound
82 - 94
2:35
Dirk Nowitzki misses 16-foot jumper
82 - 94
2:35
Dallas defensive team rebound
82 - 94
2:23
Dirk Nowitzki personal foul (Corey Maggette draws the foul)
82 - 94
2:17
Tyrus Thomas misses 15-foot jumper
82 - 94
2:16
Bismack Biyombo offensive rebound
82 - 94
2:14
Corey Maggette makes 25-foot three point jumper (Gerald Henderson assists)
85 - 94
1:51
Brandan Wright misses two point shot
85 - 94
1:50
Brandan Wright offensive rebound
85 - 96
1:50
Brandan Wright makes 1-foot two point shot
85 - 96
1:39
Brandan Wright shooting foul (Tyrus Thomas draws the foul)
85 - 96
1:39
Tyrus Thomas makes free throw 1 of 2
86 - 96
1:39
Brian Cardinal enters the game for Dirk Nowitzki
86 - 96
1:39
Dominique Jones enters the game for Jason Terry
86 - 96
1:39
Tyrus Thomas makes free throw 2 of 2
87 - 96
1:22
Rodrigue Beaubois lost ball (Bismack Biyombo steals)
87 - 96
1:17
Bismack Biyombo lost ball (Rodrigue Beaubois steals)
87 - 96
0:56
Brandan Wright misses 9-foot jumper
87 - 96
0:55
Tyrus Thomas defensive rebound
87 - 96
0:48
Rodrigue Beaubois shooting foul (Corey Maggette draws the foul)
87 - 96
0:48
Corey Maggette makes free throw 1 of 2
88 - 96
0:48
Corey Maggette makes free throw 2 of 2
89 - 96
0:43
Dominique Jones lost ball (Gerald Henderson steals)
89 - 96
0:39
Dominique Jones shooting foul (Corey Maggette draws the foul)
89 - 96
0:39
Corey Maggette makes free throw 1 of 2
90 - 96
0:39
Eduardo Najera enters the game for Bismack Biyombo
90 - 96
0:39
Jason Terry enters the game for Dominique Jones
90 - 96
0:39
Corey Maggette makes free throw 2 of 2
91 - 96
0:39
Dallas full timeout
91 - 96
0:39
Dirk Nowitzki enters the game for Brandan Wright
91 - 96
0:33
Tyrus Thomas personal take (Dirk Nowitzki draws the foul)
91 - 96
0:32
Gerald Henderson personal take (Jason Terry draws the foul)
91 - 96
0:32
Jason Terry makes free throw 1 of 2
91 - 97
0:32
Brandan Wright enters the game for Brian Cardinal
91 - 97
0:32
Jason Terry makes free throw 2 of 2
91 - 98
0:32
Charlotte full timeout
91 - 98
0:26
Gerald Henderson makes two point shot (Corey Maggette assists)
93 - 98
0:26
Jason Terry shooting foul (Gerald Henderson draws the foul)
93 - 98
0:26
Gerald Henderson makes free throw 1 of 1
94 - 98
0:24
Gerald Henderson personal take (Jason Terry draws the foul)
94 - 98
0:24
Jason Terry misses free throw 1 of 2
94 - 98
0:24
Dallas offensive team rebound
94 - 98
0:24
Jason Terry makes free throw 2 of 2
94 - 99
0:24
Charlotte 20 Sec. timeout
94 - 99
0:20
D.J. Augustin makes driving layup
96 - 99
0:19
Corey Maggette personal take (Dirk Nowitzki draws the foul)
96 - 99
0:19
Dirk Nowitzki makes free throw 1 of 2
96 - 100
0:19
Dirk Nowitzki makes free throw 2 of 2
96 - 101
0:11
Jason Terry blocks Gerald Henderson's 24-foot three point jumper
96 - 101
0:11
Charlotte offensive team rebound
96 - 101
0:09
Corey Maggette bad pass (Brandan Wright steals)
96 - 101
0:00
End of the 4th Quarter
96 - 101
0:00
End Game
96 - 101
Stephen Jackson explains on The Jump why he is interested in coming out of retirement to play in the NBA again, and comedian Michael Rapaport wastes no time in trying to recruit him to play for the New York Knicks.

Erik Spoelstra, who twice has led the Heat to NBA titles, is nearing an extension with the team, a source said, confirming The Vertical's original report.

LeBron James has elected to opt out of his contract with the Cavaliers that would have paid him $24 million next season.
Regular Season Series
DAL wins series 1-0
2015-2016 Southwest Standings