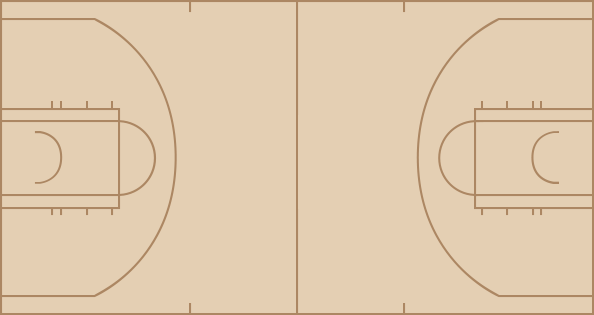 Grizzlies
time
TEAM
PLAY
SCORE
12:00
Start of the 1st Quarter
0 - 0
12:00
Jumpball: Marc Gasol vs. Brendan Haywood (Mike Conley gains possession)
0 - 0
11:45
Rudy Gay misses 15-foot jumper
0 - 0
11:45
Brendan Haywood defensive rebound
0 - 0
11:21
Marc Gasol blocks Dirk Nowitzki's 19-foot jumper
0 - 0
11:21
Dallas offensive team rebound
0 - 0
11:21
shot clock turnover
0 - 0
11:07
Marc Gasol misses 14-foot jumper
0 - 0
11:06
Shawn Marion defensive rebound
0 - 0
10:55
Vince Carter makes 24-foot three point jumper (Dirk Nowitzki assists)
0 - 3
10:34
Marc Gasol misses 6-foot two point shot
0 - 3
10:33
Dirk Nowitzki defensive rebound
0 - 3
10:23
Brendan Haywood makes slam dunk (Shawn Marion assists)
0 - 5
9:59
Tony Allen misses 17-foot jumper
0 - 5
9:57
Dirk Nowitzki defensive rebound
0 - 5
9:41
Dirk Nowitzki misses 3-foot two point shot
0 - 5
9:41
Dirk Nowitzki offensive rebound
0 - 5
9:37
Shawn Marion bad pass (Tony Allen steals)
0 - 5
9:33
Rudy Gay makes dunk (Tony Allen assists)
2 - 5
9:14
Vince Carter misses 22-foot jumper
2 - 5
9:12
Marc Gasol defensive rebound
2 - 5
9:03
Rudy Gay bad pass (Shawn Marion steals)
2 - 5
8:52
Rudy Gay blocks Vince Carter's driving layup
2 - 5
8:51
Marc Gasol defensive rebound
2 - 5
8:47
Tony Allen makes 13-foot two point shot (Marc Gasol assists)
4 - 5
8:26
Dirk Nowitzki makes 16-foot two point shot
4 - 7
8:07
Shawn Marion blocks Marc Gasol's layup
4 - 7
8:04
Brendan Haywood defensive rebound
4 - 7
7:56
Dirk Nowitzki makes 10-foot two point shot (Delonte West assists)
4 - 9
7:39
Mike Conley misses 5-foot two point shot
4 - 9
7:37
Marreese Speights offensive rebound
6 - 9
7:37
Marreese Speights makes tip shot
6 - 9
7:16
Delonte West makes 3-foot two point shot
6 - 11
7:01
Dirk Nowitzki shooting foul (Marc Gasol draws the foul)
6 - 11
7:01
Marc Gasol makes free throw 1 of 2
7 - 11
7:01
Marc Gasol misses free throw 2 of 2
7 - 11
7:01
Shawn Marion defensive rebound
7 - 11
6:54
Vince Carter misses three point jumper
7 - 11
6:54
Tony Allen defensive rebound
7 - 11
6:48
Rudy Gay makes slam dunk (Tony Allen assists)
9 - 11
6:33
Delonte West makes 12-foot two point shot
9 - 13
6:13
Marc Gasol makes 7-foot two point shot
11 - 13
5:56
Brendan Haywood makes 9-foot two point shot (Vince Carter assists)
11 - 15
5:39
Dirk Nowitzki blocks Marreese Speights's two point shot
11 - 15
5:37
Vince Carter defensive rebound
11 - 15
5:37
Dallas full timeout
11 - 15
5:37
Lamar Odom enters the game for Dirk Nowitzki
11 - 15
5:37
Jason Terry enters the game for Vince Carter
11 - 15
5:28
Marc Gasol blocks Lamar Odom's 5-foot two point shot
11 - 15
5:26
Marc Gasol defensive rebound
11 - 15
5:22
Mike Conley makes driving layup
13 - 15
4:58
Shawn Marion misses three point jumper
13 - 15
4:58
Marc Gasol defensive rebound
13 - 15
4:39
Marreese Speights makes 8-foot jumper (Rudy Gay assists)
15 - 15
4:18
Brendan Haywood misses 11-foot two point shot
15 - 15
4:18
Tony Allen defensive rebound
15 - 15
4:05
Marreese Speights makes 19-foot jumper (Marc Gasol assists)
17 - 15
3:47
Shawn Marion misses 23-foot three point jumper
17 - 15
3:46
Tony Allen defensive rebound
17 - 15
3:40
Rudy Gay makes 2-foot two point shot (Tony Allen assists)
19 - 15
3:39
Dallas 20 Sec. timeout
19 - 15
3:39
Vince Carter enters the game for Shawn Marion
19 - 15
3:39
Dante Cunningham enters the game for Marreese Speights
19 - 15
3:24
Vince Carter bad pass (Rudy Gay steals)
19 - 15
3:08
Mike Conley misses 19-foot jumper
19 - 15
3:05
Lamar Odom defensive rebound
19 - 15
2:53
Marc Gasol shooting foul (Brendan Haywood draws the foul)
19 - 15
2:53
Memphis full timeout
19 - 15
2:53
Rodrigue Beaubois enters the game for Delonte West
19 - 15
2:53
Brendan Haywood makes free throw 1 of 2
19 - 16
2:53
Brendan Haywood misses free throw 2 of 2
19 - 16
2:53
Dante Cunningham defensive rebound
19 - 16
2:41
Marc Gasol misses 12-foot jumper
19 - 16
2:40
Lamar Odom defensive rebound
19 - 16
2:18
Rodrigue Beaubois misses 12-foot two point shot
19 - 16
2:17
Tony Allen defensive rebound
19 - 16
2:08
Dante Cunningham makes 13-foot jumper (Marc Gasol assists)
21 - 16
1:51
Vince Carter makes 9-foot two point shot
21 - 18
1:36
Marc Gasol bad pass (Lamar Odom steals)
21 - 18
1:31
Ian Mahinmi enters the game for Brendan Haywood
21 - 18
1:31
Dirk Nowitzki enters the game for Vince Carter
21 - 18
1:31
O.J. Mayo enters the game for Tony Allen
21 - 18
1:25
Rodrigue Beaubois makes driving layup
21 - 20
1:13
Mike Conley misses 21-foot jumper
21 - 20
1:13
Jason Terry defensive rebound
21 - 20
1:07
Jason Terry bad pass
21 - 20
0:51
O.J. Mayo misses 25-foot three point jumper
21 - 20
0:50
Memphis defensive team rebound
21 - 20
0:50
Gilbert Arenas enters the game for Mike Conley
21 - 20
0:30
Ian Mahinmi misses dunk
21 - 20
0:28
Dante Cunningham defensive rebound
21 - 20
0:11
Rudy Gay misses 6-foot two point shot
21 - 20
0:10
O.J. Mayo offensive rebound
21 - 20
0:07
O.J. Mayo makes driving layup
23 - 20
0:00
Rodrigue Beaubois misses 9-foot jumper
23 - 20
0:00
Gilbert Arenas defensive rebound
23 - 20
0:00
End of the 1st Quarter
23 - 20

time
TEAM
PLAY
SCORE
12:00
Start of the 2nd Quarter
23 - 20
11:48
Jason Terry makes 14-foot two point shot (Rodrigue Beaubois assists)
23 - 22
11:26
Rodrigue Beaubois personal foul (O.J. Mayo draws the foul)
23 - 22
11:11
O.J. Mayo bad pass (Dirk Nowitzki steals)
23 - 22
11:00
Gilbert Arenas personal foul (Dirk Nowitzki draws the foul)
23 - 22
10:49
Jason Terry makes 7-foot two point shot (Rodrigue Beaubois assists)
23 - 24
10:25
Zach Randolph makes 22-foot jumper (O.J. Mayo assists)
25 - 24
10:07
Dirk Nowitzki misses 5-foot two point shot
25 - 24
10:06
Gilbert Arenas defensive rebound
25 - 24
9:57
Gilbert Arenas makes 22-foot two point shot
27 - 24
9:41
Dirk Nowitzki makes 21-foot jumper (Rodrigue Beaubois assists)
27 - 26
9:22
Gilbert Arenas makes 26-foot three point jumper (O.J. Mayo assists)
30 - 26
9:11
Jason Terry misses 8-foot running jumper
30 - 26
9:10
Ian Mahinmi offensive rebound
30 - 28
9:10
Ian Mahinmi makes 1-foot two point shot
30 - 28
9:00
O.J. Mayo offensive charge (Ian Mahinmi draws the foul)
30 - 28
9:00
O.J. Mayo turnover
30 - 28
9:00
Shawn Marion enters the game for Lamar Odom
30 - 28
8:52
Rodrigue Beaubois makes driving layup
30 - 30
8:52
O.J. Mayo shooting foul (Rodrigue Beaubois draws the foul)
30 - 30
8:52
Official timeout
30 - 30
8:52
Marc Gasol enters the game for Dante Cunningham
30 - 30
8:52
Mike Conley enters the game for O.J. Mayo
30 - 30
8:52
Rodrigue Beaubois misses free throw 1 of 1
30 - 30
8:52
Zach Randolph defensive rebound
30 - 30
8:37
Quincy Pondexter misses 22-foot three point jumper
30 - 30
8:37
Ian Mahinmi defensive rebound
30 - 30
8:26
Jason Terry lost ball (Mike Conley steals)
30 - 30
8:15
Zach Randolph makes 16-foot jumper
32 - 30
7:56
Rodrigue Beaubois bad pass (Mike Conley steals)
32 - 30
7:52
Mike Conley makes driving layup (Marc Gasol assists)
34 - 30
7:52
Rodrigue Beaubois defensive goaltending
34 - 30
7:39
Gilbert Arenas personal foul (Ian Mahinmi draws the foul)
34 - 30
7:37
Jason Terry step out of bounds turnover
34 - 30
7:18
Gilbert Arenas makes 24-foot three point jumper (Marc Gasol assists)
37 - 30
7:16
Dallas full timeout
37 - 30
7:16
Delonte West enters the game for Rodrigue Beaubois
37 - 30
7:05
Marc Gasol personal foul (Dirk Nowitzki draws the foul)
37 - 30
6:54
Jason Terry makes two point shot
37 - 32
6:35
Marc Gasol misses 10-foot two point shot
37 - 32
6:33
Marc Gasol offensive rebound
37 - 32
6:28
Mike Conley makes 26-foot three point jumper (Marc Gasol assists)
40 - 32
6:03
Jason Terry misses 10-foot two point shot
40 - 32
6:01
Dallas defensive team rebound
40 - 32
5:56
Gilbert Arenas misses 24-foot three point jumper
40 - 32
5:54
Shawn Marion defensive rebound
40 - 32
5:46
Dirk Nowitzki misses driving layup
40 - 32
5:43
Ian Mahinmi offensive rebound
40 - 34
5:43
Ian Mahinmi makes tip shot
40 - 34
5:28
Marc Gasol makes 8-foot running jumper (Mike Conley assists)
42 - 34
5:09
Ian Mahinmi traveling
42 - 34
5:09
Memphis full timeout
42 - 34
5:09
Lamar Odom enters the game for Dirk Nowitzki
42 - 34
5:09
Vince Carter enters the game for Shawn Marion
42 - 34
5:09
Rudy Gay enters the game for Gilbert Arenas
42 - 34
5:09
Tony Allen enters the game for Quincy Pondexter
42 - 34
4:52
Rudy Gay misses 24-foot three point jumper
42 - 34
4:52
Memphis defensive team rebound
42 - 34
4:52
Marreese Speights enters the game for Marc Gasol
42 - 34
4:37
Lamar Odom misses 24-foot three point jumper
42 - 34
4:35
Tony Allen defensive rebound
42 - 34
4:18
Zach Randolph bad pass (Jason Terry steals)
42 - 34
4:16
Tony Allen personal foul (Jason Terry draws the foul)
42 - 34
4:16
Jason Terry makes free throw 1 of 2
42 - 35
4:16
Dante Cunningham enters the game for Zach Randolph
42 - 35
4:16
Jason Terry makes free throw 2 of 2
42 - 36
3:56
Dante Cunningham makes jumper (Mike Conley assists)
44 - 36
3:36
Vince Carter misses 13-foot two point shot
44 - 36
3:35
Dante Cunningham defensive rebound
44 - 36
3:24
Mike Conley makes 21-foot jumper
46 - 36
3:00
Lamar Odom makes 4-foot two point shot (Vince Carter assists)
46 - 38
2:47
Dante Cunningham misses 11-foot jumper
46 - 38
2:47
Ian Mahinmi defensive rebound
46 - 38
2:38
Delonte West makes 17-foot jumper
46 - 40
2:17
Delonte West shooting foul (Marreese Speights draws the foul)
46 - 40
2:17
Marreese Speights misses free throw 1 of 2
46 - 40
2:17
Memphis offensive team rebound
46 - 40
2:17
Dirk Nowitzki enters the game for Lamar Odom
46 - 40
2:17
Marreese Speights makes free throw 2 of 2
47 - 40
2:01
Dante Cunningham personal foul (Dirk Nowitzki draws the foul)
47 - 40
2:01
Dirk Nowitzki makes free throw 1 of 2
47 - 41
2:01
Brandan Wright enters the game for Ian Mahinmi
47 - 41
2:01
Dirk Nowitzki misses free throw 2 of 2
47 - 41
2:00
Marreese Speights defensive rebound
47 - 41
1:45
Marreese Speights misses 6-foot jumper
47 - 41
1:44
Brandan Wright defensive rebound
47 - 41
1:34
Delonte West makes 21-foot two point shot
47 - 43
1:15
Mike Conley misses 8-foot jumper
47 - 43
1:15
Marreese Speights offensive rebound
47 - 43
1:14
Delonte West blocks Marreese Speights's layup
47 - 43
1:12
Jason Terry defensive rebound
47 - 43
1:08
Jason Terry misses driving layup
47 - 43
1:07
Dirk Nowitzki offensive rebound
47 - 45
1:07
Dirk Nowitzki makes two point shot
47 - 45
1:06
Memphis 20 Sec. timeout
47 - 45
1:06
O.J. Mayo enters the game for Tony Allen
47 - 45
0:47
Rudy Gay lost ball (Vince Carter steals)
47 - 45
0:41
Dirk Nowitzki misses 24-foot three pointer
47 - 45
0:40
Marreese Speights defensive rebound
47 - 45
0:32
Marreese Speights makes 19-foot jumper (Rudy Gay assists)
49 - 45
0:10
Dirk Nowitzki makes 2-foot two point shot
49 - 47
0:00
Rudy Gay makes two point shot (Mike Conley assists)
51 - 47
0:00
End of the 2nd Quarter
51 - 47

time
TEAM
PLAY
SCORE
12:00
Start of the 3rd Quarter
51 - 47
11:38
Delonte West makes 23-foot three point jumper (Shawn Marion assists)
51 - 50
11:23
Marreese Speights misses 20-foot jumper
51 - 50
11:22
Shawn Marion defensive rebound
51 - 50
11:03
Dirk Nowitzki makes 16-foot two point shot
51 - 52
10:33
Marc Gasol makes 12-foot jumper (Mike Conley assists)
53 - 52
10:11
Brendan Haywood misses 11-foot two point shot
53 - 52
10:11
Marreese Speights defensive rebound
53 - 52
9:57
Shawn Marion blocks Rudy Gay's 8-foot two point shot
53 - 52
9:56
Dirk Nowitzki defensive rebound
53 - 52
9:49
Shawn Marion makes 7-foot two point shot (Dirk Nowitzki assists)
53 - 54
9:33
Mike Conley misses 18-foot two point shot
53 - 54
9:32
Marc Gasol offensive rebound
53 - 54
9:27
Mike Conley misses 25-foot three point jumper
53 - 54
9:26
Dirk Nowitzki defensive rebound
53 - 54
9:22
Mike Conley personal foul (Vince Carter draws the foul)
53 - 54
9:14
Delonte West misses 20-foot jumper
53 - 54
9:12
Brendan Haywood offensive rebound
53 - 54
9:00
Shawn Marion misses 16-foot two point shot
53 - 54
9:00
Dallas offensive team rebound
53 - 54
8:52
Dirk Nowitzki makes 20-foot jumper (Delonte West assists)
53 - 56
8:23
Tony Allen misses 12-foot two point shot
53 - 56
8:23
Marreese Speights offensive rebound
53 - 56
8:23
shot clock turnover
53 - 56
8:23
Zach Randolph enters the game for Marreese Speights
53 - 56
8:23
O.J. Mayo enters the game for Mike Conley
53 - 56
8:23
Memphis full timeout
53 - 56
8:06
Dirk Nowitzki misses 13-foot jumper
53 - 56
8:04
Brendan Haywood offensive rebound
53 - 56
7:58
Shawn Marion makes slam dunk (Brendan Haywood assists)
53 - 58
7:39
O.J. Mayo makes 25-foot three point jumper
56 - 58
7:22
Delonte West makes 25-foot three point jumper (Vince Carter assists)
56 - 61
6:56
Tony Allen makes two point shot
58 - 61
6:37
Dirk Nowitzki misses 19-foot jumper
58 - 61
6:37
Zach Randolph defensive rebound
58 - 61
6:16
Zach Randolph misses 15-foot jumper
58 - 61
6:15
Shawn Marion defensive rebound
58 - 61
6:05
Shawn Marion bad pass
58 - 61
5:50
Tony Allen makes slam dunk (Marc Gasol assists)
60 - 61
5:41
Tony Allen personal foul (Vince Carter draws the foul)
60 - 61
5:35
Vince Carter misses 25-foot three point jumper
60 - 61
5:33
Marc Gasol defensive rebound
60 - 61
5:26
Delonte West kicked ball
60 - 61
5:26
Lamar Odom enters the game for Dirk Nowitzki
60 - 61
5:26
Jason Terry enters the game for Shawn Marion
60 - 61
5:13
Rudy Gay misses 21-foot jumper
60 - 61
5:13
Zach Randolph offensive rebound
60 - 61
5:13
Vince Carter personal foul (Zach Randolph draws the foul)
60 - 61
5:13
Ian Mahinmi enters the game for Brendan Haywood
60 - 61
5:03
Rudy Gay misses 25-foot three point jumper
60 - 61
5:01
Lamar Odom defensive rebound
60 - 61
4:47
Vince Carter misses 24-foot three point jumper
60 - 61
4:46
Tony Allen defensive rebound
60 - 61
4:33
Ian Mahinmi shooting foul (Zach Randolph draws the foul)
60 - 61
4:33
Zach Randolph misses free throw 1 of 2
60 - 61
4:33
Memphis offensive team rebound
60 - 61
4:33
Zach Randolph misses free throw 2 of 2
60 - 61
4:33
Ian Mahinmi defensive rebound
60 - 61
4:16
Jason Terry lost ball (Tony Allen steals)
60 - 61
4:07
Tony Allen makes 7-foot two point shot
62 - 61
4:07
Jason Terry shooting foul (Tony Allen draws the foul)
62 - 61
4:07
Tony Allen makes free throw 1 of 1
63 - 61
3:57
Delonte West out of bounds lost ball turnover
63 - 61
3:33
Marc Gasol misses 14-foot jumper
63 - 61
3:32
Ian Mahinmi defensive rebound
63 - 61
3:24
Jason Terry makes 1-foot two point shot
63 - 63
3:08
Marc Gasol misses 9-foot two point shot
63 - 63
3:05
Ian Mahinmi defensive rebound
63 - 63
2:59
Tony Allen blocks Jason Terry's 7-foot running jumper
63 - 63
2:59
Dallas offensive team rebound
63 - 63
2:59
Dallas full timeout
63 - 63
2:50
Vince Carter misses 10-foot jumper
63 - 63
2:49
Ian Mahinmi offensive rebound
63 - 63
2:49
Ian Mahinmi misses tip shot
63 - 63
2:47
Rudy Gay defensive rebound
63 - 63
2:43
O.J. Mayo makes 23-foot three point jumper (Rudy Gay assists)
66 - 63
2:21
Lamar Odom misses 1-foot two point shot
66 - 63
2:19
Marc Gasol defensive rebound
66 - 63
2:17
O.J. Mayo offensive charge (Vince Carter draws the foul)
66 - 63
2:17
O.J. Mayo turnover
66 - 63
2:17
Mike Conley enters the game for Rudy Gay
66 - 63
2:17
Rodrigue Beaubois enters the game for Delonte West
66 - 63
2:17
Dirk Nowitzki enters the game for Vince Carter
66 - 63
2:01
Jason Terry bad pass (O.J. Mayo steals)
66 - 63
1:49
Zach Randolph misses 5-foot two point shot
66 - 63
1:47
Lamar Odom defensive rebound
66 - 63
1:40
Marc Gasol personal foul (Dirk Nowitzki draws the foul)
66 - 63
1:35
Dirk Nowitzki makes 21-foot jumper (Rodrigue Beaubois assists)
66 - 65
1:10
Tony Allen misses 22-foot three point jumper
66 - 65
1:08
Lamar Odom defensive rebound
66 - 65
0:56
Tony Allen personal foul (Lamar Odom draws the foul)
66 - 65
0:56
Lamar Odom makes free throw 1 of 2
66 - 66
0:56
Quincy Pondexter enters the game for Tony Allen
66 - 66
0:56
Lamar Odom misses free throw 2 of 2
66 - 66
0:56
Dallas defensive team rebound
66 - 66
0:39
Ian Mahinmi shooting foul (Marc Gasol draws the foul)
66 - 66
0:39
Marc Gasol makes free throw 1 of 2
67 - 66
0:39
Marc Gasol makes free throw 2 of 2
68 - 66
0:30
Jason Terry misses 24-foot three point jumper
68 - 66
0:29
Ian Mahinmi offensive rebound
68 - 66
0:08
Ian Mahinmi misses 16-foot jumper
68 - 66
0:07
Marc Gasol defensive rebound
68 - 66
0:01
Zach Randolph misses 21-foot jumper
68 - 66
0:00
Dirk Nowitzki defensive rebound
68 - 66
0:00
End of the 3rd Quarter
68 - 66

time
TEAM
PLAY
SCORE
12:00
Start of the 4th Quarter
68 - 66
11:41
Quincy Pondexter misses 16-foot jumper
68 - 66
11:41
Memphis offensive team rebound
68 - 66
11:41
Ian Mahinmi loose ball foul (Zach Randolph draws the foul)
68 - 66
11:26
Zach Randolph misses 5-foot two point shot
68 - 66
11:26
Jason Terry defensive rebound
68 - 66
11:04
Marc Gasol blocks Dirk Nowitzki's 5-foot jumper
68 - 66
11:04
Dallas defensive team rebound
68 - 66
11:04
Gilbert Arenas enters the game for O.J. Mayo
68 - 66
10:49
Mike Conley makes driving layup
70 - 66
10:26
Lamar Odom makes 13-foot two point shot
70 - 68
10:00
Mike Conley misses 21-foot jumper
70 - 68
10:00
Quincy Pondexter offensive rebound
70 - 68
10:00
Quincy Pondexter makes 1-foot two point shot
72 - 68
10:00
Lamar Odom shooting foul (Quincy Pondexter draws the foul)
72 - 68
10:00
Shawn Marion enters the game for Lamar Odom
72 - 68
10:00
Quincy Pondexter makes free throw 1 of 1
73 - 68
9:38
Jason Terry makes 19-foot jumper
73 - 70
9:22
Marc Gasol misses 7-foot two point shot
73 - 70
9:22
Rodrigue Beaubois defensive rebound
73 - 70
9:18
Gilbert Arenas personal foul (Rodrigue Beaubois draws the foul)
73 - 70
9:18
Marreese Speights enters the game for Zach Randolph
73 - 70
9:15
Shawn Marion makes driving layup (Jason Terry assists)
73 - 72
8:56
Gilbert Arenas misses 18-foot two point shot
73 - 72
8:55
Memphis defensive team rebound
73 - 72
8:55
Official timeout
73 - 72
8:55
Rudy Gay enters the game for Quincy Pondexter
73 - 72
8:37
Jason Terry misses jumper
73 - 72
8:36
Marreese Speights defensive rebound
73 - 72
8:14
Rodrigue Beaubois blocks Mike Conley's 25-foot three point jumper
73 - 72
8:11
Marc Gasol offensive rebound
73 - 72
8:10
Marc Gasol misses 13-foot jumper
73 - 72
8:10
Jason Terry defensive rebound
73 - 72
8:00
Gilbert Arenas shooting foul (Shawn Marion draws the foul)
73 - 72
8:00
Shawn Marion makes free throw 1 of 2
73 - 73
8:00
Shawn Marion makes free throw 2 of 2
73 - 74
7:39
Jason Terry blocks Gilbert Arenas's 25-foot three point jumper
73 - 74
7:37
Rodrigue Beaubois defensive rebound
73 - 74
7:28
Marreese Speights shooting foul (Dirk Nowitzki draws the foul)
73 - 74
7:28
Dirk Nowitzki makes free throw 1 of 2
73 - 75
7:28
O.J. Mayo enters the game for Gilbert Arenas
73 - 75
7:28
Dirk Nowitzki makes free throw 2 of 2
73 - 76
7:13
O.J. Mayo misses 12-foot two point shot
73 - 76
7:13
Dirk Nowitzki defensive rebound
73 - 76
7:07
Shawn Marion makes 11-foot running jumper
73 - 78
7:07
Memphis full timeout
73 - 78
7:07
Dante Cunningham enters the game for Marreese Speights
73 - 78
6:50
Rudy Gay misses 13-foot two point shot
73 - 78
6:48
Ian Mahinmi defensive rebound
73 - 78
6:26
Shawn Marion misses 9-foot two point shot
73 - 78
6:26
O.J. Mayo defensive rebound
73 - 78
6:20
O.J. Mayo makes driving layup
75 - 78
5:58
Dirk Nowitzki makes 20-foot jumper (Rodrigue Beaubois assists)
75 - 80
5:39
Ian Mahinmi shooting foul (Marc Gasol draws the foul)
75 - 80
5:39
Marc Gasol misses free throw 1 of 2
75 - 80
5:39
Memphis offensive team rebound
75 - 80
5:39
Tony Allen enters the game for Mike Conley
75 - 80
5:39
Brendan Haywood enters the game for Ian Mahinmi
75 - 80
5:39
Marc Gasol makes free throw 2 of 2
76 - 80
5:33
Marc Gasol blocks Rodrigue Beaubois's driving layup
76 - 80
5:30
Dante Cunningham defensive rebound
76 - 80
5:20
Brendan Haywood shooting foul (Tony Allen draws the foul)
76 - 80
5:20
Mike Conley enters the game for Tony Allen
76 - 80
5:20
O.J. Mayo misses free throw 1 of 2
76 - 80
5:20
Memphis offensive team rebound
76 - 80
5:20
O.J. Mayo makes free throw 2 of 2
77 - 80
4:58
Jason Terry makes 25-foot three point jumper (Shawn Marion assists)
77 - 83
4:39
Rudy Gay bad pass (Jason Terry steals)
77 - 83
4:35
Shawn Marion makes 1-foot two point shot (Jason Terry assists)
77 - 85
4:35
Memphis full timeout
77 - 85
4:13
Marc Gasol misses 15-foot jumper
77 - 85
4:13
Dirk Nowitzki defensive rebound
77 - 85
3:56
Dirk Nowitzki makes driving layup
77 - 87
3:56
Marc Gasol shooting foul (Dirk Nowitzki draws the foul)
77 - 87
3:56
Zach Randolph enters the game for Marc Gasol
77 - 87
3:56
Dirk Nowitzki misses free throw 1 of 1
77 - 87
3:55
Rudy Gay defensive rebound
77 - 87
3:39
Mike Conley misses 5-foot two point shot
77 - 87
3:39
Shawn Marion defensive rebound
77 - 87
3:24
Jason Terry misses 25-foot three point jumper
77 - 87
3:23
Zach Randolph defensive rebound
77 - 87
3:13
Rodrigue Beaubois blocks O.J. Mayo's 10-foot two point shot
77 - 87
3:12
Mike Conley offensive rebound
77 - 87
3:05
Shawn Marion blocks Rudy Gay's 10-foot jumper
77 - 87
3:02
Shawn Marion defensive rebound
77 - 87
3:00
Shawn Marion makes two point shot
77 - 89
3:00
Memphis full timeout
77 - 89
2:48
O.J. Mayo makes 25-foot three point jumper (Rudy Gay assists)
80 - 89
2:32
Rodrigue Beaubois makes driving layup
80 - 91
2:19
Dante Cunningham makes two point shot (Zach Randolph assists)
82 - 91
1:51
Jason Terry misses 24-foot three point jumper
82 - 91
1:50
Brendan Haywood offensive rebound
82 - 91
1:34
Jason Terry bad pass
82 - 91
1:20
Zach Randolph bad pass
82 - 91
1:04
Rodrigue Beaubois misses 23-foot three point jumper
82 - 91
1:00
Zach Randolph defensive rebound
82 - 91
0:52
Dante Cunningham bad pass (Rodrigue Beaubois steals)
82 - 91
0:50
Shawn Marion makes two point shot (Jason Terry assists)
82 - 93
0:44
O.J. Mayo makes 25-foot three point jumper (Mike Conley assists)
85 - 93
0:40
Dallas 20 Sec. timeout
85 - 93
0:40
Dallas 20 Sec. timeout
85 - 93
0:40
Ian Mahinmi enters the game for Brendan Haywood
85 - 93
0:35
Mike Conley personal take (Rodrigue Beaubois draws the foul)
85 - 93
0:35
Rodrigue Beaubois makes free throw 1 of 2
85 - 94
0:35
Rodrigue Beaubois makes free throw 2 of 2
85 - 95
0:23
O.J. Mayo misses two point shot
85 - 95
0:22
Dirk Nowitzki defensive rebound
85 - 95
0:00
End of the 4th Quarter
85 - 95
0:00
End Game
85 - 95
Jamal Crawford drives the lane down two and his runner does not fall, as the Blazers win the game and the series eliminating the Clippers.

Saying "we just have to be better," Kemba Walker came to grips with the Hornets' near-miss as the Heat pushed them to Game 7.

What can Luke Walton take from the Warriors to the Lakers? Can he grow the Lakers' young talent? Kevin Pelton provides the reasons for Lakers fans to be hopeful.
2015-2016 Southwest Standings