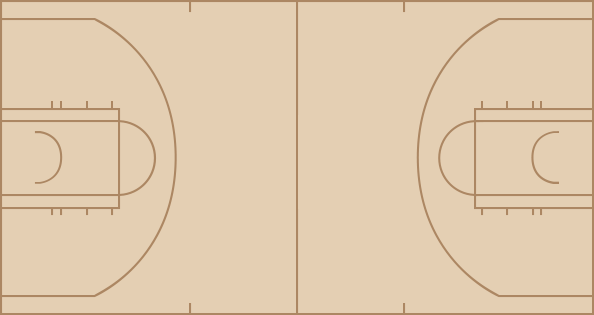 Pistons
time
TEAM
PLAY
SCORE
12:00
Greg Monroe vs. Serge Ibaka (Tayshaun Prince gains possession)
0 - 0
11:41
Tayshaun Prince makes 15-foot jumper (Greg Monroe assists)
2 - 0
11:25
Greg Monroe blocks Kendrick Perkins 's 2-foot layup
2 - 0
11:23
Jason Maxiell defensive rebound
2 - 0
11:11
Jason Maxiell misses 6-foot two point shot
2 - 0
11:11
Russell Westbrook defensive rebound
2 - 0
11:03
Serge Ibaka makes 16-foot jumper (Russell Westbrook assists)
2 - 2
10:45
Rodney Stuckey makes 4-foot two point shot
4 - 2
10:26
Kevin Durant misses 17-foot jumper
4 - 2
10:26
Brandon Knight defensive rebound
4 - 2
10:11
Greg Monroe traveling
4 - 2
9:49
Serge Ibaka makes 20-foot jumper (Russell Westbrook assists)
4 - 4
9:30
Tayshaun Prince misses three point jumper
4 - 4
9:30
Thabo Sefolosha defensive rebound
4 - 4
9:19
Greg Monroe blocks Serge Ibaka's jumper
4 - 4
9:17
Jason Maxiell defensive rebound
4 - 4
9:06
Jason Maxiell misses 4-foot jumper
4 - 4
9:04
Serge Ibaka defensive rebound
4 - 4
8:57
Thabo Sefolosha misses 23-foot three point jumper
4 - 4
8:56
Greg Monroe defensive rebound
4 - 4
8:44
Greg Monroe makes driving layup
6 - 4
8:22
Russell Westbrook misses 19-foot jumper
6 - 4
8:22
Greg Monroe defensive rebound
6 - 4
8:18
Thabo Sefolosha personal foul (Rodney Stuckey draws the foul)
6 - 4
8:07
Rodney Stuckey misses two point shot
6 - 4
8:06
Thunder defensive team rebound
6 - 4
7:41
Serge Ibaka misses 23-foot three point jumper
6 - 4
7:41
Kevin Durant offensive rebound
6 - 4
7:37
Kevin Durant misses 10-foot two point shot
6 - 4
7:35
Tayshaun Prince defensive rebound
6 - 4
7:24
Greg Monroe misses layup
6 - 4
7:22
Serge Ibaka defensive rebound
6 - 4
7:16
Russell Westbrook misses driving layup
6 - 4
7:13
Tayshaun Prince defensive rebound
6 - 4
7:01
Serge Ibaka personal foul (Greg Monroe draws the foul)
6 - 4
6:48
Tayshaun Prince misses 10-foot two point jumper
6 - 4
6:47
Serge Ibaka defensive rebound
6 - 4
6:33
Kendrick Perkins makes 14-foot jumper
6 - 6
6:18
Rodney Stuckey misses driving layup
6 - 6
6:16
Thabo Sefolosha defensive rebound
6 - 6
6:11
Thabo Sefolosha makes driving dunk
6 - 8
5:47
Greg Monroe misses 4-foot two point shot
6 - 8
5:46
Kendrick Perkins defensive rebound
6 - 8
5:37
Kevin Durant misses 3-foot Running Jumper
6 - 8
5:35
Brandon Knight defensive rebound
6 - 8
5:33
Thabo Sefolosha personal foul (Brandon Knight draws the foul)
6 - 8
5:33
Thunder Full timeout
6 - 8
5:33
Kevin Martin enters the game for Thabo Sefolosha
6 - 8
5:18
Brandon Knight makes 18-foot jumper (Greg Monroe assists)
8 - 8
4:52
Greg Monroe blocks Russell Westbrook's layup
8 - 8
4:50
Russell Westbrook misses layup
8 - 8
4:50
Russell Westbrook offensive rebound
8 - 8
4:48
Greg Monroe defensive rebound
8 - 8
4:35
Greg Monroe makes 17-foot jumper (Tayshaun Prince assists)
10 - 8
4:11
Kevin Martin misses 23-foot three point jumper
10 - 8
4:11
Jason Maxiell defensive rebound
10 - 8
4:01
Tayshaun Prince bad pass
10 - 8
4:01
Nick Collison enters the game for Kendrick Perkins
10 - 8
3:51
Brandon Knight personal foul (Russell Westbrook draws the foul)
10 - 8
3:44
Russell Westbrook misses jumper
10 - 8
3:43
Nick Collison offensive rebound
10 - 8
3:41
Jason Maxiell shooting foul (Nick Collison draws the foul)
10 - 8
3:41
Nick Collison makes free throw 1 of 2
10 - 9
3:41
Nick Collison misses free throw 2 of 2
10 - 9
3:40
Greg Monroe defensive rebound
10 - 9
3:32
Kevin Martin blocks Rodney Stuckey's layup
10 - 9
3:30
Nick Collison defensive rebound
10 - 9
3:27
Russell Westbrook offensive Charge (Greg Monroe draws the foul)
10 - 9
3:27
Russell Westbrook turnover
10 - 9
3:16
Brandon Knight makes two point shot (Tayshaun Prince assists)
12 - 9
3:00
Greg Monroe shooting foul (Serge Ibaka draws the foul)
12 - 9
3:00
Serge Ibaka makes free throw 1 of 2
12 - 10
3:00
Serge Ibaka makes free throw 2 of 2
12 - 11
2:46
Brandon Knight misses 24-foot three point jumper
12 - 11
2:45
Russell Westbrook defensive rebound
12 - 11
2:33
Kevin Martin misses 25-foot three point jumper
12 - 11
2:32
Tayshaun Prince defensive rebound
12 - 11
2:29
Rodney Stuckey makes layup (Tayshaun Prince assists)
14 - 11
2:19
Rodney Stuckey shooting foul (Kevin Martin draws the foul)
14 - 11
2:19
Pistons Full timeout
14 - 11
2:19
Eric Maynor enters the game for Serge Ibaka
14 - 11
2:19
Jonas Jerebko enters the game for Jason Maxiell
14 - 11
2:19
Kevin Martin makes free throw 1 of 2
14 - 12
2:19
Kevin Martin makes free throw 2 of 2
14 - 13
1:59
Nick Collison personal foul (Greg Monroe draws the foul)
14 - 13
1:51
Tayshaun Prince misses layup
14 - 13
1:50
Jonas Jerebko misses tip shot
14 - 13
1:50
Jonas Jerebko offensive rebound
14 - 13
1:49
Kevin Durant defensive rebound
14 - 13
1:44
Kevin Durant possession lost ball turnover
15 - 13
1:44
Pistons defensive team rebound
14 - 13
1:44
Nick Collison loose ball foul (Greg Monroe draws the foul)
15 - 13
1:44
Greg Monroe misses free throw 1 of 2
15 - 13
1:44
Pistons offensive team rebound
14 - 13
1:44
Reggie Jackson enters the game for Russell Westbrook
15 - 13
1:44
Greg Monroe makes free throw 2 of 2
16 - 13
1:44
Pistons offensive team rebound
15 - 13
1:27
Kevin Durant makes 24-foot three point jumper (Eric Maynor assists)
16 - 16
1:07
Rodney Stuckey misses layup
15 - 16
1:07
Rodney Stuckey offensive rebound
15 - 16
1:06
Kevin Durant defensive rebound
15 - 16
1:00
Kevin Durant makes 4-foot two point shot
15 - 18
0:45
Tayshaun Prince makes 3-foot two point shot
17 - 18
0:34
Kevin Martin misses 23-foot three point jumper
17 - 18
0:32
Tayshaun Prince defensive rebound
17 - 18
0:13
Kevin Durant personal foul (Tayshaun Prince draws the foul)
17 - 18
0:13
Tayshaun Prince makes free throw 1 of 2
18 - 18
0:13
Will Bynum enters the game for Brandon Knight
18 - 18
0:13
Andre Drummond enters the game for Greg Monroe
18 - 18
0:13
Tayshaun Prince makes free throw 2 of 2
19 - 18
0:01
Andre Drummond blocks Kevin Durant 's 3-foot layup
19 - 18
0:01
Andre Drummond blocks Kevin Durant's layup
19 - 18
0:00
Tayshaun Prince defensive rebound
19 - 18
0:00
Pistons offensive team rebound
19 - 18
0:00
End of the 1st Quarter
19 - 18

time
TEAM
PLAY
SCORE
11:51
Kevin Martin makes two point shot
19 - 20
11:51
Kyle Singler shooting foul (Kevin Martin draws the foul)
19 - 20
11:51
Kevin Martin makes free throw 1 of 1
19 - 21
11:37
Andre Drummond makes two point shot (Jonas Jerebko assists)
21 - 21
11:18
Eric Maynor makes 25-foot three point jumper (Nick Collison assists)
21 - 24
10:57
Perry Jones III defensive 3-seconds (Technical Foul)
21 - 24
10:57
Rodney Stuckey makes technical free throw
22 - 24
10:51
Jonas Jerebko lost ball turnover (Eric Maynor steals)
22 - 24
10:38
Eric Maynor makes 16-foot two point shot
22 - 26
10:26
Jonas Jerebko misses 24-foot three point jumper
22 - 26
10:25
Reggie Jackson defensive rebound
22 - 26
10:11
Kevin Martin bad pass (Will Bynum steals)
22 - 26
10:08
Will Bynum makes layup
24 - 26
9:53
Kevin Martin makes 24-foot three point jumper
24 - 29
9:47
Pistons Full timeout
24 - 29
9:47
Kim English enters the game for Rodney Stuckey
24 - 29
9:32
Andre Drummond makes 5-foot two point shot
26 - 29
9:18
Nick Collison bad pass
26 - 29
9:10
Kevin Martin shooting foul (Andre Drummond draws the foul)
26 - 29
9:10
Andre Drummond misses free throw 1 of 2
26 - 29
9:10
Pistons offensive team rebound
26 - 29
9:10
Andre Drummond makes free throw 2 of 2
27 - 29
8:57
Reggie Jackson misses 24-foot three point jumper
27 - 29
8:55
Nick Collison offensive rebound
27 - 29
8:49
Eric Maynor makes 24-foot three point jumper (Kevin Martin assists)
27 - 32
8:29
Will Bynum misses 8-foot two point shot
27 - 32
8:26
Andre Drummond makes 2-foot two point shot
29 - 32
8:26
Andre Drummond offensive rebound
27 - 32
8:08
Nick Collison makes 21-foot jumper (Eric Maynor assists)
29 - 34
7:56
Kyle Singler misses 24-foot three point jumper
29 - 34
7:56
Nick Collison defensive rebound
29 - 34
7:47
Eric Maynor makes 9-foot two point shot
29 - 36
7:33
Will Bynum misses jumper
29 - 36
7:31
Pistons offensive team rebound
29 - 36
7:31
Russell Westbrook enters the game for Reggie Jackson
29 - 36
7:31
Thabo Sefolosha enters the game for Eric Maynor
29 - 36
7:30
Kyle Singler makes layup (Kim English assists)
31 - 36
7:09
Kevin Martin offensive foul (Kim English draws the foul)
31 - 36
7:09
Kevin Martin turnover
31 - 36
7:09
Kendrick Perkins enters the game for Perry Jones III
31 - 36
6:52
Will Bynum misses 24-foot three point jumper
31 - 36
6:52
Thabo Sefolosha defensive rebound
31 - 36
6:39
Nick Collison lost ball turnover (Will Bynum steals)
31 - 36
6:33
Will Bynum misses layup
31 - 36
6:31
Andre Drummond makes layup
33 - 36
6:31
Andre Drummond offensive rebound
31 - 36
6:22
Thabo Sefolosha bad pass (Jonas Jerebko steals)
33 - 36
6:20
Will Bynum makes layup (Jonas Jerebko assists)
35 - 36
6:18
Thunder Full timeout
35 - 36
6:18
Kevin Durant enters the game for Nick Collison
35 - 36
6:16
Will Bynum personal block (Kevin Durant draws the foul)
35 - 36
6:03
Kevin Durant makes 12-foot jumper (Russell Westbrook assists)
35 - 38
5:35
Kim English misses jumper
35 - 38
5:33
Kyle Singler offensive rebound
35 - 38
5:20
Jonas Jerebko misses three point jumper
35 - 38
5:20
Kendrick Perkins defensive rebound
35 - 38
5:13
Russell Westbrook misses 17-foot two point jumper
35 - 38
5:13
Andre Drummond defensive rebound
35 - 38
4:58
Will Bynum misses 18-foot step back jumpshot
35 - 38
4:58
Kevin Martin defensive rebound
35 - 38
4:52
Will Bynum personal foul (Kevin Durant draws the foul)
35 - 38
4:52
Greg Monroe enters the game for Will Bynum
35 - 38
4:52
Tayshaun Prince enters the game for Andre Drummond
35 - 38
4:52
Brandon Knight enters the game for Kyle Singler
35 - 38
4:43
Kevin Martin misses 24-foot three point jumper
35 - 38
4:43
Russell Westbrook offensive rebound
35 - 38
4:37
Russell Westbrook makes layup
35 - 40
4:13
Tayshaun Prince lost ball turnover (Kevin Durant steals)
35 - 40
4:07
Thabo Sefolosha makes layup (Kevin Durant assists)
35 - 42
3:57
Pistons 20 Sec. timeout
35 - 42
3:57
Rodney Stuckey enters the game for Kim English
35 - 42
3:49
Brandon Knight bad pass (Kendrick Perkins steals)
35 - 42
3:44
Russell Westbrook bad pass (Tayshaun Prince steals)
35 - 42
3:38
Tayshaun Prince misses layup
35 - 42
3:35
Kevin Durant defensive rebound
35 - 42
3:33
Brandon Knight personal block (Kevin Durant draws the foul)
35 - 42
3:14
Kendrick Perkins makes driving layup
35 - 44
2:55
Rodney Stuckey makes 24-foot three point jumper (Greg Monroe assists)
38 - 44
2:33
Kevin Martin misses 25-foot three point jumper
38 - 44
2:32
Greg Monroe defensive rebound
38 - 44
2:29
Rodney Stuckey makes dunk (Brandon Knight assists)
40 - 44
2:02
Kendrick Perkins bad pass (Jonas Jerebko steals)
40 - 44
1:55
Brandon Knight misses 25-foot three point jumper
40 - 44
1:54
Kevin Durant defensive rebound
40 - 44
1:46
Kevin Durant makes driving layup
40 - 46
1:46
Jonas Jerebko shooting foul (Kevin Durant draws the foul)
40 - 46
1:46
Official timeout
40 - 46
1:46
Serge Ibaka enters the game for Kevin Martin
40 - 46
1:46
Kevin Durant makes free throw 1 of 1
40 - 47
1:29
Jason Maxiell enters the game for Jonas Jerebko
40 - 47
1:24
Serge Ibaka shooting foul (Brandon Knight draws the foul)
40 - 47
1:24
Brandon Knight makes free throw 1 of 2
41 - 47
1:24
Brandon Knight makes free throw 2 of 2
42 - 47
1:07
Kevin Durant makes 4-foot two point shot (Russell Westbrook assists)
42 - 49
0:58
Greg Monroe misses layup
42 - 49
0:57
Kevin Durant defensive rebound
42 - 49
0:46
Kendrick Perkins misses hook shot
42 - 49
0:45
Rodney Stuckey defensive rebound
42 - 49
0:33
Greg Monroe misses 16-foot jumper
42 - 49
0:33
Kevin Durant defensive rebound
42 - 49
0:16
Serge Ibaka misses three point jumper
42 - 49
0:16
Pistons defensive team rebound
42 - 49
0:00
Tayshaun Prince misses jumper
42 - 49
0:00
Thunder defensive team rebound
42 - 49
0:00
End of the 2nd Quarter
42 - 49

time
TEAM
PLAY
SCORE
11:45
Kendrick Perkins misses 4-foot jumper
42 - 49
11:44
Greg Monroe defensive rebound
42 - 49
11:30
Greg Monroe misses 13-foot jumper
42 - 49
11:30
Kevin Durant defensive rebound
42 - 49
11:19
Serge Ibaka makes layup (Kendrick Perkins assists)
42 - 51
10:57
Jason Maxiell misses jumper
42 - 51
10:56
Kevin Durant defensive rebound
42 - 51
10:45
Kevin Durant misses 19-foot jumper
42 - 51
10:45
Pistons defensive team rebound
42 - 51
10:22
Tayshaun Prince misses 20-foot jumper
42 - 51
10:22
Kevin Durant defensive rebound
42 - 51
10:12
Serge Ibaka makes 16-foot jumper
42 - 53
9:47
Rodney Stuckey misses 4-foot jumper
42 - 53
9:45
Greg Monroe makes 1-foot two point shot
44 - 53
9:45
Greg Monroe offensive rebound
42 - 53
9:30
Russell Westbrook makes 24-foot three point jumper (Kevin Durant assists)
44 - 56
9:15
Brandon Knight bad pass
44 - 56
9:03
Greg Monroe shooting foul (Russell Westbrook draws the foul)
44 - 56
9:03
Pistons Full timeout
44 - 56
9:03
Russell Westbrook makes free throw 1 of 2
44 - 57
9:03
Russell Westbrook misses free throw 2 of 2
44 - 57
9:03
Jason Maxiell defensive rebound
44 - 57
8:41
Brandon Knight makes 22-foot three point jumper (Rodney Stuckey assists)
47 - 57
8:19
Brandon Knight shooting foul (Kevin Durant draws the foul)
47 - 57
8:19
Kevin Durant makes free throw 1 of 2
47 - 58
8:19
Kevin Durant makes free throw 2 of 2
47 - 59
7:56
Greg Monroe misses 6-foot jumper
47 - 59
7:56
Jason Maxiell offensive rebound
47 - 59
7:48
Serge Ibaka blocks Brandon Knight 's 3-foot jumper
47 - 59
7:47
Kevin Durant defensive rebound
47 - 59
7:43
Kevin Durant misses 7-foot jumper
47 - 59
7:41
Kendrick Perkins offensive rebound
47 - 59
7:41
Kendrick Perkins makes layup
47 - 61
7:22
Tayshaun Prince makes 24-foot three point jumper (Greg Monroe assists)
50 - 61
7:09
Russell Westbrook makes dunk (Kendrick Perkins assists)
50 - 63
6:50
Greg Monroe misses 3-foot two point shot
50 - 63
6:48
Rodney Stuckey offensive rebound
50 - 63
6:41
Greg Monroe lost ball turnover (Russell Westbrook steals)
50 - 63
6:33
Thabo Sefolosha offensive Charge (Jason Maxiell draws the foul)
50 - 63
6:33
Thabo Sefolosha turnover
50 - 63
6:18
Rodney Stuckey makes 25-foot three point jumper (Brandon Knight assists)
53 - 63
5:56
Kevin Durant makes 19-foot jumper (Kendrick Perkins assists)
53 - 65
5:33
Rodney Stuckey misses 25-foot three point jumper
53 - 65
5:33
Jason Maxiell offensive rebound
53 - 65
5:31
Kendrick Perkins shooting foul (Jason Maxiell draws the foul)
53 - 65
5:31
Jason Maxiell makes free throw 1 of 2
54 - 65
5:31
Andre Drummond enters the game for Greg Monroe
54 - 65
5:31
Jason Maxiell misses free throw 2 of 2
54 - 65
5:31
Kendrick Perkins defensive rebound
54 - 65
5:16
Serge Ibaka makes 19-foot jumper (Kendrick Perkins assists)
54 - 67
5:03
Thabo Sefolosha personal foul (Rodney Stuckey draws the foul)
54 - 67
5:03
Kevin Martin enters the game for Thabo Sefolosha
54 - 67
4:52
Serge Ibaka blocks Andre Drummond 's 4-foot shot
54 - 67
4:50
Pistons offensive team rebound
54 - 67
4:48
Brandon Knight makes 19-foot jumper (Rodney Stuckey assists)
56 - 67
4:18
shot clock turnover
56 - 67
4:05
Kevin Martin shooting foul (Rodney Stuckey draws the foul)
56 - 67
4:05
Rodney Stuckey makes free throw 1 of 2
57 - 67
4:05
Rodney Stuckey makes free throw 2 of 2
58 - 67
3:54
Kevin Durant makes 25-foot three point jumper (Russell Westbrook assists)
58 - 70
3:34
Serge Ibaka blocks Rodney Stuckey 's 4-foot jumper
58 - 70
3:32
Andre Drummond offensive rebound
58 - 70
3:31
Andre Drummond misses layup
58 - 70
3:31
Pistons offensive team rebound
58 - 70
3:31
Nick Collison enters the game for Kendrick Perkins
58 - 70
3:30
Tayshaun Prince makes layup (Rodney Stuckey assists)
60 - 70
3:19
Russell Westbrook offensive Charge (Brandon Knight draws the foul)
60 - 70
3:19
Russell Westbrook turnover
60 - 70
3:19
Pistons 20 Sec. timeout
60 - 70
3:19
Eric Maynor enters the game for Russell Westbrook
60 - 70
3:00
Rodney Stuckey misses jumper
60 - 70
2:59
Kevin Durant defensive rebound
60 - 70
2:50
Jason Maxiell shooting foul (Serge Ibaka draws the foul)
60 - 70
2:50
Thunder Full timeout
60 - 70
2:50
Greg Monroe enters the game for Jason Maxiell
60 - 70
2:50
Serge Ibaka makes free throw 1 of 2
60 - 71
2:50
Serge Ibaka makes free throw 2 of 2
60 - 72
2:27
Greg Monroe bad pass (Kevin Martin steals)
60 - 72
2:19
Kevin Martin misses 24-foot three point jumper
60 - 72
2:18
Pistons defensive team rebound
60 - 72
2:01
Andre Drummond makes two point shot (Greg Monroe assists)
62 - 72
1:46
Serge Ibaka offensive Charge (Greg Monroe draws the foul)
62 - 72
1:46
Serge Ibaka turnover
62 - 72
1:29
Andre Drummond makes layup (Greg Monroe assists)
64 - 72
1:13
Serge Ibaka misses Regular Jump Shot
64 - 72
0:56
Tayshaun Prince makes 24-foot three point jumper (Brandon Knight assists)
67 - 72
0:56
Thunder Full timeout
67 - 72
0:32
Serge Ibaka lost ball turnover (Andre Drummond steals)
67 - 72
0:30
Greg Monroe makes dunk (Brandon Knight assists)
69 - 72
0:12
Kevin Durant misses layup
69 - 72
0:12
Serge Ibaka makes layup
69 - 74
0:12
Serge Ibaka offensive rebound
69 - 72
0:00
Tayshaun Prince misses step back jumpshot
69 - 74
0:00
Thunder defensive team rebound
69 - 74
0:00
End of the 3rd Quarter
69 - 74

time
TEAM
PLAY
SCORE
11:42
Greg Monroe lost ball turnover (Nick Collison steals)
69 - 74
11:37
Kevin Martin makes 23-foot three point jumper (Thabo Sefolosha assists)
69 - 77
11:22
Greg Monroe makes dunk (Brandon Knight assists)
71 - 77
11:07
Andre Drummond shooting foul (Serge Ibaka draws the foul)
71 - 77
11:07
Serge Ibaka makes free throw 1 of 2
71 - 78
11:07
Serge Ibaka makes free throw 2 of 2
71 - 79
10:55
Brandon Knight misses 25-foot three point jumper
71 - 79
10:53
Brandon Knight offensive rebound
71 - 79
10:52
Brandon Knight traveling
71 - 79
10:45
Eric Maynor misses driving layup
71 - 79
10:44
Brandon Knight defensive rebound
71 - 79
10:37
Kyle Singler makes three point jumper (Brandon Knight assists)
74 - 79
10:22
Kevin Martin misses 4-foot jumper
74 - 79
10:22
Serge Ibaka offensive rebound
74 - 79
10:22
Andre Drummond shooting foul (Serge Ibaka draws the foul)
74 - 79
10:22
Serge Ibaka misses free throw 1 of 2
74 - 79
10:22
Thunder offensive team rebound
74 - 79
10:22
Kim English enters the game for Rodney Stuckey
74 - 79
10:22
Serge Ibaka makes free throw 2 of 2
74 - 80
10:08
Kyle Singler steps out of bounds turnover
74 - 80
9:59
Serge Ibaka makes 17-foot jumper (Eric Maynor assists)
74 - 82
9:30
Brandon Knight misses 17-foot jumper
74 - 82
9:29
Greg Monroe offensive rebound
74 - 82
9:27
Greg Monroe misses layup
74 - 82
9:26
Kyle Singler offensive rebound
74 - 82
9:25
Kyle Singler makes layup
76 - 82
9:03
Kevin Martin traveling
76 - 82
9:03
Will Bynum enters the game for Brandon Knight
76 - 82
8:42
Will Bynum bad pass (Kevin Martin steals)
76 - 82
8:40
Kevin Martin makes layup
76 - 84
8:27
Thabo Sefolosha personal foul (Kyle Singler draws the foul)
76 - 84
8:27
Official timeout
76 - 84
8:11
Kyle Singler misses 19-foot step back jumpshot
76 - 84
8:10
Thabo Sefolosha defensive rebound
76 - 84
7:56
Kevin Martin misses 18-foot jumper
76 - 84
7:54
Greg Monroe defensive rebound
76 - 84
7:43
Kim English misses 23-foot three point jumper
76 - 84
7:41
Andre Drummond offensive rebound
76 - 84
7:41
Nick Collison shooting foul (Andre Drummond draws the foul)
76 - 84
7:41
Andre Drummond misses free throw 1 of 2
76 - 84
7:41
Pistons offensive team rebound
76 - 84
7:41
Kevin Durant enters the game for Thabo Sefolosha
76 - 84
7:41
Andre Drummond makes free throw 2 of 2
77 - 84
7:22
Eric Maynor makes three point jumper (Kevin Martin assists)
77 - 87
7:20
Pistons Full timeout
77 - 87
7:20
Tayshaun Prince enters the game for Andre Drummond
77 - 87
7:20
Jonas Jerebko enters the game for Kim English
77 - 87
7:13
Nick Collison personal foul (Greg Monroe draws the foul)
77 - 87
7:01
Will Bynum bad pass (Kevin Martin steals)
77 - 87
6:54
Kevin Martin makes 6-foot two point shot
77 - 89
6:28
Will Bynum possession lost ball turnover
77 - 89
6:28
Will Bynum loose ball foul (Kevin Martin draws the foul)
77 - 89
6:15
Kevin Durant makes 15-foot two point shot
77 - 91
6:03
Nick Collison personal foul (Greg Monroe draws the foul)
77 - 91
5:54
Greg Monroe misses layup
77 - 91
5:52
Serge Ibaka defensive rebound
77 - 91
5:47
Tayshaun Prince shooting foul (Kevin Durant draws the foul)
77 - 91
5:47
Kendrick Perkins enters the game for Nick Collison
77 - 91
5:47
Kevin Durant makes free throw 1 of 2
77 - 92
5:47
Russell Westbrook enters the game for Eric Maynor
77 - 92
5:47
Kevin Durant makes free throw 2 of 2
77 - 93
5:33
Will Bynum makes two point shot
79 - 93
5:16
Serge Ibaka makes two point shot (Kendrick Perkins assists)
79 - 95
4:56
Tayshaun Prince misses jumper
79 - 95
4:56
Pistons offensive team rebound
79 - 95
4:56
Kendrick Perkins loose ball foul (Greg Monroe draws the foul)
79 - 95
4:56
Greg Monroe misses free throw 1 of 2
79 - 95
4:56
Pistons offensive team rebound
79 - 95
4:56
Greg Monroe makes free throw 2 of 2
80 - 95
4:39
Kevin Durant lost ball turnover (Tayshaun Prince steals)
80 - 95
4:35
Greg Monroe makes dunk
82 - 95
4:16
Kyle Singler personal foul (Kevin Martin draws the foul)
82 - 95
4:16
Kevin Martin misses free throw 1 of 2
82 - 95
4:16
Thunder offensive team rebound
82 - 95
4:16
Rodney Stuckey enters the game for Greg Monroe
82 - 95
4:16
Andre Drummond enters the game for Will Bynum
82 - 95
4:16
Brandon Knight enters the game for Kyle Singler
82 - 95
4:16
Kevin Martin makes free throw 2 of 2
82 - 96
3:58
Tayshaun Prince makes 23-foot jumper (Rodney Stuckey assists)
84 - 96
3:36
Serge Ibaka makes jumper (Kendrick Perkins assists)
84 - 98
3:24
Andre Drummond makes layup (Rodney Stuckey assists)
86 - 98
3:24
Serge Ibaka shooting foul (Andre Drummond draws the foul)
86 - 98
3:24
Andre Drummond makes free throw 1 of 1
87 - 98
3:13
Kevin Martin misses 25-foot three point jumper
87 - 98
3:12
Brandon Knight defensive rebound
87 - 98
3:04
Serge Ibaka shooting foul (Andre Drummond draws the foul)
87 - 98
3:04
Thunder delay of game violation
87 - 98
3:04
Andre Drummond makes free throw 1 of 2
88 - 98
3:04
Andre Drummond makes free throw 2 of 2
89 - 98
2:47
Kendrick Perkins makes dunk (Russell Westbrook assists)
89 - 100
2:26
Kendrick Perkins personal foul (Andre Drummond draws the foul)
89 - 100
2:26
Thunder Full timeout
89 - 100
2:26
Andre Drummond makes free throw 1 of 2
90 - 100
2:26
Andre Drummond misses free throw 2 of 2
90 - 100
2:25
Kevin Durant defensive rebound
90 - 100
2:15
Brandon Knight personal foul (Russell Westbrook draws the foul)
90 - 100
2:15
Russell Westbrook makes free throw 1 of 2
90 - 101
2:15
Russell Westbrook makes free throw 2 of 2
90 - 102
1:54
Rodney Stuckey misses 24-foot three point jumper
90 - 102
1:53
Brandon Knight offensive rebound
90 - 102
1:49
Tayshaun Prince misses 24-foot three point jumper
90 - 102
1:47
Andre Drummond offensive rebound
90 - 102
1:47
Andre Drummond makes layup
92 - 102
1:27
Russell Westbrook misses 25-foot three point jumper
92 - 102
1:25
Andre Drummond defensive rebound
92 - 102
1:23
Andre Drummond bad pass
92 - 102
1:17
Jonas Jerebko personal foul (Kendrick Perkins draws the foul)
92 - 102
1:17
Kendrick Perkins makes free throw 1 of 2
92 - 103
1:17
Eric Maynor enters the game for Russell Westbrook
92 - 103
1:17
Kendrick Perkins misses free throw 2 of 2
92 - 103
1:17
Andre Drummond defensive rebound
92 - 103
1:17
Pistons Full timeout
92 - 103
1:17
Greg Monroe enters the game for Andre Drummond
92 - 103
1:09
Tayshaun Prince misses 3-foot jumper
92 - 103
1:08
Serge Ibaka defensive rebound
92 - 103
0:46
Kevin Durant lost ball turnover (Jonas Jerebko steals)
92 - 103
0:43
Jonas Jerebko makes dunk (Rodney Stuckey assists)
94 - 103
0:20
Kevin Durant makes driving dunk
94 - 105
0:05
Brandon Knight misses 24-foot three point jumper
94 - 105
0:04
Tayshaun Prince offensive rebound
94 - 105
0:00
End of the 4th Quarter
94 - 105
0:00
End of Game
94 - 105
SVP digs into the vault for a Larry Bird-Chuck Person 1991 Game 5 first round matchup narrated by a young Bob Ley.

The Raptors prevail in overtime with a 96-92 victory over the Heat and even their playoff series at 1-1.

Bruce Bowen recaps how Toronto's role players like Jonas Valanciunas and DeMarre Carroll were able to outshine the team's stars, Kyle Lowry and DeMar DeRozan, in the Raptors' 96-92 win over the Heat.
Regular Season Series
OKC wins series 2-0
2015-2016 Central Standings
2015-2016 Northwest Standings