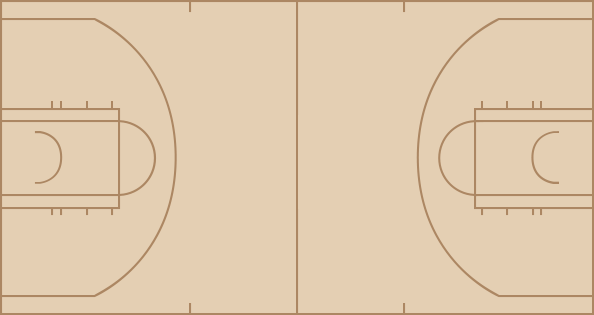 Trail Blazers
time
TEAM
PLAY
SCORE
12:00
J.J. Hickson vs. Jason Thompson (LaMarcus Aldridge gains possession)
0 - 0
11:44
LaMarcus Aldridge misses 17-foot jumper
0 - 0
11:42
Chuck Hayes defensive rebound
0 - 0
11:22
Wesley Matthews shooting foul (Tyreke Evans draws the foul)
0 - 0
11:22
Tyreke Evans makes free throw 1 of 2
0 - 1
11:22
Tyreke Evans misses free throw 2 of 2
0 - 1
11:21
J.J. Hickson defensive rebound
0 - 1
11:14
Nicolas Batum misses 26-foot three point jumper
0 - 1
11:03
Chuck Hayes defensive rebound
0 - 1
10:57
Jason Thompson lost ball turnover (LaMarcus Aldridge steals)
0 - 1
10:51
Damian Lillard makes 26-foot three point jumper (Nicolas Batum assists)
3 - 1
10:34
Jason Thompson makes layup (Tyreke Evans assists)
3 - 3
10:19
Damian Lillard makes 21-foot jumper
5 - 3
10:02
Tyreke Evans makes 22-foot jumper
5 - 5
9:41
LaMarcus Aldridge bad pass
5 - 5
9:25
James Johnson makes driving layup
5 - 7
9:04
James Johnson shooting foul (Nicolas Batum draws the foul)
5 - 7
9:04
Nicolas Batum misses free throw 1 of 2
5 - 7
9:04
Trail Blazers offensive team rebound
5 - 7
9:04
Nicolas Batum makes free throw 2 of 2
6 - 7
8:55
J.J. Hickson personal foul (Chuck Hayes draws the foul)
6 - 7
8:42
Jason Thompson misses jumper
6 - 7
8:41
LaMarcus Aldridge defensive rebound
6 - 7
8:32
LaMarcus Aldridge misses 19-foot jumper
6 - 7
8:30
Jason Thompson defensive rebound
6 - 7
8:19
Jason Thompson bad pass (Nicolas Batum steals)
6 - 7
8:06
Damian Lillard makes 26-foot three point jumper
9 - 7
7:56
Kings Full timeout
9 - 7
7:56
LaMarcus Aldridge personal foul (Tyreke Evans draws the foul)
12 - 8
7:56
Tyreke Evans misses free throw 1 of 2
9 - 7
7:56
Kings offensive team rebound
9 - 7
7:56
Tyreke Evans makes free throw 2 of 2
9 - 8
7:56
Wesley Matthews makes 26-foot three point jumper (Damian Lillard assists)
12 - 8
7:16
Chuck Hayes misses layup
12 - 8
7:15
Chuck Hayes offensive rebound
12 - 8
7:13
Chuck Hayes makes 7-foot jumper
12 - 10
6:58
Wesley Matthews makes 6-foot two point shot
14 - 10
6:43
Aaron Brooks misses 26-foot three point jumper
14 - 10
6:43
Nicolas Batum defensive rebound
14 - 10
6:30
LaMarcus Aldridge makes 10-foot two point shot
16 - 10
6:30
Jason Thompson shooting foul (LaMarcus Aldridge draws the foul)
16 - 10
6:30
LaMarcus Aldridge misses free throw 1 of 1
16 - 10
6:30
Jason Thompson defensive rebound
16 - 10
6:30
Chuck Hayes bad pass
16 - 10
5:56
James Johnson blocks Nicolas Batum's layup
16 - 10
5:56
Trail Blazers offensive team rebound
16 - 10
5:52
Marcus Thornton enters the game for Jason Thompson
16 - 10
5:47
Damian Lillard misses three point jumper
16 - 10
5:45
Chuck Hayes defensive rebound
16 - 10
5:26
Tyreke Evans misses 24-foot three point jumper
16 - 10
5:26
Wesley Matthews defensive rebound
16 - 10
5:18
Marcus Thornton personal foul (Wesley Matthews draws the foul)
16 - 10
5:13
LaMarcus Aldridge makes 17-foot jumper (Damian Lillard assists)
18 - 10
5:07
Tyreke Evans bad pass (Nicolas Batum steals)
18 - 10
5:03
Nicolas Batum makes layup
20 - 10
4:54
Kings 20 Sec. timeout
20 - 10
4:54
Jimmer Fredette enters the game for Aaron Brooks
20 - 10
4:50
Damian Lillard kicked ball violation
20 - 10
4:39
Jimmer Fredette bad pass (Wesley Matthews steals)
20 - 10
4:35
Wesley Matthews bad pass
20 - 10
4:35
Ronnie Price enters the game for Wesley Matthews
20 - 10
4:09
Jimmer Fredette misses 20-foot jumper
20 - 10
4:07
Ronnie Price defensive rebound
20 - 10
3:58
Nicolas Batum makes 26-foot three point jumper (Ronnie Price assists)
23 - 10
3:42
James Johnson misses 19-foot jumper
23 - 10
3:41
Nicolas Batum defensive rebound
23 - 10
3:30
LaMarcus Aldridge misses 17-foot jumper
23 - 10
3:29
J.J. Hickson offensive rebound
23 - 10
3:18
James Johnson blocks J.J. Hickson 's 12-foot jumper
23 - 10
3:16
Tyreke Evans defensive rebound
23 - 10
3:12
Marcus Thornton misses 25-foot three point jumper
23 - 10
3:11
Nicolas Batum defensive rebound
23 - 10
2:57
Nicolas Batum misses 26-foot three point jumper
23 - 10
2:56
J.J. Hickson offensive rebound
23 - 10
2:51
LaMarcus Aldridge makes layup (Nicolas Batum assists)
25 - 10
2:26
Jimmer Fredette makes 8-foot jumper (Tyreke Evans assists)
25 - 12
2:10
Damian Lillard bad pass (Jimmer Fredette steals)
25 - 12
2:09
Damian Lillard personal foul (Jimmer Fredette draws the foul)
25 - 12
2:09
Trail Blazers Full timeout
25 - 12
2:09
Thomas Robinson enters the game for James Johnson
25 - 12
2:09
John Salmons enters the game for Chuck Hayes
25 - 12
2:09
Jason Thompson enters the game for Tyreke Evans
25 - 12
2:09
Meyers Leonard enters the game for J.J. Hickson
25 - 12
1:55
Ronnie Price shooting foul (Marcus Thornton draws the foul)
25 - 12
1:55
Marcus Thornton makes free throw 1 of 2
25 - 13
1:55
Marcus Thornton makes free throw 2 of 2
25 - 14
1:42
Damian Lillard possession lost ball turnover
25 - 14
1:30
Jimmer Fredette bad pass (Ronnie Price steals)
25 - 14
1:19
Nicolas Batum lost ball turnover (John Salmons steals)
25 - 14
1:07
John Salmons misses jumper
25 - 14
1:07
Thomas Robinson offensive rebound
25 - 14
1:04
Thomas Robinson misses 16-foot jumper
25 - 14
0:59
Ronnie Price defensive rebound
25 - 14
0:56
Ronnie Price misses layup
25 - 14
0:55
Thomas Robinson defensive rebound
25 - 14
0:48
Jason Thompson makes 4-foot two point shot
25 - 16
0:33
Ronnie Price misses 23-foot three point jumper
25 - 16
0:31
Jimmer Fredette defensive rebound
25 - 16
0:25
Marcus Thornton makes layup (Jimmer Fredette assists)
25 - 18
0:07
Jimmer Fredette personal take foul (Damian Lillard draws the foul)
25 - 18
0:02
Damian Lillard misses jumper
25 - 18
0:01
Marcus Thornton defensive rebound
25 - 18
0:00
End of the 1st Quarter
25 - 18

time
TEAM
PLAY
SCORE
11:36
Jimmer Fredette makes jumper
25 - 20
11:11
Ronnie Price makes 8-foot jumper
27 - 20
10:48
Thomas Robinson makes layup (John Salmons assists)
27 - 22
10:26
Sasha Pavlovic misses 24-foot three point jumper
27 - 22
10:26
Jason Thompson defensive rebound
27 - 22
10:17
Jason Thompson misses layup
27 - 22
10:15
Meyers Leonard defensive rebound
27 - 22
10:11
Ronnie Price bad pass (John Salmons steals)
27 - 22
10:06
Jimmer Fredette misses 26-foot three point jumper
27 - 22
10:04
Ronnie Price defensive rebound
27 - 22
9:57
Wesley Matthews misses jumper
27 - 22
9:56
Meyers Leonard offensive rebound
27 - 22
9:56
Jason Thompson shooting foul (Meyers Leonard draws the foul)
29 - 22
9:56
Joel Freeland enters the game for LaMarcus Aldridge
27 - 22
9:56
Meyers Leonard makes free throw 1 of 2
28 - 22
9:56
Meyers Leonard makes free throw 2 of 2
29 - 22
9:40
Sasha Pavlovic personal foul (John Salmons draws the foul)
29 - 22
9:30
Jimmer Fredette makes 14-foot jumper
29 - 24
9:03
Sasha Pavlovic makes 25-foot three point jumper (Wesley Matthews assists)
32 - 24
8:45
Jason Thompson makes layup (John Salmons assists)
32 - 26
8:27
Joel Freeland offensive Charge (Thomas Robinson draws the foul)
32 - 26
8:27
Joel Freeland turnover
32 - 26
8:27
Official timeout
32 - 26
8:11
Marcus Thornton misses 17-foot jumper
32 - 26
8:11
Jason Thompson misses layup
32 - 26
8:11
Jason Thompson offensive rebound
32 - 26
8:08
Joel Freeland defensive rebound
32 - 26
7:54
Sasha Pavlovic misses 25-foot three point jumper
32 - 26
7:48
Kings defensive team rebound
32 - 26
7:26
Jimmer Fredette makes 11-foot two point shot (Thomas Robinson assists)
32 - 28
7:05
Marcus Thornton personal foul (Meyers Leonard draws the foul)
32 - 28
7:05
J.J. Hickson enters the game for Meyers Leonard
32 - 28
7:05
Nicolas Batum enters the game for Sasha Pavlovic
32 - 28
6:52
Jason Thompson blocks J.J. Hickson 's 5-foot jumper
32 - 28
6:52
Jason Thompson defensive rebound
32 - 28
6:43
Marcus Thornton makes layup (Jimmer Fredette assists)
32 - 30
6:28
Wesley Matthews misses layup
32 - 30
6:26
Jason Thompson defensive rebound
32 - 30
6:18
Jimmer Fredette misses three point jumper
32 - 30
6:18
Marcus Thornton offensive rebound
32 - 30
6:13
Nicolas Batum blocks Marcus Thornton's layup
32 - 30
6:11
Ronnie Price defensive rebound
32 - 30
5:58
Nicolas Batum misses 26-foot three point jumper
32 - 30
5:56
John Salmons defensive rebound
32 - 30
5:39
Thomas Robinson makes dunk (Jimmer Fredette assists)
32 - 32
5:35
Trail Blazers Full timeout
32 - 32
5:35
Damian Lillard enters the game for Ronnie Price
32 - 32
5:18
Joel Freeland misses 6-foot jumper
32 - 32
5:16
Nicolas Batum offensive rebound
32 - 32
5:15
Jason Thompson blocks Joel Freeland's layup
32 - 32
5:13
Marcus Thornton defensive rebound
32 - 32
5:07
Thomas Robinson makes layup (Jimmer Fredette assists)
32 - 34
4:52
Jimmer Fredette shooting foul (Damian Lillard draws the foul)
34 - 34
4:52
Damian Lillard makes free throw 1 of 2
33 - 34
4:52
LaMarcus Aldridge enters the game for Joel Freeland
33 - 34
4:52
Damian Lillard makes free throw 2 of 2
34 - 34
4:35
Wesley Matthews blocks Marcus Thornton's jumper
34 - 34
4:33
J.J. Hickson defensive rebound
34 - 34
4:11
Damian Lillard misses 16-foot jumper
34 - 34
4:11
Jason Thompson defensive rebound
34 - 34
3:58
John Salmons misses 22-foot jumper
34 - 34
3:57
Wesley Matthews defensive rebound
34 - 34
3:54
Wesley Matthews makes dunk (Nicolas Batum assists)
36 - 34
3:32
Jimmer Fredette makes 11-foot two point shot
36 - 36
3:10
J.J. Hickson makes 12-foot two point shot (Damian Lillard assists)
38 - 36
3:00
Kings Full timeout
38 - 36
3:00
Tyreke Evans enters the game for John Salmons
38 - 36
3:00
James Johnson enters the game for Jimmer Fredette
38 - 36
2:47
Tyreke Evans misses 6-foot jumper
38 - 36
2:44
Damian Lillard defensive rebound
38 - 36
2:41
Wesley Matthews makes layup (Damian Lillard assists)
40 - 36
2:18
Marcus Thornton misses 22-foot jumper
40 - 36
2:17
Wesley Matthews defensive rebound
40 - 36
1:55
Thomas Robinson shooting foul (LaMarcus Aldridge draws the foul)
40 - 36
1:55
LaMarcus Aldridge makes free throw 1 of 2
41 - 36
1:55
Chuck Hayes enters the game for Jason Thompson
41 - 36
1:55
LaMarcus Aldridge makes free throw 2 of 2
42 - 36
1:40
James Johnson makes dunk (Chuck Hayes assists)
42 - 38
1:17
J.J. Hickson 3 second turnover
42 - 38
0:52
Tyreke Evans misses 25-foot three point jumper
42 - 38
0:51
Marcus Thornton offensive rebound
42 - 38
0:49
Marcus Thornton makes layup
42 - 40
0:33
Damian Lillard makes 26-foot three point jumper
45 - 40
0:18
Tyreke Evans offensive foul (Damian Lillard draws the foul)
45 - 40
0:18
Tyreke Evans turnover
45 - 40
0:03
Tyreke Evans personal foul (Damian Lillard draws the foul)
46 - 40
0:03
Damian Lillard misses free throw 1 of 2
45 - 40
0:03
Trail Blazers offensive team rebound
45 - 40
0:03
Damian Lillard makes free throw 2 of 2
46 - 40
0:00
Thomas Robinson makes 1-foot dunk (Tyreke Evans assists)
46 - 42
0:00
shooting foul (Thomas Robinson draws the foul)
46 - 42
0:00
End of the 2nd Quarter
46 - 42

time
TEAM
PLAY
SCORE
11:41
Chuck Hayes makes two point shot
46 - 44
11:21
Nicolas Batum misses 25-foot three point jumper
46 - 44
11:18
J.J. Hickson offensive rebound
46 - 44
11:11
J.J. Hickson makes 5-foot jumper (Nicolas Batum assists)
48 - 44
10:49
Marcus Thornton makes layup (Chuck Hayes assists)
48 - 46
10:32
LaMarcus Aldridge misses 19-foot jumper
48 - 46
10:30
Chuck Hayes defensive rebound
48 - 46
10:02
Nicolas Batum possession lost ball turnoverMarcus Thornton
48 - 48
9:59
Marcus Thornton possession lost ball turnoverNicolas Batum
48 - 48
9:57
Damian Lillard bad pass
48 - 48
9:53
Chuck Hayes misses 4-foot jumper
48 - 48
9:52
LaMarcus Aldridge defensive rebound
48 - 48
9:44
Damian Lillard makes 3-foot two point shot
50 - 48
9:23
James Johnson misses 14-foot jumper
50 - 48
9:22
Chuck Hayes offensive rebound
50 - 48
9:00
Marcus Thornton makes layup (Tyreke Evans assists)
50 - 50
8:30
Tyreke Evans makes layup (Chuck Hayes assists)
50 - 52
8:30
Trail Blazers Full timeout
50 - 52
8:10
Nicolas Batum misses 27-foot three point jumper
50 - 52
8:08
Jason Thompson defensive rebound
50 - 52
7:58
Jason Thompson misses 18-foot jumper
50 - 52
7:56
J.J. Hickson defensive rebound
50 - 52
7:43
LaMarcus Aldridge misses 7-foot jumper
50 - 52
7:43
LaMarcus Aldridge offensive rebound
50 - 52
7:30
Wesley Matthews misses 26-foot three point jumper
50 - 52
7:28
Jason Thompson defensive rebound
50 - 52
7:22
Tyreke Evans makes 22-foot jumper
50 - 54
7:07
Chuck Hayes personal foul (LaMarcus Aldridge draws the foul)
50 - 54
6:54
LaMarcus Aldridge makes 12-foot two point shot
52 - 54
6:28
LaMarcus Aldridge blocks James Johnson's jumper
52 - 54
6:26
Nicolas Batum defensive rebound
52 - 54
6:24
Wesley Matthews makes 25-foot three point jumper (Nicolas Batum assists)
55 - 54
6:11
Marcus Thornton misses 3-foot jumper
55 - 54
6:09
J.J. Hickson defensive rebound
55 - 54
5:52
J.J. Hickson makes 10-foot two point shot (Damian Lillard assists)
57 - 54
5:50
Kings Full timeout
57 - 54
5:22
Damian Lillard shooting foul (Jason Thompson draws the foul)
57 - 54
5:22
Jason Thompson makes free throw 1 of 2
57 - 55
5:22
Jason Thompson makes free throw 2 of 2
57 - 56
5:11
Nicolas Batum makes 21-foot jumper (Damian Lillard assists)
59 - 56
4:52
James Johnson misses 22-foot jumper
59 - 56
4:50
LaMarcus Aldridge defensive rebound
59 - 56
4:41
LaMarcus Aldridge misses 21-foot jumper
59 - 56
4:41
J.J. Hickson offensive rebound
59 - 56
4:37
J.J. Hickson misses two point shot
59 - 56
4:35
Jason Thompson defensive rebound
59 - 56
4:26
Marcus Thornton misses 25-foot three point jumper
59 - 56
4:26
Jason Thompson offensive rebound
59 - 56
4:13
James Johnson misses three point jumper
59 - 56
4:09
Trail Blazers defensive team rebound
59 - 56
4:09
Marcus Thornton loose ball foul (Wesley Matthews draws the foul)
59 - 56
4:09
Jared Jeffries enters the game for LaMarcus Aldridge
59 - 56
4:09
Thomas Robinson enters the game for Chuck Hayes
59 - 56
4:00
Damian Lillard makes 25-foot three point jumper
62 - 56
3:38
Tyreke Evans misses 19-foot jumper
62 - 56
3:36
Marcus Thornton misses layup
62 - 56
3:36
Marcus Thornton offensive rebound
62 - 56
3:35
J.J. Hickson defensive rebound
62 - 56
3:26
J.J. Hickson makes 1-foot dunk (Damian Lillard assists)
64 - 56
2:57
Marcus Thornton misses 26-foot three point jumper
64 - 56
2:56
J.J. Hickson defensive rebound
64 - 56
2:40
J.J. Hickson misses 10-foot jumper
64 - 56
2:38
Nicolas Batum makes two point shot
66 - 56
2:38
Nicolas Batum offensive rebound
64 - 56
2:12
Jason Thompson misses 12-foot jumper
66 - 56
2:11
J.J. Hickson defensive rebound
66 - 56
2:00
Nicolas Batum makes 24-foot three point jumper (Damian Lillard assists)
69 - 56
2:00
Kings 20 Sec. timeout
69 - 56
2:00
John Salmons enters the game for James Johnson
69 - 56
2:00
Jimmer Fredette enters the game for Tyreke Evans
69 - 56
1:42
Thomas Robinson misses 15-foot jumper
69 - 56
1:39
Marcus Thornton makes layup
69 - 58
1:39
Marcus Thornton offensive rebound
69 - 56
1:20
Jared Jeffries misses 19-foot jumper
69 - 58
1:19
Damian Lillard offensive rebound
69 - 58
1:13
J.J. Hickson makes 1-foot dunk (Damian Lillard assists)
71 - 58
1:08
John Salmons inbound turnover
71 - 58
1:00
Jared Jeffries offensive foul (Jimmer Fredette draws the foul)
71 - 58
1:00
Jared Jeffries turnover
71 - 58
0:47
Jared Jeffries blocks Jimmer Fredette 's 16-foot jumper
71 - 58
0:47
Nicolas Batum defensive rebound
71 - 58
0:31
Damian Lillard makes 25-foot three point jumper
74 - 58
0:12
Thomas Robinson offensive Charge (Jared Jeffries draws the foul)
74 - 58
0:12
Thomas Robinson turnover
74 - 58
0:01
Nicolas Batum misses 24-foot three point jumper
74 - 58
0:00
Trail Blazers offensive team rebound
74 - 58
0:00
End of the 3rd Quarter
74 - 58

time
TEAM
PLAY
SCORE
11:48
Nicolas Batum makes driving dunk
76 - 58
11:27
Jason Thompson misses jumper
76 - 58
11:26
Ronnie Price defensive rebound
76 - 58
11:12
Jared Jeffries misses 15-foot jumper
76 - 58
11:10
Wesley Matthews offensive rebound
76 - 58
10:56
Jason Thompson shooting foul (Wesley Matthews draws the foul)
76 - 58
10:56
Wesley Matthews makes free throw 1 of 2
77 - 58
10:56
Chuck Hayes enters the game for Jason Thompson
77 - 58
10:56
Wesley Matthews makes free throw 2 of 2
78 - 58
10:48
Wesley Matthews personal foul (Marcus Thornton draws the foul)
78 - 58
10:36
Jimmer Fredette misses 11-foot jumper
78 - 58
10:34
Trail Blazers defensive team rebound
78 - 58
10:34
Marcus Thornton loose ball foul (Jared Jeffries draws the foul)
78 - 58
10:18
LaMarcus Aldridge misses 11-foot jumper
78 - 58
10:18
Thomas Robinson defensive rebound
78 - 58
10:11
Thomas Robinson makes 15-foot jumper (Jimmer Fredette assists)
78 - 60
9:45
Chuck Hayes shooting foul (LaMarcus Aldridge draws the foul)
79 - 60
9:45
LaMarcus Aldridge makes free throw 1 of 2
79 - 60
9:45
James Johnson enters the game for Marcus Thornton
79 - 60
9:45
Sasha Pavlovic enters the game for Nicolas Batum
79 - 60
9:45
LaMarcus Aldridge makes free throw 2 of 2
80 - 60
9:37
Ronnie Price personal foul (Jimmer Fredette draws the foul)
80 - 60
9:32
John Salmons lost ball turnover (Ronnie Price steals)
80 - 60
9:29
James Johnson shooting foul (Wesley Matthews draws the foul)
82 - 60
9:29
Wesley Matthews makes free throw 1 of 2
81 - 60
9:29
Wesley Matthews makes free throw 2 of 2
82 - 60
9:12
James Johnson makes layup (Chuck Hayes assists)
82 - 62
9:12
Jared Jeffries shooting foul (James Johnson draws the foul)
82 - 62
9:12
James Johnson misses free throw 1 of 1
82 - 62
9:11
Chuck Hayes offensive rebound
82 - 62
9:10
LaMarcus Aldridge blocks Chuck Hayes 's 2-foot layup
82 - 62
9:07
LaMarcus Aldridge defensive rebound
82 - 62
8:53
James Johnson personal foul (LaMarcus Aldridge draws the foul)
82 - 62
8:53
Official timeout
82 - 62
8:53
LaMarcus Aldridge makes free throw 1 of 2
83 - 62
8:53
LaMarcus Aldridge makes free throw 2 of 2
84 - 62
8:27
Chuck Hayes makes 15-foot two point shot (Jimmer Fredette assists)
84 - 64
8:06
Ronnie Price makes three point jumper (LaMarcus Aldridge assists)
87 - 64
7:50
John Salmons makes 25-foot three point jumper (Chuck Hayes assists)
87 - 67
7:26
Wesley Matthews makes two point shot
89 - 67
7:13
Jared Jeffries shooting foul (Jimmer Fredette draws the foul)
89 - 67
7:13
Jimmer Fredette makes free throw 1 of 2
89 - 68
7:13
Damian Lillard enters the game for Wesley Matthews
89 - 68
7:13
Jimmer Fredette misses free throw 2 of 2
89 - 68
7:11
Sasha Pavlovic defensive rebound
89 - 68
6:52
LaMarcus Aldridge misses 18-foot jumper
89 - 68
6:50
Ronnie Price offensive rebound
89 - 68
6:48
Trail Blazers Full timeout
89 - 68
6:48
J.J. Hickson enters the game for Jared Jeffries
89 - 68
6:48
Tyreke Evans enters the game for Jimmer Fredette
89 - 68
6:35
Chuck Hayes shooting foul (LaMarcus Aldridge draws the foul)
89 - 68
6:35
LaMarcus Aldridge makes free throw 1 of 2
90 - 68
6:35
LaMarcus Aldridge makes free throw 2 of 2
91 - 68
6:20
John Salmons makes 16-foot two point shot
91 - 70
6:20
no turnover
91 - 70
6:20
James Johnson bad pass (Sasha Pavlovic steals)
91 - 70
5:50
J.J. Hickson misses layup
91 - 70
5:50
Chuck Hayes defensive rebound
91 - 70
5:39
John Salmons makes 4-foot jumper
91 - 72
5:16
Sasha Pavlovic makes 25-foot three point jumper (Ronnie Price assists)
94 - 72
4:56
John Salmons misses 15-foot jumper
94 - 72
4:56
J.J. Hickson defensive rebound
94 - 72
4:41
LaMarcus Aldridge misses 19-foot jumper
94 - 72
4:39
James Johnson defensive rebound
94 - 72
4:31
James Johnson makes 3-foot two point shot
94 - 74
4:03
Ronnie Price lost ball turnover (Tyreke Evans steals)
94 - 74
3:59
Tyreke Evans makes driving layup
94 - 76
3:31
shot clock turnover
94 - 76
3:31
Jimmer Fredette enters the game for John Salmons
94 - 76
3:17
Jimmer Fredette misses 27-foot three point jumper
94 - 76
3:16
J.J. Hickson defensive rebound
94 - 76
2:47
James Johnson makes two point shot
97 - 78
2:47
Sasha Pavlovic shooting foul (James Johnson draws the foul)
97 - 76
2:47
Kings Full timeout
97 - 76
2:47
James Johnson makes free throw 1 of 1
97 - 79
2:31
LaMarcus Aldridge makes 13-foot jumper
99 - 79
2:31
Chuck Hayes shooting foul (LaMarcus Aldridge draws the foul)
100 - 79
2:31
Nolan Smith enters the game for Ronnie Price
99 - 79
2:31
LaMarcus Aldridge makes free throw 1 of 1
100 - 79
2:13
Chuck Hayes misses jumper
100 - 79
2:12
Thomas Robinson offensive rebound
100 - 79
2:11
Sasha Pavlovic shooting foul (Thomas Robinson draws the foul)
100 - 79
2:11
Thomas Robinson misses free throw 1 of 2
100 - 79
2:11
Kings offensive team rebound
100 - 79
2:11
Luke Babbitt enters the game for LaMarcus Aldridge
100 - 79
2:11
Meyers Leonard enters the game for J.J. Hickson
100 - 79
2:11
Thomas Robinson misses free throw 2 of 2
100 - 79
2:09
Sasha Pavlovic defensive rebound
100 - 79
1:53
Nolan Smith makes 26-foot three point jumper (Luke Babbitt assists)
103 - 79
1:39
Luke Babbitt personal foul (Thomas Robinson draws the foul)
103 - 81
1:39
Thomas Robinson makes free throw 1 of 2
103 - 80
1:39
Victor Claver enters the game for Damian Lillard
103 - 80
1:39
Thomas Robinson makes free throw 2 of 2
103 - 81
1:27
Nolan Smith misses 26-foot three point jumper
103 - 81
1:25
Kings defensive team rebound
103 - 81
1:16
Jimmer Fredette misses 6-foot jumper
103 - 81
1:15
Luke Babbitt defensive rebound
103 - 81
1:08
8 second turnover
103 - 81
0:58
James Johnson makes driving layup
103 - 84
0:58
Luke Babbitt shooting foul (James Johnson draws the foul)
103 - 84
0:58
James Johnson makes free throw 1 of 1
103 - 84
0:41
Luke Babbitt misses 23-foot three point jumper
103 - 84
0:40
James Johnson defensive rebound
103 - 84
0:35
James Johnson lost ball turnover (Luke Babbitt steals)
103 - 84
0:27
Nolan Smith lost ball turnover (Thomas Robinson steals)
103 - 84
0:24
Luke Babbitt flagrant foul type 1 (Jimmer Fredette draws the foul)
103 - 85
0:24
Jimmer Fredette makes
103 - 86
0:24
Jimmer Fredette makes free throw 1 of 1
103 - 86
0:14
James Johnson misses 13-foot jumper
103 - 86
0:13
Victor Claver defensive rebound
103 - 86
0:00
End of the 4th Quarter
103 - 86
0:00
End of Game
103 - 86
The Trail Blazers have offered Chandler Parsons a max contract worth $94.8 million over four years, sources told ESPN. The Grizzlies also are expected to make a max offer at a meeting Friday.

DeMar Derozan has agreed to re-sign with the Raptors, according to ESPN's Brian Windhorst and multiple reports.

With Derrick Rose in the fold and his old Bulls mate Joakim Noah near a deal as early free agency opens, it's clear the Knicks aren't in rebuild mode.
Regular Season Series
Series tied 2-2
2015-2016 Northwest Standings
2015-2016 Pacific Standings