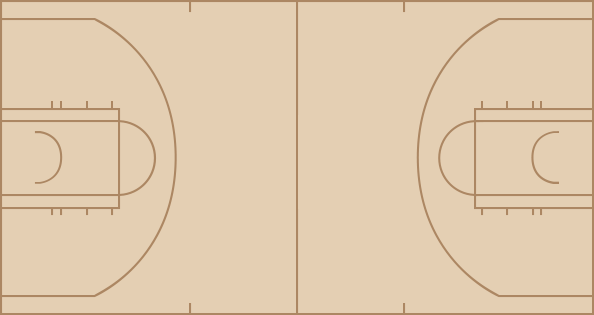 Cavaliers
time
TEAM
PLAY
SCORE
12:00
Anderson Varejao vs. Nikola Vucevic (Tristan Thompson gains possession)
0 - 0
11:41
Tristan Thompson makes driving layup (Dion Waiters assists)
2 - 0
11:18
Arron Afflalo bad pass
2 - 0
11:03
Dion Waiters misses 27-foot three point jumper
2 - 0
11:03
Glen Davis defensive rebound
2 - 0
10:51
Magic 20 Sec. timeout
2 - 0
10:45
Arron Afflalo lost ball turnover (Alonzo Gee steals)
2 - 0
10:44
Arron Afflalo personal foul (Alonzo Gee draws the foul)
2 - 0
10:30
Alonzo Gee bad pass (Moe Harkless steals)
2 - 0
10:15
Jameer Nelson makes 23-foot three point jumper (Arron Afflalo assists)
2 - 3
10:08
Alonzo Gee out of bounds lost ball turnover
2 - 3
9:48
Nikola Vucevic misses 18-foot jumper
2 - 3
9:47
Moe Harkless offensive rebound
2 - 3
9:47
Moe Harkless makes 2-foot two point shot
2 - 5
9:33
Jeremy Pargo misses 22-foot jumper
2 - 5
9:32
Glen Davis defensive rebound
2 - 5
9:26
Nikola Vucevic lost ball turnover (Anderson Varejao steals)
2 - 5
9:14
Alonzo Gee makes 25-foot three point jumper (Jeremy Pargo assists)
5 - 5
8:56
Glen Davis misses 18-foot jumper
5 - 5
8:55
Tristan Thompson defensive rebound
5 - 5
8:38
Alonzo Gee misses three point jumper
5 - 5
8:37
Nikola Vucevic defensive rebound
5 - 5
8:30
Jameer Nelson misses 21-foot jumper
5 - 5
8:23
Jameer Nelson offensive rebound
5 - 5
8:19
Nikola Vucevic misses 13-foot jumper
5 - 5
8:18
Dion Waiters defensive rebound
5 - 5
8:10
Dion Waiters misses layup
5 - 5
8:08
Cavaliers offensive team rebound
5 - 5
8:08
C.J. Miles enters the game for Dion Waiters
5 - 5
7:58
Anderson Varejao makes 16-foot jumper (Alonzo Gee assists)
7 - 5
7:48
Jeremy Pargo personal foul (Jameer Nelson draws the foul)
7 - 5
7:48
Josh McRoberts enters the game for Moe Harkless
7 - 5
7:48
J.J. Redick enters the game for Arron Afflalo
7 - 5
7:37
C.J. Miles shooting foul (Glen Davis draws the foul)
7 - 5
7:37
Glen Davis makes free throw 1 of 2
7 - 6
7:37
Glen Davis makes free throw 2 of 2
7 - 7
7:28
C.J. Miles misses 26-foot three point jumper
7 - 7
7:26
Nikola Vucevic defensive rebound
7 - 7
7:18
J.J. Redick makes 28-foot three point jumper (Jameer Nelson assists)
7 - 10
7:00
Alonzo Gee makes layup (Anderson Varejao assists)
9 - 10
6:33
Glen Davis misses 14-foot jumper
9 - 10
6:33
Anderson Varejao defensive rebound
9 - 10
6:20
Jeremy Pargo misses 26-foot three point jumper
9 - 10
6:18
Glen Davis defensive rebound
9 - 10
6:11
Alonzo Gee blocks Nikola Vucevic 's 3-foot layup
9 - 10
6:11
Magic offensive team rebound
9 - 10
6:11
Gustavo Ayon enters the game for Glen Davis
9 - 10
6:11
Andrew Nicholson enters the game for Nikola Vucevic
9 - 10
6:11
Tyler Zeller enters the game for Tristan Thompson
9 - 10
6:09
Josh McRoberts makes layup (J.J. Redick assists)
9 - 12
5:58
Jeremy Pargo makes layup (Anderson Varejao assists)
11 - 12
5:50
J.J. Redick misses 7-foot jumper
11 - 12
5:48
Tyler Zeller defensive rebound
11 - 12
5:37
Alonzo Gee misses three point jumper
11 - 12
5:37
Jameer Nelson defensive rebound
11 - 12
5:31
J.J. Redick makes 27-foot three point jumper (Jameer Nelson assists)
11 - 15
5:22
Cavaliers Full timeout
11 - 15
5:22
Omri Casspi enters the game for C.J. Miles
11 - 15
5:22
E'Twaun Moore enters the game for Jameer Nelson
11 - 15
5:09
Jeremy Pargo makes 4-foot jumper
13 - 15
5:00
Gustavo Ayon offensive foul (Tyler Zeller draws the foul)
13 - 15
5:00
Gustavo Ayon turnover
13 - 15
4:39
Alonzo Gee misses 12-foot two point shot
13 - 15
4:37
Gustavo Ayon defensive rebound
13 - 15
4:20
J.J. Redick bad pass (Alonzo Gee steals)
13 - 15
4:13
Omri Casspi misses jumper
13 - 15
4:11
Anderson Varejao offensive rebound
13 - 15
4:09
Anderson Varejao makes layup
15 - 15
3:57
Gustavo Ayon offensive foul (Alonzo Gee draws the foul)
15 - 15
3:57
Gustavo Ayon turnover
15 - 15
3:57
Daniel Gibson enters the game for Alonzo Gee
15 - 15
3:44
Tyler Zeller misses 1-foot two point shot
15 - 15
3:43
Andrew Nicholson defensive rebound
15 - 15
3:36
Gustavo Ayon misses layup
15 - 15
3:34
Tyler Zeller defensive rebound
15 - 15
3:15
Anderson Varejao makes jumper (Daniel Gibson assists)
17 - 15
3:00
Andrew Nicholson offensive foul (Daniel Gibson draws the foul)
17 - 15
3:00
Andrew Nicholson turnover
17 - 15
3:00
Arron Afflalo enters the game for Josh McRoberts
17 - 15
2:49
Anderson Varejao offensive foul (J.J. Redick draws the foul)
17 - 15
2:49
Anderson Varejao turnover
17 - 15
2:49
Magic Full timeout
17 - 15
2:49
Dion Waiters enters the game for Jeremy Pargo
17 - 15
2:33
Gustavo Ayon makes 14-foot jumper
17 - 17
2:15
Tyler Zeller makes 4-foot two point shot (Daniel Gibson assists)
19 - 17
2:01
Arron Afflalo makes 16-foot jumper (E'Twaun Moore assists)
19 - 19
1:38
Anderson Varejao makes jumper (Dion Waiters assists)
21 - 19
1:23
E'Twaun Moore makes 23-foot three point jumper (Andrew Nicholson assists)
21 - 22
1:07
Omri Casspi misses 25-foot three point jumper
21 - 22
1:07
Magic defensive team rebound
21 - 22
1:07
Anderson Varejao loose ball foul (Gustavo Ayon draws the foul)
21 - 22
1:07
Jameer Nelson enters the game for E'Twaun Moore
21 - 22
1:07
Tristan Thompson enters the game for Anderson Varejao
21 - 22
0:54
Arron Afflalo bad pass
21 - 22
0:41
Dion Waiters makes 23-foot three point jumper (Tristan Thompson assists)
24 - 22
0:24
Jameer Nelson bad pass (Omri Casspi steals)
24 - 22
0:11
Jameer Nelson personal foul (Dion Waiters draws the foul)
24 - 22
0:11
Josh McRoberts enters the game for Gustavo Ayon
24 - 22
0:11
E'Twaun Moore enters the game for Jameer Nelson
24 - 22
0:04
Dion Waiters makes 14-foot two point shot
26 - 22
0:00
Josh McRoberts makes 18-foot jumper (Andrew Nicholson assists)
26 - 24
0:00
End of the 1st Quarter
26 - 24

time
TEAM
PLAY
SCORE
11:37
Arron Afflalo misses 26-foot three point jumper
26 - 24
11:36
Tyler Zeller defensive rebound
26 - 24
11:26
J.J. Redick personal foul (Daniel Gibson draws the foul)
26 - 24
11:26
Moe Harkless enters the game for J.J. Redick
26 - 24
11:14
Tyler Zeller misses 21-foot jumper
26 - 24
11:12
Glen Davis defensive rebound
26 - 24
10:52
Jameer Nelson bad pass
26 - 24
10:44
Daniel Gibson misses 21-foot jumper
26 - 24
10:41
Glen Davis defensive rebound
26 - 24
10:37
Arron Afflalo offensive foul (Daniel Gibson draws the foul)
26 - 24
10:37
Arron Afflalo turnover
26 - 24
10:26
Dion Waiters makes 26-foot three point jumper (Daniel Gibson assists)
29 - 24
10:14
Glen Davis misses 15-foot jumper
29 - 24
10:14
Magic offensive team rebound
29 - 24
10:14
Tyler Zeller loose ball foul (Nikola Vucevic draws the foul)
29 - 24
10:03
Arron Afflalo makes 20-foot jumper (Nikola Vucevic assists)
29 - 26
9:52
Omri Casspi makes 26-foot three point jumper
32 - 27
9:37
Tristan Thompson personal foul (Jameer Nelson draws the foul)
32 - 26
9:22
Arron Afflalo makes 9-foot two point shot
32 - 28
9:11
Omri Casspi makes 12-foot jumper (Daniel Gibson assists)
34 - 28
8:55
Jameer Nelson makes 9-foot two point shot
34 - 30
8:40
Omri Casspi makes 8-foot jumper
36 - 30
8:30
Jameer Nelson makes 19-foot jumper
36 - 32
8:21
Cavaliers Full timeout
36 - 32
8:07
Dion Waiters misses 24-foot three point jumper
36 - 32
8:04
Omri Casspi offensive rebound
36 - 32
7:50
Tristan Thompson makes two point shot (Dion Waiters assists)
38 - 32
7:37
Tristan Thompson defensive 3-seconds (Technical Foul)
38 - 32
7:37
Arron Afflalo misses technical free throw
38 - 32
7:37
Magic offensive team rebound
38 - 32
7:28
Jameer Nelson misses 16-foot jumper
38 - 32
7:26
Arron Afflalo offensive rebound
38 - 32
7:26
Tristan Thompson personal foul (Nikola Vucevic draws the foul)
38 - 32
7:13
Glen Davis misses hook shot
38 - 32
7:13
Nikola Vucevic offensive rebound
38 - 32
7:13
Nikola Vucevic offensive goaltending turnover
38 - 32
7:13
Nikola Vucevic misses tip shot
38 - 32
7:13
Magic offensive team rebound
38 - 32
6:52
Tyler Zeller misses 17-foot jumper
38 - 32
6:52
Tristan Thompson offensive rebound
38 - 32
6:52
Jameer Nelson personal foul (Tristan Thompson draws the foul)
38 - 32
6:52
Anderson Varejao enters the game for Tyler Zeller
38 - 32
6:52
Alonzo Gee enters the game for Omri Casspi
38 - 32
6:52
E'Twaun Moore enters the game for Arron Afflalo
38 - 32
6:52
J.J. Redick enters the game for Jameer Nelson
38 - 32
6:41
Anderson Varejao misses jumper
38 - 32
6:39
Glen Davis defensive rebound
38 - 32
6:26
Nikola Vucevic traveling
38 - 32
6:07
Dion Waiters misses 20-foot jumper
38 - 32
6:05
Anderson Varejao offensive rebound
38 - 32
6:05
J.J. Redick personal foul (Anderson Varejao draws the foul)
38 - 32
6:05
Arron Afflalo enters the game for Moe Harkless
38 - 32
6:05
Gustavo Ayon enters the game for Nikola Vucevic
38 - 32
6:05
Jeremy Pargo enters the game for Daniel Gibson
38 - 32
5:56
Alonzo Gee misses layup
38 - 32
5:54
J.J. Redick shooting foul (Anderson Varejao draws the foul)
40 - 32
5:54
Official timeout
38 - 32
5:54
Anderson Varejao makes free throw 1 of 2
39 - 32
5:54
Anderson Varejao makes free throw 2 of 2
40 - 32
5:41
Glen Davis offensive foul (Anderson Varejao draws the foul)
40 - 32
5:41
Glen Davis turnover
40 - 32
5:24
Arron Afflalo shooting foul (Alonzo Gee draws the foul)
41 - 32
5:24
Alonzo Gee makes free throw 1 of 2
41 - 32
5:24
Alonzo Gee makes free throw 2 of 2
42 - 32
5:09
J.J. Redick misses 27-foot three point jumper
42 - 32
5:09
Cavaliers defensive team rebound
42 - 32
4:54
Glen Davis defensive 3-seconds (Technical Foul)
42 - 32
4:54
Dion Waiters makes technical free throw
43 - 32
4:54
Andrew Nicholson enters the game for Glen Davis
43 - 32
4:47
Jeremy Pargo misses 18-foot jumper
43 - 32
4:43
J.J. Redick defensive rebound
43 - 32
4:28
E'Twaun Moore misses 25-foot three point jumper
43 - 32
4:28
Alonzo Gee defensive rebound
43 - 32
4:16
Tristan Thompson offensive foul (J.J. Redick draws the foul)
43 - 32
4:16
Tristan Thompson turnover
43 - 32
4:16
Tyler Zeller enters the game for Tristan Thompson
43 - 32
3:57
Arron Afflalo makes 23-foot three point jumper (J.J. Redick assists)
43 - 35
3:44
Anderson Varejao misses 6-foot jumper
43 - 35
3:42
E'Twaun Moore defensive rebound
43 - 35
3:40
E'Twaun Moore bad pass (Dion Waiters steals)
43 - 35
3:31
Dion Waiters misses layup
43 - 35
3:29
Tyler Zeller offensive rebound
43 - 35
3:29
Tyler Zeller makes two point shot
45 - 35
3:26
Magic Full timeout
45 - 35
3:26
Jameer Nelson enters the game for E'Twaun Moore
45 - 35
3:12
Gustavo Ayon misses 18-foot jumper
45 - 35
3:11
Gustavo Ayon offensive rebound
45 - 35
3:09
Gustavo Ayon misses 6-foot jumper
45 - 35
3:06
Jeremy Pargo defensive rebound
45 - 35
3:01
Andrew Nicholson blocks Jeremy Pargo's layup
45 - 35
3:01
Cavaliers offensive team rebound
45 - 35
2:47
Alonzo Gee misses layup
45 - 35
2:46
Andrew Nicholson defensive rebound
45 - 35
2:40
Tyler Zeller shooting foul (Andrew Nicholson draws the foul)
45 - 36
2:40
Andrew Nicholson makes free throw 1 of 2
45 - 36
2:40
Andrew Nicholson makes free throw 2 of 2
45 - 37
2:21
Andrew Nicholson shooting foul (Tyler Zeller draws the foul)
45 - 37
2:21
Tyler Zeller makes free throw 1 of 2
46 - 37
2:21
Glen Davis enters the game for Gustavo Ayon
46 - 37
2:21
Nikola Vucevic enters the game for Andrew Nicholson
46 - 37
2:21
Tyler Zeller misses free throw 2 of 2
46 - 37
2:19
Nikola Vucevic defensive rebound
46 - 37
2:10
J.J. Redick bad pass (Tyler Zeller steals)
46 - 37
2:05
Jeremy Pargo makes layup (Alonzo Gee assists)
48 - 37
1:44
J.J. Redick makes 17-foot jumper (Nikola Vucevic assists)
48 - 39
1:27
Anderson Varejao misses 3-foot jumper
48 - 39
1:24
Anderson Varejao offensive rebound
48 - 39
1:22
Dion Waiters makes 25-foot three point jumper (Anderson Varejao assists)
51 - 39
1:02
Arron Afflalo makes 25-foot three point jumper (Glen Davis assists)
51 - 42
0:49
Anderson Varejao offensive foul (Glen Davis draws the foul)
51 - 42
0:49
Anderson Varejao turnover
51 - 42
0:49
Samardo Samuels enters the game for Anderson Varejao
51 - 42
0:37
Arron Afflalo misses 25-foot three point jumper
51 - 42
0:36
Nikola Vucevic offensive rebound
51 - 42
0:32
Jameer Nelson makes 25-foot three point jumper (J.J. Redick assists)
51 - 45
0:13
Tyler Zeller misses 10-foot jumper
51 - 45
0:13
Cavaliers offensive team rebound
51 - 45
0:13
Arron Afflalo loose ball foul (Samardo Samuels draws the foul)
51 - 45
0:13
Samardo Samuels misses free throw 1 of 2
51 - 45
0:13
Cavaliers offensive team rebound
51 - 45
0:13
E'Twaun Moore enters the game for Arron Afflalo
51 - 45
0:13
Samardo Samuels misses free throw 2 of 2
51 - 45
0:12
Jameer Nelson defensive rebound
51 - 45
0:00
Jameer Nelson misses 26-foot three point jumper
51 - 45
0:00
Tyler Zeller defensive rebound
51 - 45
0:00
End of the 2nd Quarter
51 - 45

time
TEAM
PLAY
SCORE
11:45
Glen Davis misses 17-foot jumper
51 - 45
11:42
Anderson Varejao defensive rebound
51 - 45
11:30
Dion Waiters misses 29-foot three point jumper
51 - 45
11:29
Anderson Varejao offensive rebound
51 - 45
11:26
Anderson Varejao misses layup
51 - 45
11:23
Anderson Varejao offensive rebound
51 - 45
11:22
Anderson Varejao makes two point shot
53 - 45
11:03
Jameer Nelson misses 28-foot three point jumper
53 - 45
11:02
Dion Waiters defensive rebound
53 - 45
10:52
Moe Harkless personal foul (Dion Waiters draws the foul)
53 - 45
10:44
Dion Waiters misses 14-foot jumper
53 - 45
10:42
Nikola Vucevic defensive rebound
53 - 45
10:33
Glen Davis makes 17-foot jumper (Jameer Nelson assists)
53 - 47
10:14
Tristan Thompson misses jumper
53 - 47
10:12
Tristan Thompson offensive rebound
53 - 47
10:11
Tristan Thompson lost ball turnover (Jameer Nelson steals)
53 - 47
10:07
Dion Waiters shooting foul (Arron Afflalo draws the foul)
53 - 48
10:07
Arron Afflalo makes free throw 1 of 2
53 - 48
10:07
Arron Afflalo misses free throw 2 of 2
53 - 48
10:06
Anderson Varejao defensive rebound
53 - 48
9:55
Nikola Vucevic shooting foul (Alonzo Gee draws the foul)
53 - 48
9:55
Alonzo Gee makes free throw 1 of 2
54 - 48
9:55
Alonzo Gee misses free throw 2 of 2
54 - 48
9:53
Anderson Varejao offensive rebound
54 - 48
9:52
Anderson Varejao misses tip shot
54 - 48
9:51
Moe Harkless defensive rebound
54 - 48
9:45
Nikola Vucevic makes driving layup (Jameer Nelson assists)
54 - 50
9:29
Jeremy Pargo makes 21-foot jumper
56 - 50
9:04
Moe Harkless makes 4-foot two point shot (Glen Davis assists)
56 - 52
8:48
Alonzo Gee makes 20-foot jumper
58 - 52
8:36
Jameer Nelson makes driving layup
58 - 54
8:15
Jeremy Pargo makes 21-foot jumper
60 - 54
7:52
Nikola Vucevic misses 13-foot jumper
60 - 54
7:48
Moe Harkless misses tip shot
60 - 54
7:48
Moe Harkless offensive rebound
60 - 54
7:46
Moe Harkless makes two point shot
60 - 56
7:46
Moe Harkless offensive rebound
60 - 54
7:35
Dion Waiters makes 26-foot three point jumper (Alonzo Gee assists)
63 - 56
7:22
Jameer Nelson misses 17-foot two point shot
63 - 56
7:22
Cavaliers defensive team rebound
63 - 56
7:22
Nikola Vucevic loose ball foul (Anderson Varejao draws the foul)
63 - 56
7:09
Dion Waiters makes driving layup
65 - 56
6:58
Jameer Nelson makes 26-foot three point jumper (Arron Afflalo assists)
65 - 59
6:43
Jameer Nelson personal foul (Anderson Varejao draws the foul)
65 - 59
6:33
Jeremy Pargo misses 27-foot three point jumper
65 - 59
6:31
Anderson Varejao offensive rebound
65 - 59
6:09
Alonzo Gee out of bounds lost ball turnover
65 - 59
5:50
Glen Davis makes 3-foot two point shot
65 - 61
5:39
Moe Harkless shooting foul (Alonzo Gee draws the foul)
65 - 61
5:39
Magic Full timeout
65 - 61
5:39
J.J. Redick enters the game for Moe Harkless
65 - 61
5:39
Josh McRoberts enters the game for Arron Afflalo
65 - 61
5:39
Tyler Zeller enters the game for Tristan Thompson
65 - 61
5:39
Alonzo Gee makes free throw 1 of 2
66 - 61
5:39
Daniel Gibson enters the game for Jeremy Pargo
66 - 61
5:39
Alonzo Gee makes free throw 2 of 2
67 - 61
5:22
Jameer Nelson misses 26-foot three point jumper
67 - 61
5:20
Anderson Varejao defensive rebound
67 - 61
5:09
Dion Waiters misses 19-foot jumper
67 - 61
5:07
Anderson Varejao offensive rebound
67 - 61
5:03
Daniel Gibson misses 26-foot three point jumper
67 - 61
5:01
Magic defensive team rebound
67 - 61
4:45
Glen Davis misses layup
67 - 61
4:43
Nikola Vucevic makes 1-foot two point shot
67 - 63
4:43
Nikola Vucevic offensive rebound
67 - 63
4:20
Alonzo Gee misses 27-foot three point jumper
67 - 63
4:20
Jameer Nelson defensive rebound
67 - 63
4:16
Daniel Gibson personal foul (Jameer Nelson draws the foul)
67 - 63
4:16
Andrew Nicholson enters the game for Glen Davis
67 - 63
4:01
Jameer Nelson makes driving layup
67 - 65
3:45
Anderson Varejao traveling
67 - 65
3:33
Dion Waiters personal foul (Jameer Nelson draws the foul)
67 - 65
3:27
J.J. Redick lost ball turnover (Dion Waiters steals)
67 - 65
3:14
Alonzo Gee bad pass (Jameer Nelson steals)
67 - 65
3:09
Jameer Nelson makes driving layup
67 - 67
2:53
Alonzo Gee steps out of bounds turnover
67 - 67
2:53
Cavaliers Full timeout
67 - 67
2:38
J.J. Redick makes 13-foot jumper
67 - 69
2:25
J.J. Redick shooting foul (Daniel Gibson draws the foul)
67 - 69
2:25
Daniel Gibson makes free throw 1 of 3
70 - 69
2:25
Daniel Gibson makes free throw 2 of 3
70 - 69
2:25
E'Twaun Moore enters the game for J.J. Redick
70 - 69
2:25
Omri Casspi enters the game for Alonzo Gee
70 - 69
2:25
Daniel Gibson makes free throw 3 of 3
70 - 69
2:08
Jameer Nelson misses layup
70 - 69
2:05
Nikola Vucevic makes two point shot
70 - 71
2:05
Nikola Vucevic offensive rebound
70 - 69
1:47
Andrew Nicholson personal foul (Tyler Zeller draws the foul)
72 - 71
1:47
Tyler Zeller makes free throw 1 of 2
71 - 71
1:47
Tyler Zeller makes free throw 2 of 2
72 - 71
1:36
Andrew Nicholson makes 18-foot jumper (Jameer Nelson assists)
72 - 73
1:16
Dion Waiters makes jumper
74 - 73
1:08
Jameer Nelson lost ball turnover (Omri Casspi steals)
74 - 73
1:05
Omri Casspi misses layup
74 - 73
1:05
Cavaliers offensive team rebound
74 - 73
1:05
Andrew Nicholson shooting foul (Omri Casspi draws the foul)
75 - 73
1:05
Omri Casspi misses free throw 1 of 2
74 - 73
1:05
Cavaliers offensive team rebound
74 - 73
1:05
Omri Casspi makes free throw 2 of 2
75 - 73
0:52
Anderson Varejao personal foul (Andrew Nicholson draws the foul)
75 - 73
0:52
Tristan Thompson enters the game for Anderson Varejao
75 - 73
0:40
Nikola Vucevic misses jumper
75 - 73
0:39
Tyler Zeller defensive rebound
75 - 73
0:26
Andrew Nicholson personal foul (Tyler Zeller draws the foul)
76 - 73
0:26
Tyler Zeller misses free throw 1 of 2
75 - 73
0:26
Cavaliers offensive team rebound
75 - 73
0:26
Glen Davis enters the game for Andrew Nicholson
75 - 73
0:26
Tyler Zeller makes free throw 2 of 2
76 - 73
0:04
Jameer Nelson makes 27-foot three point jumper
76 - 76
0:00
Dion Waiters misses 28-foot three point jumper
76 - 76
0:00
Cavaliers offensive team rebound
76 - 76
0:00
End of the 3rd Quarter
76 - 76

time
TEAM
PLAY
SCORE
11:36
Jeremy Pargo misses 11-foot
76 - 76
11:33
E'Twaun Moore defensive rebound
76 - 76
11:29
Arron Afflalo misses jumper
76 - 76
11:25
Tristan Thompson defensive rebound
76 - 76
11:12
Tyler Zeller offensive foul (E'Twaun Moore draws the foul)
76 - 76
11:12
Tyler Zeller turnover
76 - 76
10:55
Gustavo Ayon misses two point shot
76 - 76
10:53
Tyler Zeller defensive rebound
76 - 76
10:48
Jeremy Pargo makes driving layup
78 - 76
10:37
J.J. Redick misses 20-foot jumper
78 - 76
10:34
Tristan Thompson defensive rebound
78 - 76
10:15
Tyler Zeller misses 19-foot jumper
78 - 76
10:14
Magic defensive team rebound
78 - 76
9:55
Glen Davis makes driving layup
78 - 78
9:37
Tristan Thompson misses layup
78 - 78
9:37
E'Twaun Moore defensive rebound
78 - 78
9:26
E'Twaun Moore makes 18-foot jumper
78 - 80
9:00
Omri Casspi makes 27-foot three point jumper (Daniel Gibson assists)
81 - 80
8:44
Glen Davis makes two point shot
81 - 82
8:29
Gustavo Ayon personal foul (Tyler Zeller draws the foul)
81 - 82
8:29
Official timeout
81 - 82
8:29
Anderson Varejao enters the game for Tyler Zeller
81 - 82
8:27
Omri Casspi bad pass (E'Twaun Moore steals)
81 - 82
8:23
E'Twaun Moore makes 4-foot two point shot
81 - 84
8:00
Tristan Thompson makes 5-foot jumper (Daniel Gibson assists)
83 - 84
7:46
Arron Afflalo makes 25-foot three point jumper (J.J. Redick assists)
83 - 87
7:24
Anderson Varejao misses 13-foot jumper
83 - 87
7:24
J.J. Redick defensive rebound
83 - 87
7:16
Glen Davis misses 19-foot jumper
83 - 87
7:13
Anderson Varejao defensive rebound
83 - 87
6:58
Jeremy Pargo makes 29-foot three point jumper
86 - 87
6:37
Glen Davis misses 9-foot jumper
86 - 87
6:37
Cavaliers defensive team rebound
86 - 87
6:37
Gustavo Ayon loose ball foul (Anderson Varejao draws the foul)
86 - 87
6:37
Alonzo Gee enters the game for Omri Casspi
86 - 87
6:37
Nikola Vucevic enters the game for Gustavo Ayon
86 - 87
6:37
Jameer Nelson enters the game for E'Twaun Moore
86 - 87
6:16
Nikola Vucevic blocks Tristan Thompson's jumper
88 - 87
6:16
Anderson Varejao offensive rebound
88 - 87
6:16
Anderson Varejao makes two point shot
88 - 87
6:00
Jameer Nelson misses 24-foot three point jumper
88 - 87
5:58
Glen Davis offensive rebound
88 - 87
5:58
Glen Davis makes layup
88 - 89
5:58
Alonzo Gee shooting foul (Glen Davis draws the foul)
88 - 89
5:58
Magic Full timeout
88 - 89
5:58
Dion Waiters enters the game for Tristan Thompson
88 - 89
5:58
Tyler Zeller enters the game for Daniel Gibson
88 - 89
5:58
Glen Davis makes free throw 1 of 1
88 - 90
5:37
Alonzo Gee misses 24-foot three point jumper
88 - 90
5:37
Jameer Nelson defensive rebound
88 - 90
5:26
Nikola Vucevic makes two point shot (J.J. Redick assists)
88 - 92
5:01
Anderson Varejao makes layup (Dion Waiters assists)
90 - 92
4:43
Jameer Nelson misses 20-foot two point jumper
90 - 92
4:41
Cavaliers defensive team rebound
90 - 92
4:24
Dion Waiters makes 21-foot jumper
92 - 92
4:11
Tyler Zeller shooting foul (Glen Davis draws the foul)
92 - 93
4:11
Glen Davis makes free throw 1 of 2
92 - 93
4:11
Glen Davis makes free throw 2 of 2
92 - 94
3:54
Dion Waiters misses 29-foot three point jumper
92 - 94
3:53
Magic defensive team rebound
92 - 94
3:53
Tyler Zeller loose ball foul (Glen Davis draws the foul)
92 - 94
3:42
Arron Afflalo misses 17-foot jumper
92 - 94
3:41
Alonzo Gee defensive rebound
92 - 94
3:31
Jeremy Pargo misses three point jumper
92 - 94
3:30
Tyler Zeller offensive rebound
92 - 94
3:28
Glen Davis personal foul (Tyler Zeller draws the foul)
92 - 94
3:28
Daniel Gibson enters the game for Jeremy Pargo
92 - 94
3:15
Daniel Gibson lost ball turnover (Arron Afflalo steals)
92 - 94
3:15
Daniel Gibson loose ball foul (Arron Afflalo draws the foul)
92 - 94
3:00
J.J. Redick misses 27-foot three point jumper
92 - 94
2:59
Dion Waiters defensive rebound
92 - 94
2:46
Tyler Zeller makes 5-foot two point shot (Dion Waiters assists)
94 - 94
2:29
Dion Waiters personal foul (Glen Davis draws the foul)
94 - 94
2:29
Cavaliers Full timeout
94 - 94
2:29
Glen Davis misses free throw 1 of 2
94 - 94
2:29
Magic offensive team rebound
94 - 94
2:29
Glen Davis makes free throw 2 of 2
94 - 95
2:14
Alonzo Gee misses 16-foot jumper
94 - 95
2:14
Magic defensive team rebound
94 - 95
2:02
J.J. Redick misses 28-foot three point jumper
94 - 95
2:00
Jameer Nelson offensive rebound
94 - 95
1:57
Arron Afflalo makes 24-foot three point jumper (Jameer Nelson assists)
94 - 98
1:45
Dion Waiters misses 25-foot three point jumper
94 - 98
1:43
Glen Davis defensive rebound
94 - 98
1:31
Glen Davis misses 1-foot two point shot
94 - 98
1:29
Anderson Varejao defensive rebound
94 - 98
1:19
Glen Davis shooting foul (Tyler Zeller draws the foul)
94 - 98
1:19
Tyler Zeller misses free throw 1 of 2
94 - 98
1:19
Cavaliers offensive team rebound
94 - 98
1:19
Tyler Zeller makes free throw 2 of 2
95 - 98
1:07
Arron Afflalo misses 17-foot jumper
95 - 98
1:07
Cavaliers defensive team rebound
95 - 98
0:51
Nikola Vucevic blocks Alonzo Gee 's 2-foot layup
95 - 98
0:49
Tyler Zeller offensive rebound
95 - 98
0:47
Tyler Zeller makes two point shot
97 - 98
0:32
Nikola Vucevic makes driving layup (J.J. Redick assists)
97 - 100
0:32
Cavaliers Full timeout
97 - 100
0:23
Dion Waiters misses 29-foot three point jumper
97 - 100
0:22
Cavaliers offensive team rebound
97 - 100
0:22
Nikola Vucevic loose ball foul (Anderson Varejao draws the foul)
97 - 100
0:22
Anderson Varejao misses free throw 1 of 2
97 - 100
0:22
Cavaliers offensive team rebound
97 - 100
0:22
Anderson Varejao makes free throw 2 of 2
98 - 100
0:22
Magic Full timeout
98 - 100
0:22
E'Twaun Moore enters the game for Glen Davis
98 - 100
0:22
Josh McRoberts enters the game for Nikola Vucevic
98 - 100
0:22
Tristan Thompson enters the game for Tyler Zeller
98 - 100
0:21
Daniel Gibson personal foul (J.J. Redick draws the foul)
98 - 102
0:21
J.J. Redick makes free throw 1 of 2
98 - 101
0:21
J.J. Redick makes free throw 2 of 2
98 - 102
0:21
Cavaliers 20 Sec. timeout
98 - 102
0:16
E'Twaun Moore shooting foul (Dion Waiters draws the foul)
100 - 102
0:16
Dion Waiters makes free throw 1 of 2
100 - 102
0:16
Nikola Vucevic enters the game for E'Twaun Moore
100 - 102
0:16
Glen Davis enters the game for Josh McRoberts
100 - 102
0:16
Dion Waiters makes free throw 2 of 2
100 - 102
0:16
Anderson Varejao personal foul (J.J. Redick draws the foul)
100 - 102
0:16
J.J. Redick makes free throw 1 of 2
100 - 103
0:16
Josh McRoberts enters the game for Glen Davis
100 - 103
0:16
E'Twaun Moore enters the game for Nikola Vucevic
100 - 103
0:16
J.J. Redick makes free throw 2 of 2
100 - 104
0:07
Dion Waiters misses driving layup
100 - 104
0:06
Anderson Varejao offensive rebound
100 - 104
0:06
Arron Afflalo shooting foul (Anderson Varejao draws the foul)
101 - 104
0:06
Anderson Varejao makes free throw 1 of 2
101 - 104
0:06
Glen Davis enters the game for Josh McRoberts
101 - 104
0:06
Nikola Vucevic enters the game for E'Twaun Moore
101 - 104
0:06
Anderson Varejao makes free throw 2 of 2
102 - 104
0:06
Alonzo Gee personal foul (J.J. Redick draws the foul)
102 - 104
0:06
J.J. Redick makes free throw 1 of 2
102 - 105
0:06
Josh McRoberts enters the game for Nikola Vucevic
102 - 105
0:06
E'Twaun Moore enters the game for Glen Davis
102 - 105
0:06
J.J. Redick makes free throw 2 of 2
102 - 106
0:06
Cavaliers 20 Sec. timeout
102 - 106
0:06
Glen Davis enters the game for Josh McRoberts
102 - 106
0:02
Dion Waiters makes driving layup
104 - 106
0:01
Dion Waiters personal foul (J.J. Redick draws the foul)
104 - 106
0:01
J.J. Redick makes free throw 1 of 2
104 - 107
0:01
J.J. Redick makes free throw 2 of 2
104 - 108
0:00
Daniel Gibson misses 43-foot three point jumper
104 - 108
0:00
Cavaliers offensive team rebound
104 - 108
0:00
End of the 4th Quarter
104 - 108
The Rockets will give interim head coach J.B. Bickerstaff a chance to earn the job full time but also plan to interview other candidates.

Follow our #NBArank countdown of the best playoff Vines in NBA history. Here's No. 9.

Draymond Green gives props to Jason Terry but says the Warriors had a laugh over Terry's 'guarantee' that Houston would win Game 5. Now, Green is watching the Clippers-Blazers series closely.
Regular Season Series
CLE wins series 3-1
2015-2016 Central Standings
2015-2016 Southeast Standings