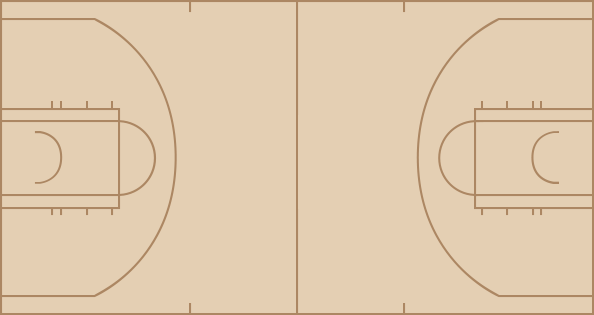 Thunder
time
TEAM
PLAY
SCORE
12:00
Serge Ibaka vs. Lavoy Allen (Kendrick Perkins gains possession)
0 - 0
11:40
Thabo Sefolosha misses three point jumper
0 - 0
11:38
Thabo Sefolosha offensive rebound
0 - 0
11:36
Kevin Durant misses 24-foot three point jumper
0 - 0
11:33
Thaddeus Young defensive rebound
0 - 0
11:17
Lavoy Allen makes 18-foot jumper (Jrue Holiday assists)
0 - 2
10:55
Russell Westbrook makes driving layup
2 - 2
10:55
Jrue Holiday shooting foul (Russell Westbrook draws the foul)
3 - 2
10:55
Russell Westbrook makes free throw 1 of 1
3 - 2
10:47
Kendrick Perkins personal foul (Jrue Holiday draws the foul)
3 - 2
10:38
Thaddeus Young misses 17-foot jumper
3 - 2
10:37
Kevin Durant defensive rebound
3 - 2
10:27
Kevin Durant makes 20-foot two point shot (Thabo Sefolosha assists)
5 - 2
10:15
Jason Richardson makes 12-foot two point shot
5 - 4
10:00
Russell Westbrook makes 19-foot two point shot
7 - 4
9:47
Thabo Sefolosha personal foul (Jrue Holiday draws the foul)
7 - 4
9:37
Evan Turner makes jumper (Lavoy Allen assists)
7 - 6
9:25
Russell Westbrook misses 6-foot jumper
7 - 6
9:22
Kendrick Perkins offensive rebound
7 - 6
9:22
Kendrick Perkins makes two point shot
9 - 6
9:03
Jason Richardson makes 18-foot two point shot (Thaddeus Young assists)
9 - 8
8:38
Serge Ibaka makes layup (Russell Westbrook assists)
11 - 8
8:38
Lavoy Allen shooting foul (Serge Ibaka draws the foul)
11 - 8
8:38
Serge Ibaka misses free throw 1 of 1
11 - 8
8:37
Thaddeus Young defensive rebound
11 - 8
8:27
Jason Richardson misses 26-foot three point jumper
11 - 8
8:26
Thabo Sefolosha defensive rebound
11 - 8
8:22
Russell Westbrook misses 20-foot jumper
11 - 8
8:19
Jason Richardson defensive rebound
11 - 8
8:03
Thaddeus Young makes 13-foot jumper (Jrue Holiday assists)
11 - 10
7:47
Thabo Sefolosha traveling
11 - 10
7:31
Evan Turner misses three point jumper
11 - 10
7:30
Russell Westbrook defensive rebound
11 - 10
7:26
Lavoy Allen personal foul (Kendrick Perkins draws the foul)
11 - 10
7:26
Kwame Brown enters the game for Lavoy Allen
11 - 10
7:16
Russell Westbrook bad pass (Jason Richardson steals)
11 - 10
7:11
Jrue Holiday makes 15-foot two point shot
11 - 12
6:48
Russell Westbrook makes driving layup
13 - 12
6:37
Thaddeus Young makes two point shot
13 - 14
6:13
Kendrick Perkins misses 11-foot jumper
13 - 14
6:11
Thaddeus Young defensive rebound
13 - 14
6:03
Jason Richardson bad pass (Thabo Sefolosha steals)
13 - 14
5:52
76ers Full timeout
13 - 14
5:52
Kevin Martin enters the game for Thabo Sefolosha
13 - 14
5:48
Kevin Durant makes 15-foot two point shot (Serge Ibaka assists)
15 - 14
5:28
Kwame Brown makes layup (Jrue Holiday assists)
15 - 16
5:07
Russell Westbrook makes three pointer (Kevin Durant assists)
18 - 16
4:48
Jason Richardson misses 25-foot three point jumper
18 - 16
4:48
Kevin Durant defensive rebound
18 - 16
4:37
Kevin Martin misses 25-foot three point jumper
18 - 16
4:35
Thaddeus Young defensive rebound
18 - 16
4:22
Kwame Brown bad pass (Kendrick Perkins steals)
18 - 16
4:18
Kevin Durant bad pass
18 - 16
4:18
Nick Collison enters the game for Kendrick Perkins
18 - 16
4:18
Nick Young enters the game for Jason Richardson
18 - 16
3:59
Nick Young makes 25-foot three point jumper (Jrue Holiday assists)
18 - 19
3:45
Russell Westbrook makes two point shot
20 - 19
3:28
Kwame Brown misses layup
20 - 19
3:27
Russell Westbrook defensive rebound
20 - 19
3:24
Thaddeus Young personal foul (Russell Westbrook draws the foul)
20 - 19
3:24
Hasheem Thabeet enters the game for Serge Ibaka
20 - 19
3:24
Thabo Sefolosha enters the game for Kevin Durant
20 - 19
3:24
Spencer Hawes enters the game for Thaddeus Young
20 - 19
3:16
Kwame Brown shooting foul (Hasheem Thabeet draws the foul)
20 - 19
3:16
Hasheem Thabeet makes free throw 1 of 2
21 - 19
3:16
Hasheem Thabeet makes free throw 2 of 2
22 - 19
3:05
Spencer Hawes misses jumper
22 - 19
3:04
Kwame Brown misses tip shot
22 - 19
3:04
Kwame Brown offensive rebound
22 - 19
3:04
76ers offensive team rebound
22 - 19
3:04
Hasheem Thabeet loose ball foul (Kwame Brown draws the foul)
22 - 19
2:54
Evan Turner misses 17-foot jumper
22 - 19
2:53
Hasheem Thabeet defensive rebound
22 - 19
2:44
Nick Collison makes two point shot (Russell Westbrook assists)
24 - 19
2:37
Hasheem Thabeet personal foul (Kwame Brown draws the foul)
24 - 19
2:36
Thunder Full timeout
24 - 19
2:36
Eric Maynor enters the game for Russell Westbrook
24 - 19
2:36
Dorell Wright enters the game for Evan Turner
24 - 19
2:31
Jrue Holiday misses 25-foot three point jumper
24 - 19
2:30
Thunder defensive team rebound
24 - 19
2:16
Spencer Hawes defensive 3-seconds (Technical Foul)
24 - 19
2:16
Maalik Wayns enters the game for Jrue Holiday
24 - 19
2:16
Kevin Martin makes technical free throw
25 - 19
2:11
Kevin Martin traveling
25 - 19
1:53
Spencer Hawes bad pass (Hasheem Thabeet steals)
25 - 19
1:44
Nick Collison makes two point shot (Eric Maynor assists)
27 - 19
1:31
Maalik Wayns misses 6-foot Running Jumper
27 - 19
1:30
Thunder defensive team rebound
27 - 19
1:17
Kevin Martin misses 25-foot three point jumper
27 - 19
1:15
Kwame Brown defensive rebound
27 - 19
1:05
Maalik Wayns traveling
27 - 19
0:43
Nick Collison makes layup (Eric Maynor assists)
29 - 19
0:28
Nick Young makes 15-foot two point shot
29 - 21
0:17
Nick Collison offensive foul (Nick Young draws the foul)
29 - 21
0:17
Nick Collison turnover
29 - 21
0:17
Jason Richardson enters the game for Kwame Brown
29 - 21
0:02
Dorell Wright misses 26-foot three point jumper
29 - 21
0:01
Nick Young offensive rebound
29 - 21
0:01
Nick Young misses 27-foot three point jumper
29 - 21
0:00
76ers offensive team rebound
29 - 21
0:00
End of the 1st Quarter
29 - 21

time
TEAM
PLAY
SCORE
11:41
Nick Young misses 19-foot jumper
29 - 21
11:41
Thunder defensive team rebound
29 - 21
11:21
Kevin Martin misses Running Jumper
29 - 21
11:18
Dorell Wright defensive rebound
29 - 21
11:03
Kwame Brown misses layup
29 - 21
11:02
Kevin Martin defensive rebound
29 - 21
10:45
Kevin Durant misses jumper
29 - 21
10:45
Nick Collison offensive rebound
29 - 21
10:45
Kwame Brown shooting foul (Nick Collison draws the foul)
29 - 21
10:45
Nick Collison makes free throw 1 of 2
30 - 21
10:45
Thaddeus Young enters the game for Kwame Brown
30 - 21
10:45
Nick Collison makes free throw 2 of 2
31 - 21
10:34
Spencer Hawes misses Regular Jump Shot
31 - 21
10:33
Thaddeus Young offensive rebound
31 - 21
10:30
Thaddeus Young misses tip shot
31 - 21
10:29
Thaddeus Young offensive rebound
31 - 21
10:08
Thaddeus Young makes jumper (Dorell Wright assists)
31 - 23
9:48
Kevin Durant misses 16-foot jumper
31 - 23
9:47
Thaddeus Young defensive rebound
31 - 23
9:33
Dorell Wright offensive Charge (Nick Collison draws the foul)
31 - 23
9:33
Dorell Wright turnover
31 - 23
9:17
Eric Maynor misses 4-foot jumper
31 - 23
9:15
Eric Maynor offensive rebound
31 - 23
9:12
Eric Maynor misses layup
31 - 23
9:11
Hasheem Thabeet offensive rebound
31 - 23
9:10
Hasheem Thabeet misses tip shot
31 - 23
9:07
Spencer Hawes defensive rebound
31 - 23
8:55
Thaddeus Young makes layup (Spencer Hawes assists)
31 - 25
8:27
Kevin Durant misses 26-foot three point jumper
31 - 25
8:26
Nick Collison offensive rebound
31 - 25
8:25
Nick Collison makes two point shot
33 - 25
8:07
Official timeout
33 - 25
8:07
Lavoy Allen enters the game for Spencer Hawes
33 - 25
8:07
Jrue Holiday enters the game for Maalik Wayns
33 - 25
8:00
Nick Young misses 20-foot jumper
33 - 25
7:58
Hasheem Thabeet defensive rebound
33 - 25
7:37
Eric Maynor misses 21-foot jumper
33 - 25
7:35
Dorell Wright defensive rebound
33 - 25
7:28
Thaddeus Young makes 3-foot two point shot (Jrue Holiday assists)
33 - 27
7:01
Nick Collison misses jumper
33 - 27
7:00
Nick Young defensive rebound
33 - 27
6:54
Dorell Wright misses 24-foot three point jumper
33 - 27
6:54
76ers offensive team rebound
33 - 27
6:54
Russell Westbrook enters the game for Eric Maynor
33 - 27
6:54
Serge Ibaka enters the game for Hasheem Thabeet
33 - 27
6:46
Russell Westbrook blocks Jrue Holiday 's 4-foot jumper
33 - 27
6:43
Kevin Durant defensive rebound
33 - 27
6:41
Kevin Durant makes driving layup
35 - 27
6:28
Jrue Holiday bad pass (Russell Westbrook steals)
35 - 27
6:24
Kevin Martin makes two point shot (Russell Westbrook assists)
37 - 27
6:13
76ers Full timeout
37 - 27
6:13
Evan Turner enters the game for Dorell Wright
37 - 27
6:13
Jason Richardson enters the game for Nick Young
37 - 27
6:00
Thaddeus Young makes layup (Jrue Holiday assists)
37 - 29
5:41
Russell Westbrook misses 17-foot jumper
37 - 29
5:39
76ers defensive team rebound
37 - 29
5:31
Kendrick Perkins enters the game for Nick Collison
37 - 29
5:24
Kevin Durant shooting foul (Evan Turner draws the foul)
37 - 30
5:24
Evan Turner misses free throw 1 of 2
37 - 29
5:24
76ers offensive team rebound
37 - 29
5:24
Evan Turner makes free throw 2 of 2
37 - 30
5:13
Russell Westbrook makes two point shot
39 - 30
5:13
Jrue Holiday shooting foul (Russell Westbrook draws the foul)
40 - 30
5:13
Russell Westbrook makes free throw 1 of 1
40 - 30
5:05
Jrue Holiday makes driving layup
40 - 32
4:50
Serge Ibaka makes jumper (Russell Westbrook assists)
42 - 32
4:35
Jason Richardson makes 25-foot three point jumper (Jrue Holiday assists)
42 - 35
4:15
Russell Westbrook bad pass (Lavoy Allen steals)
42 - 35
4:09
Jason Richardson lost ball turnover (Kevin Durant steals)
42 - 35
4:05
Kevin Durant makes two point shot (Russell Westbrook assists)
44 - 35
3:58
Evan Turner makes 14-foot two point shot (Jrue Holiday assists)
44 - 37
3:34
Serge Ibaka misses 18-foot jumper
44 - 37
3:32
Thaddeus Young defensive rebound
44 - 37
3:27
Evan Turner makes layup (Jrue Holiday assists)
44 - 39
3:17
Thunder Full timeout
44 - 39
3:06
Serge Ibaka makes 15-foot two point shot (Russell Westbrook assists)
46 - 39
3:04
Thunder delay of game violation
46 - 39
2:55
Jason Richardson makes 25-foot three point jumper (Jrue Holiday assists)
46 - 42
2:38
Kevin Martin misses 25-foot three point jumper
46 - 42
2:32
Serge Ibaka offensive rebound
46 - 42
2:31
Serge Ibaka makes 1-foot two point shot
48 - 42
2:18
Kendrick Perkins personal foul (Jrue Holiday draws the foul)
48 - 42
2:18
Thabo Sefolosha enters the game for Kevin Martin
48 - 42
2:18
Nick Young enters the game for Jrue Holiday
48 - 42
2:05
Thaddeus Young misses running hook shot
48 - 42
2:04
Thunder defensive team rebound
48 - 42
2:04
Lavoy Allen personal foul (Serge Ibaka draws the foul)
48 - 42
2:04
Spencer Hawes enters the game for Lavoy Allen
48 - 42
1:52
Kendrick Perkins misses 15-foot jumper
48 - 42
1:51
Serge Ibaka offensive rebound
48 - 42
1:42
Jason Richardson shooting foul (Kevin Durant draws the foul)
48 - 42
1:42
Kevin Durant misses free throw 1 of 2
48 - 42
1:42
Thunder offensive team rebound
48 - 42
1:42
Kevin Durant misses free throw 2 of 2
48 - 42
1:39
Evan Turner defensive rebound
48 - 42
1:25
Thaddeus Young misses 16-foot jumper
48 - 42
1:24
Evan Turner offensive rebound
48 - 42
1:08
Evan Turner makes 16-foot two point shot
48 - 44
0:58
Evan Turner personal foul (Russell Westbrook draws the foul)
48 - 44
0:58
Russell Westbrook makes free throw 1 of 2
49 - 44
0:58
Russell Westbrook makes free throw 2 of 2
50 - 44
0:43
Jason Richardson makes 25-foot three point jumper (Spencer Hawes assists)
50 - 47
0:22
Kevin Durant misses 11-foot
50 - 47
0:20
Nick Young defensive rebound
50 - 47
0:02
Evan Turner makes 15-foot two point shot
50 - 49
0:00
Russell Westbrook misses 25-foot three point jumper
50 - 49
0:00
Thunder offensive team rebound
50 - 49
0:00
End of the 2nd Quarter
50 - 49

time
TEAM
PLAY
SCORE
11:44
Thaddeus Young makes 17-foot jumper (Evan Turner assists)
50 - 51
11:19
Russell Westbrook makes 17-foot two point shot
52 - 51
11:07
Russell Westbrook personal foul (Thaddeus Young draws the foul)
52 - 51
10:52
Kevin Durant blocks Evan Turner 's 22-foot jumper
52 - 51
10:52
76ers offensive team rebound
52 - 51
10:52
shot clock turnover
52 - 51
10:29
Russell Westbrook makes driving layup
54 - 51
10:18
Thabo Sefolosha blocks Thaddeus Young 's 9-foot jumper
54 - 51
10:18
76ers offensive team rebound
54 - 51
10:11
Lavoy Allen offensive foul (Kevin Durant draws the foul)
54 - 51
10:11
Lavoy Allen turnover
54 - 51
10:11
Spencer Hawes enters the game for Lavoy Allen
54 - 51
10:00
Russell Westbrook makes driving layup (Serge Ibaka assists)
56 - 51
9:47
Thaddeus Young misses 5-foot jumper
56 - 51
9:45
Kevin Durant defensive rebound
56 - 51
9:40
Kevin Durant misses 28-foot three point jumper
56 - 51
9:37
Kevin Durant offensive rebound
56 - 51
9:29
Serge Ibaka makes 15-foot jumper
58 - 51
9:27
76ers Full timeout
58 - 51
9:07
Evan Turner misses three point jumper
58 - 51
9:07
Russell Westbrook defensive rebound
58 - 51
9:03
Thaddeus Young shooting foul (Kevin Durant draws the foul)
59 - 51
9:03
Kevin Durant makes free throw 1 of 2
59 - 51
9:03
Kevin Durant makes free throw 2 of 2
60 - 51
8:56
Serge Ibaka shooting foul (Thaddeus Young draws the foul)
60 - 53
8:56
Thaddeus Young makes free throw 1 of 2
60 - 52
8:56
Thaddeus Young makes free throw 2 of 2
60 - 53
8:44
Jason Richardson shooting foul (Kevin Durant draws the foul)
60 - 53
8:44
Kevin Durant makes free throw 1 of 2
61 - 53
8:44
Kevin Durant makes free throw 2 of 2
62 - 53
8:29
Thaddeus Young lost ball turnover (Kevin Durant steals)
62 - 53
8:22
Kevin Durant misses layup
62 - 53
8:22
Serge Ibaka offensive rebound
62 - 53
8:21
Serge Ibaka makes layup
64 - 53
8:07
Russell Westbrook shooting foul (Spencer Hawes draws the foul)
64 - 53
8:07
Spencer Hawes misses free throw 1 of 2
64 - 53
8:07
76ers offensive team rebound
64 - 53
8:07
Nick Young enters the game for Jason Richardson
64 - 53
8:07
Spencer Hawes misses free throw 2 of 2
64 - 53
8:06
Kendrick Perkins defensive rebound
64 - 53
7:56
Jrue Holiday personal foul (Russell Westbrook draws the foul)
64 - 53
7:52
Jrue Holiday shooting foul (Russell Westbrook draws the foul)
64 - 53
7:52
Russell Westbrook makes free throw 1 of 2
65 - 53
7:52
Dorell Wright enters the game for Jrue Holiday
65 - 53
7:52
Russell Westbrook makes free throw 2 of 2
66 - 53
7:45
Evan Turner makes driving layup
66 - 55
7:45
Kendrick Perkins shooting foul (Evan Turner draws the foul)
66 - 55
7:45
Evan Turner makes free throw 1 of 1
66 - 56
7:35
Russell Westbrook misses layup
66 - 56
7:33
Thunder offensive team rebound
66 - 56
7:33
Spencer Hawes personal foul (Kevin Durant draws the foul)
66 - 56
7:33
Kevin Durant makes free throw 1 of 2
67 - 56
7:33
Kevin Durant makes free throw 2 of 2
68 - 56
7:18
Thaddeus Young makes two point shot (Evan Turner assists)
68 - 58
7:03
Nick Young blocks Kendrick Perkins 's 6-foot jumper
68 - 58
7:01
Russell Westbrook offensive rebound
68 - 58
6:52
Evan Turner shooting foul (Kendrick Perkins draws the foul)
68 - 58
6:52
Kendrick Perkins misses free throw 1 of 2
68 - 58
6:52
Thunder offensive team rebound
68 - 58
6:52
Kendrick Perkins makes free throw 2 of 2
69 - 58
6:31
Spencer Hawes makes 5-foot jumper (Evan Turner assists)
69 - 60
6:31
Serge Ibaka shooting foul (Spencer Hawes draws the foul)
69 - 60
6:31
Spencer Hawes makes free throw 1 of 1
69 - 61
6:09
Thabo Sefolosha misses 27-foot three point jumper
69 - 61
6:09
Spencer Hawes defensive rebound
69 - 61
6:01
Evan Turner misses 16-foot jumper
69 - 61
6:00
Thaddeus Young offensive rebound
69 - 61
6:00
Thaddeus Young makes layup
69 - 63
5:43
Russell Westbrook misses 17-foot jumper
69 - 63
5:40
Serge Ibaka offensive rebound
69 - 63
5:39
Serge Ibaka makes layup
71 - 63
5:18
Spencer Hawes makes 15-foot jumper (Nick Young assists)
71 - 65
4:54
Russell Westbrook misses 14-foot jumper
71 - 65
4:52
Dorell Wright defensive rebound
71 - 65
4:48
Thaddeus Young makes layup (Dorell Wright assists)
71 - 67
4:48
Kevin Durant shooting foul (Thaddeus Young draws the foul)
71 - 67
4:48
Thaddeus Young makes free throw 1 of 1
71 - 68
4:48
Nick Collison enters the game for Kendrick Perkins
71 - 68
4:48
Kevin Martin enters the game for Thabo Sefolosha
71 - 68
4:45
Dorell Wright personal foul (Kevin Durant draws the foul)
71 - 68
4:45
Kevin Durant makes free throw 1 of 2
72 - 68
4:45
Kevin Durant makes free throw 2 of 2
73 - 68
4:28
Evan Turner misses 3-foot jumper
73 - 68
4:27
Thaddeus Young offensive rebound
73 - 68
4:26
Thaddeus Young misses layup
73 - 68
4:24
Kevin Martin defensive rebound
73 - 68
4:13
Russell Westbrook lost ball turnover (Evan Turner steals)
73 - 68
4:07
Dorell Wright misses 25-foot three point jumper
73 - 68
4:05
Thaddeus Young offensive rebound
73 - 68
4:00
Evan Turner makes 17-foot jumper (Thaddeus Young assists)
73 - 70
3:59
Thunder Full timeout
73 - 70
3:59
Damien Wilkins enters the game for Thaddeus Young
73 - 70
3:46
Kevin Durant makes two point shot (Russell Westbrook assists)
75 - 70
3:46
Spencer Hawes shooting foul (Kevin Durant draws the foul)
75 - 70
3:46
Kevin Durant makes free throw 1 of 1
76 - 70
3:31
Nick Young makes 16-foot two point shot
76 - 72
3:15
Kevin Durant makes 16-foot jumper (Russell Westbrook assists)
78 - 72
3:03
Kevin Durant kicked ball violation
78 - 72
2:51
Nick Young misses 19-foot jumper
78 - 72
2:49
Kevin Martin defensive rebound
78 - 72
2:34
Serge Ibaka makes 14-foot two point shot
80 - 72
2:24
Serge Ibaka shooting foul (Evan Turner draws the foul)
80 - 72
2:24
Evan Turner makes free throw 1 of 2
80 - 73
2:24
Evan Turner makes free throw 2 of 2
80 - 74
2:05
Spencer Hawes shooting foul (Nick Collison draws the foul)
80 - 74
2:05
Nick Collison makes free throw 1 of 2
81 - 74
2:05
Thabo Sefolosha enters the game for Serge Ibaka
81 - 74
2:05
Nick Collison makes free throw 2 of 2
82 - 74
1:52
Spencer Hawes makes jumper (Nick Young assists)
82 - 76
1:32
Thabo Sefolosha misses jumper
82 - 76
1:31
Nick Young defensive rebound
82 - 76
1:16
Dorell Wright makes 24-foot three point jumper (Nick Young assists)
82 - 79
0:53
Dorell Wright shooting foul (Thabo Sefolosha draws the foul)
82 - 79
0:53
Thabo Sefolosha makes free throw 1 of 2
83 - 79
0:53
Eric Maynor enters the game for Russell Westbrook
83 - 79
0:53
Thabo Sefolosha misses free throw 2 of 2
83 - 79
0:52
Dorell Wright defensive rebound
83 - 79
0:35
Spencer Hawes misses layup
83 - 79
0:34
Nick Collison defensive rebound
83 - 79
0:18
Kevin Durant misses
83 - 79
0:16
Spencer Hawes defensive rebound
83 - 79
0:12
Kevin Martin personal foul (Spencer Hawes draws the foul)
83 - 79
0:12
Damien Wilkins misses free throw 1 of 2
83 - 79
0:12
76ers offensive team rebound
83 - 79
0:12
Maalik Wayns enters the game for Spencer Hawes
83 - 79
0:12
Damien Wilkins misses free throw 2 of 2
83 - 79
0:11
Kevin Durant defensive rebound
83 - 79
0:00
Kevin Durant makes driving dunk
85 - 79
0:00
End of the 3rd Quarter
85 - 79

time
TEAM
PLAY
SCORE
11:41
Kevin Martin misses 14-foot jumper
85 - 79
11:40
Jrue Holiday defensive rebound
85 - 79
11:34
Jrue Holiday misses 17-foot jumper
85 - 79
11:33
Thunder defensive team rebound
85 - 79
11:14
Eric Maynor misses 7-foot jumper
85 - 79
11:11
Lavoy Allen defensive rebound
85 - 79
11:00
Nick Young makes 15-foot two point shot
85 - 81
10:45
Kevin Martin misses 26-foot three point jumper
85 - 81
10:42
Dorell Wright defensive rebound
85 - 81
10:33
Lavoy Allen makes 16-foot jumper (Jrue Holiday assists)
85 - 83
10:12
Nick Collison makes 16-foot jumper (Thabo Sefolosha assists)
87 - 83
9:51
Lavoy Allen makes layup (Thaddeus Young assists)
87 - 85
9:27
Thabo Sefolosha out of bounds lost ball turnover
87 - 85
9:27
Russell Westbrook enters the game for Eric Maynor
87 - 85
9:08
Nick Collison personal foul (Nick Young draws the foul)
87 - 85
9:02
Nick Young misses 16-foot jumper
87 - 85
9:00
76ers offensive team rebound
87 - 85
9:00
Thaddeus Young offensive rebound
87 - 85
9:00
Thaddeus Young misses tip shot
87 - 85
8:56
Thaddeus Young bad pass (Russell Westbrook steals)
87 - 85
8:36
Kevin Durant blocks Jrue Holiday 's 3-foot layup
89 - 85
8:36
Thunder defensive team rebound
89 - 85
8:36
Official timeout
89 - 85
8:36
Evan Turner enters the game for Nick Young
89 - 85
8:23
Kevin Durant misses 26-foot three point jumper
89 - 85
8:22
Nick Collison offensive rebound
89 - 85
8:11
Russell Westbrook misses 19-foot jumper
89 - 85
8:08
Thaddeus Young defensive rebound
89 - 85
7:52
Jrue Holiday misses 17-foot jumper
89 - 85
7:50
Nick Collison defensive rebound
89 - 85
7:33
Lavoy Allen blocks Kevin Martin 's 6-foot jumper
89 - 85
7:31
Lavoy Allen defensive rebound
89 - 85
7:20
Dorell Wright makes three point jumper (Thaddeus Young assists)
89 - 88
7:01
Russell Westbrook misses 11-foot jumper
89 - 88
6:58
Thabo Sefolosha offensive rebound
89 - 88
6:54
Kevin Durant makes 25-foot three point jumper (Thabo Sefolosha assists)
92 - 88
6:37
Thaddeus Young makes layup (Lavoy Allen assists)
92 - 90
6:18
Serge Ibaka enters the game for Nick Collison
92 - 90
6:13
Russell Westbrook misses 26-foot three point jumper
92 - 90
6:11
Evan Turner defensive rebound
92 - 90
5:52
Lavoy Allen lost ball turnover (Kevin Durant steals)
92 - 90
5:48
Thaddeus Young shooting foul (Kevin Durant draws the foul)
92 - 90
5:48
76ers Full timeout
92 - 90
5:48
Kevin Durant makes free throw 1 of 2
93 - 90
5:48
Kevin Durant makes free throw 2 of 2
94 - 90
5:33
Evan Turner makes two point shot (Lavoy Allen assists)
94 - 92
5:13
Kevin Durant misses 13-foot jumper
94 - 92
5:13
Jrue Holiday defensive rebound
94 - 92
5:07
Kevin Durant kicked ball violation
94 - 92
5:01
Thaddeus Young makes dunk (Evan Turner assists)
94 - 94
4:33
Russell Westbrook makes two point shot (Kevin Durant assists)
96 - 94
4:16
Evan Turner bad pass
96 - 94
4:00
Kevin Durant makes 10-foot two point shot
98 - 94
3:45
Kevin Durant shooting foul (Lavoy Allen draws the foul)
98 - 94
3:45
Lavoy Allen makes free throw 1 of 2
98 - 95
3:45
Lavoy Allen makes free throw 2 of 2
98 - 96
3:32
Thabo Sefolosha misses 25-foot three point jumper
98 - 96
3:30
Thaddeus Young blocks Serge Ibaka 's 7-foot jumper
98 - 96
3:30
Serge Ibaka offensive rebound
98 - 96
3:28
Dorell Wright defensive rebound
98 - 96
3:14
Dorell Wright misses 26-foot three point jumper
98 - 96
3:12
Kevin Durant defensive rebound
98 - 96
2:54
Serge Ibaka misses 3-foot jumper
98 - 96
2:53
Serge Ibaka offensive rebound
98 - 96
2:52
Lavoy Allen blocks Serge Ibaka 's 5-foot jumper
98 - 96
2:50
Serge Ibaka offensive rebound
98 - 96
2:40
Russell Westbrook misses layup
98 - 96
2:38
Evan Turner defensive rebound
98 - 96
2:30
Evan Turner bad pass (Kevin Durant steals)
98 - 96
2:24
Kevin Durant bad pass (Dorell Wright steals)
98 - 96
2:17
Jrue Holiday misses 24-foot three point jumper
98 - 96
2:15
Lavoy Allen offensive rebound
98 - 96
2:12
76ers 20 Sec. timeout
98 - 96
2:12
Thunder Full timeout
98 - 96
2:00
Thaddeus Young misses 10-foot jumper
98 - 96
2:00
Thabo Sefolosha defensive rebound
98 - 96
1:40
Thabo Sefolosha lost ball turnover (Thaddeus Young steals)
98 - 96
1:36
Thaddeus Young makes 2-foot two point shot (Jrue Holiday assists)
98 - 98
1:16
Thabo Sefolosha misses 26-foot three point jumper
98 - 98
1:15
Thaddeus Young defensive rebound
98 - 98
1:00
Lavoy Allen misses 15-foot jumper
98 - 98
0:59
Russell Westbrook defensive rebound
98 - 98
0:54
Thunder Full timeout
98 - 98
0:43
Kevin Durant misses 19-foot jumper
98 - 98
0:41
Thaddeus Young defensive rebound
98 - 98
0:23
Dorell Wright misses 19-foot jumper
98 - 98
0:21
Thabo Sefolosha defensive rebound
98 - 98
0:03
Dorell Wright personal foul (Kevin Durant draws the foul)
98 - 98
0:03
Thunder 20 Sec. timeout
98 - 98
0:00
End of the 4th Quarter
98 - 98

time
TEAM
PLAY
SCORE
5:00
Serge Ibaka vs. Lavoy Allen (Russell Westbrook gains possession)
98 - 98
4:48
Dorell Wright shooting foul (Kevin Durant draws the foul)
98 - 98
4:48
Kevin Durant makes free throw 1 of 2
99 - 98
4:48
Kevin Durant makes free throw 2 of 2
100 - 98
4:31
Thaddeus Young misses 3-foot hook shot
100 - 98
4:31
Lavoy Allen offensive rebound
100 - 98
4:31
Thabo Sefolosha loose ball foul (Lavoy Allen draws the foul)
100 - 98
4:13
Evan Turner makes driving layup
100 - 100
3:56
Kevin Durant makes 25-foot three point jumper
103 - 100
3:36
Jrue Holiday misses 27-foot three point jumper
103 - 100
3:34
Kevin Martin defensive rebound
103 - 100
3:14
Kevin Durant misses 16-foot jumper
103 - 100
3:12
Serge Ibaka offensive rebound
103 - 100
2:57
Serge Ibaka lost ball turnover (Dorell Wright steals)
103 - 100
2:41
Kevin Durant blocks Jrue Holiday 's 2-foot layup
103 - 100
2:39
Jrue Holiday offensive rebound
103 - 100
2:36
Jrue Holiday bad pass (Kevin Martin steals)
103 - 100
2:18
Russell Westbrook misses three point jumper
103 - 100
2:17
Evan Turner defensive rebound
103 - 100
2:06
Evan Turner misses layup
103 - 100
2:04
Kevin Durant defensive rebound
103 - 100
2:00
Kevin Martin makes 25-foot three point jumper (Kevin Durant assists)
106 - 100
2:00
76ers Full timeout
106 - 100
2:00
Nick Young enters the game for Lavoy Allen
106 - 100
1:44
Kevin Martin shooting foul (Evan Turner draws the foul)
106 - 100
1:44
Evan Turner makes free throw 1 of 2
106 - 101
1:44
Lavoy Allen enters the game for Nick Young
106 - 101
1:44
Evan Turner makes free throw 2 of 2
106 - 102
1:23
Russell Westbrook makes 26-foot three point jumper (Kevin Durant assists)
109 - 102
1:15
Jrue Holiday makes 16-foot two point shot
109 - 104
0:51
Thabo Sefolosha makes 26-foot three point jumper (Kevin Durant assists)
112 - 104
0:51
76ers 20 Sec. timeout
112 - 104
0:51
Nick Young enters the game for Lavoy Allen
112 - 104
0:46
Thaddeus Young bad pass (Kevin Martin steals)
112 - 104
0:27
Thabo Sefolosha bad pass (Evan Turner steals)
112 - 104
0:22
Evan Turner makes 17-foot two point shot
112 - 106
0:17
Evan Turner personal foul (Kevin Durant draws the foul)
112 - 106
0:16
Evan Turner personal foul (Kevin Durant draws the foul)
112 - 106
0:16
Kevin Durant makes free throw 1 of 2
113 - 106
0:16
Kevin Durant makes free throw 2 of 2
114 - 106
0:09
Dorell Wright makes three point jumper (Jrue Holiday assists)
114 - 109
0:08
Nick Young personal foul (Serge Ibaka draws the foul)
114 - 109
0:08
Serge Ibaka makes free throw 1 of 2
115 - 109
0:08
Serge Ibaka makes free throw 2 of 2
116 - 109
0:08
76ers 20 Sec. timeout
116 - 109
0:04
Nick Young misses three point jumper
116 - 109
0:02
Serge Ibaka defensive rebound
116 - 109
0:00
End of the 1ST Overtime
116 - 109
The Kevin Durant Sweepstakes understandably haven't quite cranked up yet, just a few days into May, but they do share one notable trait at this embryonic stage with the rest of the NBA's 2015-16 season.

Should the Lakers take Ben Simmons or Brandon Ingram if they get the No. 1 pick? And how does the rest of the top 10 shake out? Our Insiders run their latest mock draft, with L.A. on the clock.

Warriors center Festus Ezeli becomes a restricted free agent on July 1.
Regular Season Series
OKC wins series 2-0
2015-2016 Northwest Standings
2015-2016 Atlantic Standings