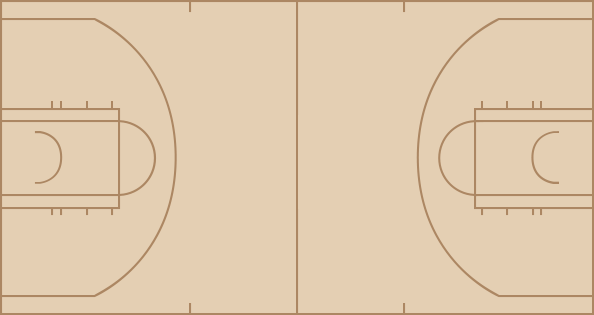 Bucks
time
TEAM
PLAY
SCORE
12:00
Samuel Dalembert vs. Nikola Pekovic (John Henson gains possession)
0 - 0
11:44
Monta Ellis makes 14-foot two point shot
2 - 0
11:27
Samuel Dalembert shooting foul (Nikola Pekovic draws the foul)
2 - 0
11:27
Nikola Pekovic misses free throw 1 of 2
2 - 0
11:27
Timberwolves offensive team rebound
2 - 0
11:27
Nikola Pekovic makes free throw 2 of 2
2 - 1
11:15
John Henson misses 19-foot jumper
2 - 1
11:14
Luke Ridnour defensive rebound
2 - 1
10:55
Nikola Pekovic makes layup (Jose Juan Barea assists)
2 - 3
10:36
Monta Ellis misses two point shot
2 - 3
10:34
John Henson makes two point shot
4 - 3
10:34
John Henson offensive rebound
2 - 3
10:22
Jose Juan Barea makes two point shot
4 - 5
10:11
Tobias Harris misses two point shot
4 - 5
10:10
John Henson makes two point shot
6 - 5
10:10
John Henson offensive rebound
4 - 5
9:49
Kevin Love makes 17-foot jumper
6 - 7
9:36
Monta Ellis makes layup (Samuel Dalembert assists)
8 - 7
9:26
Luke Ridnour misses 18-foot two point jumper
8 - 7
9:26
John Henson defensive rebound
8 - 7
9:10
Tobias Harris misses 11-foot jumper
8 - 7
9:07
John Henson makes two point shot
10 - 7
9:07
John Henson offensive rebound
8 - 7
8:57
Jose Juan Barea makes jumper
10 - 9
8:44
Samuel Dalembert lost ball turnover (Nikola Pekovic steals)
10 - 9
8:38
Josh Howard lost ball turnover (Tobias Harris steals)
10 - 9
8:32
Tobias Harris misses 25-foot three point jumper
10 - 9
8:30
Kevin Love defensive rebound
10 - 9
8:12
Kevin Love makes 25-foot three point jumper (Jose Juan Barea assists)
10 - 12
8:03
Nikola Pekovic kicked ball violation
10 - 12
7:58
Nikola Pekovic shooting foul (Tobias Harris draws the foul)
10 - 12
7:58
Tobias Harris makes free throw 1 of 2
11 - 12
7:58
Tobias Harris makes free throw 2 of 2
12 - 12
7:43
Josh Howard makes 11-foot two point shot
12 - 14
7:26
Brandon Jennings misses 17-foot two point shot
12 - 14
7:24
Brandon Jennings offensive rebound
12 - 14
7:22
Brandon Jennings makes jumper
14 - 14
7:09
Jose Juan Barea misses 9-foot two point shot
14 - 14
7:09
Brandon Jennings defensive rebound
14 - 14
7:01
Brandon Jennings makes 24-foot three pointer
17 - 14
6:46
Luke Ridnour misses 14-foot two point shot
17 - 14
6:43
John Henson defensive rebound
17 - 14
6:33
Samuel Dalembert misses 18-foot jumper
17 - 14
6:33
Josh Howard defensive rebound
17 - 14
6:24
Nikola Pekovic makes layup (Jose Juan Barea assists)
17 - 16
6:03
Brandon Jennings bad pass (Josh Howard steals)
17 - 16
5:54
Tobias Harris shooting foul (Josh Howard draws the foul)
17 - 16
5:54
Timberwolves Full timeout
17 - 16
5:54
Josh Howard makes free throw 1 of 2
17 - 17
5:54
Josh Howard makes free throw 2 of 2
17 - 18
5:39
Brandon Jennings misses 14-foot jumper
17 - 18
5:39
Timberwolves defensive team rebound
17 - 18
5:26
Luke Ridnour makes 15-foot two point shot
17 - 20
5:13
Samuel Dalembert misses layup
17 - 20
5:11
John Henson misses tip shot
17 - 20
5:11
John Henson offensive rebound
17 - 20
5:07
Samuel Dalembert offensive rebound
17 - 20
5:07
Samuel Dalembert makes layup
19 - 20
5:03
Nikola Pekovic makes layup (Jose Juan Barea assists)
19 - 22
4:50
Tobias Harris misses layup
19 - 22
4:48
Kevin Love defensive rebound
19 - 22
4:43
Josh Howard misses layup
19 - 22
4:41
Tobias Harris defensive rebound
19 - 22
4:35
Monta Ellis makes three point jumper (Brandon Jennings assists)
22 - 22
4:22
Josh Howard misses 22-foot jumper
22 - 22
4:20
Samuel Dalembert defensive rebound
22 - 22
4:11
John Henson misses 19-foot jumper
22 - 22
4:09
Nikola Pekovic defensive rebound
22 - 22
3:54
Tobias Harris shooting foul (Nikola Pekovic draws the foul)
22 - 22
3:54
Nikola Pekovic misses free throw 1 of 2
22 - 22
3:54
Timberwolves offensive team rebound
22 - 22
3:54
Mike Dunleavy enters the game for Tobias Harris
22 - 22
3:54
Alexey Shved enters the game for Luke Ridnour
22 - 22
3:54
Larry Sanders enters the game for Samuel Dalembert
22 - 22
3:54
Nikola Pekovic makes free throw 2 of 2
22 - 23
3:34
Brandon Jennings misses 15-foot step back jumpshot
22 - 23
3:33
Kevin Love defensive rebound
22 - 23
3:28
Jose Juan Barea lost ball turnover (Brandon Jennings steals)
22 - 23
3:24
Josh Howard shooting block foul (John Henson draws the foul)
22 - 23
3:24
John Henson makes free throw 1 of 2
23 - 23
3:24
John Henson makes free throw 2 of 2
24 - 23
3:01
Jose Juan Barea bad pass (Mike Dunleavy steals)
24 - 23
2:56
Brandon Jennings makes 18-foot two point shot
26 - 23
2:33
Larry Sanders blocks Kevin Love's layup
26 - 23
2:31
Nikola Pekovic offensive rebound
26 - 23
2:30
Larry Sanders blocks Nikola Pekovic 's 1-foot layup
26 - 23
2:29
Nikola Pekovic offensive rebound
26 - 23
2:28
Larry Sanders blocks Nikola Pekovic 's 2-foot layup
26 - 23
2:26
Nikola Pekovic offensive rebound
26 - 23
2:26
Larry Sanders blocks Nikola Pekovic 's 2-foot shot
26 - 23
2:25
Josh Howard offensive rebound
26 - 23
2:21
Josh Howard misses layup
26 - 23
2:20
Larry Sanders defensive rebound
26 - 23
2:16
Monta Ellis misses driving layup
26 - 23
2:15
Nikola Pekovic defensive rebound
26 - 23
2:14
Mike Dunleavy shooting foul (Kevin Love draws the foul)
26 - 25
2:14
Bucks Full timeout
26 - 23
2:14
Ekpe Udoh enters the game for Brandon Jennings
26 - 23
2:14
Beno Udrih enters the game for John Henson
26 - 23
2:14
Kevin Love makes free throw 1 of 2
26 - 24
2:14
Kevin Love makes free throw 2 of 2
26 - 25
2:01
Monta Ellis misses 18-foot two point jumper
26 - 25
2:00
Nikola Pekovic defensive rebound
26 - 25
1:43
Josh Howard misses 15-foot Running Jumper
26 - 25
1:42
Nikola Pekovic offensive rebound
26 - 25
1:42
Nikola Pekovic makes 1-foot two point shot
26 - 27
1:21
Beno Udrih misses 24-foot three point jumper
26 - 27
1:15
Larry Sanders blocks Jose Juan Barea 's 2-foot layup
26 - 27
1:15
Dante Cunningham enters the game for Kevin Love
26 - 27
1:15
Timberwolves offensive team rebound
26 - 27
1:15
Derrick Williams enters the game for Josh Howard
26 - 27
1:01
Alexey Shved misses 25-foot three point jumper
26 - 27
1:00
Bucks defensive team rebound
26 - 27
1:00
Doron Lamb enters the game for Monta Ellis
26 - 27
0:51
Mike Dunleavy makes 22-foot jumper (Beno Udrih assists)
28 - 27
0:36
Nikola Pekovic makes layup (Alexey Shved assists)
28 - 29
0:21
Ekpe Udoh makes 7-foot two point shot
30 - 29
0:02
Jose Juan Barea misses 12-foot jumper
30 - 29
0:01
Doron Lamb defensive rebound
30 - 29
0:01
Doron Lamb misses 44-foot three point jumper
30 - 29
0:00
Bucks offensive team rebound
30 - 29
0:00
End of the 1st Quarter
30 - 29

time
TEAM
PLAY
SCORE
11:41
Larry Sanders blocks Greg Stiemsma's layup
30 - 29
11:40
Dante Cunningham offensive rebound
30 - 29
11:34
Dante Cunningham misses 16-foot jumper
30 - 29
11:33
Beno Udrih defensive rebound
30 - 29
11:27
Mike Dunleavy misses 25-foot three point jumper
30 - 29
11:26
Beno Udrih offensive rebound
30 - 29
11:10
Ekpe Udoh makes 20-foot jumper (Larry Sanders assists)
32 - 29
10:55
Alexey Shved makes 25-foot three point jumper
32 - 32
10:34
Ekpe Udoh misses 7-foot jumper
32 - 32
10:33
Ekpe Udoh offensive rebound
32 - 32
10:30
shot clock turnover
32 - 32
10:18
Doron Lamb personal foul (Alexey Shved draws the foul)
32 - 32
10:11
Greg Stiemsma misses jumper
32 - 32
10:10
Derrick Williams offensive rebound
32 - 32
10:06
Derrick Williams lost ball turnover (Mike Dunleavy steals)
32 - 32
9:52
Beno Udrih misses 22-foot jumper
32 - 32
9:51
Derrick Williams defensive rebound
32 - 32
9:36
Mike Dunleavy shooting foul (Derrick Williams draws the foul)
32 - 32
9:36
Derrick Williams misses free throw 1 of 3
32 - 33
9:36
Timberwolves offensive team rebound
32 - 32
9:36
Derrick Williams makes free throw 2 of 3
32 - 33
9:36
Derrick Williams misses free throw 3 of 3
32 - 33
9:34
Larry Sanders defensive rebound
32 - 33
9:21
Mike Dunleavy misses 21-foot jumper
32 - 33
9:19
Alexey Shved defensive rebound
32 - 33
9:14
Derrick Williams makes two point shot (Alexey Shved assists)
32 - 35
9:14
Larry Sanders shooting foul (Derrick Williams draws the foul)
32 - 35
9:14
Derrick Williams makes free throw 1 of 1
32 - 36
9:03
Doron Lamb makes 21-foot jumper (Ekpe Udoh assists)
34 - 36
8:44
Luke Ridnour makes 20-foot two point shot
34 - 38
8:25
Doron Lamb makes layup (Ekpe Udoh assists)
36 - 38
8:11
Larry Sanders kicked ball violation
36 - 38
8:11
Full timeout
36 - 38
8:11
Brandon Jennings enters the game for Doron Lamb
36 - 38
8:04
Alexey Shved misses 21-foot two point jumper
36 - 38
8:03
Larry Sanders defensive rebound
36 - 38
7:43
Mike Dunleavy misses 24-foot three point jumper
36 - 38
7:41
Derrick Williams defensive rebound
36 - 38
7:28
Dante Cunningham misses 15-foot jumper
36 - 38
7:28
Beno Udrih defensive rebound
36 - 38
7:16
Mike Dunleavy misses 18-foot step back jumpshot
36 - 38
7:16
Derrick Williams defensive rebound
36 - 38
7:07
Luke Ridnour misses 20-foot two point jumper
36 - 38
7:07
Larry Sanders defensive rebound
36 - 38
7:01
Brandon Jennings misses 11-foot two point shot
36 - 38
6:58
Luke Ridnour defensive rebound
36 - 38
6:35
Alexey Shved makes 25-foot three point jumper (Luke Ridnour assists)
36 - 41
6:16
Dante Cunningham shooting block foul (Mike Dunleavy draws the foul)
36 - 41
6:16
Mike Dunleavy makes free throw 1 of 2
37 - 41
6:16
John Henson enters the game for Ekpe Udoh
37 - 41
6:16
Mike Dunleavy makes free throw 2 of 2
38 - 41
5:54
Dante Cunningham misses 6-foot Running Jumper
38 - 41
5:54
John Henson defensive rebound
38 - 41
5:48
Dante Cunningham kicked ball violation
38 - 41
5:48
Timberwolves Full timeout
38 - 41
5:48
Tobias Harris enters the game for Mike Dunleavy
38 - 41
5:48
Monta Ellis enters the game for Beno Udrih
38 - 41
5:31
Monta Ellis misses 11-foot
38 - 41
5:31
Greg Stiemsma defensive rebound
38 - 41
5:20
Alexey Shved bad pass
38 - 41
5:01
Monta Ellis misses 18-foot jumper
38 - 41
5:01
Luke Ridnour defensive rebound
38 - 41
4:50
Dante Cunningham makes 21-foot jumper (Luke Ridnour assists)
38 - 43
4:26
Tobias Harris misses 15-foot jumper
38 - 43
4:26
Derrick Williams defensive rebound
38 - 43
4:16
Luke Ridnour bad pass (Larry Sanders steals)
38 - 43
4:13
Alexey Shved personal foul (Monta Ellis draws the foul)
38 - 43
4:13
Josh Howard enters the game for Dante Cunningham
38 - 43
4:13
Nikola Pekovic enters the game for Greg Stiemsma
38 - 43
4:13
Kevin Love enters the game for Derrick Williams
38 - 43
4:00
Josh Howard shooting foul (Brandon Jennings draws the foul)
38 - 43
4:00
Brandon Jennings misses free throw 1 of 2
38 - 43
4:00
Bucks offensive team rebound
38 - 43
4:00
Brandon Jennings makes free throw 2 of 2
39 - 43
3:45
Jose Juan Barea enters the game for Luke Ridnour
39 - 43
3:43
Kevin Love makes 17-foot jumper (Josh Howard assists)
39 - 45
3:28
John Henson makes jumper (Tobias Harris assists)
41 - 45
3:08
Alexey Shved misses layup
41 - 45
3:05
Tobias Harris defensive rebound
41 - 45
2:59
Monta Ellis makes driving layup
43 - 45
2:43
Monta Ellis personal foul (Alexey Shved draws the foul)
43 - 45
2:43
Bucks Full timeout
43 - 45
2:43
Samuel Dalembert enters the game for Larry Sanders
43 - 45
2:28
Jose Juan Barea makes two point shot
43 - 47
2:15
Nikola Pekovic blocks Brandon Jennings 's 3-foot layup
43 - 47
2:14
Josh Howard defensive rebound
43 - 47
2:04
Kevin Love misses 25-foot three point jumper
43 - 47
2:03
Brandon Jennings defensive rebound
43 - 47
2:00
Brandon Jennings bad pass (Kevin Love steals)
43 - 47
1:50
John Henson personal block (Jose Juan Barea draws the foul)
43 - 47
1:50
Jose Juan Barea makes free throw 1 of 2
43 - 48
1:50
Jose Juan Barea makes free throw 2 of 2
43 - 49
1:36
Monta Ellis lost ball turnover (Nikola Pekovic steals)
43 - 49
1:30
Josh Howard makes layup (Jose Juan Barea assists)
43 - 51
1:06
Monta Ellis misses driving layup
43 - 51
1:05
Kevin Love defensive rebound
43 - 51
1:00
Jose Juan Barea lost ball turnover (Tobias Harris steals)
43 - 51
0:56
Josh Howard personal foul (Tobias Harris draws the foul)
43 - 51
0:56
Dante Cunningham enters the game for Josh Howard
43 - 51
0:46
Monta Ellis makes 19-foot jumper (Brandon Jennings assists)
45 - 51
0:33
Kevin Love makes 11-foot two point shot
45 - 53
0:21
Tobias Harris misses 10-foot two point jumper
45 - 53
0:19
Kevin Love defensive rebound
45 - 53
0:18
John Henson personal foul (Kevin Love draws the foul)
45 - 53
0:18
Kevin Love misses free throw 1 of 2
45 - 53
0:18
Mike Dunleavy enters the game for John Henson
45 - 53
0:18
Timberwolves offensive team rebound
45 - 53
0:18
Derrick Williams enters the game for Nikola Pekovic
45 - 53
0:18
Doron Lamb enters the game for Tobias Harris
45 - 53
0:18
Kevin Love makes free throw 2 of 2
45 - 54
0:03
Brandon Jennings makes driving layup
47 - 54
0:00
Jose Juan Barea makes 26-foot three point jumper
47 - 57
0:00
End of the 2nd Quarter
47 - 57

time
TEAM
PLAY
SCORE
11:47
Kevin Love misses 25-foot three point jumper
47 - 57
11:45
Samuel Dalembert defensive rebound
47 - 57
11:30
Monta Ellis misses 21-foot jumper
47 - 57
11:29
Tobias Harris offensive rebound
47 - 57
11:26
Tobias Harris misses 11-foot jumper
47 - 57
11:26
Josh Howard defensive rebound
47 - 57
11:02
shot clock turnover
47 - 57
10:48
Brandon Jennings offensive foul (Jose Juan Barea draws the foul)
47 - 57
10:48
Brandon Jennings turnover
47 - 57
10:33
Luke Ridnour makes 25-foot three point jumper (Nikola Pekovic assists)
47 - 60
10:21
Monta Ellis makes 2-foot two point shot
49 - 60
10:11
John Henson personal foul (Kevin Love draws the foul)
49 - 60
10:03
Kevin Love misses 25-foot three point jumper
49 - 60
10:03
Samuel Dalembert defensive rebound
49 - 60
9:56
Brandon Jennings misses 11-foot two point shot
49 - 60
9:55
Tobias Harris offensive rebound
49 - 60
9:52
Tobias Harris makes 5-foot jumper
51 - 60
9:32
Kevin Love traveling
51 - 60
9:17
Nikola Pekovic shooting foul (Monta Ellis draws the foul)
51 - 60
9:17
Monta Ellis makes free throw 1 of 2
52 - 60
9:17
Monta Ellis misses free throw 2 of 2
52 - 60
9:17
Nikola Pekovic defensive rebound
52 - 60
9:02
Nikola Pekovic lost ball turnover (Tobias Harris steals)
52 - 60
8:56
Monta Ellis makes driving layup (Tobias Harris assists)
54 - 60
8:38
John Henson personal foul (Kevin Love draws the foul)
54 - 60
8:38
Ekpe Udoh enters the game for John Henson
54 - 60
8:27
Josh Howard misses layup
54 - 60
8:26
Nikola Pekovic misses tip shot
54 - 60
8:26
Nikola Pekovic offensive rebound
54 - 60
8:22
Kevin Love misses tip shot
54 - 60
8:22
Kevin Love offensive rebound
54 - 60
8:18
Samuel Dalembert defensive rebound
54 - 60
8:15
Brandon Jennings misses 25-foot three point jumper
54 - 60
8:15
Luke Ridnour defensive rebound
54 - 60
8:07
Kevin Love misses 25-foot three point jumper
54 - 60
8:07
Samuel Dalembert defensive rebound
54 - 60
7:52
Ekpe Udoh misses 5-foot jumper
54 - 60
7:52
Bucks offensive team rebound
54 - 60
7:41
Monta Ellis misses 18-foot jumper
54 - 60
7:41
Kevin Love defensive rebound
54 - 60
7:31
Luke Ridnour makes 18-foot two point shot
54 - 62
7:07
Monta Ellis misses two point shot
54 - 62
7:05
Kevin Love defensive rebound
54 - 62
6:58
Samuel Dalembert blocks Kevin Love 's 4-foot jumper
54 - 62
6:58
Kevin Love offensive rebound
54 - 62
6:56
Samuel Dalembert shooting foul (Kevin Love draws the foul)
54 - 62
6:56
Kevin Love makes free throw 1 of 2
54 - 63
6:56
Larry Sanders enters the game for Samuel Dalembert
54 - 63
6:56
Kevin Love misses free throw 2 of 2
54 - 63
6:56
Tobias Harris defensive rebound
54 - 63
6:35
Nikola Pekovic blocks Tobias Harris 's 7-foot jumper
54 - 63
6:35
Nikola Pekovic defensive rebound
54 - 63
6:31
Luke Ridnour misses 15-foot jumper
54 - 63
6:30
Brandon Jennings defensive rebound
54 - 63
6:18
Brandon Jennings misses driving layup
54 - 63
6:16
Kevin Love defensive rebound
54 - 63
6:01
Larry Sanders blocks Kevin Love 's 3-foot layup
54 - 63
6:00
Larry Sanders defensive rebound
54 - 63
5:56
Tobias Harris offensive Charge (Josh Howard draws the foul)
54 - 63
5:56
Tobias Harris turnover
54 - 63
5:56
Timberwolves Full timeout
54 - 63
5:56
Mike Dunleavy enters the game for Tobias Harris
54 - 63
5:37
Kevin Love misses 17-foot jumper
54 - 63
5:37
Larry Sanders defensive rebound
54 - 63
5:20
Brandon Jennings misses 8-foot Running Jumper
54 - 63
5:20
Timberwolves defensive team rebound
54 - 63
5:07
Monta Ellis personal foul (Luke Ridnour draws the foul)
54 - 63
4:52
Luke Ridnour misses 15-foot Running Jumper
54 - 63
4:50
Larry Sanders defensive rebound
54 - 63
4:31
Monta Ellis misses 21-foot jumper
54 - 63
4:28
Timberwolves defensive team rebound
54 - 63
4:28
Alexey Shved enters the game for Luke Ridnour
54 - 63
4:28
Dante Cunningham enters the game for Kevin Love
54 - 63
4:11
Jose Juan Barea misses driving layup
54 - 63
4:09
Brandon Jennings defensive rebound
54 - 63
4:09
Dante Cunningham personal foul (Brandon Jennings draws the foul)
54 - 63
3:56
Josh Howard shooting foul (Ekpe Udoh draws the foul)
56 - 63
3:56
Ekpe Udoh makes free throw 1 of 2
55 - 63
3:56
Derrick Williams enters the game for Josh Howard
55 - 63
3:56
Ekpe Udoh makes free throw 2 of 2
56 - 63
3:46
Derrick Williams misses 25-foot three point jumper
56 - 63
3:44
Derrick Williams offensive rebound
56 - 63
3:32
Nikola Pekovic lost ball turnover (Monta Ellis steals)
56 - 63
3:28
Dante Cunningham blocks Larry Sanders 's 3-foot layup
56 - 63
3:26
Nikola Pekovic defensive rebound
56 - 63
3:17
Dante Cunningham misses 19-foot jumper
56 - 63
3:15
Monta Ellis defensive rebound
56 - 63
3:11
Dante Cunningham blocks Brandon Jennings's layup
56 - 63
3:09
Larry Sanders makes 2-foot two point shot
58 - 63
3:09
Larry Sanders offensive rebound
56 - 63
2:48
Ekpe Udoh blocks Dante Cunningham's layup
58 - 63
2:47
Ekpe Udoh defensive rebound
58 - 63
2:42
Mike Dunleavy makes 25-foot three point jumper (Brandon Jennings assists)
61 - 63
2:20
Bucks Full timeout
61 - 63
2:20
Larry Sanders blocks Nikola Pekovic 's 3-foot layup
61 - 63
2:20
Larry Sanders vs. Nikola Pekovic (Ekpe Udoh gains possession)
61 - 63
2:20
Beno Udrih enters the game for Brandon Jennings
61 - 63
2:20
Bucks offensive team rebound
61 - 63
2:04
Mike Dunleavy misses 18-foot jumper
61 - 63
2:02
Derrick Williams defensive rebound
61 - 63
1:50
Derrick Williams steps out of bounds turnover
61 - 63
1:31
Derrick Williams blocks Larry Sanders 's 4-foot jumper
61 - 63
1:31
Bucks offensive team rebound
61 - 63
1:28
Beno Udrih misses 14-foot jumper
61 - 63
1:27
Derrick Williams defensive rebound
61 - 63
1:15
Derrick Williams makes 25-foot three point jumper (Alexey Shved assists)
61 - 66
0:54
Mike Dunleavy bad pass
61 - 66
0:37
Derrick Williams misses 24-foot three point jumper
61 - 66
0:35
Dante Cunningham offensive rebound
61 - 66
0:32
Dante Cunningham bad pass (Monta Ellis steals)
61 - 66
0:29
Monta Ellis makes driving layup
63 - 66
0:09
Jose Juan Barea makes 18-foot two point shot
63 - 68
0:01
Monta Ellis misses 27-foot three point jumper
63 - 68
0:00
Derrick Williams defensive rebound
63 - 68
0:00
End of the 3rd Quarter
63 - 68

time
TEAM
PLAY
SCORE
11:41
Doron Lamb makes 6-foot jumper (Mike Dunleavy assists)
65 - 68
11:25
Larry Sanders blocks Greg Stiemsma's layup
65 - 68
11:25
Timberwolves offensive team rebound
65 - 68
11:15
Dante Cunningham misses 19-foot jumper
65 - 68
11:15
Larry Sanders defensive rebound
65 - 68
10:56
Larry Sanders makes layup
67 - 68
10:41
Ekpe Udoh shooting foul (Alexey Shved draws the foul)
67 - 68
10:41
Alexey Shved makes free throw 1 of 2
67 - 69
10:41
Kevin Love enters the game for Derrick Williams
67 - 69
10:41
Alexey Shved makes free throw 2 of 2
67 - 70
10:30
Doron Lamb misses Running Jumper
67 - 70
10:29
Timberwolves defensive team rebound
67 - 70
10:11
Luke Ridnour misses 25-foot three point jumper
67 - 70
10:08
Greg Stiemsma offensive rebound
67 - 70
10:02
Alexey Shved misses 25-foot three point pullup jump shot
67 - 70
10:00
Larry Sanders defensive rebound
67 - 70
9:51
Beno Udrih makes 19-foot two point shot
69 - 70
9:36
Alexey Shved 3 second turnover
69 - 70
9:21
Ekpe Udoh bad pass (Alexey Shved steals)
69 - 70
9:15
Alexey Shved makes driving layup
69 - 72
8:59
Doron Lamb misses 19-foot jumper
69 - 72
8:57
Kevin Love defensive rebound
69 - 72
8:45
Full timeout
69 - 72
8:45
Nikola Pekovic enters the game for Greg Stiemsma
69 - 72
8:38
Nikola Pekovic misses 3-foot jumper
69 - 72
8:37
Beno Udrih defensive rebound
69 - 72
8:23
Mike Dunleavy misses 24-foot three point jumper
69 - 72
8:22
Nikola Pekovic defensive rebound
69 - 72
8:04
Kevin Love misses 26-foot three point jumper
69 - 72
8:03
Bucks defensive team rebound
69 - 72
8:03
Dante Cunningham loose ball foul (Mike Dunleavy draws the foul)
69 - 72
7:54
Kevin Love shooting foul (Beno Udrih draws the foul)
69 - 72
7:54
Bucks Full timeout
69 - 72
7:54
Joel Przybilla enters the game for Beno Udrih
69 - 72
7:54
Joel Przybilla misses free throw 1 of 2
69 - 72
7:54
Bucks offensive team rebound
69 - 72
7:54
Joel Przybilla misses free throw 2 of 2
69 - 72
7:52
Alexey Shved defensive rebound
69 - 72
7:52
Joel Przybilla personal take foul (Alexey Shved draws the foul)
69 - 72
7:52
Brandon Jennings enters the game for Joel Przybilla
69 - 72
7:35
Ekpe Udoh blocks Kevin Love 's 6-foot jumper
69 - 72
7:35
Kevin Love offensive rebound
69 - 72
7:33
Kevin Love misses 18-foot two point shot
69 - 72
7:31
Brandon Jennings defensive rebound
69 - 72
7:28
Mike Dunleavy offensive Charge (Kevin Love draws the foul)
69 - 72
7:28
Mike Dunleavy turnover
69 - 72
7:28
Monta Ellis enters the game for Doron Lamb
69 - 72
7:05
Alexey Shved makes 26-foot three point jumper
69 - 75
6:50
Ekpe Udoh lost ball turnover (Alexey Shved steals)
69 - 75
6:48
Ekpe Udoh personal foul (Dante Cunningham draws the foul)
69 - 75
6:33
Kevin Love misses 25-foot three point jumper
69 - 75
6:31
Bucks defensive team rebound
69 - 75
6:18
Monta Ellis misses 25-foot three point jumper
69 - 75
6:16
Nikola Pekovic defensive rebound
69 - 75
6:03
Dante Cunningham misses layup
69 - 75
6:01
Kevin Love makes two point shot
69 - 77
6:01
Kevin Love offensive rebound
69 - 75
5:45
Mike Dunleavy misses 25-foot three point jumper
69 - 77
5:43
Kevin Love defensive rebound
69 - 77
5:43
Timberwolves Full timeout
69 - 77
5:43
Josh Howard enters the game for Kevin Love
69 - 77
5:43
Doron Lamb enters the game for Mike Dunleavy
69 - 77
5:30
Dante Cunningham makes jumper (Alexey Shved assists)
69 - 79
5:11
Monta Ellis misses 20-foot jumper
69 - 79
5:09
Nikola Pekovic defensive rebound
69 - 79
4:52
Brandon Jennings blocks Luke Ridnour 's 9-foot jumper
69 - 79
4:52
Timberwolves offensive team rebound
69 - 79
4:50
Luke Ridnour makes 15-foot jumper (Josh Howard assists)
69 - 81
4:31
Brandon Jennings makes 25-foot three point jumper
72 - 81
4:09
Josh Howard makes 18-foot two point shot
72 - 83
3:58
Dante Cunningham shooting foul (Brandon Jennings draws the foul)
72 - 83
3:58
Brandon Jennings makes free throw 1 of 2
73 - 83
3:58
Brandon Jennings makes free throw 2 of 2
74 - 83
3:45
Larry Sanders blocks Nikola Pekovic 's 4-foot jumper
74 - 83
3:44
Doron Lamb defensive rebound
74 - 83
3:44
Josh Howard personal foul (Doron Lamb draws the foul)
74 - 83
3:44
Kevin Love enters the game for Dante Cunningham
74 - 83
3:44
Jose Juan Barea enters the game for Josh Howard
74 - 83
3:38
Brandon Jennings misses 26-foot three point jumper
74 - 83
3:36
Ekpe Udoh offensive rebound
74 - 83
3:35
Nikola Pekovic blocks Ekpe Udoh's layup
74 - 83
3:34
Bucks offensive team rebound
74 - 83
3:34
Doron Lamb bad pass
74 - 83
3:17
Kevin Love misses 22-foot jumper
74 - 83
3:16
Jose Juan Barea offensive rebound
74 - 83
3:03
Jose Juan Barea makes two point shot
74 - 85
3:03
Ekpe Udoh shooting foul (Kevin Love draws the foul)
74 - 85
3:03
Kevin Love misses free throw 1 of 1
74 - 85
3:02
Monta Ellis defensive rebound
74 - 85
2:51
Monta Ellis misses driving layup
74 - 85
2:50
Nikola Pekovic defensive rebound
74 - 85
2:33
Luke Ridnour makes 20-foot jumper (Alexey Shved assists)
74 - 87
2:33
Bucks Full timeout
74 - 87
2:24
Larry Sanders makes 7-foot jumper (Brandon Jennings assists)
76 - 87
2:04
Ekpe Udoh shooting foul (Nikola Pekovic draws the foul)
76 - 87
2:04
Nikola Pekovic makes free throw 1 of 2
76 - 88
2:04
Nikola Pekovic makes free throw 2 of 2
76 - 89
1:53
Larry Sanders makes 17-foot jumper (Doron Lamb assists)
78 - 89
1:45
Alexey Shved bad pass (Monta Ellis steals)
78 - 89
1:39
Brandon Jennings makes 26-foot three point jumper
81 - 89
1:31
Timberwolves Full timeout
81 - 89
1:15
Alexey Shved makes 29-foot three pointer
81 - 92
0:58
Doron Lamb misses 22-foot three point jumper
81 - 92
0:57
Alexey Shved defensive rebound
81 - 92
0:52
Doron Lamb personal foul (Luke Ridnour draws the foul)
81 - 92
0:52
Luke Ridnour makes free throw 1 of 2
81 - 93
0:52
Dante Cunningham enters the game for Kevin Love
81 - 93
0:52
Luke Ridnour makes free throw 2 of 2
81 - 94
0:52
Bucks 20 Sec. timeout
81 - 94
0:52
Derrick Williams enters the game for Nikola Pekovic
81 - 94
0:48
Brandon Jennings misses 25-foot three point jumper
81 - 94
0:47
Derrick Williams defensive rebound
81 - 94
0:32
Luke Ridnour bad pass
81 - 94
0:22
Ekpe Udoh makes layup (Monta Ellis assists)
83 - 94
0:21
Larry Sanders personal foul (Luke Ridnour draws the foul)
83 - 94
0:21
Luke Ridnour makes free throw 1 of 2
83 - 95
0:21
Luke Ridnour misses free throw 2 of 2
83 - 95
0:20
Larry Sanders defensive rebound
83 - 95
0:13
Brandon Jennings misses 19-foot jumper
83 - 95
0:13
Larry Sanders offensive rebound
83 - 95
0:12
Larry Sanders makes layup
85 - 95
0:00
End of the 4th Quarter
85 - 95
0:00
End of Game
85 - 95
If the Spurs show patience in developing Dejounte Murray, the 19-year-old guard may prove to become a steal in this draft.

The Los Angeles Lakers selected Croatian center Ivica Zubac with the No. 2 pick in the second round (No. 32 overall) of the 2016 NBA draft on Thursday night.

Myron Medcalf and Amin Elhassan discuss the 76ers' selection of Furkan Korkmaz with the 26th overall pick.
Regular Season Series
MIN wins series 2-0
2015-2016 Central Standings
2015-2016 Northwest Standings