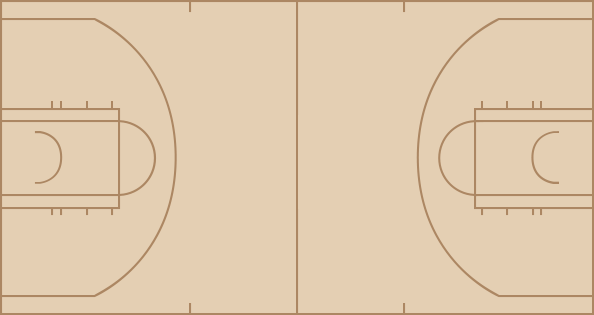 Nuggets
time
TEAM
PLAY
SCORE
12:00
Kosta Koufos vs. Jason Thompson (Ty Lawson gains possession)
0 - 0
11:44
Kenneth Faried misses 17-foot jumper
0 - 0
11:42
Kosta Koufos offensive rebound
0 - 0
11:41
Kosta Koufos misses layup
0 - 0
11:41
DeMarcus Cousins defensive rebound
0 - 0
11:22
DeMarcus Cousins makes 17-foot jumper
0 - 2
11:06
Kosta Koufos makes 4-foot jumper (Danilo Gallinari assists)
2 - 2
10:51
Tyreke Evans misses 25-foot three point jumper
2 - 2
10:49
Kenneth Faried defensive rebound
2 - 2
10:41
Kenneth Faried makes layup (Ty Lawson assists)
4 - 2
10:21
John Salmons misses 23-foot three point jumper
4 - 2
10:19
Jason Thompson offensive rebound
4 - 2
10:19
Kenneth Faried personal foul (Jason Thompson draws the foul)
4 - 2
10:02
Tyreke Evans misses 20-foot jumper
4 - 2
10:00
Kenneth Faried defensive rebound
4 - 2
9:52
Danilo Gallinari makes 7-foot two point shot (Kosta Koufos assists)
6 - 2
9:42
Kings Full timeout
6 - 2
9:30
Kenneth Faried blocks Aaron Brooks 's 5-foot jumper
6 - 2
9:29
Danilo Gallinari defensive rebound
6 - 2
9:08
Jason Thompson blocks Kosta Koufos's shot
6 - 2
9:07
DeMarcus Cousins defensive rebound
6 - 2
8:55
Jason Thompson makes 7-foot two point shot
6 - 4
8:36
Danilo Gallinari makes 15-foot jumper
8 - 4
8:15
Ty Lawson personal foul (Aaron Brooks draws the foul)
8 - 4
8:07
John Salmons misses layup
8 - 4
8:04
Jason Thompson offensive rebound
8 - 4
8:04
Jason Thompson makes two point shot
8 - 6
7:52
Danilo Gallinari misses 7-foot jumper
8 - 6
7:50
DeMarcus Cousins defensive rebound
8 - 6
7:39
Kosta Koufos shooting foul (Tyreke Evans draws the foul)
8 - 6
7:39
Tyreke Evans makes free throw 1 of 2
8 - 7
7:39
Tyreke Evans makes free throw 2 of 2
8 - 8
7:20
Kosta Koufos misses 6-foot jumper
8 - 8
7:20
Kenneth Faried offensive rebound
8 - 8
7:20
Kenneth Faried misses tip shot
8 - 8
7:18
Kenneth Faried offensive rebound
8 - 8
7:18
Kenneth Faried misses tip shot
8 - 8
7:16
Kosta Koufos offensive rebound
8 - 8
7:16
Kosta Koufos makes layup
10 - 8
7:05
DeMarcus Cousins misses 5-foot jumper
10 - 8
7:05
DeMarcus Cousins misses tip shot
10 - 8
7:05
DeMarcus Cousins offensive rebound
10 - 8
7:05
DeMarcus Cousins offensive rebound
10 - 8
7:03
DeMarcus Cousins misses tip shot
10 - 8
7:01
Jason Thompson misses tip shot
10 - 8
7:01
Jason Thompson offensive rebound
10 - 8
6:58
Jason Thompson misses tip shot
10 - 8
6:58
Jason Thompson offensive rebound
10 - 8
6:58
Jason Thompson offensive rebound
10 - 8
6:56
Kosta Koufos blocks Jason Thompson 's 4-foot shot
10 - 8
6:54
Ty Lawson defensive rebound
10 - 8
6:52
Ty Lawson makes driving layup
12 - 8
6:31
Aaron Brooks misses 25-foot three point jumper
12 - 8
6:31
Jason Thompson offensive rebound
12 - 8
6:26
DeMarcus Cousins misses jumper
12 - 8
6:24
DeMarcus Cousins offensive rebound
12 - 8
6:24
DeMarcus Cousins misses jump shot
12 - 8
6:22
Tyreke Evans offensive rebound
12 - 8
6:11
Tyreke Evans misses 4-foot jumper
12 - 8
6:11
Kosta Koufos defensive rebound
12 - 8
5:56
Danilo Gallinari makes 22-foot jumper (Ty Lawson assists)
14 - 8
5:46
Aaron Brooks out of bounds lost ball turnover
14 - 8
5:46
Andre Miller enters the game for Ty Lawson
14 - 8
5:22
Andre Iguodala makes 15-foot two point shot
16 - 8
5:05
Aaron Brooks misses 6-foot jumper
16 - 8
5:03
Nuggets defensive team rebound
16 - 8
5:03
DeMarcus Cousins loose ball foul (Kenneth Faried draws the foul)
16 - 8
4:43
Kenneth Faried makes 9-foot jumper (Danilo Gallinari assists)
18 - 8
4:37
Kings 20 Sec. timeout
18 - 8
4:20
John Salmons misses 23-foot three point jumper
18 - 8
4:20
Andre Iguodala defensive rebound
18 - 8
4:16
Danilo Gallinari makes driving dunk (Andre Iguodala assists)
20 - 8
4:01
Aaron Brooks bad pass (Andre Miller steals)
20 - 8
3:56
Kenneth Faried makes 1-foot dunk (Andre Iguodala assists)
22 - 8
3:35
Tyreke Evans misses 25-foot three point jumper
22 - 8
3:34
Aaron Brooks offensive rebound
22 - 8
3:33
Aaron Brooks makes layup
22 - 10
3:09
Danilo Gallinari makes 17-foot jumper
24 - 10
2:50
Jason Thompson makes jumper
24 - 12
2:31
Kenneth Faried misses 15-foot jumper
24 - 12
2:31
Kosta Koufos offensive rebound
24 - 12
2:11
Andre Iguodala makes 2-foot two point shot (Danilo Gallinari assists)
26 - 12
1:52
Aaron Brooks makes 25-foot three point jumper (DeMarcus Cousins assists)
26 - 15
1:38
Aaron Brooks shooting foul (Andre Miller draws the foul)
27 - 15
1:38
Nuggets Full timeout
26 - 15
1:38
Double technical foul: Aaron Brooks and Andre Miller
26 - 15
1:38
Double technical foul: DeMarcus Cousins and Kenneth Faried
26 - 15
1:38
Isaiah Thomas enters the game for Jason Thompson
27 - 15
1:38
Francisco Garcia enters the game for Tyreke Evans
28 - 15
1:38
James Johnson enters the game for Aaron Brooks
28 - 15
1:38
JaVale McGee enters the game for Kosta Koufos
26 - 15
1:38
Corey Brewer enters the game for Andre Iguodala
28 - 15
1:38
Andre Miller makes free throw 1 of 2
27 - 15
1:38
Andre Miller makes free throw 2 of 2
28 - 15
1:22
JaVale McGee shooting foul (John Salmons draws the foul)
28 - 15
1:22
John Salmons makes free throw 1 of 2
28 - 17
1:22
John Salmons makes free throw 2 of 2
28 - 16
1:07
James Johnson shooting foul (Andre Miller draws the foul)
28 - 17
1:07
Andre Miller makes free throw 1 of 2
29 - 17
1:07
Jordan Hamilton enters the game for Kenneth Faried
29 - 17
1:07
Andre Miller makes free throw 2 of 2
30 - 17
0:53
Francisco Garcia makes 20-foot jumper (John Salmons assists)
30 - 19
0:37
Andre Miller bad pass (Francisco Garcia steals)
30 - 19
0:15
James Johnson shooting foul (JaVale McGee draws the foul)
30 - 21
0:15
JaVale McGee makes free throw 1 of 2
31 - 21
0:15
JaVale McGee makes free throw 2 of 2
32 - 21
0:00
Isaiah Thomas makes 9-foot two point shot
32 - 23
0:00
End of the 1st Quarter
32 - 23

time
TEAM
PLAY
SCORE
11:42
John Salmons misses 3-foot jumper
32 - 23
11:41
DeMarcus Cousins offensive rebound
32 - 23
11:41
DeMarcus Cousins makes two point shot
32 - 25
11:14
JaVale McGee makes two point shot (Andre Miller assists)
34 - 25
11:00
JaVale McGee personal foul (DeMarcus Cousins draws the foul)
34 - 25
10:47
John Salmons misses 23-foot three point jumper
34 - 25
10:47
Andre Miller defensive rebound
34 - 25
10:41
Jordan Hamilton misses 5-foot jumper
34 - 25
10:40
JaVale McGee offensive rebound
34 - 25
10:40
JaVale McGee makes two point shot
36 - 25
10:33
DeMarcus Cousins offensive Charge (Corey Brewer draws the foul)
36 - 25
10:33
DeMarcus Cousins turnover
36 - 25
10:33
Chuck Hayes enters the game for DeMarcus Cousins
36 - 25
10:26
JaVale McGee makes 3-foot two point shot (Ty Lawson assists)
38 - 25
10:03
Isaiah Thomas lost ball turnover (Corey Brewer steals)
38 - 25
9:59
Jordan Hamilton makes dunk (Corey Brewer assists)
40 - 25
9:52
Kings Full timeout
40 - 25
9:34
James Johnson misses driving layup
40 - 25
9:33
Jordan Hamilton defensive rebound
40 - 25
9:11
Corey Brewer misses 21-foot jumper
40 - 25
9:10
JaVale McGee offensive rebound
40 - 25
9:00
Jordan Hamilton makes driving layup
42 - 25
8:41
Travis Outlaw enters the game for John Salmons
42 - 25
8:41
Jason Thompson enters the game for Chuck Hayes
42 - 25
8:37
Francisco Garcia misses 25-foot three point jumper
42 - 25
8:37
Kings offensive team rebound
42 - 25
8:33
Ty Lawson personal block (Isaiah Thomas draws the foul)
42 - 25
8:22
Jason Thompson misses 22-foot jumper
42 - 25
8:21
Ty Lawson defensive rebound
42 - 25
8:12
Corey Brewer misses 22-foot three point jumper
42 - 25
8:11
Jason Thompson defensive rebound
42 - 25
8:02
Jason Thompson misses 7-foot jumper
42 - 25
8:00
Jason Thompson offensive rebound
42 - 25
7:58
Jason Thompson makes 6-foot two point shot
42 - 27
7:35
Ty Lawson lost ball turnover (James Johnson steals)
42 - 27
7:31
James Johnson makes driving dunk (Francisco Garcia assists)
42 - 29
7:11
Jordan Hamilton makes 23-foot three point jumper (Andre Miller assists)
45 - 29
7:03
Francisco Garcia makes 24-foot three point jumper (Isaiah Thomas assists)
45 - 32
6:45
Jordan Hamilton makes 5-foot two point shot (Ty Lawson assists)
47 - 32
6:37
JaVale McGee blocks James Johnson's layup
47 - 32
6:35
Andre Miller defensive rebound
47 - 32
6:24
Ty Lawson misses 18-foot jumper
47 - 32
6:24
JaVale McGee offensive rebound
47 - 32
6:09
Andre Miller misses layup
47 - 32
6:09
Travis Outlaw defensive rebound
47 - 32
6:07
Jordan Hamilton personal foul (Isaiah Thomas draws the foul)
47 - 32
6:07
Andre Iguodala enters the game for Andre Miller
47 - 32
6:03
Isaiah Thomas misses 11-foot Running Jumper
47 - 32
6:01
Andre Iguodala defensive rebound
47 - 32
5:48
Jordan Hamilton makes 24-foot three point jumper
50 - 32
5:33
Isaiah Thomas misses 23-foot three point jumper
50 - 32
5:33
Andre Iguodala defensive rebound
50 - 32
5:24
James Johnson shooting foul (JaVale McGee draws the foul)
50 - 32
5:24
Official timeout
50 - 32
5:24
DeMarcus Cousins enters the game for James Johnson
50 - 32
5:24
JaVale McGee misses free throw 1 of 2
50 - 32
5:24
Nuggets offensive team rebound
50 - 32
5:24
JaVale McGee makes free throw 2 of 2
51 - 32
5:13
Jordan Hamilton personal foul (Travis Outlaw draws the foul)
51 - 32
5:13
Danilo Gallinari enters the game for Corey Brewer
51 - 32
5:03
Jason Thompson makes 8-foot two point shot
51 - 34
4:43
JaVale McGee makes 4-foot two point shot (Ty Lawson assists)
53 - 34
4:22
DeMarcus Cousins makes 18-foot jumper (Jason Thompson assists)
53 - 36
3:55
Andre Iguodala misses 21-foot jumper
53 - 36
3:54
Jason Thompson defensive rebound
53 - 36
3:49
JaVale McGee shooting foul (DeMarcus Cousins draws the foul)
53 - 36
3:49
DeMarcus Cousins makes free throw 1 of 2
53 - 37
3:49
DeMarcus Cousins makes free throw 2 of 2
53 - 38
3:49
Kosta Koufos enters the game for Jordan Hamilton
53 - 38
3:32
Kosta Koufos misses jumper
53 - 38
3:31
Travis Outlaw defensive rebound
53 - 38
3:18
Travis Outlaw misses 23-foot three point jumper
53 - 38
3:18
Isaiah Thomas offensive rebound
53 - 38
3:10
Isaiah Thomas misses jumper
53 - 38
3:09
Andre Iguodala defensive rebound
53 - 38
3:06
Ty Lawson out of bounds lost ball turnover
53 - 38
2:54
Francisco Garcia makes 4-foot two point shot
53 - 40
2:39
Ty Lawson makes driving layup
55 - 40
2:34
Andre Iguodala personal foul (Isaiah Thomas draws the foul)
55 - 40
2:34
Nuggets Full timeout
55 - 40
2:34
Isaiah Thomas makes free throw 1 of 2
55 - 41
2:34
Isaiah Thomas makes free throw 2 of 2
55 - 42
2:15
Andre Iguodala makes 23-foot jumper (Ty Lawson assists)
57 - 42
1:59
Travis Outlaw misses 16-foot jumper
57 - 42
1:59
Kenneth Faried defensive rebound
57 - 42
1:45
Travis Outlaw personal foul (Kenneth Faried draws the foul)
57 - 42
1:36
Ty Lawson makes 15-foot jumper
59 - 42
1:22
Jason Thompson makes layup (Isaiah Thomas assists)
59 - 44
1:09
Ty Lawson misses 12-foot jumper
59 - 45
1:09
Kings defensive team rebound
59 - 44
1:09
Kenneth Faried loose ball foul (Jason Thompson draws the foul)
59 - 46
1:09
Jason Thompson makes free throw 1 of 2
59 - 45
1:09
Jason Thompson makes free throw 2 of 2
59 - 46
1:07
Kenneth Faried enters the game for Jordan Hamilton
59 - 46
0:55
Travis Outlaw shooting foul (Danilo Gallinari draws the foul)
59 - 46
0:55
Danilo Gallinari makes free throw 1 of 2
60 - 46
0:55
John Salmons enters the game for Jason Thompson
60 - 46
0:55
Danilo Gallinari makes free throw 2 of 2
61 - 46
0:55
Jordan Hamilton enters the game for Kenneth Faried
61 - 46
0:45
DeMarcus Cousins misses 18-foot jumper
61 - 46
0:42
Andre Iguodala defensive rebound
61 - 46
0:27
Jordan Hamilton misses 25-foot three point jumper
61 - 46
0:27
Nuggets offensive team rebound
61 - 46
0:27
John Salmons loose ball foul (Kosta Koufos draws the foul)
61 - 46
0:27
Kosta Koufos misses free throw 1 of 2
61 - 46
0:27
Nuggets offensive team rebound
61 - 46
0:27
Andre Miller enters the game for Ty Lawson
61 - 46
0:27
Kosta Koufos misses free throw 2 of 2
61 - 46
0:27
Danilo Gallinari offensive rebound
61 - 46
0:06
Jordan Hamilton makes 25-foot three point jumper (Danilo Gallinari assists)
64 - 46
0:00
Isaiah Thomas misses 7-foot jumper
64 - 46
0:00
Kings offensive team rebound
64 - 46
0:00
End of the 2nd Quarter
64 - 46

time
TEAM
PLAY
SCORE
11:42
John Salmons bad pass (Andre Iguodala steals)
64 - 46
11:41
John Salmons shooting foul (Danilo Gallinari draws the foul)
64 - 46
11:41
Danilo Gallinari makes free throw 1 of 2
65 - 46
11:41
Danilo Gallinari makes free throw 2 of 2
66 - 46
11:25
Kosta Koufos shooting foul (DeMarcus Cousins draws the foul)
66 - 46
11:25
DeMarcus Cousins makes free throw 1 of 2
66 - 47
11:25
DeMarcus Cousins makes free throw 2 of 2
66 - 48
11:07
Andre Iguodala misses 24-foot three point jumper
66 - 48
11:04
Aaron Brooks defensive rebound
66 - 48
11:00
John Salmons misses layup
66 - 48
10:57
Kenneth Faried defensive rebound
66 - 48
10:53
Kosta Koufos makes 3-foot dunk (Andre Iguodala assists)
68 - 48
10:27
Keith Smart technical foul(1st technical foul)
68 - 48
10:27
Danilo Gallinari makes technical free throw
69 - 48
10:22
Aaron Brooks misses 21-foot jumper
69 - 48
10:21
Nuggets defensive team rebound
69 - 48
10:15
Francisco Garcia shooting foul (Andre Iguodala draws the foul)
69 - 48
10:15
Andre Iguodala misses free throw 1 of 2
69 - 48
10:15
Nuggets offensive team rebound
69 - 48
10:15
Andre Iguodala makes free throw 2 of 2
70 - 48
10:03
Jason Thompson makes 20-foot jumper (Aaron Brooks assists)
70 - 50
9:48
Kosta Koufos makes 3-foot two point shot (Andre Iguodala assists)
72 - 50
9:32
Andre Iguodala shooting foul (DeMarcus Cousins draws the foul)
72 - 50
9:32
DeMarcus Cousins makes free throw 1 of 2
72 - 51
9:32
DeMarcus Cousins makes free throw 2 of 2
72 - 52
9:11
Danilo Gallinari misses 23-foot three point jumper
72 - 52
9:11
Jason Thompson defensive rebound
72 - 52
9:00
Jason Thompson misses 8-foot jumper
72 - 52
8:59
Danilo Gallinari defensive rebound
72 - 52
8:37
Danilo Gallinari bad pass (Jason Thompson steals)
72 - 52
8:32
Francisco Garcia misses 23-foot three point jumper
72 - 52
8:30
Ty Lawson defensive rebound
72 - 52
8:27
Aaron Brooks shooting foul (Ty Lawson draws the foul)
72 - 52
8:27
Ty Lawson makes free throw 1 of 2
73 - 52
8:27
Ty Lawson makes free throw 2 of 2
74 - 52
8:10
John Salmons misses 23-foot three point jumper
74 - 52
8:10
Ty Lawson defensive rebound
74 - 52
8:03
Andre Iguodala misses 6-foot jumper
74 - 52
8:00
Andre Iguodala offensive rebound
74 - 52
7:54
Andre Iguodala bad pass (Jason Thompson steals)
74 - 52
7:54
Kosta Koufos personal foul (Jason Thompson draws the foul)
74 - 52
7:35
Andre Iguodala shooting foul (DeMarcus Cousins draws the foul)
74 - 52
7:35
DeMarcus Cousins misses free throw 1 of 2
74 - 52
7:35
Kings offensive team rebound
74 - 52
7:35
Travis Outlaw enters the game for John Salmons
74 - 52
7:35
DeMarcus Cousins makes free throw 2 of 2
74 - 53
7:13
Danilo Gallinari misses 24-foot three point jumper
74 - 53
7:11
Kenneth Faried offensive rebound
74 - 53
7:09
Kenneth Faried misses 6-foot jumper
74 - 53
7:07
Kosta Koufos offensive rebound
74 - 53
7:07
Kosta Koufos makes two point shot
76 - 53
6:52
Travis Outlaw misses 18-foot jumper
76 - 53
6:52
Kenneth Faried defensive rebound
76 - 53
6:41
Ty Lawson makes 26-foot three point jumper
79 - 53
6:37
Kings Full timeout
79 - 53
6:37
Jimmer Fredette enters the game for Francisco Garcia
79 - 53
6:20
DeMarcus Cousins misses 8-foot jumper
79 - 53
6:18
Kosta Koufos defensive rebound
79 - 53
6:07
Ty Lawson misses 25-foot three point jumper
79 - 53
6:05
Andre Iguodala offensive rebound
79 - 53
6:05
Andre Iguodala makes two point shot
81 - 53
5:43
DeMarcus Cousins makes two point shot
81 - 55
5:43
Kosta Koufos shooting foul (DeMarcus Cousins draws the foul)
81 - 56
5:43
DeMarcus Cousins makes free throw 1 of 1
81 - 56
5:26
Danilo Gallinari makes 24-foot three point jumper (Ty Lawson assists)
84 - 56
5:13
Jason Thompson misses layup
84 - 56
5:13
Kosta Koufos defensive rebound
84 - 56
5:03
Andre Iguodala traveling
84 - 56
4:37
shot clock turnover
84 - 56
4:16
Kosta Koufos makes layup (Andre Iguodala assists)
86 - 58
3:57
Kosta Koufos shooting foul (Aaron Brooks draws the foul)
86 - 58
3:57
Aaron Brooks misses free throw 1 of 2
86 - 58
3:57
Kings offensive team rebound
86 - 58
3:57
Andre Miller enters the game for Kosta Koufos
86 - 58
3:57
JaVale McGee enters the game for Ty Lawson
86 - 58
3:57
James Johnson enters the game for Jason Thompson
86 - 58
3:57
Thomas Robinson enters the game for Travis Outlaw
86 - 58
3:57
Aaron Brooks makes free throw 2 of 2
86 - 59
3:46
JaVale McGee makes 2-foot two point shot (Andre Iguodala assists)
88 - 59
3:36
Aaron Brooks makes 25-foot three point jumper
88 - 62
3:19
Jimmer Fredette shooting foul (JaVale McGee draws the foul)
89 - 60
3:19
JaVale McGee makes free throw 1 of 2
89 - 62
3:19
Corey Brewer enters the game for Danilo Gallinari
89 - 62
3:19
JaVale McGee misses free throw 2 of 2
89 - 62
3:18
DeMarcus Cousins defensive rebound
89 - 62
3:15
James Johnson makes layup (Aaron Brooks assists)
89 - 64
3:15
Kenneth Faried defensive goaltending violation
89 - 64
2:58
JaVale McGee misses two point shot
89 - 64
2:57
DeMarcus Cousins defensive rebound
89 - 64
2:48
Aaron Brooks misses 3-foot jumper
89 - 64
2:48
Thomas Robinson offensive rebound
89 - 64
2:45
JaVale McGee blocks Aaron Brooks 's 3-foot layup
89 - 64
2:44
Kings offensive team rebound
89 - 64
2:44
Nuggets Full timeout
89 - 64
2:30
Aaron Brooks misses 25-foot three point jumper
89 - 62
2:28
Corey Brewer defensive rebound
89 - 62
2:12
James Johnson shooting foul (JaVale McGee draws the foul)
89 - 62
2:12
JaVale McGee misses free throw 1 of 2
89 - 62
2:12
Nuggets offensive team rebound
89 - 62
2:12
JaVale McGee makes free throw 2 of 2
90 - 62
2:00
DeMarcus Cousins misses 4-foot jumper
90 - 62
2:00
DeMarcus Cousins offensive rebound
90 - 62
1:59
JaVale McGee shooting foul (DeMarcus Cousins draws the foul)
90 - 62
1:59
DeMarcus Cousins misses free throw 1 of 2
90 - 62
1:59
Kings offensive team rebound
90 - 62
1:59
DeMarcus Cousins makes free throw 2 of 2
90 - 63
1:40
Corey Brewer makes 25-foot three point jumper (Andre Iguodala assists)
93 - 63
1:22
DeMarcus Cousins misses
93 - 63
1:21
Andre Iguodala defensive rebound
93 - 63
1:19
DeMarcus Cousins personal foul (Andre Iguodala draws the foul)
93 - 63
1:19
Andre Iguodala makes free throw 1 of 2
94 - 63
1:19
Isaiah Thomas enters the game for Aaron Brooks
94 - 63
1:19
Andre Iguodala makes free throw 2 of 2
95 - 63
1:19
Isaiah Thomas possession lost ball turnoverCorey Brewer
95 - 63
1:00
JaVale McGee makes dunk (Andre Iguodala assists)
97 - 63
0:51
Thomas Robinson misses 4-foot jumper
97 - 63
0:51
DeMarcus Cousins offensive rebound
97 - 63
0:35
JaVale McGee misses 6-foot jumper
97 - 65
0:35
Thomas Robinson defensive rebound
97 - 65
0:31
Isaiah Thomas traveling
97 - 65
0:31
Jordan Hamilton enters the game for Kenneth Faried
97 - 65
0:07
Jordan Hamilton lost ball turnover (James Johnson steals)
97 - 65
0:04
James Johnson makes dunk (Isaiah Thomas assists)
97 - 67
0:00
Corey Brewer misses 26-foot three point jumper
97 - 67
0:00
Nuggets offensive team rebound
97 - 67
0:00
End of the 3rd Quarter
97 - 67

time
TEAM
PLAY
SCORE
11:41
Jordan Hamilton misses 25-foot three point jumper
97 - 67
11:40
Jimmer Fredette defensive rebound
97 - 67
11:34
Thomas Robinson misses layup
97 - 67
11:32
Andre Miller defensive rebound
97 - 67
11:26
JaVale McGee makes dunk (Andre Miller assists)
99 - 67
11:11
Jimmer Fredette misses 24-foot three point jumper
99 - 67
11:08
Kings offensive team rebound
99 - 67
11:03
Evan Fournier shooting foul (Isaiah Thomas draws the foul)
99 - 67
11:03
Isaiah Thomas makes free throw 1 of 2
99 - 68
11:03
Isaiah Thomas misses free throw 2 of 2
99 - 68
11:03
Corey Brewer defensive rebound
99 - 68
10:40
Evan Fournier makes two point shot
101 - 68
10:15
Andre Miller shooting foul (Isaiah Thomas draws the foul)
101 - 68
10:15
Isaiah Thomas makes free throw 1 of 3
101 - 69
10:15
Isaiah Thomas makes free throw 2 of 3
101 - 70
10:15
Chuck Hayes enters the game for DeMarcus Cousins
101 - 70
10:15
Isaiah Thomas makes free throw 3 of 3
101 - 71
9:55
Evan Fournier misses jumper
101 - 71
9:53
James Johnson defensive rebound
101 - 71
9:48
Isaiah Thomas misses 26-foot three point jumper
101 - 71
9:48
Chuck Hayes offensive rebound
101 - 71
9:41
JaVale McGee blocks Isaiah Thomas 's 5-foot jumper
101 - 71
9:38
Isaiah Thomas offensive rebound
101 - 71
9:38
Jordan Hamilton possession lost ball turnoverIsaiah Thomas
101 - 71
9:34
Isaiah Thomas makes 5-foot jumper
101 - 73
9:18
Corey Brewer makes 23-foot three point jumper (Evan Fournier assists)
104 - 73
9:08
James Johnson misses 20-foot jumper
104 - 73
9:08
Corey Brewer defensive rebound
104 - 73
9:00
Evan Fournier misses 7-foot jumper
104 - 73
9:00
JaVale McGee offensive rebound
104 - 73
8:55
Corey Brewer misses 6-foot jumper
104 - 73
8:53
Jimmer Fredette defensive rebound
104 - 73
8:41
Jimmer Fredette misses 10-foot jumper
104 - 73
8:41
JaVale McGee defensive rebound
104 - 73
8:36
Corey Brewer possession lost ball turnover
104 - 73
8:36
Official timeout
104 - 73
8:36
Timofey Mozgov enters the game for JaVale McGee
104 - 73
8:17
Chuck Hayes makes 7-foot jumper (James Johnson assists)
104 - 75
7:56
Corey Brewer misses 20-foot jumper
104 - 75
7:56
Jimmer Fredette defensive rebound
104 - 75
7:52
Jimmer Fredette misses 4-foot jumper
104 - 75
7:50
Thomas Robinson offensive rebound
104 - 75
7:48
Thomas Robinson makes layup
104 - 77
7:31
Jordan Hamilton misses 7-foot jumper
104 - 77
7:31
Isaiah Thomas defensive rebound
104 - 77
7:22
James Johnson misses 25-foot three point jumper
104 - 77
7:20
Thomas Robinson offensive rebound
104 - 77
7:20
Thomas Robinson bad pass (Evan Fournier steals)
104 - 77
7:16
Evan Fournier bad pass
104 - 77
7:01
Evan Fournier personal foul (Thomas Robinson draws the foul)
104 - 77
7:01
Anthony Randolph enters the game for Jordan Hamilton
104 - 77
6:46
Jimmer Fredette makes 25-foot three point jumper
104 - 80
6:26
Timofey Mozgov makes 2-foot dunk (Corey Brewer assists)
106 - 80
6:18
Anthony Randolph shooting foul (Isaiah Thomas draws the foul)
106 - 80
6:18
Isaiah Thomas makes free throw 1 of 2
106 - 81
6:18
Isaiah Thomas misses free throw 2 of 2
106 - 81
6:16
Corey Brewer defensive rebound
106 - 81
5:52
Corey Brewer misses 21-foot jumper
106 - 81
5:52
Thomas Robinson defensive rebound
106 - 81
5:45
Isaiah Thomas misses 12-foot jumper
106 - 81
5:43
Chuck Hayes offensive rebound
106 - 81
5:41
Jimmer Fredette makes 11-foot jumper (Chuck Hayes assists)
106 - 83
5:30
Isaiah Thomas personal foul (Evan Fournier draws the foul)
106 - 83
5:30
Kings Full timeout
106 - 83
5:13
Evan Fournier makes 25-foot three point jumper
109 - 83
4:50
Thomas Robinson misses 3-foot jumper
109 - 83
4:50
Corey Brewer defensive rebound
109 - 83
4:37
Corey Brewer misses 24-foot three point jumper
109 - 83
4:35
Isaiah Thomas defensive rebound
109 - 83
4:30
Jordan Hamilton enters the game for Andre Miller
109 - 83
4:30
Quincy Miller enters the game for Corey Brewer
109 - 83
4:24
Anthony Randolph shooting foul (Isaiah Thomas draws the foul)
109 - 83
4:24
Isaiah Thomas makes free throw 1 of 2
109 - 84
4:24
Travis Outlaw enters the game for James Johnson
109 - 84
4:24
Isaiah Thomas makes free throw 2 of 2
109 - 85
4:11
Anthony Randolph makes two point shot
111 - 85
3:53
Isaiah Thomas bad pass (Jordan Hamilton steals)
111 - 85
3:36
Quincy Miller misses 22-foot jumper
111 - 85
3:35
Chuck Hayes defensive rebound
111 - 85
3:30
Jimmer Fredette misses 25-foot three point jumper
111 - 85
3:30
Jordan Hamilton defensive rebound
111 - 85
3:18
Anthony Randolph misses 23-foot three point jumper
111 - 85
3:17
Thomas Robinson defensive rebound
111 - 85
3:12
Anthony Randolph personal foul (Isaiah Thomas draws the foul)
111 - 85
3:12
Isaiah Thomas makes free throw 1 of 2
111 - 86
3:12
Isaiah Thomas makes free throw 2 of 2
111 - 87
2:57
Timofey Mozgov lost ball turnover (Chuck Hayes steals)
111 - 87
2:55
Evan Fournier shooting foul (Isaiah Thomas draws the foul)
111 - 87
2:55
Nuggets Full timeout
111 - 87
2:55
Isaiah Thomas makes free throw 1 of 2
111 - 88
2:55
Isaiah Thomas makes free throw 2 of 2
111 - 89
2:41
Jordan Hamilton misses 8-foot jumper
111 - 89
2:40
Anthony Randolph offensive rebound
111 - 89
2:40
Anthony Randolph makes two point shot
113 - 89
2:16
Thomas Robinson misses jumper
113 - 89
2:16
Timofey Mozgov defensive rebound
113 - 89
1:58
Evan Fournier makes layup (Quincy Miller assists)
115 - 89
1:38
Travis Outlaw misses 26-foot three point jumper
115 - 89
1:38
Anthony Randolph defensive rebound
115 - 89
1:31
Travis Outlaw shooting foul (Quincy Miller draws the foul)
115 - 89
1:31
Quincy Miller misses free throw 1 of 2
115 - 89
1:31
Nuggets offensive team rebound
115 - 89
1:31
Quincy Miller makes free throw 2 of 2
116 - 89
1:15
Jimmer Fredette misses 26-foot three point jumper
116 - 89
1:14
Jordan Hamilton defensive rebound
116 - 89
1:08
Timofey Mozgov misses layup
116 - 89
1:07
Timofey Mozgov offensive rebound
116 - 89
1:07
Timofey Mozgov makes layup
118 - 89
1:01
Isaiah Thomas makes 25-foot three point jumper
118 - 92
0:46
Timofey Mozgov misses 15-foot jumper
118 - 92
0:46
Anthony Randolph offensive rebound
118 - 92
0:46
Anthony Randolph makes two point shot
120 - 92
0:37
Jimmer Fredette makes 25-foot three point jumper (Isaiah Thomas assists)
120 - 95
0:26
Thomas Robinson shooting foul (Timofey Mozgov draws the foul)
120 - 95
0:26
Timofey Mozgov makes free throw 1 of 2
121 - 95
0:26
Timofey Mozgov makes free throw 2 of 2
122 - 95
0:15
Jimmer Fredette makes 23-foot jumper
122 - 97
0:00
End of the 4th Quarter
122 - 97
0:00
End of Game
122 - 97
Drake walks into the arena at Air Canada Centre in the middle of the first quarter of Game 4 between the Cavaliers and Raptors.

Kyle Lowry nails a deep 3-pointer to put the Raptors up 11 points in the second quarter, to the delight of Drake courtside.

As DeMarre Carroll plays close defense on LeBron James, he is called for a personal block, visibly upsetting the Raptors bench.
Regular Season Series
DEN wins series 4-0
2015-2016 Northwest Standings
2015-2016 Pacific Standings