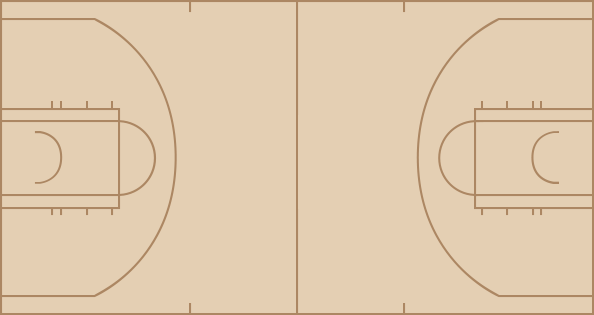 Wizards
time
TEAM
PLAY
SCORE
12:00
Emeka Okafor vs. Marc Gasol (Mike Conley gains possession)
0 - 0
11:45
Marc Gasol misses jumper
0 - 0
11:44
Tony Allen offensive rebound
0 - 0
11:44
Tony Allen misses tip shot
0 - 0
11:41
Emeka Okafor defensive rebound
0 - 0
11:26
Nenê misses 10-foot jumper
0 - 0
11:23
Marc Gasol defensive rebound
0 - 0
11:11
Tony Allen misses 20-foot jumper
0 - 0
11:11
John Wall defensive rebound
0 - 0
10:57
Garrett Temple misses three point jumper
0 - 0
10:56
Marc Gasol defensive rebound
0 - 0
10:45
Zach Randolph makes 20-foot jumper (Mike Conley assists)
0 - 2
10:30
Nenê misses 18-foot jumper
0 - 2
10:30
Zach Randolph defensive rebound
0 - 2
10:19
Jerryd Bayless misses 4-foot jumper
0 - 2
10:19
Emeka Okafor defensive rebound
0 - 2
10:15
Garrett Temple misses layup
0 - 2
10:15
Mike Conley defensive rebound
0 - 2
10:12
Mike Conley lost ball turnover (Garrett Temple steals)
0 - 2
10:07
Martell Webster misses jumper
0 - 2
10:06
Marc Gasol defensive rebound
0 - 2
9:49
Jerryd Bayless misses jumper
0 - 2
9:48
John Wall defensive rebound
0 - 2
9:45
Garrett Temple makes two point shot (John Wall assists)
2 - 2
9:17
Tony Allen misses jumper
2 - 2
9:17
Nenê defensive rebound
2 - 2
9:03
Nenê makes 15-foot two point shot
4 - 2
8:33
Jerryd Bayless makes 21-foot jumper (Zach Randolph assists)
4 - 4
8:21
Emeka Okafor makes layup
6 - 4
7:58
Marc Gasol makes 12-foot jumper (Mike Conley assists)
6 - 6
7:39
Martell Webster makes 25-foot three point jumper (Garrett Temple assists)
9 - 6
7:26
Mike Conley makes driving layup
9 - 8
7:05
John Wall makes three point jumper (Nenê assists)
12 - 8
6:46
Mike Conley misses 26-foot three point jumper
12 - 8
6:45
Emeka Okafor defensive rebound
12 - 8
6:35
Nenê misses 5-foot running hook shot
12 - 8
6:35
Marc Gasol defensive rebound
12 - 8
6:28
Mike Conley misses layup
12 - 8
6:26
Marc Gasol offensive rebound
12 - 8
6:24
Emeka Okafor personal block (Marc Gasol draws the foul)
12 - 8
6:16
Mike Conley makes 22-foot jumper (Marc Gasol assists)
12 - 10
6:09
John Wall bad pass
12 - 10
5:56
Marc Gasol lost ball turnover (Garrett Temple steals)
12 - 10
5:52
Garrett Temple makes layup
14 - 10
5:48
Grizzlies Full timeout
14 - 10
5:48
Tayshaun Prince enters the game for Tony Allen
14 - 10
5:33
Tayshaun Prince makes 22-foot jumper (Mike Conley assists)
14 - 12
5:05
Martell Webster misses 26-foot three point jumper
14 - 12
5:03
Mike Conley defensive rebound
14 - 12
4:52
Jerryd Bayless makes 22-foot jumper (Zach Randolph assists)
14 - 14
4:46
John Wall bad pass (Jerryd Bayless steals)
14 - 14
4:39
Jerryd Bayless misses jumper
14 - 14
4:37
John Wall defensive rebound
14 - 14
4:20
Emeka Okafor makes dunk (John Wall assists)
16 - 14
4:03
Zach Randolph makes two point shot
16 - 16
3:49
Nenê makes 12-foot jumper
18 - 16
3:28
Jerryd Bayless misses 23-foot three point jumper
18 - 16
3:28
John Wall defensive rebound
18 - 16
3:21
John Wall misses 22-foot jumper
18 - 16
3:19
Marc Gasol defensive rebound
18 - 16
3:09
Zach Randolph lost ball turnover (Garrett Temple steals)
18 - 16
3:00
Martell Webster makes 27-foot three point jumper (John Wall assists)
21 - 16
2:42
Mike Conley makes 4-foot jumper
21 - 18
2:42
Nenê shooting foul (Mike Conley draws the foul)
21 - 18
2:42
Wizards Full timeout
21 - 18
2:42
Tony Allen enters the game for Jerryd Bayless
21 - 18
2:42
A.J. Price enters the game for Nenê
21 - 18
2:42
Kevin Seraphin enters the game for Garrett Temple
21 - 18
2:42
Jordan Crawford enters the game for John Wall
21 - 18
2:42
Mike Conley makes free throw 1 of 1
21 - 19
2:24
Kevin Seraphin makes 5-foot two point shot
23 - 19
2:02
Marc Gasol misses running hook shot
23 - 19
2:01
Grizzlies offensive team rebound
23 - 19
2:01
Darrell Arthur enters the game for Zach Randolph
23 - 19
1:50
Mike Conley misses 20-foot jumper
23 - 19
1:50
Marc Gasol offensive rebound
23 - 19
1:42
Marc Gasol makes 15-foot jumper (Tony Allen assists)
23 - 21
1:29
Kevin Seraphin bad pass (Tony Allen steals)
23 - 21
1:07
Jordan Crawford makes 27-foot three point jumper (Kevin Seraphin assists)
26 - 23
0:51
Mike Conley lost ball turnover (Martell Webster steals)
26 - 23
0:50
Tony Allen personal foul (Martell Webster draws the foul)
26 - 23
0:50
Tony Wroten enters the game for Mike Conley
26 - 23
0:50
Trevor Ariza enters the game for Martell Webster
26 - 23
0:39
A.J. Price bad pass (Darrell Arthur steals)
26 - 23
0:32
Tony Wroten bad pass (Emeka Okafor steals)
26 - 23
0:26
Trevor Ariza makes layup (Jordan Crawford assists)
28 - 23
0:07
Tony Wroten bad pass (Trevor Ariza steals)
26 - 23
0:04
Trevor Ariza makes dunk
28 - 23
0:01
A.J. Price personal take foul (Tony Wroten draws the foul)
28 - 23
0:01
Trevor Booker enters the game for Emeka Okafor
28 - 23
0:00
Marc Gasol misses 25-foot three point jumper
28 - 23
0:00
Grizzlies offensive team rebound
30 - 23
0:00
End of the 1st Quarter
30 - 23

time
TEAM
PLAY
SCORE
11:41
A.J. Price misses 25-foot three point jumper
30 - 23
11:41
Trevor Booker offensive rebound
30 - 23
11:22
Trevor Booker makes 22-foot jumper (Trevor Ariza assists)
32 - 23
11:04
Tayshaun Prince makes 6-foot two point shot
32 - 25
10:48
A.J. Price misses 24-foot three point jumper
32 - 25
10:45
Trevor Booker offensive rebound
32 - 25
10:42
Trevor Booker makes 16-foot two point shot (A.J. Price assists)
34 - 25
10:22
Darrell Arthur makes 6-foot two point shot (Marc Gasol assists)
34 - 27
10:07
Marc Gasol blocks Trevor Ariza 's 2-foot layup
34 - 27
10:07
Grizzlies defensive team rebound
34 - 27
10:07
Jerryd Bayless enters the game for Tony Wroten
34 - 27
9:53
Kevin Seraphin personal foul (Marc Gasol draws the foul)
34 - 27
9:41
Marc Gasol offensive foul (Kevin Seraphin draws the foul)
34 - 27
9:41
Marc Gasol turnover
34 - 27
9:15
Trevor Ariza misses 25-foot three point jumper
34 - 27
9:15
Wizards offensive team rebound
34 - 27
9:03
Trevor Booker misses 6-foot jumper
34 - 27
9:03
Jerryd Bayless defensive rebound
34 - 27
8:57
Tony Allen lost ball turnover (Trevor Ariza steals)
34 - 27
8:52
Tayshaun Prince blocks Jordan Crawford 's 24-foot three point jumper
34 - 27
8:49
Tony Allen defensive rebound
34 - 27
8:45
Tayshaun Prince makes jumper (Tony Allen assists)
34 - 29
8:19
Darrell Arthur blocks Trevor Booker 's 8-foot jumper
34 - 29
8:18
Wizards offensive team rebound
34 - 29
8:18
Official timeout
34 - 29
8:18
Zach Randolph enters the game for Marc Gasol
34 - 29
8:18
Ed Davis enters the game for Darrell Arthur
34 - 29
8:02
Trevor Ariza bad pass
34 - 29
7:41
Zach Randolph lost ball turnover (A.J. Price steals)
34 - 29
7:22
Jordan Crawford misses layup
34 - 29
7:18
Tony Allen defensive rebound
34 - 29
7:01
Jerryd Bayless misses 19-foot two point jumper
34 - 29
7:00
Jordan Crawford defensive rebound
34 - 29
6:46
Kevin Seraphin misses 18-foot jumper
34 - 29
6:45
Zach Randolph defensive rebound
34 - 29
6:22
Jerryd Bayless misses 25-foot three point jumper
34 - 29
6:22
Trevor Ariza defensive rebound
34 - 29
6:13
Trevor Ariza misses 23-foot jumper
34 - 29
6:11
Wizards offensive team rebound
34 - 29
6:11
John Wall enters the game for A.J. Price
34 - 29
6:11
Nenê enters the game for Kevin Seraphin
34 - 29
6:07
Jordan Crawford misses 20-foot two point jumper
34 - 29
6:05
Zach Randolph defensive rebound
34 - 29
5:48
Tony Allen makes 19-foot jumper (Tayshaun Prince assists)
34 - 31
5:35
John Wall misses 7-foot Running Jumper
34 - 31
5:33
Ed Davis defensive rebound
34 - 31
5:31
Ed Davis bad pass (Jordan Crawford steals)
34 - 31
5:28
Jordan Crawford misses three point jumper
34 - 31
5:28
Jerryd Bayless defensive rebound
34 - 31
5:11
Zach Randolph misses 14-foot jumper
34 - 31
5:09
John Wall defensive rebound
34 - 31
5:01
Trevor Ariza misses 24-foot three point jumper
34 - 31
5:01
Grizzlies defensive team rebound
34 - 31
5:01
Grizzlies Full timeout
34 - 31
5:01
Emeka Okafor enters the game for Jordan Crawford
34 - 31
5:01
Martell Webster enters the game for Trevor Booker
34 - 31
5:01
Austin Daye enters the game for Tayshaun Prince
34 - 31
4:50
Emeka Okafor shooting foul (Jerryd Bayless draws the foul)
34 - 31
4:50
Jerryd Bayless makes free throw 1 of 2
34 - 32
4:50
Mike Conley enters the game for Tony Allen
34 - 32
4:50
Jerryd Bayless misses free throw 2 of 2
34 - 32
4:48
Austin Daye offensive rebound
34 - 32
4:33
Ed Davis misses 14-foot jumper
34 - 32
4:33
Nenê defensive rebound
34 - 32
4:15
Martell Webster bad pass (Mike Conley steals)
34 - 32
4:15
Nenê loose ball foul (Mike Conley draws the foul)
34 - 32
3:54
Austin Daye misses 18-foot two point jumper
34 - 32
3:51
Zach Randolph offensive rebound
34 - 32
3:48
Zach Randolph misses 4-foot jumper
34 - 32
3:47
Trevor Ariza defensive rebound
34 - 32
3:40
Nenê misses jumper
34 - 32
3:39
Trevor Ariza offensive rebound
34 - 32
3:30
John Wall misses jumper
34 - 32
3:29
Zach Randolph defensive rebound
34 - 32
3:26
Martell Webster shooting foul (Ed Davis draws the foul)
34 - 32
3:26
Ed Davis makes free throw 1 of 2
34 - 33
3:26
A.J. Price enters the game for Trevor Ariza
34 - 33
3:26
Jordan Crawford enters the game for John Wall
34 - 33
3:26
Ed Davis makes free throw 2 of 2
34 - 34
3:09
Ed Davis personal foul (Emeka Okafor draws the foul)
34 - 34
3:09
Marc Gasol enters the game for Ed Davis
34 - 34
2:59
Nenê makes two point shot
36 - 34
2:43
Mike Conley misses 24-foot three point jumper
36 - 34
2:43
Wizards defensive team rebound
36 - 34
2:42
Wizards Full timeout
36 - 34
2:21
Emeka Okafor makes 15-foot jumper (Nenê assists)
38 - 34
2:05
Austin Daye misses 25-foot three point jumper
38 - 34
2:05
Grizzlies offensive team rebound
38 - 34
1:54
Zach Randolph misses 3-foot two point shot
38 - 34
1:53
Nenê defensive rebound
38 - 34
1:47
Jordan Crawford misses 9-foot jumper
38 - 35
1:47
Marc Gasol defensive rebound
38 - 34
1:47
Jordan Crawford technical foul(1st technical foul)
38 - 34
1:47
Austin Daye makes technical free throw
38 - 35
1:32
Mike Conley makes 22-foot jumper (Marc Gasol assists)
38 - 37
1:15
Nenê makes 15-foot jumper
40 - 37
0:55
Jerryd Bayless misses 22-foot jumper
40 - 37
0:55
Wizards defensive team rebound
40 - 37
0:55
Kevin Seraphin enters the game for Nenê
40 - 37
0:55
Trevor Booker enters the game for Emeka Okafor
40 - 37
0:40
Kevin Seraphin misses jumper
40 - 37
0:40
Austin Daye defensive rebound
40 - 37
0:33
Mike Conley misses 4-foot jumper
40 - 37
0:32
Marc Gasol misses tip shot
40 - 37
0:32
Marc Gasol offensive rebound
40 - 37
0:30
Zach Randolph offensive rebound
40 - 37
0:30
Zach Randolph misses layup
40 - 39
0:30
Marc Gasol offensive rebound
40 - 37
0:30
Marc Gasol makes layup
40 - 39
0:17
Jerryd Bayless personal take foul (Jordan Crawford draws the foul)
40 - 39
0:17
Tony Allen enters the game for Jerryd Bayless
40 - 39
0:17
Tayshaun Prince enters the game for Austin Daye
40 - 39
0:17
Darrell Arthur enters the game for Zach Randolph
40 - 39
0:06
Jordan Crawford out of bounds lost ball turnover
40 - 39
0:06
Jerryd Bayless enters the game for Tony Allen
40 - 39
0:06
Zach Randolph enters the game for Darrell Arthur
40 - 39
0:06
Grizzlies 20 Sec. timeout
40 - 39
0:06
Garrett Temple enters the game for Jordan Crawford
40 - 39
0:00
Tayshaun Prince misses 15-foot two point jumper
40 - 39
0:00
Grizzlies offensive team rebound
40 - 39
0:00
End of the 2nd Quarter
40 - 39

time
TEAM
PLAY
SCORE
11:36
John Wall makes 20-foot jumper (Nenê assists)
42 - 39
11:17
John Wall personal foul (Mike Conley draws the foul)
42 - 39
11:02
Marc Gasol misses 17-foot jumper
42 - 39
11:00
John Wall defensive rebound
42 - 39
10:56
Mike Conley shooting foul (John Wall draws the foul)
44 - 39
10:56
John Wall makes free throw 1 of 2
43 - 39
10:56
John Wall makes free throw 2 of 2
44 - 39
10:41
Tony Allen traveling
44 - 39
10:32
John Wall bad pass (Mike Conley steals)
44 - 39
10:26
Tony Allen makes layup (Jerryd Bayless assists)
44 - 41
10:08
Emeka Okafor lost ball turnover (Marc Gasol steals)
44 - 41
9:59
Mike Conley misses 21-foot two point jumper
44 - 41
9:56
Marc Gasol offensive rebound
44 - 41
9:55
Marc Gasol misses 7-foot jumper
44 - 41
9:53
Zach Randolph offensive rebound
44 - 41
9:53
Zach Randolph misses layup
44 - 41
9:52
Emeka Okafor defensive rebound
44 - 41
9:45
John Wall lost ball turnover (Mike Conley steals)
44 - 41
9:30
Marc Gasol makes layup (Zach Randolph assists)
44 - 43
9:30
Emeka Okafor shooting foul (Marc Gasol draws the foul)
44 - 43
9:30
Marc Gasol makes free throw 1 of 1
44 - 44
9:06
John Wall makes 17-foot two point shot
46 - 44
8:52
Nenê personal foul (Zach Randolph draws the foul)
46 - 44
8:42
Zach Randolph traveling
46 - 44
8:18
Martell Webster misses 26-foot three point jumper
46 - 44
8:18
shot clock turnover
46 - 44
8:18
Wizards offensive team rebound
46 - 44
8:07
Jerryd Bayless bad pass
46 - 44
7:50
Nenê makes 18-foot jumper (John Wall assists)
48 - 44
7:31
Marc Gasol misses 19-foot jumper
48 - 44
7:30
Nenê defensive rebound
48 - 44
7:18
Emeka Okafor misses 3-foot hook shot
48 - 44
7:16
Zach Randolph defensive rebound
48 - 44
7:07
Jerryd Bayless makes 19-foot two point shot
48 - 46
6:52
Nenê misses 17-foot jumper
48 - 46
6:50
Tony Allen defensive rebound
48 - 46
6:41
Jerryd Bayless misses 20-foot two point jumper
48 - 46
6:41
Wizards defensive team rebound
48 - 46
6:41
Darrell Arthur enters the game for Zach Randolph
48 - 46
6:41
Tayshaun Prince enters the game for Tony Allen
48 - 46
6:18
Garrett Temple misses 25-foot three point jumper
48 - 46
6:16
Marc Gasol defensive rebound
48 - 46
6:05
Mike Conley makes driving layup
48 - 48
5:45
Nenê misses jumper
48 - 48
5:45
Emeka Okafor offensive rebound
48 - 48
5:45
Emeka Okafor misses tip shot
48 - 48
5:41
Jerryd Bayless defensive rebound
48 - 48
5:39
Martell Webster shooting block foul (Jerryd Bayless draws the foul)
48 - 48
5:39
Grizzlies Full timeout
48 - 48
5:39
Jerryd Bayless makes free throw 1 of 2
48 - 49
5:39
Jerryd Bayless makes free throw 2 of 2
48 - 50
5:26
Nenê offensive foul (Mike Conley draws the foul)
48 - 50
5:26
Nenê turnover
48 - 50
5:26
Kevin Seraphin enters the game for Nenê
48 - 50
5:09
Darrell Arthur makes 19-foot jumper (Tayshaun Prince assists)
48 - 52
4:47
Emeka Okafor makes layup (John Wall assists)
50 - 52
4:20
Jerryd Bayless makes jumper (Tayshaun Prince assists)
50 - 54
4:03
Kevin Seraphin makes two point shot (John Wall assists)
52 - 54
3:40
Tayshaun Prince misses 20-foot jumper
52 - 54
3:40
John Wall defensive rebound
52 - 54
3:34
Jerryd Bayless personal foul (John Wall draws the foul)
52 - 54
3:34
Jordan Crawford enters the game for Garrett Temple
52 - 54
3:34
A.J. Price enters the game for John Wall
52 - 54
3:32
Wizards delay of game violation
52 - 54
3:25
Jordan Crawford misses 9-foot jumper
52 - 54
3:24
Marc Gasol defensive rebound
52 - 54
3:15
Mike Conley makes 24-foot three point jumper (Marc Gasol assists)
52 - 57
2:56
Kevin Seraphin makes 7-foot two point shot
54 - 57
2:35
Marc Gasol misses 7-foot jumper
54 - 57
2:34
Emeka Okafor defensive rebound
54 - 57
2:26
Kevin Seraphin misses 15-foot jumper
54 - 57
2:25
Jerryd Bayless defensive rebound
54 - 57
2:15
Marc Gasol offensive goaltending turnover
54 - 57
2:15
Wizards Full timeout
54 - 57
2:15
Tony Allen enters the game for Jerryd Bayless
54 - 57
2:03
A.J. Price bad pass (Tony Allen steals)
54 - 57
1:49
Tayshaun Prince misses 14-foot jumper
54 - 57
1:47
Jordan Crawford defensive rebound
54 - 57
1:32
A.J. Price makes jumper (Emeka Okafor assists)
56 - 57
1:10
Tony Allen makes 21-foot jumper (Marc Gasol assists)
56 - 59
0:51
A.J. Price misses 26-foot three point jumper
56 - 59
0:50
Marc Gasol defensive rebound
56 - 59
0:43
Tony Allen lost ball turnover (A.J. Price steals)
56 - 59
0:42
Darrell Arthur personal take foul (A.J. Price draws the foul)
56 - 59
0:42
Trevor Ariza enters the game for Martell Webster
56 - 59
0:42
Zach Randolph enters the game for Marc Gasol
56 - 59
0:29
Jordan Crawford offensive Charge (Darrell Arthur draws the foul)
56 - 59
0:29
Jordan Crawford turnover
56 - 59
0:12
Darrell Arthur makes 17-foot jumper (Mike Conley assists)
56 - 61
0:02
Tony Allen blocks Jordan Crawford's jumper
56 - 61
0:00
Zach Randolph defensive rebound
56 - 61
0:00
End of the 3rd Quarter
56 - 61

time
TEAM
PLAY
SCORE
11:36
Tayshaun Prince misses 20-foot jumper
56 - 61
11:36
Grizzlies offensive team rebound
56 - 61
11:36
shot clock turnover
56 - 61
11:12
Zach Randolph blocks Nenê 's shot
56 - 61
11:12
Grizzlies defensive team rebound
56 - 61
10:57
Jerryd Bayless misses 17-foot two point jumper
56 - 61
10:56
Kevin Seraphin defensive rebound
56 - 61
10:36
Jordan Crawford makes 9-foot two point shot
58 - 61
10:36
Darrell Arthur shooting foul (Jordan Crawford draws the foul)
58 - 61
10:36
Jordan Crawford makes free throw 1 of 1
59 - 61
10:17
Zach Randolph makes 15-foot jumper (Tony Allen assists)
59 - 63
9:55
Kevin Seraphin makes layup (Nenê assists)
61 - 63
9:38
Tayshaun Prince makes driving layup
61 - 65
9:14
A.J. Price misses 18-foot jumper
61 - 65
9:12
Kevin Seraphin offensive rebound
61 - 65
8:22
Trevor Ariza makes 25-foot three point jumper (Nenê assists)
66 - 67
7:56
Darrell Arthur misses 5-foot jumper
66 - 67
7:56
Tony Allen makes 3-foot two point shot
66 - 69
7:56
Tony Allen offensive rebound
66 - 67
7:33
Kevin Seraphin misses 8-foot jumper
66 - 69
7:31
Zach Randolph defensive rebound
66 - 69
7:22
Tayshaun Prince makes driving layup
66 - 71
7:20
Wizards Full timeout
66 - 71
7:20
Emeka Okafor enters the game for Kevin Seraphin
66 - 71
7:20
Marc Gasol enters the game for Darrell Arthur
66 - 71
7:05
Nenê makes two point shot
68 - 71
6:41
Emeka Okafor shooting foul (Marc Gasol draws the foul)
68 - 71
6:41
Marc Gasol makes free throw 1 of 2
68 - 72
6:41
Marc Gasol makes free throw 2 of 2
68 - 73
6:24
Nenê misses 18-foot jumper
68 - 73
6:24
Emeka Okafor offensive rebound
68 - 73
6:20
Marc Gasol blocks Emeka Okafor's layup
68 - 73
6:18
Jerryd Bayless defensive rebound
68 - 73
6:18
Jordan Crawford shooting foul (Zach Randolph draws the foul)
68 - 73
6:18
Zach Randolph misses free throw 1 of 2
68 - 73
6:18
Grizzlies offensive team rebound
68 - 73
6:18
Mike Conley enters the game for Jerryd Bayless
68 - 73
6:18
Martell Webster enters the game for Jordan Crawford
68 - 73
6:18
Zach Randolph makes free throw 2 of 2
68 - 74
6:03
A.J. Price makes 8-foot jumper
70 - 74
5:46
Mike Conley misses 13-foot jumper
70 - 74
5:45
A.J. Price defensive rebound
70 - 74
5:33
Trevor Ariza traveling
70 - 74
5:33
Official timeout
70 - 74
5:22
Mike Conley bad pass (Nenê steals)
70 - 74
5:15
Trevor Ariza misses 26-foot three point jumper
70 - 74
5:13
Grizzlies defensive team rebound
70 - 74
5:13
Emeka Okafor loose ball foul (Tony Allen draws the foul)
70 - 74
4:58
Zach Randolph misses 15-foot step back jumpshot
70 - 74
4:54
Emeka Okafor defensive rebound
70 - 74
4:43
Emeka Okafor misses hook shot
70 - 74
4:41
Zach Randolph defensive rebound
70 - 74
4:33
Mike Conley makes two point shot
70 - 76
4:26
Tony Allen personal foul (Trevor Ariza draws the foul)
70 - 76
4:11
A.J. Price makes jumper (Nenê assists)
72 - 76
4:01
Tony Allen offensive foul (A.J. Price draws the foul)
72 - 76
4:01
Tony Allen turnover
72 - 76
3:45
Emeka Okafor misses 18-foot jumper
72 - 76
3:45
Mike Conley defensive rebound
72 - 76
3:31
Marc Gasol makes two point shot
72 - 78
3:00
A.J. Price bad pass (Mike Conley steals)
72 - 78
3:00
Grizzlies Full timeout
72 - 78
3:00
John Wall enters the game for A.J. Price
72 - 78
3:00
Jerryd Bayless enters the game for Tony Allen
72 - 78
2:36
Tayshaun Prince makes jumper (Mike Conley assists)
72 - 80
2:15
Zach Randolph personal foul (Nenê draws the foul)
72 - 80
2:15
Tony Allen enters the game for Jerryd Bayless
72 - 80
2:05
Martell Webster misses three point jumper
72 - 80
2:05
Emeka Okafor offensive rebound
72 - 80
1:59
Nenê misses 20-foot jumper
72 - 80
1:58
Tony Allen defensive rebound
72 - 80
1:39
Zach Randolph misses hook shot
72 - 80
1:38
Tony Allen offensive rebound
72 - 80
1:32
Jerryd Bayless enters the game for Tony Allen
72 - 80
1:32
Jordan Crawford enters the game for Trevor Ariza
72 - 80
1:23
Marc Gasol bad pass (Emeka Okafor steals)
72 - 80
1:16
John Wall misses layup
72 - 80
1:16
Marc Gasol defensive rebound
72 - 80
1:10
Tayshaun Prince makes 17-foot jumper (Mike Conley assists)
72 - 82
1:10
Wizards Full timeout
72 - 82
1:10
Tony Allen enters the game for Jerryd Bayless
72 - 82
1:02
Martell Webster makes driving layup
74 - 82
0:44
Mike Conley misses jumper
74 - 82
0:44
Emeka Okafor defensive rebound
74 - 82
0:37
Nenê makes dunk (Martell Webster assists)
76 - 82
0:34
John Wall personal take foul (Mike Conley draws the foul)
76 - 82
0:32
John Wall personal take foul (Mike Conley draws the foul)
76 - 82
0:32
Mike Conley makes free throw 1 of 2
76 - 83
0:32
Mike Conley makes free throw 2 of 2
76 - 84
0:32
Wizards 20 Sec. timeout
76 - 84
0:24
Martell Webster misses 24-foot three point jumper
76 - 84
0:24
Tony Allen defensive rebound
76 - 84
0:23
John Wall personal take foul (Tony Allen draws the foul)
76 - 84
0:23
Tony Allen misses free throw 1 of 2
76 - 84
0:23
Grizzlies offensive team rebound
76 - 84
0:23
Tony Allen makes free throw 2 of 2
76 - 85
0:12
Tony Allen personal foul (Jordan Crawford draws the foul)
76 - 85
0:02
John Wall misses 25-foot three point jumper
76 - 85
0:01
Tayshaun Prince defensive rebound
76 - 85
0:00
End of the 4th Quarter
76 - 85
0:00
End of Game
76 - 85
The latest notes, updates and analysis on the Pelicans from around the web.

This time last year, LeBron James infamously "scratched" former coach David Blatt's play call. Now, he's playing a different tune under coach Tyronn Lue.

Dan Le Batard is not getting carried away with how the Warriors are playing without Steph Curry, saying Golden State needs a healthy Curry to win a title.
2015-2016 Southeast Standings
2015-2016 Southwest Standings