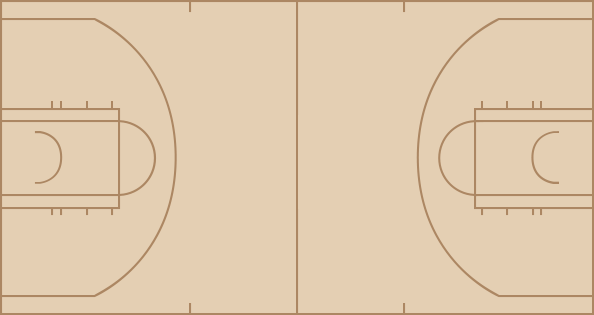 Trail Blazers
time
TEAM
PLAY
SCORE
12:00
J.J. Hickson vs. Nikola Pekovic (Ricky Rubio gains possession)
0 - 0
11:38
Luke Ridnour misses 24-foot three point jumper
0 - 0
11:37
J.J. Hickson defensive rebound
0 - 0
11:26
LaMarcus Aldridge makes 21-foot jumper (Damian Lillard assists)
2 - 0
11:07
Ricky Rubio makes 19-foot jumper (Nikola Pekovic assists)
2 - 2
10:51
Nicolas Batum misses 18-foot jumper
2 - 2
10:49
J.J. Hickson offensive rebound
2 - 2
10:45
Wesley Matthews misses 25-foot three point jumper
2 - 2
10:45
Ricky Rubio defensive rebound
2 - 2
10:30
Derrick Williams misses 16-foot jumper
2 - 2
10:30
Nikola Pekovic misses tip shot
2 - 2
10:30
Nikola Pekovic offensive rebound
2 - 2
10:27
LaMarcus Aldridge defensive rebound
2 - 2
10:18
LaMarcus Aldridge makes 20-foot jumper (Damian Lillard assists)
4 - 2
10:00
Andrei Kirilenko misses 20-foot jumper
4 - 2
10:00
LaMarcus Aldridge defensive rebound
4 - 2
9:45
Damian Lillard makes 20-foot two point shot (LaMarcus Aldridge assists)
6 - 2
9:27
Andrei Kirilenko offensive foul (Nicolas Batum draws the foul)
6 - 2
9:27
Andrei Kirilenko turnover
6 - 2
9:15
Wesley Matthews misses 25-foot three point jumper
6 - 2
9:14
Timberwolves defensive team rebound
6 - 2
9:03
Derrick Williams misses 19-foot jumper
6 - 2
9:02
Nikola Pekovic offensive rebound
6 - 2
8:55
Nikola Pekovic lost ball turnover (Damian Lillard steals)
6 - 2
8:48
Damian Lillard misses 25-foot three point jumper
6 - 2
8:47
Derrick Williams defensive rebound
6 - 2
8:37
Luke Ridnour makes 20-foot two point shot
6 - 4
8:18
Wesley Matthews makes 24-foot three point jumper (LaMarcus Aldridge assists)
9 - 4
7:56
Nikola Pekovic offensive foul (Damian Lillard draws the foul)
9 - 4
7:56
Nikola Pekovic turnover
9 - 4
7:39
Wesley Matthews bad pass (Derrick Williams steals)
9 - 4
7:33
Luke Ridnour makes driving layup
9 - 6
7:13
J.J. Hickson makes 16-foot two point shot
11 - 6
6:52
Nikola Pekovic makes layup
11 - 8
6:33
J.J. Hickson misses 8-foot Running Jumper
11 - 8
6:33
Derrick Williams defensive rebound
11 - 8
6:28
Nicolas Batum blocks Andrei Kirilenko's layup
11 - 8
6:26
J.J. Hickson defensive rebound
11 - 8
6:07
LaMarcus Aldridge misses 19-foot jumper
11 - 8
6:05
Nikola Pekovic defensive rebound
11 - 8
5:56
Luke Ridnour misses two point jumper
11 - 8
5:56
Damian Lillard defensive rebound
11 - 8
5:48
Damian Lillard misses 22-foot step back jumpshot
11 - 8
5:46
LaMarcus Aldridge offensive rebound
11 - 8
5:39
LaMarcus Aldridge lost ball turnover (Luke Ridnour steals)
11 - 8
5:33
Wesley Matthews shooting foul (Ricky Rubio draws the foul)
11 - 8
5:33
Timberwolves Full timeout
11 - 8
5:33
Victor Claver enters the game for Nicolas Batum
11 - 8
5:33
Ricky Rubio misses free throw 1 of 2
11 - 8
5:33
Timberwolves offensive team rebound
11 - 8
5:33
Ricky Rubio makes free throw 2 of 2
11 - 9
5:15
LaMarcus Aldridge makes 17-foot two point shot
13 - 9
4:56
Andrei Kirilenko makes driving dunk
13 - 11
4:41
Wesley Matthews makes 25-foot three point jumper (Damian Lillard assists)
16 - 11
4:24
Ricky Rubio misses 14-foot
16 - 11
4:22
J.J. Hickson defensive rebound
16 - 11
4:15
Damian Lillard makes 19-foot two point shot
18 - 11
4:05
Ricky Rubio misses jump bank shot
18 - 11
4:03
LaMarcus Aldridge defensive rebound
18 - 11
3:53
J.J. Hickson offensive foul (Ricky Rubio draws the foul)
18 - 11
3:53
J.J. Hickson turnover
18 - 11
3:53
Meyers Leonard enters the game for J.J. Hickson
18 - 11
3:53
Nolan Smith enters the game for Damian Lillard
18 - 11
3:39
Ricky Rubio misses 21-foot jumper
18 - 11
3:38
LaMarcus Aldridge defensive rebound
18 - 11
3:29
Ricky Rubio personal foul (Wesley Matthews draws the foul)
18 - 11
3:29
Alexey Shved enters the game for Luke Ridnour
18 - 11
3:29
J.J. Barea enters the game for Ricky Rubio
18 - 11
3:29
Timberwolves delay of game violation
18 - 11
3:23
Wesley Matthews makes 25-foot three point jumper (Nolan Smith assists)
21 - 11
3:02
Nikola Pekovic makes layup (J.J. Barea assists)
21 - 13
3:02
Meyers Leonard shooting foul (Nikola Pekovic draws the foul)
21 - 13
3:02
Nikola Pekovic makes free throw 1 of 1
21 - 14
2:57
Nolan Smith offensive foul (J.J. Barea draws the foul)
21 - 14
2:57
Nolan Smith turnover
21 - 14
2:57
Trail Blazers Full timeout
21 - 14
2:45
Meyers Leonard personal foul (Nikola Pekovic draws the foul)
21 - 14
2:32
Andrei Kirilenko misses 22-foot jumper
21 - 14
2:31
Derrick Williams offensive rebound
21 - 14
2:31
Derrick Williams misses 18-foot jumper
21 - 14
2:30
LaMarcus Aldridge defensive rebound
21 - 14
2:13
LaMarcus Aldridge misses jumper
21 - 14
2:11
Meyers Leonard offensive rebound
21 - 14
2:08
Meyers Leonard bad pass (Andrei Kirilenko steals)
21 - 14
2:04
Nolan Smith personal foul (J.J. Barea draws the foul)
21 - 14
2:04
J.J. Barea makes free throw 1 of 2
21 - 15
2:04
Dante Cunningham enters the game for Derrick Williams
21 - 15
2:04
J.J. Barea makes free throw 2 of 2
21 - 16
1:50
Alexey Shved personal foul (Wesley Matthews draws the foul)
21 - 16
1:42
Meyers Leonard makes two point shot (Wesley Matthews assists)
23 - 16
1:23
Meyers Leonard blocks Nikola Pekovic 's 1-foot layup
23 - 16
1:22
Meyers Leonard defensive rebound
23 - 16
1:15
Wesley Matthews out of bounds lost ball turnover
23 - 16
1:01
Dante Cunningham makes 18-foot jumper (J.J. Barea assists)
23 - 18
0:44
Nolan Smith misses 20-foot jumper
23 - 18
0:43
Victor Claver offensive rebound
23 - 18
0:38
LaMarcus Aldridge makes 18-foot jumper
25 - 18
0:23
Alexey Shved misses 16-foot jumper
25 - 18
0:22
LaMarcus Aldridge defensive rebound
25 - 18
0:04
LaMarcus Aldridge traveling
25 - 18
0:00
Alexey Shved misses 28-foot three point jumper
25 - 18
0:00
Timberwolves offensive team rebound
25 - 18
0:00
End of the 1st Quarter
25 - 18

time
TEAM
PLAY
SCORE
11:44
Damian Lillard makes 16-foot jumper
27 - 18
11:27
Dante Cunningham misses 20-foot jumper
27 - 18
11:26
Trail Blazers defensive team rebound
27 - 18
11:03
Meyers Leonard misses 19-foot jumper
27 - 18
11:03
Greg Stiemsma defensive rebound
27 - 18
10:48
J.J. Barea misses 26-foot three point jumper
27 - 18
10:48
Wesley Matthews defensive rebound
27 - 18
10:26
Wesley Matthews makes 22-foot jumper
29 - 18
10:11
Alexey Shved traveling
29 - 18
10:11
Nicolas Batum enters the game for Wesley Matthews
29 - 18
10:11
Will Barton enters the game for Victor Claver
29 - 18
9:56
Damian Lillard misses 25-foot
29 - 18
9:55
Timberwolves defensive team rebound
29 - 18
9:42
Dante Cunningham misses 18-foot jumper
29 - 18
9:41
Damian Lillard defensive rebound
29 - 18
9:36
Greg Stiemsma blocks Will Barton 's 3-foot jumper
29 - 18
9:34
Trail Blazers offensive team rebound
29 - 18
9:33
Nicolas Batum bad pass (Alexey Shved steals)
29 - 18
9:29
Alexey Shved makes driving layup
29 - 20
9:08
Nicolas Batum misses 25-foot three point jumper
29 - 20
9:07
Dante Cunningham defensive rebound
29 - 20
8:52
J.J. Barea misses 25-foot three point jumper
29 - 20
8:52
Timberwolves offensive team rebound
29 - 20
8:52
Luke Babbitt loose ball foul (Dante Cunningham draws the foul)
29 - 20
8:52
Full timeout
29 - 20
8:52
J.J. Hickson enters the game for Meyers Leonard
29 - 20
8:40
Dante Cunningham makes 6-foot two point shot (J.J. Barea assists)
29 - 22
8:26
J.J. Barea personal foul (Luke Babbitt draws the foul)
29 - 22
8:15
Will Barton misses 24-foot three point jumper
29 - 22
8:15
Greg Stiemsma defensive rebound
29 - 22
8:04
J.J. Barea makes driving layup
29 - 24
7:48
Nicolas Batum makes dunk (Damian Lillard assists)
31 - 24
7:24
Alexey Shved misses 26-foot three point jumper
31 - 24
7:22
Damian Lillard defensive rebound
31 - 24
7:20
Damian Lillard lost ball turnover (J.J. Barea steals)
31 - 24
7:20
Damian Lillard personal foul (J.J. Barea draws the foul)
31 - 24
7:15
Alexey Shved makes driving layup
31 - 26
7:07
Damian Lillard makes driving layup
33 - 26
7:07
Greg Stiemsma shooting foul (Damian Lillard draws the foul)
33 - 26
7:07
Damian Lillard makes free throw 1 of 1
34 - 26
6:52
Alexey Shved bad pass (Damian Lillard steals)
34 - 26
6:50
Greg Stiemsma blocks Damian Lillard's shot
34 - 26
6:50
Trail Blazers offensive team rebound
34 - 26
6:43
J.J. Hickson bad pass
34 - 26
6:33
Alexey Shved misses 21-foot two point jumper
34 - 26
6:33
Nicolas Batum defensive rebound
34 - 26
6:26
Damian Lillard misses 20-foot jumper
34 - 26
6:24
Will Barton offensive rebound
34 - 26
6:20
Will Barton misses 10-foot two point shot
34 - 26
6:18
J.J. Hickson offensive rebound
34 - 26
6:16
J.J. Hickson out of bounds lost ball turnover
34 - 26
5:58
Dante Cunningham misses 20-foot jumper
34 - 26
5:56
Greg Stiemsma makes two point shot
34 - 28
5:56
Greg Stiemsma offensive rebound
34 - 26
5:52
Trail Blazers Full timeout
34 - 28
5:52
LaMarcus Aldridge enters the game for Luke Babbitt
34 - 28
5:41
Nicolas Batum traveling
34 - 28
5:28
Alexey Shved misses 18-foot two point jumper
34 - 28
5:26
LaMarcus Aldridge defensive rebound
34 - 28
5:13
Will Barton makes layup (LaMarcus Aldridge assists)
36 - 28
4:54
J.J. Barea makes 12-foot two point shot
36 - 30
4:33
Nikola Pekovic enters the game for Greg Stiemsma
36 - 30
4:33
Nolan Smith enters the game for Damian Lillard
36 - 30
4:33
Wesley Matthews enters the game for Will Barton
36 - 30
4:30
Wesley Matthews makes 24-foot three point jumper (Nicolas Batum assists)
39 - 30
4:16
J.J. Barea misses 25-foot three point jumper
39 - 30
4:15
LaMarcus Aldridge defensive rebound
39 - 30
3:57
LaMarcus Aldridge makes 4-foot two point shot
41 - 30
3:47
Timberwolves Full timeout
41 - 30
3:47
Ricky Rubio enters the game for J.J. Barea
41 - 30
3:47
Luke Ridnour enters the game for Alexey Shved
41 - 30
3:47
Andrei Kirilenko enters the game for Mickael Gelabale
41 - 30
3:34
Ricky Rubio bad pass (Nolan Smith steals)
41 - 30
3:27
LaMarcus Aldridge misses 14-foot jumper
41 - 30
3:26
Nikola Pekovic defensive rebound
41 - 30
3:08
Dante Cunningham makes 19-foot jumper (Ricky Rubio assists)
41 - 32
2:47
Nolan Smith makes 7-foot jumper (LaMarcus Aldridge assists)
43 - 32
2:35
Nolan Smith personal foul (Luke Ridnour draws the foul)
43 - 32
2:35
Damian Lillard enters the game for Nolan Smith
43 - 32
2:23
J.J. Hickson blocks Nikola Pekovic's shot
43 - 32
2:20
LaMarcus Aldridge defensive rebound
43 - 32
2:04
LaMarcus Aldridge makes 15-foot jumper
45 - 32
1:50
Nikola Pekovic makes layup (Ricky Rubio assists)
45 - 34
1:37
LaMarcus Aldridge makes 19-foot jumper (Damian Lillard assists)
47 - 34
1:19
J.J. Hickson personal foul (Nikola Pekovic draws the foul)
47 - 34
1:19
Mickael Gelabale enters the game for Andrei Kirilenko
47 - 34
1:14
Luke Ridnour misses 19-foot step back jumpshot
47 - 34
1:13
Nikola Pekovic offensive rebound
47 - 34
1:12
Nicolas Batum shooting foul (Nikola Pekovic draws the foul)
47 - 34
1:12
Nikola Pekovic makes free throw 1 of 2
47 - 35
1:12
Nikola Pekovic makes free throw 2 of 2
47 - 36
0:51
Wesley Matthews misses 25-foot three point jumper
47 - 36
0:49
Dante Cunningham defensive rebound
47 - 36
0:40
Ricky Rubio out of bounds lost ball turnover
47 - 36
0:40
Luke Babbitt enters the game for J.J. Hickson
47 - 36
0:34
Wesley Matthews makes 17-foot two point shot
49 - 36
0:21
Mickael Gelabale makes two point shot
49 - 38
0:06
Ricky Rubio personal take foul (Damian Lillard draws the foul)
49 - 38
0:06
Trail Blazers 20 Sec. timeout
49 - 38
0:01
Luke Babbitt misses 28-foot three point jumper
49 - 38
0:00
Trail Blazers offensive team rebound
49 - 38
0:00
End of the 2nd Quarter
49 - 38

time
TEAM
PLAY
SCORE
11:41
Nicolas Batum traveling
49 - 38
11:25
Nicolas Batum blocks Mickael Gelabale 's 10-foot jumper
49 - 38
11:23
J.J. Hickson defensive rebound
49 - 38
11:11
J.J. Hickson offensive foul (Ricky Rubio draws the foul)
49 - 38
11:11
J.J. Hickson turnover
49 - 38
11:02
Damian Lillard kicked ball violation
49 - 38
10:57
Ricky Rubio misses two point shot
49 - 38
10:56
J.J. Hickson defensive rebound
49 - 38
10:44
Wesley Matthews misses 23-foot three point jumper
49 - 38
10:42
Ricky Rubio defensive rebound
49 - 38
10:37
Ricky Rubio bad pass (LaMarcus Aldridge steals)
49 - 38
10:30
Nicolas Batum bad pass (Derrick Williams steals)
49 - 38
10:26
LaMarcus Aldridge shooting foul (Derrick Williams draws the foul)
49 - 38
10:26
Derrick Williams misses free throw 1 of 2
49 - 38
10:26
Timberwolves offensive team rebound
49 - 38
10:26
Derrick Williams makes free throw 2 of 2
49 - 39
10:07
LaMarcus Aldridge makes 16-foot two point shot (Wesley Matthews assists)
51 - 39
9:52
Ricky Rubio makes jumper (Luke Ridnour assists)
51 - 41
9:37
Damian Lillard misses 23-foot jumper
51 - 41
9:36
LaMarcus Aldridge offensive rebound
51 - 41
9:30
Nicolas Batum out of bounds lost ball turnover
51 - 41
9:11
Luke Ridnour makes 17-foot two point shot
51 - 43
8:59
Derrick Williams personal foul (LaMarcus Aldridge draws the foul)
51 - 43
8:47
Nicolas Batum makes 17-foot jumper (Wesley Matthews assists)
53 - 43
8:38
Nikola Pekovic makes two point shot (Luke Ridnour assists)
53 - 45
8:18
Nicolas Batum bad pass (Derrick Williams steals)
53 - 45
8:00
Derrick Williams misses 25-foot three point jumper
53 - 45
7:58
Wesley Matthews defensive rebound
53 - 45
7:43
Wesley Matthews offensive foul (Luke Ridnour draws the foul)
53 - 45
7:43
Wesley Matthews turnover
53 - 45
7:30
Damian Lillard shooting foul (Ricky Rubio draws the foul)
53 - 45
7:30
Ricky Rubio makes free throw 1 of 2
53 - 46
7:30
Ricky Rubio makes free throw 2 of 2
53 - 47
7:09
Nikola Pekovic shooting foul (Damian Lillard draws the foul)
53 - 47
7:09
Damian Lillard makes free throw 1 of 2
54 - 47
7:09
Damian Lillard makes free throw 2 of 2
55 - 47
7:05
LaMarcus Aldridge personal foul (Ricky Rubio draws the foul)
55 - 47
7:01
Derrick Williams bad pass
55 - 47
6:48
Damian Lillard bad pass (Nikola Pekovic steals)
55 - 47
6:43
Mickael Gelabale misses alley pop dunk shot
55 - 47
6:41
Derrick Williams offensive rebound
55 - 47
6:41
Derrick Williams misses layup
55 - 47
6:39
Timberwolves offensive team rebound
55 - 47
6:30
Ricky Rubio makes 19-foot two point shot
55 - 49
6:18
Mickael Gelabale personal foul (Nicolas Batum draws the foul)
55 - 49
6:13
Damian Lillard makes layup (LaMarcus Aldridge assists)
57 - 49
6:03
Mickael Gelabale makes 25-foot three point jumper (Ricky Rubio assists)
57 - 52
5:47
LaMarcus Aldridge misses 15-foot
57 - 52
5:46
Nikola Pekovic defensive rebound
57 - 52
5:28
Damian Lillard shooting foul (Ricky Rubio draws the foul)
57 - 52
5:28
Timberwolves Full timeout
57 - 52
5:28
Victor Claver enters the game for Nicolas Batum
57 - 52
5:28
Ricky Rubio makes free throw 1 of 2
57 - 53
5:28
Ricky Rubio makes free throw 2 of 2
57 - 54
5:09
Derrick Williams shooting foul (LaMarcus Aldridge draws the foul)
57 - 54
5:09
LaMarcus Aldridge makes free throw 1 of 2
58 - 54
5:09
LaMarcus Aldridge misses free throw 2 of 2
58 - 54
5:07
Nikola Pekovic defensive rebound
58 - 54
4:56
Ricky Rubio lost ball turnover (Damian Lillard steals)
58 - 54
4:48
J.J. Hickson makes dunk (Damian Lillard assists)
60 - 54
4:30
Nikola Pekovic misses layup
60 - 54
4:28
J.J. Hickson defensive rebound
60 - 54
4:20
Damian Lillard makes 17-foot jumper
62 - 54
4:03
Luke Ridnour misses 23-foot three point jumper
62 - 54
4:01
Nikola Pekovic offensive rebound
62 - 54
4:00
LaMarcus Aldridge blocks Nikola Pekovic's layup
62 - 54
3:58
Damian Lillard defensive rebound
62 - 54
3:54
J.J. Hickson makes two point shot (Wesley Matthews assists)
64 - 54
3:32
Mickael Gelabale misses 23-foot three point jumper
64 - 54
3:31
LaMarcus Aldridge defensive rebound
64 - 54
3:26
Mickael Gelabale personal foul (Wesley Matthews draws the foul)
64 - 54
3:26
Wesley Matthews makes free throw 1 of 2
65 - 54
3:26
Nolan Smith enters the game for Damian Lillard
65 - 54
3:26
Wesley Matthews makes free throw 2 of 2
66 - 54
3:10
Luke Ridnour makes 20-foot jumper (Ricky Rubio assists)
66 - 56
2:50
LaMarcus Aldridge makes 20-foot jumper (Nolan Smith assists)
68 - 56
2:50
Derrick Williams shooting foul (LaMarcus Aldridge draws the foul)
68 - 56
2:50
Trail Blazers Full timeout
68 - 56
2:50
Alexey Shved enters the game for Mickael Gelabale
68 - 56
2:50
Dante Cunningham enters the game for Derrick Williams
68 - 56
2:50
J.J. Barea enters the game for Ricky Rubio
68 - 56
2:50
LaMarcus Aldridge misses free throw 1 of 1
68 - 56
2:49
Nikola Pekovic defensive rebound
68 - 56
2:33
Alexey Shved misses 26-foot three point jumper
68 - 56
2:32
Victor Claver defensive rebound
68 - 56
2:27
Nolan Smith lost ball turnover (Dante Cunningham steals)
68 - 56
2:21
J.J. Barea bad pass
68 - 56
2:10
Victor Claver misses 23-foot three point jumper
68 - 56
2:08
J.J. Hickson makes 1-foot two point shot
70 - 56
2:08
J.J. Hickson offensive rebound
68 - 56
1:39
shot clock turnover
70 - 56
1:28
Wesley Matthews offensive foul (Luke Ridnour draws the foul)
70 - 56
1:28
Wesley Matthews turnover
70 - 56
1:13
Alexey Shved traveling
70 - 56
1:01
LaMarcus Aldridge makes jumper (Nolan Smith assists)
72 - 56
0:41
J.J. Barea misses 14-foot
72 - 56
0:40
Luke Ridnour offensive rebound
72 - 56
0:39
Luke Ridnour makes two point shot
72 - 58
0:20
Nolan Smith makes 23-foot three point jumper (Victor Claver assists)
75 - 58
0:02
Dante Cunningham misses 14-foot jumper
75 - 58
0:00
Nolan Smith defensive rebound
75 - 58
0:00
Luke Ridnour personal foul (Nolan Smith draws the foul)
75 - 58
0:00
Nolan Smith makes free throw 1 of 2
76 - 58
0:00
Nolan Smith makes free throw 2 of 2
77 - 58
0:00
End of the 3rd Quarter
77 - 58

time
TEAM
PLAY
SCORE
11:36
Dante Cunningham makes driving layup
77 - 60
11:21
Nolan Smith bad pass (Greg Stiemsma steals)
77 - 60
11:19
Nolan Smith personal foul (J.J. Barea draws the foul)
77 - 60
11:19
Damian Lillard enters the game for Nolan Smith
77 - 60
11:07
Dante Cunningham makes 19-foot jumper (Ricky Rubio assists)
77 - 62
10:51
Luke Babbitt bad pass (Ricky Rubio steals)
77 - 62
10:47
Damian Lillard shooting foul (Alexey Shved draws the foul)
77 - 62
10:47
Alexey Shved makes free throw 1 of 2
77 - 63
10:47
Alexey Shved misses free throw 2 of 2
77 - 63
10:47
Nicolas Batum defensive rebound
77 - 63
10:33
Damian Lillard makes 17-foot jumper
79 - 63
10:11
Luke Babbitt blocks Alexey Shved 's 2-foot layup
79 - 63
10:10
Victor Claver defensive rebound
79 - 63
10:08
Greg Stiemsma personal foul (Victor Claver draws the foul)
79 - 63
9:48
Victor Claver makes layup (Nicolas Batum assists)
81 - 63
9:27
J.J. Barea makes 25-foot three point jumper (Alexey Shved assists)
81 - 66
9:07
Luke Babbitt makes 25-foot three point jumper (Victor Claver assists)
84 - 66
8:48
Alexey Shved makes 25-foot three point jumper (Ricky Rubio assists)
84 - 69
8:27
Damian Lillard misses 21-foot two point jumper
84 - 69
8:26
J.J. Barea defensive rebound
84 - 69
8:15
Luke Babbitt shooting foul (Dante Cunningham draws the foul)
84 - 70
8:15
Full timeout
84 - 69
8:15
J.J. Hickson enters the game for LaMarcus Aldridge
84 - 69
8:15
Wesley Matthews enters the game for Victor Claver
84 - 69
8:15
Dante Cunningham makes free throw 1 of 2
84 - 70
8:15
Dante Cunningham misses free throw 2 of 2
84 - 70
8:15
Nicolas Batum defensive rebound
84 - 70
8:00
Wesley Matthews makes 12-foot two point shot
86 - 70
7:43
Dante Cunningham misses 19-foot jumper
86 - 70
7:41
Greg Stiemsma offensive rebound
86 - 70
7:35
Luke Babbitt personal foul (Ricky Rubio draws the foul)
86 - 70
7:28
J.J. Barea makes driving layup
86 - 72
7:09
Damian Lillard makes two point shot
88 - 72
6:56
Greg Stiemsma makes layup (Ricky Rubio assists)
88 - 74
6:41
J.J. Barea personal foul (Damian Lillard draws the foul)
88 - 74
6:41
Nikola Pekovic enters the game for Greg Stiemsma
88 - 74
6:33
Luke Babbitt makes 25-foot three point jumper (Wesley Matthews assists)
91 - 74
6:15
Dante Cunningham makes 13-foot two point shot (Alexey Shved assists)
91 - 76
5:48
J.J. Hickson misses 17-foot jumper
91 - 76
5:47
J.J. Barea defensive rebound
91 - 76
5:41
J.J. Barea misses layup
91 - 76
5:39
Timberwolves offensive team rebound
91 - 76
5:39
Timberwolves Full timeout
91 - 76
5:37
J.J. Barea makes layup (Ricky Rubio assists)
91 - 78
5:37
Nicolas Batum defensive goaltending violation
91 - 78
5:18
Luke Babbitt misses 27-foot three point jumper
91 - 78
5:16
Trail Blazers offensive team rebound
91 - 78
5:16
Nikola Pekovic loose ball foul (J.J. Hickson draws the foul)
91 - 78
5:16
LaMarcus Aldridge enters the game for Luke Babbitt
91 - 78
5:07
Wesley Matthews out of bounds lost ball turnover
91 - 78
4:58
Ricky Rubio makes driving layup
91 - 80
4:33
Alexey Shved shooting foul (Wesley Matthews draws the foul)
91 - 80
4:33
Wesley Matthews makes free throw 1 of 2
92 - 80
4:33
Wesley Matthews makes free throw 2 of 2
93 - 80
4:22
Dante Cunningham makes 18-foot jumper (Ricky Rubio assists)
93 - 82
3:59
LaMarcus Aldridge makes 15-foot two point shot
95 - 82
3:46
Dante Cunningham makes 19-foot jumper (Ricky Rubio assists)
95 - 84
3:20
LaMarcus Aldridge misses 21-foot jumper
95 - 84
3:19
Nikola Pekovic defensive rebound
95 - 84
3:10
Dante Cunningham makes 15-foot jumper (Ricky Rubio assists)
95 - 86
3:08
Trail Blazers Full timeout
95 - 86
2:50
Nicolas Batum bad pass (Dante Cunningham steals)
95 - 86
2:38
Dante Cunningham makes two point shot (Ricky Rubio assists)
95 - 88
2:23
Damian Lillard offensive foul (Ricky Rubio draws the foul)
95 - 88
2:23
Damian Lillard turnover
95 - 88
2:14
Wesley Matthews blocks Nikola Pekovic's layup
95 - 88
2:13
J.J. Barea offensive rebound
95 - 88
2:11
J.J. Barea makes two point shot
95 - 90
1:53
Damian Lillard makes 15-foot two point shot
97 - 90
1:46
J.J. Hickson shooting foul (Ricky Rubio draws the foul)
97 - 90
1:46
Ricky Rubio makes free throw 1 of 2
97 - 91
1:46
Ricky Rubio makes free throw 2 of 2
97 - 92
1:31
Damian Lillard misses 13-foot jumper
97 - 92
1:30
Nikola Pekovic defensive rebound
97 - 92
1:07
J.J. Barea misses driving layup
97 - 92
1:07
Wesley Matthews defensive rebound
97 - 92
1:02
Damian Lillard bad pass
97 - 92
1:02
Timberwolves Full timeout
97 - 92
0:57
Nikola Pekovic makes layup (Alexey Shved assists)
97 - 94
0:39
Damian Lillard lost ball turnover (Dante Cunningham steals)
97 - 94
0:36
J.J. Barea makes layup (Ricky Rubio assists)
97 - 96
0:36
Trail Blazers Full timeout
97 - 96
0:36
Luke Babbitt enters the game for J.J. Hickson
97 - 96
0:27
LaMarcus Aldridge makes 21-foot jumper
99 - 96
0:21
Dante Cunningham makes dunk (Ricky Rubio assists)
99 - 98
0:21
J.J. Barea personal take foul (Luke Babbitt draws the foul)
99 - 98
0:21
Luke Babbitt makes free throw 1 of 2
100 - 98
0:21
Luke Babbitt misses free throw 2 of 2
100 - 98
0:21
Alexey Shved defensive rebound
100 - 98
0:07
LaMarcus Aldridge blocks Ricky Rubio 's 8-foot jumper
100 - 98
0:06
LaMarcus Aldridge defensive rebound
100 - 98
0:06
Ricky Rubio personal take foul (LaMarcus Aldridge draws the foul)
100 - 98
0:06
LaMarcus Aldridge misses free throw 1 of 2
100 - 98
0:06
Trail Blazers offensive team rebound
100 - 98
0:06
J.J. Hickson enters the game for Luke Babbitt
100 - 98
0:06
LaMarcus Aldridge misses free throw 2 of 2
100 - 98
0:06
Alexey Shved defensive rebound
100 - 98
0:05
Timberwolves 20 Sec. timeout
100 - 98
0:00
Dante Cunningham misses 18-foot jumper
100 - 98
0:00
Timberwolves offensive team rebound
100 - 98
0:00
End of the 4th Quarter
100 - 98
0:00
End of Game
100 - 98
Who are the best NBA prospects in the 2017 draft class? Chad Ford gives his top five and previews the big storylines to watch for next year.

The latest notes, updates and analysis on the Lakers from around the web.

Jeff Goodman tells Mike & Mike he's been watching DeMarcus Cousins play since he was 14 and Cousins hasn't matured much as he's gotten older.
Regular Season Series
POR wins series 4-0
2015-2016 Northwest Standings