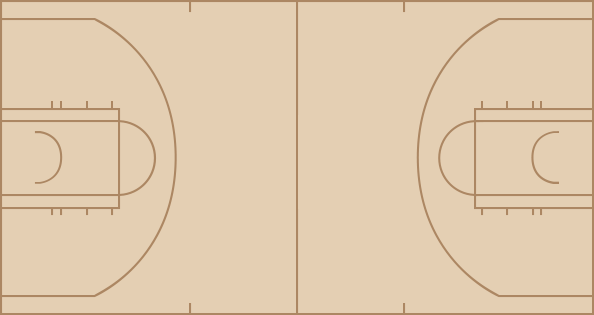 Thunder
time
TEAM
PLAY
SCORE
12:00
Serge Ibaka vs. Bismack Biyombo (Kendrick Perkins gains possession)
0 - 0
11:38
Serge Ibaka makes driving layup
2 - 0
11:17
Gerald Henderson makes 16-foot two point shot (Byron Mullens assists)
2 - 2
10:56
Kevin Durant misses 26-foot three point jumper
2 - 2
10:55
Kemba Walker defensive rebound
2 - 2
10:33
Michael Kidd-Gilchrist makes driving dunk
2 - 4
10:12
Russell Westbrook misses 26-foot three point jumper
2 - 4
10:11
Serge Ibaka makes dunk
4 - 4
10:11
Serge Ibaka offensive rebound
2 - 4
9:41
Kemba Walker makes driving layup
4 - 6
9:22
Kendrick Perkins bad pass (Michael Kidd-Gilchrist steals)
4 - 6
9:15
Michael Kidd-Gilchrist misses 18-foot jumper
4 - 6
8:59
Thabo Sefolosha makes 23-foot three point jumper (Kendrick Perkins assists)
7 - 6
8:48
Gerald Henderson makes driving layup
7 - 8
8:32
Kemba Walker blocks Russell Westbrook 's 6-foot jumper
7 - 8
8:30
Michael Kidd-Gilchrist defensive rebound
7 - 8
8:15
Gerald Henderson makes 23-foot three point jumper (Kemba Walker assists)
7 - 11
8:00
Serge Ibaka makes 19-foot jumper (Russell Westbrook assists)
9 - 11
7:52
Kevin Durant blocks Michael Kidd-Gilchrist's shot
9 - 11
7:50
Thabo Sefolosha defensive rebound
9 - 11
7:43
Serge Ibaka makes dunk
11 - 11
7:35
Gerald Henderson makes driving layup
11 - 13
7:11
Thabo Sefolosha makes driving layup (Kevin Durant assists)
13 - 13
6:50
Byron Mullens makes 26-foot three point jumper (Michael Kidd-Gilchrist assists)
13 - 16
6:33
Bismack Biyombo blocks Russell Westbrook 's 7-foot jumper
13 - 16
6:33
Bismack Biyombo defensive rebound
13 - 16
6:20
Byron Mullens misses 5-foot jumper
13 - 16
6:20
Gerald Henderson offensive rebound
13 - 16
6:11
Byron Mullens misses 26-foot three point jumper
13 - 16
6:09
Thabo Sefolosha defensive rebound
13 - 16
6:09
Byron Mullens personal foul (Thabo Sefolosha draws the foul)
13 - 16
5:50
Kevin Durant makes 10-foot two point shot
15 - 16
5:35
Gerald Henderson makes 17-foot jumper (Byron Mullens assists)
15 - 18
5:18
Thabo Sefolosha makes layup (Kevin Durant assists)
17 - 18
4:58
Bobcats Full timeout
17 - 18
4:58
Kevin Martin enters the game for Kevin Durant
17 - 18
4:58
Ben Gordon enters the game for Michael Kidd-Gilchrist
17 - 18
4:45
Serge Ibaka traveling
17 - 18
4:26
Ben Gordon misses 13-foot jumper
17 - 18
4:24
Thabo Sefolosha defensive rebound
17 - 18
4:05
Serge Ibaka misses 24-foot three point jumper
17 - 18
4:03
Gerald Henderson defensive rebound
17 - 18
4:01
Thabo Sefolosha shooting foul (Kemba Walker draws the foul)
17 - 18
4:01
Kemba Walker makes free throw 1 of 2
17 - 19
4:01
Nick Collison enters the game for Serge Ibaka
17 - 19
4:01
Kemba Walker misses free throw 2 of 2
17 - 19
3:57
Nick Collison defensive rebound
17 - 19
3:43
Kevin Martin makes 25-foot three point jumper (Russell Westbrook assists)
20 - 19
3:26
Kemba Walker misses 26-foot three point jumper
20 - 19
3:24
Ben Gordon offensive rebound
20 - 19
3:17
Kemba Walker makes driving layup (Ben Gordon assists)
20 - 21
3:08
Kemba Walker personal foul (Russell Westbrook draws the foul)
20 - 21
2:59
Thabo Sefolosha out of bounds lost ball turnover
20 - 21
2:59
Thunder Full timeout
20 - 21
2:59
Reggie Jackson enters the game for Kendrick Perkins
20 - 21
2:59
Hasheem Thabeet enters the game for Thabo Sefolosha
20 - 21
2:43
Byron Mullens makes 17-foot jumper (Kemba Walker assists)
20 - 23
2:29
Russell Westbrook makes 11-foot two point shot (Nick Collison assists)
22 - 23
2:10
Byron Mullens misses 26-foot three point jumper
22 - 23
2:09
Reggie Jackson defensive rebound
22 - 23
1:55
Hasheem Thabeet makes layup (Russell Westbrook assists)
24 - 23
1:43
Ben Gordon makes driving layup (Kemba Walker assists)
24 - 25
1:31
Gerald Henderson personal foul (Hasheem Thabeet draws the foul)
24 - 25
1:31
Derek Fisher enters the game for Russell Westbrook
24 - 25
1:31
Brendan Haywood enters the game for Bismack Biyombo
24 - 25
1:31
Jeff Adrien enters the game for Byron Mullens
24 - 25
1:17
Reggie Jackson makes 6-foot jumper
26 - 25
1:02
Ben Gordon misses 25-foot three point jumper
26 - 25
1:00
Jeff Adrien makes two point shot
26 - 27
1:00
Jeff Adrien offensive rebound
26 - 25
0:47
Kevin Martin misses 7-foot jumper
26 - 27
0:45
Ben Gordon defensive rebound
26 - 27
0:40
Hasheem Thabeet shooting foul (Gerald Henderson draws the foul)
26 - 27
0:40
Gerald Henderson makes free throw 1 of 2
26 - 28
0:40
Gerald Henderson makes free throw 2 of 2
26 - 29
0:31
Kevin Martin makes 16-foot two point shot (Reggie Jackson assists)
28 - 29
0:22
Jeff Adrien misses 9-foot jumper
28 - 29
0:21
Kemba Walker offensive rebound
28 - 29
0:17
Kemba Walker lost ball turnover (Derek Fisher steals)
28 - 29
0:01
Reggie Jackson misses 13-foot jumper
28 - 29
0:00
Kemba Walker defensive rebound
28 - 29
0:00
End of the 1st Quarter
28 - 29

time
TEAM
PLAY
SCORE
11:37
Ben Gordon misses 23-foot three point jumper
28 - 29
11:36
Derek Fisher defensive rebound
28 - 29
11:22
Ben Gordon personal foul (Kevin Martin draws the foul)
28 - 29
11:11
Kevin Martin misses 5-foot jumper
28 - 29
11:10
Hasheem Thabeet makes two point shot
30 - 29
11:10
Hasheem Thabeet offensive rebound
28 - 29
10:56
Kemba Walker misses two point shot
30 - 29
10:53
Nick Collison defensive rebound
30 - 29
10:40
Derek Fisher makes 25-foot three point jumper (Nick Collison assists)
33 - 29
10:22
Hasheem Thabeet personal foul (Kemba Walker draws the foul)
33 - 29
10:10
Kemba Walker misses 7-foot Running Jumper
33 - 29
9:45
Reggie Jackson misses layup
33 - 29
9:44
Hasheem Thabeet makes two point shot
35 - 29
9:44
Hasheem Thabeet offensive rebound
33 - 29
9:27
Hasheem Thabeet blocks Ben Gordon 's 1-foot layup
35 - 29
9:26
Derek Fisher defensive rebound
35 - 29
9:23
Reggie Jackson makes layup (Derek Fisher assists)
37 - 29
9:23
Jeff Adrien defensive goaltending violation
37 - 29
9:22
Bobcats Full timeout
37 - 29
9:22
Josh McRoberts enters the game for Kemba Walker
37 - 29
9:22
Byron Mullens enters the game for Brendan Haywood
37 - 29
9:22
Gerald Henderson enters the game for Jeff Adrien
37 - 29
9:22
Reggie Williams enters the game for Jeffery Taylor
37 - 29
9:07
Gerald Henderson misses 14-foot two point shot
37 - 29
9:04
Kevin Martin defensive rebound
37 - 29
8:48
Nick Collison makes driving layup (Derek Fisher assists)
39 - 29
8:37
Byron Mullens bad pass
39 - 29
8:18
Derek Fisher misses 7-foot jumper
39 - 29
8:15
Derek Fisher makes layup
41 - 29
8:15
Derek Fisher offensive rebound
39 - 29
7:58
Ben Gordon misses driving layup
41 - 29
7:56
Kevin Martin defensive rebound
41 - 29
7:48
Kevin Martin bad pass
41 - 29
7:39
Reggie Jackson personal foul (Gerald Henderson draws the foul)
41 - 29
7:39
Michael Kidd-Gilchrist enters the game for Ben Gordon
41 - 29
7:39
Kevin Durant enters the game for Hasheem Thabeet
41 - 29
7:33
Gerald Henderson misses 9-foot jumper
41 - 29
7:31
Bobcats offensive team rebound
41 - 29
7:31
Kemba Walker enters the game for Byron Mullens
41 - 29
7:26
Josh McRoberts misses driving layup
41 - 29
7:24
Kevin Durant defensive rebound
41 - 29
7:16
Kevin Martin makes 23-foot three point jumper (Kevin Durant assists)
44 - 29
6:58
Michael Kidd-Gilchrist misses 17-foot jumper
44 - 29
6:56
Reggie Jackson defensive rebound
44 - 29
6:45
Derek Fisher makes 24-foot three point jumper (Kevin Durant assists)
47 - 29
6:39
Bobcats Full timeout
47 - 29
6:39
Russell Westbrook enters the game for Reggie Jackson
47 - 29
6:26
Josh McRoberts makes 16-foot jumper (Gerald Henderson assists)
47 - 31
6:11
Nick Collison misses layup
47 - 31
6:09
Nick Collison makes two point shot
49 - 31
6:09
Nick Collison offensive rebound
47 - 31
5:58
Gerald Henderson makes layup (Josh McRoberts assists)
49 - 33
5:35
Kevin Durant makes 25-foot three point jumper (Kevin Martin assists)
52 - 33
5:20
Reggie Williams bad pass (Russell Westbrook steals)
52 - 33
5:16
Kevin Durant bad pass (Josh McRoberts steals)
52 - 33
5:09
Reggie Williams misses 26-foot three point jumper
52 - 33
5:07
Reggie Williams offensive rebound
52 - 33
5:03
Reggie Williams makes layup (Kemba Walker assists)
52 - 35
4:46
Kevin Durant misses 8-foot two point shot
52 - 35
4:43
Nick Collison misses tip shot
52 - 35
4:43
Nick Collison offensive rebound
52 - 35
4:41
Michael Kidd-Gilchrist defensive rebound
52 - 35
4:35
Josh McRoberts makes two point shot (Gerald Henderson assists)
52 - 37
4:31
Thunder Full timeout
52 - 37
4:31
Serge Ibaka enters the game for Kevin Martin
52 - 37
4:31
Thabo Sefolosha enters the game for Nick Collison
52 - 37
4:31
Kendrick Perkins enters the game for Derek Fisher
52 - 37
4:31
Ben Gordon enters the game for Michael Kidd-Gilchrist
52 - 37
4:31
Bismack Biyombo enters the game for Reggie Williams
52 - 37
4:15
Kevin Durant misses 19-foot jumper
52 - 37
4:13
Russell Westbrook offensive rebound
52 - 37
4:03
Russell Westbrook misses 17-foot jumper
52 - 37
4:01
Serge Ibaka makes two point shot
54 - 37
4:01
Serge Ibaka offensive rebound
52 - 37
3:47
Ben Gordon makes 24-foot three point jumper (Gerald Henderson assists)
54 - 40
3:29
Russell Westbrook makes driving layup (Serge Ibaka assists)
56 - 40
3:11
Josh McRoberts lost ball turnover (Kendrick Perkins steals)
56 - 40
2:58
Kevin Durant makes 15-foot two point shot
58 - 40
2:48
Gerald Henderson makes 18-foot two point shot
58 - 42
2:26
Kemba Walker personal foul (Kevin Durant draws the foul)
58 - 42
2:18
Russell Westbrook makes 14-foot two point shot
60 - 42
1:55
Bismack Biyombo misses 5-foot two point shot
60 - 42
1:54
Kevin Durant defensive rebound
60 - 42
1:49
Bismack Biyombo shooting foul (Kevin Durant draws the foul)
60 - 42
1:49
Kevin Durant makes free throw 1 of 2
61 - 42
1:49
Kevin Durant makes free throw 2 of 2
62 - 42
1:29
Kendrick Perkins personal foul (Josh McRoberts draws the foul)
62 - 42
1:21
Serge Ibaka blocks Kemba Walker 's 19-foot jumper
62 - 42
1:20
Kendrick Perkins defensive rebound
62 - 42
1:20
Kendrick Perkins traveling
62 - 42
1:20
Kendrick Perkins technical foul(1st technical foul)
62 - 42
1:20
Ben Gordon makes technical free throw
62 - 43
1:07
Bismack Biyombo 3 second turnover
62 - 43
0:56
Russell Westbrook makes 13-foot jumper
64 - 43
0:46
Kendrick Perkins personal foul (Kemba Walker draws the foul)
64 - 45
0:46
Kemba Walker makes free throw 1 of 2
64 - 44
0:46
Kemba Walker makes free throw 2 of 2
64 - 45
0:38
Bismack Biyombo blocks Russell Westbrook's jumper
64 - 45
0:37
Josh McRoberts defensive rebound
64 - 45
0:31
Thabo Sefolosha blocks Kemba Walker's layup
64 - 45
0:29
Bismack Biyombo misses tip shot
64 - 45
0:29
Bismack Biyombo offensive rebound
64 - 45
0:28
Gerald Henderson offensive rebound
64 - 45
0:28
Ben Gordon makes 27-foot three point jumper (Gerald Henderson assists)
64 - 48
0:08
Serge Ibaka misses 23-foot three point jumper
64 - 48
0:07
Bismack Biyombo defensive rebound
64 - 48
0:01
Serge Ibaka shooting foul (Kemba Walker draws the foul)
64 - 50
0:01
Kemba Walker makes free throw 1 of 2
64 - 49
0:01
Kemba Walker makes free throw 2 of 2
64 - 50
0:00
End of the 2nd Quarter
64 - 50

time
TEAM
PLAY
SCORE
11:37
Gerald Henderson misses 4-foot two point shot
64 - 50
11:34
Thabo Sefolosha defensive rebound
64 - 50
11:15
Kendrick Perkins makes 7-foot two point shot
66 - 50
11:10
Serge Ibaka personal foul (Kemba Walker draws the foul)
66 - 50
11:03
Kemba Walker misses 6-foot two point shot
66 - 50
11:00
Bismack Biyombo offensive rebound
66 - 50
10:56
Byron Mullens misses 25-foot three point jumper
66 - 50
10:53
Kemba Walker makes layup
66 - 52
10:53
Kemba Walker offensive rebound
66 - 50
10:37
Russell Westbrook makes 27-foot three point jumper (Kevin Durant assists)
69 - 52
10:25
Serge Ibaka shooting foul (Gerald Henderson draws the foul)
69 - 52
10:25
Gerald Henderson makes free throw 1 of 2
69 - 53
10:25
Gerald Henderson makes free throw 2 of 2
69 - 54
10:12
Gerald Henderson shooting foul (Serge Ibaka draws the foul)
69 - 54
10:12
Serge Ibaka makes free throw 1 of 2
70 - 54
10:12
Serge Ibaka makes free throw 2 of 2
71 - 54
10:04
Thabo Sefolosha kicked ball violation
71 - 54
9:48
Byron Mullens misses 16-foot jumper
71 - 54
9:48
Kevin Durant defensive rebound
71 - 54
9:30
Bismack Biyombo shooting foul (Kendrick Perkins draws the foul)
71 - 54
9:30
Kendrick Perkins misses free throw 1 of 2
71 - 54
9:30
Thunder offensive team rebound
71 - 54
9:30
Kendrick Perkins makes free throw 2 of 2
72 - 54
9:19
Russell Westbrook shooting foul (Bismack Biyombo draws the foul)
72 - 54
9:19
Bismack Biyombo misses free throw 1 of 2
72 - 54
9:19
Bobcats offensive team rebound
72 - 54
9:19
Bismack Biyombo misses free throw 2 of 2
72 - 54
9:18
Kendrick Perkins defensive rebound
72 - 54
9:03
Kevin Durant misses 16-foot jumper
72 - 54
9:02
Gerald Henderson defensive rebound
72 - 54
8:55
Gerald Henderson misses driving layup
72 - 54
8:52
Kendrick Perkins defensive rebound
72 - 54
8:41
Kendrick Perkins makes 16-foot jumper
74 - 54
8:41
Thunder delay of game violation
74 - 54
8:29
Michael Kidd-Gilchrist misses 18-foot jumper
74 - 54
8:27
Serge Ibaka defensive rebound
74 - 54
8:07
Michael Kidd-Gilchrist shooting foul (Kevin Durant draws the foul)
74 - 54
8:07
Kevin Durant makes free throw 1 of 2
75 - 54
8:07
Kevin Durant misses free throw 2 of 2
75 - 54
8:04
Michael Kidd-Gilchrist defensive rebound
75 - 54
7:56
Bismack Biyombo makes layup (Michael Kidd-Gilchrist assists)
75 - 56
7:35
Kevin Durant misses 24-foot three point jumper
75 - 56
7:35
Kemba Walker defensive rebound
75 - 56
7:28
Serge Ibaka blocks Gerald Henderson's layup
75 - 56
7:26
Russell Westbrook defensive rebound
75 - 56
7:16
Kevin Durant misses 13-foot jumper
75 - 56
7:16
Ben Gordon enters the game for Michael Kidd-Gilchrist
75 - 56
7:16
Josh McRoberts enters the game for Byron Mullens
75 - 56
7:01
Kemba Walker bad pass
75 - 56
6:50
Ben Gordon shooting foul (Kevin Durant draws the foul)
75 - 56
6:50
Kevin Durant makes free throw 1 of 2
76 - 56
6:50
Kevin Durant makes free throw 2 of 2
77 - 56
6:39
Kemba Walker misses three point jumper
77 - 56
6:37
Russell Westbrook defensive rebound
77 - 56
6:33
Russell Westbrook bad pass
77 - 56
6:33
Bobcats Full timeout
77 - 56
6:26
Thabo Sefolosha personal foul (Gerald Henderson draws the foul)
77 - 56
6:18
Bismack Biyombo misses 16-foot jumper
77 - 56
6:16
Kevin Durant defensive rebound
77 - 56
5:56
Thabo Sefolosha makes 24-foot three point jumper (Kevin Durant assists)
80 - 56
5:48
Ben Gordon misses 25-foot three point jumper
80 - 56
5:47
Serge Ibaka defensive rebound
80 - 56
5:30
Kevin Durant makes 1-foot dunk (Russell Westbrook assists)
82 - 56
5:16
Serge Ibaka shooting foul (Josh McRoberts draws the foul)
82 - 56
5:16
Josh McRoberts misses free throw 1 of 2
82 - 56
5:16
Bobcats offensive team rebound
82 - 56
5:16
Brendan Haywood enters the game for Bismack Biyombo
82 - 56
5:16
Josh McRoberts makes free throw 2 of 2
82 - 57
5:01
Brendan Haywood blocks Thabo Sefolosha's layup
82 - 57
5:00
Gerald Henderson defensive rebound
82 - 57
5:00
Thabo Sefolosha personal foul (Gerald Henderson draws the foul)
82 - 57
5:00
Gerald Henderson makes free throw 1 of 2
82 - 58
5:00
Gerald Henderson makes free throw 2 of 2
82 - 59
4:35
Russell Westbrook misses 24-foot three point jumper
82 - 59
4:35
Kendrick Perkins offensive rebound
82 - 59
4:31
Gerald Henderson misses jumper
82 - 59
4:30
Kendrick Perkins defensive rebound
82 - 59
4:24
Kevin Durant makes layup (Russell Westbrook assists)
85 - 59
4:24
Brendan Haywood shooting foul (Kevin Durant draws the foul)
85 - 59
4:24
Kevin Durant makes free throw 1 of 1
85 - 59
4:24
Reggie Jackson enters the game for Russell Westbrook
85 - 59
4:13
Kemba Walker misses 25-foot three point jumper
85 - 59
4:11
Kevin Durant defensive rebound
85 - 59
4:09
Kevin Durant palming turnover
85 - 59
3:50
Brendan Haywood makes layup (Gerald Henderson assists)
85 - 61
3:35
Kendrick Perkins misses 17-foot jumper
85 - 61
3:34
Brendan Haywood defensive rebound
85 - 61
3:29
Ben Gordon misses 21-foot two point jumper
85 - 61
3:26
Serge Ibaka defensive rebound
85 - 61
3:19
Kevin Durant makes dunk (Thabo Sefolosha assists)
87 - 61
3:02
Kemba Walker misses 20-foot jumper
87 - 61
3:01
Kevin Durant defensive rebound
87 - 61
2:55
Thabo Sefolosha makes 26-foot three point jumper (Kevin Durant assists)
90 - 61
2:55
Bobcats 20 Sec. timeout
90 - 61
2:55
Thunder Full timeout
90 - 61
2:55
Jeffery Taylor enters the game for Gerald Henderson
90 - 61
2:55
Reggie Williams enters the game for Kemba Walker
90 - 61
2:55
Hasheem Thabeet enters the game for Kevin Durant
90 - 61
2:55
Kevin Martin enters the game for Kendrick Perkins
90 - 61
2:38
Ben Gordon misses 28-foot three point jumper
90 - 61
2:33
Josh McRoberts offensive rebound
90 - 61
2:30
Ben Gordon makes layup (Jeffery Taylor assists)
90 - 63
2:30
Hasheem Thabeet defensive goaltending violation
90 - 63
2:14
Kevin Martin bad pass
90 - 63
2:01
Jeff Adrien enters the game for Josh McRoberts
90 - 63
1:47
Ben Gordon misses 26-foot three point jumper
90 - 63
1:47
Bobcats offensive team rebound
90 - 63
1:47
Hasheem Thabeet loose ball foul (Jeff Adrien draws the foul)
90 - 63
1:47
Jeff Adrien makes free throw 1 of 2
90 - 64
1:47
Jeff Adrien misses free throw 2 of 2
90 - 64
1:45
Serge Ibaka defensive rebound
90 - 64
1:31
Kevin Martin misses 29-foot three point jumper
90 - 64
1:31
Jeff Adrien defensive rebound
90 - 64
1:19
Jeff Adrien makes 15-foot jumper (Ben Gordon assists)
90 - 66
1:05
Serge Ibaka misses 20-foot jumper
90 - 66
1:02
Reggie Williams defensive rebound
90 - 66
0:44
Jeffery Taylor misses 23-foot three point jumper
90 - 66
0:42
Jeff Adrien offensive rebound
90 - 66
0:36
Jeffery Taylor misses
90 - 66
0:35
Serge Ibaka defensive rebound
90 - 66
0:26
Thabo Sefolosha bad pass
90 - 66
0:26
Perry Jones enters the game for Serge Ibaka
90 - 66
0:26
Derek Fisher enters the game for Thabo Sefolosha
90 - 66
0:03
Reggie Williams misses 23-foot three point jumper
90 - 66
0:02
Hasheem Thabeet defensive rebound
90 - 66
0:00
End of the 3rd Quarter
90 - 66

time
TEAM
PLAY
SCORE
11:41
Kevin Martin makes three point jumper (Derek Fisher assists)
93 - 66
11:30
Ben Gordon makes 7-foot two point shot (Reggie Williams assists)
93 - 68
11:30
Reggie Jackson shooting foul (Ben Gordon draws the foul)
93 - 68
11:30
Ben Gordon misses free throw 1 of 1
93 - 68
11:29
Hasheem Thabeet defensive rebound
93 - 68
11:15
Derek Fisher makes 20-foot jumper (Reggie Jackson assists)
95 - 68
11:03
Jeffery Taylor makes 23-foot jumper (Reggie Williams assists)
96 - 70
10:52
Reggie Jackson makes driving layup
98 - 70
10:52
Brendan Haywood shooting foul (Reggie Jackson draws the foul)
98 - 70
10:52
Reggie Jackson makes free throw 1 of 1
99 - 70
10:34
Jeffery Taylor makes 24-foot three point jumper (Jeff Adrien assists)
99 - 73
10:11
Hasheem Thabeet misses 14-foot jumper
99 - 73
10:10
Reggie Williams defensive rebound
99 - 73
9:52
Ben Gordon makes driving layup
99 - 75
9:52
Reggie Jackson shooting foul (Ben Gordon draws the foul)
99 - 76
9:52
Ben Gordon makes free throw 1 of 1
99 - 76
9:30
Derek Fisher makes 26-foot three point jumper
102 - 76
9:08
Reggie Jackson personal foul (Jeff Adrien draws the foul)
102 - 76
9:00
Jeff Adrien misses layup
102 - 76
9:00
Jeff Adrien offensive rebound
102 - 76
9:00
Hasheem Thabeet shooting foul (Jeff Adrien draws the foul)
102 - 76
9:00
Jeff Adrien makes free throw 1 of 2
102 - 77
9:00
Jeff Adrien misses free throw 2 of 2
102 - 77
8:59
Reggie Jackson defensive rebound
102 - 77
8:48
Kevin Martin misses 30-foot three point jumper
102 - 77
8:45
Hasheem Thabeet offensive rebound
102 - 77
8:33
Kevin Martin misses 26-foot three point jumper
102 - 77
8:32
Ben Gordon defensive rebound
102 - 77
8:18
Jeff Adrien makes 4-foot two point shot (Ben Gordon assists)
102 - 79
7:56
Perry Jones misses 6-foot jumper
102 - 79
7:56
Reggie Williams defensive rebound
102 - 79
7:39
Jeffery Taylor misses 26-foot three point jumper
102 - 79
7:37
Brendan Haywood offensive rebound
102 - 79
7:33
Hasheem Thabeet blocks Jeffery Taylor's layup
102 - 79
7:31
Hasheem Thabeet defensive rebound
102 - 79
7:26
Jeff Adrien blocks Kevin Martin's layup
102 - 79
7:26
Thunder offensive team rebound
102 - 79
7:26
Official timeout
102 - 79
7:26
Ronnie Brewer enters the game for Kevin Martin
101 - 79
7:26
Jeremy Lamb enters the game for Derek Fisher
101 - 79
7:26
Bismack Biyombo enters the game for Brendan Haywood
101 - 79
7:26
Michael Kidd-Gilchrist enters the game for Jeff Adrien
101 - 79
7:11
Reggie Jackson makes 12-foot jumper (Ronnie Brewer assists)
103 - 79
7:00
Hasheem Thabeet blocks Ben Gordon 's 2-foot layup
103 - 79
7:00
Bobcats offensive team rebound
103 - 79
6:56
Ben Gordon misses jumper
103 - 79
6:54
Perry Jones defensive rebound
103 - 79
6:33
Reggie Jackson misses 26-foot three point jumper
103 - 79
6:31
Reggie Williams defensive rebound
103 - 79
6:24
Ben Gordon bad pass (Hasheem Thabeet steals)
103 - 79
6:20
Hasheem Thabeet bad pass (Reggie Williams steals)
103 - 79
6:15
Ben Gordon makes 26-foot three point jumper (Reggie Williams assists)
103 - 82
5:47
Reggie Jackson misses 27-foot three point jumper
103 - 82
5:46
Ben Gordon defensive rebound
103 - 82
5:31
Reggie Williams makes 27-foot three point jumper (Jeffery Taylor assists)
103 - 85
5:11
Jeremy Lamb misses 26-foot three point jumper
103 - 85
5:09
Hasheem Thabeet offensive rebound
103 - 85
5:00
Michael Kidd-Gilchrist blocks Hasheem Thabeet's shot
103 - 85
5:00
Perry Jones offensive rebound
103 - 85
5:00
Ben Gordon shooting foul (Perry Jones draws the foul)
103 - 85
5:00
Bobcats Full timeout
103 - 85
5:00
Jeff Adrien enters the game for Ben Gordon
103 - 85
5:00
Perry Jones misses free throw 1 of 2
103 - 85
5:00
Thunder offensive team rebound
103 - 85
5:00
Perry Jones makes free throw 2 of 2
104 - 85
4:50
Hasheem Thabeet shooting foul (Jeffery Taylor draws the foul)
104 - 85
4:50
Jeffery Taylor makes free throw 1 of 2
104 - 86
4:50
Jeffery Taylor misses free throw 2 of 2
104 - 86
4:46
Perry Jones defensive rebound
104 - 86
4:33
Jeremy Lamb makes 17-foot jumper (Reggie Jackson assists)
106 - 86
4:09
Perry Jones blocks Jeffery Taylor 's 2-foot shot
106 - 86
4:07
Bismack Biyombo makes layup
106 - 88
4:07
Bismack Biyombo offensive rebound
106 - 86
3:42
Jeffery Taylor shooting foul (Perry Jones draws the foul)
107 - 88
3:42
Perry Jones makes free throw 1 of 2
107 - 88
3:42
Perry Jones misses free throw 2 of 2
107 - 88
3:40
Jeff Adrien defensive rebound
107 - 88
3:23
Reggie Williams misses 28-foot three point jumper
107 - 88
3:20
Perry Jones defensive rebound
107 - 88
3:10
Jeremy Lamb makes 26-foot three point jumper (Ronnie Brewer assists)
110 - 88
2:47
Jeff Adrien makes 19-foot jumper (Reggie Williams assists)
110 - 90
2:30
Perry Jones makes 17-foot jumper (Reggie Jackson assists)
112 - 90
2:13
Jeffery Taylor makes two point shot
112 - 92
1:47
Hasheem Thabeet makes 11-foot two point shot
114 - 92
1:32
Jeff Adrien makes 19-foot jumper (Reggie Williams assists)
114 - 94
1:13
Reggie Williams personal foul (Reggie Jackson draws the foul)
114 - 94
1:13
Thunder Full timeout
114 - 94
1:00
Perry Jones misses 16-foot jumper
114 - 94
0:59
Jeff Adrien defensive rebound
114 - 94
0:44
Reggie Williams misses 5-foot jump bank shot
114 - 94
0:42
Hasheem Thabeet defensive rebound
114 - 94
0:38
Perry Jones makes two point shot (Reggie Jackson assists)
116 - 94
0:21
Reggie Williams bad pass (Ronnie Brewer steals)
116 - 94
0:00
End of the 4th Quarter
116 - 94
0:00
End of Game
116 - 94
NBA free agency is almost here. With a huge salary cap jump expected, who are the top available players this year? Can the Cavs add a piece for a second title run? Our NBA experts go 5-on-5.

Brett Brown breaks down the 76ers drafting Ben Simmons and how he feels Simmons can improve his shot over time.

Jeff Goodman explains how close the Bulls came to trading Jimmy Butler and what has to happen for Butler to co-exist with coach Fred Hoiberg.
Regular Season Series
OKC wins series 2-0
2015-2016 Northwest Standings