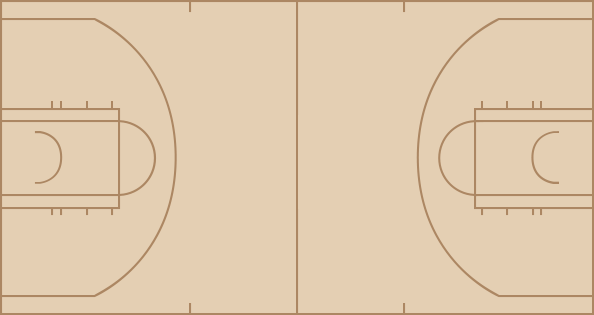 76ers
time
TEAM
PLAY
SCORE
12:00
Spencer Hawes vs. Kosta Koufos (Danilo Gallinari gains possession)
0 - 0
11:37
Kenneth Faried makes 14-foot jumper (Danilo Gallinari assists)
0 - 2
11:12
Jrue Holiday makes 23-foot jumper (Spencer Hawes assists)
2 - 2
10:56
Kenneth Faried misses two point shot
2 - 2
10:55
Spencer Hawes defensive rebound
2 - 2
10:45
Jrue Holiday misses three point jumper
2 - 2
10:44
76ers offensive team rebound
2 - 2
10:44
Kosta Koufos loose ball foul (Spencer Hawes draws the foul)
2 - 2
10:22
Kosta Koufos blocks Spencer Hawes 's 10-foot jumper
2 - 2
10:21
Kenneth Faried defensive rebound
2 - 2
10:14
Kosta Koufos misses layup
2 - 2
10:12
Spencer Hawes defensive rebound
2 - 2
10:04
Evan Turner bad pass
2 - 2
9:41
Kenneth Faried misses 5-foot jumper
2 - 2
9:40
Spencer Hawes defensive rebound
2 - 2
9:33
Damien Wilkins makes 20-foot jumper (Jrue Holiday assists)
4 - 2
9:22
Andre Miller lost ball turnover (Jrue Holiday steals)
4 - 2
9:15
Jrue Holiday makes layup
6 - 2
9:15
76ers delay of game violation
6 - 2
9:02
Danilo Gallinari lost ball turnover (Damien Wilkins steals)
6 - 2
8:56
Thaddeus Young makes layup (Damien Wilkins assists)
8 - 2
8:42
Andre Iguodala misses 25-foot three point jumper
8 - 2
8:41
Kosta Koufos offensive rebound
8 - 2
8:40
Jrue Holiday blocks Kosta Koufos's layup
8 - 2
8:38
Nuggets offensive team rebound
8 - 2
8:30
Jrue Holiday personal foul (Andre Iguodala draws the foul)
8 - 2
8:19
Andre Iguodala bad pass (Thaddeus Young steals)
8 - 2
8:18
Andre Miller personal block (Thaddeus Young draws the foul)
8 - 2
8:08
Evan Turner misses 20-foot jumper
8 - 2
8:07
Kosta Koufos defensive rebound
8 - 2
7:54
Andre Miller makes 12-foot two point shot
8 - 4
7:48
Jrue Holiday misses 15-foot jumper
8 - 4
7:48
Spencer Hawes vs. Kosta Koufos (Spencer Hawes gains possession)
8 - 4
7:48
76ers offensive team rebound
8 - 4
7:33
Damien Wilkins makes two point shot
10 - 4
7:18
Danilo Gallinari makes 26-foot three point jumper
10 - 7
6:56
Andre Iguodala blocks Thaddeus Young's layup
10 - 7
6:54
Kosta Koufos defensive rebound
10 - 7
6:46
Thaddeus Young personal foul (Danilo Gallinari draws the foul)
10 - 7
6:39
Danilo Gallinari lost ball turnover (Damien Wilkins steals)
10 - 7
6:35
Kenneth Faried blocks Thaddeus Young 's 1-foot shot
10 - 7
6:33
Andre Miller defensive rebound
10 - 7
6:28
Danilo Gallinari bad pass (Thaddeus Young steals)
10 - 7
6:13
Damien Wilkins misses 15-foot two point shot
10 - 7
6:13
Kenneth Faried defensive rebound
10 - 7
6:07
Evan Turner personal foul (Andre Iguodala draws the foul)
10 - 7
6:07
Corey Brewer enters the game for Danilo Gallinari
10 - 7
6:07
Arnett Moultrie enters the game for Thaddeus Young
10 - 7
6:07
Royal Ivey enters the game for Evan Turner
10 - 7
5:56
Corey Brewer makes 19-foot jumper
10 - 9
5:45
Royal Ivey misses 20-foot jumper
10 - 9
5:43
Kosta Koufos defensive rebound
10 - 9
5:33
Andre Miller makes 15-foot jumper
10 - 11
5:24
Spencer Hawes makes layup (Jrue Holiday assists)
12 - 11
5:07
Andre Miller misses driving layup
12 - 11
5:07
76ers defensive team rebound
12 - 11
5:07
Nuggets Full timeout
12 - 11
5:07
JaVale McGee enters the game for Kenneth Faried
12 - 11
5:07
Anthony Randolph enters the game for Kosta Koufos
12 - 11
4:41
Jrue Holiday misses 22-foot jumper
12 - 11
4:39
Andre Iguodala defensive rebound
12 - 11
4:28
JaVale McGee offensive goaltending turnover
12 - 11
4:13
Spencer Hawes makes jumper (Jrue Holiday assists)
14 - 11
3:57
Andre Iguodala misses 19-foot jumper
14 - 11
3:56
Arnett Moultrie defensive rebound
14 - 11
3:47
Jrue Holiday misses 2-foot two point shot
14 - 11
3:47
Nuggets defensive team rebound
14 - 11
3:34
JaVale McGee offensive foul (Royal Ivey draws the foul)
14 - 11
3:34
JaVale McGee turnover
14 - 11
3:17
Royal Ivey makes 25-foot three point jumper (Jrue Holiday assists)
17 - 11
3:05
JaVale McGee steps out of bounds turnover
17 - 11
2:54
Spencer Hawes misses three point jumper
17 - 11
2:53
Arnett Moultrie offensive rebound
17 - 11
2:48
Spencer Hawes makes three point jumper (Arnett Moultrie assists)
20 - 11
2:32
Andre Miller misses 10-foot jumper
20 - 11
2:32
Spencer Hawes defensive rebound
20 - 11
2:26
Andre Iguodala personal foul (Jrue Holiday draws the foul)
20 - 11
2:26
76ers Full timeout
20 - 11
2:26
Evan Turner enters the game for Spencer Hawes
20 - 11
2:26
Thaddeus Young enters the game for Damien Wilkins
20 - 11
2:26
Dorell Wright enters the game for Jrue Holiday
20 - 11
2:20
Evan Turner bad pass
20 - 11
2:01
Andre Iguodala misses layup
20 - 11
2:00
Andre Iguodala offensive rebound
20 - 11
2:00
Andre Iguodala makes two point shot
20 - 13
1:39
Royal Ivey misses three point jumper
20 - 13
1:39
Arnett Moultrie offensive rebound
20 - 13
1:35
JaVale McGee blocks Arnett Moultrie's layup
20 - 13
1:34
JaVale McGee defensive rebound
20 - 13
1:28
Anthony Randolph makes layup (JaVale McGee assists)
20 - 15
1:13
Andre Miller personal block (Thaddeus Young draws the foul)
20 - 15
1:13
Evan Fournier enters the game for Andre Miller
20 - 15
0:57
Dorell Wright misses 25-foot three point jumper
20 - 15
0:56
Arnett Moultrie offensive rebound
20 - 15
0:55
JaVale McGee shooting foul (Arnett Moultrie draws the foul)
20 - 15
0:55
Arnett Moultrie makes free throw 1 of 2
21 - 15
0:55
Arnett Moultrie makes free throw 2 of 2
22 - 15
0:41
Evan Turner shooting foul (Andre Iguodala draws the foul)
22 - 15
0:41
Andre Iguodala makes free throw 1 of 2
22 - 16
0:41
Charles Jenkins enters the game for Evan Turner
22 - 16
0:41
Andre Iguodala makes free throw 2 of 2
22 - 17
0:23
Thaddeus Young bad pass (Corey Brewer steals)
22 - 17
0:18
Andre Iguodala bad pass (Dorell Wright steals)
22 - 17
0:03
Dorell Wright bad pass (JaVale McGee steals)
22 - 17
0:00
End of the 1st Quarter
22 - 17

time
TEAM
PLAY
SCORE
11:48
Thaddeus Young makes 19-foot jumper (Jrue Holiday assists)
24 - 17
11:33
Andre Iguodala makes dunk
24 - 19
11:25
Jrue Holiday lost ball turnover (Andre Iguodala steals)
24 - 19
11:15
Corey Brewer makes 22-foot three point jumper (Andre Iguodala assists)
24 - 22
10:55
Dorell Wright bad pass (Corey Brewer steals)
24 - 22
10:49
Corey Brewer makes 2-foot driving dunk
24 - 24
10:29
Thaddeus Young makes jumper (Jrue Holiday assists)
26 - 24
10:17
Corey Brewer makes 26-foot three point jumper (Andre Iguodala assists)
26 - 27
10:00
JaVale McGee personal foul (Jrue Holiday draws the foul)
26 - 27
10:00
Damien Wilkins enters the game for Dorell Wright
26 - 27
10:00
Danilo Gallinari enters the game for Anthony Randolph
26 - 27
10:00
Kenneth Faried enters the game for JaVale McGee
26 - 27
9:45
Damien Wilkins makes 19-foot jumper
28 - 27
9:32
Danilo Gallinari makes 26-foot three point jumper (Evan Fournier assists)
28 - 30
9:18
Thaddeus Young makes layup (Jrue Holiday assists)
30 - 30
9:06
Corey Brewer misses 24-foot three point jumper
30 - 30
9:04
Arnett Moultrie defensive rebound
30 - 30
8:57
Charles Jenkins misses 15-foot jumper
30 - 30
8:56
Danilo Gallinari defensive rebound
30 - 30
8:51
Danilo Gallinari lost ball turnover (Jrue Holiday steals)
30 - 30
8:45
Jrue Holiday bad pass (Corey Brewer steals)
30 - 30
8:30
Evan Fournier misses jumper
30 - 30
8:30
Kenneth Faried offensive rebound
30 - 30
8:23
Kenneth Faried makes 4-foot two point shot
30 - 32
8:21
76ers Full timeout
30 - 32
8:21
Andre Miller enters the game for Andre Iguodala
30 - 32
8:21
Spencer Hawes enters the game for Arnett Moultrie
30 - 32
8:10
Damien Wilkins makes 6-foot jumper
32 - 32
8:10
Corey Brewer shooting foul (Damien Wilkins draws the foul)
33 - 32
8:10
Damien Wilkins makes free throw 1 of 1
33 - 32
7:54
Corey Brewer misses 16-foot jumper
33 - 32
7:54
Jrue Holiday defensive rebound
33 - 32
7:48
Damien Wilkins misses layup
33 - 32
7:46
Evan Fournier defensive rebound
33 - 32
7:26
Andre Miller misses 25-foot three point jumper
33 - 32
7:24
Charles Jenkins defensive rebound
33 - 32
7:07
Thaddeus Young misses 15-foot jumper
33 - 32
7:07
Kenneth Faried defensive rebound
33 - 32
7:03
Charles Jenkins personal foul (Danilo Gallinari draws the foul)
33 - 32
7:03
Kosta Koufos enters the game for Evan Fournier
33 - 32
7:03
Royal Ivey enters the game for Charles Jenkins
33 - 32
6:56
Danilo Gallinari misses layup
33 - 32
6:54
Kenneth Faried offensive rebound
33 - 32
6:54
Kenneth Faried misses two point shot
33 - 32
6:52
Jrue Holiday defensive rebound
33 - 32
6:41
Kenneth Faried defensive 3-seconds (Technical Foul)
33 - 32
6:41
Jrue Holiday makes technical free throw
34 - 32
6:33
Thaddeus Young makes layup
36 - 32
6:22
Damien Wilkins personal foul (Danilo Gallinari draws the foul)
36 - 32
6:22
Arnett Moultrie enters the game for Thaddeus Young
36 - 32
6:18
Corey Brewer makes 23-foot three point jumper (Kenneth Faried assists)
36 - 35
6:03
Kosta Koufos blocks Arnett Moultrie 's 6-foot jumper
36 - 35
6:03
Arnett Moultrie offensive rebound
36 - 35
5:58
Corey Brewer blocks Jrue Holiday 's 5-foot jumper
36 - 35
5:58
Kenneth Faried defensive rebound
36 - 35
5:54
Corey Brewer misses 21-foot jumper
36 - 35
5:52
Andre Miller offensive rebound
36 - 35
5:39
Kosta Koufos lost ball turnover (Jrue Holiday steals)
36 - 35
5:31
Spencer Hawes offensive foul (Danilo Gallinari draws the foul)
36 - 35
5:31
Spencer Hawes turnover
36 - 35
5:31
Official timeout
36 - 35
5:13
Corey Brewer makes driving layup (Andre Miller assists)
36 - 37
5:05
Jrue Holiday offensive Charge (Corey Brewer draws the foul)
36 - 37
5:05
Jrue Holiday turnover
36 - 37
5:05
Andre Iguodala enters the game for Corey Brewer
36 - 37
4:41
Andre Miller makes driving layup (Kosta Koufos assists)
36 - 39
4:18
Damien Wilkins makes two point shot (Jrue Holiday assists)
38 - 39
4:01
Danilo Gallinari makes dunk (Andre Miller assists)
38 - 41
3:43
Jrue Holiday makes driving layup (Arnett Moultrie assists)
40 - 41
3:43
Jrue Holiday technical foul(1st technical foul)
40 - 41
3:43
Andre Miller misses technical free throw
40 - 41
3:43
Nuggets offensive team rebound
40 - 41
3:43
Evan Turner enters the game for Jrue Holiday
40 - 41
3:43
Thaddeus Young enters the game for Arnett Moultrie
40 - 41
3:21
Andre Iguodala misses 20-foot jumper
40 - 41
3:20
Kosta Koufos offensive rebound
40 - 41
3:08
Andre Iguodala makes layup (Andre Miller assists)
40 - 43
2:51
Spencer Hawes makes 5-foot two point shot (Damien Wilkins assists)
42 - 43
2:36
Andre Iguodala makes dunk (Andre Miller assists)
42 - 45
2:21
Kosta Koufos blocks Spencer Hawes 's 8-foot jumper
42 - 45
2:21
76ers offensive team rebound
42 - 45
2:21
Nuggets Full timeout
42 - 45
2:21
Anthony Randolph enters the game for Kosta Koufos
42 - 45
2:15
Thaddeus Young misses 18-foot jumper
42 - 45
2:15
Danilo Gallinari defensive rebound
42 - 45
2:09
Andre Miller makes driving layup
42 - 47
1:54
Thaddeus Young makes 18-foot jumper (Royal Ivey assists)
44 - 47
1:28
Andre Miller makes 7-foot two point shot
44 - 49
1:04
Thaddeus Young misses 7-foot hook shot
44 - 49
1:02
Anthony Randolph defensive rebound
44 - 49
0:50
Anthony Randolph lost ball turnover (Damien Wilkins steals)
44 - 49
0:36
Thaddeus Young lost ball turnover (Danilo Gallinari steals)
44 - 49
0:29
Kenneth Faried makes 2-foot two point shot
44 - 51
0:09
Danilo Gallinari personal foul (Evan Turner draws the foul)
44 - 51
0:09
76ers 20 Sec. timeout
44 - 51
0:09
Corey Brewer enters the game for Andre Miller
44 - 51
0:09
Jrue Holiday enters the game for Thaddeus Young
44 - 51
0:00
End of the 2nd Quarter
44 - 51

time
TEAM
PLAY
SCORE
11:41
Damien Wilkins out of bounds lost ball turnover
44 - 51
11:21
Kenneth Faried misses layup
44 - 51
11:18
Kosta Koufos misses tip shot
44 - 51
11:18
Kosta Koufos offensive rebound
44 - 51
11:18
Jrue Holiday defensive rebound
44 - 51
11:11
Evan Turner makes 17-foot jumper
46 - 51
10:56
Danilo Gallinari 3 second turnover
46 - 51
10:37
Damien Wilkins misses three point jumper
46 - 51
10:36
Kosta Koufos defensive rebound
46 - 51
10:17
Danilo Gallinari misses driving layup
46 - 51
10:15
Kosta Koufos makes two point shot
46 - 53
10:15
Kosta Koufos offensive rebound
46 - 53
10:00
Jrue Holiday bad pass
46 - 53
9:41
Andre Miller makes driving layup
46 - 55
9:34
Jrue Holiday makes 25-foot three point jumper
49 - 55
9:21
Spencer Hawes blocks Danilo Gallinari 's 7-foot shot
49 - 55
9:18
Spencer Hawes defensive rebound
49 - 55
9:12
Damien Wilkins makes 19-foot jumper (Jrue Holiday assists)
51 - 55
8:52
Kosta Koufos makes two point shot (Andre Miller assists)
51 - 57
8:40
Kosta Koufos personal foul (Jrue Holiday draws the foul)
51 - 57
8:33
Evan Turner makes 16-foot jumper
53 - 57
8:11
Danilo Gallinari bad pass (Jrue Holiday steals)
53 - 57
8:07
Spencer Hawes offensive Charge (Danilo Gallinari draws the foul)
53 - 57
8:07
Spencer Hawes turnover
53 - 57
7:52
Andre Iguodala lost ball turnover (Evan Turner steals)
53 - 57
7:47
Evan Turner makes layup
55 - 57
7:20
Danilo Gallinari misses 18-foot two point shot
55 - 57
7:20
Nuggets offensive team rebound
55 - 57
7:20
shot clock turnover
55 - 57
7:20
Corey Brewer enters the game for Danilo Gallinari
55 - 57
7:20
Anthony Randolph enters the game for Kenneth Faried
55 - 57
7:05
Spencer Hawes makes driving layup
57 - 57
6:48
Spencer Hawes blocks Corey Brewer 's 2-foot layup
57 - 57
6:48
Jrue Holiday defensive rebound
57 - 57
6:46
Andre Miller shooting foul (Damien Wilkins draws the foul)
57 - 57
6:46
Damien Wilkins misses free throw 1 of 2
57 - 57
6:46
76ers offensive team rebound
57 - 57
6:46
Damien Wilkins makes free throw 2 of 2
58 - 57
6:26
Anthony Randolph misses 14-foot jumper
58 - 57
6:26
76ers defensive team rebound
58 - 57
6:26
Kosta Koufos loose ball foul (Spencer Hawes draws the foul)
58 - 57
6:11
Damien Wilkins bad pass (Anthony Randolph steals)
58 - 57
5:54
Corey Brewer misses driving layup
58 - 57
5:54
Andre Iguodala offensive rebound
58 - 57
5:46
Anthony Randolph misses layup
58 - 57
5:45
Jrue Holiday defensive rebound
58 - 57
5:43
Corey Brewer personal foul (Damien Wilkins draws the foul)
58 - 57
5:43
Nuggets Full timeout
58 - 57
5:33
Evan Turner misses three point jumper
58 - 57
5:33
Andre Miller defensive rebound
58 - 57
5:26
Andre Miller makes driving layup
58 - 59
5:13
Damien Wilkins makes three point jumper (Jrue Holiday assists)
61 - 59
4:50
Andre Iguodala lost ball turnover (Evan Turner steals)
61 - 59
4:43
Evan Turner bad pass (Corey Brewer steals)
61 - 59
4:41
Damien Wilkins shooting foul (Anthony Randolph draws the foul)
61 - 59
4:41
Anthony Randolph makes free throw 1 of 2
61 - 60
4:41
JaVale McGee enters the game for Kosta Koufos
61 - 60
4:41
Arnett Moultrie enters the game for Thaddeus Young
61 - 60
4:41
Anthony Randolph misses free throw 2 of 2
61 - 60
4:39
Spencer Hawes defensive rebound
61 - 60
4:24
Arnett Moultrie makes two point shot (Spencer Hawes assists)
63 - 60
4:13
Spencer Hawes shooting foul (JaVale McGee draws the foul)
63 - 60
4:13
JaVale McGee makes free throw 1 of 2
63 - 61
4:13
Royal Ivey enters the game for Evan Turner
63 - 61
4:13
JaVale McGee misses free throw 2 of 2
63 - 61
4:11
Damien Wilkins defensive rebound
63 - 61
3:46
Damien Wilkins makes three point jumper (Jrue Holiday assists)
66 - 61
3:35
Corey Brewer makes 24-foot three point jumper (Andre Miller assists)
66 - 64
3:24
Anthony Randolph kicked ball violation
66 - 64
3:19
Arnett Moultrie offensive foul (Anthony Randolph draws the foul)
66 - 64
3:19
Arnett Moultrie turnover
66 - 64
3:19
Danilo Gallinari enters the game for Andre Miller
66 - 64
3:03
Corey Brewer misses driving layup
66 - 64
3:01
Arnett Moultrie defensive rebound
66 - 64
2:53
Damien Wilkins bad pass (Anthony Randolph steals)
66 - 64
2:45
Andre Iguodala makes dunk
66 - 66
2:21
Royal Ivey misses 26-foot three point jumper
66 - 66
2:21
Arnett Moultrie offensive rebound
66 - 66
2:02
Arnett Moultrie misses 14-foot jumper
66 - 66
2:01
Anthony Randolph defensive rebound
66 - 66
1:54
Spencer Hawes blocks Anthony Randolph 's 5-foot 2-pt jumper
66 - 66
1:54
Nuggets offensive team rebound
66 - 66
1:54
76ers Full timeout
66 - 66
1:54
Dorell Wright enters the game for Spencer Hawes
66 - 66
1:54
Thaddeus Young enters the game for Damien Wilkins
66 - 66
1:53
Thaddeus Young shooting foul (JaVale McGee draws the foul)
66 - 66
1:53
JaVale McGee makes free throw 1 of 2
66 - 67
1:53
JaVale McGee makes free throw 2 of 2
66 - 68
1:32
Thaddeus Young makes two point shot (Dorell Wright assists)
68 - 68
1:17
Anthony Randolph makes driving dunk (Andre Iguodala assists)
68 - 70
1:00
Jrue Holiday makes 25-foot three point jumper
71 - 70
0:45
Dorell Wright shooting foul (Danilo Gallinari draws the foul)
71 - 70
0:45
Danilo Gallinari makes free throw 1 of 2
71 - 71
0:45
Danilo Gallinari makes free throw 2 of 2
71 - 72
0:30
Jrue Holiday misses 25-foot three point jumper
71 - 72
0:29
Nuggets defensive team rebound
71 - 72
0:06
JaVale McGee makes 4-foot two point shot (Andre Iguodala assists)
71 - 74
0:06
Thaddeus Young shooting foul (JaVale McGee draws the foul)
71 - 75
0:06
JaVale McGee makes free throw 1 of 1
71 - 75
0:02
Dorell Wright misses 26-foot three point jumper
71 - 75
0:00
76ers offensive team rebound
71 - 75
0:00
End of the 3rd Quarter
71 - 75

time
TEAM
PLAY
SCORE
11:41
Corey Brewer misses 16-foot jumper
71 - 75
11:41
JaVale McGee offensive rebound
71 - 75
11:41
JaVale McGee misses tip shot
71 - 75
11:38
JaVale McGee offensive rebound
71 - 75
11:38
JaVale McGee misses tip shot
71 - 75
11:37
Spencer Hawes defensive rebound
71 - 75
11:25
Arnett Moultrie makes 17-foot jumper (Spencer Hawes assists)
73 - 75
11:11
Spencer Hawes shooting foul (Andre Miller draws the foul)
73 - 75
11:11
Andre Miller makes free throw 1 of 2
73 - 76
11:11
Andre Miller misses free throw 2 of 2
73 - 76
11:11
Dorell Wright defensive rebound
73 - 76
10:51
Evan Turner bad pass (Anthony Randolph steals)
73 - 76
10:47
Andre Miller traveling
73 - 76
10:26
Damien Wilkins misses 26-foot three point jumper
73 - 76
10:26
Corey Brewer defensive rebound
73 - 76
10:15
JaVale McGee lost ball turnover (Damien Wilkins steals)
73 - 76
10:08
Damien Wilkins makes layup
75 - 76
9:41
Danilo Gallinari misses 21-foot jumper
75 - 76
9:41
Evan Turner defensive rebound
75 - 76
9:33
Evan Turner misses layup
75 - 76
9:32
Spencer Hawes offensive rebound
75 - 76
9:30
Spencer Hawes makes 2-foot two point shot
77 - 76
9:18
Andre Miller misses 18-foot jumper
77 - 76
9:18
Spencer Hawes defensive rebound
77 - 76
9:03
Arnett Moultrie makes 13-foot jumper (Spencer Hawes assists)
79 - 76
9:02
Nuggets Full timeout
79 - 76
9:02
Kenneth Faried enters the game for Anthony Randolph
79 - 76
8:42
Kenneth Faried misses 8-foot jumper
79 - 76
8:41
Evan Turner defensive rebound
79 - 76
8:21
Evan Turner makes driving layup
81 - 76
8:07
Andre Miller makes 17-foot two point shot
81 - 78
7:48
Evan Turner misses 18-foot jumper
81 - 78
7:47
Kenneth Faried defensive rebound
81 - 78
7:41
Evan Turner shooting foul (Corey Brewer draws the foul)
81 - 78
7:41
Corey Brewer misses free throw 1 of 2
81 - 78
7:41
Nuggets offensive team rebound
81 - 78
7:41
Andre Iguodala enters the game for JaVale McGee
81 - 78
7:41
Thaddeus Young enters the game for Arnett Moultrie
81 - 78
7:41
Jrue Holiday enters the game for Damien Wilkins
81 - 78
7:41
Corey Brewer makes free throw 2 of 2
81 - 79
7:18
Evan Turner makes jumper (Thaddeus Young assists)
83 - 79
6:54
Danilo Gallinari misses 5-foot jumper
83 - 79
6:54
Jrue Holiday defensive rebound
83 - 79
6:41
Thaddeus Young misses two point shot
83 - 79
6:39
Spencer Hawes offensive rebound
83 - 79
6:39
Corey Brewer personal foul (Spencer Hawes draws the foul)
83 - 79
6:39
76ers Full timeout
83 - 79
6:26
Evan Turner makes 17-foot jumper (Jrue Holiday assists)
85 - 79
6:07
Andre Miller misses layup
85 - 79
6:07
Spencer Hawes defensive rebound
85 - 79
6:05
Spencer Hawes lost ball turnover (Andre Miller steals)
85 - 79
6:00
Kenneth Faried makes layup (Andre Miller assists)
85 - 81
5:52
Jrue Holiday bad pass (Corey Brewer steals)
85 - 81
5:48
Corey Brewer makes layup
85 - 83
5:24
Spencer Hawes makes layup (Jrue Holiday assists)
87 - 83
5:15
Corey Brewer misses 18-foot jumper
87 - 83
5:13
Evan Turner defensive rebound
87 - 83
5:13
Kenneth Faried personal foul (Evan Turner draws the foul)
87 - 83
5:13
Damien Wilkins enters the game for Dorell Wright
87 - 83
4:56
Thaddeus Young makes 1-foot dunk (Jrue Holiday assists)
89 - 83
4:37
Andre Miller makes driving layup
89 - 85
4:20
Evan Turner lost ball turnover (Andre Iguodala steals)
89 - 85
4:18
Jrue Holiday shooting foul (Andre Iguodala draws the foul)
89 - 85
4:18
Andre Iguodala makes free throw 1 of 2
89 - 86
4:18
Kosta Koufos enters the game for Kenneth Faried
89 - 86
4:18
Andre Iguodala misses free throw 2 of 2
89 - 86
4:16
Spencer Hawes defensive rebound
89 - 86
4:01
Spencer Hawes makes 19-foot jumper
91 - 86
3:38
Corey Brewer makes jumper
91 - 88
3:31
Thaddeus Young makes two point shot (Jrue Holiday assists)
93 - 88
3:23
Spencer Hawes shooting foul (Andre Miller draws the foul)
93 - 88
3:23
Andre Miller makes free throw 1 of 2
93 - 89
3:23
Andre Miller makes free throw 2 of 2
93 - 90
3:09
Jrue Holiday makes 25-foot three point jumper (Spencer Hawes assists)
96 - 90
2:51
Spencer Hawes blocks Kosta Koufos's hook shot
96 - 90
2:49
Thaddeus Young defensive rebound
96 - 90
2:36
Evan Turner out of bounds lost ball turnover
96 - 90
2:36
Official timeout
96 - 90
2:20
Danilo Gallinari bad pass
96 - 90
2:06
Damien Wilkins makes 15-foot two point shot
98 - 90
2:06
Andre Miller shooting foul (Damien Wilkins draws the foul)
98 - 90
2:06
Damien Wilkins misses free throw 1 of 1
98 - 90
2:04
Danilo Gallinari defensive rebound
98 - 90
1:52
Spencer Hawes shooting foul (Kosta Koufos draws the foul)
98 - 90
1:52
Arnett Moultrie enters the game for Spencer Hawes
98 - 90
1:52
Kosta Koufos misses free throw 1 of 2
98 - 90
1:52
Nuggets offensive team rebound
98 - 90
1:52
Kosta Koufos makes free throw 2 of 2
98 - 91
1:27
Evan Turner misses 26-foot three point jumper
98 - 91
1:24
Danilo Gallinari defensive rebound
98 - 91
1:24
Arnett Moultrie personal foul (Danilo Gallinari draws the foul)
98 - 91
1:24
Danilo Gallinari makes free throw 1 of 2
98 - 92
1:24
Dorell Wright enters the game for Arnett Moultrie
98 - 92
1:24
Anthony Randolph enters the game for Kosta Koufos
98 - 92
1:24
Danilo Gallinari makes free throw 2 of 2
98 - 93
1:00
shot clock turnover
98 - 93
1:00
Nuggets 20 Sec. timeout
98 - 93
0:47
Danilo Gallinari misses 25-foot
98 - 93
0:46
Evan Turner defensive rebound
98 - 93
0:41
Corey Brewer personal foul (Damien Wilkins draws the foul)
98 - 93
0:27
Evan Turner misses layup
98 - 93
0:27
Andre Iguodala defensive rebound
98 - 93
0:25
Anthony Randolph makes dunk (Andre Miller assists)
98 - 95
0:14
Andre Iguodala personal take foul (Jrue Holiday draws the foul)
98 - 95
0:14
Jrue Holiday makes free throw 1 of 2
99 - 95
0:14
Kosta Koufos enters the game for Danilo Gallinari
99 - 95
0:14
Jrue Holiday makes free throw 2 of 2
100 - 95
0:14
Nuggets Full timeout
100 - 95
0:14
Danilo Gallinari enters the game for Kosta Koufos
100 - 95
0:09
Corey Brewer makes 26-foot three point jumper (Danilo Gallinari assists)
100 - 98
0:09
76ers Full timeout
100 - 98
0:09
Charles Jenkins enters the game for Thaddeus Young
100 - 98
0:09
76ers 20 Sec. timeout
100 - 98
0:07
Corey Brewer personal foul (Evan Turner draws the foul)
100 - 98
0:07
Evan Turner misses free throw 1 of 2
100 - 98
0:07
76ers offensive team rebound
100 - 98
0:07
Kosta Koufos enters the game for Danilo Gallinari
100 - 98
0:07
Thaddeus Young enters the game for Charles Jenkins
100 - 98
0:07
Evan Turner misses free throw 2 of 2
100 - 98
0:06
Anthony Randolph defensive rebound
100 - 98
0:06
Nuggets 20 Sec. timeout
100 - 98
0:06
Danilo Gallinari enters the game for Kosta Koufos
100 - 98
0:02
Damien Wilkins shooting foul (Corey Brewer draws the foul)
100 - 98
0:02
Corey Brewer makes free throw 1 of 2
100 - 99
0:02
Corey Brewer makes free throw 2 of 2
100 - 100
0:02
Arnett Moultrie enters the game for Dorell Wright
100 - 100
0:02
JaVale McGee enters the game for Anthony Randolph
100 - 100
0:02
Corey Brewer makes free throw 1 of 2
100 - 101
0:02
76ers 20 Sec. timeout
100 - 101
0:02
Anthony Randolph enters the game for Andre Miller
100 - 101
0:02
Dorell Wright enters the game for Arnett Moultrie
100 - 101
0:02
Anthony Randolph blocks Damien Wilkins 's 23-foot jumper
100 - 101
0:00
76ers offensive team rebound
100 - 101
0:00
End of the 4th Quarter
100 - 101
0:00
End of Game
100 - 101
Does Milwaukee have a great core for the future, or are big moves on the way? Our NBA Insiders debate the future of the Bucks.

Kevin Durant exits Oracle Arena after the Thunder's heartbreaking loss to the Warriors in Game 7 of the Western Conference finals.

The Clippers have promoted Lawrence Frank to executive vice president of basketball operations under Doc Rivers.
Regular Season Series
Series tied 1-1
2015-2016 Atlantic Standings
2015-2016 Northwest Standings