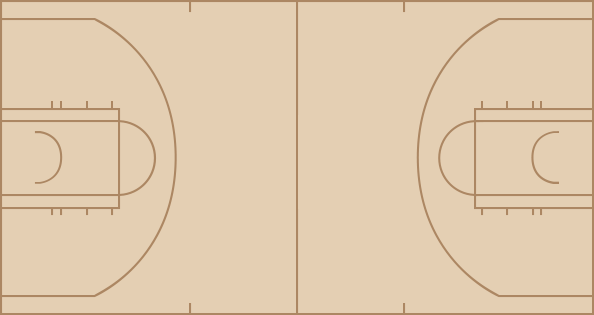 Trail Blazers
time
TEAM
PLAY
SCORE
12:00
Robin Lopez vs. Spencer Hawes (LaMarcus Aldridge gains possession)
0 - 0
11:49
LaMarcus Aldridge bad pass
0 - 0
11:33
Spencer Hawes makes 15-foot two point shot (Evan Turner assists)
0 - 2
11:17
Damian Lillard makes 17-foot jumper
2 - 2
10:57
Thaddeus Young makes driving layup
2 - 4
10:40
Robin Lopez misses layup
2 - 4
10:37
LaMarcus Aldridge makes two point shot
4 - 4
10:37
LaMarcus Aldridge offensive rebound
2 - 4
10:30
Spencer Hawes makes 25-foot three point jumper (Tony Wroten assists)
4 - 7
10:10
LaMarcus Aldridge misses layup
4 - 7
10:08
Spencer Hawes defensive rebound
4 - 7
10:00
Spencer Hawes bad pass (Wesley Matthews steals)
4 - 7
9:49
Wesley Matthews misses 27-foot three point jumper
4 - 7
9:48
Tony Wroten defensive rebound
4 - 7
9:42
Wesley Matthews shooting foul (Tony Wroten draws the foul)
4 - 7
9:42
Tony Wroten misses free throw 1 of 2
4 - 7
9:42
76ers offensive team rebound
4 - 7
9:42
Tony Wroten makes free throw 2 of 2
4 - 8
9:27
Nicolas Batum makes two point shot (Damian Lillard assists)
6 - 8
9:19
Evan Turner misses 10-foot jumper
6 - 8
9:18
LaMarcus Aldridge defensive rebound
6 - 8
9:03
Damian Lillard makes 27-foot three point jumper (Wesley Matthews assists)
9 - 8
8:41
Hollis Thompson makes dunk (Tony Wroten assists)
9 - 10
8:22
LaMarcus Aldridge misses 4-foot jumper
9 - 10
8:21
Robin Lopez offensive rebound
9 - 10
8:19
Robin Lopez misses jumper
9 - 10
8:18
Evan Turner defensive rebound
9 - 10
8:06
Spencer Hawes makes 11-foot two point shot
9 - 12
7:50
Tony Wroten personal foul (Damian Lillard draws the foul)
9 - 12
7:41
Wesley Matthews makes 26-foot three point jumper (Damian Lillard assists)
12 - 12
7:31
Spencer Hawes bad pass
12 - 12
7:24
Damian Lillard makes 27-foot three point jumper
15 - 12
7:18
Thaddeus Young makes layup (Tony Wroten assists)
15 - 14
6:58
Robin Lopez makes layup (Nicolas Batum assists)
17 - 14
6:43
Thaddeus Young makes 26-foot three point jumper (Hollis Thompson assists)
17 - 17
6:30
Nicolas Batum makes driving dunk (LaMarcus Aldridge assists)
19 - 17
6:28
76ers Full timeout
19 - 17
6:09
Evan Turner misses 12-foot jumper
19 - 17
6:09
Wesley Matthews defensive rebound
19 - 17
5:56
Damian Lillard misses three point jumper
19 - 17
5:54
Spencer Hawes defensive rebound
19 - 17
5:43
Tony Wroten misses
19 - 17
5:41
LaMarcus Aldridge defensive rebound
19 - 17
5:33
LaMarcus Aldridge misses 19-foot jumper
19 - 17
5:31
Evan Turner defensive rebound
19 - 17
5:24
Robin Lopez blocks Evan Turner 's 2-foot layup
19 - 17
5:20
Hollis Thompson offensive rebound
19 - 17
5:18
Thaddeus Young misses jumper
19 - 17
5:16
LaMarcus Aldridge defensive rebound
19 - 17
5:03
Nicolas Batum makes 27-foot three point jumper (Damian Lillard assists)
22 - 17
4:54
Hollis Thompson misses jumper
22 - 17
4:52
Nicolas Batum defensive rebound
22 - 17
4:35
Robin Lopez misses jumper
22 - 17
4:33
Thaddeus Young defensive rebound
22 - 17
4:22
Spencer Hawes makes 15-foot two point shot (Tony Wroten assists)
22 - 19
4:03
Wesley Matthews misses 27-foot three point jumper
22 - 19
4:01
Thaddeus Young defensive rebound
22 - 19
3:54
Tony Wroten makes 26-foot three point jumper
22 - 22
3:35
LaMarcus Aldridge makes 19-foot jumper (Nicolas Batum assists)
24 - 22
3:29
Tony Wroten makes 6-foot two point shot
24 - 24
3:29
Nicolas Batum defensive goaltending violation
24 - 24
3:29
Trail Blazers Full timeout
24 - 24
3:29
Joel Freeland enters the game for Robin Lopez
24 - 24
3:29
Mo Williams enters the game for Damian Lillard
24 - 24
3:29
Elliot Williams enters the game for Evan Turner
24 - 24
3:29
James Anderson enters the game for Spencer Hawes
24 - 24
3:29
Lavoy Allen enters the game for Hollis Thompson
24 - 24
3:09
Nicolas Batum bad pass
24 - 24
2:56
Tony Wroten makes 26-foot three point jumper (Thaddeus Young assists)
24 - 27
2:40
Wesley Matthews misses layup
24 - 27
2:36
Wesley Matthews misses layup
24 - 27
2:36
Wesley Matthews offensive rebound
24 - 27
2:34
Thaddeus Young defensive rebound
24 - 27
2:29
Tony Wroten misses layup
24 - 27
2:27
Lavoy Allen misses layup
24 - 27
2:27
Lavoy Allen offensive rebound
24 - 27
2:25
Mo Williams defensive rebound
24 - 27
2:19
Nicolas Batum makes 26-foot three point jumper (Mo Williams assists)
27 - 27
2:02
Thaddeus Young makes driving layup (Tony Wroten assists)
27 - 29
1:50
LaMarcus Aldridge misses two point shot
27 - 29
1:49
Tony Wroten defensive rebound
27 - 29
1:43
Dorell Wright enters the game for Wesley Matthews
27 - 29
1:43
Brandon Davies enters the game for Thaddeus Young
27 - 29
1:43
Lorenzo Brown enters the game for Tony Wroten
27 - 29
1:37
Lavoy Allen misses 19-foot jumper
27 - 29
1:35
Brandon Davies offensive rebound
27 - 29
1:30
Elliot Williams misses jumper
27 - 29
1:28
Joel Freeland defensive rebound
27 - 29
1:16
Dorell Wright makes 25-foot three point jumper (LaMarcus Aldridge assists)
30 - 29
0:58
Lavoy Allen misses 6-foot jumper
30 - 29
0:57
LaMarcus Aldridge defensive rebound
30 - 29
0:51
Joel Freeland makes two point shot (Mo Williams assists)
32 - 29
0:36
James Anderson makes two point shot (Brandon Davies assists)
32 - 31
0:21
Mo Williams bad pass
32 - 31
0:21
Hollis Thompson enters the game for Elliot Williams
32 - 31
0:02
Lavoy Allen makes 26-foot three point jumper (Lorenzo Brown assists)
32 - 34
0:00
Mo Williams misses 37-foot three point jumper
32 - 34
0:00
Trail Blazers offensive team rebound
32 - 34
0:00
End of the 1st Quarter
32 - 34

time
TEAM
PLAY
SCORE
11:44
James Anderson misses layup
32 - 34
11:41
Dorell Wright defensive rebound
32 - 34
11:32
Dorell Wright makes three point jumper (Damian Lillard assists)
35 - 34
11:19
James Anderson makes two point shot (Elliot Williams assists)
35 - 36
11:06
Lavoy Allen defensive 3-seconds (Technical Foul)
35 - 36
11:06
Damian Lillard makes technical free throw
36 - 36
10:57
Mo Williams makes two point shot (Dorell Wright assists)
38 - 36
10:44
Lorenzo Brown misses 4-foot jumper
38 - 36
10:44
Trail Blazers defensive team rebound
38 - 36
10:44
Brandon Davies loose ball foul (Thomas Robinson draws the foul)
38 - 36
10:44
Spencer Hawes enters the game for Lavoy Allen
38 - 36
10:34
Dorell Wright steps out of bounds turnover
38 - 36
10:23
Dorell Wright shooting foul (James Anderson draws the foul)
38 - 36
10:23
James Anderson makes free throw 1 of 2
38 - 37
10:23
James Anderson makes free throw 2 of 2
38 - 38
10:12
Joel Freeland makes jumper (Thomas Robinson assists)
40 - 38
10:03
James Anderson makes two point shot (Brandon Davies assists)
40 - 40
9:47
Thomas Robinson misses layup
40 - 40
9:45
Joel Freeland offensive rebound
40 - 40
9:44
Joel Freeland misses
40 - 40
9:42
Spencer Hawes defensive rebound
40 - 40
9:33
James Anderson makes driving layup
42 - 42
9:22
Mo Williams makes 23-foot three point jumper
45 - 42
8:56
Spencer Hawes misses jumper
43 - 42
8:53
Dorell Wright defensive rebound
43 - 42
8:45
Thomas Robinson misses 19-foot jumper
43 - 42
8:42
Elliot Williams defensive rebound
43 - 42
8:33
Spencer Hawes makes driving layup
43 - 44
8:07
Dorell Wright makes 26-foot three point jumper (Joel Freeland assists)
46 - 44
7:43
James Anderson misses jumper
46 - 44
7:41
Spencer Hawes makes two point shot
46 - 46
7:41
Spencer Hawes offensive rebound
46 - 44
7:33
Lorenzo Brown shooting foul (Thomas Robinson draws the foul)
46 - 46
7:33
Wesley Matthews enters the game for Dorell Wright
46 - 46
7:33
Thomas Robinson misses free throw 1 of 2
46 - 46
7:33
Robin Lopez enters the game for Joel Freeland
46 - 46
7:33
Tony Wroten enters the game for James Anderson
46 - 46
7:33
Evan Turner enters the game for Elliot Williams
46 - 46
7:33
Hollis Thompson enters the game for Brandon Davies
46 - 46
7:33
Thaddeus Young enters the game for Lorenzo Brown
46 - 46
7:33
Trail Blazers offensive team rebound
46 - 46
7:33
Thomas Robinson misses free throw 2 of 2
46 - 46
7:33
null
46 - 46
7:31
Thaddeus Young defensive rebound
46 - 46
7:18
Hollis Thompson makes driving layup (Tony Wroten assists)
46 - 48
7:05
Tony Wroten shooting block foul (Thomas Robinson draws the foul)
46 - 48
7:05
Thomas Robinson makes free throw 1 of 2
47 - 48
7:05
Thomas Robinson makes free throw 2 of 2
48 - 48
6:48
Tony Wroten misses 27-foot three point jumper
48 - 48
6:46
Thomas Robinson defensive rebound
48 - 48
6:39
Damian Lillard misses 26-foot three point jumper
48 - 48
6:37
Spencer Hawes defensive rebound
48 - 48
6:33
Hollis Thompson misses layup
48 - 48
6:30
Wesley Matthews defensive rebound
48 - 48
6:28
Spencer Hawes blocks Damian Lillard 's 3-foot jumper
48 - 48
6:28
Trail Blazers offensive team rebound
48 - 48
6:18
Mo Williams bad pass
48 - 48
6:18
76ers Full timeout
48 - 48
6:03
Tony Wroten bad pass (Thomas Robinson steals)
48 - 48
5:56
Mo Williams misses jumper
48 - 48
5:54
Thomas Robinson misses layup
48 - 48
5:54
Thomas Robinson offensive rebound
48 - 48
5:52
Thomas Robinson offensive rebound
48 - 48
5:50
Wesley Matthews makes 26-foot three point jumper (Thomas Robinson assists)
51 - 48
5:39
Thaddeus Young makes two point shot (Evan Turner assists)
51 - 50
5:22
Robin Lopez makes jumper (Mo Williams assists)
53 - 50
5:07
Damian Lillard shooting foul (Hollis Thompson draws the foul)
53 - 50
5:07
Hollis Thompson makes free throw 1 of 2
53 - 51
5:07
LaMarcus Aldridge enters the game for Thomas Robinson
53 - 51
5:07
Nicolas Batum enters the game for Damian Lillard
53 - 51
5:07
Hollis Thompson misses free throw 2 of 2
53 - 51
5:07
76ers offensive team rebound
53 - 51
5:01
Tony Wroten makes driving layup
53 - 53
4:50
Mo Williams makes 20-foot two point shot
55 - 53
4:30
Thaddeus Young makes 19-foot two point shot
55 - 55
4:13
Mo Williams misses jumper
55 - 55
4:13
Trail Blazers offensive team rebound
55 - 55
4:11
Evan Turner loose ball foul (Robin Lopez draws the foul)
55 - 55
3:54
Nicolas Batum misses 29-foot three point jumper
55 - 55
3:54
Trail Blazers offensive team rebound
55 - 55
3:54
Spencer Hawes loose ball foul (Robin Lopez draws the foul)
57 - 55
3:54
Robin Lopez makes free throw 1 of 2
56 - 55
3:54
Robin Lopez makes free throw 2 of 2
57 - 55
3:43
Robin Lopez blocks Tony Wroten's layup
57 - 55
3:40
LaMarcus Aldridge defensive rebound
57 - 55
3:34
Wesley Matthews misses three point jumper
57 - 55
3:31
Hollis Thompson defensive rebound
57 - 55
3:30
Tony Wroten bad pass (Robin Lopez steals)
57 - 55
3:17
LaMarcus Aldridge lost ball turnover (Thaddeus Young steals)
57 - 55
3:14
Tony Wroten makes driving layup (Evan Turner assists)
57 - 57
2:49
LaMarcus Aldridge misses jumper
57 - 57
2:47
Nicolas Batum makes 7-foot two point shot
59 - 57
2:47
Nicolas Batum offensive rebound
57 - 57
2:28
Spencer Hawes makes 26-foot three point jumper (Evan Turner assists)
59 - 60
2:13
Wesley Matthews makes two point shot (Mo Williams assists)
61 - 60
2:03
Robin Lopez blocks Tony Wroten's layup
61 - 60
2:01
LaMarcus Aldridge defensive rebound
61 - 60
2:01
Spencer Hawes personal foul (Mo Williams draws the foul)
62 - 60
2:01
Trail Blazers Full timeout
61 - 60
2:01
Mo Williams misses free throw 1 of 2
61 - 60
2:01
Lorenzo Brown enters the game for Tony Wroten
61 - 60
2:01
Mo Williams makes free throw 2 of 2
62 - 60
2:01
Trail Blazers offensive team rebound
61 - 60
1:44
Spencer Hawes misses jumper
62 - 60
1:43
Mo Williams defensive rebound
62 - 60
1:32
Robin Lopez makes 18-foot jumper (Wesley Matthews assists)
64 - 60
1:19
Hollis Thompson makes two point shot (Spencer Hawes assists)
64 - 62
1:01
Wesley Matthews misses three point jumper
64 - 62
0:59
LaMarcus Aldridge offensive rebound
64 - 62
0:58
Mo Williams makes 27-foot three point jumper (LaMarcus Aldridge assists)
67 - 62
0:39
Thaddeus Young misses 19-foot jumper
67 - 62
0:38
Mo Williams defensive rebound
67 - 62
0:33
Mo Williams misses three point jumper
67 - 62
0:32
LaMarcus Aldridge makes two point shot
69 - 62
0:32
LaMarcus Aldridge offensive rebound
67 - 62
0:13
Robin Lopez shooting foul (Lorenzo Brown draws the foul)
69 - 62
0:13
Lorenzo Brown makes free throw 1 of 2
69 - 63
0:13
Lavoy Allen enters the game for Spencer Hawes
69 - 63
0:13
Damian Lillard enters the game for Robin Lopez
69 - 63
0:13
Lorenzo Brown makes free throw 2 of 2
69 - 64
0:01
Damian Lillard misses 3-foot jumper
69 - 64
0:01
LaMarcus Aldridge offensive rebound
69 - 64
0:00
LaMarcus Aldridge makes two point shot
71 - 64
0:00
Lavoy Allen shooting foul (LaMarcus Aldridge draws the foul)
71 - 64
0:00
LaMarcus Aldridge misses free throw 1 of 1
71 - 64
0:00
Lavoy Allen defensive rebound
71 - 64
0:00
End of the 2nd Quarter
71 - 64

time
TEAM
PLAY
SCORE
11:45
Wesley Matthews blocks Evan Turner's jumper
71 - 64
11:45
76ers offensive team rebound
71 - 64
11:44
LaMarcus Aldridge blocks Hollis Thompson 's 4-foot jumper
71 - 64
11:41
Nicolas Batum defensive rebound
71 - 64
11:37
Damian Lillard bad pass
71 - 64
11:15
Thaddeus Young makes driving layup
71 - 66
10:52
LaMarcus Aldridge makes 17-foot jumper (Wesley Matthews assists)
73 - 66
10:36
Thaddeus Young bad pass
73 - 66
10:19
Damian Lillard makes 25-foot three point jumper (Nicolas Batum assists)
76 - 66
10:00
Evan Turner makes 25-foot three point jumper (Tony Wroten assists)
76 - 69
9:41
Wesley Matthews makes three point jumper (LaMarcus Aldridge assists)
79 - 69
9:27
Evan Turner misses layup
79 - 69
9:26
Robin Lopez defensive rebound
79 - 69
9:22
Tony Wroten blocks Wesley Matthews 's 3-foot layup
79 - 69
9:18
LaMarcus Aldridge offensive rebound
79 - 69
9:18
Spencer Hawes shooting foul (Nicolas Batum draws the foul)
81 - 69
9:18
Nicolas Batum makes free throw 1 of 2
80 - 69
9:18
Nicolas Batum makes free throw 2 of 2
81 - 69
9:07
Spencer Hawes misses 25-foot three point jumper
81 - 69
9:06
Trail Blazers defensive team rebound
81 - 69
8:56
Wesley Matthews misses 27-foot three point jumper
81 - 69
8:53
Thaddeus Young defensive rebound
81 - 69
8:37
Tony Wroten misses 3-foot jumper
81 - 69
8:37
LaMarcus Aldridge defensive rebound
81 - 69
8:36
Tony Wroten technical foul(1st technical foul)
81 - 69
8:36
Damian Lillard makes technical free throw
82 - 69
8:29
LaMarcus Aldridge offensive foul (Hollis Thompson draws the foul)
82 - 69
8:29
LaMarcus Aldridge turnover
82 - 69
8:18
Evan Turner misses 12-foot jumper
82 - 69
8:15
Wesley Matthews defensive rebound
82 - 69
7:58
Damian Lillard bad pass (Hollis Thompson steals)
82 - 69
7:41
Tony Wroten misses 27-foot three point jumper
82 - 69
7:41
Nicolas Batum defensive rebound
82 - 69
7:37
Robin Lopez makes dunk (Nicolas Batum assists)
84 - 69
7:35
76ers Full timeout
84 - 69
7:18
Spencer Hawes misses 4-foot jumper
84 - 69
7:16
Tony Wroten offensive rebound
84 - 69
7:15
Tony Wroten misses layup
84 - 69
7:13
Tony Wroten misses tip shot
84 - 69
7:13
Tony Wroten offensive rebound
84 - 69
7:11
Damian Lillard defensive rebound
84 - 69
7:05
Damian Lillard makes 27-foot three point jumper (LaMarcus Aldridge assists)
87 - 69
6:52
Spencer Hawes lost ball turnover (Wesley Matthews steals)
87 - 69
6:48
Wesley Matthews makes 26-foot three pointer (Nicolas Batum assists)
90 - 69
6:33
Spencer Hawes misses 19-foot jumper
90 - 69
6:31
LaMarcus Aldridge defensive rebound
90 - 69
6:28
Wesley Matthews misses three point jumper
90 - 69
6:24
Tony Wroten defensive rebound
90 - 69
6:20
Damian Lillard shooting foul (Tony Wroten draws the foul)
90 - 70
6:20
Lavoy Allen enters the game for Spencer Hawes
90 - 69
6:20
James Anderson enters the game for Evan Turner
90 - 69
6:20
Tony Wroten misses free throw 1 of 2
90 - 69
6:20
76ers offensive team rebound
90 - 69
6:20
Tony Wroten makes free throw 2 of 2
90 - 70
6:05
Robin Lopez makes layup (Nicolas Batum assists)
92 - 70
5:50
James Anderson makes 9-foot two point shot
92 - 72
5:39
Damian Lillard bad pass
92 - 72
5:22
LaMarcus Aldridge shooting foul (Tony Wroten draws the foul)
92 - 72
5:22
Tony Wroten misses free throw 1 of 2
92 - 72
5:22
76ers offensive team rebound
92 - 72
5:22
Tony Wroten makes free throw 2 of 2
92 - 73
5:07
LaMarcus Aldridge makes 20-foot jumper (Nicolas Batum assists)
94 - 73
4:52
James Anderson misses 18-foot jumper
94 - 73
4:50
LaMarcus Aldridge defensive rebound
94 - 73
4:37
Nicolas Batum misses three point jumper
94 - 73
4:35
LaMarcus Aldridge offensive rebound
94 - 73
4:35
Brandon Davies enters the game for Thaddeus Young
94 - 73
4:31
Nicolas Batum makes three point jumper (Robin Lopez assists)
97 - 73
4:13
Lavoy Allen misses jumper
97 - 73
4:11
Nicolas Batum defensive rebound
97 - 73
4:05
LaMarcus Aldridge makes layup (Nicolas Batum assists)
99 - 73
3:59
Damian Lillard personal foul (Tony Wroten draws the foul)
99 - 73
3:59
Tony Wroten makes free throw 1 of 2
99 - 74
3:59
Dorell Wright enters the game for Wesley Matthews
99 - 74
3:59
Mo Williams enters the game for Damian Lillard
99 - 74
3:59
Tony Wroten makes free throw 2 of 2
99 - 75
3:46
Nicolas Batum misses 25-foot three point jumper
99 - 75
3:44
Tony Wroten defensive rebound
99 - 75
3:35
Tony Wroten misses layup
99 - 75
3:33
Trail Blazers defensive team rebound
99 - 75
3:33
Lorenzo Brown enters the game for Tony Wroten
99 - 75
3:18
Nicolas Batum misses 27-foot three point jumper
99 - 75
3:14
James Anderson defensive rebound
99 - 75
3:10
James Anderson bad pass (LaMarcus Aldridge steals)
99 - 75
3:05
LaMarcus Aldridge makes dunk (Nicolas Batum assists)
101 - 75
2:38
James Anderson misses jumper
101 - 75
2:38
Trail Blazers defensive team rebound
101 - 75
2:38
Trail Blazers Full timeout
101 - 75
2:38
Elliot Williams enters the game for Hollis Thompson
101 - 75
2:29
Mo Williams lost ball turnover (Lorenzo Brown steals)
101 - 75
2:17
LaMarcus Aldridge shooting foul (Elliot Williams draws the foul)
101 - 75
2:17
Elliot Williams misses free throw 1 of 2
101 - 75
2:17
76ers offensive team rebound
101 - 75
2:17
Damian Lillard enters the game for Nicolas Batum
101 - 75
2:17
Elliot Williams makes free throw 2 of 2
101 - 76
2:01
LaMarcus Aldridge makes 17-foot jumper (Mo Williams assists)
103 - 76
1:47
Lavoy Allen misses 18-foot jumper
103 - 76
1:47
LaMarcus Aldridge defensive rebound
103 - 76
1:31
Brandon Davies shooting foul (Robin Lopez draws the foul)
103 - 76
1:31
Robin Lopez misses free throw 1 of 2
103 - 76
1:31
Trail Blazers offensive team rebound
103 - 76
1:31
Robin Lopez misses free throw 2 of 2
103 - 76
1:29
Lavoy Allen defensive rebound
103 - 76
1:19
Robin Lopez blocks Lorenzo Brown's jumper
103 - 76
1:19
76ers offensive team rebound
103 - 76
1:09
James Anderson traveling
103 - 76
0:55
LaMarcus Aldridge makes 17-foot jumper (Damian Lillard assists)
105 - 76
0:46
Elliot Williams misses jumper
105 - 76
0:44
Robin Lopez defensive rebound
105 - 76
0:30
Dorell Wright makes 26-foot three point jumper (Damian Lillard assists)
108 - 76
0:24
Robin Lopez shooting foul (Elliot Williams draws the foul)
108 - 76
0:24
Elliot Williams makes free throw 1 of 2
108 - 77
0:24
Allen Crabbe enters the game for LaMarcus Aldridge
108 - 76
0:24
Elliot Williams misses free throw 2 of 2
108 - 77
0:23
Lavoy Allen offensive rebound
108 - 77
0:04
James Anderson makes dunk (Lorenzo Brown assists)
108 - 79
0:00
Dorell Wright makes three point jumper
111 - 79
0:00
End of the 3rd Quarter
111 - 79

time
TEAM
PLAY
SCORE
11:41
Mo Williams makes 28-foot three point jumper (Dorell Wright assists)
114 - 79
11:25
Thomas Robinson personal foul (Brandon Davies draws the foul)
114 - 79
11:25
Will Barton enters the game for Dorell Wright
114 - 79
11:18
Daniel Orton makes two point shot (Lorenzo Brown assists)
114 - 81
10:53
Meyers Leonard makes 18-foot jumper (Mo Williams assists)
116 - 81
10:41
Meyers Leonard shooting foul (Daniel Orton draws the foul)
116 - 81
10:41
Daniel Orton makes free throw 1 of 2
116 - 82
10:41
Daniel Orton makes free throw 2 of 2
116 - 83
10:26
Will Barton makes 11-foot two point shot (Mo Williams assists)
118 - 83
10:06
Lorenzo Brown makes layup (Daniel Orton assists)
118 - 85
9:52
Brandon Davies personal foul (Mo Williams draws the foul)
118 - 85
9:52
Will Barton bad pass (Lorenzo Brown steals)
118 - 85
9:48
Mo Williams blocks Lorenzo Brown's layup
118 - 85
9:48
76ers offensive team rebound
118 - 85
9:48
Hollis Thompson enters the game for James Anderson
118 - 85
9:45
Will Barton personal foul (Brandon Davies draws the foul)
118 - 85
9:37
Brandon Davies misses 18-foot jumper
118 - 85
9:37
Trail Blazers defensive team rebound
118 - 85
9:37
Daniel Orton personal foul (Meyers Leonard draws the foul)
118 - 85
9:29
Allen Crabbe makes 26-foot three point jumper (Will Barton assists)
121 - 85
9:11
Elliot Williams makes two point shot (Daniel Orton assists)
121 - 87
9:00
Allen Crabbe makes 24-foot three point jumper (Will Barton assists)
124 - 87
8:52
Hollis Thompson makes 25-foot three point jumper (Lorenzo Brown assists)
124 - 90
8:32
Brandon Davies shooting foul (Thomas Robinson draws the foul)
124 - 90
8:32
Official timeout
124 - 90
8:32
Earl Watson enters the game for Mo Williams
124 - 90
8:32
Thomas Robinson makes free throw 1 of 2
125 - 90
8:32
Thomas Robinson makes free throw 2 of 2
126 - 90
8:10
Lorenzo Brown makes two point shot (Daniel Orton assists)
126 - 92
8:00
Allen Crabbe possession lost ball turnoverDaniel Orton
126 - 92
7:50
Brandon Davies misses layup
126 - 92
7:46
Will Barton defensive rebound
126 - 92
7:35
Will Barton misses 26-foot three point jumper
126 - 92
7:33
Meyers Leonard offensive rebound
126 - 92
7:22
Allen Crabbe bad pass (Daniel Orton steals)
126 - 92
7:18
Meyers Leonard flagrant foul type 2 (Daniel Orton draws the foul)
127 - 93
7:18
Daniel Orton technical foul(1st technical foul)
127 - 93
7:18
Daniel Orton ejected
127 - 93
7:18
Joel Freeland enters the game for Meyers Leonard
126 - 92
7:18
Tony Wroten enters the game for Daniel Orton
127 - 93
7:18
Allen Crabbe makes technical free throw
127 - 92
7:18
Tony Wroten makes free throw 2 of 2
127 - 93
7:18
Tony Wroten misses free throw 1 of 1
127 - 93
7:18
76ers offensive team rebound
127 - 93
7:16
Lavoy Allen enters the game for Tony Wroten
127 - 93
7:07
Lorenzo Brown misses 27-foot three point jumper
127 - 93
7:05
Lavoy Allen offensive rebound
127 - 93
7:01
Hollis Thompson bad pass (Thomas Robinson steals)
127 - 93
6:56
Allen Crabbe misses 27-foot three point jumper
127 - 93
6:52
Lavoy Allen defensive rebound
127 - 93
6:46
Lorenzo Brown makes driving layup
127 - 95
6:35
Hollis Thompson personal foul (Earl Watson draws the foul)
127 - 95
6:35
Earl Watson makes free throw 1 of 2
128 - 95
6:35
Earl Watson makes free throw 2 of 2
129 - 95
6:26
Thomas Robinson shooting foul (Elliot Williams draws the foul)
129 - 96
6:26
Elliot Williams makes free throw 1 of 2
129 - 96
6:26
Elliot Williams misses free throw 2 of 2
129 - 96
6:24
Thomas Robinson defensive rebound
129 - 96
6:07
Joel Freeland makes two point shot (Allen Crabbe assists)
131 - 96
5:48
Hollis Thompson makes jumper
131 - 98
5:26
Hollis Thompson blocks Thomas Robinson's layup
131 - 98
5:26
Trail Blazers offensive team rebound
131 - 98
5:20
shot clock turnover
131 - 98
5:15
8 second turnover
131 - 98
5:07
Earl Watson bad pass
131 - 98
4:54
Lavoy Allen misses 9-foot hook shot
131 - 98
4:52
Thomas Robinson defensive rebound
131 - 98
4:45
Joel Freeland misses jumper
131 - 98
4:43
Hollis Thompson defensive rebound
131 - 98
4:39
Will Barton kicked ball violation
131 - 98
4:31
Joel Freeland blocks Elliot Williams's jumper
131 - 98
4:31
76ers offensive team rebound
131 - 98
4:22
Will Barton shooting foul (Hollis Thompson draws the foul)
131 - 98
4:22
Hollis Thompson makes free throw 1 of 2
131 - 99
4:22
Hollis Thompson makes free throw 2 of 2
131 - 100
4:13
Will Barton bad pass (Hollis Thompson steals)
131 - 100
4:03
Lorenzo Brown lost ball turnover (Will Barton steals)
131 - 100
4:00
Thomas Robinson makes two point shot
133 - 100
3:40
Elliot Williams bad pass (Earl Watson steals)
133 - 100
3:31
Earl Watson bad pass (Lorenzo Brown steals)
133 - 100
3:28
Lorenzo Brown bad pass (Will Barton steals)
133 - 100
3:14
Lavoy Allen blocks Will Barton's layup
133 - 100
3:12
Lavoy Allen defensive rebound
133 - 100
3:11
Elliot Williams offensive Charge (Earl Watson draws the foul)
133 - 100
3:11
Elliot Williams turnover
133 - 100
3:11
Trail Blazers Full timeout
133 - 100
2:53
Earl Watson bad pass (Elliot Williams steals)
133 - 100
2:48
Elliot Williams makes two point shot (Hollis Thompson assists)
133 - 102
2:28
Thomas Robinson misses 3-foot jumper
133 - 102
2:24
Joel Freeland makes two point shot
135 - 102
2:24
Joel Freeland offensive rebound
133 - 102
2:10
Brandon Davies misses 4-foot jumper
135 - 102
2:08
Lavoy Allen offensive rebound
135 - 102
1:58
Brandon Davies possession lost ball turnover
135 - 102
1:45
Thomas Robinson makes layup (Allen Crabbe assists)
137 - 102
1:23
Lorenzo Brown misses 26-foot three point jumper
137 - 102
1:21
Will Barton defensive rebound
137 - 102
1:17
Lorenzo Brown blocks Allen Crabbe's layup
137 - 102
1:14
Will Barton offensive rebound
137 - 102
1:08
Thomas Robinson misses 19-foot jumper
137 - 102
1:01
Brandon Davies defensive rebound
137 - 102
0:58
Hollis Thompson makes 25-foot three point jumper (Lorenzo Brown assists)
137 - 105
0:35
Thomas Robinson makes dunk (Earl Watson assists)
139 - 105
0:25
Lorenzo Brown misses 26-foot three point jumper
139 - 105
0:23
Trail Blazers defensive team rebound
139 - 105
0:00
End of the 4th Quarter
139 - 105
0:00
End of Game
139 - 105
Adrian Wojnarowski tells the Dan Le Batard Show Heat guard Tyler Johnson will command a minimum of $10 million per season and Dan Le Batard can't believe it.

Rachel Nichols, Tracy McGrady and Stephen Jackson examine the situation that arises when an NBA team gives a max contract to a player who doesn't necessarily deserve one and how that could affect team chemistry.

In recent memory, top free agents taking meetings have seriously considered switching teams.
2015-2016 Northwest Standings
2015-2016 Atlantic Standings