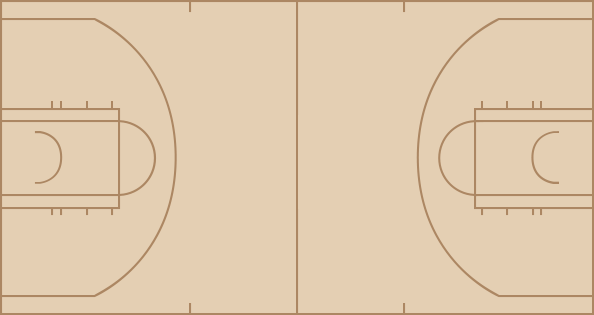 Clippers
time
TEAM
PLAY
SCORE
12:00
DeAndre Jordan vs. Serge Ibaka (Blake Griffin gains possession)
0 - 0
11:51
Matt Barnes bad pass (Russell Westbrook steals)
0 - 0
11:51
Chris Paul personal block (Russell Westbrook draws the foul)
0 - 0
11:33
Thabo Sefolosha misses 24-foot three point jumper
0 - 0
11:32
Russell Westbrook offensive rebound
0 - 0
11:30
Blake Griffin personal foul (Serge Ibaka draws the foul)
0 - 0
11:19
Kevin Durant makes 26-foot three point jumper (Russell Westbrook assists)
0 - 3
10:56
Matt Barnes makes 25-foot three point jumper (DeAndre Jordan assists)
3 - 3
10:37
Kevin Durant makes 19-foot two point shot
3 - 5
10:18
J.J. Redick makes three point jumper (Chris Paul assists)
6 - 5
10:10
Kevin Durant offensive foul (Matt Barnes draws the foul)
6 - 5
10:10
Kevin Durant turnover
6 - 5
9:57
Blake Griffin misses 16-foot jump bank shot
6 - 5
9:56
Kevin Durant defensive rebound
6 - 5
9:45
Serge Ibaka misses 14-foot jumper
6 - 5
9:45
Chris Paul defensive rebound
6 - 5
9:30
Blake Griffin bad pass (Thabo Sefolosha steals)
6 - 5
9:18
Russell Westbrook misses driving layup
6 - 5
9:18
Kendrick Perkins offensive rebound
6 - 5
9:17
Matt Barnes shooting foul (Kendrick Perkins draws the foul)
6 - 5
9:17
Kendrick Perkins makes free throw 1 of 2
6 - 6
9:17
Kendrick Perkins makes free throw 2 of 2
6 - 7
9:07
J.J. Redick makes jumper (Chris Paul assists)
8 - 7
8:55
Thabo Sefolosha misses 23-foot three point jumper
8 - 7
8:53
DeAndre Jordan defensive rebound
8 - 7
8:45
DeAndre Jordan offensive foul (Russell Westbrook draws the foul)
8 - 7
8:45
DeAndre Jordan turnover
8 - 7
8:36
Kendrick Perkins misses jumper
8 - 7
8:34
Russell Westbrook offensive rebound
8 - 7
8:26
Kevin Durant bad pass (DeAndre Jordan steals)
8 - 7
8:21
DeAndre Jordan makes dunk (Blake Griffin assists)
10 - 7
8:04
Kendrick Perkins makes 2-foot two point shot (Kevin Durant assists)
10 - 9
7:54
Chris Paul misses 16-foot jumper
10 - 9
7:52
Kendrick Perkins defensive rebound
10 - 9
7:47
Russell Westbrook makes 16-foot two point shot
10 - 11
7:33
Matt Barnes makes 24-foot three point jumper (Chris Paul assists)
13 - 11
7:18
Russell Westbrook makes 16-foot two point shot
13 - 13
7:03
J.J. Redick makes 23-foot three point jumper (Chris Paul assists)
16 - 13
6:43
Kevin Durant misses 12-foot jumper
16 - 13
6:41
Kevin Durant offensive rebound
16 - 13
6:41
Chris Paul shooting foul (Kevin Durant draws the foul)
16 - 13
6:41
Kevin Durant misses free throw 1 of 2
16 - 13
6:41
Thunder offensive team rebound
16 - 13
6:41
Darren Collison enters the game for Chris Paul
16 - 13
6:41
Kevin Durant makes free throw 2 of 2
16 - 14
6:31
J.J. Redick makes 22-foot jumper (Darren Collison assists)
18 - 14
6:13
Russell Westbrook makes driving layup
18 - 16
6:03
Darren Collison misses 19-foot jumper
18 - 16
6:01
Serge Ibaka defensive rebound
18 - 16
5:50
Kevin Durant makes driving layup
18 - 18
5:33
Blake Griffin misses driving layup
18 - 18
5:33
Kendrick Perkins defensive rebound
18 - 18
5:28
Kevin Durant makes layup
18 - 20
5:18
Matt Barnes misses 23-foot three point jumper
18 - 20
5:16
Russell Westbrook defensive rebound
18 - 20
5:09
Kevin Durant makes 14-foot two point shot (Thabo Sefolosha assists)
18 - 22
5:05
Clippers Full timeout
18 - 22
5:05
Reggie Jackson enters the game for Thabo Sefolosha
18 - 22
4:56
Blake Griffin misses 18-foot jumper
18 - 22
4:56
Kendrick Perkins defensive rebound
18 - 22
4:39
Kevin Durant makes 23-foot three point jumper (Russell Westbrook assists)
18 - 25
4:20
Serge Ibaka shooting foul (Darren Collison draws the foul)
18 - 25
4:20
Darren Collison makes free throw 1 of 2
19 - 25
4:20
Jamal Crawford enters the game for J.J. Redick
19 - 25
4:20
Darren Collison misses free throw 2 of 2
19 - 25
4:18
Kendrick Perkins defensive rebound
19 - 25
4:07
Russell Westbrook makes 5-foot two point shot
19 - 27
3:57
Reggie Jackson personal foul (Jamal Crawford draws the foul)
19 - 27
3:49
DeAndre Jordan makes two point shot (Jamal Crawford assists)
21 - 27
3:33
Serge Ibaka makes 20-foot jumper (Russell Westbrook assists)
21 - 29
3:18
Darren Collison makes 18-foot jumper
23 - 29
3:04
Russell Westbrook makes two point shot
23 - 31
2:47
Jamal Crawford misses 12-foot jumper
23 - 31
2:47
Kevin Durant defensive rebound
23 - 31
2:27
Kevin Durant misses 24-foot three point jumper
23 - 31
2:26
DeAndre Jordan defensive rebound
23 - 31
2:14
Serge Ibaka shooting foul (DeAndre Jordan draws the foul)
23 - 31
2:14
Thunder Full timeout
23 - 31
2:14
Danny Granger enters the game for Matt Barnes
23 - 31
2:14
Caron Butler enters the game for Serge Ibaka
23 - 31
2:14
Steven Adams enters the game for Kendrick Perkins
23 - 31
2:14
Nick Collison enters the game for Russell Westbrook
23 - 31
2:14
Blake Griffin makes free throw 1 of 2
24 - 31
2:14
Blake Griffin misses free throw 2 of 2
24 - 31
2:13
Steven Adams defensive rebound
24 - 31
1:54
Steven Adams makes layup (Reggie Jackson assists)
24 - 33
1:38
Jamal Crawford makes two point shot
26 - 33
1:17
Reggie Jackson makes 7-foot two point shot
26 - 35
0:59
Jamal Crawford misses 24-foot
26 - 35
0:58
Steven Adams defensive rebound
26 - 35
0:47
Kevin Durant misses
26 - 35
0:47
Thunder offensive team rebound
26 - 35
0:47
Glen Davis enters the game for DeAndre Jordan
26 - 35
0:45
Kevin Durant makes layup (Caron Butler assists)
26 - 37
0:32
Glen Davis makes layup (Jamal Crawford assists)
28 - 37
0:26
Reggie Jackson lost ball turnover (Blake Griffin steals)
28 - 37
0:05
Kevin Durant kicked ball violation
28 - 37
0:05
J.J. Redick enters the game for Glen Davis
28 - 37
0:05
Derek Fisher enters the game for Steven Adams
28 - 37
0:01
Darren Collison offensive Charge (Derek Fisher draws the foul)
28 - 37
0:01
Darren Collison turnover
28 - 37
0:00
Kevin Durant misses 42-foot three point jumper
28 - 37
0:00
Clippers defensive team rebound
28 - 37
0:00
End of the 1st Quarter
28 - 37

time
TEAM
PLAY
SCORE
11:45
Caron Butler misses 15-foot jumper
28 - 37
11:44
Glen Davis defensive rebound
28 - 37
11:30
Jamal Crawford misses 28-foot three point jumper
28 - 37
11:29
Steven Adams defensive rebound
28 - 37
11:11
Reggie Jackson misses 17-foot two point jumper
28 - 37
11:10
Jared Dudley defensive rebound
28 - 37
10:57
Jared Dudley misses 25-foot three point jumper
28 - 37
10:57
Caron Butler defensive rebound
28 - 37
10:37
Glen Davis blocks Nick Collison's layup
28 - 37
10:37
Glen Davis defensive rebound
28 - 37
10:18
Jamal Crawford misses 23-foot three point jumper
28 - 37
10:17
Nick Collison defensive rebound
28 - 37
10:10
Reggie Jackson misses 7-foot two point shot
28 - 37
10:08
Glen Davis defensive rebound
28 - 37
10:00
Caron Butler shooting foul (Chris Paul draws the foul)
28 - 37
10:00
Chris Paul makes free throw 1 of 3
29 - 37
10:00
Chris Paul misses free throw 2 of 3
29 - 37
10:00
Clippers offensive team rebound
29 - 37
10:00
Russell Westbrook enters the game for Nick Collison
29 - 37
10:00
Chris Paul misses free throw 3 of 3
29 - 37
9:59
Russell Westbrook defensive rebound
29 - 37
9:49
Steven Adams makes dunk (Russell Westbrook assists)
29 - 39
9:41
Clippers Full timeout
29 - 39
9:25
Glen Davis makes driving layup
31 - 39
9:11
Glen Davis shooting foul (Russell Westbrook draws the foul)
31 - 39
9:11
Russell Westbrook makes free throw 1 of 2
31 - 40
9:11
J.J. Redick enters the game for Danny Granger
31 - 40
9:11
Russell Westbrook makes free throw 2 of 2
31 - 41
9:00
Glen Davis makes layup (Chris Paul assists)
33 - 41
8:44
Russell Westbrook bad pass (J.J. Redick steals)
33 - 41
8:40
Derek Fisher personal foul (J.J. Redick draws the foul)
33 - 41
8:40
Kevin Durant enters the game for Reggie Jackson
33 - 41
8:40
Serge Ibaka enters the game for Steven Adams
33 - 41
8:27
Glen Davis makes 17-foot jumper (Jamal Crawford assists)
35 - 41
8:10
Derek Fisher misses 24-foot three point jumper
35 - 41
8:08
Chris Paul defensive rebound
35 - 41
7:45
Chris Paul makes 16-foot two point shot
37 - 41
7:33
Russell Westbrook misses driving layup
37 - 41
7:31
Glen Davis defensive rebound
37 - 41
7:24
Jamal Crawford misses 10-foot
37 - 41
7:22
Glen Davis offensive rebound
37 - 41
7:18
DeAndre Jordan enters the game for Glen Davis
37 - 41
7:07
Jared Dudley misses 14-foot jumper
37 - 41
7:05
Derek Fisher defensive rebound
37 - 41
6:58
Russell Westbrook makes driving layup
37 - 43
6:48
Chris Paul makes three point jumper
40 - 43
6:37
Thunder Full timeout
40 - 43
6:37
Matt Barnes enters the game for Jamal Crawford
40 - 43
6:37
Blake Griffin enters the game for Jared Dudley
40 - 43
6:26
Matt Barnes personal foul (Kevin Durant draws the foul)
40 - 43
6:18
Russell Westbrook makes 25-foot three point jumper
40 - 46
6:07
Kevin Durant personal foul (Blake Griffin draws the foul)
40 - 46
6:07
Kendrick Perkins enters the game for Derek Fisher
40 - 46
5:52
Blake Griffin misses 4-foot jump bank shot
40 - 46
5:50
Serge Ibaka defensive rebound
40 - 46
5:46
Russell Westbrook misses layup
40 - 46
5:45
DeAndre Jordan defensive rebound
40 - 46
5:45
Russell Westbrook personal foul (DeAndre Jordan draws the foul)
40 - 46
5:45
Russell Westbrook technical foul(1st technical foul)
40 - 46
5:45
Scott Brooks technical foul(1st technical foul)
40 - 46
5:45
J.J. Redick makes technical free throw
41 - 46
5:45
J.J. Redick makes technical free throw
42 - 46
5:31
Chris Paul makes 24-foot three point jumper (Blake Griffin assists)
45 - 46
5:13
Caron Butler makes 24-foot three point jumper (Russell Westbrook assists)
45 - 49
5:01
Chris Paul misses 16-foot jumper
45 - 49
5:01
Clippers offensive team rebound
45 - 49
5:01
Kendrick Perkins personal foul (DeAndre Jordan draws the foul)
46 - 49
5:01
DeAndre Jordan makes free throw 1 of 2
46 - 49
5:01
DeAndre Jordan misses free throw 2 of 2
46 - 49
5:01
Blake Griffin offensive rebound
46 - 49
4:54
Matt Barnes misses three point jumper
46 - 49
4:52
Blake Griffin makes two point shot
48 - 49
4:52
Blake Griffin offensive rebound
46 - 49
4:43
Russell Westbrook makes driving layup
48 - 51
4:43
DeAndre Jordan shooting foul (Russell Westbrook draws the foul)
48 - 51
4:43
Russell Westbrook misses free throw 1 of 1
48 - 51
4:43
DeAndre Jordan defensive rebound
48 - 51
4:33
J.J. Redick makes 18-foot two point shot (Chris Paul assists)
50 - 51
4:20
Russell Westbrook misses 9-foot jumper
50 - 51
4:18
Blake Griffin defensive rebound
50 - 51
4:07
Blake Griffin makes 19-foot jumper
52 - 51
3:54
Russell Westbrook offensive foul (Chris Paul draws the foul)
52 - 51
3:54
Russell Westbrook turnover
52 - 51
3:44
J.J. Redick misses 25-foot three point jumper
52 - 51
3:43
Kendrick Perkins defensive rebound
52 - 51
3:36
Thunder 20 Sec. timeout
52 - 51
3:28
Thunder Full timeout
52 - 51
3:26
Kendrick Perkins back court turnover
52 - 51
3:15
Chris Paul misses three point jumper
52 - 51
3:15
Serge Ibaka defensive rebound
52 - 51
3:05
Serge Ibaka makes 18-foot jumper (Kevin Durant assists)
52 - 53
2:45
Blake Griffin misses 5-foot two point shot
52 - 53
2:44
Matt Barnes makes two point shot
54 - 53
2:44
Matt Barnes offensive rebound
52 - 53
2:19
Kendrick Perkins misses 9-foot jumper
54 - 53
2:18
Russell Westbrook misses tip shot
54 - 53
2:18
Russell Westbrook offensive rebound
54 - 53
2:17
DeAndre Jordan defensive rebound
54 - 53
2:11
J.J. Redick misses three point jumper
54 - 53
2:10
Serge Ibaka defensive rebound
54 - 53
2:04
Blake Griffin personal foul (Serge Ibaka draws the foul)
54 - 53
2:04
Darren Collison enters the game for Chris Paul
54 - 53
1:54
Kevin Durant misses 12-foot jumper
54 - 53
1:53
Kendrick Perkins offensive rebound
54 - 53
1:51
Kendrick Perkins makes layup
54 - 55
1:39
J.J. Redick makes jumper
56 - 55
1:23
DeAndre Jordan shooting foul (Kevin Durant draws the foul)
56 - 55
1:23
Kevin Durant makes free throw 1 of 2
56 - 56
1:23
Glen Davis enters the game for DeAndre Jordan
56 - 56
1:23
Reggie Jackson enters the game for Caron Butler
56 - 56
1:23
Kevin Durant makes free throw 2 of 2
56 - 57
1:08
Blake Griffin misses 9-foot
56 - 57
1:07
Kevin Durant defensive rebound
56 - 57
1:02
Serge Ibaka makes layup (Kevin Durant assists)
56 - 59
0:53
Darren Collison misses layup
56 - 59
0:52
Darren Collison offensive rebound
56 - 59
0:48
Matt Barnes misses 23-foot three point jumper
56 - 59
0:47
Reggie Jackson defensive rebound
56 - 59
0:45
Glen Davis personal foul (Kevin Durant draws the foul)
56 - 59
0:45
Kevin Durant makes free throw 1 of 2
56 - 60
0:45
Kevin Durant makes free throw 2 of 2
56 - 61
0:34
Serge Ibaka blocks Glen Davis's layup
56 - 61
0:32
Reggie Jackson defensive rebound
56 - 61
0:27
Serge Ibaka out of bounds lost ball turnover
56 - 61
0:27
Clippers 20 Sec. timeout
56 - 61
0:27
Thabo Sefolosha enters the game for Serge Ibaka
56 - 61
0:27
Chris Paul enters the game for Glen Davis
56 - 61
0:08
Chris Paul bad pass (Kevin Durant steals)
56 - 61
0:00
Thabo Sefolosha misses 25-foot three point jumper
56 - 61
0:00
Russell Westbrook offensive rebound
56 - 61
0:00
End of the 2nd Quarter
56 - 61

time
TEAM
PLAY
SCORE
11:41
Kendrick Perkins makes jumper (Serge Ibaka assists)
56 - 63
11:14
Blake Griffin makes jumper (Chris Paul assists)
58 - 63
10:55
Kevin Durant makes layup
58 - 65
10:52
DeAndre Jordan bad pass (Russell Westbrook steals)
58 - 65
10:48
Kevin Durant misses 24-foot three point jumper
58 - 65
10:47
Russell Westbrook offensive rebound
58 - 65
10:30
Kendrick Perkins misses two point shot
58 - 65
10:30
DeAndre Jordan defensive rebound
58 - 65
10:21
Chris Paul misses 13-foot jumper
58 - 65
10:19
Chris Paul offensive rebound
58 - 65
10:06
Chris Paul misses 25-foot three point jumper
58 - 65
10:03
Thunder defensive team rebound
58 - 65
9:49
Serge Ibaka misses Running Jumper
58 - 65
9:48
Kendrick Perkins offensive rebound
58 - 65
9:47
Kendrick Perkins misses layup
58 - 65
9:45
Blake Griffin defensive rebound
58 - 65
9:27
Blake Griffin makes 20-foot jumper (Chris Paul assists)
60 - 65
9:11
Serge Ibaka misses 18-foot jumper
60 - 65
9:10
DeAndre Jordan defensive rebound
60 - 65
8:57
Blake Griffin misses jumper
60 - 65
8:56
Kendrick Perkins defensive rebound
60 - 65
8:45
Thabo Sefolosha makes 24-foot three point jumper (Kevin Durant assists)
60 - 68
8:45
Clippers Full timeout
60 - 68
8:26
Chris Paul misses three point jumper
60 - 68
8:25
Thunder defensive team rebound
60 - 68
8:25
DeAndre Jordan loose ball foul (Kendrick Perkins draws the foul)
60 - 68
8:08
Russell Westbrook bad pass (Chris Paul steals)
60 - 68
8:07
Thabo Sefolosha clear path foul (Chris Paul draws the foul)
60 - 68
8:07
Chris Paul makes free throw clear path 1 of 2
61 - 68
8:07
Chris Paul makes free throw clear path 2 of 2
62 - 68
7:50
Chris Paul makes two point shot
64 - 68
7:31
Kevin Durant makes 24-foot three pointer
64 - 71
7:11
Blake Griffin misses 19-foot jumper
64 - 71
7:11
Russell Westbrook defensive rebound
64 - 71
7:05
Russell Westbrook misses 16-foot two point jumper
64 - 71
7:03
Serge Ibaka offensive rebound
64 - 71
7:01
Serge Ibaka makes layup
64 - 73
6:50
Chris Paul bad pass (Russell Westbrook steals)
64 - 73
6:48
Matt Barnes shooting foul (Russell Westbrook draws the foul)
64 - 73
6:48
Russell Westbrook makes free throw 1 of 2
64 - 74
6:48
Russell Westbrook misses free throw 2 of 2
64 - 74
6:47
Matt Barnes defensive rebound
64 - 74
6:30
Chris Paul misses 7-foot jumper
64 - 74
6:28
Chris Paul makes two point shot
66 - 74
6:28
Chris Paul offensive rebound
64 - 74
6:13
Thabo Sefolosha makes 14-foot jumper (Kevin Durant assists)
66 - 76
5:54
DeAndre Jordan misses
66 - 76
5:52
Kevin Durant defensive rebound
66 - 76
5:50
Thabo Sefolosha makes dunk (Russell Westbrook assists)
66 - 78
5:47
Clippers 20 Sec. timeout
66 - 78
5:33
DeAndre Jordan makes 2-foot two point shot (Chris Paul assists)
70 - 78
5:20
Blake Griffin blocks Kevin Durant's layup
68 - 78
5:18
Kevin Durant offensive rebound
68 - 78
5:11
Russell Westbrook makes two point shot
68 - 80
4:52
Matt Barnes makes 25-foot three point jumper (Chris Paul assists)
71 - 80
4:37
Serge Ibaka makes dunk (Russell Westbrook assists)
71 - 82
4:37
Clippers Full timeout
71 - 82
4:28
J.J. Redick makes two point shot (Chris Paul assists)
73 - 82
4:07
Thabo Sefolosha makes 25-foot three point jumper (Kevin Durant assists)
73 - 85
3:54
J.J. Redick misses 15-foot step back jumpshot
75 - 85
3:53
Serge Ibaka defensive rebound
75 - 85
3:41
Matt Barnes loose ball foul (Serge Ibaka draws the foul)
73 - 85
3:41
Jamal Crawford enters the game for J.J. Redick
73 - 85
3:32
Kendrick Perkins lost ball turnover (Chris Paul steals)
73 - 85
3:32
Kendrick Perkins personal foul (Chris Paul draws the foul)
73 - 85
3:32
Jared Dudley enters the game for Matt Barnes
73 - 85
3:18
Jamal Crawford lost ball turnover (Thabo Sefolosha steals)
73 - 85
3:15
Thabo Sefolosha makes dunk
73 - 87
3:11
Jamal Crawford bad pass (Thabo Sefolosha steals)
73 - 87
2:53
Kevin Durant misses 26-foot three point jumper
73 - 87
2:51
Russell Westbrook offensive rebound
73 - 87
2:48
Russell Westbrook makes 25-foot three point jumper
73 - 90
2:36
DeAndre Jordan offensive foul (Russell Westbrook draws the foul)
73 - 90
2:36
DeAndre Jordan turnover
73 - 90
2:36
Glen Davis enters the game for DeAndre Jordan
73 - 90
2:36
Steven Adams enters the game for Kendrick Perkins
73 - 90
2:25
Glen Davis defensive 3-seconds (Technical Foul)
73 - 90
2:25
Clippers delay of game violation
73 - 90
2:25
Kevin Durant makes technical free throw
73 - 91
2:12
Serge Ibaka makes layup (Kevin Durant assists)
73 - 93
2:02
Jamal Crawford misses 20-foot jumper
73 - 93
2:01
Serge Ibaka defensive rebound
73 - 93
1:42
Kevin Durant misses 25-foot three point jumper
73 - 93
1:40
Jamal Crawford defensive rebound
73 - 93
1:29
Chris Paul makes two point shot
75 - 93
1:07
Steven Adams misses 4-foot jumper
75 - 93
1:07
Thunder offensive team rebound
75 - 93
1:07
Caron Butler enters the game for Thabo Sefolosha
75 - 93
1:07
Darren Collison enters the game for Chris Paul
75 - 93
1:07
Jared Dudley personal foul (Kevin Durant draws the foul)
75 - 93
0:58
Caron Butler misses 23-foot three point jumper
75 - 93
0:57
Darren Collison defensive rebound
75 - 93
0:47
Jared Dudley misses 22-foot jumper
75 - 93
0:47
Kevin Durant defensive rebound
75 - 93
0:40
Jared Dudley personal block (Kevin Durant draws the foul)
75 - 93
0:40
Kevin Durant misses free throw 1 of 2
75 - 93
0:40
Thunder offensive team rebound
75 - 93
0:40
Kevin Durant makes free throw 2 of 2
75 - 94
0:34
Blake Griffin offensive foul (Russell Westbrook draws the foul)
75 - 94
0:34
Blake Griffin turnover
75 - 94
0:11
Kevin Durant misses 6-foot jumper
75 - 94
0:08
Blake Griffin defensive rebound
75 - 94
0:03
Darren Collison makes two point shot
77 - 94
0:00
Russell Westbrook misses 32-foot
77 - 94
0:00
Clippers defensive team rebound
77 - 94
0:00
End of the 3rd Quarter
77 - 94

time
TEAM
PLAY
SCORE
11:51
Steven Adams shooting foul (Blake Griffin draws the foul)
77 - 94
11:51
Blake Griffin makes free throw 1 of 2
78 - 94
11:51
Blake Griffin makes free throw 2 of 2
79 - 94
11:33
Serge Ibaka misses 4-foot Running Jumper
79 - 94
11:32
Steven Adams offensive rebound
79 - 94
11:29
Serge Ibaka lost ball turnover (Jamal Crawford steals)
79 - 94
11:25
Steven Adams personal foul (Blake Griffin draws the foul)
79 - 94
11:14
Darren Collison misses 20-foot jumper
79 - 94
11:11
Reggie Jackson defensive rebound
79 - 94
10:55
Reggie Jackson bad pass (Chris Paul steals)
79 - 94
10:47
Jamal Crawford misses 25-foot three point jumper
79 - 94
10:45
Thunder defensive team rebound
79 - 94
10:45
Derek Fisher enters the game for Serge Ibaka
79 - 94
10:21
Reggie Jackson misses 16-foot jumper
79 - 94
10:21
Clippers defensive team rebound
79 - 94
10:21
Steven Adams loose ball foul (Blake Griffin draws the foul)
79 - 94
10:21
DeAndre Jordan enters the game for Blake Griffin
79 - 94
10:21
Russell Westbrook enters the game for Reggie Jackson
79 - 94
10:03
Jamal Crawford makes 25-foot three point jumper (Darren Collison assists)
82 - 94
10:02
Thunder Full timeout
82 - 94
9:48
Chris Paul personal foul (Kevin Durant draws the foul)
82 - 94
9:40
Russell Westbrook makes 11-foot jumper (Kevin Durant assists)
82 - 96
9:18
Steven Adams blocks Jamal Crawford 's 6-foot jumper
82 - 96
9:18
Chris Paul offensive rebound
82 - 96
9:17
Chris Paul out of bounds lost ball turnover
82 - 96
9:17
Steven Adams technical foul(1st technical foul)
82 - 96
9:17
Darren Collison makes technical free throw
83 - 96
9:04
Chris Paul personal foul (Kevin Durant draws the foul)
83 - 96
8:56
Russell Westbrook makes 12-foot two point shot (Kevin Durant assists)
83 - 98
8:49
Derek Fisher personal foul (Jamal Crawford draws the foul)
83 - 98
8:41
Jamal Crawford misses 25-foot three point jumper
83 - 98
8:40
Caron Butler defensive rebound
83 - 98
8:27
Steven Adams makes two point shot (Russell Westbrook assists)
83 - 100
8:17
Danny Granger misses 23-foot three point jumper
83 - 100
8:15
Kevin Durant defensive rebound
83 - 100
7:56
Derek Fisher misses 22-foot three point jumper
83 - 100
7:56
DeAndre Jordan defensive rebound
83 - 100
7:43
Jamal Crawford misses 22-foot three point jumper
83 - 100
7:43
Russell Westbrook defensive rebound
83 - 100
7:28
Chris Paul personal foul (Derek Fisher draws the foul)
83 - 100
7:28
Jamal Crawford technical foul(1st technical foul)
83 - 100
7:28
Kevin Durant makes technical free throw
83 - 101
7:28
Blake Griffin enters the game for DeAndre Jordan
83 - 101
7:28
J.J. Redick enters the game for Darren Collison
83 - 101
7:28
Matt Barnes enters the game for Danny Granger
83 - 101
7:18
Russell Westbrook makes 13-foot two point shot
83 - 103
7:11
Caron Butler personal foul (Blake Griffin draws the foul)
83 - 103
7:11
Blake Griffin makes free throw 1 of 2
84 - 103
7:11
Darren Collison enters the game for Chris Paul
84 - 103
7:11
Blake Griffin makes free throw 2 of 2
85 - 103
6:54
Blake Griffin personal foul (Derek Fisher draws the foul)
85 - 103
6:43
Russell Westbrook misses two point shot
85 - 103
6:41
Blake Griffin defensive rebound
85 - 103
6:37
Derek Fisher shooting foul (Jamal Crawford draws the foul)
85 - 103
6:37
Jamal Crawford makes free throw 1 of 2
86 - 103
6:37
Jamal Crawford makes free throw 2 of 2
87 - 103
6:18
Kevin Durant makes 18-foot jumper (Russell Westbrook assists)
87 - 105
6:01
Blake Griffin makes two point shot
89 - 105
5:39
Kevin Durant misses 20-foot jumper
89 - 105
5:39
Steven Adams offensive rebound
89 - 105
5:26
Kevin Durant bad pass (Jamal Crawford steals)
89 - 105
5:16
Jamal Crawford bad pass (Kevin Durant steals)
89 - 105
5:01
Kevin Durant lost ball turnover (Matt Barnes steals)
89 - 105
4:54
Matt Barnes misses 24-foot three point jumper
89 - 105
4:52
Kevin Durant defensive rebound
89 - 105
4:30
Russell Westbrook misses 26-foot three point jumper
89 - 105
4:28
Matt Barnes defensive rebound
89 - 105
4:22
Jamal Crawford misses 22-foot jumper
89 - 105
4:20
Kevin Durant defensive rebound
89 - 105
4:15
Thunder Full timeout
89 - 105
4:15
Glen Davis enters the game for Blake Griffin
89 - 105
4:15
Serge Ibaka enters the game for Steven Adams
89 - 105
4:03
Caron Butler misses 23-foot three point jumper
89 - 105
4:03
Kevin Durant offensive rebound
89 - 105
3:43
Caron Butler misses 18-foot jumper
89 - 105
3:42
Matt Barnes defensive rebound
89 - 105
3:30
Glen Davis offensive foul (Derek Fisher draws the foul)
89 - 105
3:30
Glen Davis turnover
89 - 105
3:30
Thabo Sefolosha enters the game for Derek Fisher
89 - 105
3:30
Willie Green enters the game for Matt Barnes
89 - 105
3:30
Jared Dudley enters the game for J.J. Redick
89 - 105
3:30
Danny Granger enters the game for Jamal Crawford
89 - 105
3:20
Danny Granger personal foul (Serge Ibaka draws the foul)
89 - 106
3:20
Serge Ibaka makes free throw 1 of 2
89 - 106
3:20
Serge Ibaka misses free throw 2 of 2
89 - 106
3:19
Willie Green defensive rebound
89 - 106
3:09
Willie Green makes three point jumper (Jared Dudley assists)
92 - 106
2:49
Kevin Durant misses 25-foot three point jumper
92 - 106
2:47
Willie Green defensive rebound
92 - 106
2:44
Darren Collison makes layup (Willie Green assists)
94 - 106
2:44
Kevin Durant shooting foul (Darren Collison draws the foul)
94 - 106
2:44
Official timeout
94 - 106
2:44
Darren Collison makes free throw 1 of 1
95 - 106
2:24
Danny Granger personal foul (Serge Ibaka draws the foul)
95 - 106
2:24
Chris Paul technical foul(1st technical foul)
95 - 106
2:24
Kevin Durant makes technical free throw
95 - 107
2:24
Serge Ibaka makes free throw 1 of 2
95 - 108
2:24
Serge Ibaka misses free throw 2 of 2
95 - 108
2:23
Jared Dudley defensive rebound
95 - 108
2:13
Jared Dudley misses 19-foot jumper
95 - 108
2:12
Glen Davis offensive rebound
95 - 108
2:06
Kevin Durant shooting foul (Darren Collison draws the foul)
95 - 108
2:06
Darren Collison makes free throw 1 of 2
96 - 108
2:06
Darren Collison makes free throw 2 of 2
97 - 108
1:58
Russell Westbrook offensive foul (Darren Collison draws the foul)
97 - 108
1:58
Russell Westbrook turnover
97 - 108
1:58
Clippers Full timeout
97 - 108
1:45
Glen Davis misses two point shot
97 - 108
1:44
Kevin Durant defensive rebound
97 - 108
1:21
Thabo Sefolosha makes layup (Russell Westbrook assists)
97 - 110
1:21
Clippers 20 Sec. timeout
97 - 110
1:21
Steven Adams enters the game for Kevin Durant
97 - 110
1:21
Reggie Jackson enters the game for Serge Ibaka
97 - 110
1:21
Jeremy Lamb enters the game for Russell Westbrook
97 - 110
1:08
Darren Collison misses 15-foot jumper
97 - 110
1:07
Caron Butler defensive rebound
97 - 110
0:48
Reggie Jackson makes driving layup
97 - 112
0:39
Glen Davis makes 20-foot jumper (Darren Collison assists)
99 - 112
0:23
Jeremy Lamb bad pass (Danny Granger steals)
99 - 112
0:20
Darren Collison makes dunk (Danny Granger assists)
101 - 112
0:13
Reggie Jackson lost ball turnover (Willie Green steals)
101 - 112
0:06
Willie Green misses 26-foot three point jumper
101 - 112
0:06
Caron Butler defensive rebound
101 - 112
0:00
End of the 4th Quarter
101 - 112
0:00
End of Game
101 - 112
NBA commissioner Adam Silver explains why he's been so outspoken when talking about sports gambling surrounding the NBA saying it's "good for the integrity of the game… and an appropriate form of entertainment."

NBA commissioner Adam Silver says "it was a close call" in regards to not handing Draymond Green a suspension for kicking Steven Adams and describes the investigation that took place after Game 3.

Rachel Nichols pleads with fans to disconnect from predictions and to savor each deliciously unpredictable game as they happen.
Western Conference Semifinals
OKC wins series 4-2
2015-2016 Pacific Standings
2015-2016 Northwest Standings