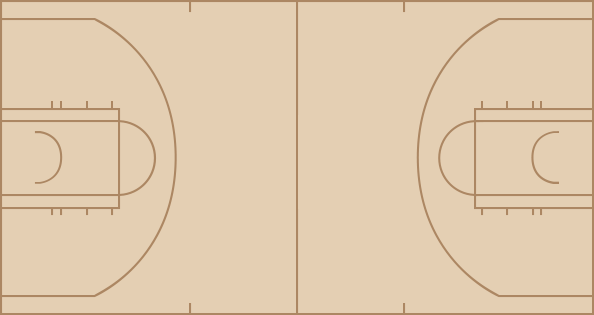 Heat
time
TEAM
PLAY
SCORE
12:00
Chris Bosh vs. Tim Duncan (Dwyane Wade gains possession)
0 - 0
11:45
LeBron James lost ball turnover (Danny Green steals)
0 - 0
11:26
Danny Green makes 18-foot jumper (Tiago Splitter assists)
0 - 2
11:03
Danny Green shooting foul (Rashard Lewis draws the foul)
1 - 2
11:03
Rashard Lewis makes free throw 1 of 2
1 - 2
11:03
Rashard Lewis misses free throw 2 of 2
1 - 2
11:00
Tiago Splitter defensive rebound
1 - 2
10:52
Tim Duncan makes layup (Tony Parker assists)
1 - 4
10:52
Chris Bosh shooting foul (Tim Duncan draws the foul)
1 - 4
10:52
Tim Duncan makes free throw 1 of 1
1 - 5
10:33
LeBron James misses 10-foot jumper
1 - 5
10:32
Chris Bosh offensive rebound
1 - 5
10:32
Danny Green shooting foul (Chris Bosh draws the foul)
1 - 5
10:32
Chris Bosh misses free throw 1 of 2
1 - 5
10:32
Heat offensive team rebound
1 - 5
10:32
Marco Belinelli enters the game for Danny Green
1 - 5
10:32
Chris Bosh makes free throw 2 of 2
2 - 5
10:15
Marco Belinelli misses 25-foot three point jumper
2 - 5
10:15
LeBron James defensive rebound
2 - 5
9:57
Kawhi Leonard personal foul (LeBron James draws the foul)
2 - 5
9:42
shot clock turnover
2 - 5
9:22
Tim Duncan makes two point shot (Tiago Splitter assists)
2 - 7
9:06
Chris Bosh makes layup
4 - 7
8:48
Tim Duncan misses layup
4 - 7
8:48
Chris Bosh defensive rebound
4 - 7
8:42
LeBron James misses layup
4 - 7
8:40
Tiago Splitter defensive rebound
4 - 7
8:33
Marco Belinelli makes 25-foot three point jumper (Tony Parker assists)
4 - 10
8:10
Chris Bosh makes 14-foot jumper (Dwyane Wade assists)
6 - 10
7:54
Tim Duncan makes layup (Tiago Splitter assists)
6 - 12
7:35
Rashard Lewis makes layup (Mario Chalmers assists)
8 - 12
7:18
Marco Belinelli bad pass (LeBron James steals)
8 - 12
7:15
Dwyane Wade bad pass (Tony Parker steals)
8 - 12
7:11
Marco Belinelli misses layup
8 - 12
7:09
Tim Duncan makes two point shot
8 - 14
7:09
Tim Duncan offensive rebound
8 - 12
6:52
Rashard Lewis makes three point jumper (Mario Chalmers assists)
11 - 14
6:37
Rashard Lewis shooting foul (Kawhi Leonard draws the foul)
11 - 14
6:37
Kawhi Leonard makes free throw 1 of 2
11 - 15
6:37
Chris Andersen enters the game for Chris Bosh
11 - 15
6:37
Boris Diaw enters the game for Tiago Splitter
11 - 15
6:37
Manu Ginobili enters the game for Marco Belinelli
11 - 15
6:37
Ray Allen enters the game for Dwyane Wade
11 - 15
6:37
Kawhi Leonard misses free throw 2 of 2
11 - 15
6:37
Chris Andersen defensive rebound
11 - 15
6:22
Mario Chalmers makes 3-foot two point shot
13 - 15
6:22
Spurs Full timeout
13 - 15
6:07
Manu Ginobili misses 13-foot jump bank shot
13 - 15
6:03
Chris Andersen defensive rebound
13 - 15
5:58
Tim Duncan blocks Chris Andersen's layup
13 - 15
5:56
Kawhi Leonard defensive rebound
13 - 15
5:43
Boris Diaw bad pass
13 - 15
5:26
LeBron James misses 13-foot jump bank shot
13 - 15
5:26
Boris Diaw defensive rebound
13 - 15
5:16
Kawhi Leonard misses two point shot
13 - 15
5:16
Heat defensive team rebound
13 - 15
4:54
LeBron James makes 1-foot driving dunk (Rashard Lewis assists)
15 - 15
4:41
Mario Chalmers personal foul (Tony Parker draws the foul)
15 - 15
4:37
Tony Parker makes layup (Kawhi Leonard assists)
15 - 17
4:09
Rashard Lewis misses three point jumper
15 - 17
4:09
Tim Duncan defensive rebound
15 - 17
3:53
Tony Parker makes three point jumper (Boris Diaw assists)
15 - 20
3:46
Heat Full timeout
15 - 20
3:46
Chris Bosh enters the game for Rashard Lewis
15 - 20
3:46
Norris Cole enters the game for Mario Chalmers
15 - 20
3:32
LeBron James bad pass (Boris Diaw steals)
15 - 20
3:12
Kawhi Leonard makes jumper (Tony Parker assists)
15 - 22
2:57
Chris Bosh makes driving layup (LeBron James assists)
17 - 22
2:42
Manu Ginobili makes two point shot (Kawhi Leonard assists)
17 - 24
2:26
LeBron James out of bounds lost ball turnover
17 - 24
2:26
Dwyane Wade enters the game for LeBron James
17 - 24
2:26
Patty Mills enters the game for Tony Parker
17 - 24
2:09
Kawhi Leonard misses 13-foot two point shot
17 - 24
2:05
Norris Cole defensive rebound
17 - 24
2:01
Norris Cole misses layup
17 - 24
2:00
Boris Diaw defensive rebound
17 - 24
1:50
Manu Ginobili misses 9-foot jump bank shot
17 - 24
1:49
Tim Duncan makes two point shot
17 - 26
1:49
Tim Duncan offensive rebound
17 - 24
1:28
Ray Allen misses 15-foot jumper
17 - 26
1:25
Ray Allen makes 3-foot jumper
19 - 26
1:25
Ray Allen offensive rebound
17 - 26
1:04
Tim Duncan bad pass (Chris Bosh steals)
19 - 26
0:54
Norris Cole misses three point jumper
19 - 26
0:53
Manu Ginobili defensive rebound
19 - 26
0:50
Manu Ginobili disc dribble turnover
19 - 26
0:50
Marco Belinelli enters the game for Kawhi Leonard
19 - 26
0:50
Tiago Splitter enters the game for Tim Duncan
19 - 26
0:24
Chris Bosh misses 16-foot jumper
19 - 26
0:23
Tiago Splitter defensive rebound
19 - 26
0:04
Manu Ginobili bad pass
19 - 26
0:04
Rashard Lewis enters the game for Chris Andersen
19 - 26
0:04
Dwyane Wade bad pass
19 - 26
0:04
Spurs 20 Sec. timeout
19 - 26
0:04
Chris Andersen enters the game for Rashard Lewis
19 - 26
0:02
Tiago Splitter misses layup
19 - 26
0:00
Chris Andersen defensive rebound
19 - 26
0:00
End of the 1st Quarter
19 - 26

time
TEAM
PLAY
SCORE
11:44
Patty Mills makes 19-foot two point shot
19 - 28
11:19
Dwyane Wade traveling
19 - 28
11:04
Patty Mills misses jumper
19 - 28
11:03
Chris Andersen defensive rebound
19 - 28
11:03
Chris Andersen steps out of bounds turnover
19 - 28
11:00
Manu Ginobili makes 13-foot jumper (Tiago Splitter assists)
19 - 30
10:41
Dwyane Wade misses 18-foot jumper
19 - 30
10:41
Ray Allen offensive rebound
19 - 30
10:38
Tiago Splitter kicked ball violation
19 - 30
10:38
LeBron James enters the game for Norris Cole
19 - 30
10:38
Kawhi Leonard enters the game for Manu Ginobili
19 - 30
10:33
LeBron James bad pass (Tiago Splitter steals)
19 - 30
10:18
Kawhi Leonard misses jumper
19 - 30
10:17
Tiago Splitter offensive rebound
19 - 30
10:06
Ray Allen personal foul (Marco Belinelli draws the foul)
19 - 30
9:55
Marco Belinelli misses 25-foot three point jumper
19 - 30
9:53
LeBron James defensive rebound
19 - 30
9:40
Ray Allen makes 25-foot three point jumper
22 - 30
9:38
Spurs Full timeout
22 - 30
9:38
Tony Parker enters the game for Patty Mills
22 - 30
9:38
Rashard Lewis enters the game for Chris Andersen
22 - 30
9:17
Tony Parker lost ball turnover (Dwyane Wade steals)
22 - 30
9:07
Dwyane Wade lost ball turnover (Kawhi Leonard steals)
22 - 30
9:02
Chris Bosh blocks Tiago Splitter's layup
22 - 30
9:00
Ray Allen defensive rebound
22 - 30
8:45
Rashard Lewis misses 23-foot three point jumper
22 - 30
8:45
Tiago Splitter defensive rebound
22 - 30
8:33
Tiago Splitter bad pass (Ray Allen steals)
22 - 30
8:29
Dwyane Wade makes layup (LeBron James assists)
24 - 30
8:00
Kawhi Leonard misses 16-foot jumper
24 - 30
7:58
LeBron James defensive rebound
24 - 30
7:52
LeBron James makes layup
26 - 30
7:37
Tony Parker misses three point jumper
26 - 30
7:35
LeBron James defensive rebound
26 - 30
7:31
LeBron James makes layup
28 - 30
7:20
Boris Diaw misses layup
28 - 30
7:18
Boris Diaw misses tip shot
28 - 30
7:18
Boris Diaw offensive rebound
28 - 30
7:16
Boris Diaw makes two point shot
28 - 32
7:16
Boris Diaw offensive rebound
28 - 30
7:16
Spurs delay of game violation
28 - 32
7:15
Heat Full timeout
28 - 32
7:15
Matt Bonner enters the game for Tiago Splitter
28 - 32
7:15
Manu Ginobili enters the game for Marco Belinelli
28 - 32
7:15
Tim Duncan enters the game for Boris Diaw
28 - 32
7:15
Chris Andersen enters the game for Chris Bosh
28 - 32
7:15
Mario Chalmers enters the game for Dwyane Wade
28 - 32
6:56
Ray Allen misses 25-foot three point jumper
28 - 32
6:56
Heat offensive team rebound
28 - 32
6:56
Matt Bonner loose ball foul (Chris Andersen draws the foul)
28 - 32
6:56
Danny Green enters the game for Matt Bonner
28 - 32
6:41
LeBron James misses layup
28 - 32
6:41
Heat offensive team rebound
28 - 32
6:41
Manu Ginobili loose ball foul (Chris Andersen draws the foul)
28 - 32
6:41
James Jones enters the game for Ray Allen
28 - 32
6:24
Mario Chalmers misses 6-foot jumper
28 - 32
6:24
LeBron James makes two point shot
30 - 32
6:24
LeBron James offensive rebound
28 - 32
6:07
James Jones shooting foul (Tony Parker draws the foul)
30 - 32
6:07
Tony Parker misses free throw 1 of 2
30 - 32
6:07
Spurs offensive team rebound
30 - 32
6:07
Tony Parker makes free throw 2 of 2
30 - 33
5:45
Tony Parker shooting foul (Mario Chalmers draws the foul)
30 - 33
5:45
Mario Chalmers misses free throw 1 of 2
30 - 33
5:45
Heat offensive team rebound
30 - 33
5:45
Mario Chalmers makes free throw 2 of 2
31 - 33
5:30
Tim Duncan lost ball turnover (LeBron James steals)
31 - 33
5:28
Manu Ginobili personal foul (LeBron James draws the foul)
31 - 33
5:28
Tim Duncan technical foul(1st technical foul)
31 - 33
5:28
LeBron James makes technical free throw
32 - 33
5:09
James Jones misses 25-foot three point jumper
32 - 33
5:07
LeBron James makes layup
34 - 33
5:07
LeBron James offensive rebound
34 - 33
4:54
Chris Andersen personal foul (Tony Parker draws the foul)
34 - 33
4:54
Dwyane Wade enters the game for LeBron James
34 - 33
4:54
Chris Bosh enters the game for Rashard Lewis
34 - 33
4:54
Boris Diaw enters the game for Danny Green
34 - 33
4:48
James Jones defensive 3-seconds (Technical Foul)
34 - 33
4:48
Manu Ginobili makes technical free throw
34 - 34
4:48
Marco Belinelli enters the game for Kawhi Leonard
34 - 34
4:45
Manu Ginobili makes 25-foot three point jumper (Marco Belinelli assists)
34 - 37
4:24
James Jones misses 24-foot three point jumper
34 - 37
4:24
Boris Diaw defensive rebound
34 - 37
4:13
Manu Ginobili misses 26-foot three point jumper
34 - 37
4:11
Chris Andersen defensive rebound
34 - 37
4:09
Manu Ginobili personal foul (Dwyane Wade draws the foul)
34 - 37
4:09
Dwyane Wade makes free throw 1 of 2
35 - 37
4:09
Danny Green enters the game for Manu Ginobili
35 - 37
4:09
Ray Allen enters the game for James Jones
35 - 37
4:09
Dwyane Wade makes free throw 2 of 2
36 - 37
3:50
Tony Parker makes 19-foot jumper (Boris Diaw assists)
36 - 39
3:34
Chris Andersen misses jumper
36 - 39
3:32
Danny Green defensive rebound
36 - 39
3:24
Tim Duncan misses layup
36 - 39
3:23
Chris Bosh defensive rebound
36 - 39
3:04
Chris Andersen possession lost ball turnoverMarco Belinelli
36 - 39
3:03
Marco Belinelli bad pass (Ray Allen steals)
36 - 39
3:02
Mario Chalmers misses 25-foot three point jumper
36 - 39
2:59
Tim Duncan defensive rebound
36 - 39
2:55
Tony Parker makes layup (Tim Duncan assists)
36 - 41
2:47
Heat 20 Sec. timeout
36 - 41
2:47
Official timeout
36 - 41
2:47
LeBron James enters the game for Chris Andersen
36 - 41
2:29
Chris Bosh makes two point shot (Dwyane Wade assists)
38 - 41
2:29
Tim Duncan shooting foul (Chris Bosh draws the foul)
39 - 41
2:29
Chris Bosh makes free throw 1 of 1
39 - 41
2:12
Marco Belinelli misses 25-foot three point jumper
39 - 41
2:10
Tim Duncan offensive rebound
39 - 41
2:00
Tim Duncan misses 11-foot jumper
39 - 41
1:57
LeBron James defensive rebound
39 - 41
1:52
LeBron James misses layup
39 - 41
1:49
Tim Duncan defensive rebound
39 - 41
1:46
Tony Parker makes layup
39 - 43
1:25
LeBron James makes two point shot (Dwyane Wade assists)
41 - 43
1:06
Tony Parker misses 19-foot jumper
41 - 43
1:05
Dwyane Wade defensive rebound
41 - 43
0:58
Dwyane Wade makes 9-foot jumper
43 - 43
0:58
Heat delay of game violation
43 - 43
0:39
Tony Parker misses 23-foot three point jumper
43 - 43
0:37
Dwyane Wade defensive rebound
43 - 43
0:23
Chris Bosh misses 9-foot two point shot
43 - 43
0:21
Tim Duncan defensive rebound
43 - 43
0:00
Tony Parker misses layup
43 - 43
0:00
Tim Duncan misses layup
43 - 43
0:00
Tim Duncan offensive rebound
43 - 43
0:00
Tim Duncan offensive rebound
43 - 43
0:00
End of the 2nd Quarter
43 - 43

time
TEAM
PLAY
SCORE
11:40
Tim Duncan misses 6-foot Running Jumper
43 - 43
11:37
Spurs offensive team rebound
43 - 43
11:21
Tony Parker makes 20-foot jumper (Kawhi Leonard assists)
43 - 45
11:02
Mario Chalmers makes driving layup
45 - 45
10:48
Tim Duncan misses layup
45 - 45
10:48
Tim Duncan makes two point shot
45 - 47
10:48
Tim Duncan offensive rebound
45 - 45
10:33
Tiago Splitter personal foul (Chris Bosh draws the foul)
45 - 47
10:26
Danny Green shooting foul (Dwyane Wade draws the foul)
45 - 47
10:26
Dwyane Wade makes free throw 1 of 2
46 - 47
10:26
Dwyane Wade makes free throw 2 of 2
47 - 47
10:08
Tony Parker misses 10-foot jumper
47 - 47
10:07
Spurs offensive team rebound
47 - 47
10:07
LeBron James loose ball foul (Tim Duncan draws the foul)
47 - 47
9:59
Danny Green makes 26-foot three point jumper (Tony Parker assists)
47 - 50
9:38
LeBron James makes 18-foot jumper (Mario Chalmers assists)
49 - 50
9:21
Kawhi Leonard misses three point jumper
49 - 50
9:18
Dwyane Wade defensive rebound
49 - 50
9:06
Rashard Lewis makes two point shot
51 - 50
8:53
LeBron James shooting foul (Tim Duncan draws the foul)
51 - 50
8:53
LeBron James technical foul(1st technical foul)
51 - 50
8:53
Danny Green makes technical free throw
51 - 51
8:53
Tim Duncan makes free throw 1 of 2
51 - 52
8:53
Tim Duncan misses free throw 2 of 2
51 - 52
8:53
LeBron James defensive rebound
51 - 52
8:41
Rashard Lewis makes 25-foot three point jumper (Dwyane Wade assists)
54 - 52
8:30
Kawhi Leonard makes three point jumper (Tony Parker assists)
54 - 55
8:21
Kawhi Leonard personal foul (LeBron James draws the foul)
54 - 55
8:21
Boris Diaw enters the game for Tiago Splitter
54 - 55
8:15
Manu Ginobili enters the game for Danny Green
54 - 55
8:14
Dwyane Wade bad pass (Manu Ginobili steals)
54 - 55
8:03
Manu Ginobili makes 19-foot jumper
54 - 57
7:45
Rashard Lewis misses 25-foot three point jumper
54 - 57
7:43
Tim Duncan defensive rebound
54 - 57
7:22
Rashard Lewis blocks Kawhi Leonard's 5-foot jumper
54 - 57
7:22
Heat defensive team rebound
54 - 57
7:22
Kawhi Leonard loose ball foul (LeBron James draws the foul)
54 - 57
7:22
Chris Andersen enters the game for Chris Bosh
54 - 57
7:22
Ray Allen enters the game for Dwyane Wade
54 - 57
7:05
Ray Allen makes two point shot
56 - 57
6:48
Rashard Lewis personal foul (Tony Parker draws the foul)
56 - 57
6:48
Norris Cole enters the game for Mario Chalmers
56 - 57
6:31
Kawhi Leonard makes 25-foot three point jumper (Boris Diaw assists)
56 - 60
6:26
Heat Full timeout
56 - 60
6:11
Rashard Lewis misses three point jumper
56 - 60
6:09
Manu Ginobili defensive rebound
56 - 60
5:58
Boris Diaw misses 12-foot two point shot
56 - 60
5:56
Tim Duncan offensive rebound
56 - 60
5:56
Chris Andersen shooting foul (Tim Duncan draws the foul)
56 - 61
5:56
Tim Duncan makes free throw 1 of 2
56 - 61
5:56
Tim Duncan makes free throw 2 of 2
56 - 62
5:41
LeBron James makes 25-foot three point jumper (Norris Cole assists)
59 - 62
5:26
Manu Ginobili misses 25-foot three point jumper
59 - 62
5:26
Heat defensive team rebound
59 - 62
5:13
LeBron James makes 19-foot jumper
61 - 62
4:56
Tony Parker misses 16-foot jumper
61 - 62
4:56
LeBron James defensive rebound
61 - 62
4:50
LeBron James makes 26-foot three pointer
64 - 62
4:50
Spurs Full timeout
64 - 62
4:31
Boris Diaw makes 7-foot two point shot
64 - 64
4:13
Kawhi Leonard personal foul (Chris Andersen draws the foul)
64 - 64
4:13
Chris Andersen misses free throw 1 of 2
64 - 64
4:13
Heat offensive team rebound
64 - 64
4:13
Marco Belinelli enters the game for Kawhi Leonard
64 - 64
4:13
Patty Mills enters the game for Tony Parker
64 - 64
4:13
Chris Andersen makes free throw 2 of 2
65 - 64
3:57
Patty Mills misses three point jumper
65 - 64
3:56
Norris Cole defensive rebound
65 - 64
3:47
LeBron James makes 18-foot two point shot
67 - 64
3:34
Manu Ginobili misses 26-foot three point jumper
67 - 64
3:33
Chris Andersen defensive rebound
67 - 64
3:28
LeBron James makes 20-foot jumper
69 - 64
3:09
Boris Diaw misses three point jumper
69 - 64
3:08
Chris Andersen defensive rebound
69 - 64
2:54
LeBron James misses 17-foot jumper
69 - 64
2:53
Marco Belinelli defensive rebound
69 - 64
2:46
Tim Duncan makes layup (Manu Ginobili assists)
69 - 66
2:46
Norris Cole shooting foul (Tim Duncan draws the foul)
69 - 66
2:46
Chris Bosh enters the game for Rashard Lewis
69 - 66
2:46
Tim Duncan misses free throw 1 of 1
69 - 66
2:45
LeBron James defensive rebound
69 - 66
2:24
Ray Allen makes driving layup
71 - 66
2:01
Patty Mills makes three point jumper (Boris Diaw assists)
71 - 69
1:51
Norris Cole offensive foul (Patty Mills draws the foul)
71 - 69
1:51
Norris Cole turnover
71 - 69
1:51
Dwyane Wade enters the game for LeBron James
71 - 69
1:51
Tiago Splitter enters the game for Tim Duncan
71 - 69
1:35
Manu Ginobili makes layup (Tiago Splitter assists)
71 - 71
1:16
Tiago Splitter shooting foul (Chris Bosh draws the foul)
71 - 71
1:16
Chris Bosh makes free throw 1 of 2
72 - 71
1:16
Tony Parker enters the game for Manu Ginobili
72 - 71
1:16
Udonis Haslem enters the game for Chris Andersen
72 - 71
1:16
Mario Chalmers enters the game for Norris Cole
72 - 71
1:16
Matt Bonner enters the game for Boris Diaw
72 - 71
1:16
Chris Bosh makes free throw 2 of 2
73 - 71
0:57
Patty Mills makes 25-foot three point jumper (Tony Parker assists)
73 - 74
0:37
Dwyane Wade makes 16-foot jumper
75 - 74
0:31
Udonis Haslem personal block (Tony Parker draws the foul)
75 - 74
0:31
Tony Parker makes free throw 1 of 2
75 - 75
0:31
James Jones enters the game for Udonis Haslem
75 - 75
0:31
Boris Diaw enters the game for Matt Bonner
75 - 75
0:31
Tony Parker makes free throw 2 of 2
75 - 76
0:15
Dwyane Wade makes 11-foot two point shot
77 - 76
0:03
Tony Parker makes 8-foot two point shot
77 - 78
0:01
Ray Allen misses three point running jumper
77 - 78
0:00
Heat offensive team rebound
77 - 78
0:00
End of the 3rd Quarter
77 - 78

time
TEAM
PLAY
SCORE
11:48
Chris Bosh makes two point shot (Mario Chalmers assists)
79 - 78
11:48
Tiago Splitter shooting foul (Chris Bosh draws the foul)
79 - 78
11:48
Chris Bosh makes free throw 1 of 1
80 - 78
11:27
Boris Diaw misses layup
80 - 78
11:26
Dwyane Wade defensive rebound
80 - 78
11:15
Dwyane Wade misses layup
80 - 78
11:15
Tiago Splitter defensive rebound
80 - 78
11:15
Dwyane Wade loose ball foul (Tiago Splitter draws the foul)
80 - 78
11:00
Tony Parker misses 19-foot jumper
80 - 78
10:59
Rashard Lewis defensive rebound
80 - 78
10:53
Patty Mills personal foul (Mario Chalmers draws the foul)
80 - 78
10:53
Manu Ginobili enters the game for Tony Parker
80 - 78
10:41
Chris Bosh misses 19-foot jumper
80 - 78
10:41
Boris Diaw defensive rebound
80 - 78
10:27
Patty Mills misses 22-foot jumper
80 - 78
10:26
Mario Chalmers defensive rebound
80 - 78
10:17
Chris Bosh misses 20-foot jumper
80 - 78
10:15
Boris Diaw defensive rebound
80 - 78
10:02
Tiago Splitter makes layup (Manu Ginobili assists)
80 - 80
9:37
Rashard Lewis makes 25-foot three point jumper (Chris Bosh assists)
83 - 80
9:22
Rashard Lewis personal foul (Patty Mills draws the foul)
83 - 80
9:22
LeBron James enters the game for Ray Allen
83 - 80
9:22
Kawhi Leonard enters the game for Marco Belinelli
83 - 80
9:22
Tim Duncan enters the game for Tiago Splitter
83 - 80
9:10
Tim Duncan misses 12-foot jumper
83 - 80
9:08
Dwyane Wade defensive rebound
83 - 80
8:59
Dwyane Wade misses 15-foot jumper
83 - 80
8:57
Boris Diaw defensive rebound
83 - 80
8:51
Chris Bosh personal foul (Boris Diaw draws the foul)
83 - 80
8:51
Official timeout
83 - 80
8:51
Danny Green enters the game for Boris Diaw
83 - 80
8:47
Tim Duncan offensive foul (LeBron James draws the foul)
83 - 80
8:47
Tim Duncan turnover
83 - 80
8:47
James Jones enters the game for Rashard Lewis
83 - 80
8:26
LeBron James misses 20-foot step back jumpshot
83 - 80
8:23
Tim Duncan defensive rebound
83 - 80
8:17
Manu Ginobili makes 7-foot two point shot
83 - 82
7:52
Dwyane Wade misses 5-foot jumper
83 - 82
7:52
Tim Duncan defensive rebound
83 - 82
7:43
Danny Green makes 25-foot three point jumper (Manu Ginobili assists)
83 - 85
7:13
LeBron James makes 20-foot jumper
85 - 85
7:01
Mario Chalmers personal foul (Patty Mills draws the foul)
85 - 85
7:01
Tony Parker enters the game for Patty Mills
85 - 85
7:01
Ray Allen enters the game for Dwyane Wade
85 - 85
7:01
Chris Andersen enters the game for Chris Bosh
85 - 85
6:52
LeBron James personal foul (Manu Ginobili draws the foul)
85 - 85
6:52
Manu Ginobili makes free throw 1 of 2
85 - 86
6:52
Manu Ginobili makes free throw 2 of 2
85 - 87
6:43
Mario Chalmers flagrant foul type 1 (Tony Parker draws the foul)
85 - 87
6:43
Mario Chalmers turnover
85 - 87
6:43
Marco Belinelli enters the game for Manu Ginobili
85 - 87
6:43
Tony Parker misses free throw 2 of 2
85 - 87
6:43
Spurs offensive team rebound
85 - 87
6:43
Tony Parker misses free throw 1 of 1
85 - 87
6:43
Spurs offensive team rebound
85 - 87
6:43
Patty Mills enters the game for Tony Parker
85 - 87
6:33
Chris Andersen shooting foul (Tim Duncan draws the foul)
85 - 87
6:33
Tim Duncan misses free throw 1 of 2
85 - 87
6:33
Spurs offensive team rebound
85 - 87
6:33
Tim Duncan misses free throw 2 of 2
85 - 87
6:33
Mario Chalmers defensive rebound
85 - 87
6:09
LeBron James makes 24-foot three pointer
88 - 87
5:54
Patty Mills misses 19-foot jumper
88 - 87
5:52
Mario Chalmers defensive rebound
88 - 87
5:30
shot clock turnover
88 - 87
5:30
Spurs Full timeout
88 - 87
5:30
Manu Ginobili enters the game for Marco Belinelli
88 - 87
5:30
Tony Parker enters the game for Patty Mills
88 - 87
5:16
Ray Allen blocks Danny Green's 23-foot three point jumper
88 - 87
5:15
Chris Andersen defensive rebound
88 - 87
5:01
Kawhi Leonard shooting foul (LeBron James draws the foul)
90 - 87
5:01
LeBron James makes free throw 1 of 2
89 - 87
5:01
Boris Diaw enters the game for Danny Green
89 - 87
5:01
Chris Bosh enters the game for James Jones
89 - 87
5:01
LeBron James makes free throw 2 of 2
90 - 87
5:01
Dwyane Wade enters the game for Mario Chalmers
90 - 87
4:39
Boris Diaw makes three point jumper (Tony Parker assists)
90 - 90
4:16
Chris Andersen misses layup
90 - 90
4:13
Heat offensive team rebound
90 - 90
4:13
shot clock turnover
90 - 90
4:13
Danny Green enters the game for Kawhi Leonard
90 - 90
3:50
Danny Green misses driving layup
90 - 90
3:49
Chris Andersen defensive rebound
90 - 90
3:35
LeBron James misses 11-foot jumper
90 - 90
3:34
Boris Diaw defensive rebound
90 - 90
3:14
Manu Ginobili misses 27-foot three point jumper
90 - 90
3:13
Dwyane Wade defensive rebound
90 - 90
2:48
Chris Andersen makes two point shot (Ray Allen assists)
92 - 90
2:26
Tony Parker makes 26-foot three point jumper (Manu Ginobili assists)
92 - 93
2:25
Heat Full timeout
92 - 93
2:25
Mario Chalmers enters the game for Chris Andersen
92 - 93
2:25
Kawhi Leonard enters the game for Danny Green
92 - 93
2:06
Chris Bosh misses three point jumper
92 - 93
2:05
Kawhi Leonard defensive rebound
92 - 93
1:39
Manu Ginobili misses 24-foot three point jumper
92 - 93
1:39
Dwyane Wade defensive rebound
92 - 93
1:17
Chris Bosh makes three point jumper (LeBron James assists)
95 - 93
1:00
Manu Ginobili bad pass
95 - 93
0:47
Kawhi Leonard shooting foul (LeBron James draws the foul)
95 - 93
0:47
Danny Green enters the game for Kawhi Leonard
95 - 93
0:47
LeBron James makes free throw 1 of 2
96 - 93
0:47
LeBron James misses free throw 2 of 2
96 - 93
0:46
Tim Duncan defensive rebound
96 - 93
0:29
Manu Ginobili misses 19-foot jumper
96 - 93
0:28
Heat defensive team rebound
96 - 93
0:09
Dwyane Wade makes layup (Chris Bosh assists)
98 - 93
0:09
Spurs Full timeout
98 - 93
0:09
Rashard Lewis enters the game for Mario Chalmers
98 - 93
0:02
Boris Diaw misses jumper
98 - 93
0:01
Boris Diaw offensive rebound
98 - 93
0:00
Manu Ginobili makes 27-foot three point jumper (Boris Diaw assists)
98 - 96
0:00
End of the 4th Quarter
98 - 96
0:00
End of Game
98 - 96
Despite the efforts of the five teams courting Kevin Durant, the most financially lucrative and legacy-cementing choice is to stay in Oklahoma City.

The Philadelphia 76ers are actively working on a deal to bring Croatian big man Dario Saric to the NBA next season, according to league sources.

Tracy McGrady and Stephen Jackson share their disdain of Jimmy Butler's sock monkey commercial, while Rachel Nichols defends Butler's ad.
NBA Finals
SA wins series 4-1
2015-2016 Southeast Standings
2015-2016 Southwest Standings