Coverage: TNT
10:30 PM ET, February 13, 2014
STAPLES Center, Los Angeles, CA
Top Performers
Okc: K. Durant 43 Pts, 12 Reb, 7 Ast, 3 Stl
LAL: K. Marshall 14 Pts, 7 Reb, 17 Ast, 1 Stl
Kevin Durant, Thunder send Lakers to record 7th straight home loss
LOS ANGELES -- For three quarters, the Los Angeles Lakers tempted the sellout crowd at Staples Center into believing they would pull off one of the most improbable upsets of the NBA season.
Then Kevin Durant took over and the Lakers got sloppy with the ball, turning it into just another loss in a season full of them for coach Mike D'Antoni's undermanned squad.
Durant scored 19 of his 43 points in the fourth quarter, and the Oklahoma City Thunder sent the Lakers to a record-setting seventh straight home loss with a 107-103 victory Thursday night.
More Thunder-Lakers Coverage

Kevin Durant has been making it look easier in leading the Thunder to the best record in the NBA while Russell Westbrook recovers, but that doesn't mean it has been easy, Ramona Shelburne writes. Dime
---

The Lakers will return from four days off after the All-Star break, but will there be anything worth coming back to? This always will be known as a cursed season, Dave McMenamin writes. Blog
"The easy thing to do is look at it like we didn't have the proper focus. But I'm not going to go there -- because when you play against an NBA team that's prideful like the Lakers, they're going to have a good game," Oklahoma City coach Scott Brooks said.
The Thunder have a 1 1/2-game lead on Indiana for the NBA's best record. Their 43-12 mark equals the best start in the franchise's 47-year history, set by the 1995-96 Seattle SuperSonics.
Oklahoma City is 20-7 without second-leading scorer Russell Westbrook, who hasn't played since getting a triple-double Christmas Day at Madison Square Garden. Westbrook is recovering from arthroscopic surgery on his right knee.
"This whole group, they are resilient," Durant said. "We persevered through everything and just stayed together. We had faith no matter what. We are looking forward to having Russell back and make it seem less of a transition for him."
Chris Kaman and Wesley Johnson scored 19 points apiece for Los Angeles, and Kendall Marshall added 14 points and 17 assists. The Lakers have lost 22 of their past 27 games and are tied with Sacramento for last place in the Western Conference.
The Thunder, coming off a 98-95 win against Portland in which they held All-Stars LaMarcus Aldridge and Damian Lillard to a combined 1-for-17 from the field in the second half, trailed by as many as 15 points late in the third quarter while Durant missed his first eight attempts from 3-point range.
But Durant's first 3-pointer of the game cut the Lakers' lead to 85-77 in the opening minute of the fourth, triggering a 15-2 run that enabled Oklahoma City to pull ahead 92-87 with 5:46 to play.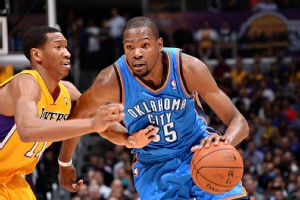 Andrew D. Bernstein/NBAE/Getty Images
Kevin Durant took over in the fourth quarter as the Thunder eked out a rally.
"He just continued to play the game and do what he has done all season," teammate and former Laker Derek Fisher said. "He is one of the best I have seen in terms of really just playing through anything and everything."
Los Angeles committed seven of its 23 turnovers during the first 4:03 of the final period, and Fisher tied it at 87-all on a 3-pointer. Durant then stole the ball from Johnson and hit a driving layup that gave the Thunder their first lead, 89-87. The five-time All-Star capped the rally with a 3-pointer 32 seconds later.
The Lakers came out of the gate like a team that desperately wanted to avoid surpassing the franchise record for consecutive home losses they shared with the 1992-93 squad. They led 54-45 at halftime.
"I thought the effort was terrific," D'Antoni said. "They battled the whole game. We ran into a little rough spot there in the start of the fourth. They got into us, and we turned it over way too many times."
Steve Blake made a three-point play after getting fouled by Jeremy Lamb on an off-balance 20-footer from the left elbow. That put the Lakers back in front 95-94 with 3:34 left, but Serge Ibaka's two free throws put the Thunder ahead to stay with 2:38 remaining and they closed with an 11-7 run as Fisher and Durant each made two free throws in the final 17 seconds.
Oklahoma City has won eight of its past 12 meetings with the Lakers.
D'Antoni was down to eight healthy players, with point guard Steve Nash sitting out because of a recurrence of root irritation in his back and hamstring. Los Angeles is still missing five of its top six scorers -- Kobe Bryant, Pau Gasol, Jordan Farmar, Nick Young, Jodie Meeks and Xavier Henry.
"It's been a crazy year, and there will still be some turbulence ahead," D'Antoni said. "But I think during these next 29 games we will get honed in and try to get better. The thing I hope is that with all the effort, they get rewarded for it."
Game notes
The Thunder haven't allowed 20 or more points to an opposing player since eight games ago at Miami on Jan. 29, when they overcame 34 points by
LeBron James
in a 112-95 win. ... Oklahoma City will come out of the All-Star break with a six-game homestand beginning next Thursday against the defending NBA champion Heat. ... Brooks and his staff will be calling the shots for the Western Conference All-Stars on Sunday at New Orleans.
Copyright by STATS LLC and The Associated Press
Photo Wire
LOS ANGELES, CA - FEBRUARY 13: Russell Westbrook #0 of the Oklahoma City Thunder warms up before facing the Los...
(Photo by Andrew D. Bernstein/NBAE via Getty Images)
Around The Association
MVP: Kevin Durant was not having his best shooting night until the fourth quarter, when he nearly outscored the Lakers by himself 21-19. KD ended the game with 43 points, 12 rebounds, seven assists, and three steals.
X factor: It might have been in a losing effort, but Kendall Marshall did everything he could in this game and had the Lakers in the lead for most of it. Marshall flirted with a triple-double, ending with 14 points, seven rebounds, and 17 assists.
That was ... entertainment at its finest: All-Star Weekend in the NBA is all about entertainment, and this game was a great lead-in to one of the league's premier events.
Next 5 Games
Oklahoma City
Los Angeles
02/20 MIA 8:00pm
02/23 LAC 1:00pm
02/26 CLE 8:00pm
02/28 MEM 8:00pm
03/02 CHA 7:00pm

02/19 HOU 10:30pm
02/21 BOS 10:30pm
02/23 BKN 9:00pm
02/25 @IND 7:00pm
02/26 @MEM 8:00pm

Complete Schedule: Oklahoma City | Los Angeles
Research Notes
Kevin Durant
had 43 points, 12 rebounds, 7 assists and 3 steals against the Lakers Thursday. He's just the 4th player in the last 25 seasons to reach those numbers in a single game.
[+]
Durant nearly outplayed the entire Lakers team by himself in the 4th quarter.
[+]
From Elias:
Kevin Durant
(31.5 PPG): 1st player to average that many points per game heading into All-Star Break since
Kobe Bryant
(35.0 PPG) and
Allen Iverson
(33.2) in 2005-06 season
ESPN Stats & Information