Coverage: ESPN/WatchESPN
9:30 PM ET, March 7, 2014
Toyota Center, Houston, TX
HOUSTON -- James Harden and the Rockets were determined to make up for their most lopsided loss of the season when they got a second shot at Indiana on Friday night.
Not only did Houston do that, but it handed the Eastern Conference-leading Pacers their biggest defeat in the process.
Harden had 28 points and the Rockets used a huge third quarter to turn a close game into a blowout in a 112-86 win over the Pacers.
More Pacers-Rockets Coverage

Houston handed the Pacers their worst loss of the season, leaving them in a slump and searching for answers, Brian Windhorst writes. Story
Harden scored 16 in Houston's 38-point third quarter, which turned a three-point lead into a 29-point advantage. He also got into a dustup with Evan Turner that resulted in both players receiving technical fouls.
Dwight Howard and Harden went to the bench for the fourth period and watched their teammates wrap up Houston's fourth consecutive win.
Indiana won by 33 the first time the teams met, on Dec. 20 in Indianapolis.
"That's all we talked about," Howard said. "Every timeout and every possession. We wanted to get payback. It was good for us to come out (Friday) and stay on them for four quarters."
Harden Shines When On The Move
James Harden scored 28 points Friday against the Pacers, 12 of which came in transition. Harden averaged 3.3 transition points per game in his previous three games against the Pacers since the start of last season.
James Harden in Transition vs. Pacers
Past 2 Seasons
1st 3 Games
Friday
Points
10
12
FG
4-11
5-5
TO
3
0
-- ESPN Stats & Information
David West had 15 points and 10 rebounds for the Pacers, losers of three straight for the first time this season.
"We're just putting the emphasis on trying to get better," Indiana center Roy Hibbert said. "Since the All-Star break, we haven't been playing the best basketball. We've been playing awful."
Pacers coach Frank Vogel isn't too concerned about his team despite the skid.
"Every team I've ever been a part of has had a stretch like we're in right now," he said. "And since I've been here, we've always worked our way out of it, so I'm sure we will. It stinks right now. It's not fun right now, but we've got a good team and we'll regroup."
Howard finished with 15 points and seven rebounds. Chandler Parsons and Jeremy Lin added 11 points apiece for the Rockets.
The Pacers shot 6-of-18 in the third quarter with four turnovers and managed just 16 points -- matching Harden's total.
Paul George, who finished with 13 points, scored two quick buckets to start the second half and get the Pacers to 50-47. The Rockets scored the next nine points as part of a 16-2 run that pushed the lead to 66-49. Howard sailed high above the rim to grab a pass from Parsons, who threw it over a leaping Hibbert, and finished with a two-handed dunk.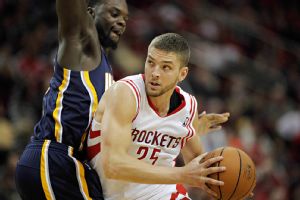 Andrew Richardson/USA TODAY Sports
Chandler Parsons and the Rockets roared past the Pacers in the third quarter Friday night.
Terrence Jones starting things off with a 3-pointer before Howard and Harden combined for the rest of the scoring in that run.
After that, Hibbert made the second of two free throws when he was fouled by Howard. Hibbert crashed to the ground following minimal contact from Howard, and the play initially was ruled a flagrant foul before it was overturned on review.
Houston then scored seven straight points, thanks to a pair of turnovers by the Pacers.
Parsons made two free throws before Harden grabbed a steal from West and sank a 3-pointer. A turnover by Lance Stephenson seconds later led to a dunk by Harden that made it 73-50.
That's when things got heated.
Turner was fouled by Parsons after he stole the ball from Patrick Beverley. Turner pushed Harden with one hand at the end of the play.
Harden immediately got in his face, so close it appeared they might be touching, and the pair exchanged words. They were quickly pulled apart while players from both teams yelled at each other.
A Slowdown In Pacers' Production
Indiana has gone 1-3 in its past four games as its offense has struggled to score:
| | |
| --- | --- |
| PPG | 90.8 |
| FG pct | 42.5 |
| 3-pt FG pct | 35.7 |
| Fastbreak pts | 8.3 |
Harden said he got in Turner's face because he went too far.
"I wasn't going to let it slide," he said. "I wasn't having it."
The fracas didn't do anything to slow Harden, and he scored five points in the 10-3 run by Houston that followed, extending the lead to 83-53.
Harden said it was important that the Rockets maintained their composure after the scuffle.
"We knew that the game was going to be officiated tight after that, and we did a good job of getting stops and getting out and getting layups and 3s," he said.
The Rockets led 88-59 entering the fourth.
Houston was up by 16 midway through the second quarter. The Pacers got going after that, outscoring the Rockets 19-10 the rest of the first half to cut the deficit to 50-43 at halftime. West had eight points during that stretch, and George had a nifty reverse layup and a 3-pointer to help Indiana.
Game notes

Beverley, who broke his nose in the first half of Houston's game against Orlando on Wednesday, wore a mask to protect the injury. ... Former Rockets Hakeem Olajuwon and Tracy McGrady attended the game, flanking team owner Leslie Alexander in their courtside seats.
Copyright by STATS LLC and The Associated Press
Photo Wire
HOUSTON, TX - MARCH 7: Paul George #24 of the Indiana Pacers drives against James Harden #13 of the Houston...
(Photo by Bill Baptist/NBAE via Getty Images)
Research Notes
The Pacers offense has struggled to score points their last 4 games.
[+]
The Pacers gave up 126.5 points per 100 possessions to the Rockets, their worst defensive efficiency in the last four seasons. The Rockets also had a 61.2 effective field goal percentage, the second-highest mark against the Pacers this season.
James Harden
scored 28 points Friday against the Pacers, 12 of which came in transition. Harden averaged 3.3 transition points per game in his previous three games against the Pacers since the start of last season.
[+]
Since joining the Rockets,
James Harden
is averaging just 17.0 points on 24.6 percent shooting in 3 games against the Pacers. The Rockets are 0-3 in those games.
[+]
Defense has been Indiana's calling card all season, but the Pacers have fallen off a bit in 9 games since the All-Star break...
[+]
ESPN Stats & Information