Coverage: SUN
7:30 PM ET, March 10, 2014
AmericanAirlines Arena, Miami, FL
MIAMI -- LeBron James set the tone pregame. Dwyane Wade took over in the fourth quarter.
And the Miami Heat got a win they desperately wanted.
Wade scored 13 of his 22 points in the final period and led a critical 12-0 run down the stretch, James led all scorers with 23 points and the Heat clinched a playoff spot by beating the Washington Wizards 99-90 on Monday night to snap a three-game losing streak.
"We needed a win," Wade said. "We needed this win."
Chris Bosh scored 22 for the Heat (44-17), who moved within one game of Indiana (46-17) in the race for the No. 1 seed in the Eastern Conference and 1 1/2 games behind San Antonio (46-16) for the league's best record. Ray Allen added 13 for Miami, which was coming off a trip where it lost at Houston, San Antonio and Chicago, the last of those coming in a late collapse on Sunday.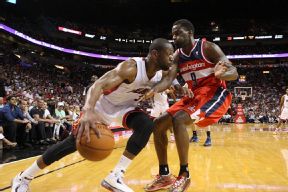 Hector Gabino/El Nuevo Herald/Getty Images
Dwyane Wade, driving past the Wizards' Martell Webster, scored 13 of his 22 points in the final period and led a critical 12-0 run down the stretch.
Wade hasn't typically played back-to-backs this season. He did this time, and the Heat simply rolled with him in the final minutes on the way to avoiding what would have been their first four-game slide since 2011.
"He made the right plays," James said.
Bradley Beal scored 18 points, Martell Webster added 17 and Drew Gooden scored 15 for the Wizards. Marcin Gortat finished with 14 points and a career-high-tying 18 rebounds -- 10 of them in the first quarter alone.
John Wall finished with eight assists for Washington.
"I'm proud of our guys," Wizards coach Randy Wittman said. "They kept battling, working. We didn't shoot it the way we're capable of. We got some good looks. We shared the ball. We attacked the whole game."
Washington led 84-83 midway through the fourth, when Wade took over.
A three-point play put Miami ahead to stay and he then had assists on Miami's next three baskets -- a short jumper and then a 3-pointer from Bosh, then a layup by James.
Wade capped the run with a score of his own, on the way to his first 13-point, three-assist fourth quarter since Feb. 18, 2009. His 13 in the fourth marked his highest-scoring quarter this season, and came with him playing consecutive days for the first time since Jan. 4 and 5. It was only the third time all season he's appeared in both nights of a back-to-back.
Both teams shot only nine free throws; despite being in attack mode, James didn't shoot one for the second straight game, just the second time that's happened in his career, the first coming in December 2003, early in his rookie season.
"Very surprised," James said.
James went scoreless for a stretch of nearly 15 minutes in the first half, and still easily led everyone with 19 points by intermission. The entirety of his first-half scoring came in two impressive spurts -- three 3-pointers in as many tries over a span of 2:43 early in the game, then 10 straight Heat points in a stretch of 3:23 late in the half.
"I felt good about this game the minute, the second I saw LeBron come into the gym today," Heat coach Erik Spoelstra said. "We had an early walkthrough and he ran in the gym. Came up to every single person, player and coach and shook everybody's hand and said, `Let's go. Let's get ready for this game.' That's what leaders do."
Miami's lead was 12 early in the third before Washington went on a 10-0 run, with Gortat scoring the first eight and Trevor Booker's jumper getting the Wizards within 59-57. And after Miami rebuilt the lead to seven, Washington took off on another quick burst, this one enough to give the Wizards their first lead since 1-0.
In less than 2 minutes, Washington outscored Miami 11-0, Webster scoring six in 25 seconds. He head-faked James in the air to start what became a four-point play, then had an alley-oop dunk off a Wall pass on the next possession as Washington took a 65-64 lead.
"I think we match up with those guys perfect," Wall said. "We battle those guys."
Allen had two 3's for the Heat late in the third, and it was 73-all entering the fourth. The Wizards scored only 17 points in the final 12 minutes.
"We saw a few things," Wade said, "and we were able to take advantage."
Game notes

Gortat had never grabbed more than nine rebounds in a quarter. He's the 12th player with 10 boards in a quarter this season. ... Washington missed its first six shots, as Miami took a 10-1 lead. ... March 10 matches the second-earliest date for Miami clinching a playoff spot. The Heat did it on March 8 last season. ... Heat F Udonis Haslem made his 700th regular-season appearance. ... Washington outrebounded Miami 50-33.
Copyright by STATS LLC and The Associated Press
Photo Wire
MIAMI, FL - March 10: LeBron James #6 of the Miami Heat shoots the ball against the Washington Wizards at the...
(Photo by Issac Baldizon/NBAE via Getty Images)
Around The Association
MVP: LeBron James flirted with a triple-double, but Chris Bosh finished with 22 points, which included a personal 5-0 run late in the fourth to put Miami up by a comfortable 91-84 margin. Bosh was 10-for-14 from the floor with seven rebounds.
X factor: Miami shot 47.6 percent from 3-point range on 21 attempts. Bosh, James, Shane Battier and Ray Allen combined to finish 10-for-16 from deep.
That was ... not very free: Despite driving hard to the basket for much of the first half, James failed to get to the free throw line for the second consecutive game. He wasn't alone, however. The only Miami starter who attempted a free throw was Dwyane Wade (6-for-6).
Next 5 Games
Washington
Miami
03/12 CHA 7:00pm
03/14 @ORL 7:00pm
03/15 BKN 7:00pm
03/18 @SAC 10:00pm
03/20 @POR 10:00pm

03/12 BKN 7:00pm
03/14 DEN 7:30pm
03/16 HOU 3:30pm
03/18 @CLE 7:00pm
03/19 @BOS 7:30pm

Complete Schedule: Washington | Miami
Research Notes
This is just the 7th time since
LeBron James
joined the
Miami Heat
, that they have had a 3+ game losing streak with LeBron in the lineup for all 3 games... Here is how they have fared in the 6 instances (game after 3+ game losing streak) previous to tonight (vs Wizards): W-L: 4-2 AVG Margin: +9.2 LeBron PPG: 29.3 Just incase they lose to Washington tonight, the Heat lost 5 games in a row with LeBron in the lineup from February 27, 2011 to March 8, 2011 and that was the only time Miami dropped more than 3 games in a row with LeBron in the lineup since he joined the Heat in 2010-11...
ESPN Stats & Information