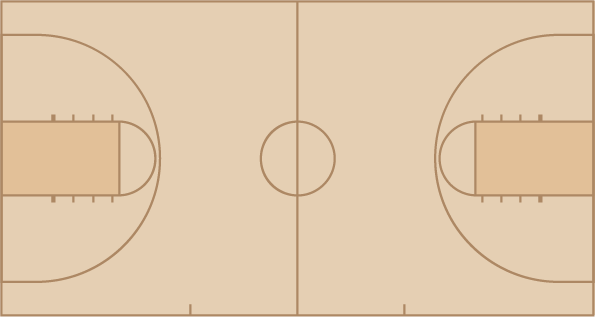 Florida
time
TEAM
PLAY
SCORE
20:00
Jump Ball won by Florida
0 - 0
19:36
Michael Frazier II Turnover.
0 - 0
19:23
Chris Crawford missed Three Point Jumper.
0 - 0
19:23
Will Yeguete Defensive Rebound.
0 - 0
19:20
Foul on Shaq Goodwin.
0 - 0
19:07
Scottie Wilbekin missed Jumper.
0 - 0
19:07
Austin Nichols Defensive Rebound.
0 - 0
18:51
Austin Nichols Turnover.
0 - 0
18:37
Patric Young made Jumper.
2 - 0
18:17
Geron Johnson missed Jumper.
2 - 0
18:17
Scottie Wilbekin Defensive Rebound.
2 - 0
18:12
Scottie Wilbekin Turnover.
2 - 0
18:12
Geron Johnson Steal.
2 - 0
18:08
Joe Jackson made Dunk. Assisted by Shaq Goodwin.
2 - 2
17:49
Scottie Wilbekin made Three Point Jumper. Assisted by Michael Frazier II.
5 - 2
17:35
Foul on Scottie Wilbekin.
5 - 2
17:24
Geron Johnson Turnover.
5 - 2
17:06
Michael Frazier II made Layup.
7 - 2
17:06
Foul on Chris Crawford.
7 - 2
17:06
Michael Frazier II made Free Throw.
8 - 2
16:49
Shaq Goodwin Turnover.
8 - 2
16:49
Michael Frazier II Steal.
8 - 2
16:41
Michael Frazier II missed Jumper.
8 - 2
16:41
David Pellom Block.
8 - 2
16:41
Memphis Defensive Rebound.
8 - 2
16:28
Foul on Patric Young.
8 - 2
16:21
David Pellom made Dunk. Assisted by Geron Johnson.
8 - 4
16:03
Kasey Hill missed Layup.
8 - 4
16:03
Florida Offensive Rebound.
8 - 4
16:02
Casey Prather Turnover.
8 - 4
16:02
Geron Johnson Steal.
8 - 4
15:55
David Pellom missed Layup.
8 - 4
15:55
Shaq Goodwin Offensive Rebound.
8 - 4
15:54
Official TV Timeout
8 - 4
15:50
Geron Johnson Turnover.
8 - 4
15:35
Dorian Finney-Smith made Three Point Jumper. Assisted by Will Yeguete.
11 - 4
15:14
David Pellom made Layup. Assisted by Shaq Goodwin.
11 - 6
14:55
Casey Prather made Layup.
13 - 6
14:44
Geron Johnson missed Three Point Jumper.
13 - 6
14:44
Casey Prather Defensive Rebound.
13 - 6
14:36
Kasey Hill Turnover.
13 - 6
14:36
David Pellom Steal.
13 - 6
14:26
Joe Jackson missed Jumper.
13 - 6
14:26
Kasey Hill Defensive Rebound.
13 - 6
14:17
Casey Prather missed Jumper.
13 - 6
14:17
Foul on David Pellom.
13 - 6
14:17
Dorian Finney-Smith Offensive Rebound.
13 - 6
14:09
Foul on Michael Dixon Jr..
13 - 6
13:52
Kasey Hill missed Three Point Jumper.
13 - 6
13:52
David Pellom Defensive Rebound.
13 - 6
13:36
Joe Jackson missed Layup.
13 - 6
13:36
David Pellom Offensive Rebound.
13 - 6
13:31
David Pellom made Layup.
13 - 8
13:25
Dorian Finney-Smith made Jumper.
15 - 8
12:55
David Pellom missed Jumper.
15 - 8
12:55
Dorian Finney-Smith Defensive Rebound.
15 - 8
12:45
Dorian Finney-Smith missed Three Point Jumper.
15 - 8
12:45
Patric Young Offensive Rebound.
15 - 8
12:32
Michael Frazier II made Three Point Jumper. Assisted by Kasey Hill.
18 - 8
12:30
Memphis Timeout
18 - 8
12:12
Chris Crawford made Three Point Jumper. Assisted by Shaq Goodwin.
18 - 11
11:50
Scottie Wilbekin made Three Point Jumper.
21 - 11
11:19
Michael Dixon Jr. missed Three Point Jumper.
21 - 11
11:19
Nick King Offensive Rebound.
21 - 11
11:13
Nick King missed Jumper.
21 - 11
11:13
Patric Young Defensive Rebound.
21 - 11
10:56
Michael Frazier II missed Layup.
21 - 11
10:56
Shaq Goodwin Defensive Rebound.
21 - 11
10:56
Shaq Goodwin Turnover.
21 - 11
10:54
Official TV Timeout
21 - 11
10:51
Will Yeguete missed Three Point Jumper.
21 - 11
10:51
Michael Dixon Jr. Defensive Rebound.
21 - 11
10:37
Nick King missed Three Point Jumper.
21 - 11
10:37
Jacob Kurtz Defensive Rebound.
21 - 11
10:26
Casey Prather made Jumper.
23 - 11
10:11
Michael Dixon Jr. made Jumper.
23 - 13
10:04
Will Yeguete Turnover.
23 - 13
9:44
Michael Dixon Jr. made Three Point Jumper. Assisted by Joe Jackson.
23 - 16
9:19
Michael Frazier II missed Three Point Jumper.
23 - 16
9:19
Geron Johnson Block.
23 - 16
9:19
Joe Jackson Defensive Rebound.
23 - 16
8:57
Chris Crawford made Three Point Jumper. Assisted by Geron Johnson.
23 - 19
8:53
Florida Timeout
23 - 19
8:30
Casey Prather made Jumper.
25 - 19
8:21
Geron Johnson Turnover.
25 - 19
8:21
Will Yeguete Steal.
25 - 19
8:12
Casey Prather missed Layup.
25 - 19
8:12
Patric Young Offensive Rebound.
25 - 19
8:11
Foul on Chris Crawford.
25 - 19
8:07
Patric Young missed Jumper.
25 - 19
8:07
Dorian Finney-Smith Offensive Rebound.
25 - 19
7:57
Dorian Finney-Smith missed Three Point Jumper.
25 - 19
7:57
Patric Young Offensive Rebound.
25 - 19
7:51
Patric Young missed Jumper.
25 - 19
7:51
Austin Nichols Defensive Rebound.
25 - 19
7:46
Michael Dixon Jr. made Layup. Assisted by Joe Jackson.
25 - 21
7:46
Official TV Timeout
25 - 21
7:26
Casey Prather made Jumper.
27 - 21
7:06
Foul on Casey Prather.
27 - 21
7:02
Austin Nichols made Layup. Assisted by Shaq Goodwin.
27 - 23
6:42
Will Yeguete Turnover.
27 - 23
6:42
Geron Johnson Steal.
27 - 23
6:37
Geron Johnson made Dunk.
27 - 25
6:18
Scottie Wilbekin missed Jumper.
27 - 25
6:18
Patric Young Offensive Rebound.
27 - 25
6:18
Patric Young made Two Point Tip Shot.
29 - 25
5:54
Joe Jackson made Three Point Jumper. Assisted by Geron Johnson.
29 - 28
5:40
Patric Young missed Jumper.
29 - 28
5:40
Will Yeguete Offensive Rebound.
29 - 28
5:40
Will Yeguete made Two Point Tip Shot.
31 - 28
5:19
Austin Nichols made Dunk. Assisted by Michael Dixon Jr..
31 - 30
5:07
Scottie Wilbekin made Jumper.
33 - 30
4:45
Foul on Casey Prather.
33 - 30
4:30
Geron Johnson missed Three Point Jumper.
33 - 30
4:30
Dorian Finney-Smith Defensive Rebound.
33 - 30
4:23
Patric Young made Layup. Assisted by Kasey Hill.
35 - 30
4:02
Foul on Scottie Wilbekin.
35 - 30
4:02
Michael Dixon Jr. made Free Throw.
35 - 31
4:02
Michael Dixon Jr. made Free Throw.
35 - 32
3:53
Dorian Finney-Smith Turnover.
35 - 32
3:52
Official TV Timeout
35 - 32
3:20
David Pellom made Dunk. Assisted by Joe Jackson.
35 - 34
2:47
DeVon Walker Turnover.
35 - 34
2:47
Shaq Goodwin Steal.
35 - 34
2:41
Shaq Goodwin made Layup.
35 - 36
2:25
Foul on Michael Dixon Jr..
35 - 36
2:25
DeVon Walker made Free Throw.
36 - 36
2:25
DeVon Walker made Free Throw.
37 - 36
2:25
DeVon Walker missed Free Throw.
37 - 36
2:25
Shaq Goodwin Defensive Rebound.
37 - 36
2:09
Geron Johnson missed Three Point Jumper.
37 - 36
2:09
Kasey Hill Defensive Rebound.
37 - 36
2:03
Foul on Kasey Hill.
37 - 36
2:03
Kasey Hill Turnover.
37 - 36
1:32
Joe Jackson Turnover.
37 - 36
1:32
Patric Young Steal.
37 - 36
1:26
Will Yeguete made Layup. Assisted by Kasey Hill.
39 - 36
1:06
Austin Nichols missed Jumper.
39 - 36
1:06
Will Yeguete Defensive Rebound.
39 - 36
1:05
Kasey Hill missed Jumper.
39 - 36
1:05
Shaq Goodwin Block.
39 - 36
1:05
Geron Johnson Defensive Rebound.
39 - 36
1:05
Foul on Austin Nichols.
39 - 36
1:05
Will Yeguete missed Free Throw.
39 - 36
1:05
Dorian Finney-Smith Offensive Rebound.
39 - 36
1:02
Joe Jackson missed Layup.
39 - 36
1:02
David Pellom Offensive Rebound.
39 - 36
0:56
David Pellom made Layup.
39 - 38
0:05
Foul on David Pellom.
39 - 38
0:05
Dorian Finney-Smith made Free Throw.
40 - 38
0:05
Dorian Finney-Smith made Free Throw.
41 - 38
0:00
End of 1st half
41 - 38

time
TEAM
PLAY
SCORE
20:00
Jump Ball won by Memphis
41 - 38
19:47
Geron Johnson made Jumper.
41 - 40
19:39
Casey Prather missed Jumper.
41 - 40
19:39
Austin Nichols Block.
41 - 40
19:39
Casey Prather Offensive Rebound.
41 - 40
19:34
Casey Prather Turnover.
41 - 40
19:34
Chris Crawford Steal.
41 - 40
19:19
Joe Jackson missed Three Point Jumper.
41 - 40
19:19
Will Yeguete Defensive Rebound.
41 - 40
18:50
Scottie Wilbekin Turnover.
41 - 40
18:50
Joe Jackson Steal.
41 - 40
18:42
Geron Johnson made Dunk. Assisted by Joe Jackson.
41 - 42
18:12
Foul on Shaq Goodwin.
41 - 42
18:12
Casey Prather made Free Throw.
42 - 42
18:12
Casey Prather made Free Throw.
43 - 42
18:07
Geron Johnson made Layup.
43 - 44
17:43
Will Yeguete missed Layup.
43 - 44
17:43
Austin Nichols Block.
43 - 44
17:43
Memphis Defensive Rebound.
43 - 44
17:27
Austin Nichols missed Layup.
43 - 44
17:27
Shaq Goodwin Offensive Rebound.
43 - 44
17:27
Shaq Goodwin missed Two Point Tip Shot.
43 - 44
17:27
Dorian Finney-Smith Defensive Rebound.
43 - 44
17:15
Dorian Finney-Smith made Three Point Jumper.
46 - 44
16:58
Chris Crawford missed Three Point Jumper.
46 - 44
16:58
Casey Prather Defensive Rebound.
46 - 44
16:48
Michael Frazier II missed Three Point Jumper.
46 - 44
16:48
Dorian Finney-Smith Offensive Rebound.
46 - 44
16:48
Dorian Finney-Smith made Two Point Tip Shot.
48 - 44
16:22
Foul on Patric Young.
48 - 44
16:22
Florida Timeout
48 - 44
16:22
Joe Jackson made Free Throw.
48 - 45
16:22
Joe Jackson made Free Throw.
48 - 46
16:06
Dorian Finney-Smith Turnover.
48 - 46
15:35
Geron Johnson missed Jumper.
48 - 46
15:35
Michael Frazier II Defensive Rebound.
48 - 46
15:12
Dorian Finney-Smith Turnover.
48 - 46
15:12
Official TV Timeout
48 - 46
14:49
Joe Jackson made Jumper.
48 - 48
14:42
Casey Prather made Jumper.
50 - 48
14:25
Geron Johnson made Jumper.
50 - 50
14:09
Michael Frazier II made Three Point Jumper. Assisted by Patric Young.
53 - 50
13:45
David Pellom made Layup. Assisted by Shaq Goodwin.
53 - 52
13:33
Dorian Finney-Smith missed Three Point Jumper.
53 - 52
13:33
Patric Young Offensive Rebound.
53 - 52
13:29
Patric Young Turnover.
53 - 52
13:29
David Pellom Steal.
53 - 52
12:57
Shaq Goodwin missed Jumper.
53 - 52
12:57
Patric Young Defensive Rebound.
53 - 52
12:36
Dorian Finney-Smith missed Jumper.
53 - 52
12:36
Patric Young Offensive Rebound.
53 - 52
12:32
Patric Young made Layup.
55 - 52
12:24
Memphis Timeout
55 - 52
12:24
Geron Johnson Turnover.
55 - 52
12:24
Scottie Wilbekin Steal.
55 - 52
11:43
Foul on Michael Dixon Jr..
55 - 52
11:43
Official TV Timeout
55 - 52
11:29
Casey Prather missed Layup.
55 - 52
11:29
Chris Crawford Defensive Rebound.
55 - 52
11:21
Michael Dixon Jr. missed Jumper.
55 - 52
11:21
Casey Prather Block.
55 - 52
11:21
Michael Frazier II Defensive Rebound.
55 - 52
11:14
Michael Frazier II Turnover.
55 - 52
11:14
Chris Crawford Steal.
55 - 52
11:09
Foul on Kasey Hill.
55 - 52
11:09
Michael Dixon Jr. made Free Throw.
55 - 53
11:09
Michael Dixon Jr. missed Free Throw.
55 - 53
11:09
Geron Johnson Offensive Rebound.
55 - 53
11:09
Geron Johnson made Two Point Tip Shot.
55 - 55
10:57
Dorian Finney-Smith Turnover.
55 - 55
10:57
Joe Jackson Steal.
55 - 55
10:50
Joe Jackson missed Layup.
55 - 55
10:50
Florida Defensive Rebound.
55 - 55
10:50
Foul on Shaq Goodwin.
55 - 55
10:50
Michael Frazier II made Free Throw.
57 - 55
10:50
Michael Frazier II made Free Throw.
56 - 55
10:36
Foul on Michael Dixon Jr..
57 - 55
10:36
Scottie Wilbekin made Free Throw.
58 - 55
10:36
Scottie Wilbekin missed Free Throw.
58 - 55
10:36
Shaq Goodwin Defensive Rebound.
58 - 55
10:31
Chris Crawford made Three Point Jumper. Assisted by Geron Johnson.
58 - 58
10:20
Scottie Wilbekin made Jumper.
60 - 58
10:02
Shaq Goodwin missed Jumper.
60 - 58
10:02
Kasey Hill Defensive Rebound.
60 - 58
9:54
Kasey Hill made Layup.
62 - 58
9:33
Chris Crawford missed Three Point Jumper.
62 - 58
9:33
Scottie Wilbekin Defensive Rebound.
62 - 58
9:22
Scottie Wilbekin missed Layup.
62 - 58
9:22
Dorian Finney-Smith Offensive Rebound.
62 - 58
9:22
Dorian Finney-Smith missed Two Point Tip Shot.
62 - 58
9:22
Chris Crawford Defensive Rebound.
62 - 58
9:18
Chris Crawford Turnover.
62 - 58
9:18
Scottie Wilbekin Steal.
62 - 58
9:03
Casey Prather made Jumper. Assisted by Scottie Wilbekin.
64 - 58
8:44
Memphis Timeout
64 - 58
8:31
Foul on Patric Young.
64 - 58
8:31
Shaq Goodwin made Free Throw.
64 - 59
8:31
Shaq Goodwin made Free Throw.
64 - 60
8:14
Casey Prather missed Layup.
64 - 60
8:14
Austin Nichols Defensive Rebound.
64 - 60
8:09
Geron Johnson Turnover.
64 - 60
7:54
Dorian Finney-Smith made Layup. Assisted by Patric Young.
66 - 60
7:21
Foul on Kasey Hill.
66 - 60
7:21
Official TV Timeout
66 - 60
7:09
Foul on Patric Young.
66 - 60
7:09
Geron Johnson made Free Throw.
66 - 61
7:09
Geron Johnson missed Free Throw.
66 - 61
7:09
Scottie Wilbekin Defensive Rebound.
66 - 61
6:51
Dorian Finney-Smith missed Three Point Jumper.
66 - 61
6:51
Geron Johnson Defensive Rebound.
66 - 61
6:25
Geron Johnson missed Three Point Jumper.
66 - 61
6:25
Casey Prather Defensive Rebound.
66 - 61
6:03
Kasey Hill made Three Point Jumper. Assisted by Dorian Finney-Smith.
69 - 61
5:31
Shaq Goodwin Turnover.
69 - 61
5:13
Kasey Hill Turnover.
69 - 61
4:50
Joe Jackson made Jumper.
69 - 63
4:32
Foul on Will Yeguete.
69 - 63
4:32
Will Yeguete Turnover.
69 - 63
4:11
Chris Crawford made Three Point Jumper. Assisted by Joe Jackson.
69 - 66
3:48
Scottie Wilbekin missed Three Point Jumper.
69 - 66
3:48
Michael Dixon Jr. Defensive Rebound.
69 - 66
3:41
Joe Jackson missed Three Point Jumper.
69 - 66
3:41
Casey Prather Defensive Rebound.
69 - 66
3:18
Casey Prather made Jumper. Assisted by Dorian Finney-Smith.
71 - 66
3:09
Foul on Scottie Wilbekin.
71 - 66
3:09
Florida Timeout
71 - 66
3:09
Joe Jackson made Free Throw.
71 - 67
3:09
Joe Jackson made Free Throw.
71 - 68
2:44
Casey Prather made Layup.
73 - 68
2:26
Foul on Scottie Wilbekin.
73 - 68
2:26
Joe Jackson made Free Throw.
73 - 69
2:26
Joe Jackson made Free Throw.
73 - 70
2:11
Foul on Chris Crawford.
73 - 70
1:47
Foul on Joe Jackson.
73 - 70
1:29
Florida Timeout
73 - 70
1:20
Foul on Geron Johnson.
73 - 70
1:20
Casey Prather made Free Throw.
74 - 70
1:20
Casey Prather made Free Throw.
75 - 70
1:06
Memphis Timeout
75 - 70
0:56
Foul on Dorian Finney-Smith.
75 - 70
0:56
Shaq Goodwin missed Free Throw.
75 - 70
0:56
Memphis Deadball Team Rebound.
75 - 70
0:56
Shaq Goodwin made Free Throw.
75 - 71
0:40
Foul on Joe Jackson.
75 - 71
0:40
Dorian Finney-Smith missed Free Throw.
75 - 71
0:40
Memphis Defensive Rebound.
75 - 71
0:31
Joe Jackson made Jumper.
75 - 73
0:28
Foul on Chris Crawford.
75 - 73
0:28
Casey Prather made Free Throw.
76 - 73
0:28
Casey Prather made Free Throw.
77 - 73
0:19
Foul on Patric Young.
77 - 73
0:19
Shaq Goodwin made Free Throw.
77 - 74
0:19
Shaq Goodwin made Free Throw.
77 - 75
0:18
Foul on Geron Johnson.
77 - 75
0:18
Scottie Wilbekin missed Free Throw.
77 - 75
0:18
Geron Johnson Defensive Rebound.
77 - 75
0:11
Memphis Timeout
77 - 75
0:06
Joe Jackson missed Layup.
77 - 75
0:02
Michael Dixon Jr. Offensive Rebound.
77 - 75
0:00
End of Game
77 - 75
ESPN Fan Shop Powered By
Nike Men's Florida Gators Anthracite ELITE Stripe Performance Full-Zip HoodieShop
Donnie Tyndall is appealing the 10-year show-cause penalty that was handed down by the NCAA in April for violations stemming from his time as men's basketball coach at Southern Mississippi.

Top-50 prospect Jaylen Nowell committed to Washington on Wednesday. Nowell, a shooting guard, is No. 45 on the ESPN 100.

Mitchell Robinson, the No. 15 player in the country in the Class of 2017, has committed to Western Kentucky.
2015-2016 Southeastern Conference Standings
2015-2016 American Athletic Conference Standings