9:00 PM ET, December 3, 2002
Bankers Life Fieldhouse, Indianapolis, Indiana
INDIANAPOLIS (AP) -- Maryland's Steve Blake thought he had beaten Indiana again.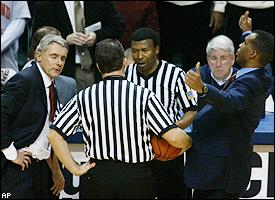 Indiana coach Mike Davis, right, and Maryland coach Gary Williams, left, discuss Steve Blake's 55-footer after the buzzer with the officials.
Hoosiers coach Mike Davis never had a doubt. Eight months after losing to the Terrapins in the national championship game and minutes after having a potential game-winning midcourt heave by Blake at the regulation buzzer waved off, the Hoosiers (No. 11 ESPN/USA Today, No. 10 AP) beat Maryland (No. 8, No. 9) 80-74 in overtime Tuesday night. ''I thought he walked,'' Davis said of Blake's near buzzer-beater. ''I walked over to the bench and said 'There's going to be an angry crowd if they count that basket.'''
Tom Coverdale
matched his career high for Indiana (5-0) with 30 points. Blake led Maryland (3-1) with 22 points and seven rebounds, but the shot that mattered most didn't count. With 7.1 seconds to go, Indiana freshman
Sean Kline
made one of two free throws to tie the score at 68. Indiana rebounded the miss and had two shots to win it. Both missed and when Tom Coverdale's errant 3-pointer bounced to midcourt, Blake scooped it up and heaved it. The Maryland players began celebrating as the three officials went to the scorer's table to view a replay. ''It definitely went in, I thought I got it off in time,'' Blake said. ''They looked at instant replay and they didn't think so. Everyone will probably look at ESPN and have their own decision on that.'' After a few minutes, the officials huddled near midcourt, called both coaches over and then waved off the basket. That gave Indiana another opportunity to beat Maryland, which defeated the Hoosiers 64-52 in the national championship game last April.
Tuesday, Nov. 3
What a special environment and incredible game at Conseco Fieldhouse on Tuesday night! It's only early December, but the intensity for the Indiana-Maryland matchup was truly special. In the end, senior guard Tom Coverdale would not allow the Hoosiers to lose to the defending champs.
Story
''I was hoping,'' Coverdale said. ''I didn't think it counted at first, but you never know. I was just relieved we got another chance to play in overtime.''
For much of the game, it looked like almost an exact replay of April's title game, right down to Indiana taking a two-point lead midway through the second half. Indiana again relied on its outside shooting and struggled, making only 29.9 percent from the field. Maryland used inside power and got 20 points and 16 rebounds from
Ryan Randle
. The difference this time, though, was Coverdale. Hobbled by a badly sprained left ankle in April, Coverdale scored just eight points. On Tuesday, he was healthy at his best. Coverdale was 8-of-16 from the field, including 5-of-10 from 3-point range, and he was 9-of-10 at the free throw line. He rallied the Hoosiers from a 14-point first-half deficit, and when the game went to overtime, he helped settle down Indiana. Maryland had its chances. The Terrapins regained the lead 50-48 with 8:18 left when Travis Garrison put in a 7-foot leaner. They led the rest of regulation and were still up 68-67 after Coverdale's 3-pointer with 28 seconds left. But
Jeff Newton
, who finished with 19 points and 14 rebounds, forced a tieup on the inbounds pass. Maryland got the ball back after Coverdale's driving layup was blocked and went off an Indiana player. Indiana's
Marshall Strickland
stole the inbounds pass and fed Kline who drew the foul and tied it up. In overtime, Maryland took a 72-69 lead, but Coverdale helped settle down the Hoosiers. Kline made two of four free throws and Newton's putback with 2:31 to go gave Indiana a 73-72 lead. Kline made a layup, Strickland a 3-pointer and Kline two more free throws to seal the win. ''Whenever you sit around all summer and think about you're 11 minutes away from a national championship and that's all you think about, of course, it's going to mean something extra,'' Coverdale said. ''I'm real happy with this win.''
Copyright by STATS LLC and The Associated Press