Coverage: BTN
2:30 PM ET, March 14, 2013
United Center, Chicago, Illinois
Top Performers
Penn State: D. Newbill 20 Pts, 6 Reb, 3 Ast, 1 Stl, 1 Blk
Michigan: T. Burke 21 Pts, 2 Reb, 3 Ast, 3 Blk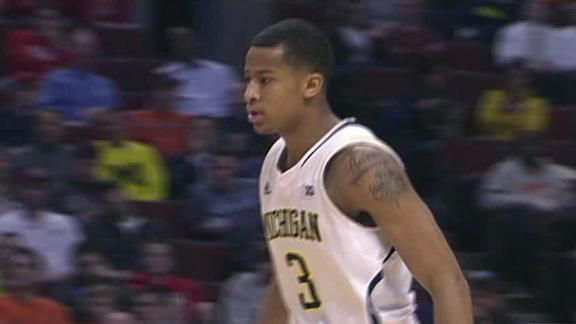 Burke Leads Michigan To Quarterfinals
Trey Burke scored 21 points to lead No. 6 Michigan to an 83-66 win over Penn State.
Burke Leads Michigan To Quarterfinals
VIDEO PLAYLIST
CHICAGO -- Leading scorer D.J. Newbill is just a sophomore. Tim Frazier will be back next year, and Sasa Borovnjak leads a talented group of young big men.
Penn State has a bright future. Unfortunately for the Nittany Lions, that future is next season.Newbill scored 20 points, but Penn State faded after a fast start and lost 83-66 to No. 6 Michigan in the first round of the Big Ten tournament on Thursday."We're starting to get better, they were starting to mesh," coach Patrick Chambers said. "And the cohesion out there, it was great, the chemistry and the trust. You could just see it over the last four or five weeks. We were really starting to come around. It's a shame the season has to end."
Trey Burke
scored 21 points for the Wolverines (26-6), who will play fourth-seeded Wisconsin in the quarterfinals on Friday. Tim Hardaway Jr. and
Nik Stauskas
each had 15 points, and freshman reserve
Mitch McGary
added 10 points and 11 rebounds.Michigan outrebounded Penn State 36-32 and enjoyed a 28-15 advantage in second-chance points."It was really tough," Borovnjak said. "They crashed the offensive glass all game long and we didn't do a great job of rebounding and that was the difference."
Ross Travis
finished with 12 points and 11 rebounds for the Nittany Lions (10-21), who will get Frazier back next year after the guard went down with an injury early in the season. Borovnjak scored 10 of his 15 points in the first half."That is going to be one heck of a team next year when Frazier is back with those guys," Wolverines coach John Beilein said. "So that's, I just, I think Pat's done a wonderful job."Michigan had a chance to grab a share of the Big Ten title when it hosted Indiana on Sunday, but the Hoosiers won 72-71 after
Jordan Morgan
's last-second putback rolled off the rim. The Wolverines then slipped all the way to the fifth seed for the conference tournament, giving them a game on the first day at the United Center while the top four seeds rested.The one payoff was a chance to avenge a shaky performance against the Nittany Lions just two weeks ago, when Michigan blew a 15-point lead in the second half of an 84-78 loss at Penn State."It was obviously in the back of our head that we were up 15 points with 10 minutes left at Penn State and that they're capable of coming back and winning the game," Burke said. "This is a team that's playing for pride, a team that's been through a lot this year. We just had to make sure we did what we needed to do to pull out the win."This one had a much different finish, with the Wolverines breaking open a close game with 18-3 run in the second half. Hardaway got it started with a jumper and Morgan added a layup to make it 50-45 with 13:36 left. After
Jermaine Marshall
scored inside for Penn State, Burke made another jumper and the rout was on.
Jon Horford
converted a three-point play and Hardaway dunked on a fast break to extend the lead to 64-48 with 9:49 remaining."They played some great basketball, that's all I can say," Newbill said. "They hit shots, we missed shots. They got stops, we didn't. Can't say much more than that."If the Wolverines were at all motivated by the shocking loss at Penn State, it sure didn't show at the start. Borovnjak had eight quick points as the Nittany Lions bolted to a 14-3 lead with 14:27 left in the first half.Michigan eventually settled down and led 35-33 at halftime. McGary had 10 points and 10 rebounds in the first half, providing a big lift after Morgan got off to a slow start.Horford scored seven of his 11 points in the second half as the Wolverines pulled away. They shot 46 percent from the field and went 19 for 23 at the foul line in their fifth victory in the last seven games."Really proud of the way they showed great composure to come back and then win the game going away," Beilein said.---Jay Cohen can be reached at http://www.twitter.com/jcohenap
Copyright by STATS LLC and The Associated Press
Team Stat Comparison
| | PSU | MICH |
| --- | --- | --- |
| Points | 66 | 83 |
| FG Made-Attempted | 29-60 (.483) | 29-63 (.460) |
| 3P Made-Attempted | 3-8 (.375) | 6-18 (.333) |
| FT Made-Attempted | 5-8 (.625) | 19-23 (.826) |
| Fouls (Tech/Flagrant) | 16 (0/0) | 10 (0/0) |
| Largest Lead | 11 | 19 |
Next 5 Games
PSU
MICH
11/09 WAG 4:00pm
11/13 BUCK 7:00pm
11/16 @PENN 2:00pm
11/19 LAS 7:00pm
11/24 LONG 1:00pm

03/15 @WIS 2:35pm
03/21 SDST 7:15pm
03/23 VCU 12:15pm
03/29 @KU 7:37pm
03/31 @FLA 2:20pm

Complete Schedule: Penn State | Michigan
Big Ten Conference Standings