Coverage: ESPNU/WatchESPN
7:30 PM ET, February 8, 2014
Moody Coliseum, Dallas, Texas
Top Performers
Cincinnati: S. Kilpatrick 22 Pts, 6 Reb, 3 Ast, 1 Stl
SMU: B. Moore 15 Pts, 5 Reb, 2 Ast, 1 Stl, 2 Blk
DALLAS -- Moody Madness indeed, and quicker than even Hall of Fame coach Larry Brown thought.
Nick Russell had 15 points to go with a couple of big steals as SMU beat No. 7 Cincinnati 76-55 on Saturday night, ending the Bearcats' 15-game winning streak. It was the Mustangs' third win over a Top 25 team in seven games since moving back into renovated Moody Coliseum on campus five weeks ago.
SMU Takes Down The Top
Before this season, SMU hadn't won against a ranked opponent since 2003. This season, in the first four games against ranked teams since Larry Brown became coach, the Mustangs have won three of the four.
SMU vs. Ranked Opponents
Past 15 Seasons
| | Previous 14 Seasons | This Season |
| --- | --- | --- |
| W-L | 1-16 | 3-1 |
| PPG diff. | -14.8 | +9.2 |
| FG pct. | 38.4 | 48.4 |
-- Source: ESPN Stats & Information
"If we didn't have a good team, all we'd have is a beautiful building," said Brown, in his second season at SMU. "I didn't imagine it would be like this this quickly. But I was hopeful that we could get it that people wanted to see our team play and appreciate the fact that we're playing hard and playing the right way."
Before their recent surge, the Mustangs (19-5, 8-3 American Athletic Conference) hadn't defeated a ranked opponent anywhere since December 2003. They hadn't had multiple wins against Top 25 teams in the same season since 1984-85, the last time SMU appeared in the poll. They reached as high as No. 2 that season.
After this one, fans rushed the floor to celebrate.
"It was crazy," said Cannen Cunningham, who had 11 points. "Everybody's my best friend now."
Russell had two steals in less than a minute that led to breakaway baskets, with a 3-pointer from Nic Moore in between, to cap an 11-0 run by the Mustangs after Cincinnati (22-3, 11-1) cut the gap to 48-41 midway through the second half.
"There's not much to say. They beat us in every facet of the game," Bearcats coach Mick Cronin said. "We didn't meet the challenge. ... I think we just got rattled, no question about it. We didn't show poise."
Cincinnati, with its highest ranking in 10 years, hadn't lost since dropping consecutive games against New Mexico and Xavier in the first half of December. The Bearcats beat SMU 65-57 at home in the AAC opener on New Year's Day.
Ben Moore also had 15 points for SMU, while Nic Moore scored 14.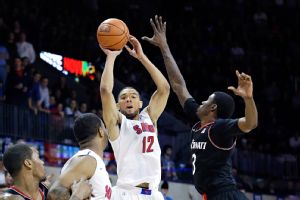 AP Photo/LM Otero
SMU guard Nick Russell had 15 points in Saturday night's upset win.
AAC scoring leader Sean Kilpatrick led Cincinnati with 22 points on 5-of-18 shooting, including 3 for 12 on 3-pointers.
The Bearcats scored six points in a row to make it 48-41, the closest they had been since there were 3 minutes left in the first half, when Titus Rubles hit two free throws after being fouled on a breakaway drive after stealing a pass. They didn't get any closer after Russell made a layup after Markus Kennedy broke through two defenders and passed him the ball.
SMU was back up 59-41 with 8:13 left when Russell had a steal and broke free for a thunderous, one-handed dunk. Nic Moore hit a 3-pointer right before that, after Ben Moore's breakaway layup that came after another steal by Russell.
"When Nick got a steal and they didn't even try to run back with him, I figured it was over," Cunningham said.
The sellout crowd in the 7,000-seat building broke into chants of "Larry! Larry! Larry!" several times -- from before tipoff until late in the game. While students at one end serenaded Cincinnati players with "Over-rated," students sitting at the end near Brown and the SMU bench yelled out "Under-rated!"
Maybe that won't be the case any more for the Mustangs after another convincing victory over a ranked team.
The Mustangs won all six of their home games played off campus before re-opening Moody Coliseum with a 74-65 win Jan. 4 over then-No. 17 UConn. Last Saturday, SMU beat then-No. 22 Memphis 87-72.
"At the beginning of the year, we knew that we believed in each other, but not a lot of people did," Russell said. "I'm sure nobody expected us to be here. We knew what we had: We've got a great coach, a great coaching staff -- the sky's the limit."
Copyright by STATS LLC and The Associated Press
Team Stat Comparison
| | CIN | SMU |
| --- | --- | --- |
| Points | 55 | 76 |
| FG Made-Attempted | 17-48 (.354) | 25-46 (.543) |
| 3P Made-Attempted | 4-24 (.167) | 4-14 (.286) |
| FT Made-Attempted | 17-23 (.739) | 22-25 (.880) |
| Fouls (Tech/Flagrant) | 22 (0/0) | 19 (0/0) |
Next 5 Games
CIN
SMU
02/15 HOU 3:00pm
02/19 @UCF 7:00pm
02/22 LOU 12:00pm
03/01 @CONN 12:00pm
03/06 MEM 7:00pm

02/13 @RUTG 7:00pm
02/14 @RUTG 7:00pm
02/16 @TEM 2:00pm
02/19 HOU 8:00pm
02/23 @CONN 2:00pm

Complete Schedule: Cincinnati | SMU
American Conference Standings
Research Notes
Cincinnati finished tonight's game with more turnovers (19) than field goals made (17).
SMU improved to 13-0 at home this season and the Mustangs are beating teams by an average of 21.2 points per game in their 13 home games.
[+]
Before this season, SMU hadn't won against a ranked opponent since 2003. This season, in the first 4 games against ranked teams since
Larry Brown
became the SMU head coach, the Mustangs have won 3 of those 4 games, including their win against a top-10 opponent since 1987. The Mustangs have 3 wins against ranked teams in the same season for the first time in 29 years.
[+]
ESPN Stats & Information