Coverage: ESPN/WatchESPN
7:00 PM ET, February 22, 2014
Cameron Indoor Stadium, Durham, North Carolina
DURHAM, N.C. -- The rematch of one of college basketball's best games of the season ended with Hall of Fame coach Jim Boeheim ejected after he charged onto the court to argue a block/charge call.
Rodney Hood scored 13 points and drew that game-changing charging call that helped No. 5 Duke beat No. 1 Syracuse 66-60 on Saturday night.
More from ESPN.com

Not long ago, everything was going Syracuse's way. After its second consecutive loss -- in which coach Jim Boehim was ejected -- the Orange are on shaky ground, C.L. Brown writes. Story
---

The NBA's rules will only allow us to watch Jabari Parker play basketball for a single season. His 19-point performance against Syracuse reminded everyone to enjoy his talents while he's here, Myron Medcalf writes. Story
• Stats & Info: Duke's stars shine
• Nation blog
Freshman Jabari Parker had 19 points and 10 rebounds for the Blue Devils (22-6, 11-4 Atlantic Coast Conference).
Jerami Grant had 17 points and C.J. Fair, the player who was called for the charge, finished with 13 for the Orange (25-2, 12-2).
"I just thought that was the worst call of the year, that's all," Boeheim said. "I hated to see the game decided on that call."
The first meeting between these teams was an overtime game considered an instant classic. The rematch was just as close but it will be remembered more for Boeheim's exit with 10 seconds to play.
Syracuse had the ball down 60-58 when Fair drove for an apparent tying layup.
But official Tony Greene whistled Fair for charging -- and Boeheim shot onto the court to argue. Greene slapped him with two technical fouls and ejected him.
"I thought it was a block or a no-call," Fair said. "I don't think there was that much contact, either."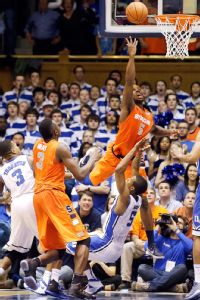 AP Photo/Gerry Broome
C.J. Fair "didn't think there was that much contact" on his controversial play with Duke's Rodney Hood late in Saturday night's game.
Quinn Cook iced it by hitting three free throws with 10.4 seconds left to make it 63-58.
That helped the Blue Devils bounce back from a loss to hated rival North Carolina less than 48 hours earlier. It meant they avoided their first regular-season losing streak since 2009 and it extended their winning streak at Cameron Indoor Stadium to 31 games.
Meanwhile, the Orange -- whose 25-0 start was spoiled three nights earlier by an overtime loss at home to sub-.500 Boston College -- are the first top-ranked team to lose twice in a week since Texas in 2010.
Star freshman Tyler Ennis finished with nine points on 2-of-13 shooting and he and fellow starting guard Trevor Cooney combined to miss all five of their 3-point attempts for the Orange.
Three times in the final 90 seconds, they had the ball down by three or fewer points -- but all anyone will remember is that drive by Fair.
He blew past Tyler Thornton along the left baseline and flipped up a shot that banked in, but Greene blew his whistle and waved it off to call Fair for charging.
That brought Boeheim off the bench and well inside the lines to argue, and when he was tossed, the game was effectively over.
Duke appeared to take control down the stretch, scoring on six consecutive trips -- keyed by Cook's 3-pointer that pushed its lead to 53-47 with just under 7 minutes left. Three possessions later, Parker soared to dunk the rebound of Hood's missed 3 -- which restored the Blue Devils' six-point lead and sent the Cameron Crazies into earsplitting delirium.
Beating No. 1 at Cameron
Tonight marked Duke's second win against the AP No. 1 team at home under Mike Krzyzewski and first since Michigan's Fab 5 visited Cameron Indoor in 1992.
Duke at Home vs. No. 1 -- Under Mike Krzyzewski
Opponent
Result
Tonight
Syracuse
Won
2007-08
North Carolina
Lost
1992-93
Michigan
Won
1983-84
North Carolina
Lost
1982-83
Virginia
Lost
1981-82
North Carolina
Lost
-- ESPN Stats & Information
But Ennis followed with a layup and Grant hit a jumper in transition, and things stayed tight until the technical fouls.
The game again matched the two winningest men's coaches in Division I history in Hall of Famers Mike Krzyzewski and Boeheim -- who, by the end of the night, combined for 1,924 victories.
Round 1 went to Boeheim earlier this month in a game for the ages, with the Orange claiming a 91-89 victory in overtime after Duke's Rasheed Sulaimon hit a buzzer-beating, tying 3 at the end of regulation before 35,446 fans at the Carrier Dome.
"Another great game. Different from the first one because it seemed like both teams were scoring easy up in Syracuse, and today it was really difficult to score," Krzyzewski said. "I don't know how either team could play any harder."
There were about one-quarter of that many at 9,314-seat Cameron -- but the 74-year-old building rocked all night with a ferocity usually reserved for the annual visit from North Carolina.
And from the opening tip, this one felt like a continuation of that OT thriller -- with players from both sides turning in highlight-reel plays, from Marshall Plumlee's vicious dunk of a missed 3 by Sulaimon, to Ennis' emphatic block of a layup by Cook.
Syracuse maxed out its lead at nine on a 3-pointer by Duke transfer Michael Gbinije midway through the first half. The Blue Devils rallied to tie it at 26 at the break on Sulaimon's fast-break layup with about a minute left, and it stayed tense the rest of the way.
Copyright by STATS LLC and The Associated Press
Photo Wire
DURHAM, NC - FEBRUARY 22: Students arrive for a game between the Duke Blue Devils and the Syracuse Orange during...
(Photo by Grant Halverson/Getty Images)
Team Stat Comparison
| | SYR | DUKE |
| --- | --- | --- |
| Points | 60 | 66 |
| FG Made-Attempted | 24-62 (.387) | 23-48 (.479) |
| 3P Made-Attempted | 2-9 (.222) | 7-21 (.333) |
| FT Made-Attempted | 10-14 (.714) | 13-25 (.520) |
| Fouls (Tech/Flagrant) | 20 (0/0) | 15 (0/0) |
Research Notes
When Syracuse moved to the ACC, many people hated to see their Big East rivalries go away. But they may have started a great one with Duke after just two meetings this season.
[+]
Duke is now 21-3 this season when recording an offensive efficiency of at least 100, and 1-3 when it does not. Despite grabbing 16 offensive rebounds Saturday, Syracuse made 5-of-14 field goals and scored 10 points on second-chance opportunities.
[+]
Duke found success against Syracuse's zone Saturday when getting the ball into the paint during the possession. The Blue Devils shot 56.0% against the zone after the ball entered the paint, compared to 29.4% when the ball did not enter the paint.
[+]
Duke relied on its star players to get past Syracuse on Saturday.
Jabari Parker
and
Rodney Hood
combined to score nearly half the team's points, and they outrebounded the rest of their teammates combined.
[+]
*Syracuse shot 27.3% from outside the paint Saturday, after shooting 62.5% on such shots in its win against Duke on Feb. 1. Over half of the Orange's field goal attempts came from outside the paint Saturday, compared to 30% of its shots in their first matchup against Duke.
[+]
Tonight marked Duke's second win against the AP Number-1 team at home under Mike Krzyzewski... The last occassion was in 1992...when Michigan and the Fab-5 visited Cameron Indoor in a rematch of the previous seasons national title.
[+]
Jabari Parker
's first three field goals Saturday were from the 3-point line, his most made 3-pointers in an ACC game this season. Parker made 3-of-4 field goals from outside the paint Saturday, after missing all three of his attempts outside the paint in Duke's loss to Syracuse on Feb. 1.
Syracuse is currently a 6-point underdog to Duke, the fourth time this season that the AP number one team has been an underdog.
[+]
- Syracuse had 13 offensive rebounds in the first half, but shot 3-for-11 from the field on second-chance opportunities.
[+]
Two Top 5 Teams? Since Halftime of Last Game Duke Syracuse < Points 55 60 Score margin -15 -11 FG 21-55 (38.1%) 20-68 (29.4%) 3-pt FG 6-24 (25.0%) 4-14 (28.6%) FT 7-16 (43.8%) 16-24 (66.7%) TO 14 11 < Played 45 minutes (OT vs Boston College)
ESPN Stats & Information