Coverage: ESPN/WatchESPN
9:00 PM ET, February 20, 2014
Dean E. Smith Center, Chapel Hill, North Carolina
Top Performers
Duke: J. Parker 17 Pts, 11 Reb, 1 Ast, 1 Stl, 2 Blk
North Carolina: L. McDonald 21 Pts, 4 Reb, 1 Ast, 1 Blk
Unranked North Carolina rallies to topple No. 5 Duke, win 8th straight
CHAPEL HILL, N.C. -- Marcus Paige and his North Carolina teammates have endured so many wild swings -- big wins, surprising losses, NCAA drama -- that no one can blame their Hall of Fame coach for wondering what's next.
A month after sitting at 0-3 in the Atlantic Coast Conference, the Tar Heels are surging following a rousing comeback against their fiercest rival, one that had their fans rushing to midcourt to celebrate when it was over.
Paige scored all 13 of his points in the second half, including two big baskets in the final 2½ minutes, to help UNC beat No. 5 Duke 74-66 on Thursday night for its eighth straight win.
More from ESPN.com

Michigan needed a lot of skill and a little bit of luck to hold off Illinois at the Big Ten tournament, writes Dana O'Neil. Blog
Senior Leslie McDonald added a season-high 21 points for the Tar Heels (19-7, 9-4 ACC), who rallied from 11 points down in the second half to beat the Blue Devils (21-6, 10-4) in a rivalry game postponed more than a week by a winter storm.
It was by far North Carolina's most impressive win during its run. Before Thursday, most had come against teams sixth or worse in the ACC standings.
"I'm not going to say we're a finished product because we've got games left," Paige said, "but man, we're playing really well right now and we're winning games in a lot of different ways."
It marked UNC's third win against a top-five team this season, along with then-No. 1 Michigan State and then-No. 3 Louisville. Throw in then-No. 11 Kentucky in December, and the Tar Heels have beaten the top four teams from The Associated Press' preseason top 25.
Not bad for a team that never had top player P.J. Hairston due to NCAA violations for improper benefits.
"It was a bunch of guys that fought really hard," coach Roy Williams said, "and I couldn't be prouder of my team than I am right now."
After filling the entire court following the horn, thousands of fans mobbed Franklin Street on the north end of campus to continue a celebration that came eight days later than they had hoped due to last week's winter storm. The storm brought enough snow and ice to paralyze area roads, and kept Duke's bus from even making it to Durham to pick up the team for the 11-mile drive to the Smith Center in Chapel Hill.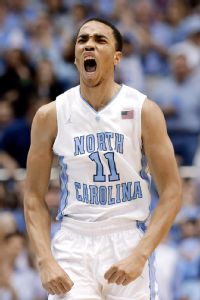 AP Photo/Gerry Broome
Brice Johnson and the Tar Heels now have three wins against top-five teams this season.
The Tar Heels made it worth the wait for their fans by being tough enough to wrestle control from the Blue Devils. They shot 50 percent from the field after halftime and even made their last 10 free throws after a disastrous start at the line.
Jabari Parker and Quinn Cook each scored 17 points for Duke, which led 51-40 with about 15 minutes left before going ice cold from the field. The Blue Devils missed 13 straight shots and went scoreless for six minutes at one point, helping the Tar Heels climb back in it as they mixed a 1-3-1 zone with man defense.
"They would just keep switching," Cook said. "We'd come down, and we wouldn't know what they'd be in. They kept us on our toes with their defense."
Duke shot 36 percent (11-for-31) after halftime and made five of 22 3-pointers for the game.
Coach Mike Krzyzewski said he thought his team "played young" in the second half.
"We looked tired or we didn't have life," Krzyzewski said. "And no matter what we did in a timeout, we just didn't have that spark -- the anger, the emotion, the thing you have to have to match what their crowd, their team is doing. You have to try to counter that. And I just felt we were, we didn't have the life that you needed to have."
Paige provided plenty of that fight for the Tar Heels. After being hounded by Duke defenders Cook and Rasheed Sulaimon through his scoreless first half, he scored nine points in the final 5½ minutes, starting with his only 3-pointer of the night.
McDonald hit the go-ahead jumper to make it 62-60 with 3:54 left, capping his own strong performance after two straight 1-for-8 shooting performances. Paige followed with a stepback jumper over Rodney Hood with 2:11 left, then answered Parker's free throws by driving for a scooping layup through the heart of Duke's defense.
After Sulaimon missed a 3 on the ensuing possession, freshman Nate Britt followed with two free throws that pushed the lead to 68-62 with 46.2 seconds left, and soon the rowdy home crowd was inching closer to the court.
It marked the 11th time Paige has scored in double figures in the second half this season after scoring four or fewer in the first.
The postponement created a four-games-in-eight-days stretch for both teams, although it's particularly challenging for Duke with No. 1 Syracuse visiting Cameron Indoor Stadium on Saturday night in a rematch of the overtime classic won by the Orange earlier this month. UNC hosts Wake Forest on Saturday afternoon.
Copyright by STATS LLC and The Associated Press
Photo Wire
CHAPEL HILL, NC - FEBRUARY 20: Jabari Parker #1 of the Duke Blue Devils defends a shot by James Michael McAdoo...
(Photo by Grant Halverson/Getty Images)
Team Stat Comparison
| | DUKE | UNC |
| --- | --- | --- |
| Points | 66 | 74 |
| FG Made-Attempted | 27-63 (.429) | 26-55 (.473) |
| 3P Made-Attempted | 5-22 (.227) | 2-9 (.222) |
| FT Made-Attempted | 7-12 (.583) | 20-31 (.645) |
| Fouls (Tech/Flagrant) | 26 (0/0) | 17 (0/0) |
Next 5 Games
DUKE
UNC
02/22 SYR 7:00pm
02/25 VT 7:00pm
03/05 @WAKE 7:00pm
03/08 UNC 9:00pm
03/14 CLEM 9:40pm

02/22 WAKE 12:00pm
02/26 @NCST 8:00pm
03/01 @VT 2:30pm
03/03 ND 7:00pm
03/08 @DUKE 9:00pm

Complete Schedule: Duke | North Carolina
Research Notes
* UNC is the first team to beat each of the AP's preseason top 4 teams since the AP first released a preseason poll prior to the 1961-62 season.
*Duke outscored North Carolina 18-3 in points off turnovers in the first half to take a seven-point halftime lead. The Tar Heels did not allow a single point off a turnover in the second half. - North Carolina outscored Duke 10-6 on second-chance points in the second half as the Blue Devils went 19:23 without a second-chance field goal after halftime.
[+]
*Duke's
Jabari Parker
was held without a touch for more than five minutes in the second half (7:55-2:44). Parker was held to four paint points in the second half.
[+]
- Duke averaged 96.1 points per 100 possessions, its second-lowest offensive efficiency this season (93.7 - Jan. 11, Clemson). Duke entered 6-0 scoring 18 points off turnovers this season. - North Carolina has posted an offensive efficiency of at least 100 in each game during its current 8-game winning streak. The Tar Heels are 1-5 in games when their offensive efficiency is below 100 this season.
[+]
*North Carolina's
Marcus Paige
scored all 13 of his points in the second half. Paige has been at his best in the second half in North Carolina's key wins this season.
[+]
* UNC misses 10.2 free throws a game, 2nd most in the country. The Heels have already missed 7 free throws in the first half, including 2 front ends of one-and-ones.
*
Jabari Parker
is the first Duke freshman with a double-double against UNC since Kyle Singler in 2008.
ESPN Stats & Information