Coverage: CBS
12:15 PM ET, March 20, 2014
First Niagara Center, Buffalo, New York
Top Performers
Dayton: D. Pierre 12 Pts, 8 Reb, 2 Ast, 1 Stl
Ohio State: S. Thompson 18 Pts, 4 Reb, 1 Ast, 2 Stl, 1 Blk
BUFFALO, N.Y. -- Dayton is re-configuring the college basketball map in Ohio.
It no longer runs through Columbus after Vee Sanford's layup with 3.8 seconds left secured 11th-seeded Dayton's 60-59 victory over sixth-seeded Ohio State in the second round of the of the NCAA tournament on Thursday.
"I guess they called us the little brother, or whatever," Flyers guard Jordan Sibert said. "We can't be called that anymore."
More from ESPN.com

Dayton, the little brother in the state of Ohio, took it to the state's behemoth, Ohio State, and pulled the upset, writes Dana O'Neil. Story
---

Our Giant Killers team says that Dayton's odds to take down Syracuse are actually better than their odds were to upset Ohio State on Thursday. Story

Sibert has seen it from both sides after transferring to Dayton following two seasons at Ohio State.
"To be able to go out there and play with this group of guys, to be able to come up with this win, it's unbelievable," Sibert said.
Leave it to another transfer, Sanford, to secure the victory in a back-and-forth game that featured 15 lead changes between two schools separated by some 75 miles.
After Ohio State's Aaron Craft hit a reverse layup with 15.5 seconds remaining, the Flyers set up a play during a timeout with 10.8 seconds left.
Dayton inbounded the ball and worked it to Sanford on the right wing. Driving the lane without hesitation, he got a step on Craft and laid in a shot from about 4 feet away.
"No, I wasn't nervous," said Sanford, who transferred to Dayton from Georgetown. "We've drawn up a play like that, and I messed it up previously. But (coach Archie Miller) just kept his trust in me, and I'm just thankful that the shot went in."
Sanford finished with 10 points, while Dyshawn Pierre led Dayton with 12 points. For Miller, in his third year, the win came against his former mentor, Thad Matta.
More from ESPN.com
ESPN RecruitingNation's experts look at what next year holds for the teams knocked out of the NCAA tournament. Story

The Flyers (24-10), of the Atlantic-10, who have won 11 of 13, advance to play the winner between third-seeded Syracuse and 14th-seeded Western Michigan in a South Region matchup on Saturday.
It's one and done for the Big Ten's Buckeyes (25-10), who were eliminated in the first game for only the third time in 26th tournament appearances. This season, Ohio State got off to a 15-0 start, and then stumbled down the stretch, splitting its final 20 games.
The loss marked the end for three seniors, including Craft, who were part of a team that had advanced past the third round in each of the previous three years.
Craft had a chance to pull out the win.
SportsNation: Round of 32 Pick 'Em

Bracket no longer perfect? No problem. Here's a chance to guess the round of 32 winners: Pick 'Em! »
Driving the length of the court on the Buckeye's last possession, Craft bulled his way through three defenders only to have his 10-footer hit off the backboard and roll off the rim as the buzzer sounded.
Craft remained on his back in disappointment as the Flyers rushed to celebrate at their bench at the other end of the court.
"I just wanted to do everything I could to help our team win, and down the stretch I couldn't do that today," Craft said. "I can take the blame for that."
Sam Thompson led Ohio State with 18 points, and Craft scored 16.
Craft had no time for questions about whether Dayton can stake claim to being the state's better basketball school for one year at least.
"Sorry, I have zero thoughts on that right now," he said. "I'm upset at the way we played this game, and the way we didn't take the opportunity and make the most of it."
Craft was involved in a questionable play when he draped his arms around Sibert and was called for an intentional foul with 2:35 left. Sibert hit both free-throws to put Dayton up 55-52, but the Flyers couldn't score on the ensuing possession. Craft made up for that at the other end, when he was fouled while hitting a 6-footer, and then completed the three-point play.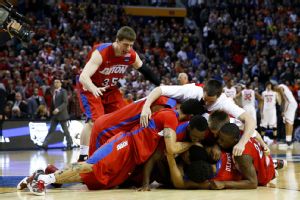 Kevin Hoffman/USA TODAY Sports
No. 11 Dayton pulled off the first upset of the NCAA tournament, stunning No. 6 Ohio State in the final seconds.
Miller was antsy right up to the final buzzer. Having spent two seasons at Ohio State, he was fully aware of Craft's ability to score clutch baskets.
"I thought it was going in," Miller said, referring to Craft's miss at the buzzer. "I've watched those guys win that game 1,000 times. He's a bulldozer with the ball. He got it down there in about three dribbles and got a good look. And it ended up rimming out. And we got lucky today."
The Flyers have shown a flare for dramatics this season.
Sanford's basket marked the third time the Flyers have won a game on a shot in the final 4 seconds.
Sibert hit a 3-pointer with 1 second left in an 81-80 win over IPFW on Nov. 9. Then there was Devin Oliver's buzzer-beater in an 83-80 overtime win at Ole Miss on Jan. 4.
"A lot of people were going to make a big case out of beating Thad, or beating Ohio State," Miller said. "We didn't get real complicated. It wasn't about Ohio State or where they're from, or blah, blah, blah. It was about us."
Copyright by STATS LLC and The Associated Press
Photo Wire
BUFFALO, NY - MARCH 20: Amir Williams #23 of the Ohio State Buckeyes goes for a rebound against the Dayton Flyers...
(Photo by Elsa/Getty Images)
Around The NCAA Tournament
Deciding factor: Vee Sanford's running, go-ahead bank shot from the right side with 3.8 seconds lifted Dayton to a win in the fight for Ohio.
Player of the game: Sanford. Could it be anyone else? He offset Aaron Craft's final-minute heroics with his own and finished the game with 10 points off the bench.
Key stat: Dayton went 13-for-17 from the free throw line, including three straight with 26 seconds left by Dyshawn Pierre.
Team Stat Comparison
| | DAY | OSU |
| --- | --- | --- |
| Points | 60 | 59 |
| FG Made-Attempted | 22-49 (.449) | 24-50 (.480) |
| 3P Made-Attempted | 3-13 (.231) | 3-12 (.250) |
| FT Made-Attempted | 13-17 (.765) | 8-12 (.667) |
| Fouls (Tech/Flagrant) | 14 (0/0) | 16 (0/0) |
Series
| DATE | GAME | LINKS |
| --- | --- | --- |
| » Mar 20, 2014 | DAY 60, @OSU 59 | Recap |
Research Notes
Dayton outscored Ohio State 20-12 in transition. The Flyers average 13.9 transition points per game for the season and are 6-0 when scoring 20 or more transition points. Ohio State entered the game allowing 10.1 transition points, third fewest in the Big Ten.
[+]
This loss by Ohio State is just the 2nd time Thad Matta has been ousted in the Round of 64 in the NCAA Tournament (both with Ohio State...he made it past the Round of 64 with Xavier and Butler)...Buckeyes lost to Siena in 2009
Ohio State made the Final Four just 2 years ago, but the Buckeyes have exited the tournament earlier and earlier each year since.
[+]
Ohio State has not won an NCAA Tournament game when seeded 5th or worse since 1990 when the 8th-seeded Buckeyes won one game before falling to eventual national champion UNLV in the Round of 32. On the bright side, coach Thad Matta is 5-4 when seeded worse than 3rd, including wins over a 2-seed and a 3-seed. 2 of his 4 losses are by 2 points (the previously mentioned 2009 double OT game vs Siena in an 8-9 game) and by 3 points with 7th-seeded Xavier vs No. 1 seed Duke in the 2004 Elite 8.
So far for Ohio State: Thompson-Craft-Ross: 35 pts, 15-24 FG Rest of team : 10 pts, 3-14 FG.
Ohio State was trailing at the half against Dayton...that was the first time since 2005-2006 (vs Davidson) that the Buckeyes were trailing at the half of a Second Round game...they ended up beating Davidson 70-62 that day... Ohio State last loss in the Second Round of the tournament was in 2009 against Siena
Last year, there was one game in the Round of 64 or later decided by one point (Marquette over Davidson) Today, the first game to go final was a one-point game.
ESPN Stats & Information