3:30 PM ET, September 15, 2012
Beaver Stadium, University Park, PA
Top Performers
Passing: M. McGloin (PSU) - 231 YDS, 4 TD
Rushing: G. Greene (NAVY) - 8 CAR, 70 YDS, 1 TD
Receiving: A. Robinson (PSU) - 5 REC, 136 YDS, 3 TD
Matt McGloin throws 4 TDs as Penn State wins 1st under Bill O'Brien
STATE COLLEGE, Pa. -- Matt McGloin had been waiting to make this call.
The seconds were ticking down in Penn State's 34-7 win Saturday against Navy, so the senior quarterback got teammates Jordan Hill and Gerald Hodges to sneak up behind rookie coach Bill O'Brien to douse him with a bucket of water.
More From ESPN.com

Sophomore Allen Robinson became the first Penn State player in three years to haul in three touchdown passes in a game during Saturday's win against Navy, writes Josh Moyer. Blog
• More Moyer: Barnes rises to top
• NittanyNation blog

"I said, 'Hey listen, it's his first win as a head coach. You've got to give it to him,' " McGloin said with a laugh.
It was too much to resist.
Penn State football finally had a victory to celebrate.
McGloin threw for 231 yards and four touchdowns, Allen Robinson torched the Midshipmen secondary with 136 yards and three scores, and the Nittany Lions (1-2) rolled to the morale-boosting win after two draining losses to open a season of change in Happy Valley.
"In many ways, it was a long time coming," said O'Brien, soaking wet while speaking to reporters after the game. "All the hard work they've put in this week, it finally paid off ... But it's just one win. We've got to soak it in tonight but get back to work on Monday."
Penn State hadn't come off the field victors since last Nov. 19 at Ohio State. That was soon after former assistant coach Jerry Sandusky was charged with child-sex abuse and the late Joe Paterno was fired. O'Brien was hired in January as Paterno's replacement, and the Penn State program was slammed with NCAA sanctions in July over the school's handling of the Sandusky case.
Among the penalties, the school was forced to vacate all its wins since 1998, so technically that 20-14 victory against the Buckeyes didn't even count. The Nittany Lions' last official win was 35-10 against Wisconsin on Nov. 22, 1997.
"When you think about all the things they've been through -- it's a pretty neat group of kids," O'Brien said. "I just feel great for these football players here at Penn State today."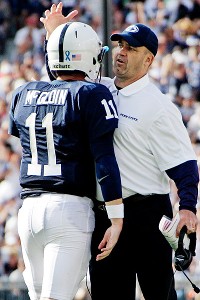 AP Photo/Gene J. Puskar
Penn State coach Bill O'Brien, right, celebrates with quarterback Matt McGloin after a second-quarter touchdown during the Nittany Lions' win Saturday, O'Brien's first with the team.
Gee Gee Greene ran for 70 yards for the Midshipmen (0-2) and scored on a 12-yard run to end the Penn State shutout with 10:03 left.
Too little, too late, for mistake-prone Navy.
Linebacker U forced four turnovers, including Mike Hull's 74-yard fumble return to make it 34-0 in the fourth quarter. Navy was beset by seven penalties for 41 yards.
"It's uncharacteristic of us. We didn't play well. I didn't coach well," said Navy coach Ken Niumatalolo. "We've got to play mentally perfect to have a chance against a team like Penn State. We didn't come close, not even close."
Faint chants of "Bill O'Brien" echoed out of the stands after the two teams exchanged handshakes at midfield following the final whistle. The Nittany Lions avoided going 0-3 for the first time since 2001.
"For Coach O'Brien that was big because of all the hard work he's put in for us," said Hill, who recovered a Navy fumble. "And for us, too. All the hard work that we've put in and everything we've been through. Just to get one game under our belts, one win under our belts, now we feel like we're just going to get it rolling."
The Nittany Lions offense rolled from the start against Navy.
On a play fake, McGloin scrambled right and found tight end Jesse James in the end zone for a 2-yard touchdown catch and a 7-0 lead on the game-opening drive. More than five minutes later, McGloin hit Robinson with a pass at about the 10, but the sophomore two-stepped around defensive back Tra'ves Bush to jog untouched into the end zone for a two-touchdown lead.
McGloin was 13-of-21 passing. Robinson caught five passes, cementing his status as the favorite target in the revamped Penn State offense.
"I think it was all about game-planning and good route combinations called," Robinson said.
Some luck was involved, too, when a deflected pass landed in Robinson's hands in the end zone for a 25-yard touchdown reception to make it 27-0 in the third quarter.
Linebacker Gerald Hodges got in on Penn State's turnover party, intercepting an underthrown pass in the flat by Navy quarterback Trey Miller, who was flushed out of the pocket under pressure. That turnover set up a drive that ended with another Robinson touchdown.
Just like in its season opener to Notre Dame two weeks ago, Navy allowed touchdowns on its opponents' first three offensive series.
And just like two weeks ago, Navy limped home to Annapolis with another double-digit loss.
Big Ten Blog
ESPN.com's Adam Rittenberg and Brian Bennett write about all things Big Ten in the conference blog.
• Blog network: College Football Nation
"We're going to have a hard time beating high school teams if we don't take care of the football, much less a program like Penn State," Niumatalolo said.
Miller, who had both feet heavily taped, injured his right ankle in the 50-10 loss to the Irish. Appearing to walk with a slight limp, Miller was ineffective in the pocket, rushing 18 times for 21 yards and going 6-of-13 passing for 17 yards and an interception.
"He's still a little ginger on that ankle," Niumatalolo said. "Not everything that happened was his fault; he was running for his life."
Penn State stepped up the pressure on Miller to try to contain Navy's triple-option attack. For the most part, it worked early, with linebacker Michael Mauti leading the way with 12 tackles and a sack.
Freshman backup quarterback Keenan Reynolds entered in the third quarter to get Navy from its own 21 to the Penn State 26 before another mistake -- this time a fumble by Noah Copeland at the line of scrimmage.
Hull emerged out of a swarm of blue shirts and raced down the middle of the field untouched 74 yards for a 34-0 lead. The creaky Beaver Stadium press box swayed as fans rocked the stands.
Navy now has six lost fumbles in its first two games after losing nine all of last year.
Those turnovers were costly for Navy, which otherwise was able to keep up with Penn State's new-fangled offense modeled after the attack O'Brien coordinated while he was with the New England Patriots. Navy outgained Penn State in total offense 371-341 and held the ball for 36 minutes.
But much of Navy's yardage came in the fourth quarter with the game well in hand for Penn State. Another bright spot for the Midshipmen came on fourth downs, when Navy converted 5 of 8 chances.
Before they left the field, the Nittany Lions started a new tradition initiated by O'Brien, gathering in front of the Blue Band to sing the alma mater.
And for first time in the new era of Penn State football, Nittany Lion fans went home happy.
Photo Wire
STATE COLLEGE, PA - SEPTEMBER 15: Wide receiver Allen Robinson #8 of the Penn State Nittany Lions catches a pass...
(Photo by Rob Carr/Getty Images)
Team Stat Comparison
| | NAVY | PSU |
| --- | --- | --- |
| 1st Downs | 22 | 16 |
| Total Yards | 391 | 341 |
| Passing | 136 | 231 |
| Rushing | 255 | 110 |
| Penalties | 7-41 | 5-46 |
| 3rd Down Conversions | 4-15 | 3-8 |
| 4th Down Conversions | 5-8 | 1-2 |
| Turnovers | 4 | 0 |
| Possession | 36:23 | 23:37 |
Scoring Summary
FIRST QUARTER
NAVY
PSU
TD
11:25
Jesse James 2 Yd Pass From Matthew McGloin (Sam Ficken Kick)
0
7
TD
06:40
Allen Robinson 45 Yd Pass From Matthew McGloin (Sam Ficken Kick)
0
14
SECOND QUARTER
NAVY
PSU
TD
08:59
Allen Robinson 2 Yd Pass From Matthew McGloin (Pat Failed)
0
20
THIRD QUARTER
NAVY
PSU
TD
02:23
Allen Robinson 25 Yd Pass From Matthew McGloin (Sam Ficken Kick)
0
27
FOURTH QUARTER
NAVY
PSU
TD
14:13
Mike Hull 74 Yd Fumble Return (Sam Ficken Kick)
0
34
TD
10:03
Gee Gee Greene 12 Yd Run (Nick Sloan Kick)
7
34
Research Notes
Allen Robinson
is the fourth Penn State player in the last 10 years to catch three touchdown passes in the same game.
[+]
ESPN Stats & Information