12:00 PM ET, September 29, 2012
Sun Life Stadium, Miami, FL
Top Performers
Passing: S. Morris (MIA) - 566 YDS, 5 TD, 1 INT
Rushing: T. Creecy (NCST) - 19 CAR, 120 YDS, 1 TD
Receiving: P. Dorsett (MIA) - 7 REC, 191 YDS, 2 TD
MIAMI -- Stephen Morris threw for a school- and Atlantic Coast Conference-record 566 yards and five touchdowns, the last of those a 62-yard strike to Phillip Dorsett with 19 seconds left, and Miami beat North Carolina State 44-37 on Saturday for the Hurricanes' first three-game winning streak since 2009.
Dorsett caught seven passes for 192 yards and two scores for Miami (4-1, 3-0 ACC). Rayshawn Scott had six catches for 180 yards for the Hurricanes, who meet unbeaten Notre Dame in Chicago next weekend.
Morris was 26-of-50 passing for Miami, which finished with 652 yards of offense and survived despite wasting a 10-point lead in the fourth quarter.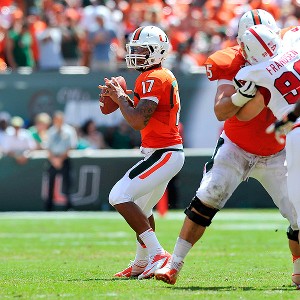 Steve Mitchell/US Presswire
Miami quarterback Stephen Morris set an ACC record with 566 passing yards in Saturday's shootout win against North Carolina State.
Former Wake Forest standout Rusty LaRue held the former ACC record for passing yards, throwing for 545 against NC State in 1995.
"People dream about it," Morris said, according to The Associated Press. "But it's kind of crazy when you're actually in the moment. I'm speechless about it."
Mike Glennon completed 24-of-42 passes for 440 yards and four touchdowns for N.C. State (3-2, 0-1), but his interception with 48 seconds left set up Miami's winning score.
Three plays later, Morris scrambled, bought some time and found Dorsett for the game-winner.
The Hurricanes led 37-27 with 8 minutes left before the Wolfpack rallied. Glennon's 6-yard pass to Rashard Smith got N.C. State within 37-34. And with 1:58 left, Niklas Sade -- who missed an extra point earlier -- connected on a 50-yard field goal, tying the game.
Morris started the ensuing Miami drive with an 18-yard pass to Scott, a completion that gave him 487 yards, two more than Gino Torretta's previous mark of 485. The drive stalled not long afterward, and Miami punted it away with 1:03 left.
N.C. State kept the ball for 15 seconds before giving it back, and Miami -- which hadn't cashed in turnovers all day -- finally came through on the Morris-to-Dorsett pass.
Tony Creecy rushed for 120 yards on 19 carries for N.C. State, which turned the ball over six times, including one on the game's final play.
It was wild, back-and-forth football throughout, and the fireworks started early.
Miami scored 23 points in a span of 4 minutes, 12 seconds in the first quarter -- its second straight game with a 23-0 run, matching the way it ended last week's overtime win at Georgia Tech. Morris connected with Scott on a 52-yard pass to set up Miami's first touchdown, a 13-yard throw to Allen Hurns, who made a spectacular tiptoe catch at the side of the end zone to knot the game at 7-all.
The Hurricanes got a safety on their next possession, their second in as many games, and things started rolling. Morris and Hurns hooked up for 40 yards on the ensuing drive, capped by Morris finding Dorsett for a 24-yard touchdown. After a three-and-out by the Wolfpack, Morris and Scott connected again, this time on a 76-yard scoring play.
Just like that, Miami was up 23-7 with 4:18 left in the first quarter.
And that was when the Wolfpack started to self-destruct. Miami, however, simply wouldn't let them do so.
N.C. State fumbled the ball away on four of its next five possessions -- and the Hurricanes got exactly zero points off those gifts. Miami gave the first of those turnovers back after a pass skipped off tight end Clive Walford's hands for an interception in the end zone, a play where the Hurricanes could have taken a 30-7 first-quarter lead.
On its next three fumble recoveries, Miami responded with an interception, a punt and a missed field goal by Jake Wieclaw, a 19-yard chip shot that caromed off the left upright. That miss came after the Hurricanes had gone for a fake field goal on fourth-and-2 from the N.C. State 8, with holder Dalton Botts keeping the ball and breaking tackles for a first down, a play that was ultimately wasted.
Wieclaw missed three field goals on the day, but the Hurricanes survived anyway.
Information from The Associated Press was used in this report.
Team Stat Comparison
| | NCST | MIA |
| --- | --- | --- |
| 1st Downs | 30 | 26 |
| Total Yards | 664 | 651 |
| Passing | 440 | 566 |
| Rushing | 224 | 85 |
| Penalties | 14-100 | 4-20 |
| 3rd Down Conversions | 4-12 | 6-18 |
| 4th Down Conversions | 2-2 | 1-1 |
| Turnovers | 6 | 1 |
| Possession | 33:22 | 26:38 |
Scoring Summary
FIRST QUARTER
NCST
MIA
TD
09:29
Tony Creecy 1 Yd Run (Niklas Sade Kick)
7
0
TD
08:40
Allen Hurns 14 Yd Pass From Stephen Morris (Jake Wieclaw Kick)
7
7
SF
08:28
- Team Tackled By Jelani Hamilton In End Zone
7
9
TD
06:52
Phillip Dorsett 24 Yd Pass From Stephen Morris (Jake Wieclaw Kick)
7
16
TD
04:18
Rashawn Scott 76 Yd Pass From Stephen Morris (Jake Wieclaw Kick)
7
23
SECOND QUARTER
NCST
MIA
TD
14:56
Tony Creecy 7 Yd Pass From Mike Glennon (Niklas Sade Kick)
14
23
THIRD QUARTER
NCST
MIA
TD
08:14
Bryan Underwood 4 Yd Pass From Mike Glennon (Niklas Sade Kick)
21
23
TD
00:54
Duke Johnson 4 Yd Run (Jake Wieclaw Kick)
21
30
FOURTH QUARTER
NCST
MIA
TD
10:23
Bryan Underwood 28 Yd Pass From Mike Glennon (Pat Failed)
27
30
TD
08:00
Rashawn Scott 13 Yd Pass From Stephen Morris (Jake Wieclaw Kick)
27
37
TD
05:43
Rashard Smith 6 Yd Pass From Mike Glennon (Niklas Sade Kick)
34
37
FG
01:58
Niklas Sade 50 Yd
37
37
TD
00:19
Phillip Dorsett 62 Yd Pass From Stephen Morris (Jake Wieclaw Kick)
37
44
Research Notes
* Miami QB
Stephen Morris
broke the ACC passing record in today's win over NC State.
[+]
This is Miami (FL)'s highest-scoring 1st quarter since 2005, when it scored 27 in the 1st at Temple.
MIA QB
Stephen Morris
threw for 271 yards in the 1st quarter vs NC State. Only 3 FBS players have thrown for more yards in a quarter since 2004.
[+]
ESPN Stats & Information