RUSSELL ATHLETIC BOWL
Final/OT
5:30 PM ET, December 28, 2012
Top Performers
Passing: L. Thomas (NOR) - 193 YDS, 1 TD, 2 INT
Rushing: S. Huggins (RUTG) - 18 CAR, 48 YDS
Receiving: C. Fuller (EAST) - 2 REC, 46 YDS, 1 TD
Virginia Tech rallies, tops Rutgers in OT of Russell Athletic Bowl
ORLANDO, Fla. -- After one of its most unfulfilling seasons in recent memory, Virginia Tech desperately wanted to avoid its first losing season since 1992.
Mission accomplished.
Cody Journell kicked a 22-yard field goal on the first possession of overtime to help the Hokies beat Rutgers 13-10 in the Russell Athletic Bowl on Friday night.
More Virginia Tech-Rutgers Coverage

If you like lots of points and lots of offense, then Friday night's defensive battle between Virginia Tech and Rutgers wasn't for you, writes Andrea Adelson. Blog
• Rapid Reax | ACC blog | Big East blog
Virginia Tech won its final three games to finish 7-6.
"Not everything in life is real smooth," Hokies coach Frank Beamer said. "These players worked hard and how they reacted to adversity and to disappointment and when all of them wanted to do better -- they kept together."
Rutgers (9-4) had a chance to tie it in overtime, but Nick Borgese missed a 42-yard field goal attempt to the right.
The loss ended a run of five straight bowl victories for the Scarlet Knights and kept them from recording their first double-digit win season since 2006.
The win also was the Hokies' 12th straight victory against their former Big East Conference rival.
Virginia Tech trailed 10-0 at the half, then rallied in the final 30 minutes thanks to some timely turnovers and offense. Quarterback Logan Thomas struggled in the first half and finished with a pair of interceptions, but also had 192 yards passing and the game's only passing touchdown.
"I can't commend the defense more," Thomas said. "The entire season that's kind of how it's been. I have to give a shout out to (linebacker) Bruce Taylor because he played his tail off the entire game. It felt like he was in the backfield making a tackle on every play."
Taylor finished the night with a team-high 11 tackles to lead a defense that held Rutgers to 67 yards in the second half.
Virginia Tech cornerback Antone Exum, selected the most valuable player of the game, picked off Gary Nova's pass early in the fourth quarter to set up the tying score.
No Grounds For Concern For Hokies
Virginia Tech managed just 3 rushing yards in Friday night's overtime win against Rutgers, the third-fewest since Frank Beamer took over as coach in 1987. Here's the list:
Year
Opponent
Yards
1994
Miami (FL)
-14
1987
Syracuse
-1
2012
Rutgers
3
2001
Pittsburgh
15
1987
Clemson
23
-- ESPN Stats & Information
He said even though the offense took its lumps early, he was never down on its effort.
"That's just the way the game panned out," Exum said. "We never lose hope with the guys on the other side of the ball. Our job, honestly, is just to go out there and get as many three-and-outs as possible and give the most opportunities as we can to put points on the board.
"We did a good job of that tonight."
Rutgers seemed to be in command until the opening minutes of the fourth quarter, when turnovers and a sudden surge from the Hokies' offense quickly turned the momentum.
Down 10-0, Virginia Tech took over after Rutgers missed a field goal and moved into Scarlet Knights' territory for the first time in the game on a 32-yard pass from Thomas to Dyrell Roberts.
Thomas then found Corey Fuller for a 25-yard strike on the next play before the drive stalled on the 8. It forced the Hokies to settle for Journell's 25-yard field goal.
Exum intercepted Nova's pass on the ensuing drive, giving the Hokies a first down on the Rutgers 21.
The Hokies found the end zone three plays later on a 21-yard touchdown pass from Thomas to Fuller with 10:56 left as steady rain began to fall.
"We finally caught them off balance," Thomas said. "We finally got them uncomfortable. ... I just had to put the ball out there for him."
Virginia Tech defensive end Tyrel Wilson then came up with the defense's second turnover of the night, recovering a fumble inside the Scarlet Knights 40 after Nova dropped a snap while lined up in the shotgun.
An intentional grounding penalty on Thomas forced a punt, though, with less than 7 minutes to play.
They got another chance a few series later, only to see Journell's 51-yard field goal come up short with 2:20 showing on the clock.
Rutgers punted, but got it back just a play later when Thomas' pass was intercepted by Brandon Jones.
"Two tremendous defensive performances, and one of the better defensive performances I've seen from Rutgers players this season," Rutgers coach Kyle Flood said. "It's unfortunate that we came out on the wrong side of the game, and squander that kind of performance as a result."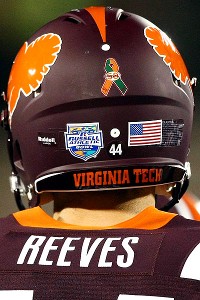 Douglas Jones/USA TODAY Sports
Hokies players honored the shooting victims of Virginia Tech and Newtown, Conn., with a decal on their helmets, then went out and stunned Rutgers with a second-half rally.
It was defense on both sides that controlled the action in the first half as Rutgers took a 10-0 halftime lead.
The Scarlet Knights were the most effective offensively, managing a modest seven first downs and a field goal. But the Scarlet Knights came up empty on their best drive of the half, failing to convert on a fourth-down pass play inside the Hokies 35.
Virginia Tech struggled throughout, though, tallying only 73 yards total in the first two quarters. Thomas was also sacked twice and intercepted late in the half, which severely hampered an offense that never made it into Rutgers' territory.
Penalties also bent in Rutgers' favor. Virginia Tech was penalized eight times for 60 yards. The Scarlet Knights weren't whistled for any penalties in the half.
A miscue by Virginia Tech on the opening drive of the game produced the game's first score.
Hokies center Caleb Farris sent his second snap of the night sailing past Thomas and into the end zone.
Thomas scrambled back to pick it up, and tried to run it out, but he was instantly swarmed and lost the ball as he was tackled. It was eventually recovered by Rutgers linebacker Khaseem Greene for the touchdown.
Beamer said the challenge was not to let any shortcomings from this season cloud the offseason.
"I couldn't be more proud of this team," he said. "We've won some more games in other years, but I think this group is special."
Game notes
The game was the lowest scoring the bowl's history. It surpassed Stanford's 24-3 win over Penn State in 1993. ...The game also set a bowl record with 20 punts, passing the previous record of 19 in the 1991 matchup between Alabama and Colorado.
Photo Wire
ORLANDO, FL - DECEMBER 28: Fans of the Rutgers Scarlet Knights show their signs against the Virginia Tech Hokies...
(Photo by J. Meric/Getty Images)
Bowl Overview
It was over when... Virginia Tech's Cody Journell made a 22-yard field goal in overtime, while Nick Borgese missed his own 42-yard attempt for Rutgers.
Gameball goes to... Virginia Tech punter A.J. Hughes. He averaged 41.7 yards, knocked five inside the 20 and had three that went 50 or more yards.
Stat of the game... 21. Given how both teams were so offensively challenged, it's no surprise a Russell Athletic Bowl record for total punts was set.
Team Stat Comparison
| | RUTG | VT |
| --- | --- | --- |
| 1st Downs | 14 | 12 |
| Total Yards | 196 | 196 |
| Passing | 129 | 193 |
| Rushing | 67 | 3 |
| Penalties | 4-35 | 14-95 |
| 3rd Down Conversions | 3-21 | 5-19 |
| 4th Down Conversions | 1-2 | 0-0 |
| Turnovers | 2 | 3 |
| Possession | 32:34 | 27:26 |
Scoring Summary
FIRST QUARTER
RUTG
VT
TD
14:43
Khaseem Greene Recovered Fumble In End Zone. (Nick Borgese Kick)
7
0
FG
02:38
Nick Borgese 36 Yd
10
0
FOURTH QUARTER
RUTG
VT
FG
12:14
Cody Journell 25 Yd
10
3
TD
10:56
Corey Fuller 21 Yd Pass From Logan Thomas. (Cody Journell Kick)
10
10
OVERTIME
RUTG
VT
FG
Cody Journell 22 Yd
10
13
Research Notes
Virginia Tech's three rushing yards are the fewest for the Hokies in a win in 26 seasons under Frank Beamer. The previous low was 33 in a win against East Carolina in 2007.
Virginia Tech won despite running for three yards against Rutgers. The Hokies are the fifth FBS team to win a game this season with fewer than 10 yards on the ground - four of those teams are from the ACC!
[+]
ESPN Stats & Information