Coverage: Longhorn Network
8:00 PM ET, August 31, 2013
Royal-Texas Memorial Stadium, AUSTIN, TX
Top Performers
Passing: D. Ash (TEX) - 343 YDS, 4 TD, 2 INT
Rushing: J. Overstreet (TEX) - 9 CAR, 92 YDS, 2 TD
Receiving: M. Brown (TEX) - 3 REC, 109 YDS, 1 TD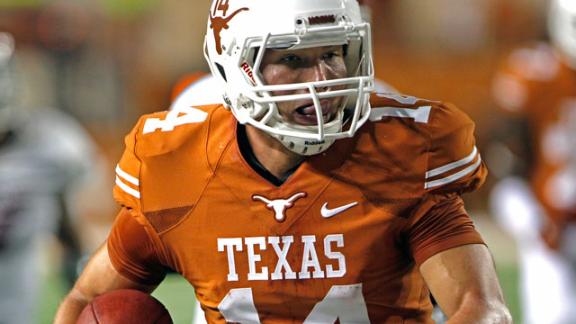 Texas Takes Care of NMSU in Season Debut
Texas Takes Care of NMSU in Season Debut
VIDEO PLAYLIST
AUSTIN, Texas -- In his first two seasons, two first-half interceptions and a deficit to a big underdog could have easily sent Texas quarterback David Ash to the sideline as someone else took over for the Longhorns.
Not Saturday night. Texas stuck with Ash this time and the junior quarterback made the big plays to first spark a rally, then delivered the knockout punch as the Longhorns overcame a slow start to roll over New Mexico State 56-7.
More on Texas

For full coverage of the Longhorns, check out the Texas blog, part of ESPN's College Football Nation. Blog
More:
• Texas' clubhouse page
• ESPN.com's Big 12 blog
• ESPN Dallas' college blog
Texas trailed 7-0 late in the second quarter before Ash threw touchdown passes of 54, 66, 74 and 25 yards, and ran 55 yards for a touchdown for the Longhorns, who rolled up a school-record 715 yards of total offense.
"The guys are older now. We've been in that situation ... and we've failed before," Ash said. "So much of football is about morale and believing."
Ash threw two interceptions in the second quarter and the Longhorns' new up-tempo offense stalled before Ash connected on long touchdown passes to John Harris and Daje Johnson in the final two minutes of the first half.
In the third quarter, Ash turned a scramble into a 55-yard touchdown and passed to Malcolm Brown for a 74-yard score. After falling behind, Texas (1-0) scored 35 points on 15 snaps in an avalanche and Ash accounted for 434 total yards.
"We started off obviously slow," Ash said. "(But) you feel that momentum shift when things start rolling. We're a good team when that starts happening."
Andrew McDonald was 32-of-46 passing with one touchdown, but also had two turnovers for New Mexico State (0-1), who went 1-11 last season.
Texas came into the season touting its new fast-paced offense and the new confidence displayed in training camp by Ash. Even coach Mack Brown had said his team is ready to challenge for the Big 12 title and return among the nation's elite.
But despite the new enthusiasm and bravado that comes with 19 returning starters, almost nothing went right early. Ash looked like the same quarterback of the last two years: talented but prone to mistakes.
The Longhorns had three first-half turnovers and frustrated fans let loose with a few boos when McDonald connected with Joshua Brown for an 11-yard touchdown pass that gave New Mexico State a surprise lead late in the second quarter. The Aggies' touchdown came after Ash threw his second interception.
The shocking score line seemed to wake up the Longhorns.
Ash found Harris open on the sideline for Texas' first touchdown. After Texas used three quick timeouts to force New Mexico State to punt, Ash connected with Johnson across the middle and the receiver sped away from five defenders for another long score.
Trailing 14-7 at halftime, "That's about as good as we would've hoped for coming into that," New Mexico State first-year coach Doug Martin said. "We let it get away from us in the second half."
With momentum swung to Texas, New Mexico State gambled with an onside kick to open the second half. The Longhorns recovered and Johnson scored again four plays later, scooting around the left side on a 24-yard run for a 21-7 Texas lead that broke the game open.
New Mexico State couldn't match Texas' speed in the open field. Ash's dash through the secondary and his long scoring pass to Brown turned it into a rout long before Ash connected with Mike Davis for his fourth touchdown pass in the fourth quarter.
The 715 total yards broke the Texas record of 692 set in 1998 when Heisman Trophy winner Ricky Williams was dashing through defenses.
"We ended up blowing them out and it wasn't easy in the first half," Texas coach Mack Brown said. "We had to fight. I thought (Ash) really kept his composure well."
Photo Wire
AUSTIN, TX - AUGUST 31: David Ash #14 of the Texas Longhorns throws a pass against the New Mexico State Aggies on...
(Photo by Cooper Neill/Getty Images)
Top 25 Overview
It was over when... QB David Ash ran for a 55-yard score to put the Horns up 28-7 in the third. A 74-yard score two minutes later left no doubt.
Gameball goes to... Ash, who overcame two early INTs to throw for 343 yards and tie a career-best with four touchdown passes.
Stat of the game... Texas finished with a school-record 715 yards of total offense. Not a bad showing by new playcaller Major Applewhite.
Team Stat Comparison
| | NMSU | TEX |
| --- | --- | --- |
| 1st Downs | 18 | 26 |
| Total Yards | 346 | 715 |
| Passing | 242 | 356 |
| Rushing | 104 | 359 |
| Penalties | 3-25 | 3-35 |
| 3rd Down Conversions | 5-18 | 6-11 |
| 4th Down Conversions | 2-3 | 0-1 |
| Turnovers | 3 | 3 |
| Possession | 36:12 | 23:48 |
Scoring Summary
SECOND QUARTER
NMSU
TEX
TD
02:28
Joshua Bowen 11 Yd Pass From Andrew McDonald (Maxwell Johnson Kick)
Watch Highlight
7
0
TD
01:48
John Harris 54 Yd Pass From David Ash (Anthony Fera Kick)
Watch Highlight
7
7
TD
01:08
Daje Johnson 66 Yd Pass From David Ash (Anthony Fera Kick)
Watch Highlight
7
14
THIRD QUARTER
NMSU
TEX
TD
12:48
Daje Johnson 24 Yd Run (Anthony Fera Kick)
Watch Highlight
7
21
TD
10:27
David Ash 55 Yd Run (Anthony Fera Kick)
Watch Highlight
7
28
TD
08:11
Malcolm Brown 74 Yd Pass From David Ash (Anthony Fera Kick)
Watch Highlight
7
35
FOURTH QUARTER
NMSU
TEX
TD
11:51
Mike Davis 25 Yd Pass From David Ash (Anthony Fera Kick)
Watch Highlight
7
42
TD
06:12
Jalen Overstreet 1 Yd Run (Anthony Fera Kick)
Watch Highlight
7
49
TD
01:26
Jalen Overstreet 38 Yd Run (Anthony Fera Kick)
Watch Highlight
7
56
Research Notes
QB
David Ash
had 55-yd Rush TD tonight vs New Mexico State. His previous longest run was 47 Rush TD vs New Mexico last season
Texas had 3 TO in its first 5 drives... since then Texas living the charmed life
[+]
Texas goes up against defensive coordinators new in their current roles at their current programs the first 2 weeks of this season. The Texas offense fared quite well last season on such occasions-- winning 5 of 6 games vs new DCs. The only loss was by 3 points to West Virginia. Note: this is not including the game vs Oklahoma's Mike Stoops, since he had been a DC at Oklahoma for 5 seasons from 1999-03.
[+]
ESPN Stats & Information